Make going to bed fun for your kids with a free Christmas door hanger. With two designs on the coloring page, your kids can each create their own unique style.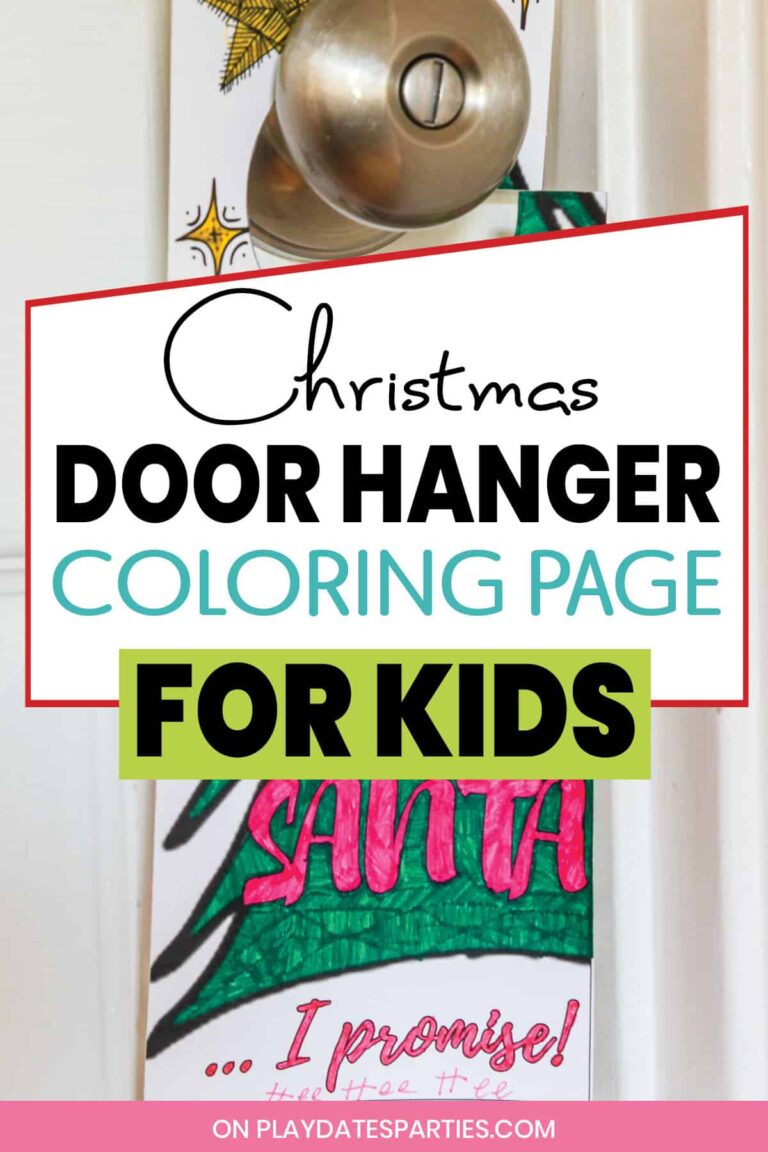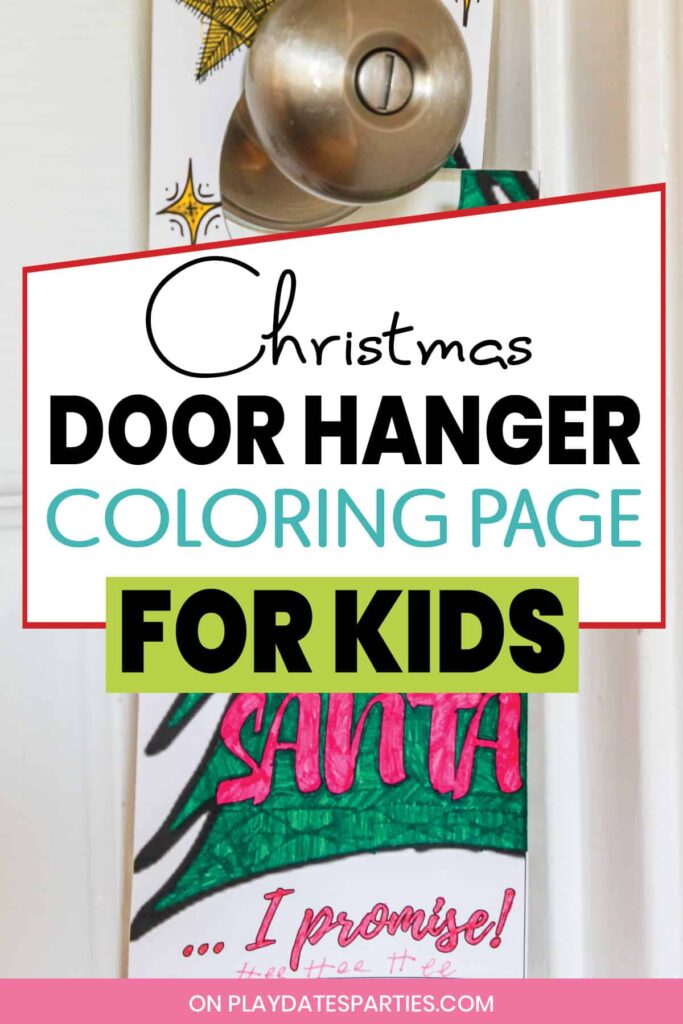 As we placed the Christmas gifts under the tree, the husband and I exchange knowing glances and soft whispers. We don't dare make a sound, because our children are sleeping in their rooms barely 30 feet away…
I don't know how we've done it but somehow we've managed to keep the Christmas spirit and belief in Santa for our nine-year-old.
The spell is going to break soon, she's a smart kid, but we just can't bring ourselves to do it just yet. Seriously, who wants to kill the magic of Christmas morning for their children?
BUT, if we're not careful on Christmas Eve, the spell could be broken in the worst way.
You see, we live in a small-ish house with thin walls. Our Christmas tree stays on the same level as the kids' bedroom, and one bump, yelp, or frustrated shout (why oh why don't we buy more gifts that come assembled?!), and we could have a night full of tired, sad wailing.
So don't hate me for doing just about anything to reinforce that the children must be asleep on Christmas Eve.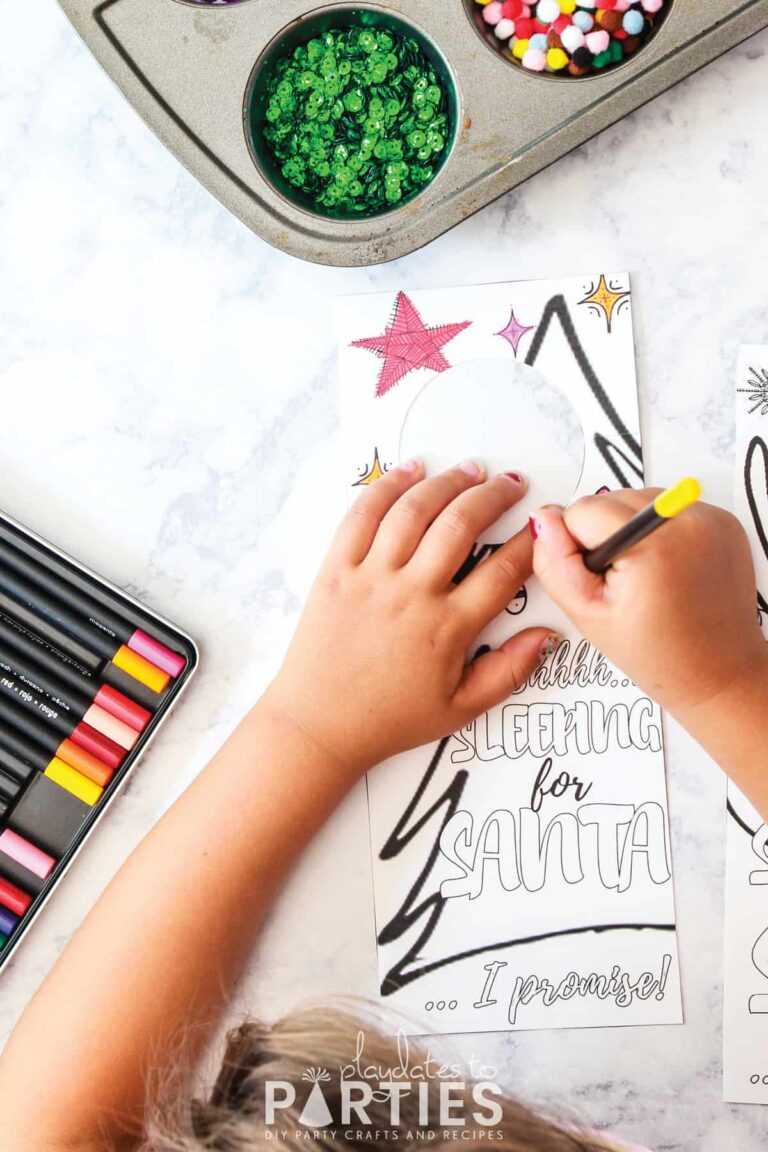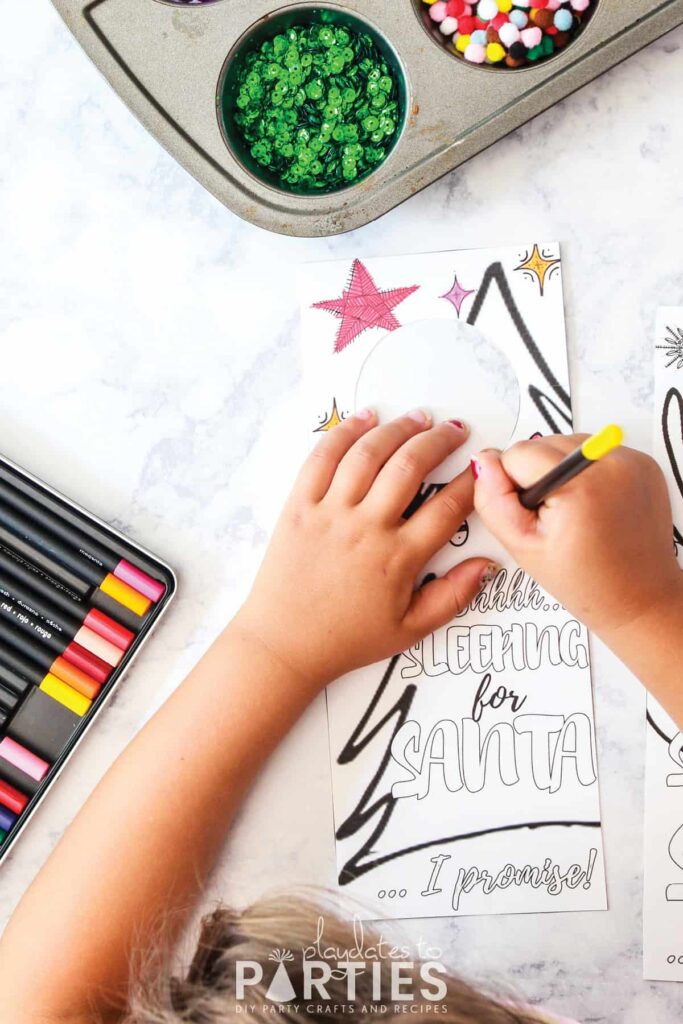 Christmas Door Hanger Printable Coloring Page
Scolding and shooing the kids to bed seems to make them even more excited for Santa's sleigh bells. But, if we make it fun, then the kids are far more willing to stay in their room the whole night.
Enter this cute little doorknob hanger printable.
It's both a Christmas door hanger and coloring page, which makes it a fun activity to give to the kids when you need them engaged for a few minutes.
And…I like to hope that the message "Shhh…Sleeping for Santa" will reinforce that the kids need to be in bed and fast asleep on Christmas Eve.
Of course, my 9-year-old is just as sarcastic as I am, and added her own little spin on it: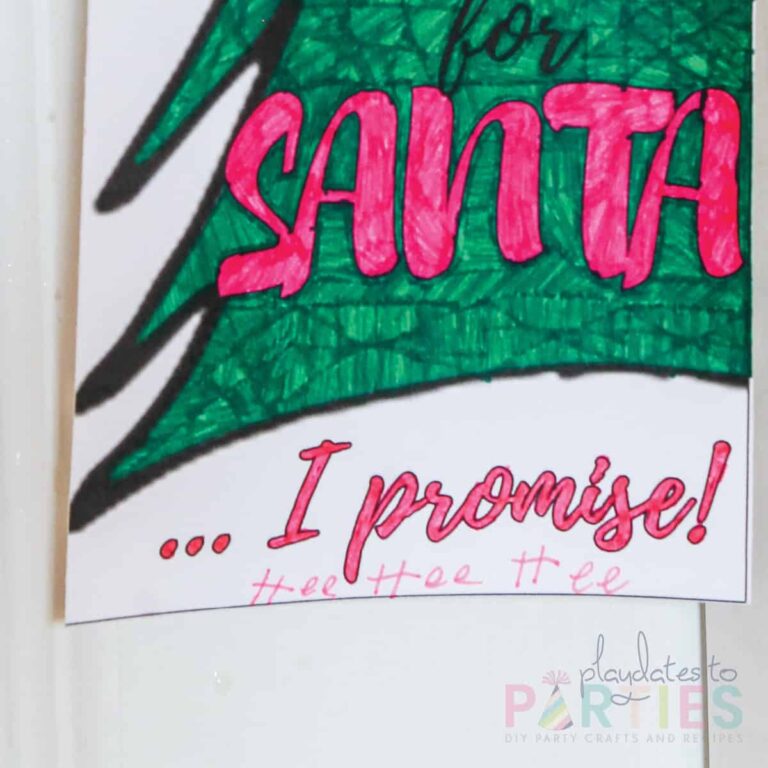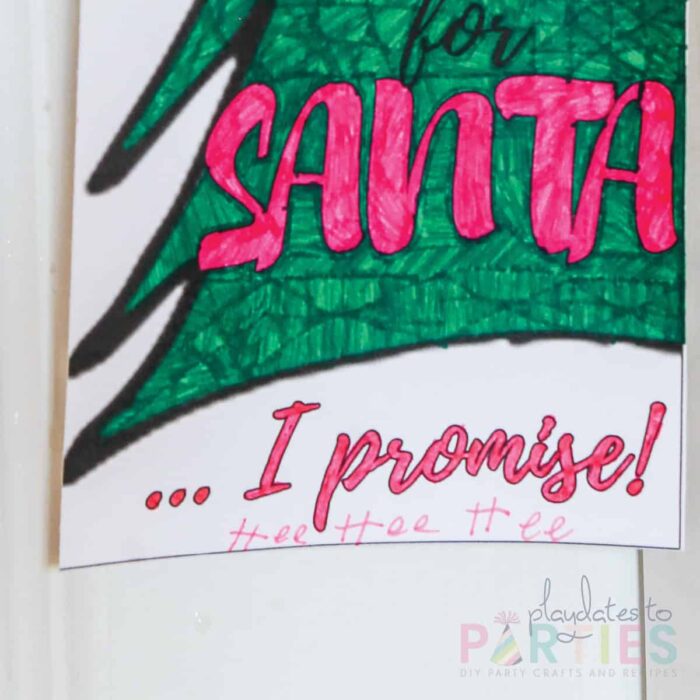 That kid seriously makes me giggle sometimes!
Two designs to choose from
Both my girls decided they wanted to color in the Christmas tree hanger, but there's also a cute reindeer version, too.
(Honestly, I prefer the reindeer, with the way the antlers wrap around the hole for the door knob. But it's all good. They can color that one in another time)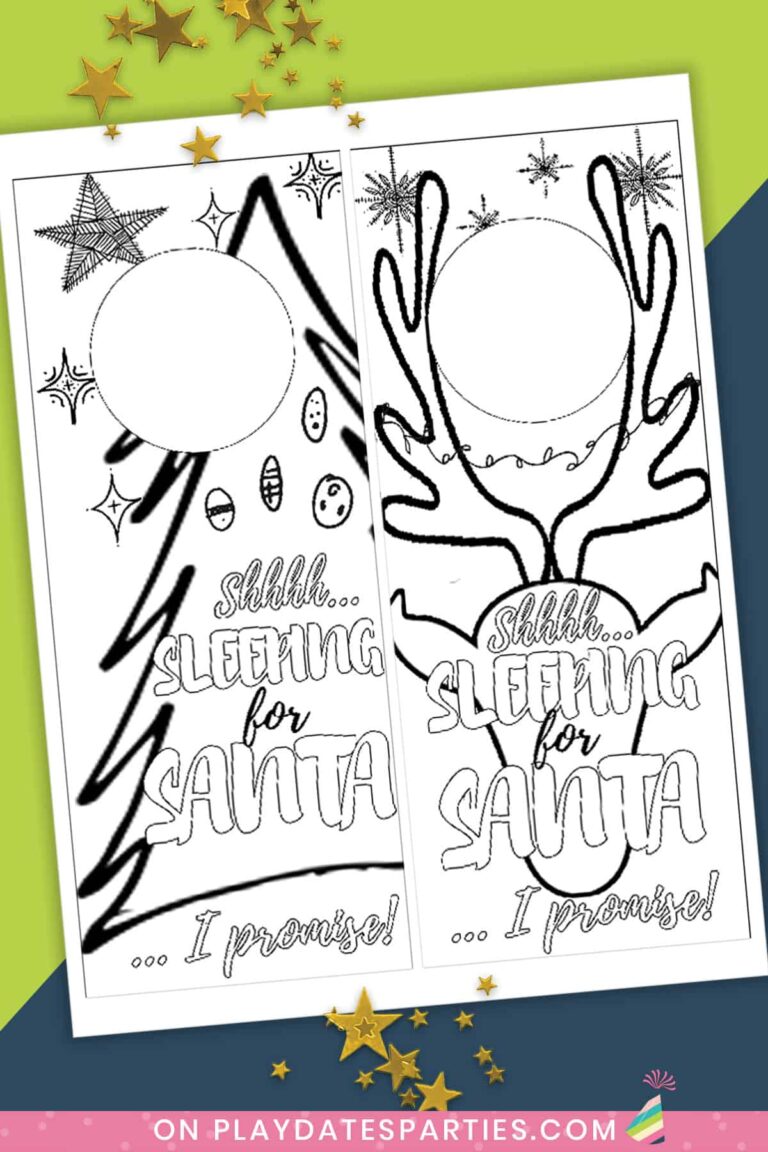 When to Use this Christmas Door Hanger Coloring Page
Print the Christmas Door hanger on heavy duty card stock to make sure it's nice and sturdy. Then let the kids color it and decorate however they want. The possibilities are endless, but here are some great times to use this coloring page:
Print it out and keep it on hand as a last-minute activity when you need to keep the kids busy,
Bring it to a restaurant as a quiet activity while waiting for food to arrive,
If you're having a kids' party, this is the perfect independent activity to get things going while waiting for everyone to arrive (plus, it can double as part of a party favor!)
Bring it to church on Christmas Eve to keep the kids engaged during what can be a long service.
Our girls are recently obsessed with Paper Mate's Flair Markers, and used them to color in their door knob hangers. I have to admit the colors really do pop!
They also had a tray of sequins, pom poms, and jingle bells available to glue onto their crafts, but decided not to. (Wouldn't a pom pom nose be adorable on the reindeer, though?)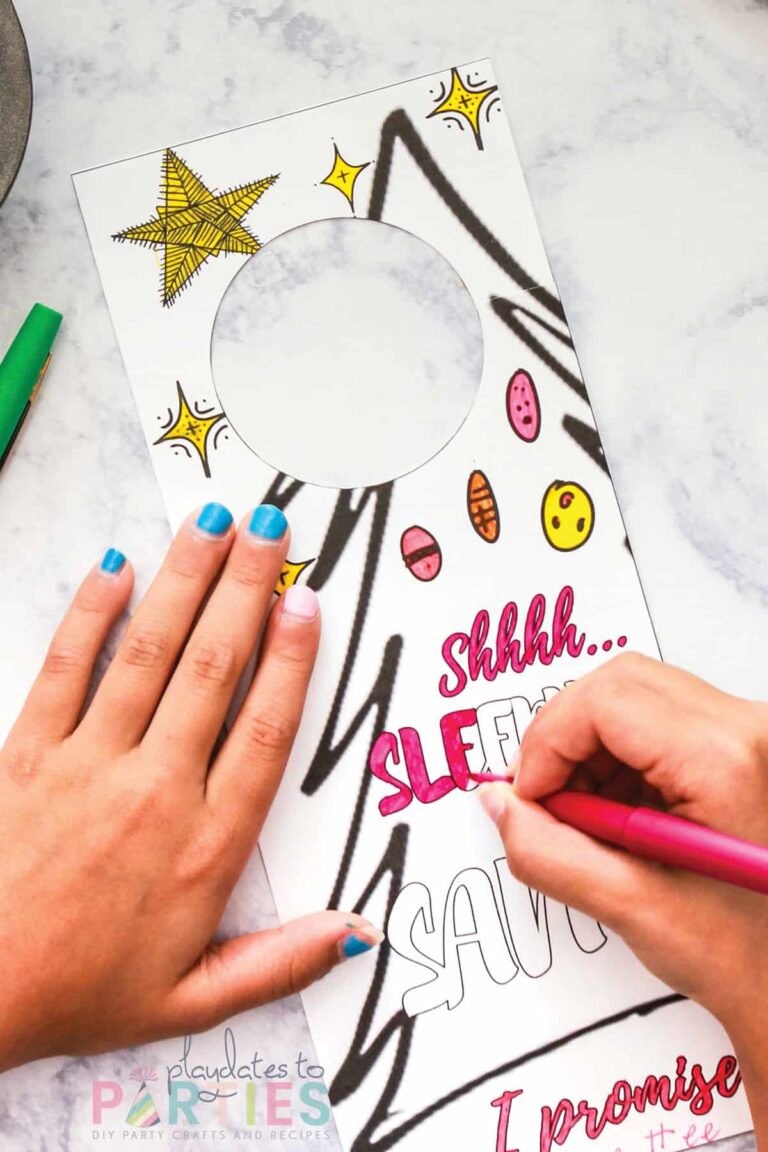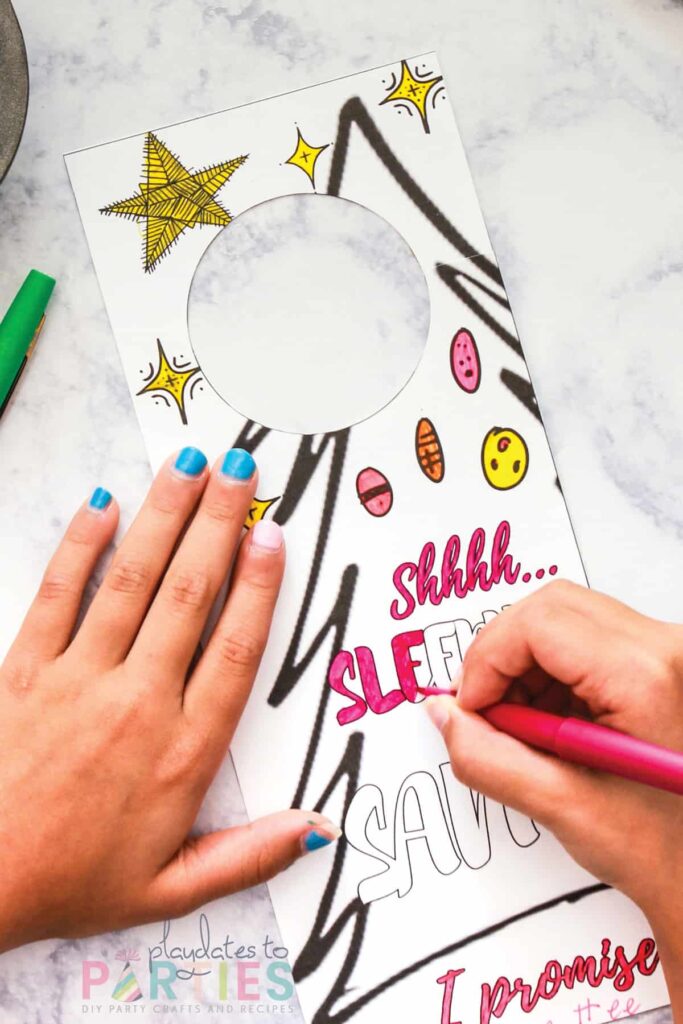 Now It's Your Turn
After this fun little activity, our girls can't wait to add the door knob hanger to their bedroom door on Christmas Eve! And your kids can, too.
The door knob hanger is available free for subscribers. Just add your name and email to the form below to get your copy.
And if you don't want to subscribe, you can also purchase a copy of the coloring page for a small price in my shop.
I don't know if the door knob hanger will actually keep the Christmas magic alive for our kids. And the husband and I will still probably sneak around as much as possible.
But we're pretty sure that the kids will at least go to bed for us!
What do you to to keep Christmas magic alive at your house?
What would you do with this Christmas door hanger?
---