Several years ago, the husband's cousin was pregnant with twins. There hadn't been many babies in the family for a while, and the thought of twins was extra exciting. Everyone in the family couldn't wait to help the family celebrate these two little bundles of joy. There was just one problem: the new mom-to-be lived halfway across the country.
Now, when I was pregnant with T, it felt like we had baby showers here, there, and everywhere. I traveled down to Richmond for a shower hosted by my sister, and my mother-in-law hosted a shower at her house about 45 minutes away from our own home. That said, several of my long-distance family members from Ohio either sent gifts individually. And a few even trekked their way out here to visit one of the showers. But if they'd had my MIL's idea, they could have stayed home and had just as much fun!
Instead of having a big party where the mom-to-be is showered with gifts in person, my MIL hosted a Reverse Baby Shower.
What is a Reverse Baby Shower?
A reverse baby shower is a party where family and friends of a new mom-to-be gather, but the new mom isn't actually present. The guests bring their gifts unwrapped and share what they purchased and why with the other guests before wrapping the gifts at the party.
Why Would I Host a Reverse Baby Shower?
There are a whole host of reasons you might want to host a reverse baby shower, but here are a few potential scenarios.
The new mom lives far away from most of the friends and/or family that would be attending (our scenario),
The new mom can't attend due to bed rest,
The baby was born very premature, and the new mom is busy taking care of a NICU baby,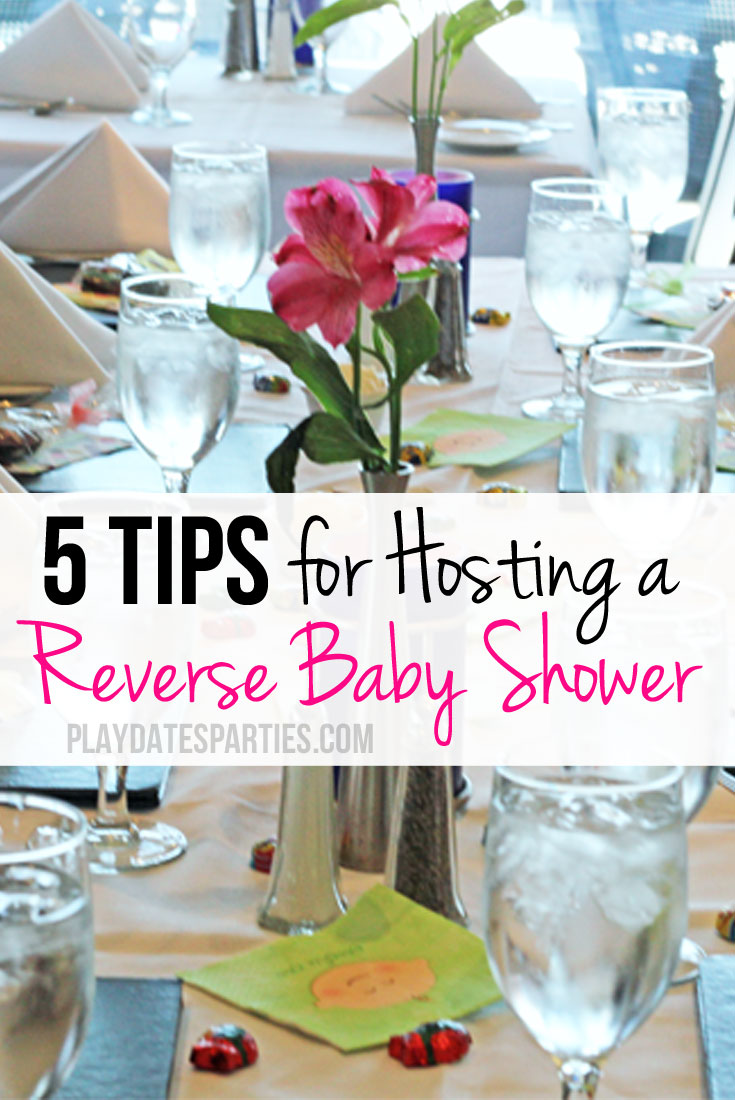 5 Tips for Hosting Your Own Reverse Baby Shower
Create a decorative gift wrapping station. Gift wrapping parties have become popular for the holidays, and some of those ideas can be adjusted to fit a baby shower, too. I love how The Sweetest Occasion shows a fake 3-tier cake that is just gift-wrapped hat boxes. Not Just a Mommy's gift wrapping station also includes plenty of extras like twine, ribbon, and bows.

Keep the party games simple. Instead of playing silly games, have your guests write heartfelt notes to the 'guest' of honor, or have the new mom guess who wrapped each gift (if you do this, be sure to include a list of who bought which gift)
Take lots of pictures. Take fun candids of the guests, perhaps photo-booth style with a short little bit of advice each. Then send the pictures to the mom-to-be in the box from the shower.
If mom is available, include her via web. Skype and FaceTime weren't readily available at the time we had our reverse baby shower. It would have been nice to include the new mom even in that small way.
Don't buy the shipping box until after the party is over. As the host/hostess it is your responsibility to ship the gifts to the mom-to-be. To make sure you're not buying a box that is too large or too small, wait until all the gifts are wrapped to purchase your shipping box.
We had a lot of fun at our reverse baby shower way back when. It was far more casual and relaxed than most baby showers are these days. In the end, it was all about celebrating two new little bundles of joy in the family – even though they didn't live close enough for a quick visit.
Would you ever host a reverse baby shower?
Subscribe via
Bloglovin, Facebook, and Twitter
to get more updates!