From hosting the whole family, to getting the house clean, and preparing multiple food items at once, who has time for lots of heavy decorating? Which is why a casual Thanksgiving table setting is the perfect choice for busy families.
Take a look at how we set up casual Thanksgiving decor on both kids and adult tables. Most everything can be found at your local grocer, or easy access stores like HomeGoods and Target.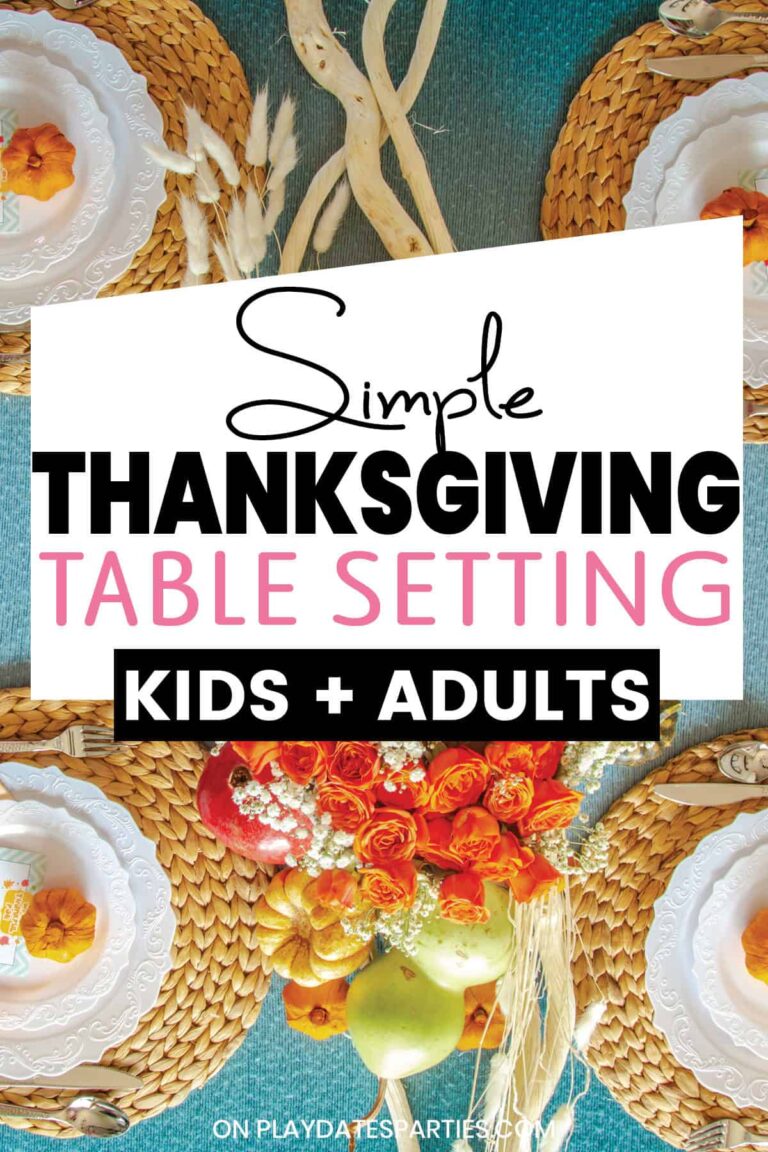 Last year, my father-in-law was diagnosed with Pancreatic cancer. Anyone familiar with this disease knows that it is ugly and usually fast-acting.
So, when he was still hanging around last fall, we knew that we wanted to host a simple, and casual Thanksgiving dinner for his side of the family.
About the Dinner:
What Was the Occasion? Thanksgiving
How Many Guests Did You Have? 10 adults + 5 kids
Where Was the Party Held? Our home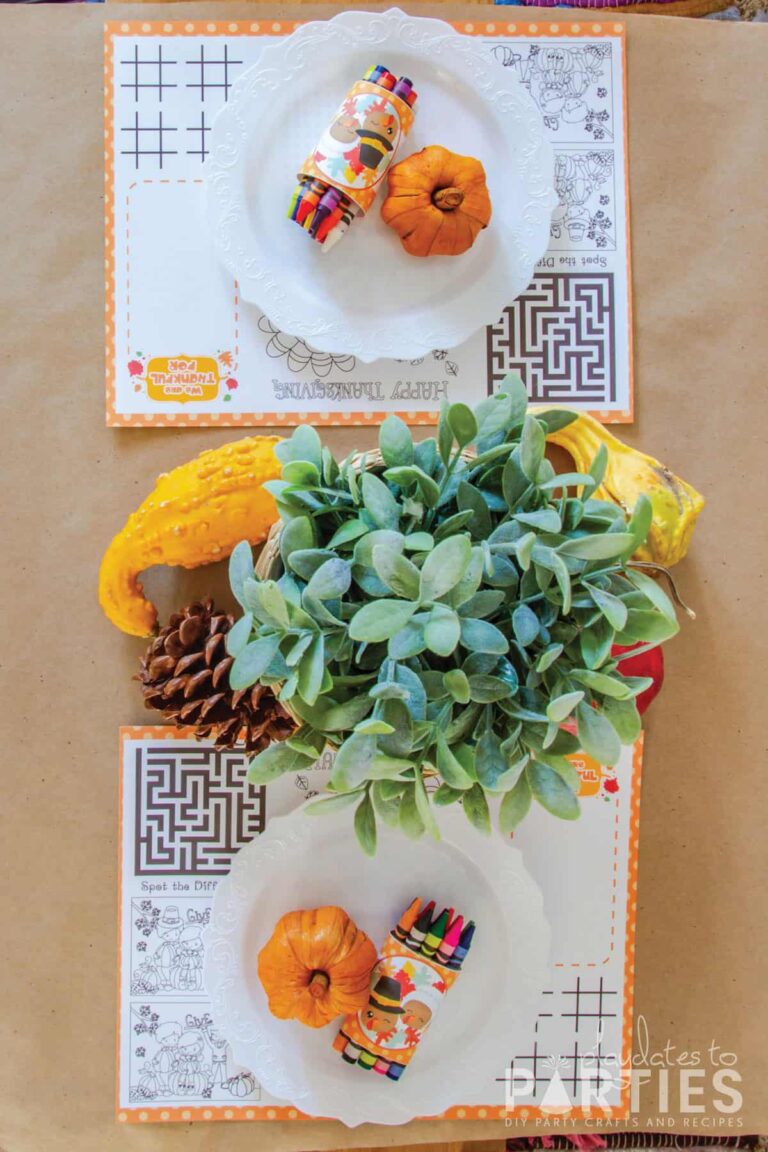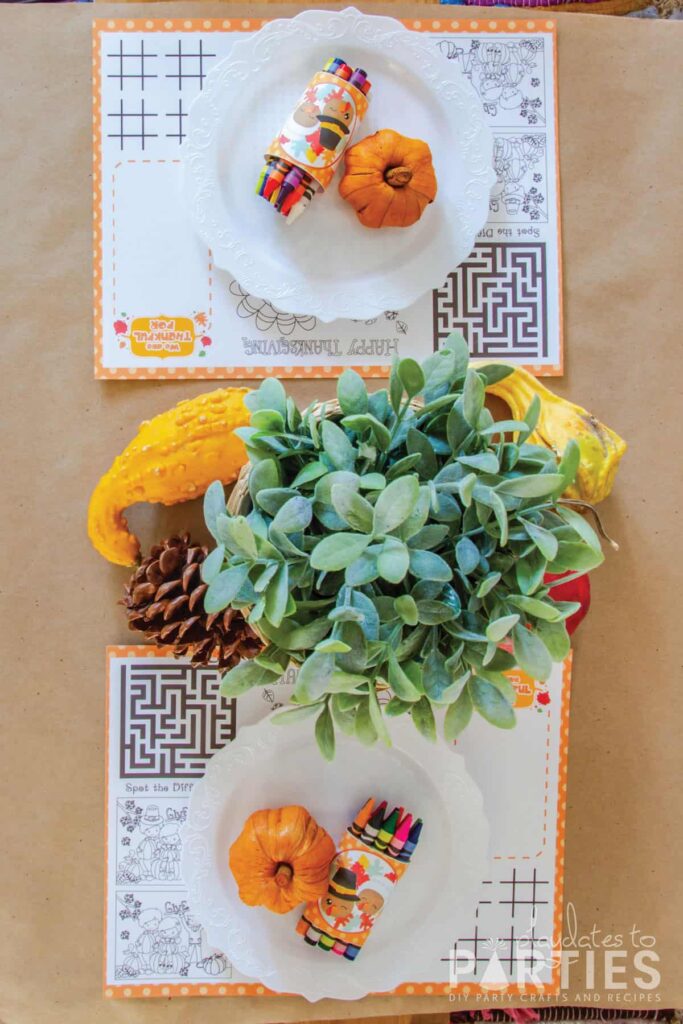 Thanksgiving Kids Table
Even though we've hosted Thanksgiving a few times already (with Gold Thanksgiving ideas, inexpensive Thanksgiving ideas inspired by nature, and vintage inspired Thanksgiving decor), we've never had an 'official' kids table.
But this time, we knew that we needed a space for the little kids like my then 4-year-old son.
To make it special, I started with a layer of butcher paper for easy clean up. Then added a centerpiece of faux plants and printable Thanksgiving placemats.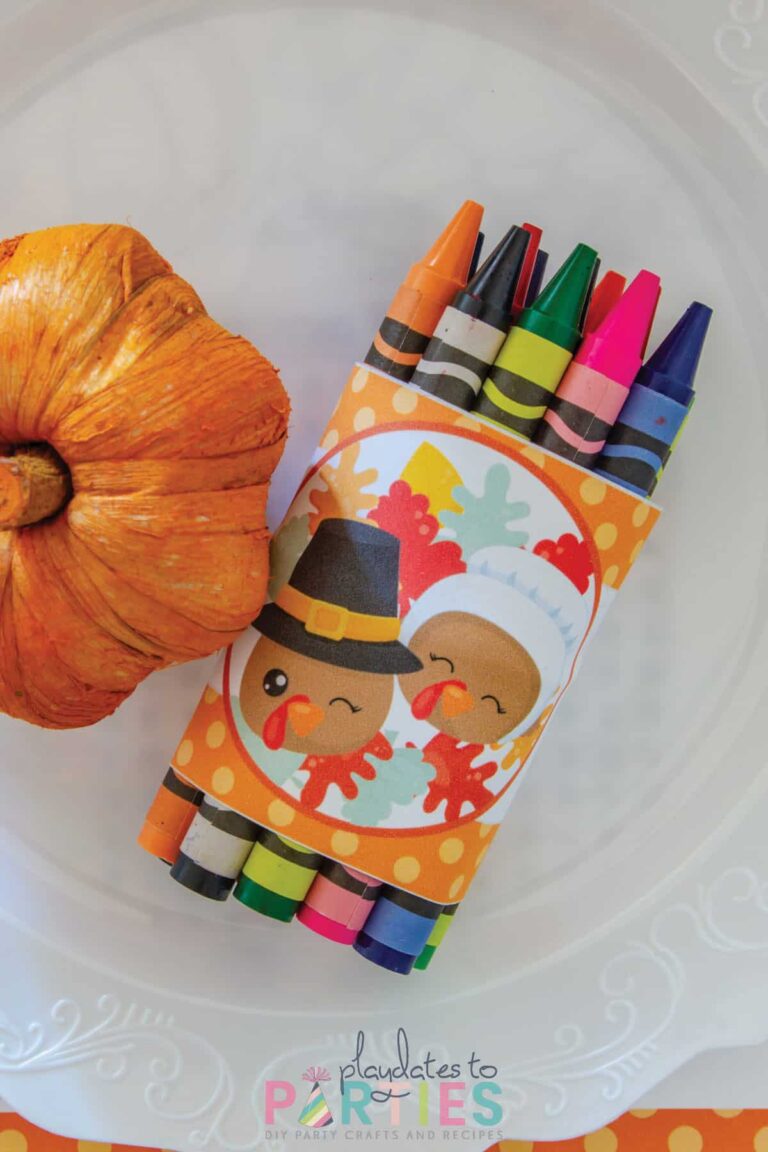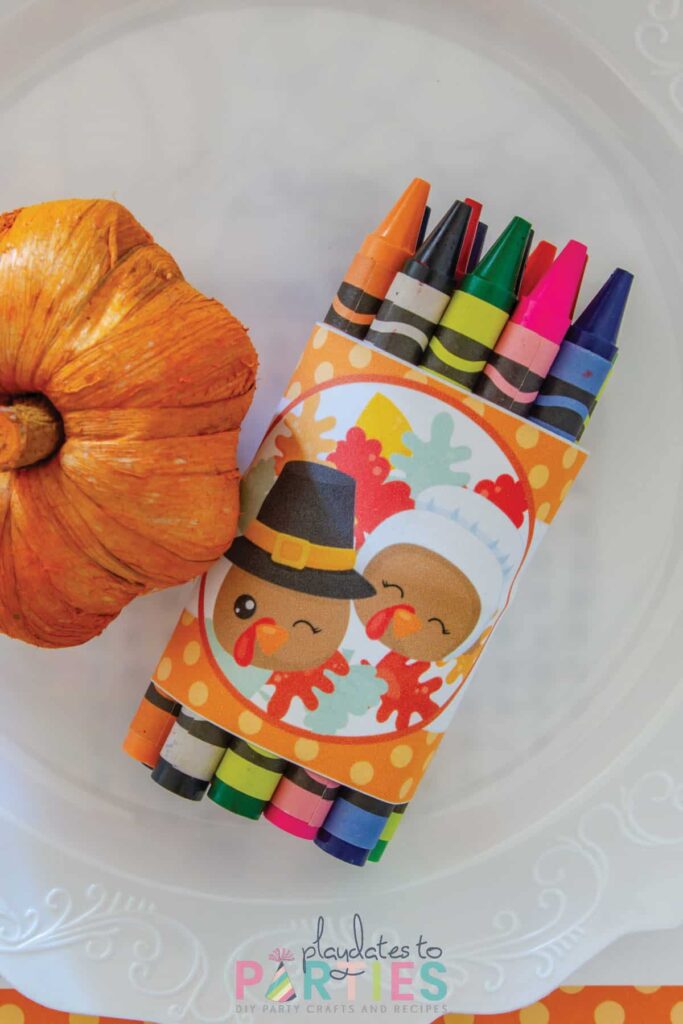 We switched to disposable plates for Thanksgiving a few years ago and never looked back. The kids loved that they also got to eat on the same 'fancy' plates as the adults.
(And we loved that the kids couldn't break them.)
A mini faux pumpkin and a bundle of crayons wrapped with bubble wrappers (from this set of Thanksgiving printables) finished it off.
Thanksgiving Party Activities and Games
My husband's family isn't much for group party games, but I printed out the independent games from this set of printables, and the older kids enjoyed a bit of quiet time filling them out every now and then.
(My 10-year-old especially liked them…she's a whiz at these kind off games)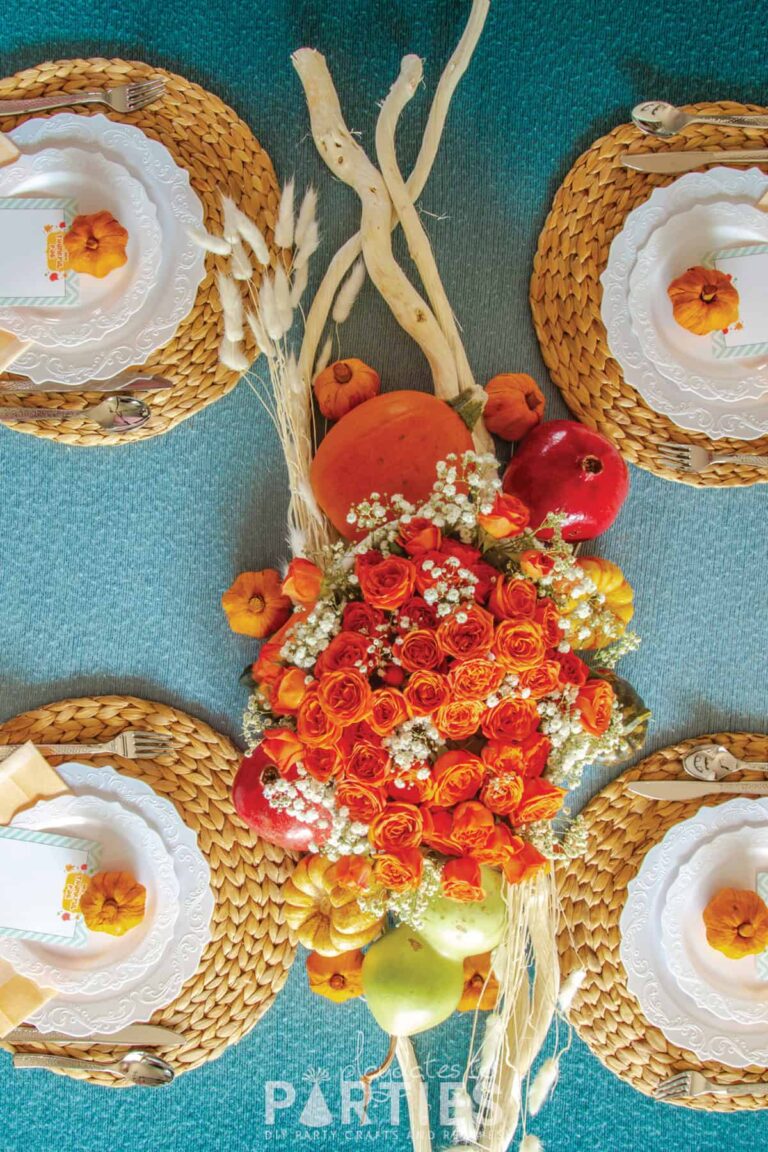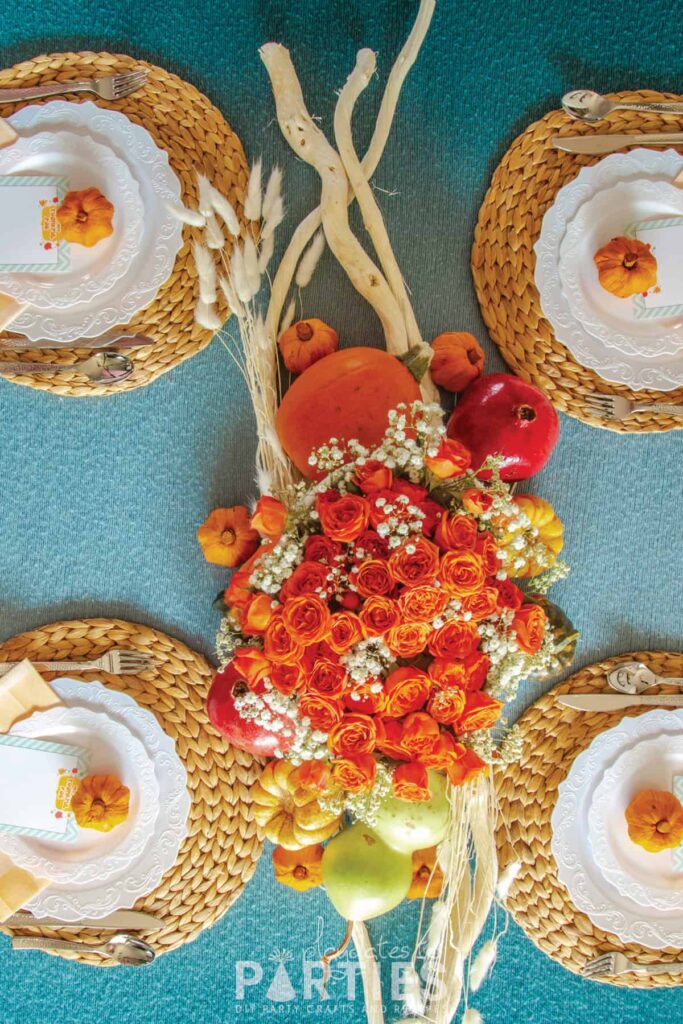 Thanksgiving Adults Table
For the adults, I set a very casual Thanksgiving tablescape inspired by something a bit unusual…a throw blanket!
The blue tablecloth you see in these pictures is actually a throw blanket we got from HomeGoods a few years back. It contrasts perfectly with the traditional fall orange.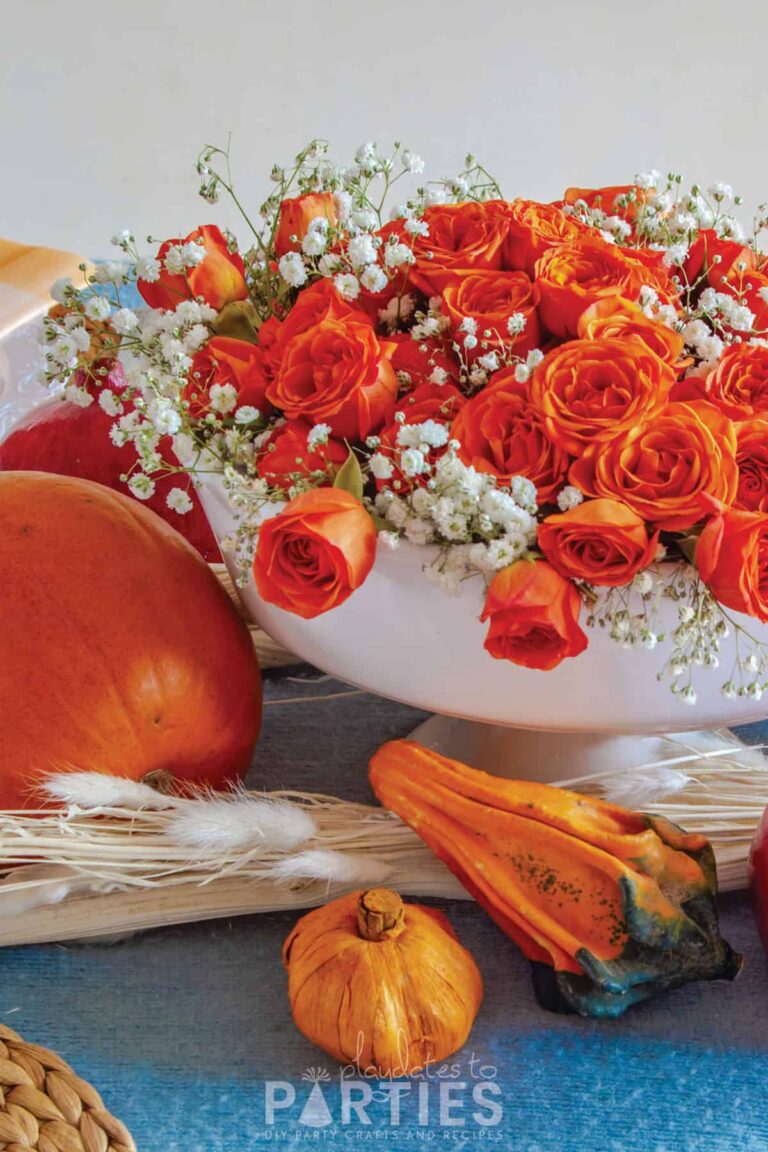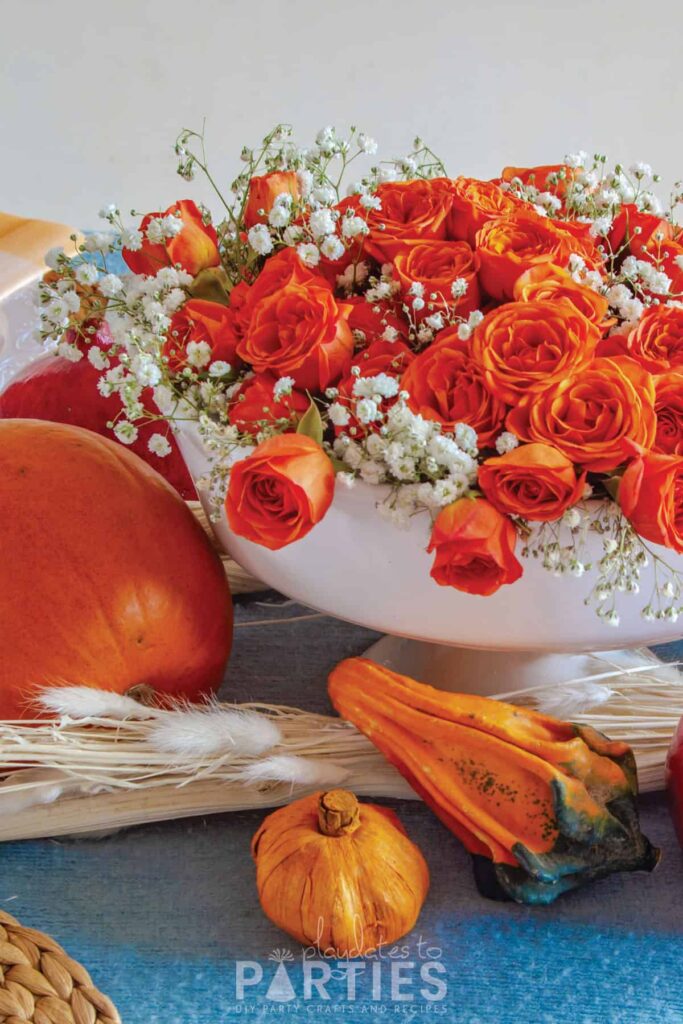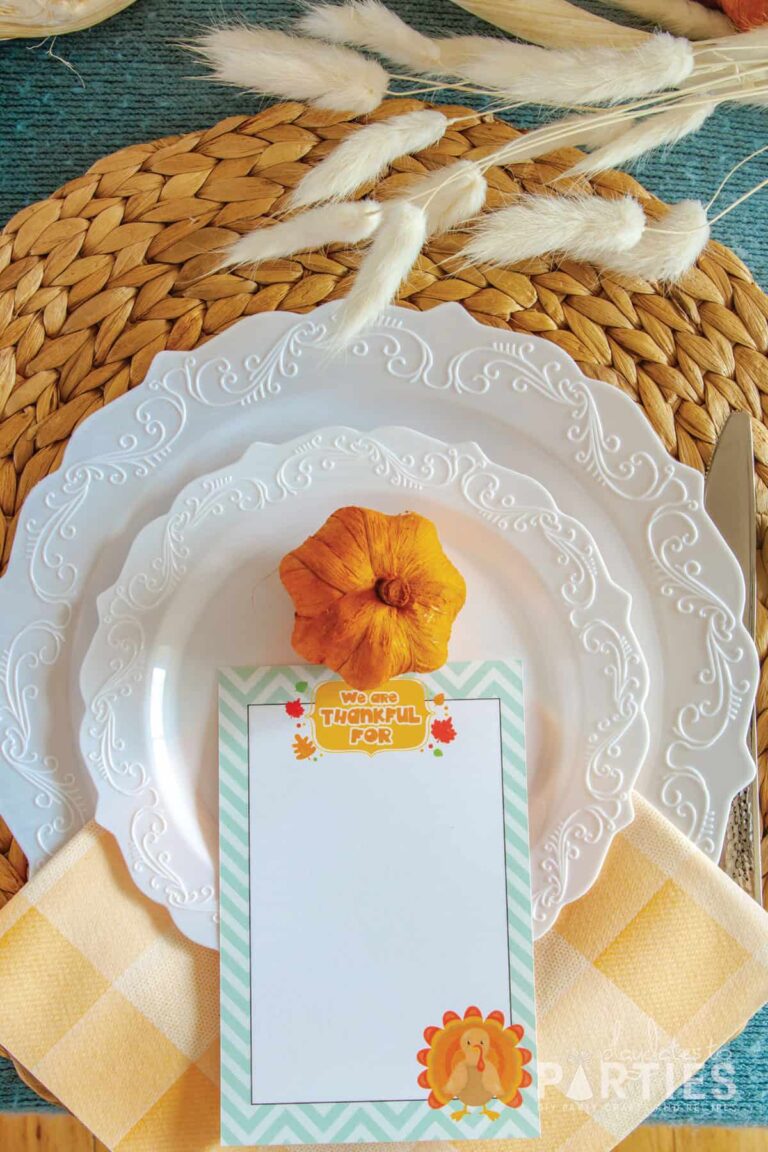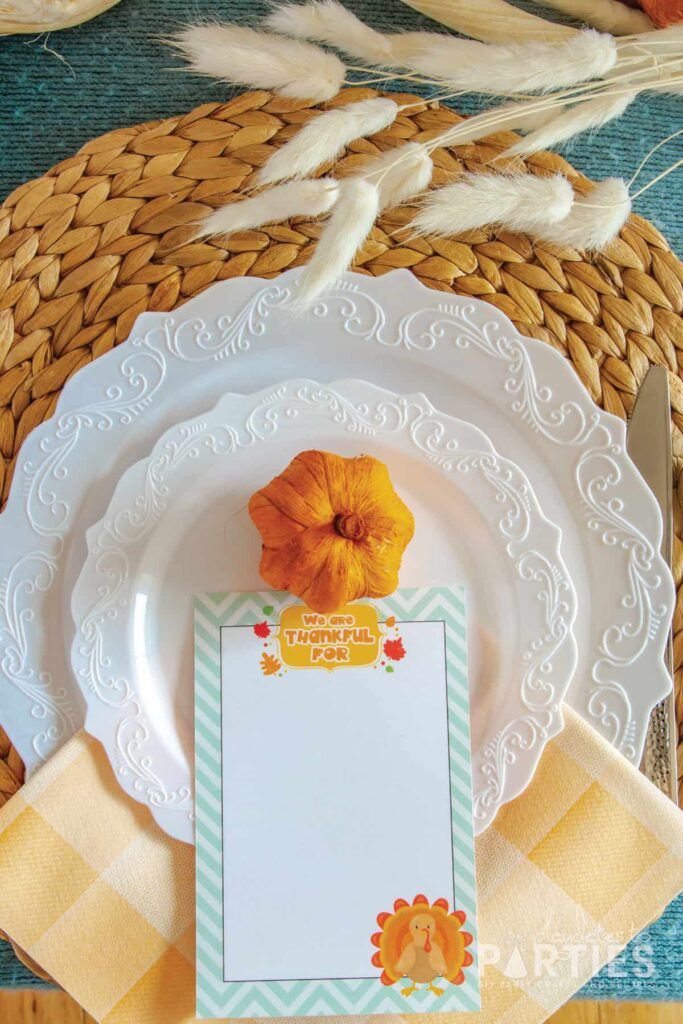 Now, for the adults table, we decorated using:
mini orange roses,
mini pumpkins,
gourds,
pomegranates, and
some white branches (found at HomeGoods).
A few of the mini pumpkins were the same faux style as the kids table, but everything else was straight from the grocery store.
I've used these hyacinth placemats a few times, and still love the texture they add to the table. Topped with the same mini pumpkins as the kids table, and a printable "Thankful for" card, and this table was ready in about 30 minutes.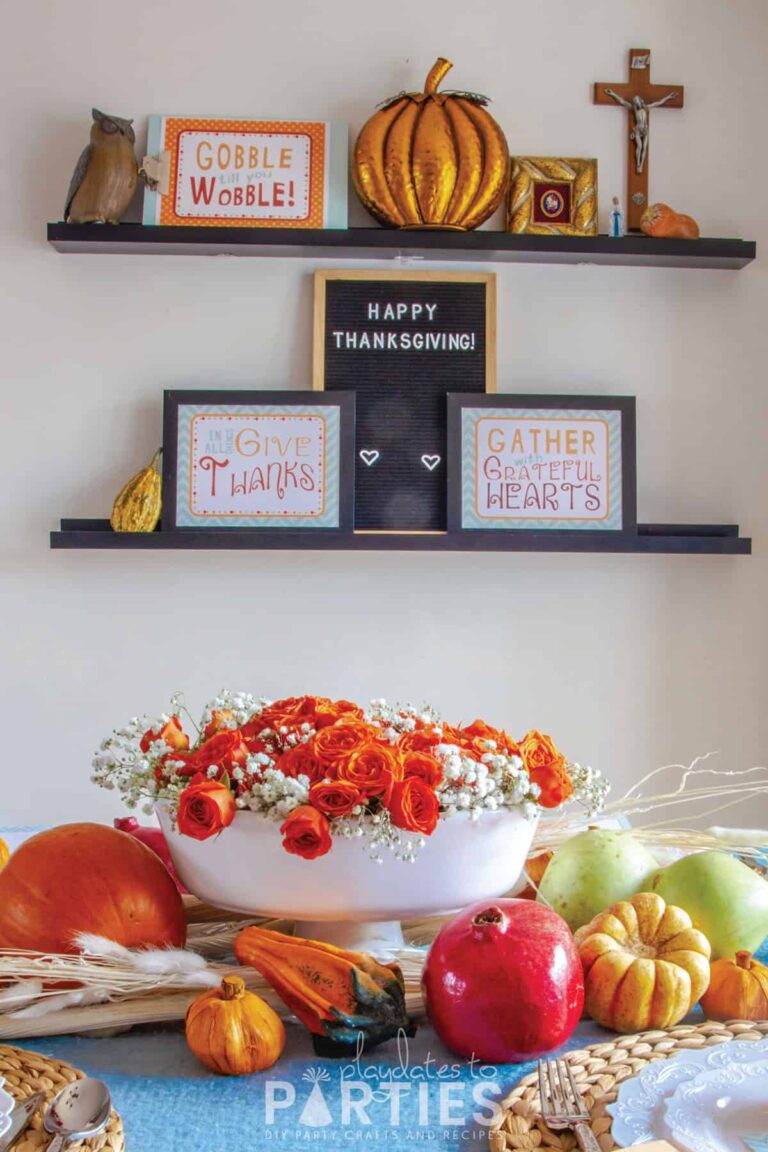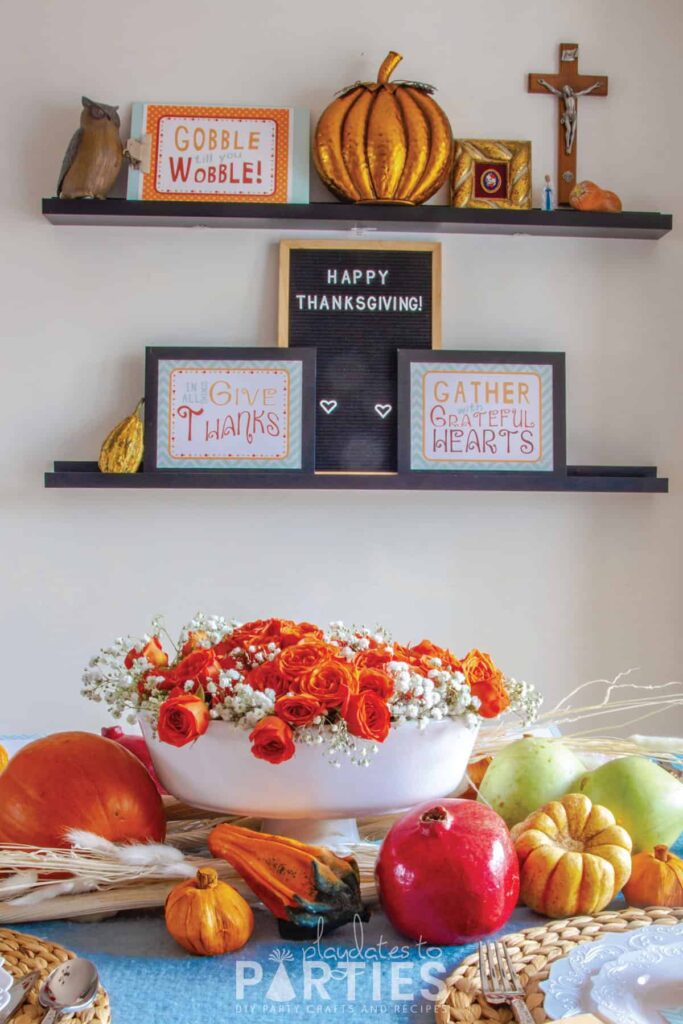 Thanksgiving signs
We also paired the Thanksgiving signs from this printables set with a black message board, and some of the fall decorations we already had on hand. Another score for easy decor!
More Thanksgiving Ideas to Consider:
Now It's Your Turn
It's amazing how something as simple as a throw blanket can inspire a cozy but casual Thanksgiving table setting.
Paired with a cute set of printables that works for the whole family, decorating for the holiday doesn't have to take time away from everything else you have to do.
And when you keep it simple like that, then you're able to do what's most important – spend time with the people you love.
---