Learn how to combine the sentiment of vintage Thanksgiving decorations in a casual way to create a beautiful table setting everyone will enjoy.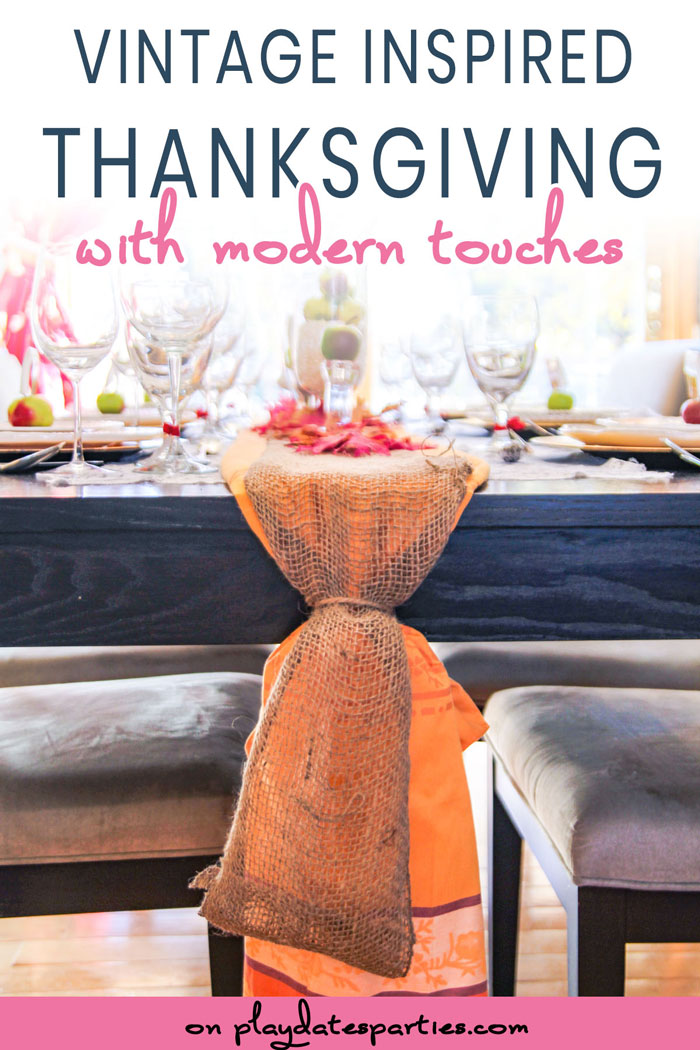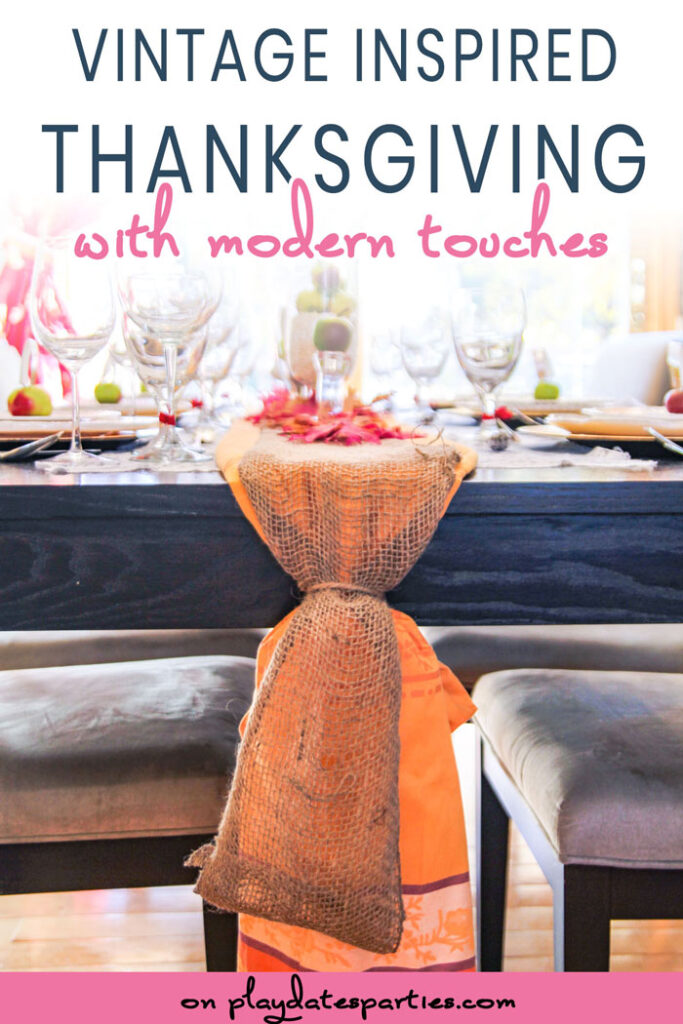 We did it. We celebrated another Thanksgiving at our house, and we survived!
I think I might have actually even liked it.
This is the second time we hosted Thanksgiving, and I decided to make everything a bit more casual than previous years. And it was so nice!
For the Thanksgiving decorations this year I was inspired by the colors of fall leaves, a vintage lace runner that my mother-in-law gave, and our stop in provencale France during our honeymoon.
The result was beautiful, and filled with plenty of sentiment and gratitude.
How to Mix Vintage Thanksgiving Decorations with Modern Style
Typically, Thanksgiving dinner is a very formal event. And while I tried not to completely eliminate that formality this year, I am fairly casual, and wanted that reflected in the final design.
Mixing vintage pieces with modern takes on decorating made me feel more relaxed when decorating, and even during the meal itself.
Here's how we mixed modern design into our vintage Thanksgiving decorations: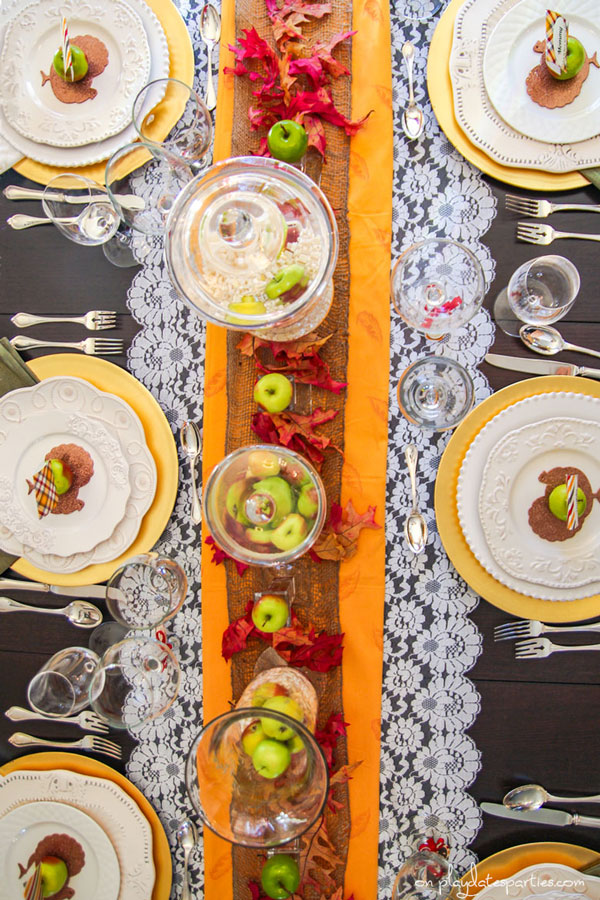 First, we skipped the tablecloth:
Personally, I find tablecloths on a dining table to be ultra-formal. Plus, we love the look of our table, and leaving off the cloth really showed off the vintage lace.
Don't you just love it?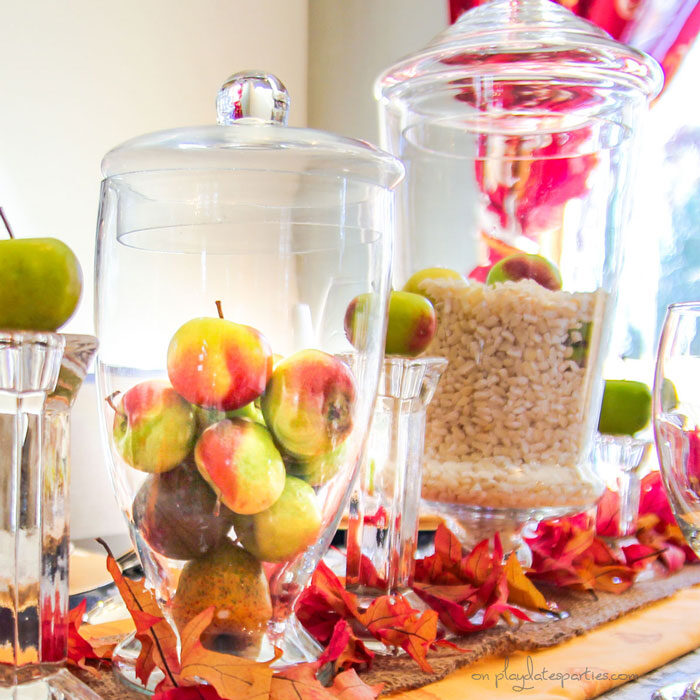 Use Seasonal Food for Creative Thanksgiving Centerpieces
The white filler in our clear apothecary jars is actually hominy. It has a slight sheen to it that was perfect for Thanksgiving, while being slightly more unexpected than traditional dried corn kernels.
Adding baby apples made the table more playful, and were fantastic as place card holders too. (All you need is your card and a straight pin. So easy!)
Incorporate a variety of Textures
While the vintage lace table runner is very formal, I love how it looks with the more casual burlap ribbon.
But the textures didn't stop there. Faux leaves sprinkled down the center of the table added even more visual interest.
We even used the burlap ribbon for the party banner, which was a fun twist.
Warning: A little bit of burlap goes a long way. The more burlap you incorporate, the more casual the look.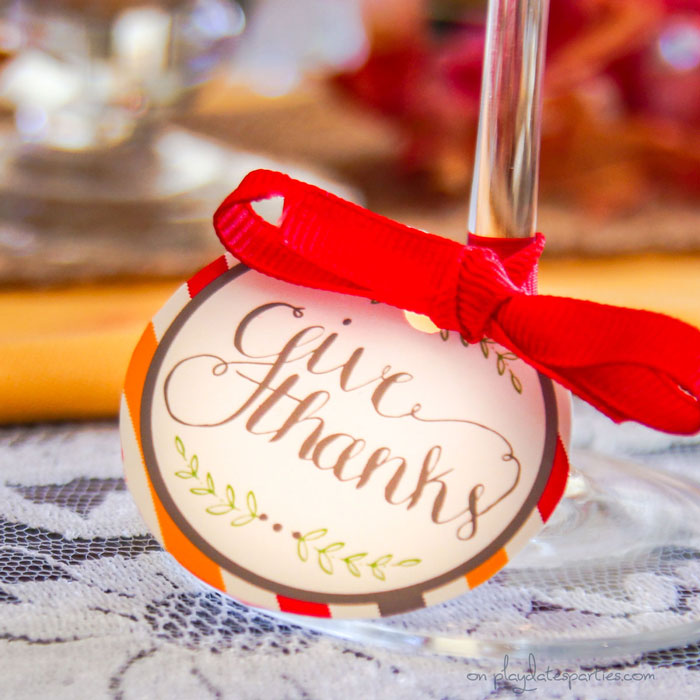 Use Paper Party Printables
Paper decorations don't have to be boring or super simple! There are hundreds of Thanksgiving printables out there these days, and you're bound to find some that fit your style.
RELATED>>>TOP RECOMMENDATIONS TO MAKE PARTY PRINTABLES LOOK THEIR BEST
I think these Thanksgiving printables from Pizzazzerie complimented the Vintage Thanksgiving decorations beautifully, without being stuffy.
(Edit to add: I still love those printables, but they've been around for several years now. If you're looking for something newer and more original, you might want to check out my shop!)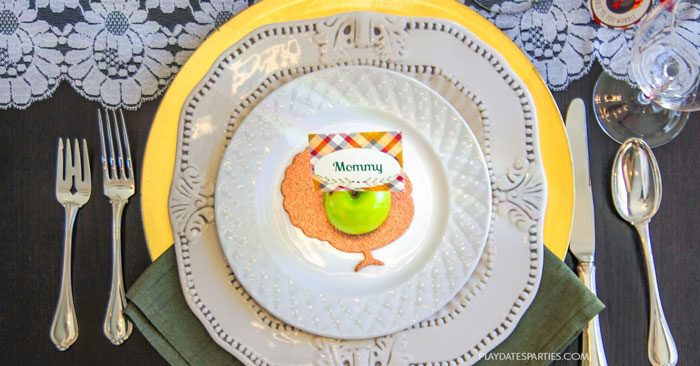 Use White Ceramic instead of Vintage Thanksgiving Dishes
Now, if you have vintage Thanksgiving plates, then by all means use them! But if you want a vintage feel without purchasing a once-a-year use, then I definitely recommend white ceramic plates.
I collected a mix of plates from HomeGoods that have just enough detail to compliment the vintage Thanksgiving vibe, while also being neutral enough to use over and over again.
Use Nice Flatware
If you're not using vintage Thanksgiving dishes, then add in some formal cutlery to make it feel special. We used real silver with a vintage-inspired pattern, but you can easily use nice looking flatware collected from thrift stores.
The point is to use something that isn't your everyday plain flatware.
Use Cloth Napkins
I wish we had some vintage napkins to add to the vintage Thanksgiving decorations. But we used what we had, and they worked well too.
Even if all you have is plain white linen, cloth napkins instantly take dinner to the next level.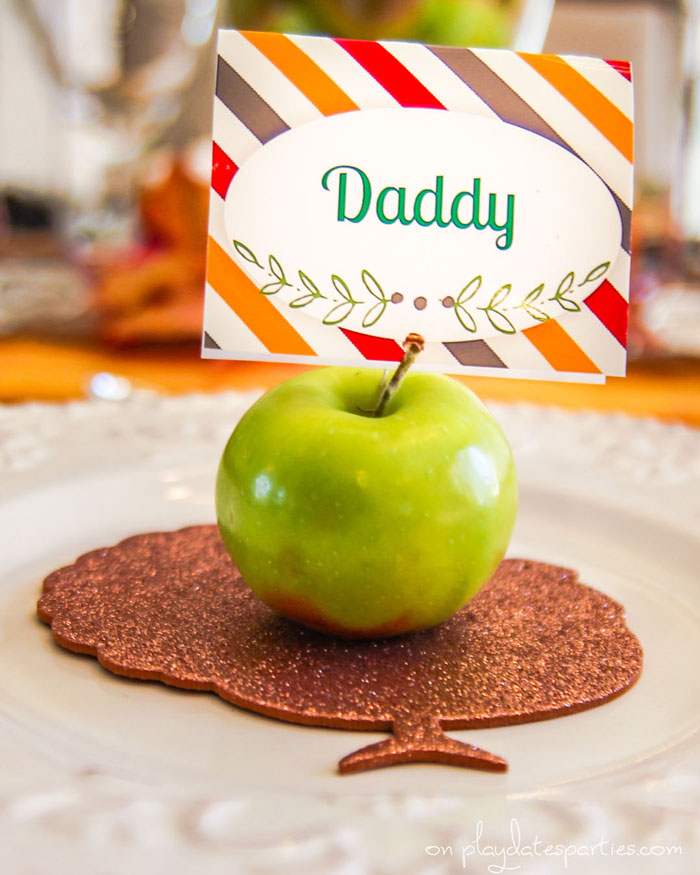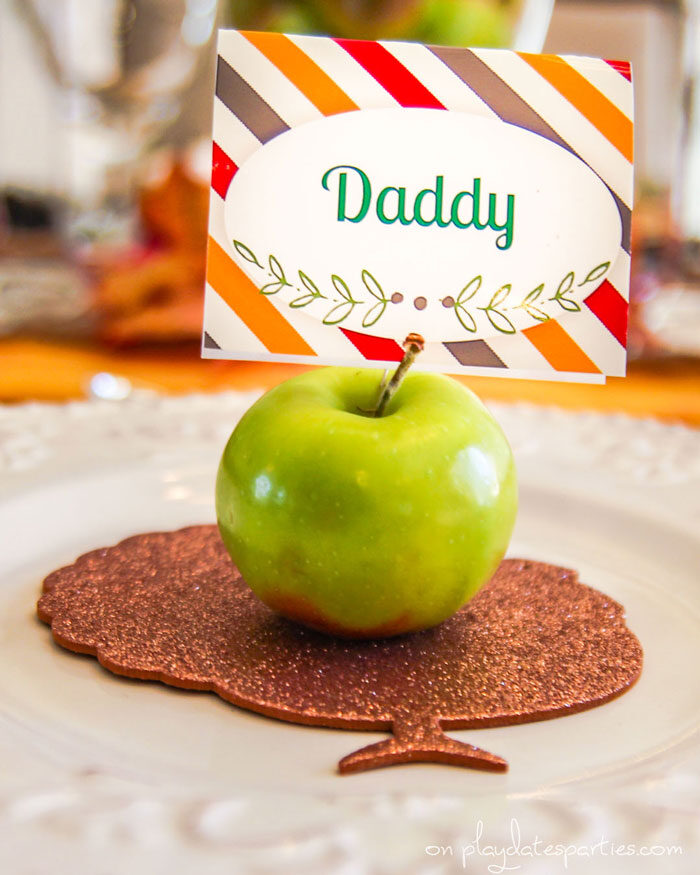 Add a touch of Sparkle
Gold chargers, glitter, glass candlesticks. Small amounts of these elements sprinkled throughout the decor make casual modern asthetics blend better with formal vintage pieces.
Don't be afraid to Add in Something Unexpected
The turkey cut-outs underneath the place cards are actually glittered foam from the Target dollar spot. They're a little silly, but I love how they look with the apples and the striped cards.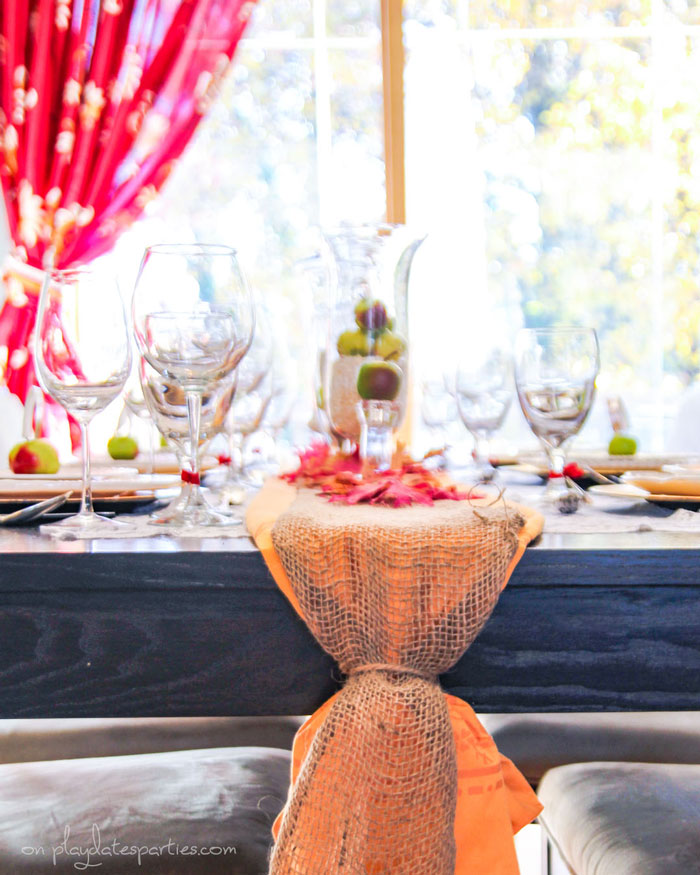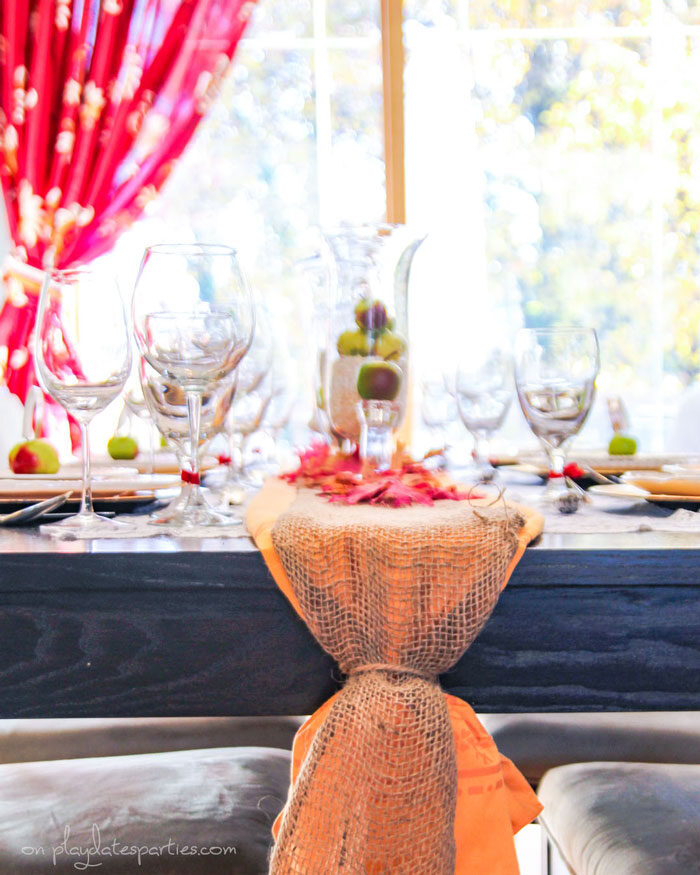 Layer, Layer, Layer
This goes along with adding in all the texture, but layers really make a meal feel special.
Of course, I'm assuming you're like us, where average meals don't include layers of placemats, chargers, dinner plates, and salad plates.
Layering several elements at each place setting in addition to several layers on our runner show that this isn't just any old Thursday.
What Vintage Thanksgiving decorations are Really About
You may disagree with me…but I think that vintage pieces are so much more special on Thanksgiving if they have a story to go with them.
Even if that story isn't your own, or even if the piece isn't vintage, but reminds you of something from your past.
For example, almost all of the decorations on our Thanksgiving table have some sentiment behind them.
Of course, it starts with the vintage lace runner handed down from my mother-in-law.
The yellow table runner is actually a provencal style tablecloth that reminds me of the tablecloths I saw on my honeymoon in France.
Faux fall leaves were collected over many years from other parties, starting long before the husband and I were married.
The glass candlesticks were a wedding gift from a family member.
Even hominy is sentimental, as it reminds us of my father-in-law's Bolivian heritage.
Individually these pieces are all wonderful, but put together in the right way created a lovely display that mixed vintage decorations with modern style.
Best of all, incorporating sentimental pieces provides instant conversation starters and makes your decor more personal.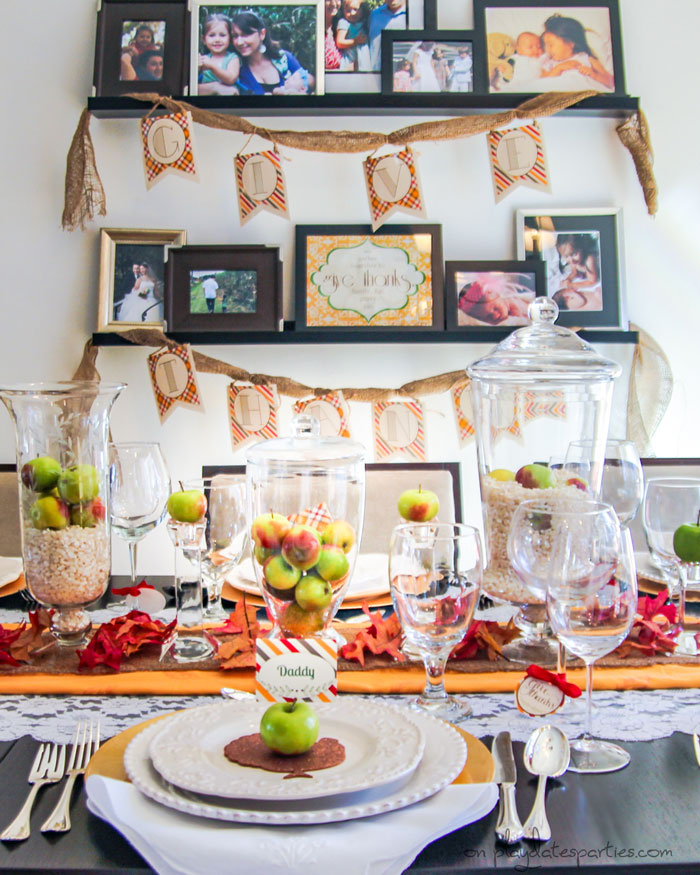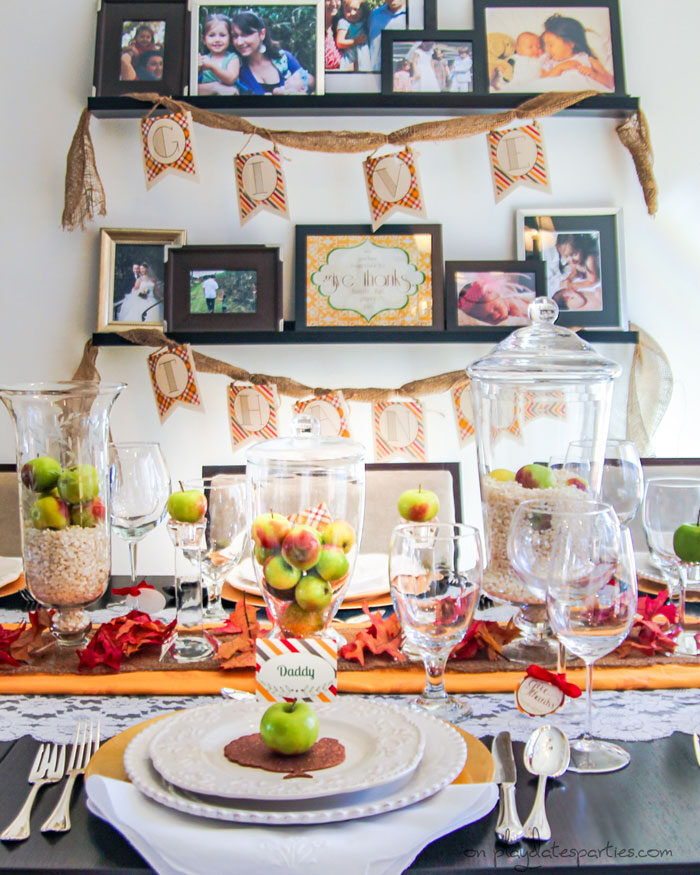 Want More Thanksgiving Inspiration?
Now It's Your Turn
With my newfound love of hosting Thanksgiving dinner, I'm pretty sure you'll be seeing more Thanksgiving decor from us in years to come. But now I want to know…
Which do you prefer? Formal, modern, or vintage Thanksgiving decorations?
Tell us about a sentimental piece you would incorporate into your tablescape.
---