Looking for inspiration to create your own inexpensive Thanksgiving table decor? Learn how to recreate this table setting with free, cheap, and reusable items!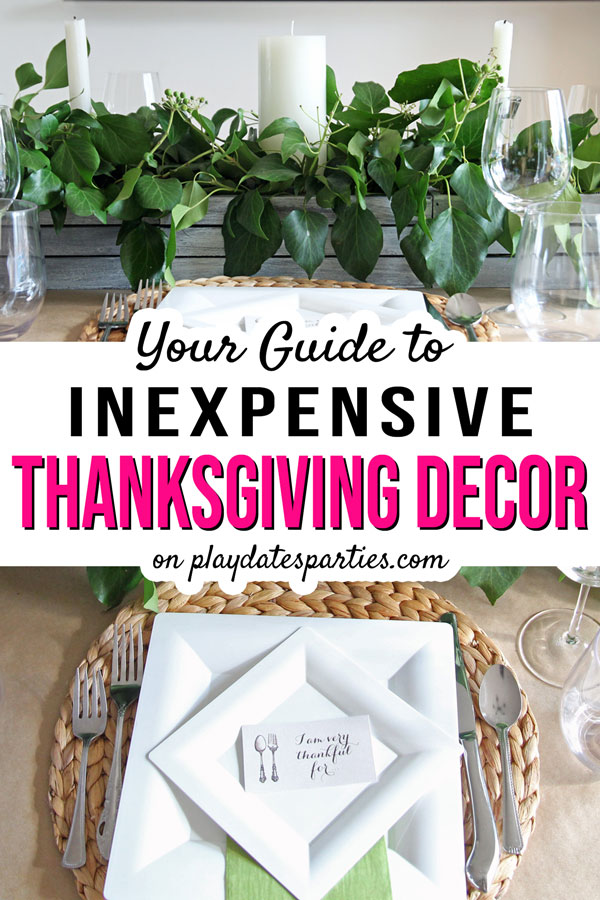 Imagine our surprise when a week before Thanksgiving we watched a tree fall down in our backyard – split right down the center.
Thankfully, everything was fine and no damage happened to anything other than the tree. But, we had to take care of it quickly before having guests over for Thanksgiving dinner.
Most of the family members saw the incident as an annoyance, but I saw it as a golden opportunity.
You see, I was still unsure how we were going to decorate our table for Thanksgiving dinner.
I felt spent for original inspiration. There was the year we did a somewhat traditional tablescape with layers and layers of texture. And then there was the year I completely covered leaves and pinecones with gold spray paint. (I still love that setup)
It seems I was experiencing a bit of a design block.
But, once that tree came down, I knew exactly what to do.
Your Guide to Inexpensive Thanksgiving Table Decor:

First, gather your greenery.
I grabbed as many branches as I could. I didn't even worry about how to arrange them yet. At that moment, it was all about quantity.
Pro tip: Keep freshly cut greenery in glasses or buckets in a cold environment to help them last longer. If temperatures aren't yet to freezing, your back yard or porch can be a great place to do this.
I kept our branches in buckets on our back deck, right outside the sliding glass door. On Thanksgiving day, the branches were beautifully intact and lush. All we needed was a way to hold them.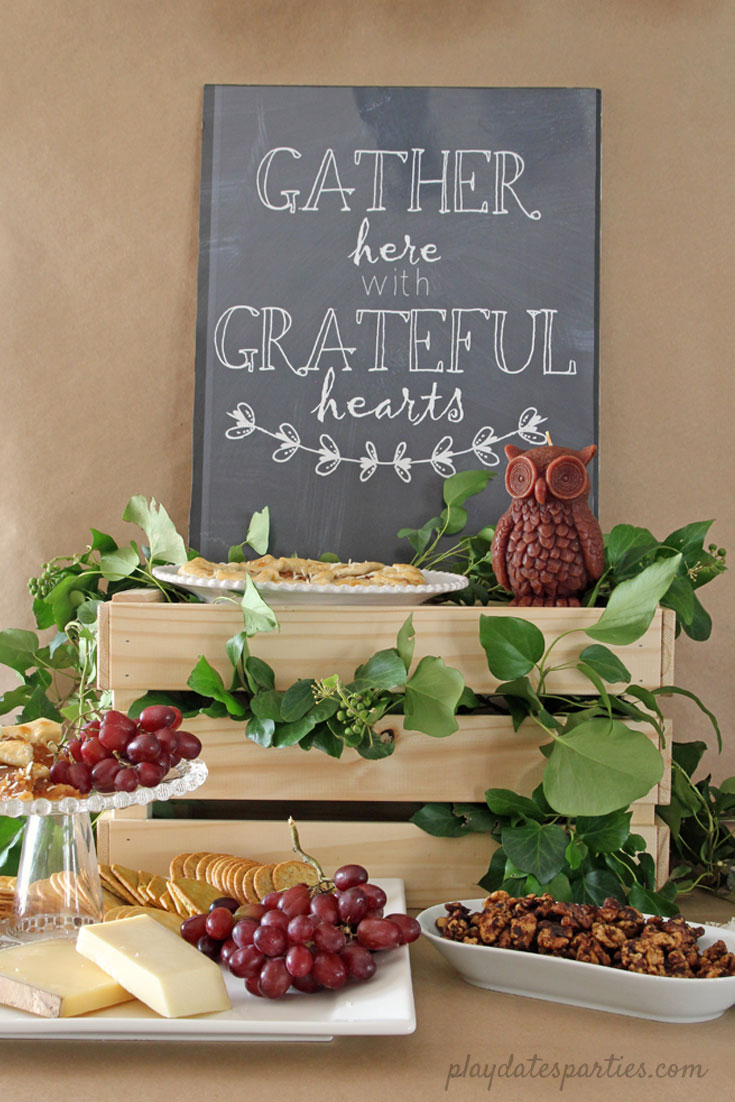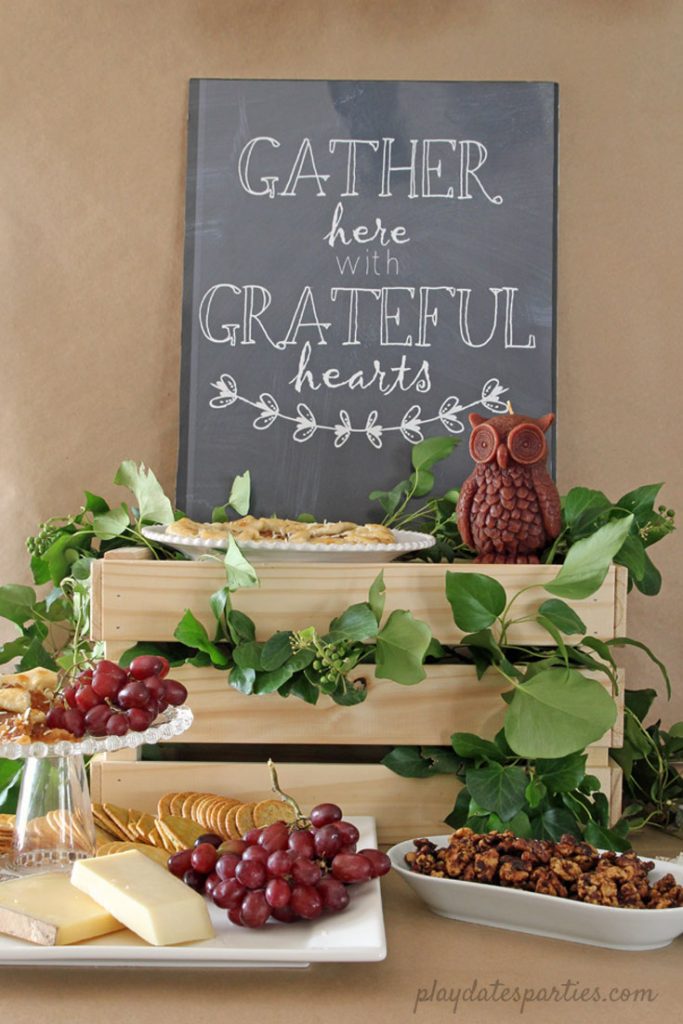 Arranging the branches.
Search your house for rustic or natural-looking items that can act as vases. Don't forget to look at things in different ways. You might be surprised at what you can find without spending a dime. Some great ideas are:
Basically, if it's flat enough to hold a water-tight vase, or can act as a water-tight vase, it's worth trying!
We ended up using leftover wood boxes from my rustic holiday tablescape and a wooden crate I bought from Ikea several months earlier.
Prepare Your Table
The base of your table is also all about using natural elements. Think wood or woven placemats, burlap table runners, and crisp white plates.
We chose to use brown contractor's paper as an extra wide table runner, and as a base for the island buffet. Woven hyacinth placemats and high–quality white disposable plates rounded everything off perfectly.
The end result was stunning.
Best of all, it was easy to setup AND easy to take down! Most of the decorating was just sticking branches into boxes, and layering with other elements we already had on hand.
And the brown paper 'tablecloth' and disposable plates meant that we were able to clean up via recycle bin instead of dishwasher. Score one for easy!



Finally, add a few extra touches to your Inexpensive Thanksgiving Decor
You can add a bit more personality to your tablescape with a few fun elements. Some of my favorite special touches for Thanksgiving displays include:
Printable chalkboard signs,
Cards for writing what your guests are thankful for,
Favorite seasonal decor that has been collected over the years.
Framed bits of fabric or napkins that fit the theme.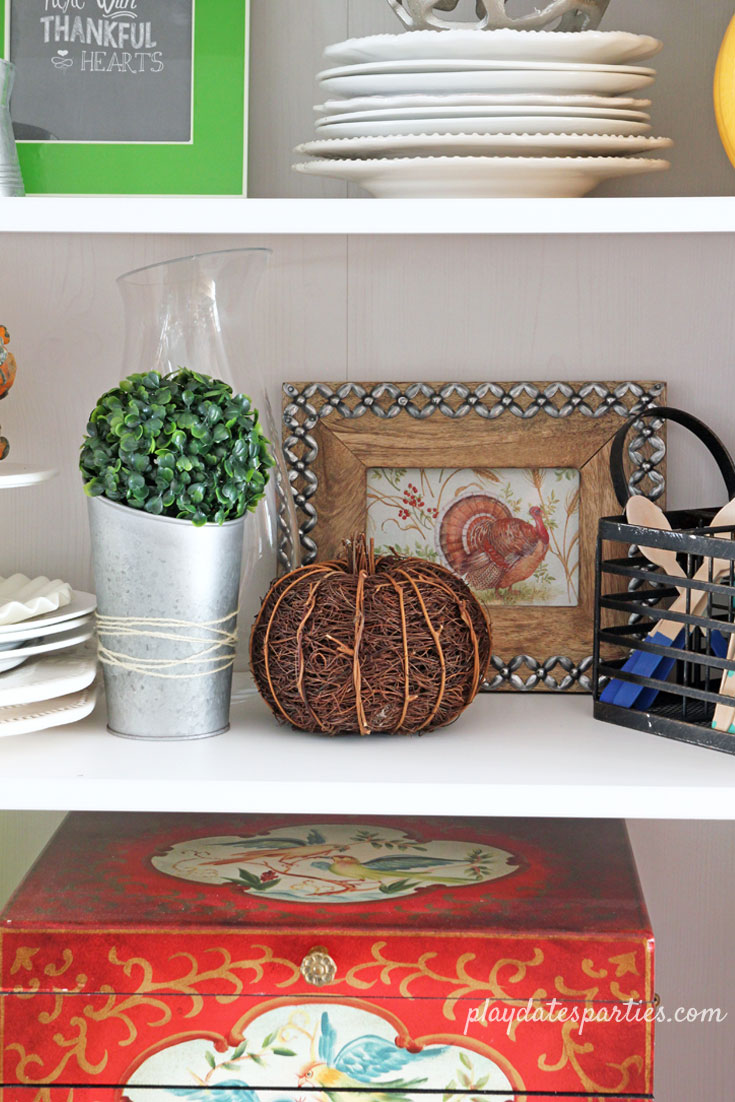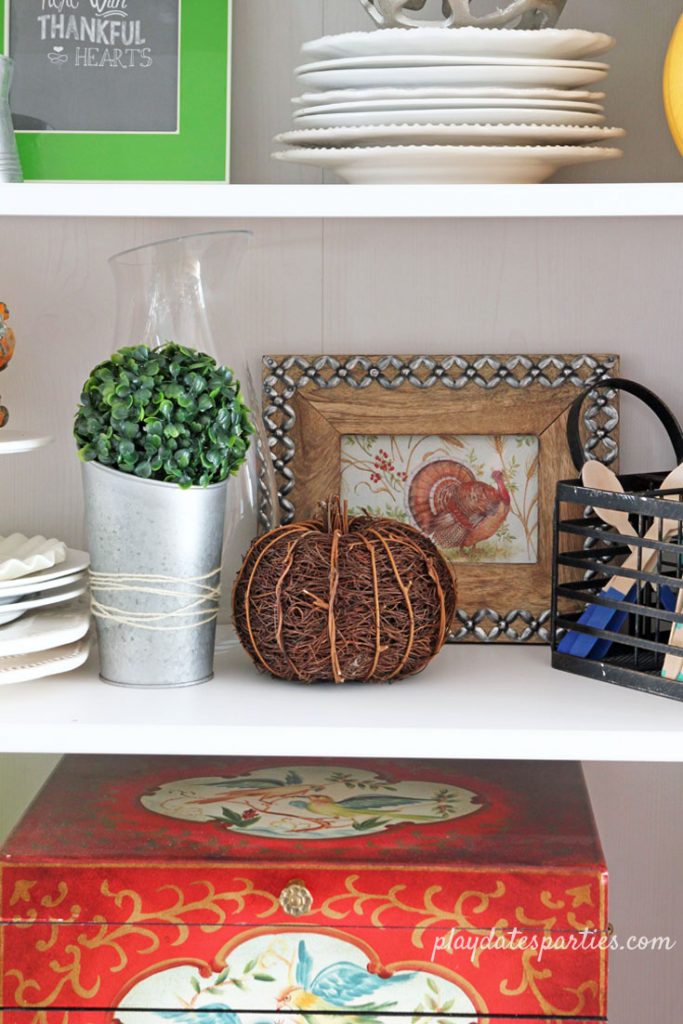 Tip: Many printables are provided in high print quality, which means they can be printed in much larger sizes than originally intended. To make our chalkboard sign, I had a poster-size print made of this free printable, and then used spray adhesive to quickly glue it to foam core.
How long did it take to pull together?
Because I already had the metal vases, boxes, and hyacinth placemats the whole display only took about two hours to pull together. Which means I was able to focus more of my time on important things like cooking the food and mingling with our family members.
How much did it cost?
Here are the main items you need to recreate this look:
Because we had so much on hand already, I estimate that we only spent about $100 on decor and disposables for a table set for 7.
The bulk of the cost was spent on the large printed backdrop and the disposables. Plus, many of the items I did purchase can be used again for any number of parties. That's something worth storing.
Would I do it again?
Absolutely! I love decor that is both disposable, recyclable, or biodegradable. Plus, the other decor elements can be used in any number of ways throughout the home once the holiday is over.
While it may seem wasteful to use so many disposable items, I believe that it is better to use items that can be recycled than to purchase decor that will sit wasting space in a home for years to come.
Now, it's Your Turn
Walk on out into your backyard to take a look at what you can use to decorate this Thanksgiving.
Even though inexpensive Thanksgiving table decor like this can end up being more casual, it's a wonderful way to make your guests feel more relaxed and welcome.
Don't forget to subscribe via
Bloglovin, Facebook, and Twitter,
to get more updates!