With these tips, you can absolutely make inexpensive Thanksgiving table decor that looks amazing and is easy to pull together.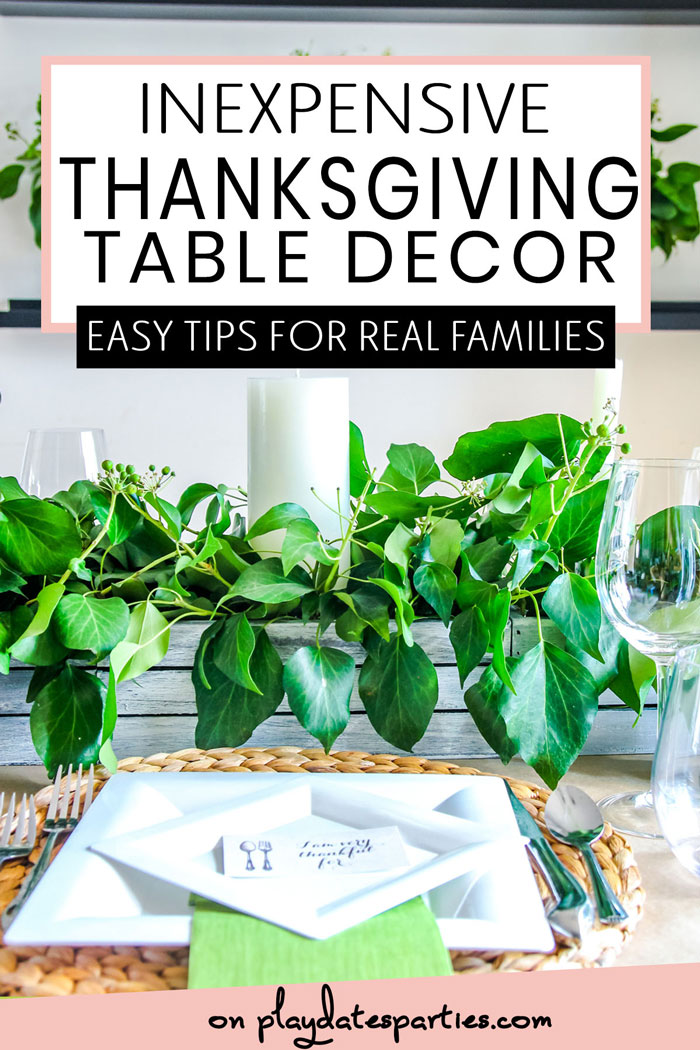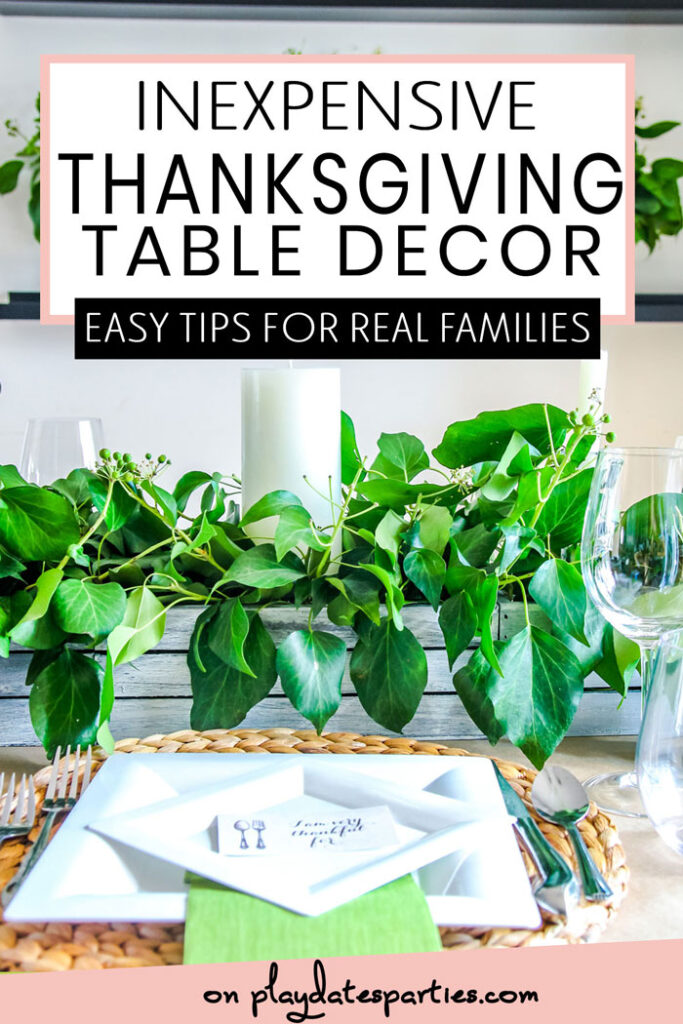 Imagine our surprise when a week before Thanksgiving we watched a tree fall down in our backyard – split right down the center.
Thankfully, everything was fine and no damage happened to anything other than the tree. But, we had to take care of it quickly before having guests over for Thanksgiving dinner.
And we had the awesome bonus of tons of practically free greenery to decorate with for Thanksgiving. Score!
I love finding new and unexpected ways to create inexpensive Thanksgiving table decor. For our vintage inspired Thanksgiving I used seasonal produce and dried hominy, and a couple years ago I even created all gold Thanksgiving decorations with free greenery and a few cans of spray paint.
You can totally create your own unique Thanksgiving decor on the cheap too. It just takes a little bit of planning.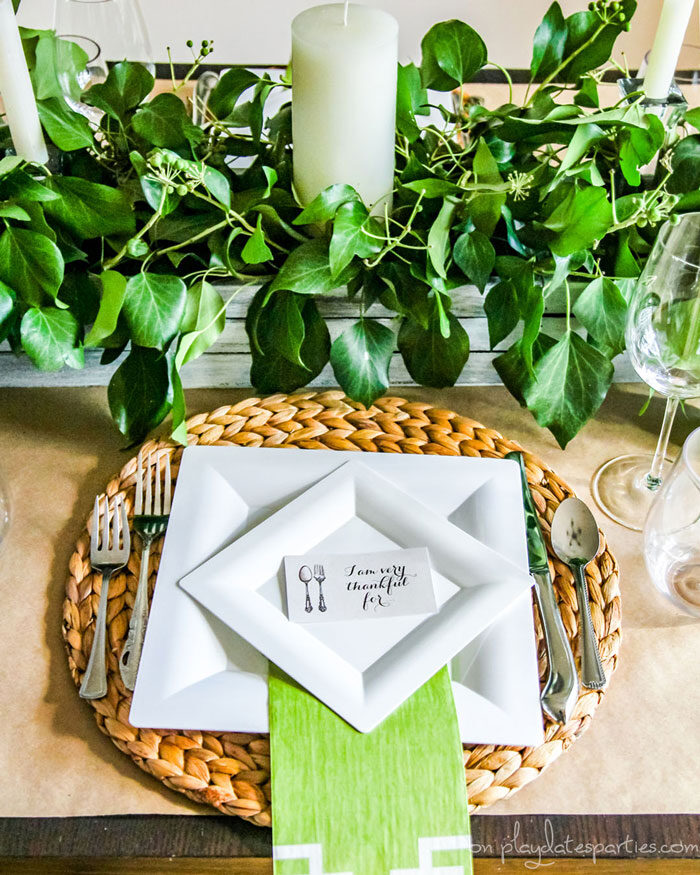 How to Create Stunning but Inexpensive Thanksgiving Table Decor:
First, Choose a Color Scheme.
It's such a small task, but narrowing your design down to two or three colors makes all the difference.
Not only will it give you a cohesive design in the end, but decision making is much simpler too. And that means less time spent wondering how to decorate and more time making dessert.
For this casual Thanksgiving table, I focused on brown, green and white.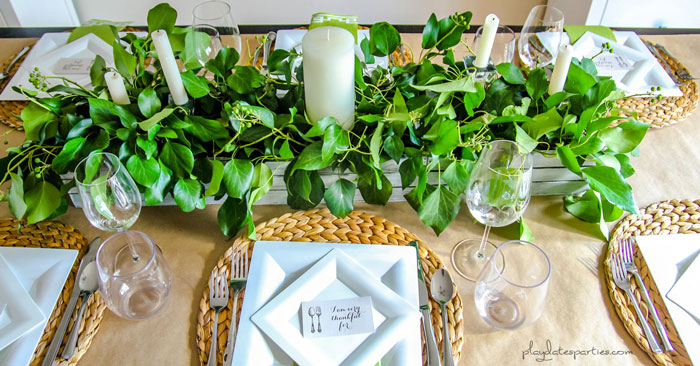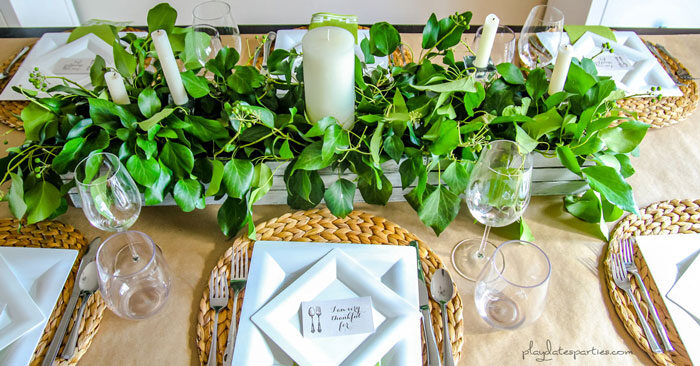 Second, Plan Your Space
Figure out how you're going to use your space, so you don't end up buying things you don't need.
Do you want a table runner or one big Thanksgiving centerpiece?
Where will you put the food? (Tip: set up a buffet or sideboard to hold the food so your beautiful table doesn't get crammed with dishes. We like to use our kitchen island, but you can also use a small folding table with a tablecloth)
Will everyone be sitting at one table, or will you have a separate kids table?
Third, shop your home.
Now that you know your color scheme, and how you'll use your space, it's time to shop for free!
Search every room of your home, and even your backyard for decorations you can add to your Thanksgiving table. And don't be afraid to do something unexpected, like:
Use a throw blanket as a tablecloth, or fold it up as a table runner (just make sure it's machine washable)
You can even use a long scarf as a table runner!
Frame holiday themed napkins or fabric to use for decorations
Cover your table in butcher paper or wrapping paper instead of fabric. It's more casual, but also much easier to clean up!
Spray paint dried flowers, leaves and other items you find in and around your house.
Wrap a sturdy box with fabric or twine to hold centerpieces or to add height to your display.
Don't forget to look for special and sentimental pieces, too. Adding a personal touch to your Thanksgiving table decor makes the whole day that much more special.
Remember, it's all about spending time with our loved ones.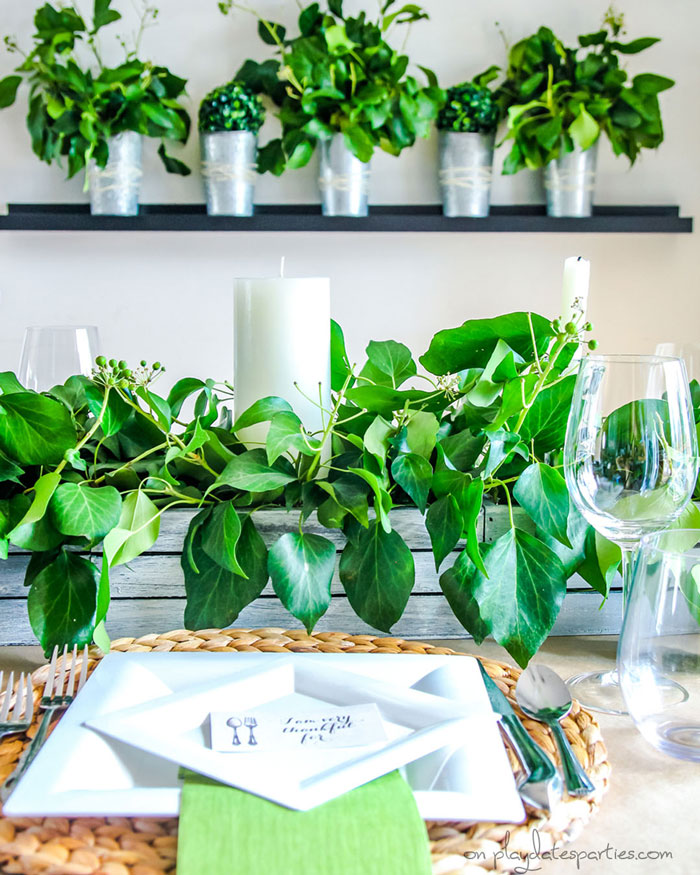 Using Freshly Cut Greenery from Your Backyard
Remember that tree that fell over?
Before having it removed, I grabbed as many branches as I could. I didn't even worry about how to arrange them yet. At that moment, it was all about quantity.
Pro tip: Keep freshly cut greenery in glasses or buckets in a cold, environment to help them last longer. If temperatures aren't yet to freezing, your garage, back yard, or porch can be a great place to do this.
I kept our branches in buckets on our back deck, right outside the sliding glass door. On Thanksgiving day, the branches were beautifully intact and lush. All we needed was a way to hold them.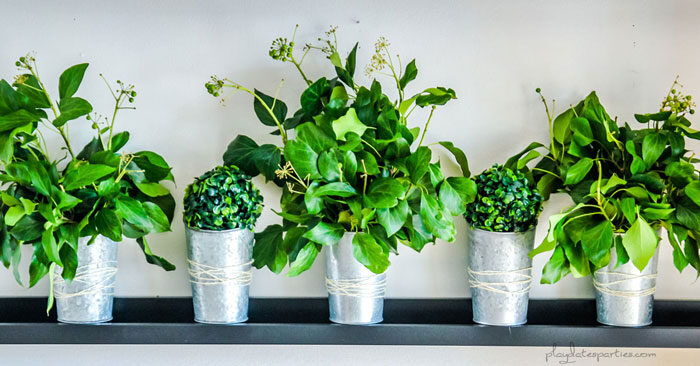 Inexpensive Ways to Arrange Freshly Cut Greenery for Thanksgiving
Remember shopping your house first? Look through your finds for rustic or natural-looking items that can act as vases.
You might be surprised at what you can find without spending a dime. Here are some great ideas for inexpensive items that work well as vases for your Thanksgiving table:
Basically, if it's flat enough to hold a water-tight vase, or can act as a water-tight vase, it's worth trying!
We ended up using leftover wood boxes from my rustic holiday tablescape and a wooden crate I bought from Ikea several months earlier.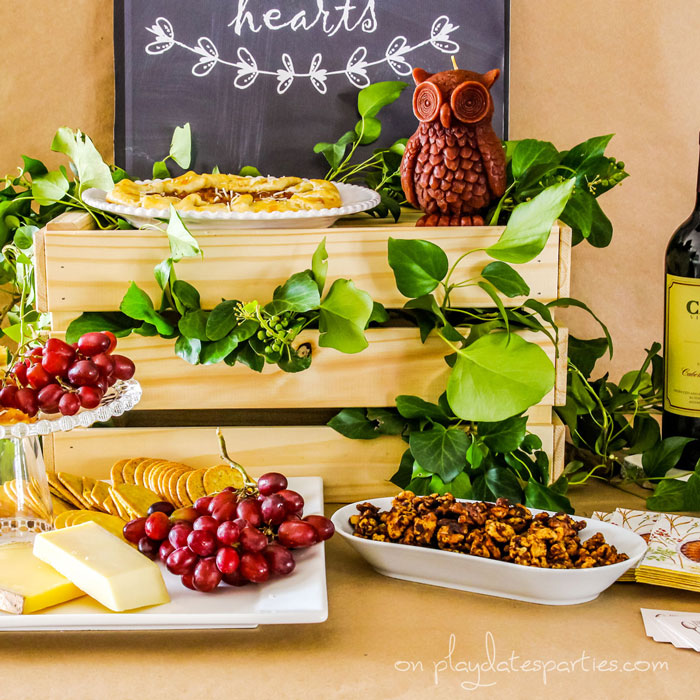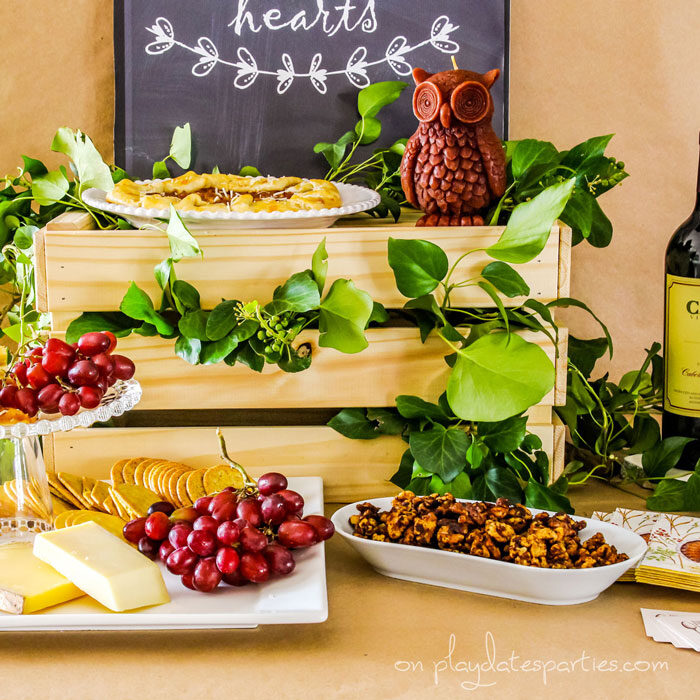 Using Dried Items from Your Backyard
Fallen leaves, dried flowers, pine cones and acorns are all fantastic options for cheap Thanksgiving decorations.
Just be sure to preserve and dry out your pine cones and acorns before displaying them. Or you can seal them with a few coats of spray paint.
The possibilities are endless.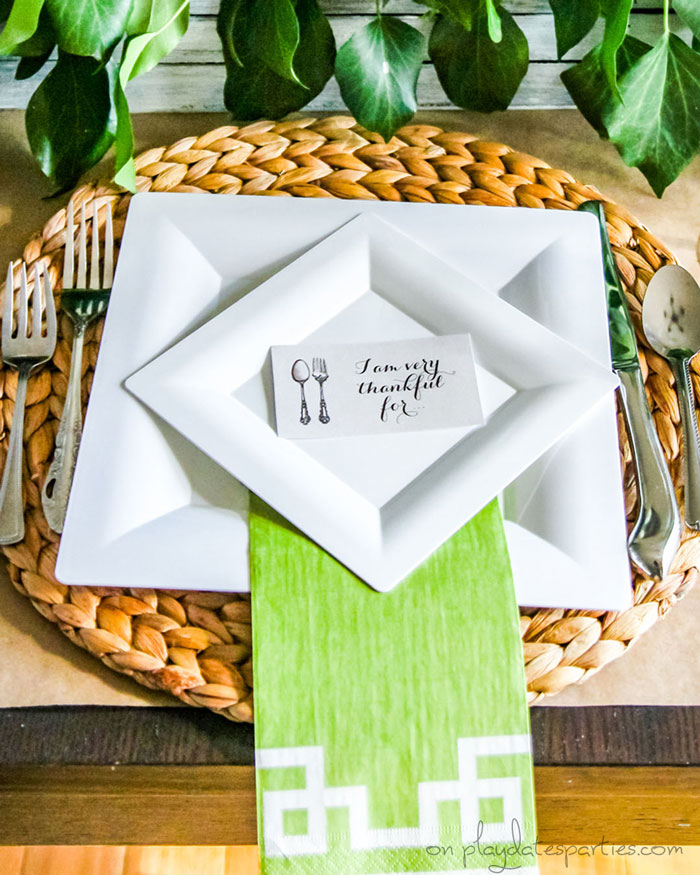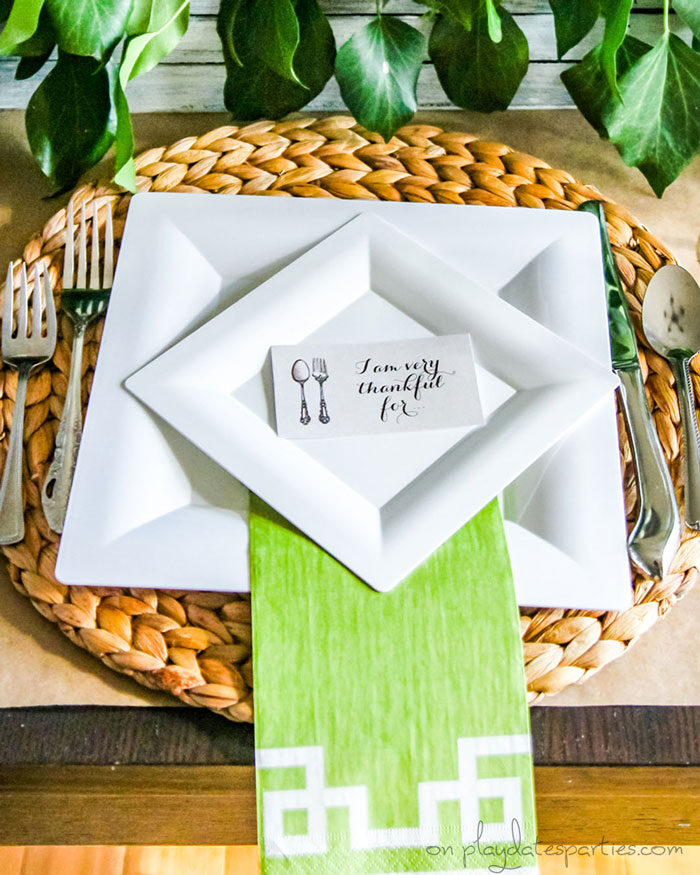 Inexpensive Thanksgiving Table Decor to Buy:
When buying Thanksgiving decor (or any decor for that matter) I always look to see if it can be re-used throughout the year.
Basically, if it can only be used for one holiday, I don't buy it, no matter how cheap it is.
Some of my favorite table decor that is perfect for Thanksgiving includes:
Thanksgiving Decorations at the Dollar Tree:
We all love Dollar Tree finds, but not everything there is worthy of our Thanksgiving table. These are my recommendations:
Brown kraft paper (if you don't want a full roll of contractor's paper)
Foam core posters
LED Tea Light candles (so much safer for kids!)
Don't forget, Dollar Tree also has free in-store pickup. No need to run around after kids in the store.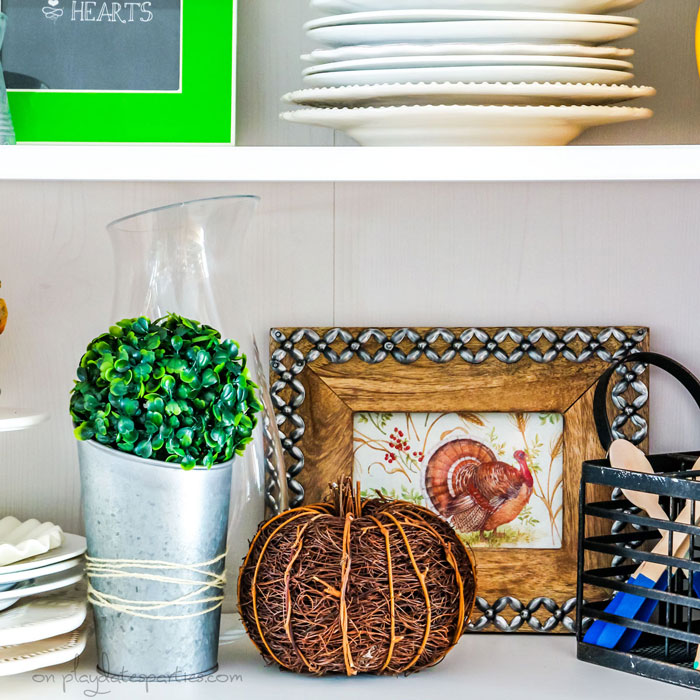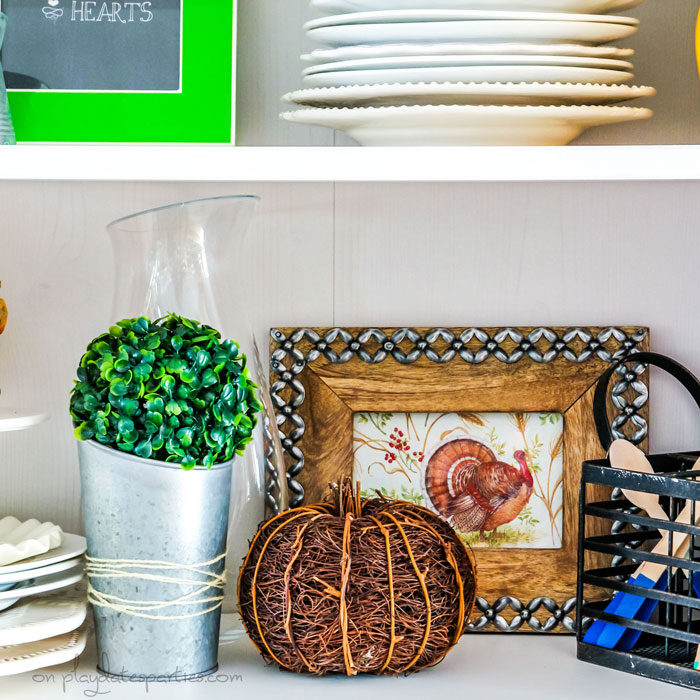 Thanksgiving Decorations on Amazon:
Let's be honest, Amazon is my favorite! Between the app and my prime membership, it's just so easy to find a great deal without having to battle crowded stores.
I've mentioned most of this already, but here's a quick recap of awesome Thanksgiving decor you can find on Amazon:
Finally, add a few extra touches to your Inexpensive Thanksgiving Table Decor
You can add a bit more personality to your tablescape with a few fun elements. Some of my favorite special touches for Thanksgiving displays include:
Free Thanksgiving printables, like the chalkboard sign below,
Cards for writing what your guests are thankful for,
Favorite seasonal decor that has been collected over the years.
Tip: Have a poster size print made of printable Thanksgiving signs, and then use spray adhesive to quickly glue it to foam core.
How long did Our Thanksgiving Table Take to Pull Together?
Because I already had the metal vases, boxes, and hyacinth placemats the whole display only took about two hours to pull together.
That means I was able to focus more of my time on cooking the food and mingling with our family members.
You know, the important things.
How much did it cost?
If you want to recreate the look of our Thanksgiving table here, you'll need plenty of greenery and:
Because we had so much on hand already, I we only spent about $100 on decor and disposables for a table set for 7.
The bulk of the cost was spent on the large printed backdrop and the disposables.
If that seems like a lot, remember that many of the items I purchased can be used again for any number of parties. That's worth a few extra pennies.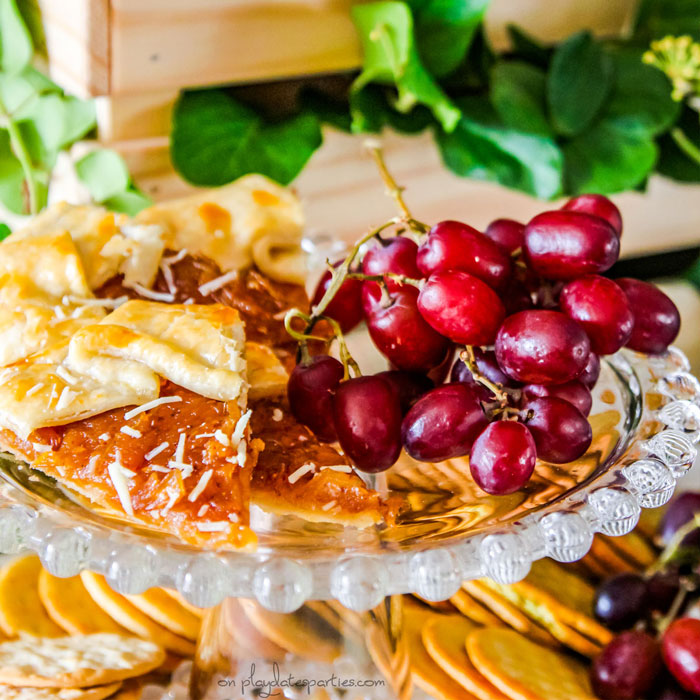 More Thanksgiving Ideas to Check Out:
Now, it's Your Turn
Yes, you can have stunning and inexpensive Thanksgiving table decor. Just remember to:
Choose your color scheme first
Plan your layout,
Shop your home and yard, and then
Check out The Dollar Tree and Amazon for deals.
Super easy, right? Now I'd love to know…
What is your favorite way to save a few dollars on Thanksgiving decor?
---