Stress be gone! This printable Thanksgiving dinner planner keeps your checklist, menu, & notes all in one convenient place with a bonus day-of planner too!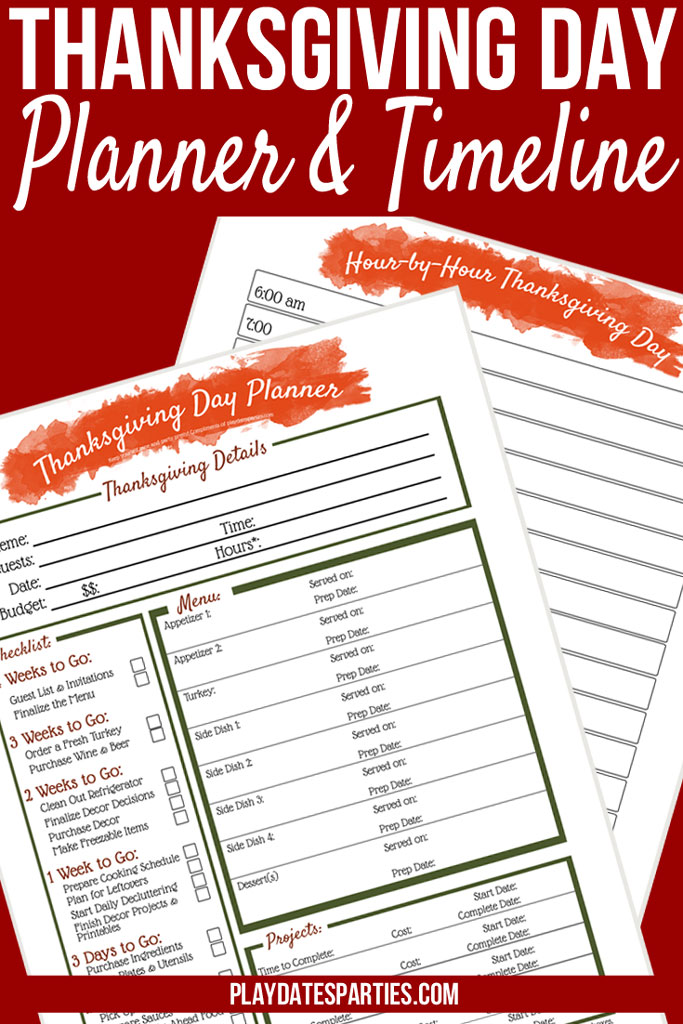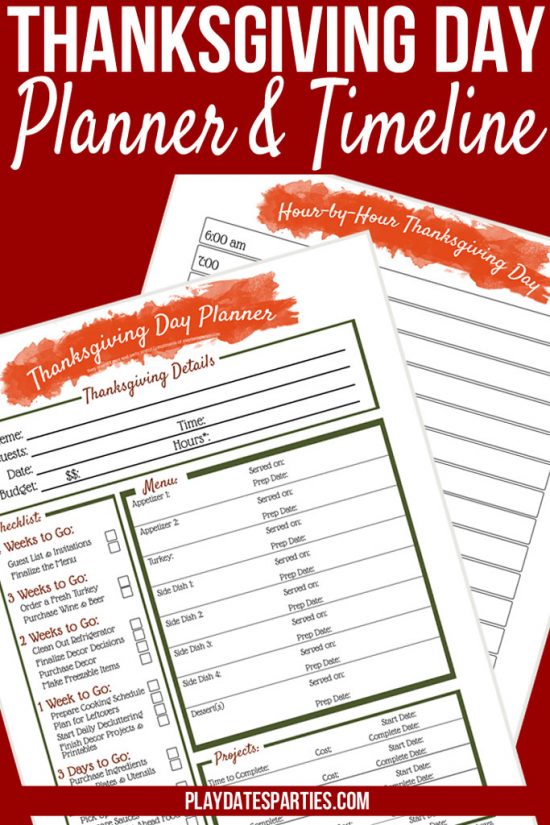 October has barely started yet here I am with Thanksgiving on the brain.
For some reason I find Thanksgiving to be more difficult to plan than my kids parties or just about any other event. There are just so many options for Thanksgiving and so many expectations for what should be served and how much should be served.
It's also just about the only time that I will do a sit down dinner with our family.
I'm a buffet girl let's face it. I was raised in the south and I love how relaxed buffets are. But you just can't do Thanksgiving quite the same way if it is in buffet fashion.
[clickToTweet tweet="Your All-in-One #Thanksgiving Planner…on only 2 pages! #organized ? via @PlayDatesParty" quote="Your All-in-One #Thanksgiving Planner…on only 2 pages! #organized ?" theme="style2″]
So that means that I have to work even harder to control myself and to control what I plan for Thanksgiving.
Which is why I pulled together this two page Thanksgiving planner, which is designed to help you create an amazing meal without stressing yourself out too much.
It's very similar to the birthday party planner that I wrote about the other week. But, instead of having a guest list (because typically Thanksgiving dinners are usually with the same crowd year in and year out) this planner includes a four week check list of what to get done and when.
Free Printable Thanksgiving Dinner Planner
It all starts with the proper planning. Figuring out your guest list and a manageable menu as early as four weeks out makes life so much easier.
Then, you figure out all the other details, like:
What you're going to use to serve your food,
Decor projects you actually have time to tackle, and
How to get your home picked up and ready on time.
That said, you need to keep things simple.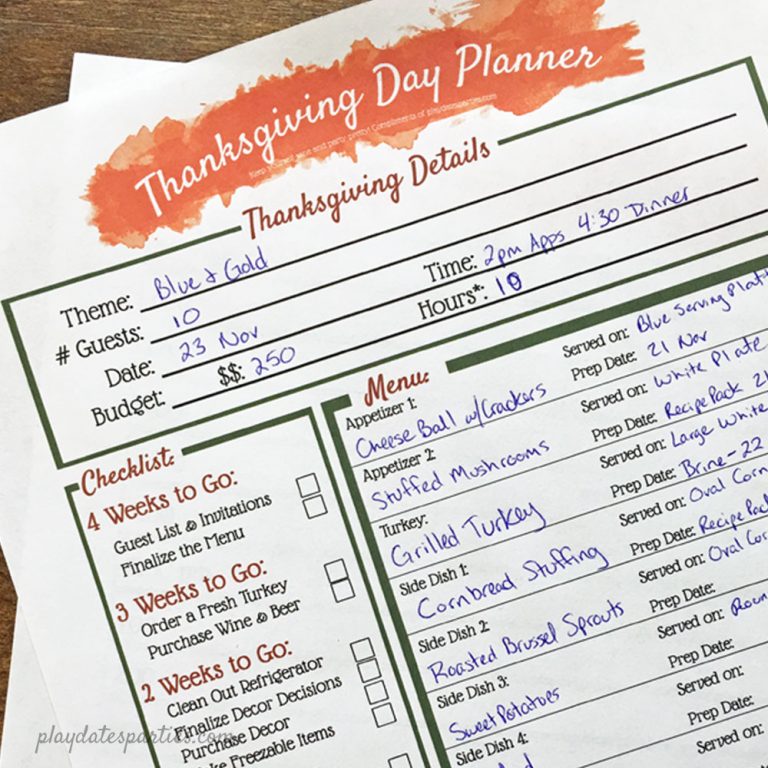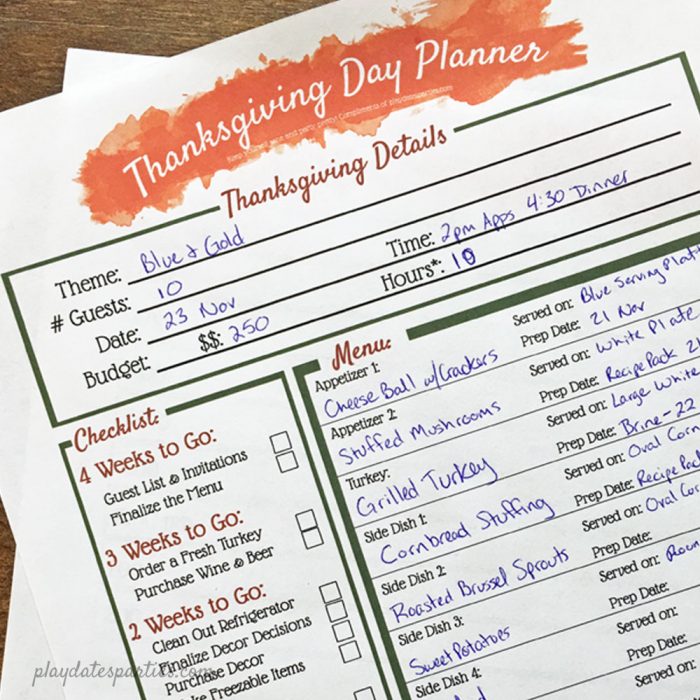 I've tried a multi-page printable Thanksgiving Dinner planner and ended up more disorganized than when I started! Either pages got lost, notes got put on the wrong page, or it just became too cumbersome to handle.
And that's why this Thanksgiving dinner planner is only than two pages long.
The first page includes all the big details like a checklist of when to get things done, menu details, project planners, and number of guests. Then, a second page is dedicated entirely to your Thanksgiving Day hour-by-hour task list.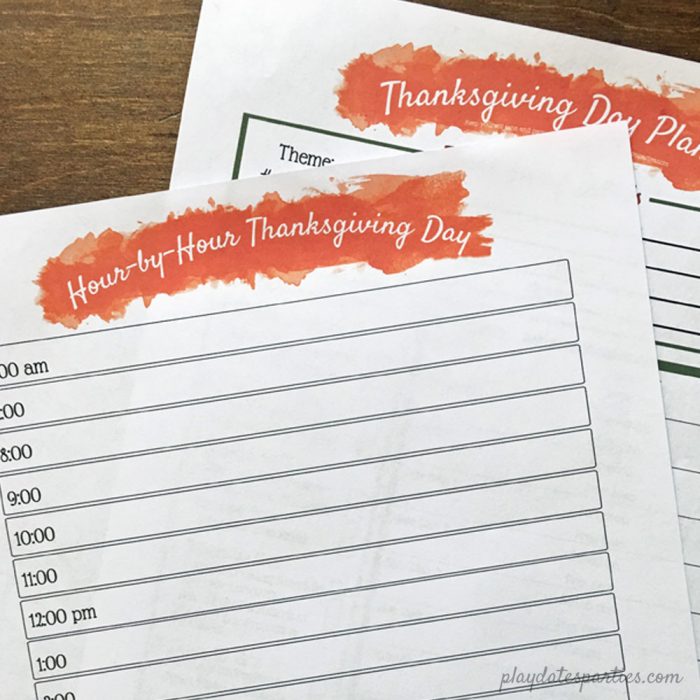 If you're like me, you'll print it out double-sided on some sturdy white card stock or heavy-duty paper (I like 32-lb weight).
Trust me, you'll be glad to have your plan on sturdy paper that can go through a beating for a few weeks and stay intact.
If you want more note-taking space, you can choose to print them on separate pages. (Just be sure to staple them together so they don't get separated.)
Now, It's Your Turn
Yes, it may only be October, but with this printable Thanksgiving dinner planner, you'll be ready to get started as soon as Halloween is over!
The printable Thanksgiving Dinner planner is available for free in the subscriber's resources library. If you're already a subscriber, just check the latest email for the current password and link and you're all set. If not, just fill out the form below to get access:
Then you'll get the free printable Thanksgiving Dinner planner and all the other free printables ever offered on the blog! You'll also get updates in your inbox with exclusive content, tips, and a sneak peak at what's coming up.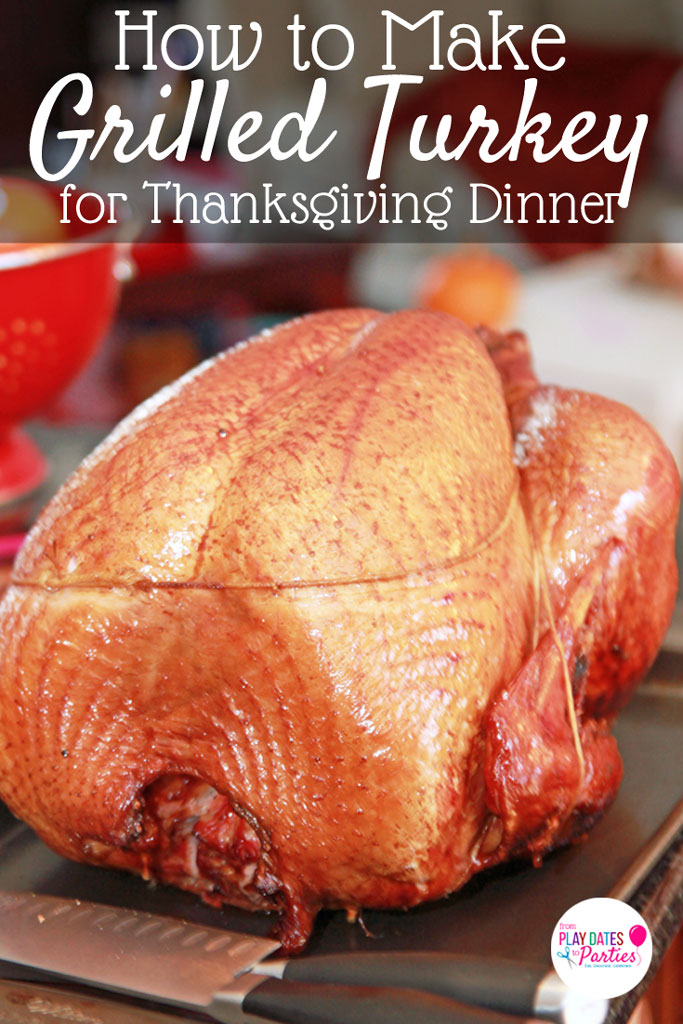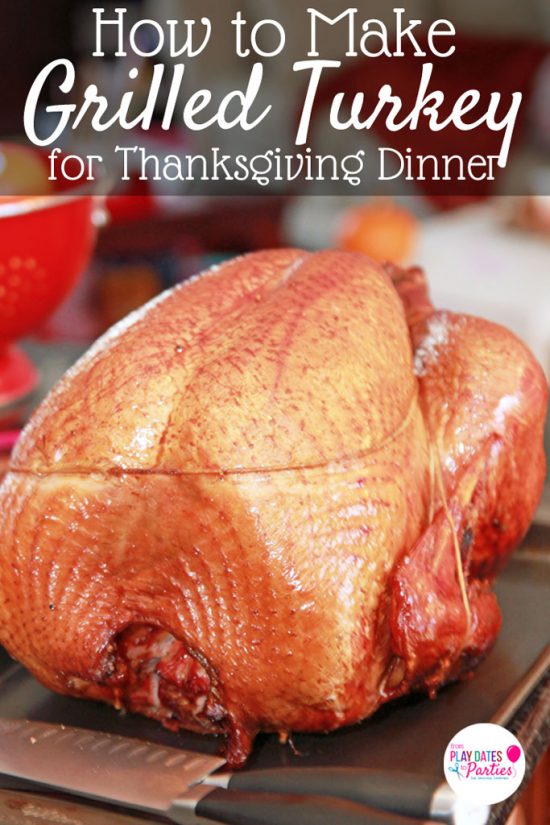 Don't forget to subscribe via
Bloglovin, Facebook, and Twitter,
to get more updates!
SaveSave
SaveSave
SaveSave
SaveSave