Gold Thanksgiving decor doesn't have to be expensive, or cheesy. Learn how to make a gorgeous-and easy-Thanksgiving table full of glittery goodness.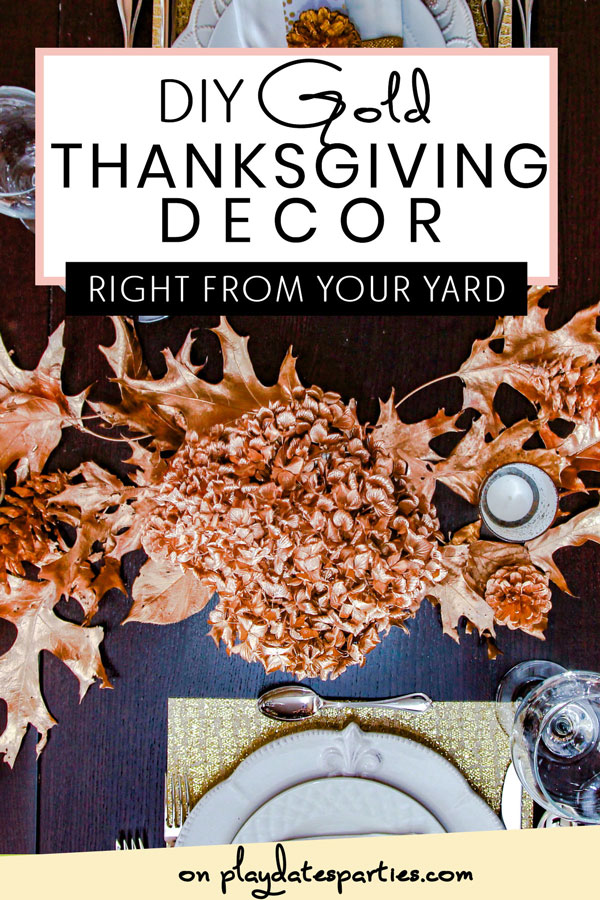 So, nearly seven years ago I swore off hosting Thanksgiving at our house.
Then, I broke that promise two years ago with vintage Thanksgiving decorations inspired by a piece of lace handed down by my mother in law and the colors of fall leaves.
That was when I officially fell in love with Thanksgiving.
Gold Thanksgiving Decor…on a Budget!
This year, I wanted to do something different. Something sparkly. Something totally eye-catching.
Something cheap.
(I know, we're not supposed to admit being cheap, but I've got a DC/Baltimore sized mortgage, daycare, and private school tuition eating up my income. We've got no money, honey!)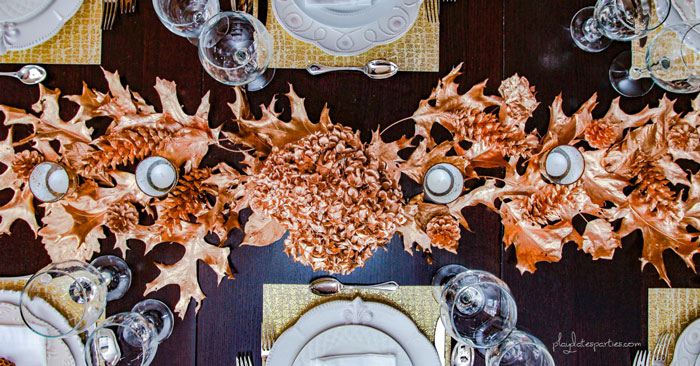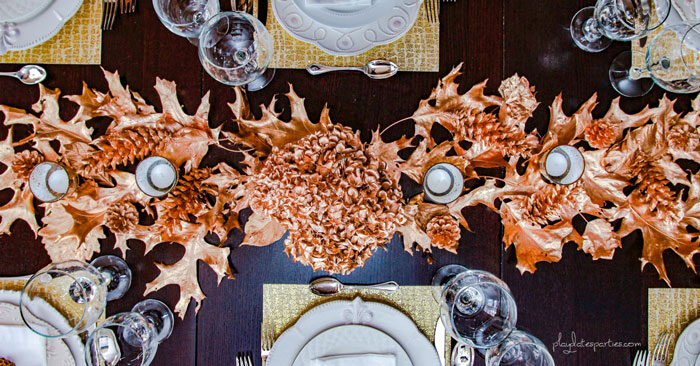 Turning Backyard Finds into Gold Thanksgiving Decor:
There's no better place to shop for your decorations than in your own backyard. As the leaves start falling, it's so easy to collect natural elements to use in your decorations.
And when you're looking to turn them into gold Thanksgiving decor, you have to look past the dingy exterior and look at the following:
Shape
Look for shapes that immediately make you think of fall. Leaves, acorns, and pine cones are all great examples that do this.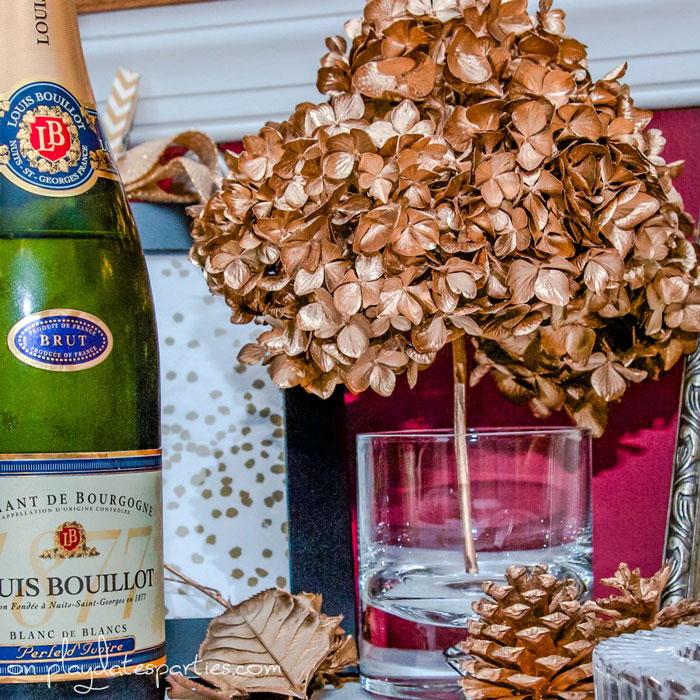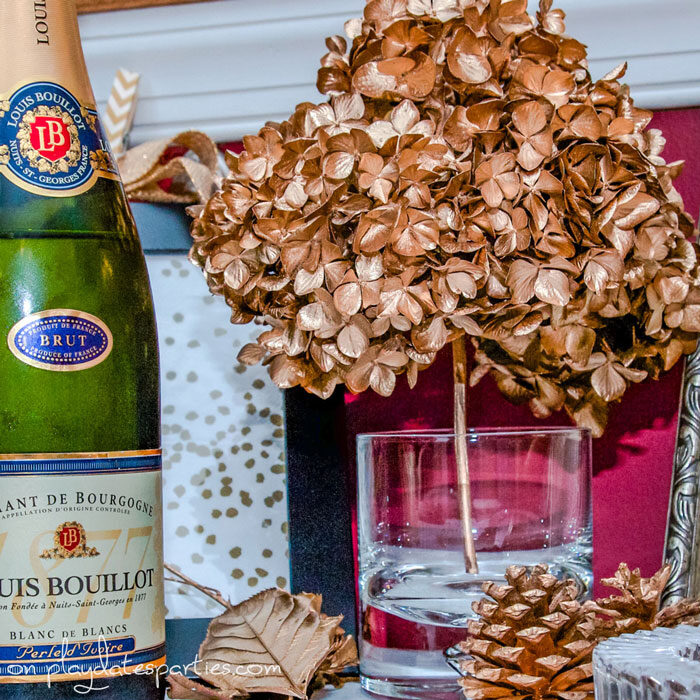 Texture
When you're decorating with pretty much one color, it's very important to consider the texture of everything you use.
Quality
I do love to let our kids help pick the leaves and things for our decorations, but they don't know that I often also go through and weed out the bad choices.
Things like ripped or holey leaves, torn pine cones, and acorns without their hats will be far more noticeable once they're painted and put on display. And for Thanksgiving decor, I personally find that just too casual.
When You've Got More Than You Think You Need, Grab some spray paint!
Trust me, you'll want more than you think, and that includes the spray paint.
I went through at least three cans of spray paint, some of which I had when I started. The shades of gold are all different from one another, but I think they blended in well together in the end.
Tip: Keep your extra Amazon boxes, and place your items inside the box for spray painting. This reduces the amount of overspray that gets onto the surrounding area.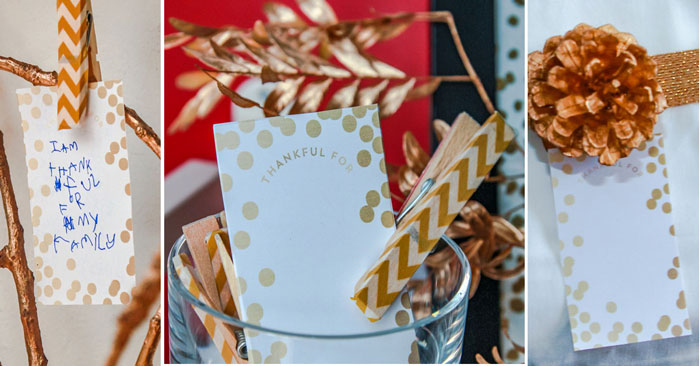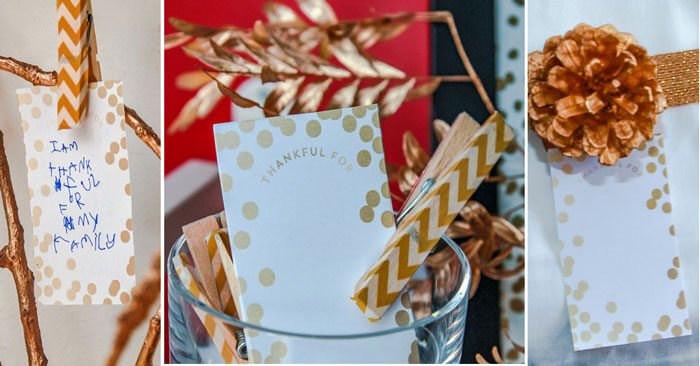 Gold Thanksgiving Printables
A few years ago, I came across these "Thankful" cards from Jones Design. I used plain white cardstock instead of the textured paper she used, which coordinated perfectly with the rest of the gold Thanksgiving decor.
My 5-year-old even filled a few out and put them on our gold "Thankful" branches. I promise we didn't ask her to write this!
RELATED>>>>Top tips for making printables look their best.
Bonus: Using the notes cards instead of place cards was awesome!
Instead of assigning seats with place cards like we did previously, these cards added a special touch that allowed everyone to sit where they are comfortable. And took a lot of planning pressure off of us!
Looking for more options? I've got a resource filled with free Thanksgiving printables you can use for your holiday. So much goodness going on there!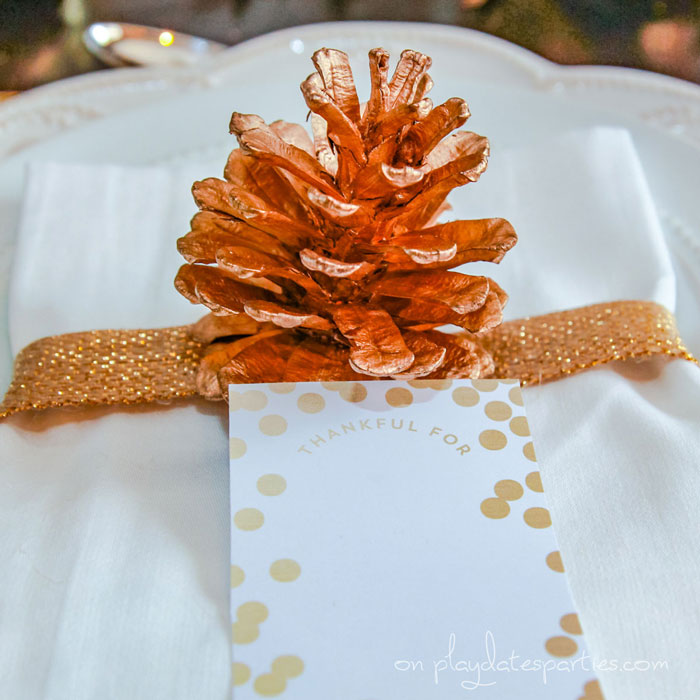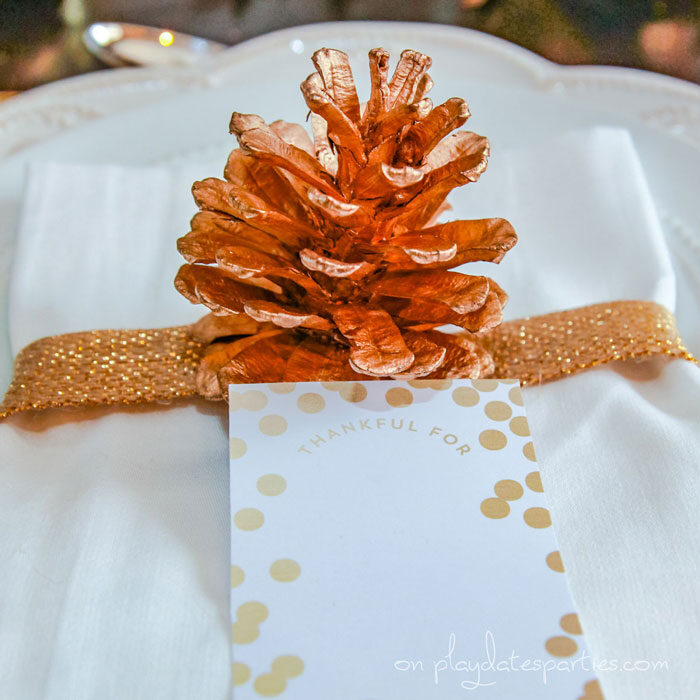 More Gold Thanksgiving Touches
1-inch gold ribbon is perfect for making gold Napkin Wraps.
Use gold glitter scrapbook paper for placemats.
Shop your house for gold frames and decorations you can 'steal' for your Thanksgiving dinner table.
Add gold washi tape to darker frames and clothes pins to keep the color scheme going.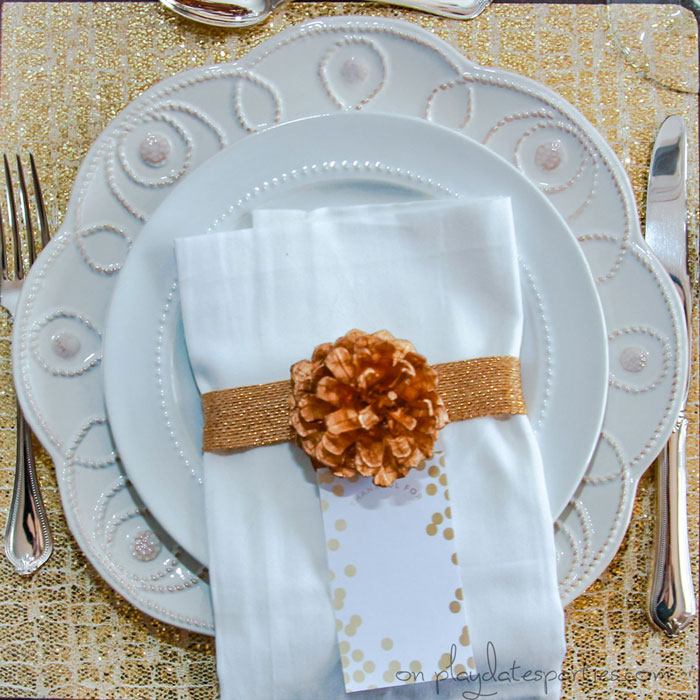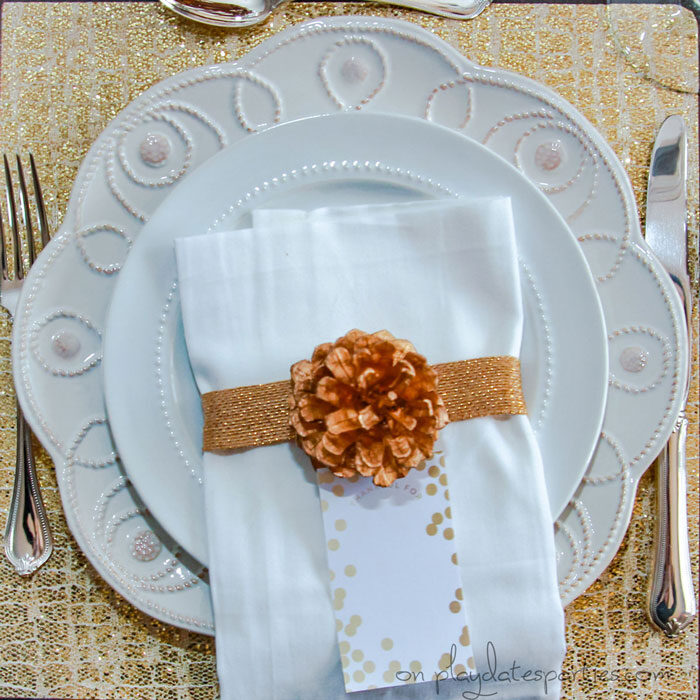 Putting Together Your Gold Thanksgiving Decor
Start by making a table runner with your leaves and pinecones, right down the center of the table.
Place your gold painted flowers and branches to a vase to make a centerpiece
Next, scatter a few votives on the table for ambiance and light.
Place a piece of gold glitter card stock under each place setting as a placemat.
Top off your place settings with gold ribbon napkin wraps, a gold painted pine cone, and a gold polka-dot "Thankful for" card.
Easy and done!
You Might Like These Thanksgiving Ideas too:
Now It's Your Turn:
Seriously, this is probably the simplest Thanksgiving tablescape you can put together. It just takes a little bit of creativity, plenty of time, and a few cans of spray paint. But I want to know…
What backyard items will you transform into gold Thanksgiving decor?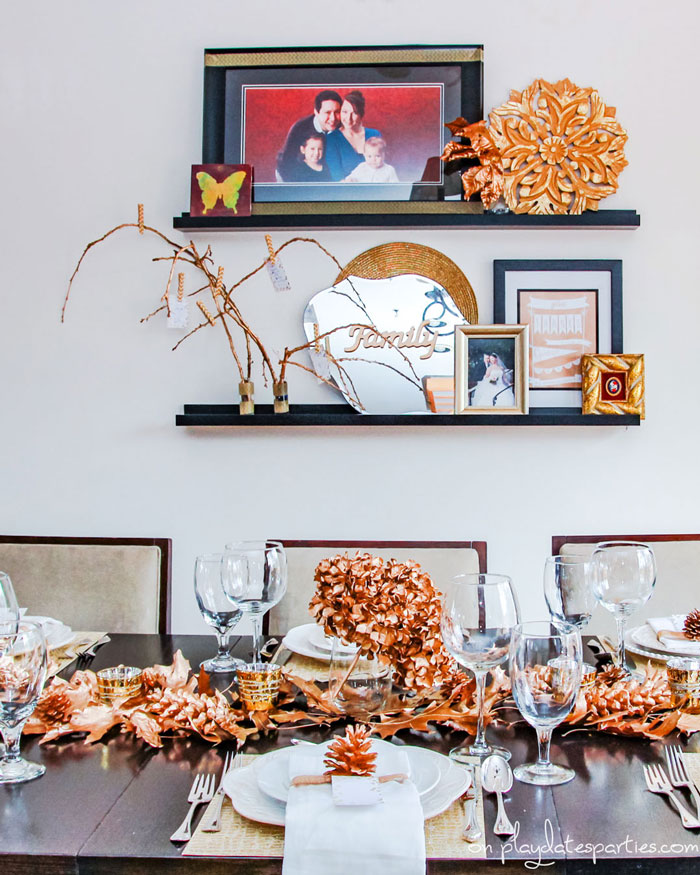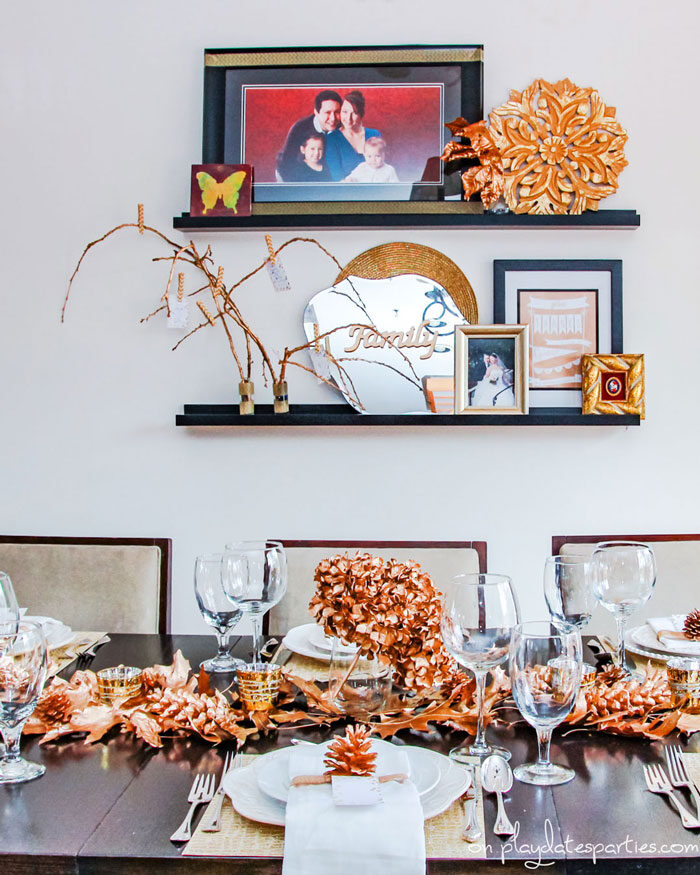 ---