Well, we did it. We transformed our backyard from a cluttered mess to a backyard ready for summer entertaining. Not just ready for entertaining…perfect for it really. It's been six busy weeks battling poor weather, illness, and hectic schedules. If you go back to the original checklist, you'll mostly see a plan to clean things up, get things organized, and get lots of gardening done. I never expected the space to become what it has.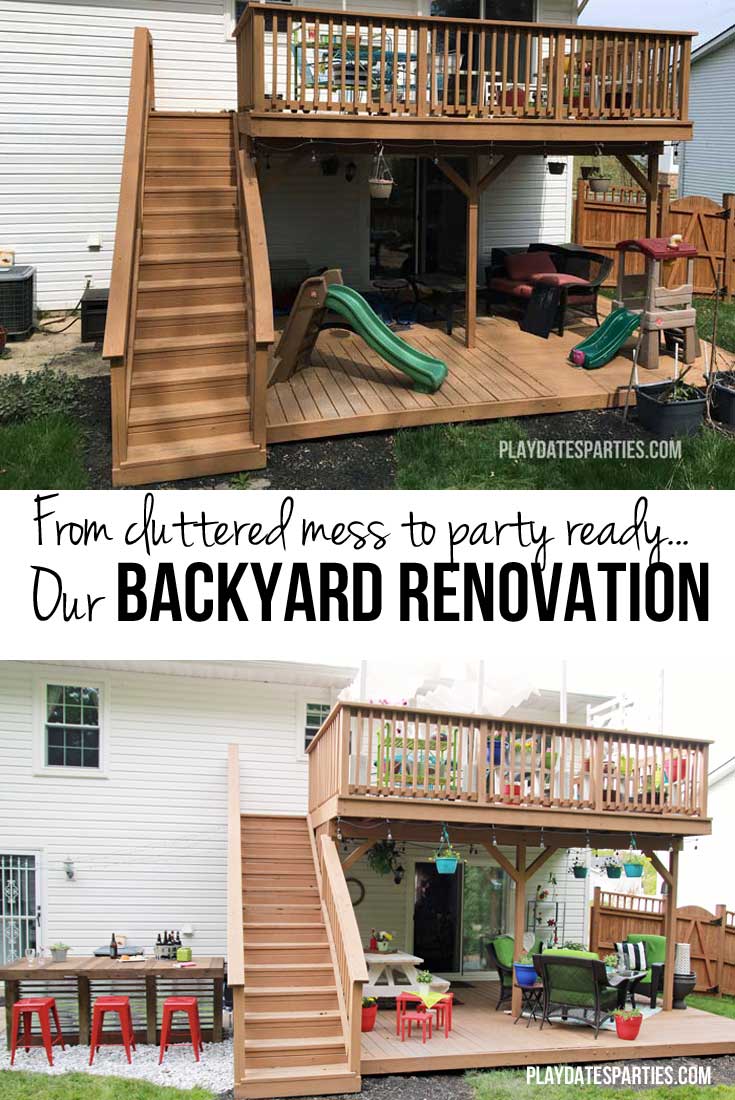 What was originally just two spaces turned into three. First, we have the upper deck, which was originally strewn with half-finished projects, and pots that were either broken or filled with dirt and dead plants from last year.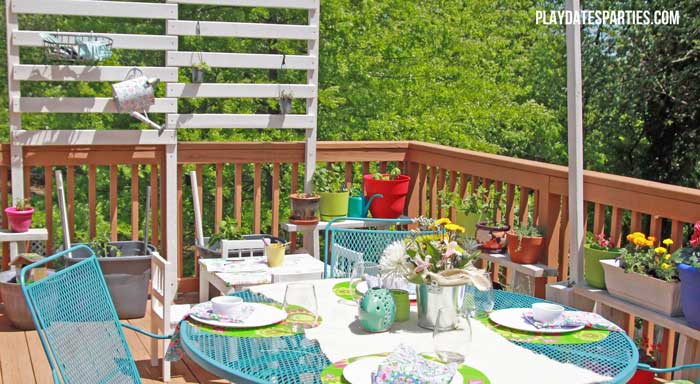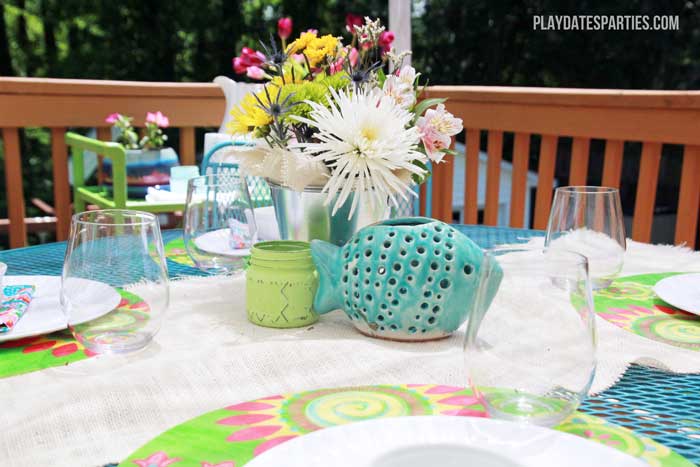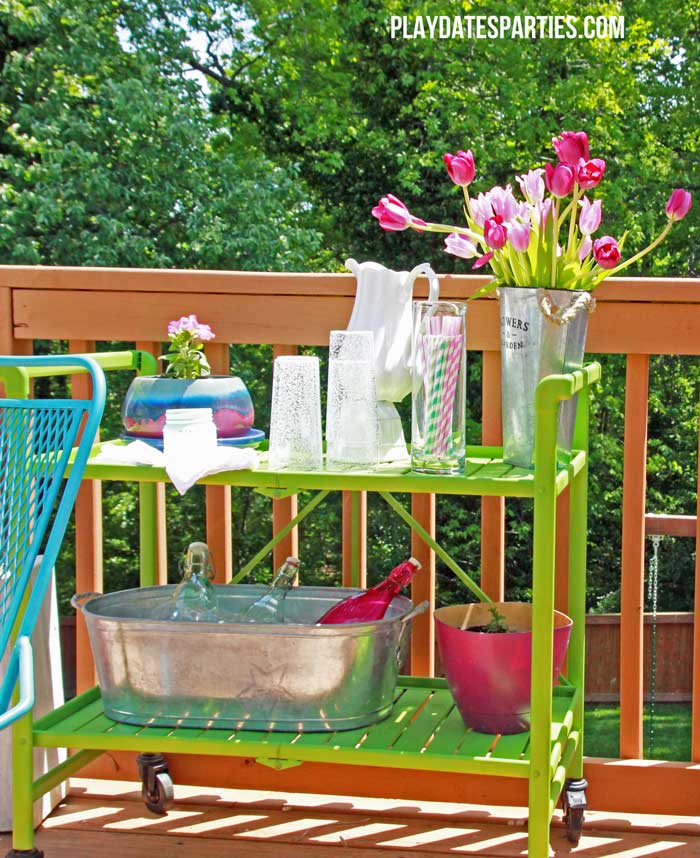 This deck is right off our kitchen, which makes it a perfect place for impromptu dinners or breakfasts that we cook inside. It's also where we keep our potted herb garden, and now our vegetable garden as well, in our self-watering planters. On a whim, I decided to take count of the potted garden and counted over 25 pots just on the upper level.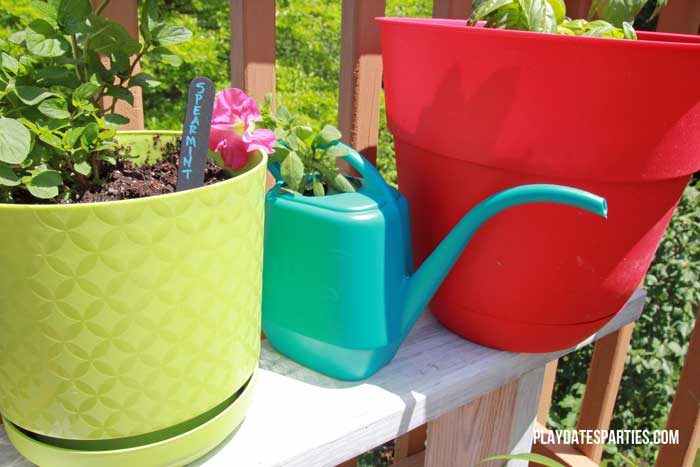 Our new privacy screen at least partially blocks the view of our neighbor's yard and turned out to be a great place to put up some light hanging baskets and some S hooks for storage.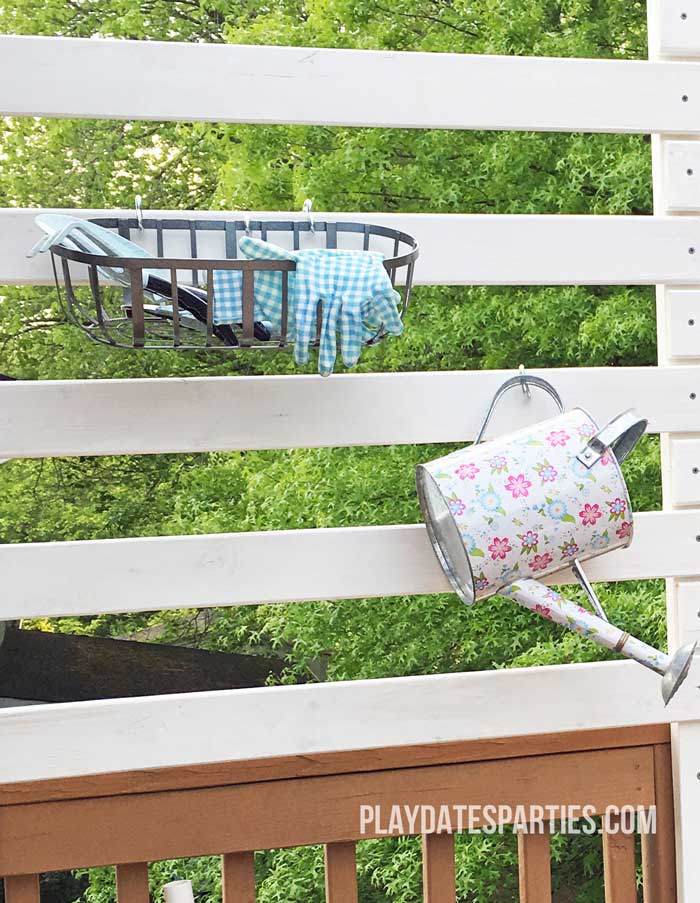 And a new retracting canopy provides shade from the intense sunlight that hits the deck nearly all day long. This canopy was a labor of love; started while I was pregnant last summer using scraps of lumber. Only this year did I finally string the wire between the posts. White burlap hung from curtain hooks provides just the right amount of shade.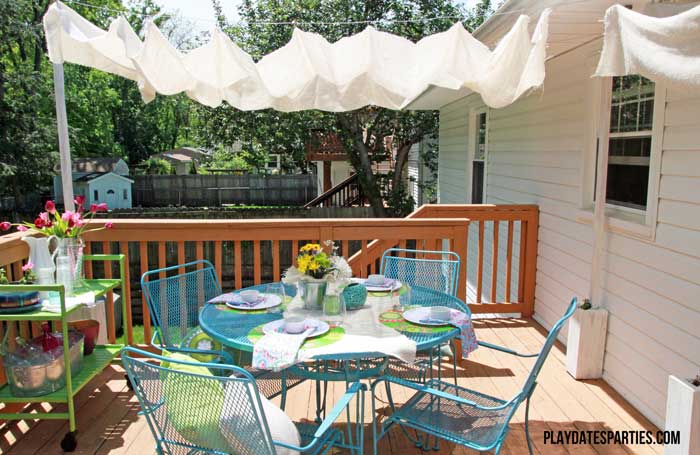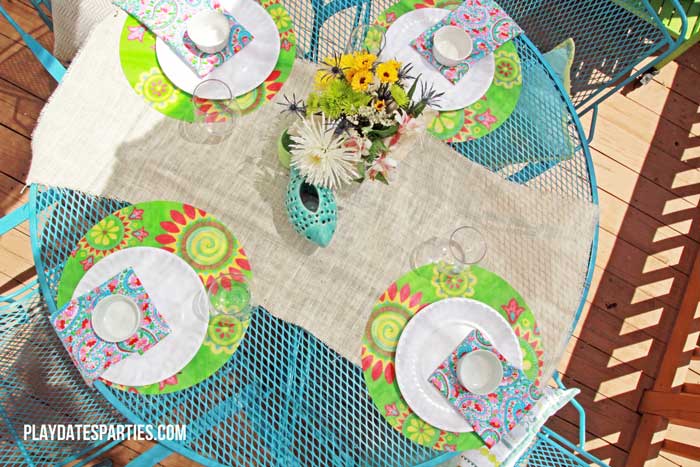 This space is my oasis. I can't wait for the plants to fill in over the next couple weeks so the girls and I can harvest the herbs for dinner and pick fresh flowers for our dining room.
The upper level is mostly for our little family. For weeknight dinners at sunset and for drinks under the stars with the Husband. But the lower level is where all the entertaining and party magic happens.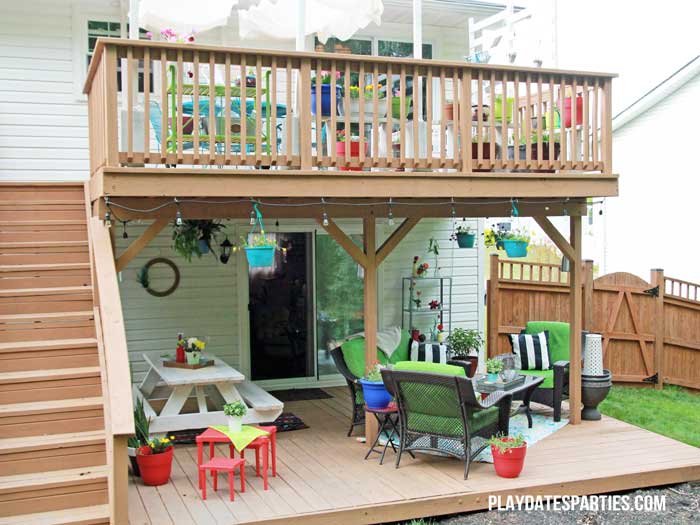 At ground level, we keep the Husband's charcoal grill, and the lower deck now houses our picnic table and freshly updated patio furniture. The new shade of bright green on the cushions makes me happy every time I see it. For years we avoided putting both both the seating area and picnic table together, but it actually works beautifully. And as luck would have it, I found the perfect addition to use as a floor cloth underneath the set. I've never been one to shy away from bright colors and pattern, and this is no exception.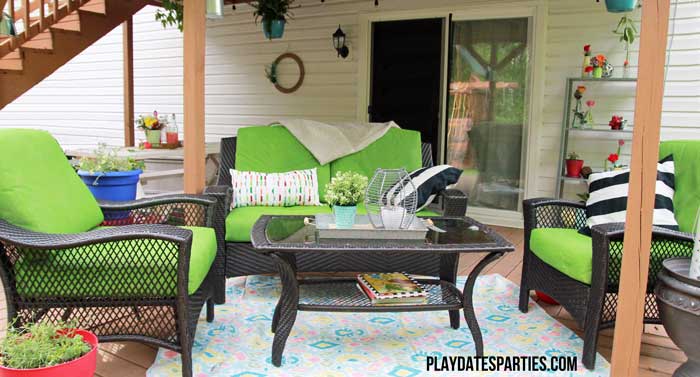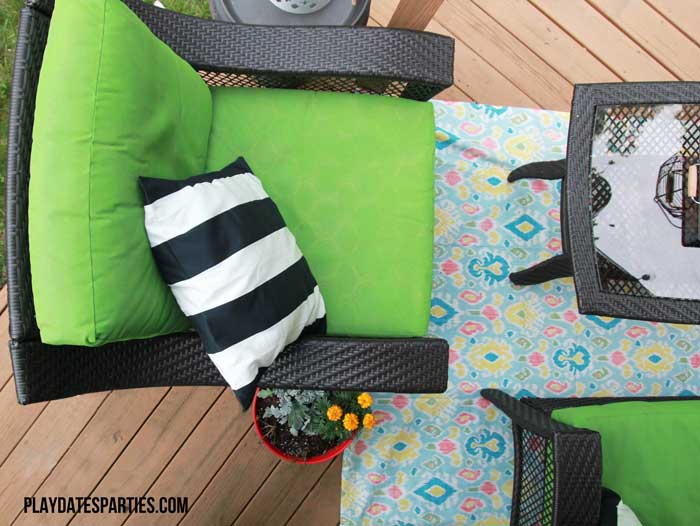 Where the deck box used to sit and hold the kids' toys now stands a galvanized steel shelving unit from Ikea. It's just big enough to hold a few accessories to liven up the space. The chalk-painted cinder block vase is both fun and functional, as it helps to prevent the lightweight shelving from knocking over in any wind gusts. I look forward to styling it with bar items, favors, and other party essentials this summer.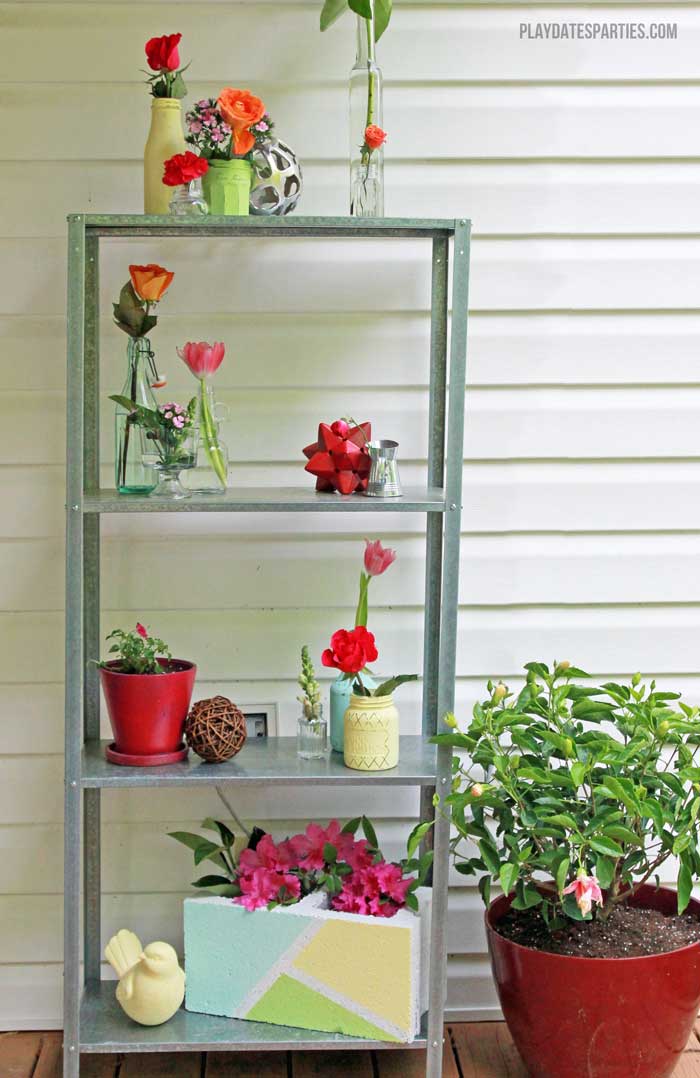 At the picnic table, we can seat our whole family plus the in-laws. Or the kids can eat at their own little play table just next to it. I expect we will have several barbecue dinners eaten out here this summer (as long as this rain doesn't keep up!).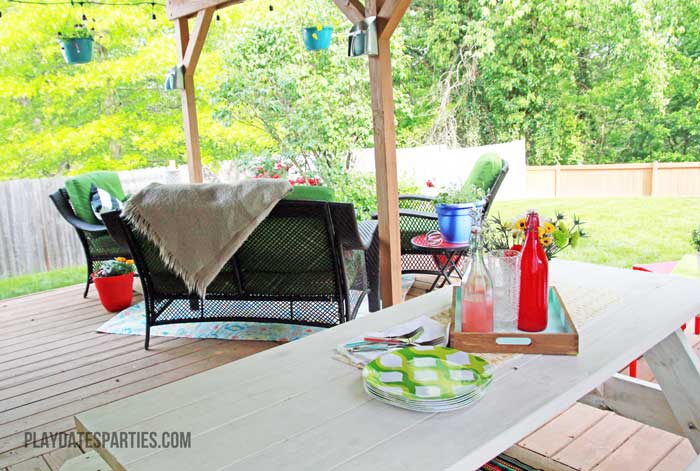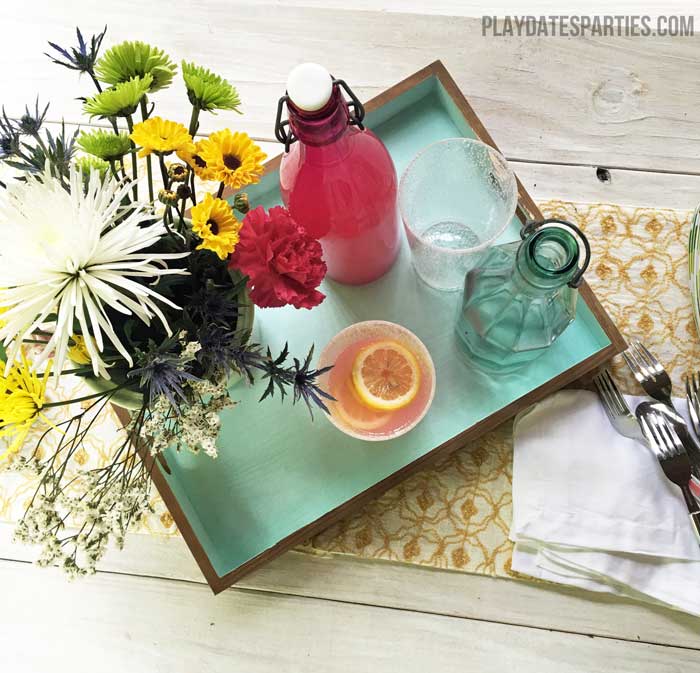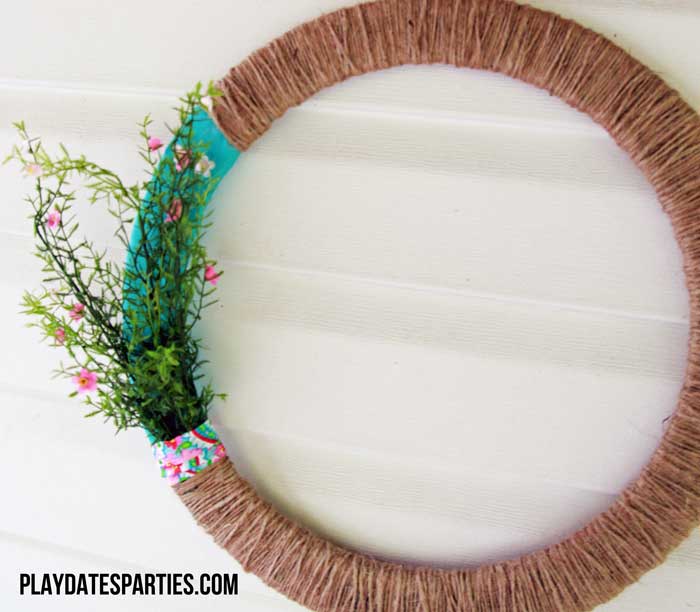 But the best part is what wasn't planned at all…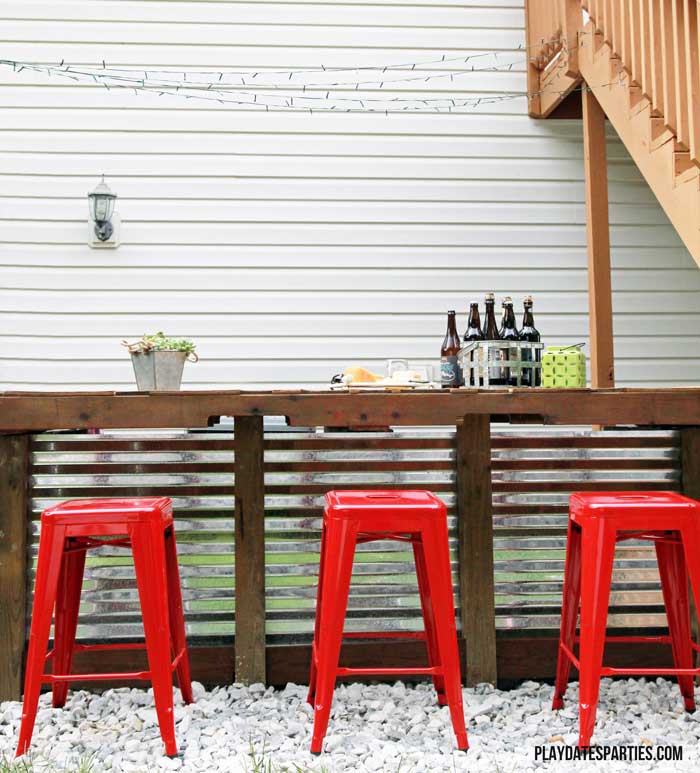 The pallet-and-scrap-wood-turned-bar is our absolute favorite area and wasn't even part of the original plan. It all happened because the Husband wanted a prep table…and we ended up getting a large pallet when the storage shed was delivered. So his little prep table became a giant prep table and bar.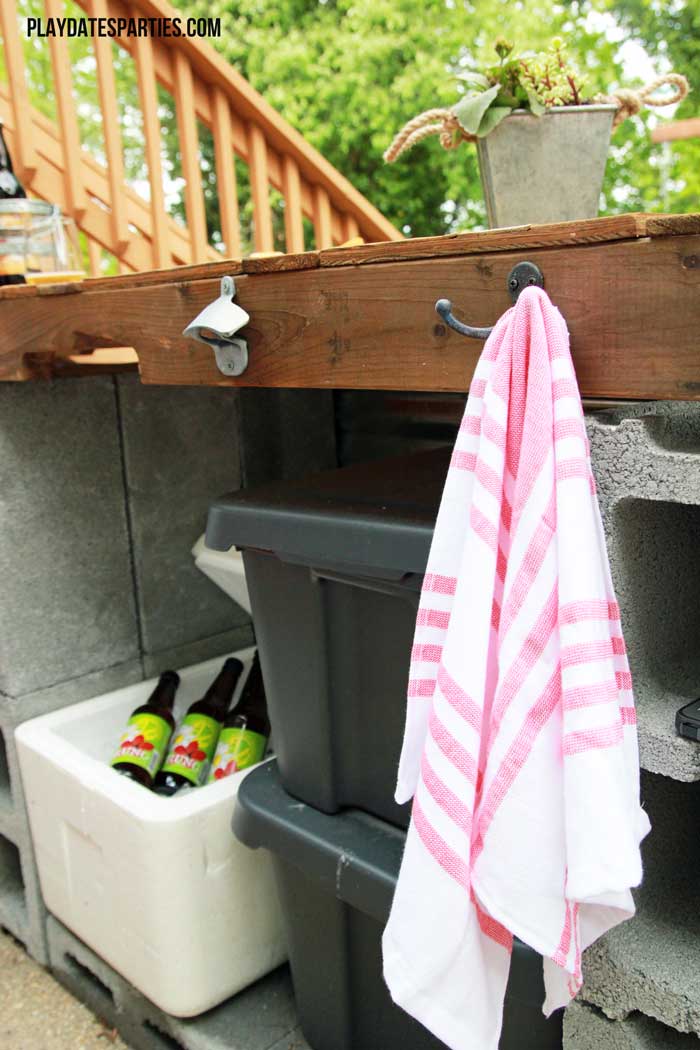 The corrugated steel front, solar-powered twinkle lights strung above, and bright red stools really finish it off perfectly. Even the kids have already enjoyed some snacks at this spot, and I can easily see it becoming the most-used area in the entire back yard.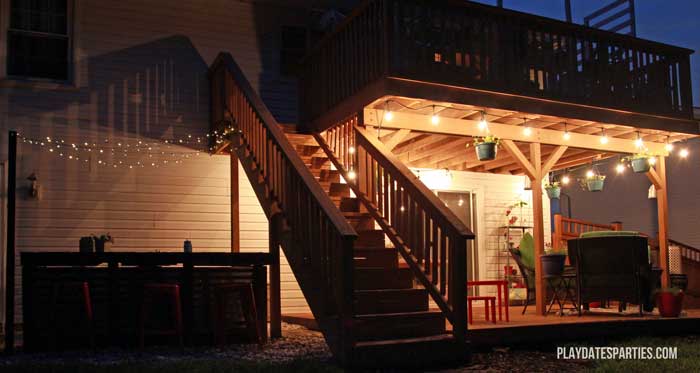 When the sun goes down, the fun doesn't have to stop. I strung the outdoor patio lights around the lower level deck last summer, and they provide plenty of light for the whole space. The twinkle lights above the bar add just enough ambiance and additional lighting for those late-night drinks.
Every spring I get excited about getting our backyard ready for summer entertaining, but this is the first time I feel as though the space is really pulled together. I have to thank Linda from Calling it Home for hosting this challenge. There is so much incredible inspiration going around for the One Room Challenge, and it's been a fun, albeit tiring, process. I can't wait to give it another go in the fall!
See the Rest of the Renovation:
---
---
I want to extend many thanks to the readers who have enjoyed renovation and home DIY posts over the years. Unfortunately, in January 2018 I was diagnosed with Stage II breast cancer and had to stop doing home renovation posts due to treatment.
Since that time, my focus has been on making this website an amazing resource for the everyday mom's parties. Due to their popularity, the DIY posts and tutorials will remain on the website, but comments are now closed. Thank you again and I wish you the best in your DIY endeavors!