Looking for a fun new game to help celebrate Valentine's Day? After the kids are all hyper from their Valentine's Day treats, let them get their energy out with this free printable Valentine's Day Scavenger Hunt.
Scavenger hunts are the easiest way to get the kids up and moving for some Valentine's Day fun. And with options for kids of all ages, this printable version will help you get your Valentine game on, while also giving kids the opportunity to explore the world around them.
Keep reading to see how to make the most out of these scavenger hunt cards, and grab your free copy at the end of the post.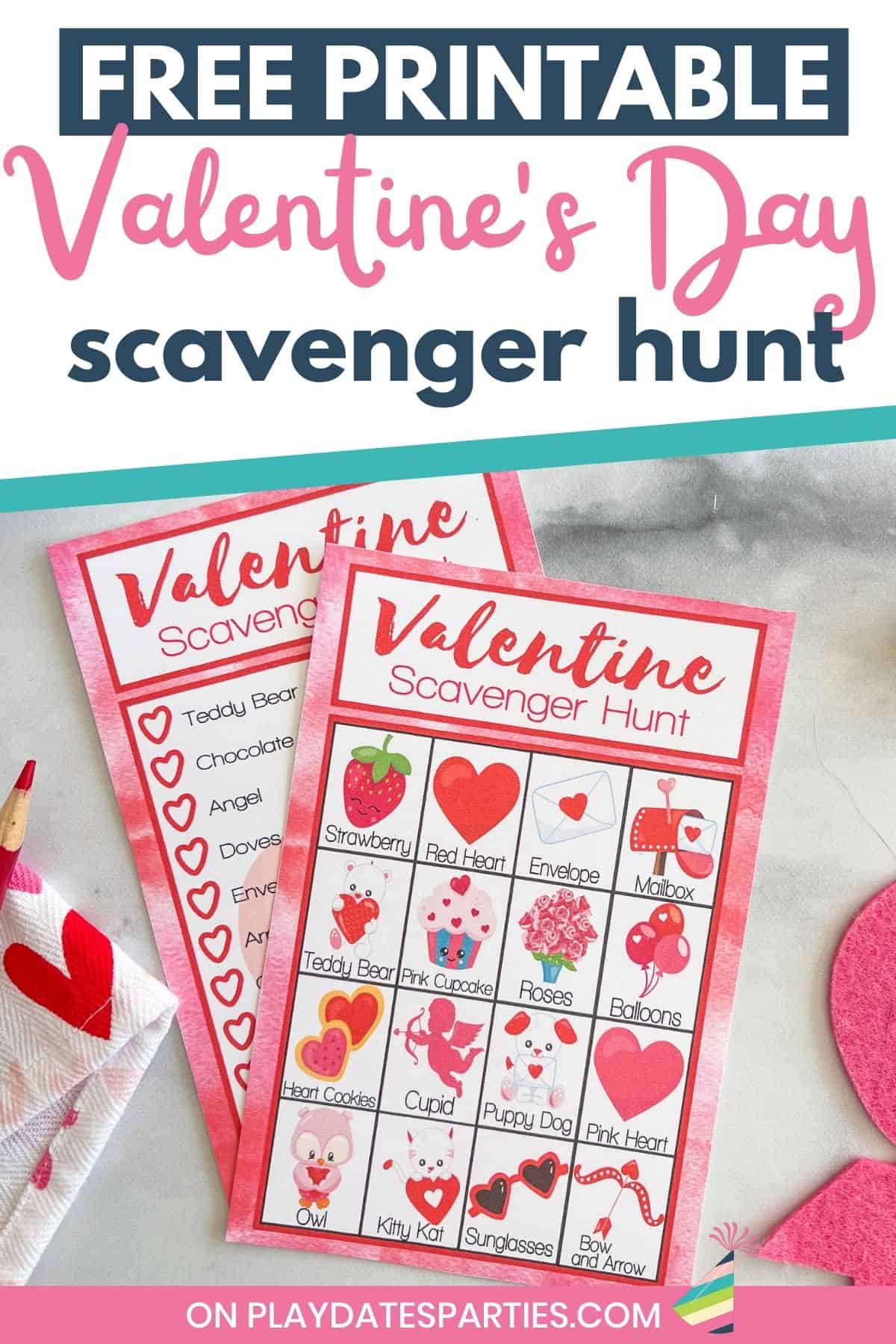 Valentine's Day Scavenger Hunt for Kids
Kids and adults of all ages will love doing this scavenger hunt for Valentine's Day.
Got a pre-reader? They can find things based on the pictures.
Early readers can practice those reading skills with the captions below.
Older kids can help out the little ones with finding everything.
Adults and older kids can all enjoy the text based scavenger hunt. (I bet they can get pretty creative with what they find!)
Now, I know that young kids in particular can be very literal with games like these. Which is why I also included a set of finder cards for the picture-based scavenger hunt. This way, you can avoid the tears of kids who can't find what's shown.
Valentine's Day Scavenger Hunt Instructions:
What you'll need:
Paper or card stock
Your home printer
Scissors
Items that match the clues
Timer (optional)
How to Setup and Play your Valentine's Day Scavenger Hunt
Print out your preferred scavenger hunt card design on your home printer on paper or white card stock.
Cut out the cards along the edges. (Or simply cut once down the center of the page to separate the cards, leaving the edges. Kids won't care.)
If you're using the finder cards, cut the individual images out along the edges of the designs.
Hide your finder cards/items around the room.
Pass out the Valentine's Day scavenger hunt cards to your kids and send them hunting!
Recommended: If you're playing this game at a party, then use a timer to turn it into an exiting race against the clock.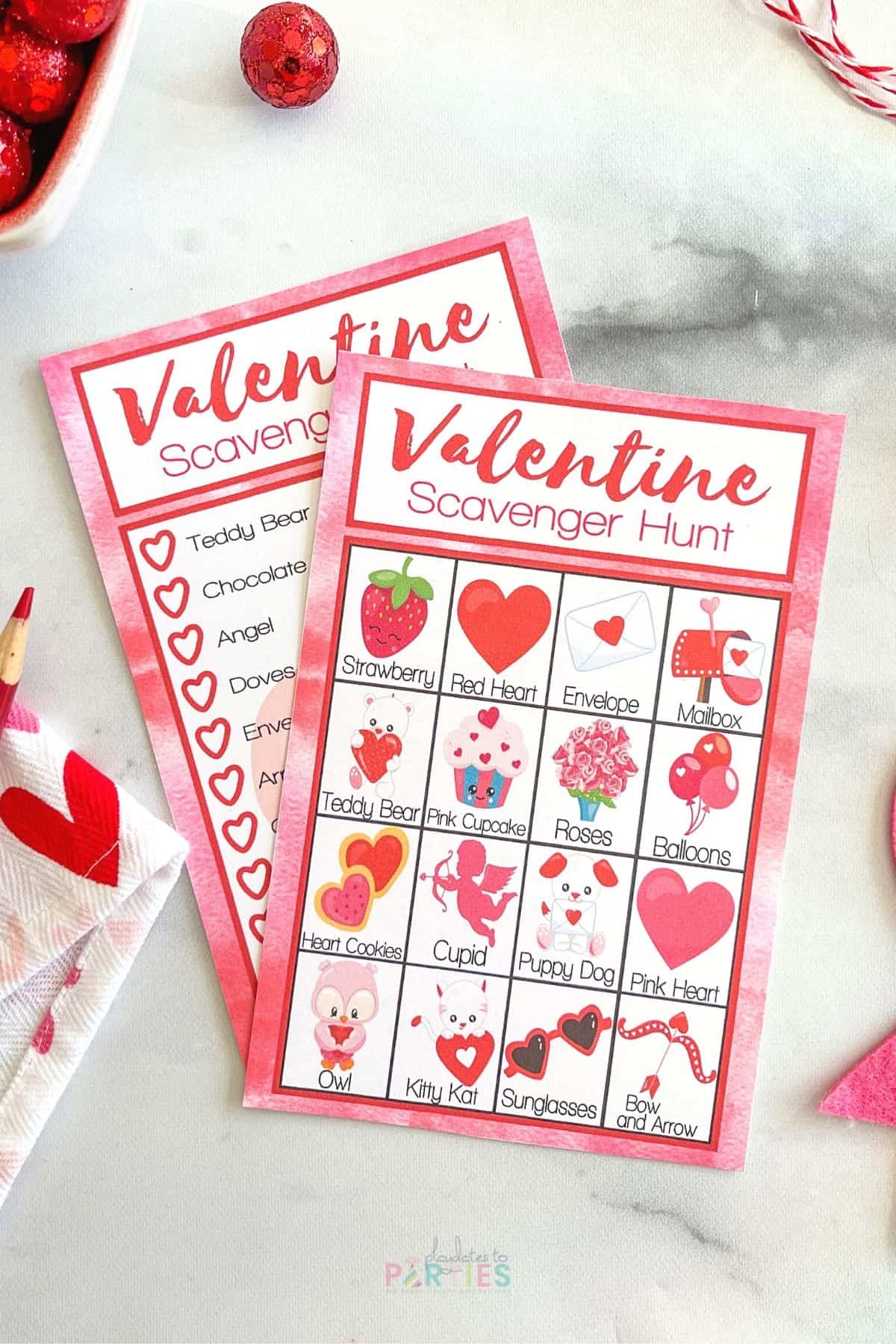 When should you have a Valentine's Day Scavenger Hunt?
Save activities like Valentine's Day Bingo and Valentine's Day puzzle games for the times when you want your kids to be sitting down and quiet. Scavenger hunts are all about getting up, moving around, and becoming more aware of your surroundings.
Here are some good times to pull these cards out:
Having a kids party or play date? Print these cards out for a fun way to burn off some extra energy.
Use the scavenger hunt as prompts for a virtual Valentine's Day party game. Instead of printing off separate cards, name each item or show the finder card on your screen and have kids search their own homes for something that matches.
Are you class mom this year? This is a great activity to do with the kids for the class Valentine's Day party when they're tired of sitting still.
Too cold to play outside and your kids are bored? See if your kids can find these items around the house. They can search through your Valentine's Day decorations, look at the pictures in mailers and advertisements, or even search through their toys.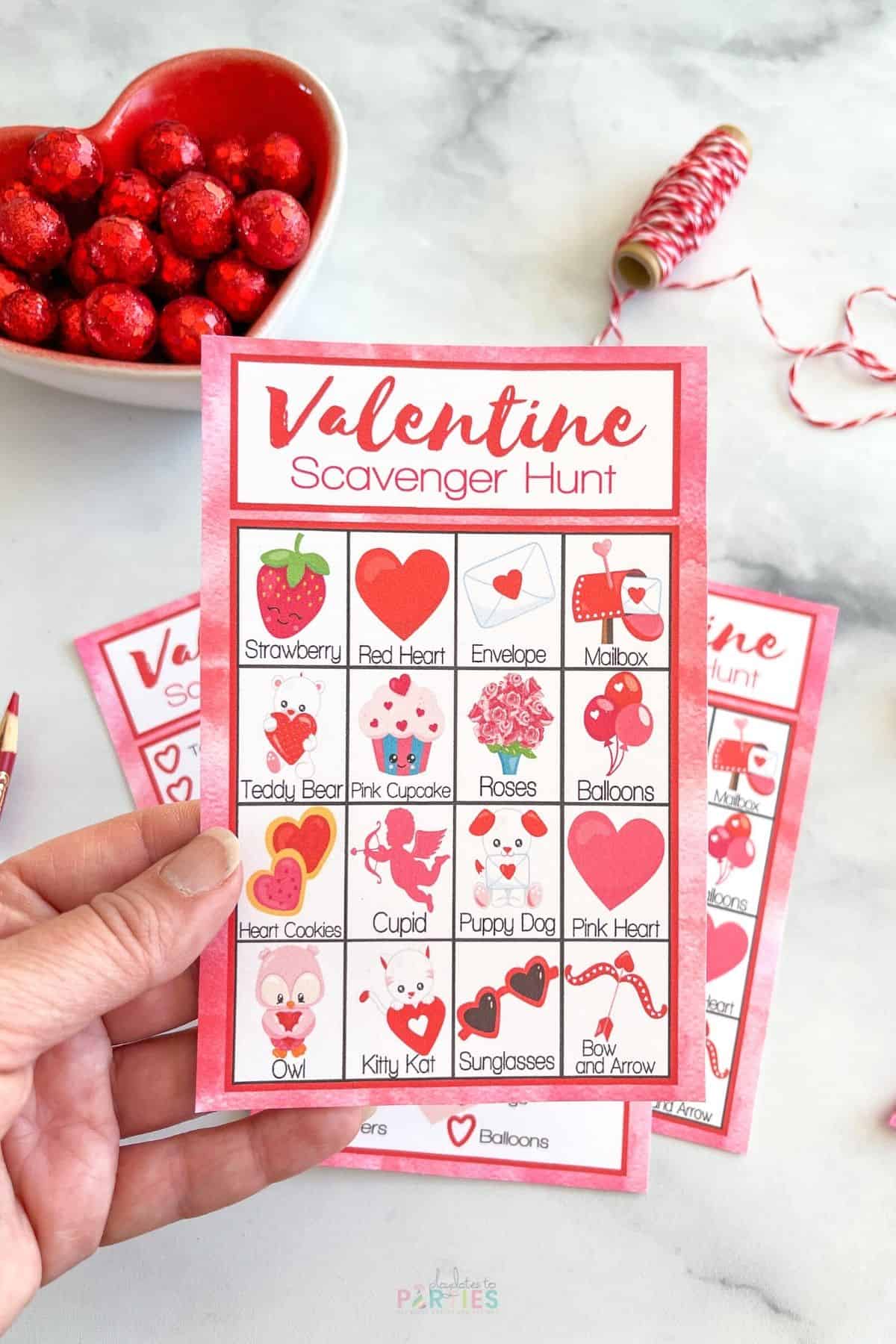 Scavenger Hunt FAQs
Looking for a Valentine's Day scavenger hunt with riddles?
This printable is a traditional scavenger hunt, which doesn't include riddles. (Yes, there is a difference. You can read all about it here.)
If you'd like a Valentine's Day treasure hunt with clues that lead to a big prize at the end, then leave a comment down below and I'll get a set made.
Don't want to wait? If you're in a pinch, these Valentine's Day charades cards are a great option. They come with a page of blank cards that you can use to add your own treasure hunt clues.
Scavenger Hunt Finder or Clue Cards
As I mentioned above, a set of finder cards is included that match the picture-based scavenger hunt cards. Simply cut them out along the black lines, and then hide them around your party space for the kids to find.
You can even hide more than one copy to make it more interesting.
Note: Finder cards are not currently included for the text based Valentine's Day scavenger hunt cards.
Scavenger Hunt Prizes
Scavenger Hunt Prizes for Kids
Mini Pop-It or Fidget – Pop its are one of the few fidget toys that don't drive me nuts, and my kids can't seem to get enough them.
Heart crayons – Whether you DIY them or you buy them, kids will love these brightly colored heart-shaped crayons.
Valentine's Day Bath Bomb – Prizes inside make it even more fun.
Small Candies – Sweethearts, truffles, or even a chocolate heart…most kids won't turn down a little extra candy.
Scavenger Hunt Prizes for Adults
Who says these games are just for kids? Get the adults involved…but make sure you've got a prize they'll love too.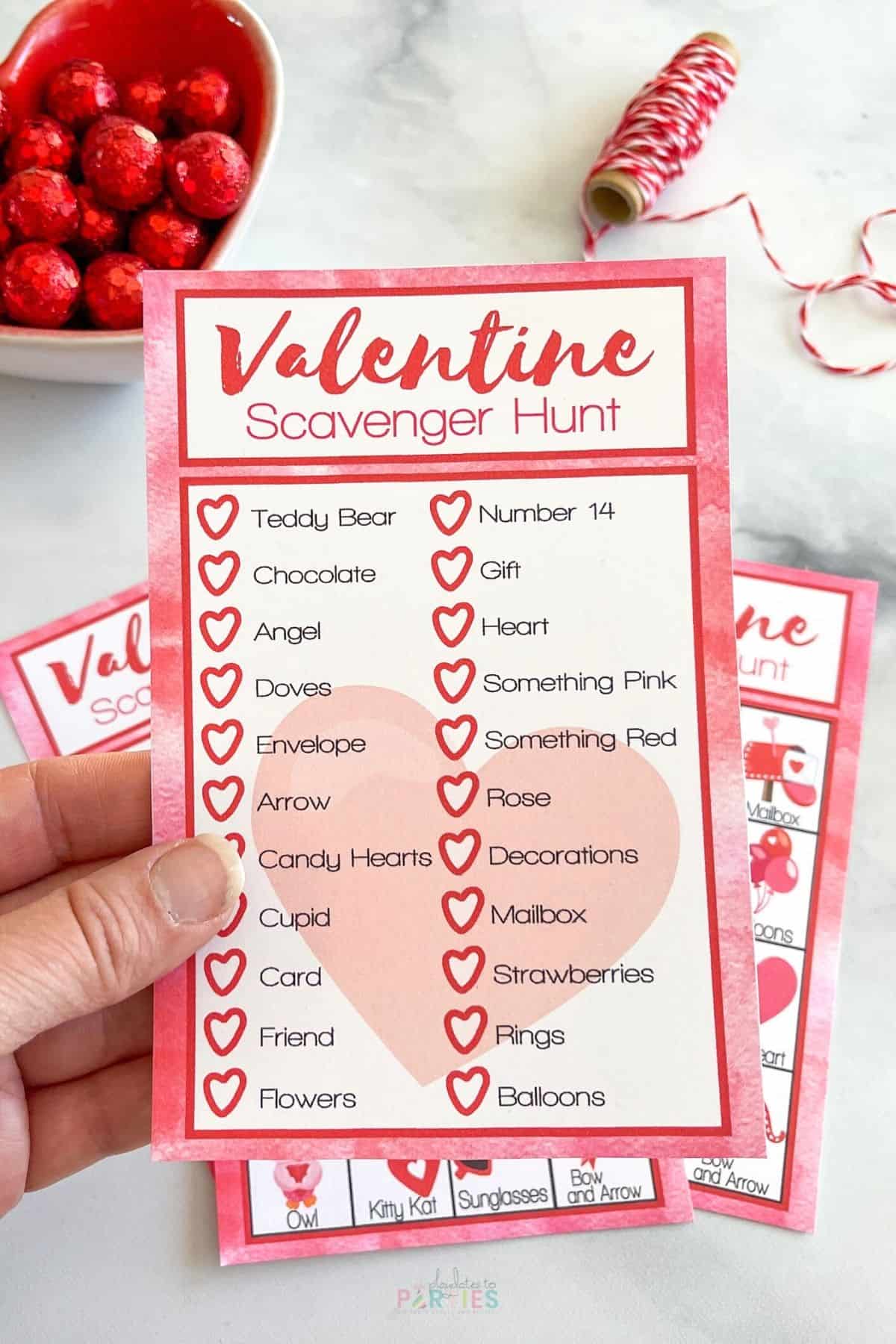 More Fun Activities and Ideas
More Scavenger Hunts and Games for Kids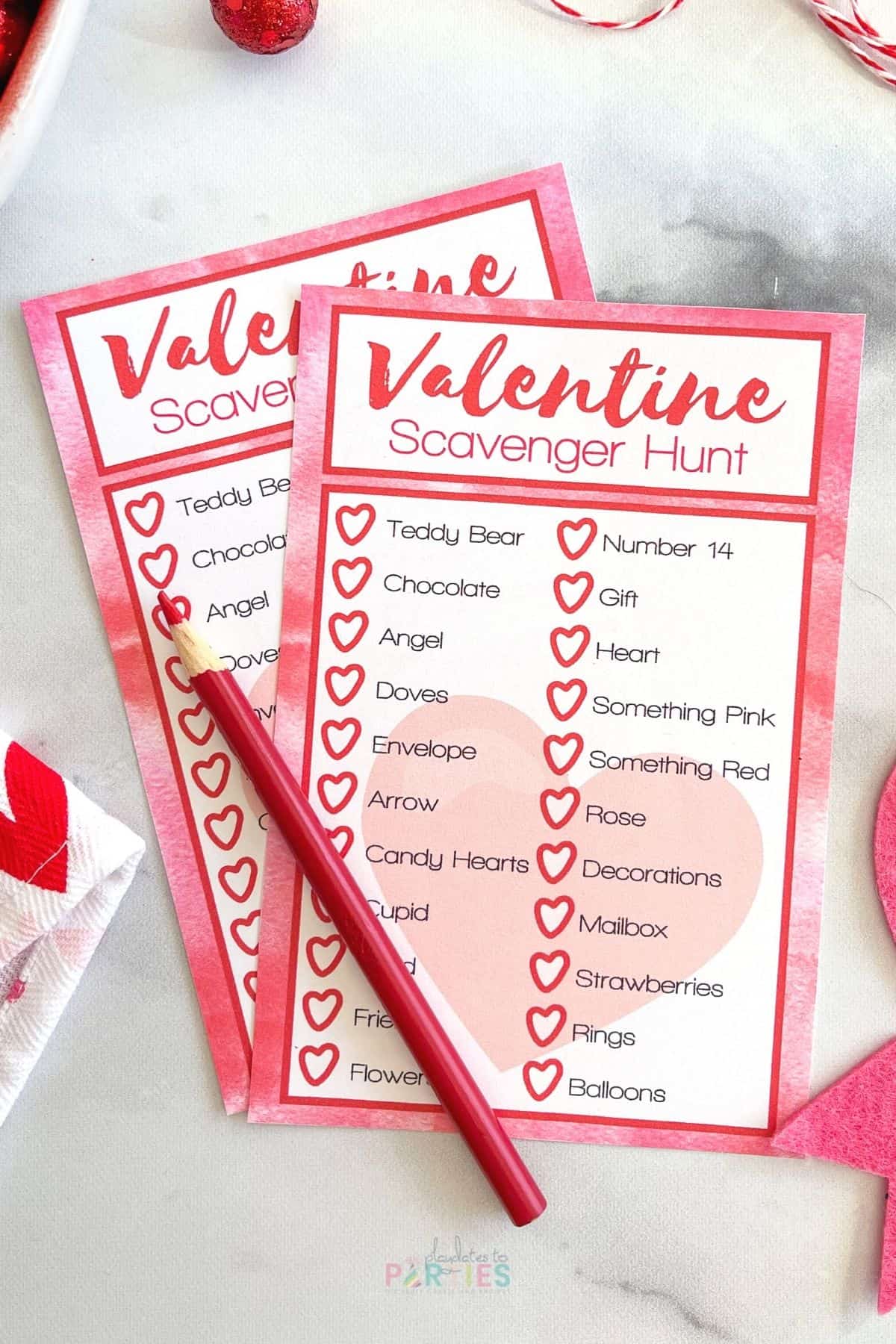 Download Your Free Valentine's Day Scavenger Hunt Here
Whether you've got a class party coming up, or just want a fun activity with the kids, these Valentine's Day scavenger hunt cards are a fun activity for everyone.
As a special treat, these Valentine's Day scavenger hunt cards are available free to newsletter subscribers. All you have to do is fill in the form below to get them sent right to you.
Don't want to subscribe? You can also purchase a copy of the Valentine's Day scavenger hunt cards for a small price right here.
---