Looking for a fun game to play with the class or for a Valentine's Day family game night? This set of 40 unique Valentine bingo cards makes a quick and easy game to play with the entire class, at a home, or with the kids for a Valentine's Day family game night.
You can even send them out for virtual game nights with the gals or scouts for a safe game anytime.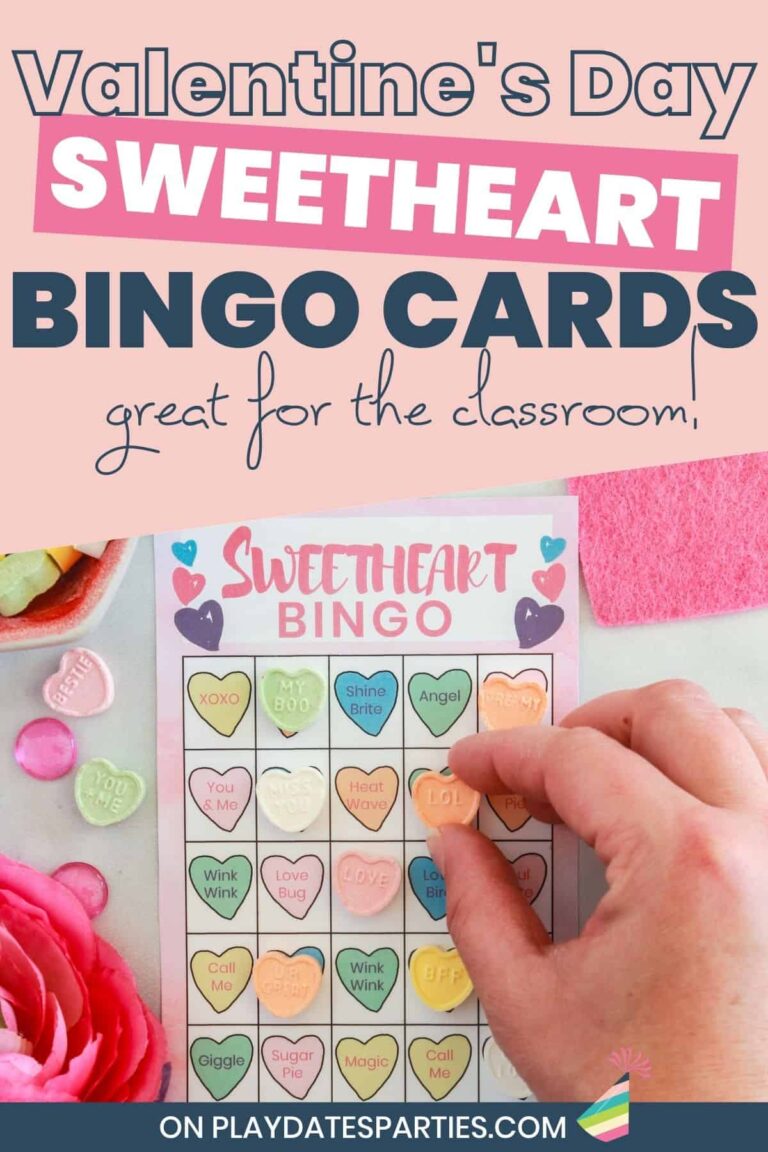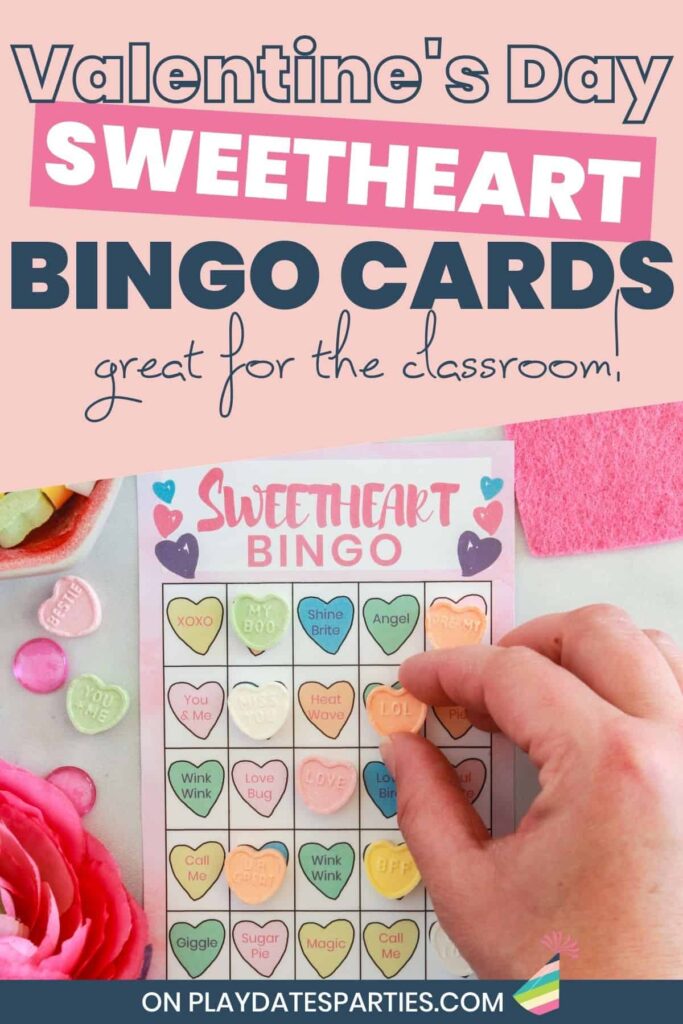 Valentine's Day is almost here! My kids are sad that they can't have class parties like they used to, and I'm right there with them.
One of our favorite things to do is to create fun games and treats for class parties. A couple years ago I made this Christmas bingo set, and it was such a hit that I was asked to make a set for Valentine's Day too.
So I took my kid's favorite part of any holiday (the candy of course) and used it as inspiration for this set of cute Sweetheart Valentine's Day bingo cards.
What You'll Need:
Markers (we used Conversation Hearts and pink acrylic confetti)
Optional: Bag to hold calling cards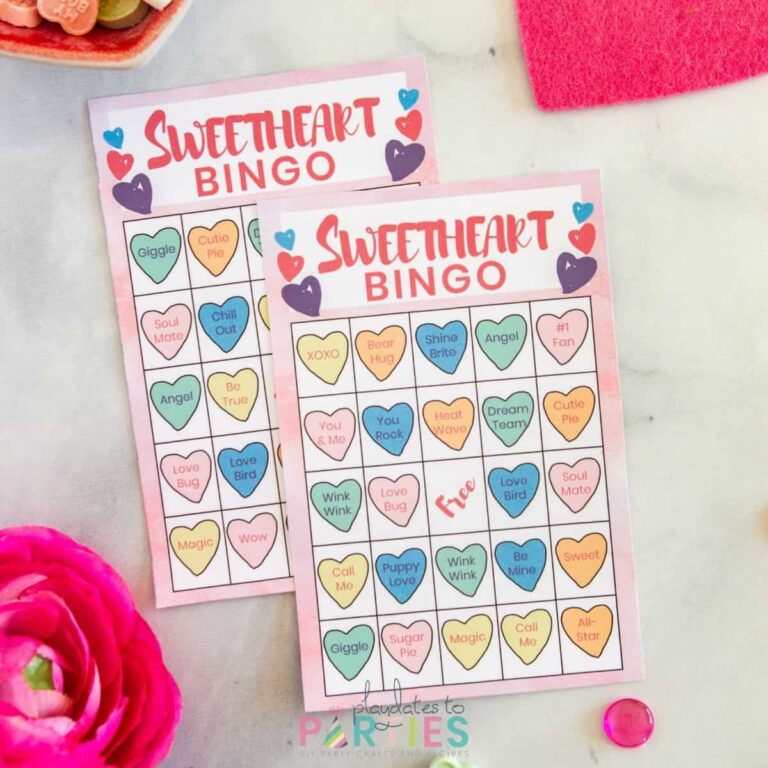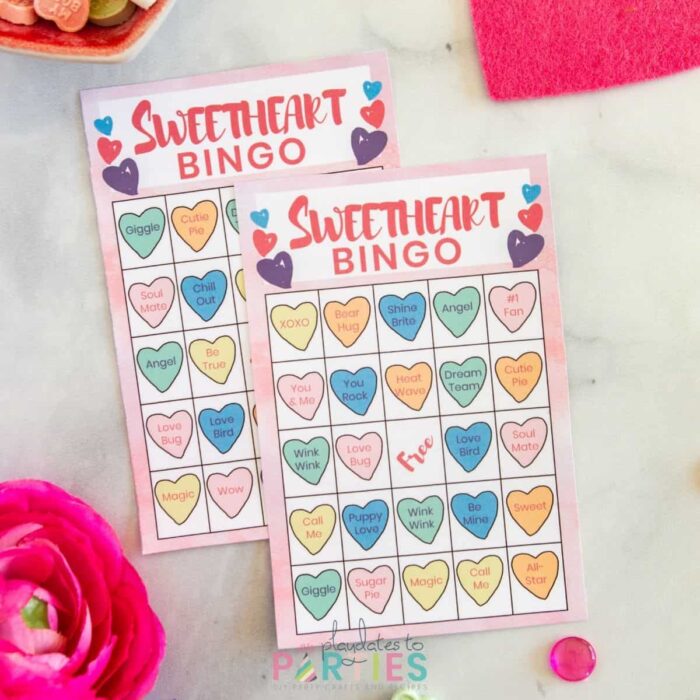 How to Play:
Prepare Your Cards
To conserve ink and paper, each page has two cards. This means you'll need to cut them out before playing.
(See the tips below for the easiest options)
Hand Out Supplies to Each Player
Each player will need at least one card and a handful of markers. Make sure to let them know to cover the free space before starting.
The Leader Can Use the Call Out Card in one of two ways:
Let the leader roll a marker onto the card to randomly pick out each picture. Then mark the picture in one of the squares underneath the image, or
Cut out the images of the call out card and place them into a bag. Then have the leader pull the pictures out of the bag until someone calls Bingo!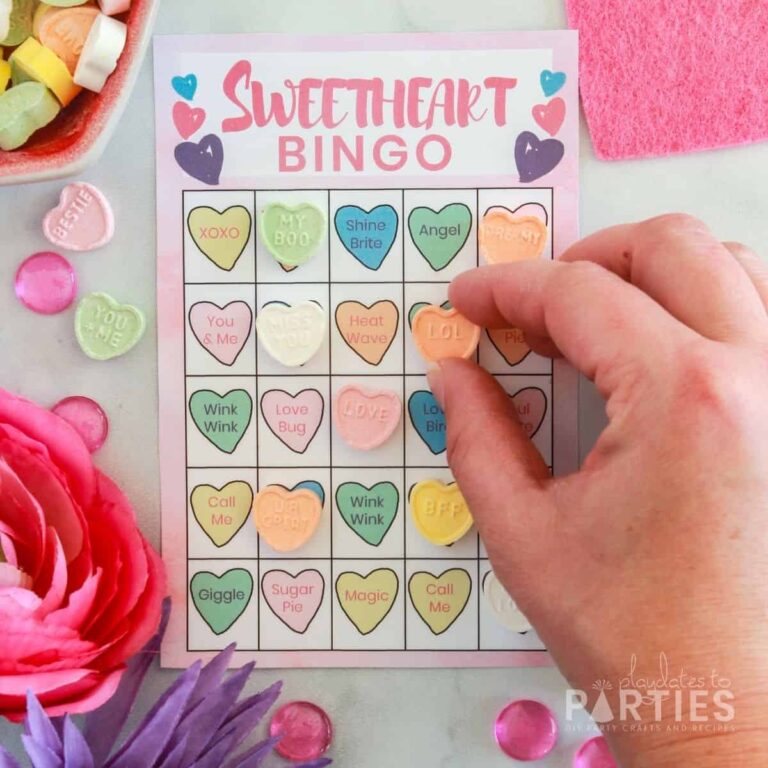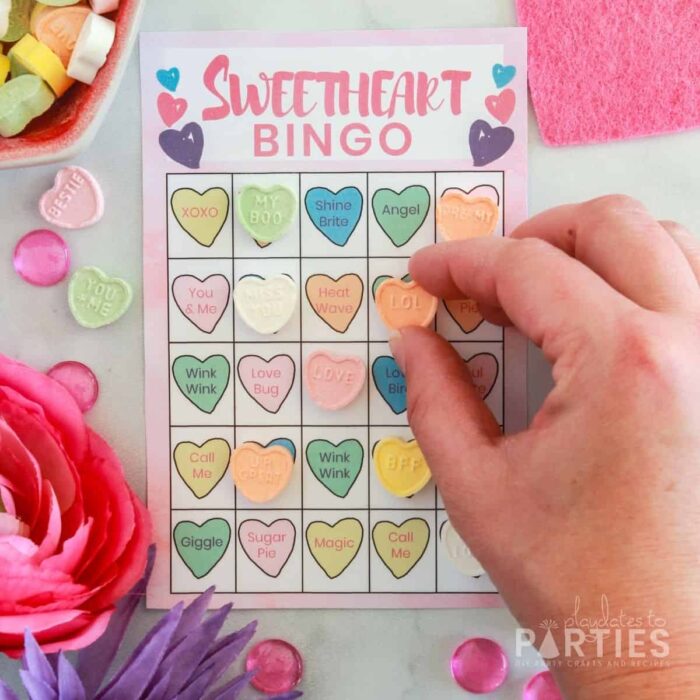 To Win the Game:
As soon as a player covers 5 squares in a row (horizontally, vertically, or diagonally), they call out "BINGO!" The first person to call out wins the game.
Need LOTS of games to keep those kids entertained? You might want to check out this set of 10 Valentine's Day games (including Valentine's Day bingo), plus coloring pages. Grab the full activity set and pay 20% less than if purchased separately.
A Few Tips for Printing Your Bingo Cards
Even the best picture doesn't look good if it isn't printed properly. Here are a few tips to make sure that your printable Valentine's Day bingo cards look great and are durable:
Use The Right Paper
Please don't use regular printer paper to print off the cards. Not only will the colors be dull, but they will rip, wrinkle and tear. That's a sure recipe for frustration.
While matte photo paper provides the best looking results, it gets expensive fast. In this case, bright white card stock is a good middle ground.
(Card stock absorbs more ink, making the colors a bit less vibrant, but it's definitely more economic)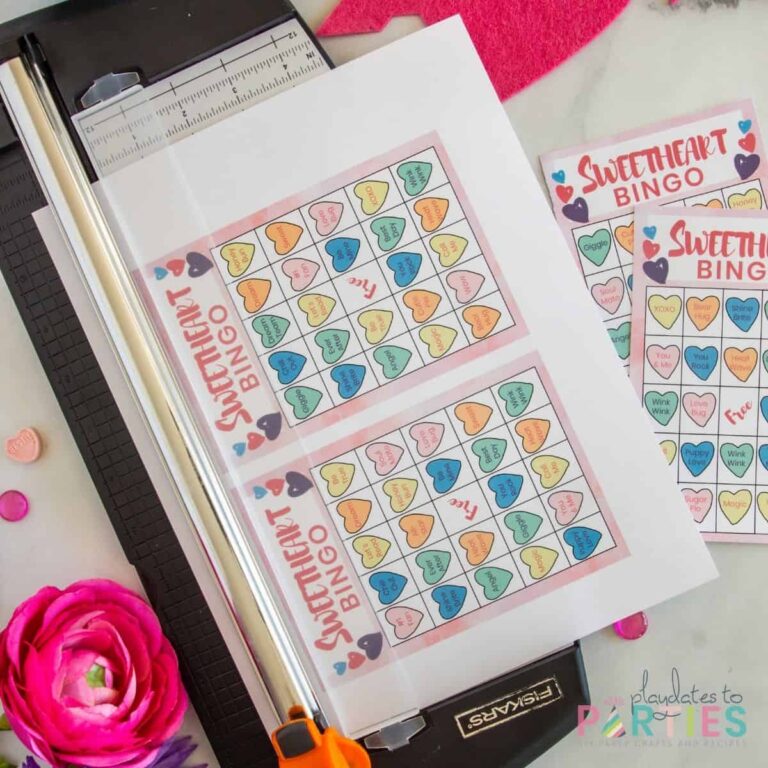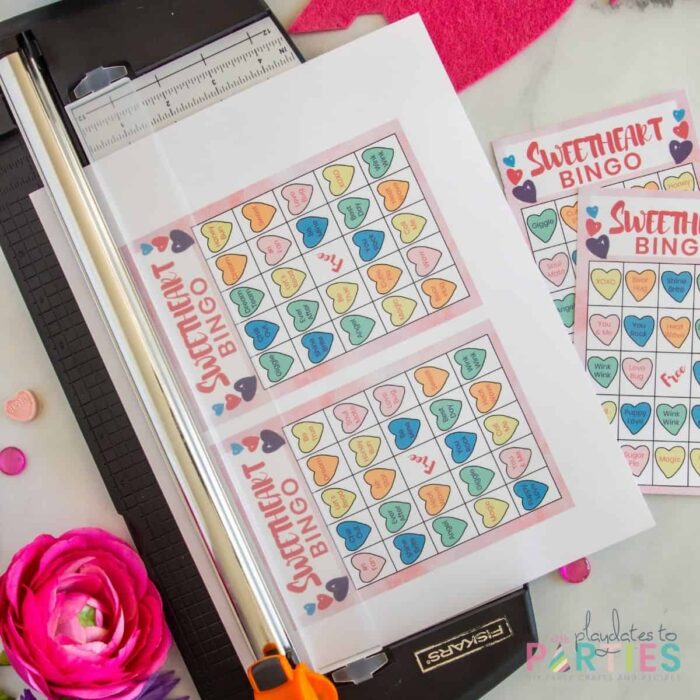 To Cut Your Cards
Make life easier on yourself and use a straight edge paper cutter to cut the cards out. Yes, you can use plain old scissors, but the paper cutter just makes things so much faster!
Or, you can even use Cricut Print and Cut for these cards. This video shows exactly how to do that.
Protect the Cards Until It's Time to Use Them
I like to store the cards into a gallon-sized ziplock bag. That way they're protected if you transport them to school or if you want to take them out for a family dinner.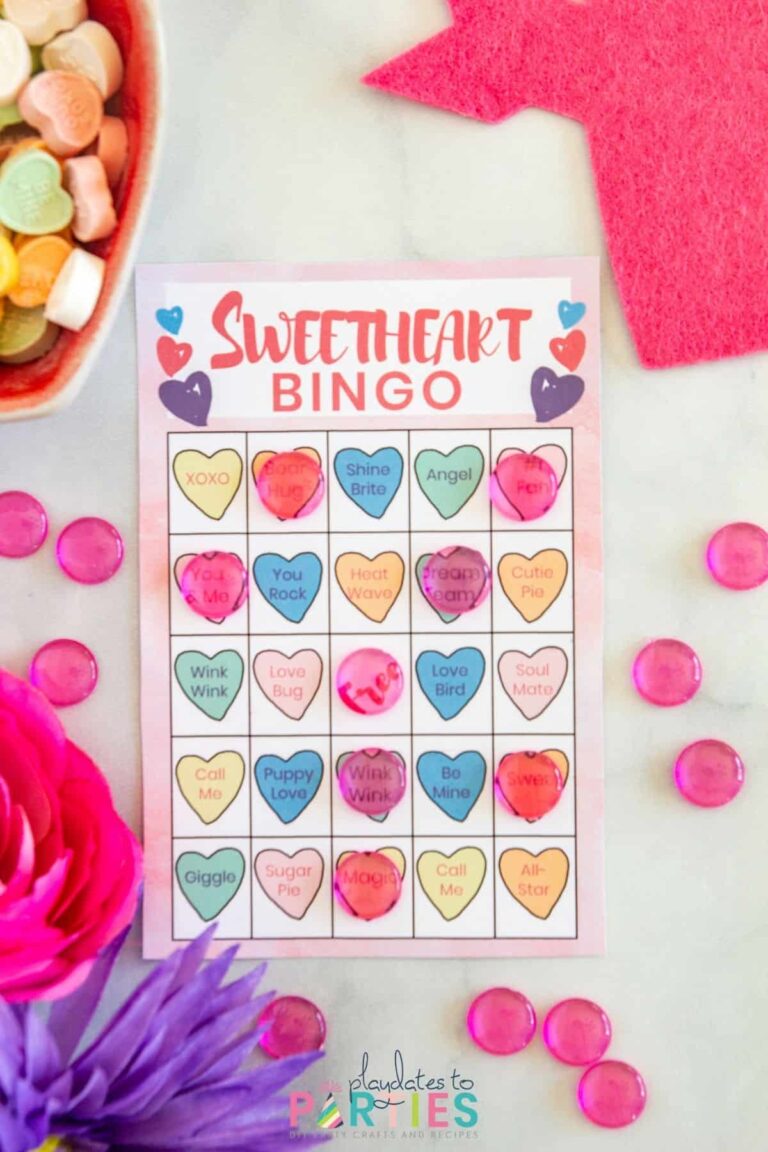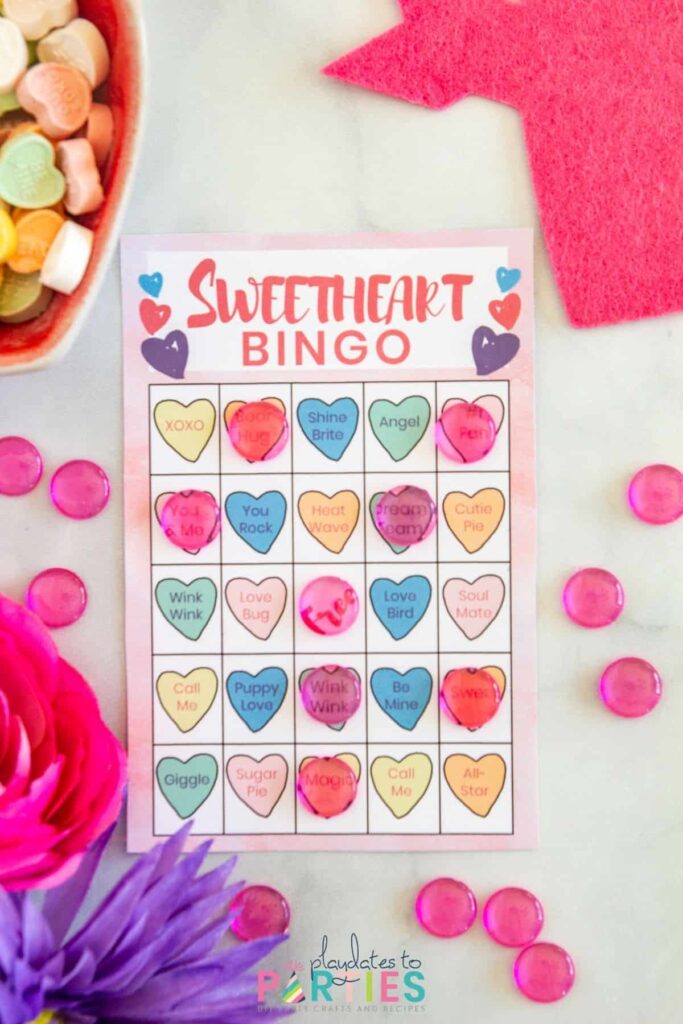 More Fun Valentine's Day Printables:
Download the Sweetheart Valentine's Day Cards Today
Ready to play? You can grab your full set of 40 unique Sweetheart Valentine's Day Bingo cards right here in my shop.
I've also got tons of other Valentine's Day printables, including a full set of Valentine's Day Activities for kids of all ages
---