Get ready for holiday parties and make a set of these free printable Christmas bingo cards. Kids of all ages will enjoy the fun game and colorful pictures.
Grab your copy today…it's waiting for you at the end of this post!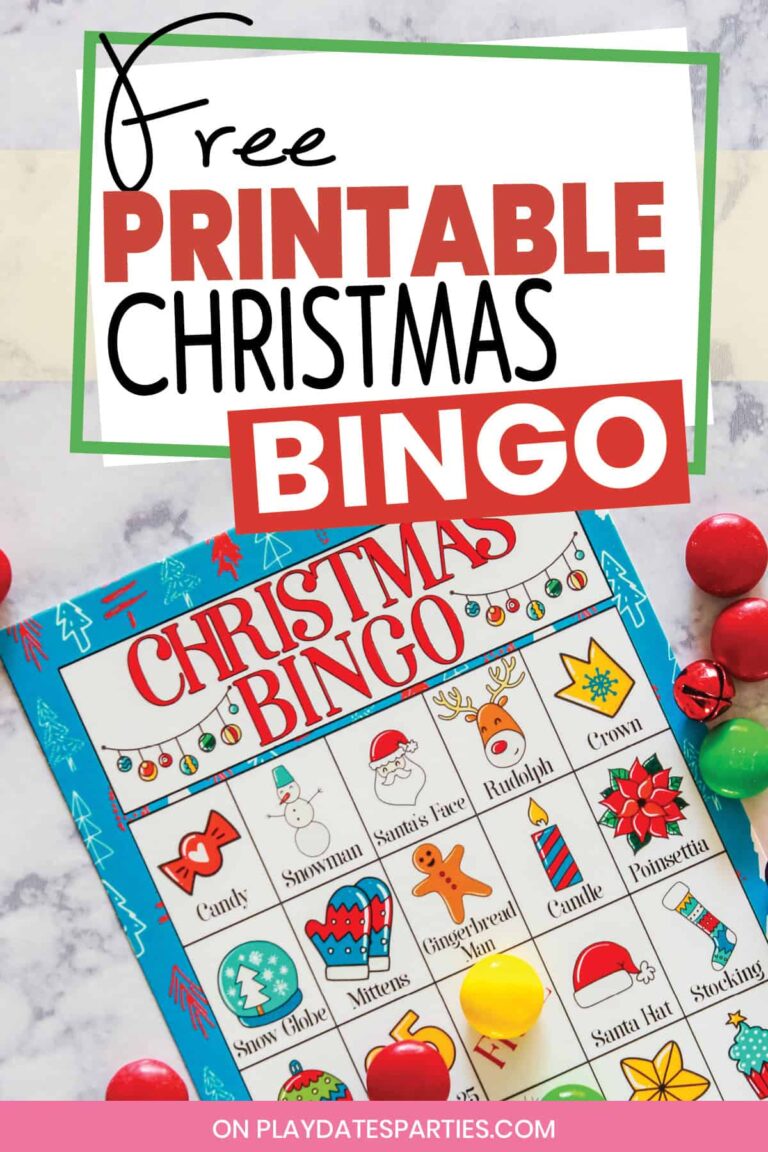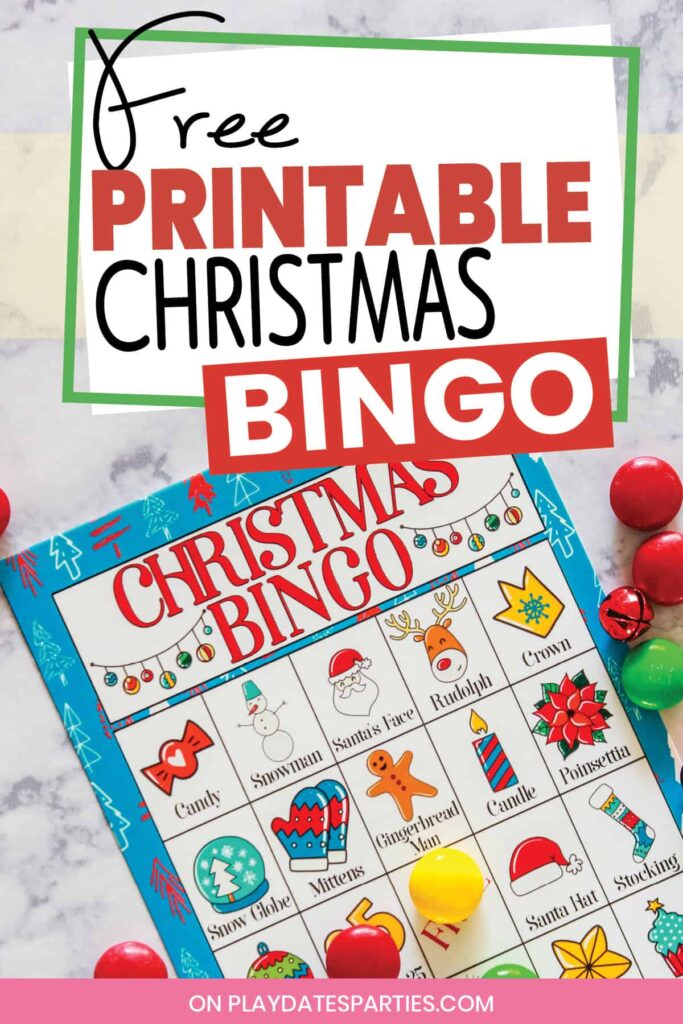 "Guess what, Mommy? I'm in charge of games for the Christmas party!"
My nine-year-old daughter brimmed with excitement as she greeted me with this news a few weeks ago.
She couldn't wait to get started planning games for the other 4th graders to play with her.
This kid loves to brainstorm ideas with me for holiday crafts and recipes. But, let's face it, sometimes her ideas aren't always the most realistic.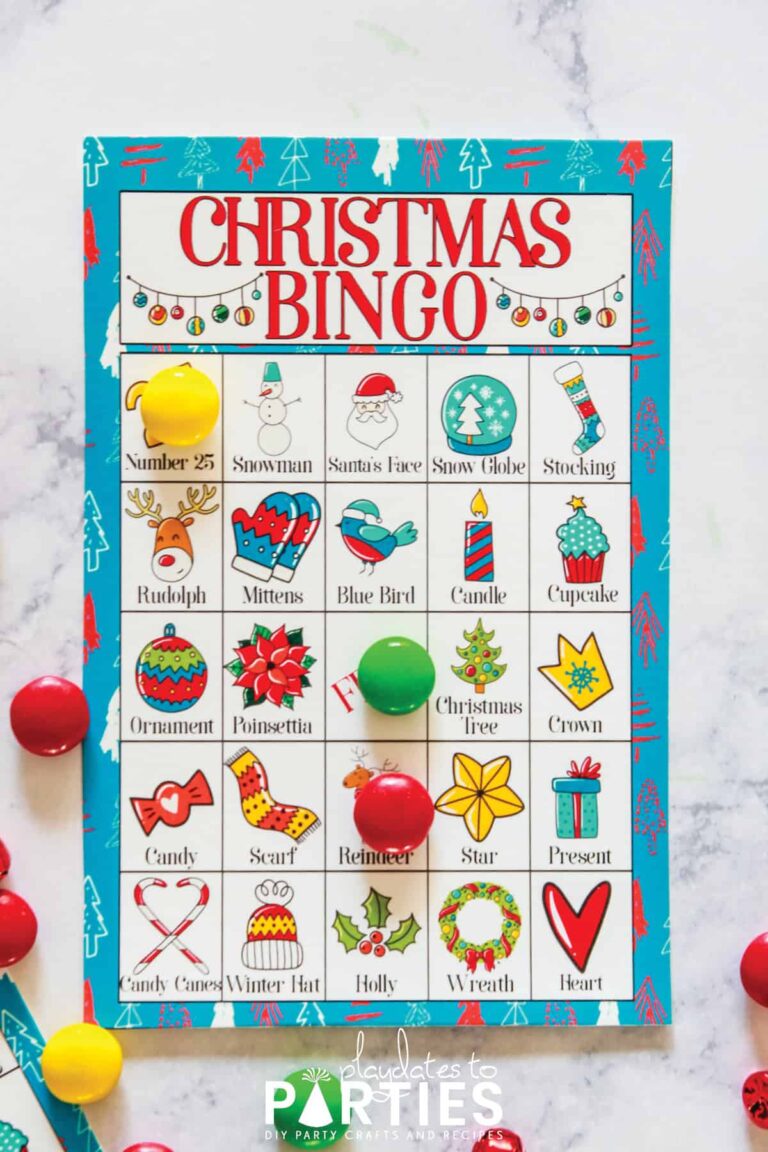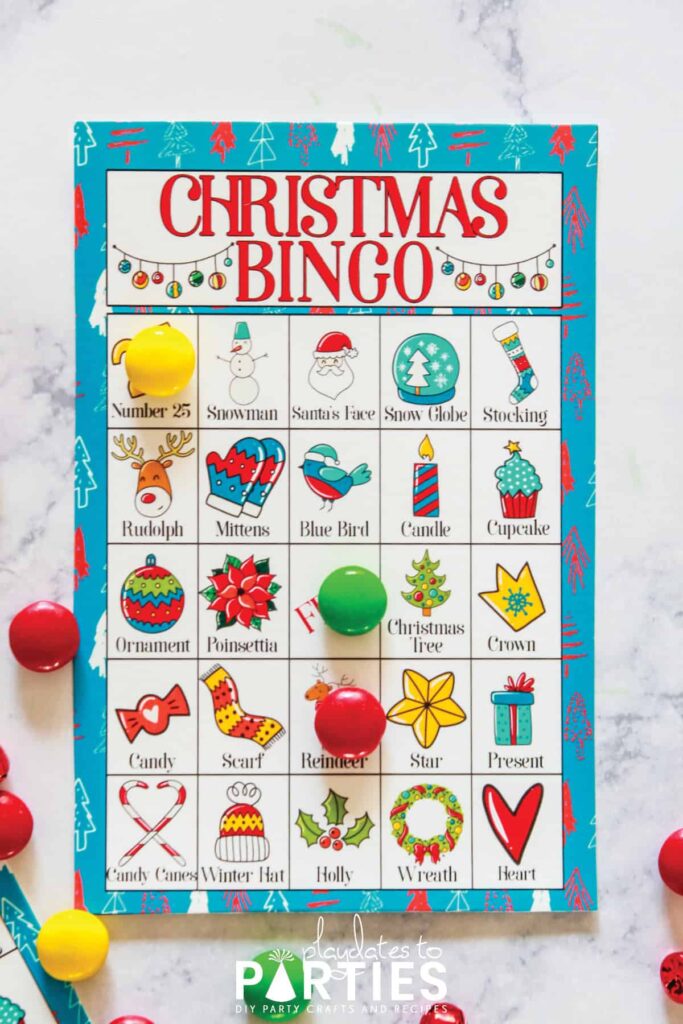 For example, when we started discussing party games, it seemed like every other suggestion she made was "if we fill a bucket with water…."
I don't know about you, but I'm not about to let 30 children loose during a Christmas party with buckets of water.
So, I steered the conversation back to some classic games kids can play in a classroom setting.
Of course, bingo was at the top of the list. The kids all know how to play it, it's easy to carry into school, and when I said that she could use fun items like M&Ms or jingle bells as markers, she was thrilled.
I mean, really, what kid doesn't want to play a game that involves candy?
Free Printable Christmas Bingo Cards
Now, even though my oldest is in 4th grade this year, I also have a preschooler and a 1st grader. Plus, we have our own Christmas party that we host each year.
So we got to work creating a set of Christmas bingo cards that would be fun for all ages…even pre-readers, and added a full set of 40 cards to my shop.
To make sure they're preschooler friendly, each bingo card spot has a picture of something festive, with its name written just below, and a graphic call out card to match.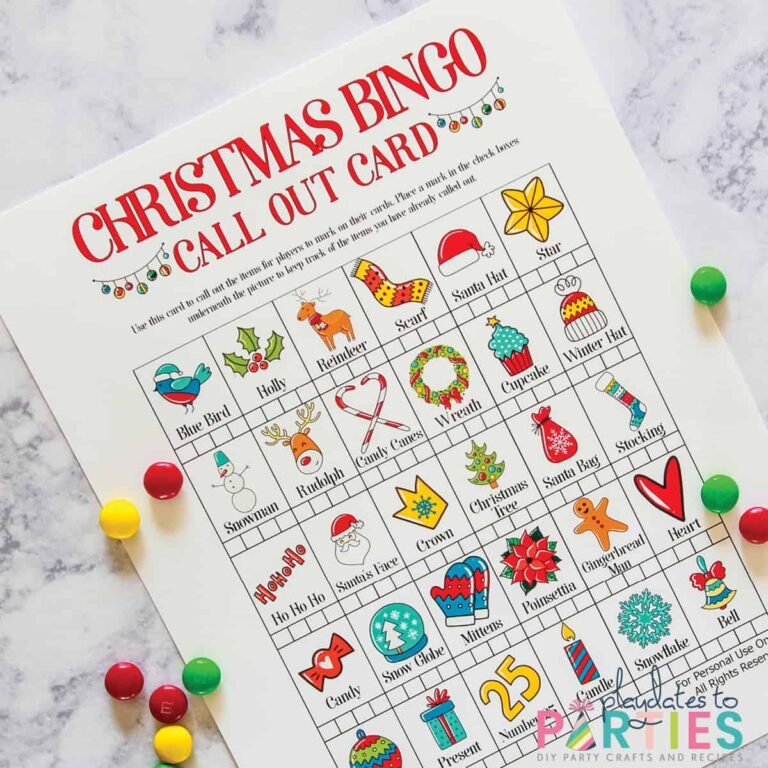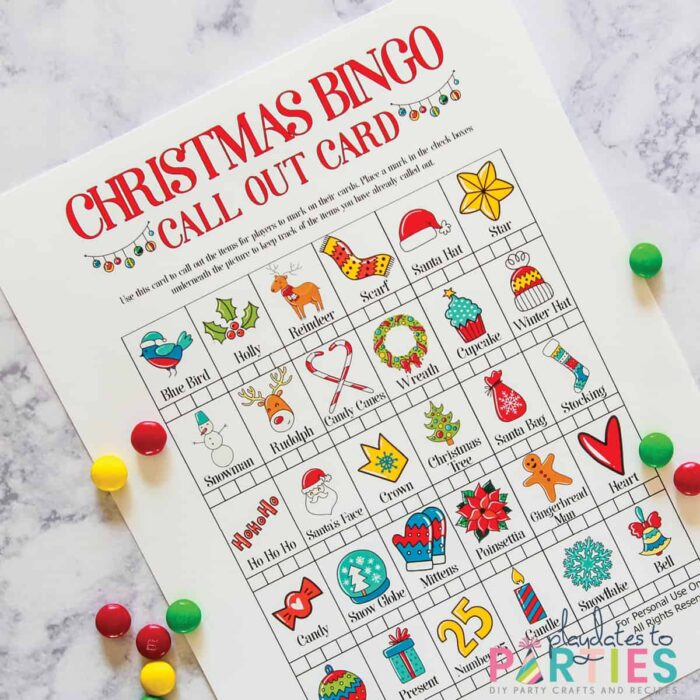 That way, the bingo caller can show the picture to the kids so they know which one to mark.
For early readers, like my first grader, I'd give them a minute or two to read the words. (Anything to help reinforce reading and literacy skills, right?)
Plus, kids really love the bright colors and fun pictures for each item.
But as a special holiday bonus, I'm offering a mini set of 12 Bingo cards for free to subscribers. Merry Christmas! 
(Not a subscriber, just add your information into the opt-in box at the end of the post to get your copy!)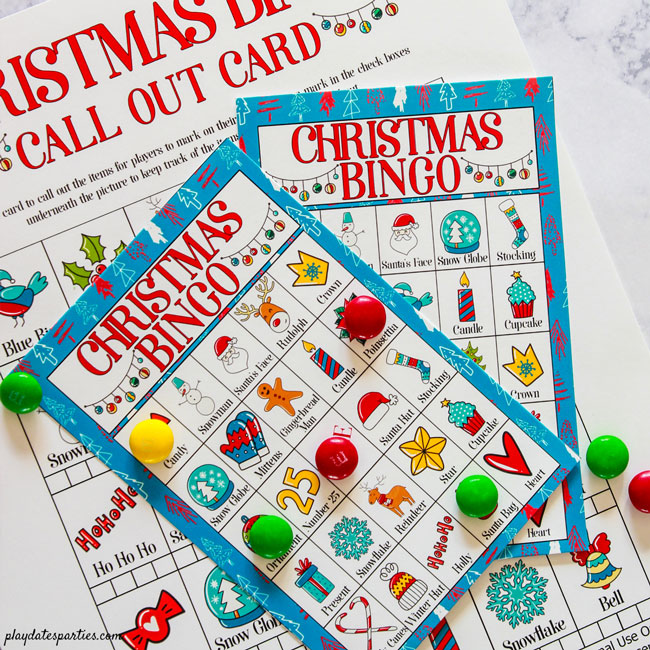 Perfect for Kid-Led Group Activities
There are 12 different bingo boards in the free printable set, so it's perfect for small groups.
I also wanted to keep things as simple as possible for the kids to play Christmas bingo at their Christmas party. So, the set includes a call-out card for the game leader.
You can use the call out card two ways:
Let the leader roll a jingle bell or M&M onto the card to randomly pick out each picture. Then mark the picture in one of the squares underneath the image, or
Cut out the images of the call out card and place them into a Santa hat. Then have the leader pull the pictures out of the had until someone calls Bingo!
Either way, you can use this set over and over, which makes it great for classroom parties where kids are broken into smaller groups.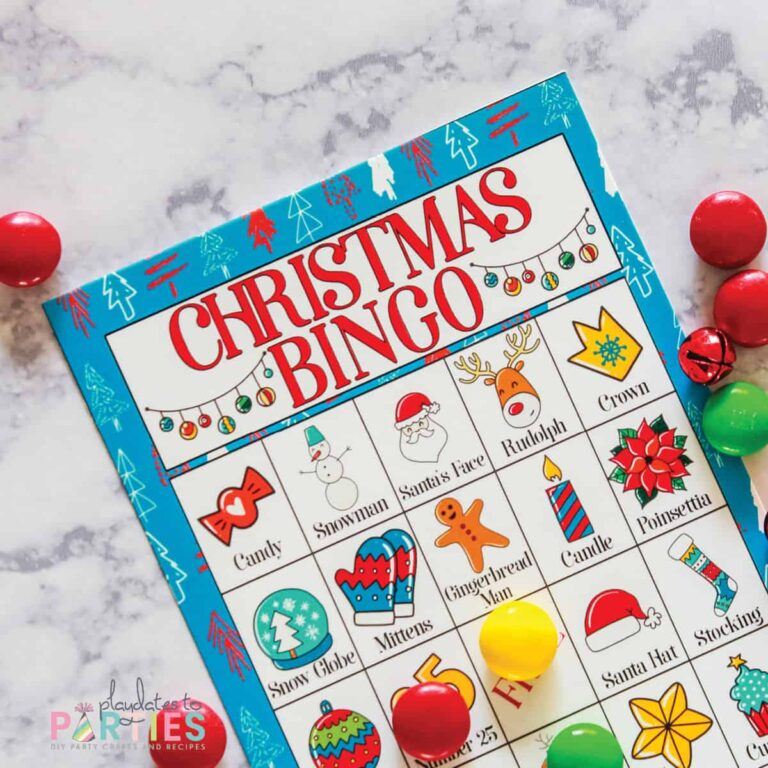 Other Ways to Use The Free Printable Christmas Bingo Set
Although the set was designed with the classroom in mind, here are some other ways to use it:
Have a Christmas bingo station for the kids at your Christmas party or family gathering. Let one of the older kids be in charge and lead the younger kids in a game or two.
Keep a set in your bag for when you're out to dinner with the kids. Play a quick game while you wait for your food to arrive.
Play a round or two of bingo on cold winter days inside. Let the winning kid choose your next activity.
A Few Tips for Printing Your Bingo Cards
Even the best picture doesn't look good if it isn't printed properly. Here are a few tips to make sure that your free printable Christmas bingo cards look great and are durable.
Please don't use regular printer paper to print off the cards. Not only will the colors be dull, but they will rip, wrinkle and tear. That's a sure recipe for frustration.
I highly recommend matte photo paper for the best looking results, but bright white card stock will also do. (Card stock absorbs more ink, making the colors a bit less vibrant, but it's definitely more economic)
Make life easier on yourself and use a straight edge paper cutter to cut the cards out. Yes, you can use plain old scissors, but the paper cutter just makes things so much faster!
Store the cards into a gallon-sized ziplock bag. That way they are protected if you transport them to school or dinner.
More Fun Christmas Games to Play:
Grab Your Free Printables Here
Whether you're looking for a Christmas game for the classroom, for your annual Christmas bash, or just to entertain the kids for an afternoon, grab your free printable Christmas bingo cards now.
All you have to do is fill in the box below, and you'll be on your way. Don't want to subscribe? Feel free to check out the full set of 40 pre-filled cards in my shop or the print and go set of Bingo cards here.
Do you love to play bingo with your kids?
What's your favorite game to play at a kids' Christmas party?
---