Turn your Easter morning into a family party with a simple Easter bunny buffet using Dollar Store items, and a few easy DIY Easter party decoration ideas.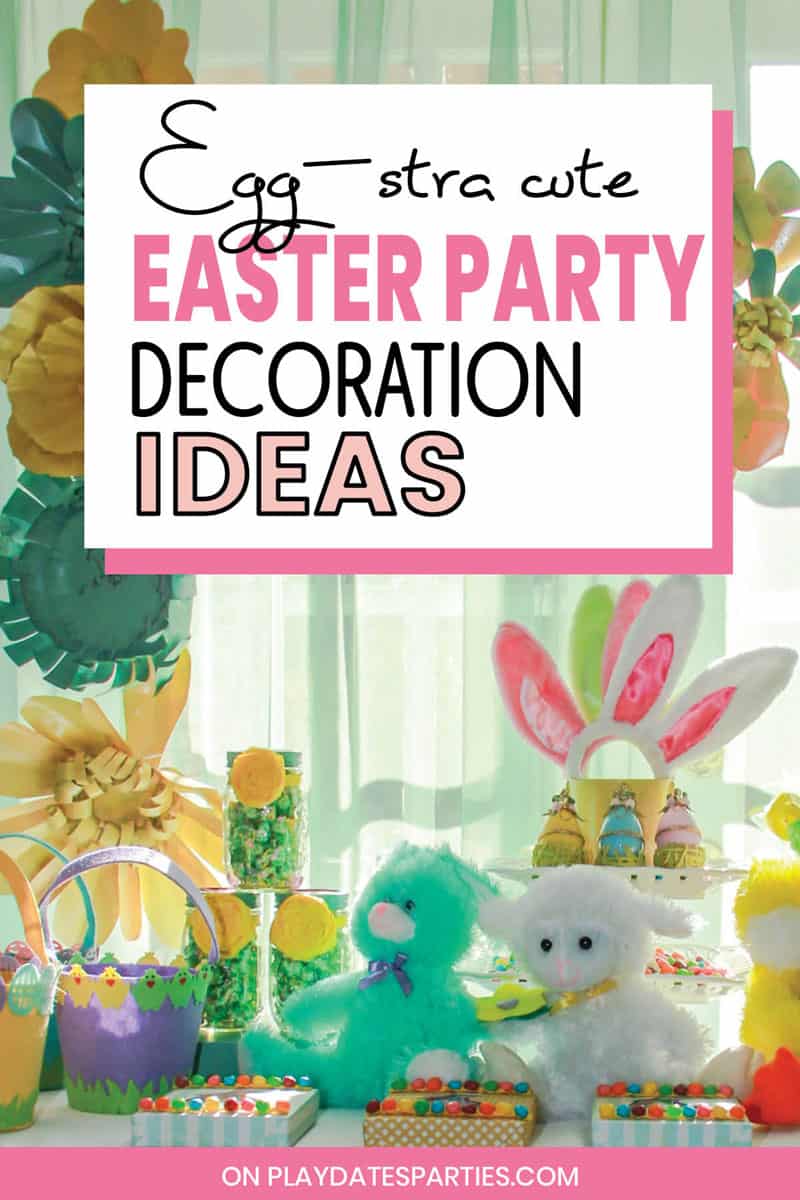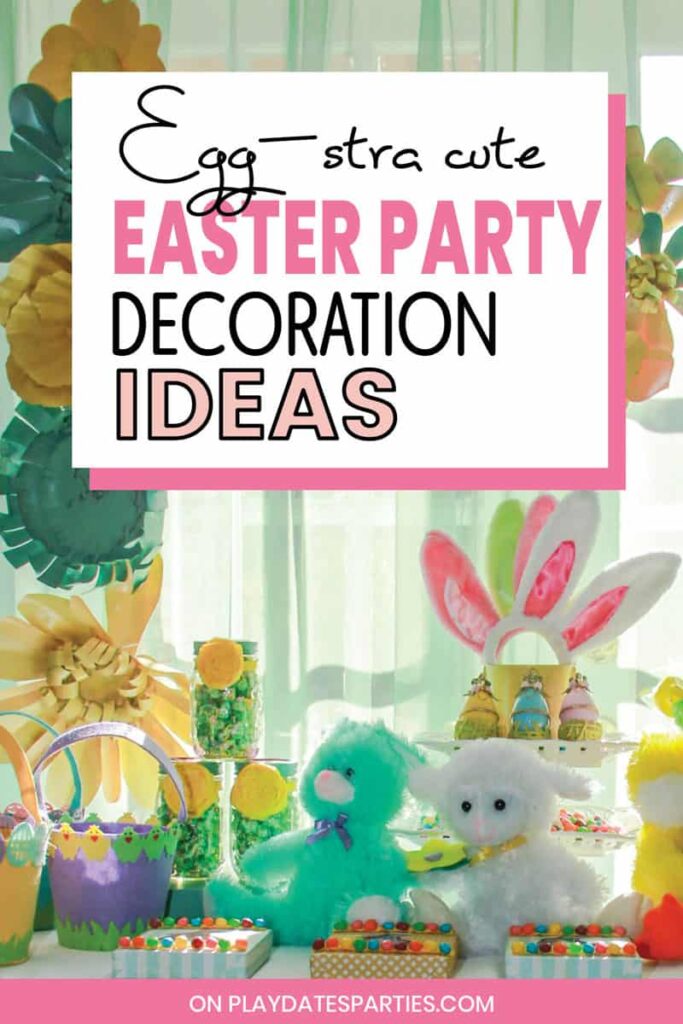 Imagine being a kid right now.
School's cancelled, you can't visit your friends, there's not even the annual Easter egg hunt to look forward to.
But just because church is closed on Easter Sunday, doesn't mean that you can't celebrate.
Instead of filling your kids baskets for them, why not turn the whole morning into a family party and set out an Easter bunny buffet where they get to fill their own baskets?
Seriously, you'll look like the genius that you are: Buy the same amount of candy and basket fillers that you normally would, but just display it like a party.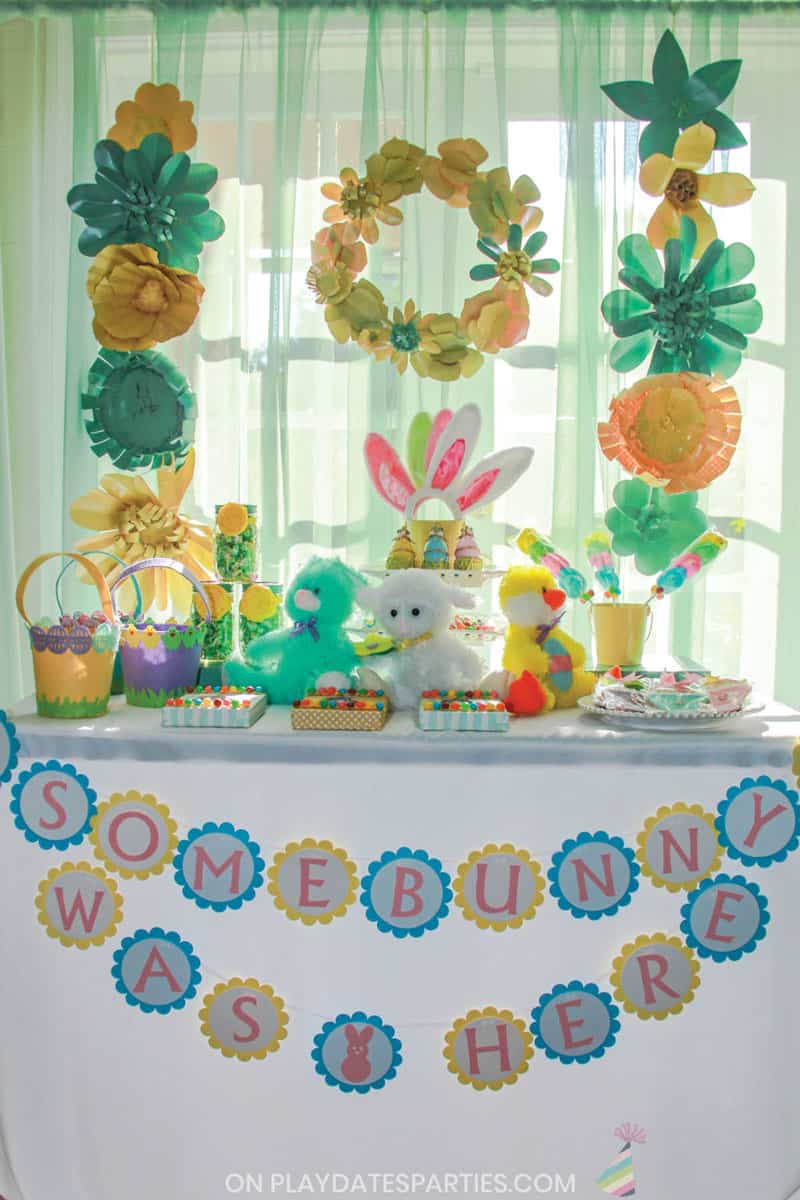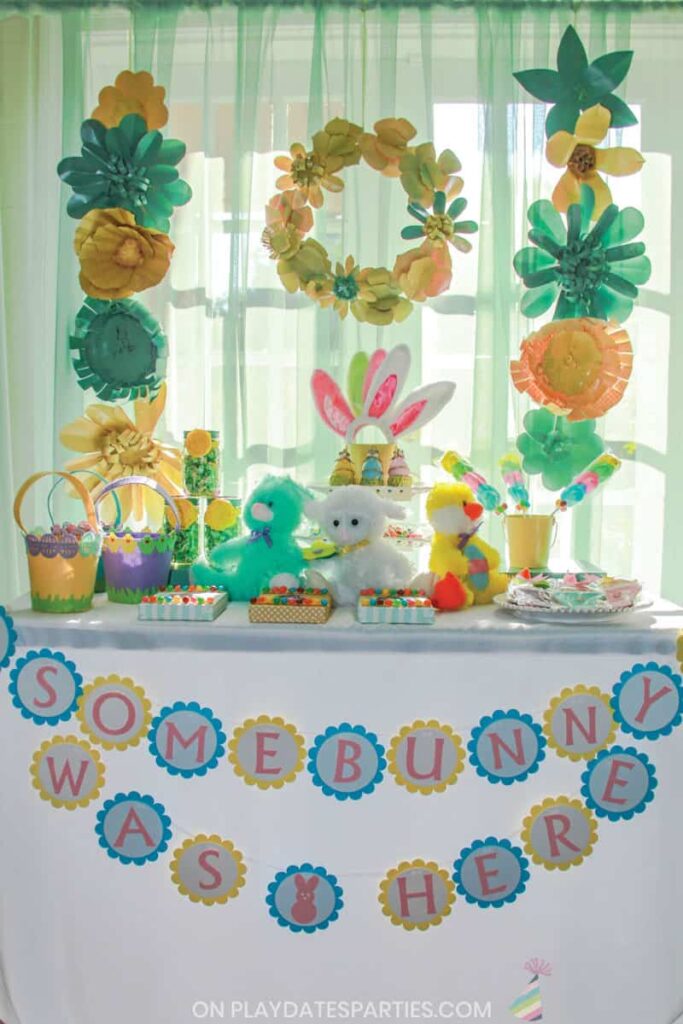 Easter Party Decorations on the Go
This party was originally created several years ago for my oldest and her two older cousins – and was transported from Maryland to central Virginia for set up. 😲
Yep, even the DIY backdrop frame was broken down and carted across state lines.
But the fact that it's a party for 3 kids is what makes it the perfect inspiration for an Easter morning bunny buffet.
Using a few simple tricks, you'll see how to make your buffet look full – even when there aren't a lot of items to put out.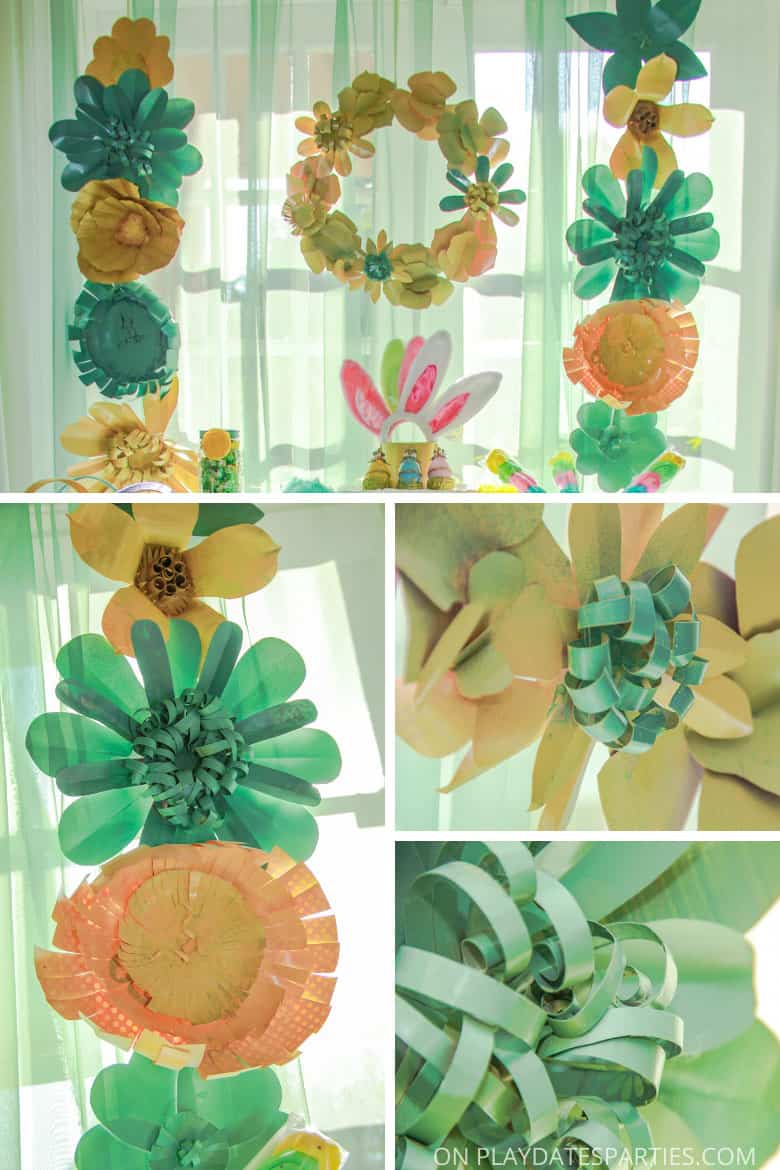 Gauzy Fabric and Flower Backdrop
This party backdrop couldn't be easier. The base of the backdrop is a long piece of gauzy aqua blue fabric taped to the top of an easy DIY party backdrop frame.
The best part of these DIY Easter party decorations is that they repurposed old craft projects too!
The paper flowers were originally crafted for my oldest's first birthday party. It just took a couple cans of spray paint and a few nice days outside, and voila! You've got completely new decorations.
Confession: I think they actually look better after being spray painted.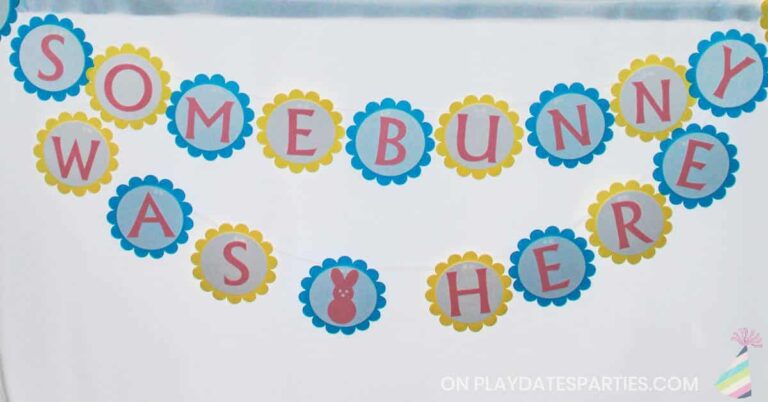 Somebunny was Here Paper Banner
This adorable "Somebunny Was Here" banner was originally made using a first-generation Silhouette machine.
Sadly, I lost all the information about the design that was used. ☹️
However, if you like that banner, let me know and I'll make a similar design and show you how to make one with a Cricut (which is my new machine that I just adore!)
Easter Bunny Approved!
Get your Easter hopping along with a sweet selection of printable goodies – including printable games, tags and bag toppers, party decorations, and art prints all designed to to make this Easter more colorful than ever. Check it all out right here.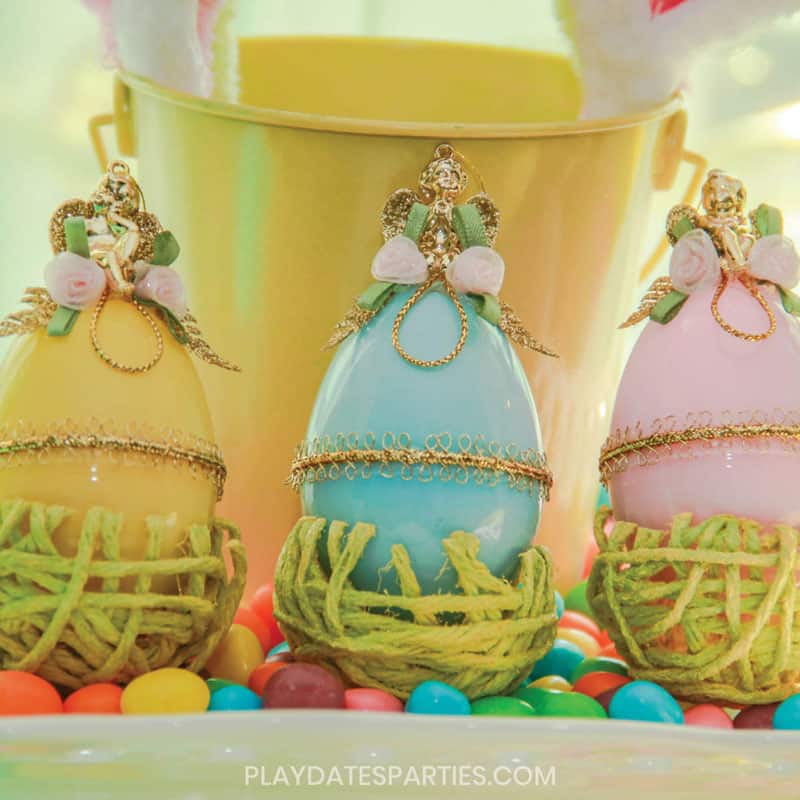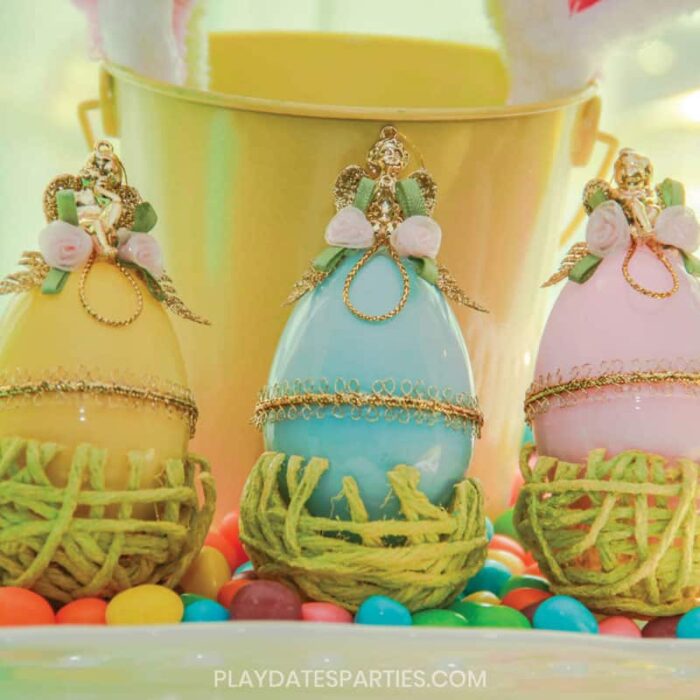 Faux Faberge Easter Eggs
These faberge-style plastic eggs are probably the star of the buffet table. Aren't those details simply adorable? They were purchased through Etsy, but unfortunately the original vendor no longer has a shop. ☹️
That said, you could also turn this into a craftivity with your kids. Gather ribbon and small decorations from your craft stash, and let the kids decorate their own Faberge-style eggs.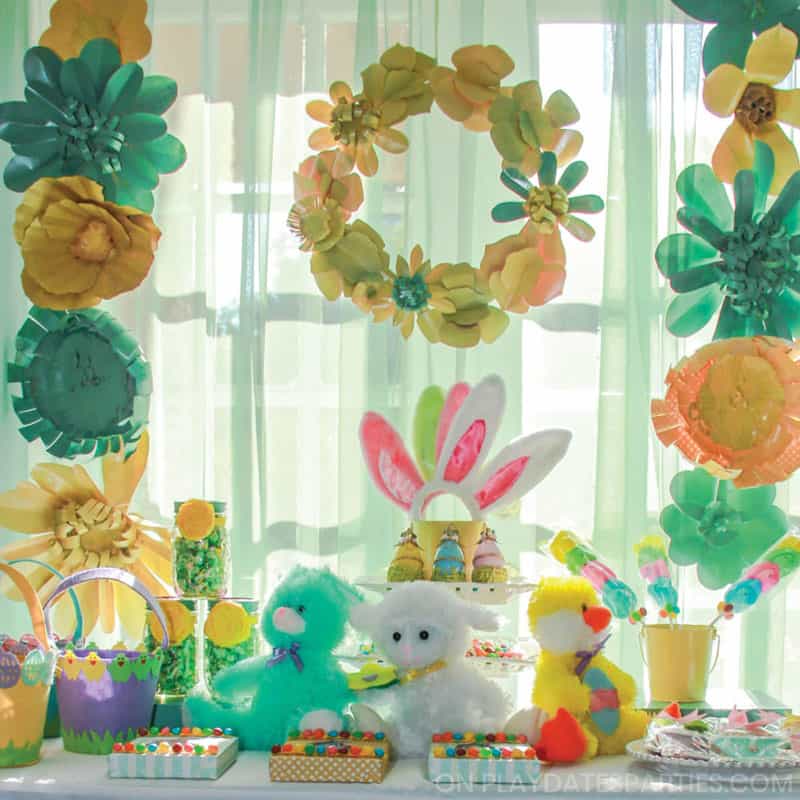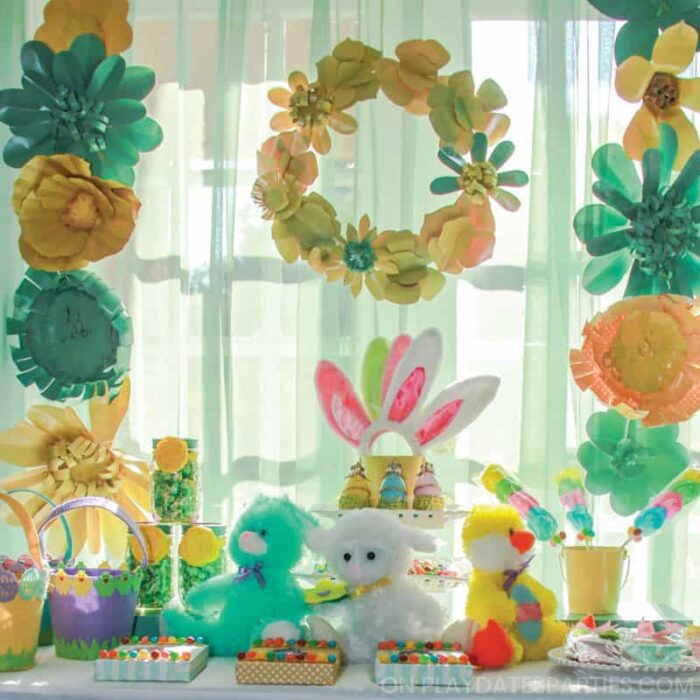 Dollar Store Goodies
Dollar Tree is often a hostesses' best friend (except when it's not). Take a look at how you can use cheap items to fill out the display:
Turn fuzzy bunny ear headbands into a display feature (similar)
The kids each got a mini felt Easter basket to collect their goodies (similar)
Stuffed animals add color and fill in empty space, and
Mini pails hold up the headbands and Peeps lollipops. (similar)
Note: With all the closures, Dollar Tree isn't currently offering online ordering. Clicking on 'similar' above will take you to Amazon links that should be able to be delivered.
Easter Party Decoration Ideas that Make a Big Difference
Can you see the catering and decor tricks that were used to make a massive impact on the final look of the display?
Here's a quick run-down:
White cake stands are used to add height to the items at the center back of the table,
Inexpensive (i.e. Target Dollar Spot) letter trays were spray painted to match the theme. Then they're turned upside down to add height to other items on the back of the table and fill in extra space on the tabletop.
Fitted table linens give a more streamlined, modern look, and
Loads of jelly beans scattered on the cake stands and in the pails add pops of color for very little $$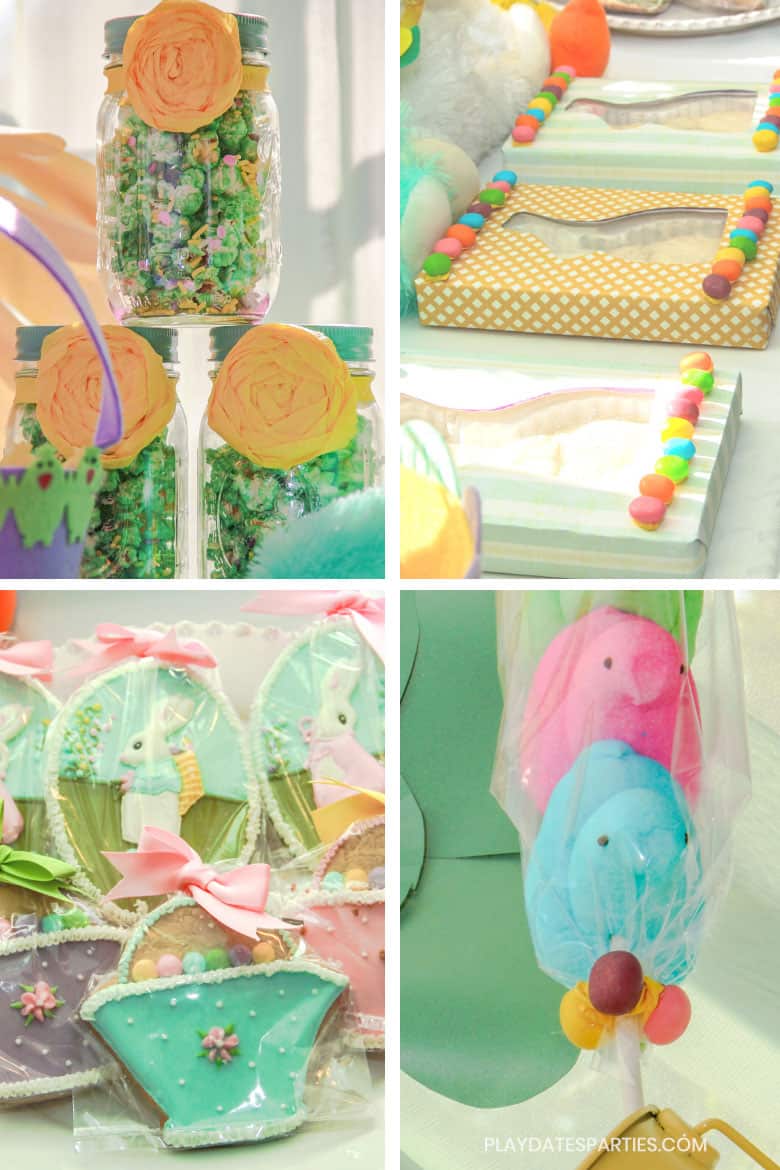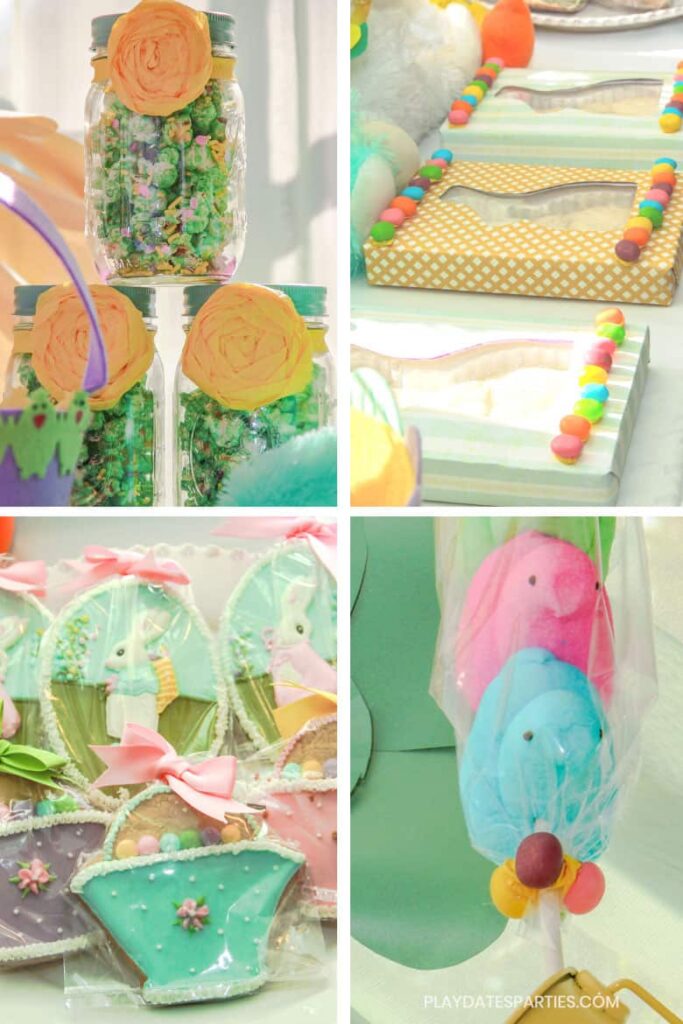 Easter Party Food
All the decorations in the world won't help a dessert bar if it doesn't have the treats to go along with it! Here's what we served:
More Easter Ideas
Now It's Your Turn
With everything going on, small things like turning Easter morning into a family party can help your kids feel like life is still somewhat normal.
And it doesn't have to break the bank, either. Use these Easter party decoration ideas to make it easy for yourself:
Set up an easy DIY backdrop frame with a curtain, bedsheet, or fabric
Turn props like bunny ear headbands into a centerpiece
Stack cake stands to add height to your table
Turn Easter basket fillers into a table display
Spray paint old party decorations to match Easter colors
Add a simple paper banner to the front of your table
Use jelly beans to fill in empty space and add color
Use mini pails to display items vertically
Stuffed animals are adorable filler items
Make faberge-inspired eggs with your kids and display them on your table
How are you making Easter special for your kids this year?
What's the hardest part of the shutdown for you?
---