What's better than the combination of sweet and salty?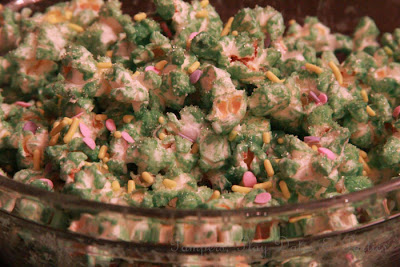 Am I the only one who thinks the sugar sprinkles add a pretty sparkle?
And then I remembered, that I had these:
Put them together and this is what you get:
Candy Coated Popcorn in a Jar!
Not necessarily the most original idea out there, but sometimes you need to work with what's on hand. Just like the Easter bunny wrapper, I haven't put together my embellishments – so you'll just have to wait until next week to see what the final package looks like!
(Seriously, don't think that I'm purposefully holding out on you. I wish I had pictures of the final packaging…but I just don't work that way…as of this morning I still don't know exactly how I'm going to embellish any of my Easter treats!)