Meet the Stormy IPA Cocktail. Inspired by a classic dark rum cocktail and America's favorite beer style – the India Pale Ale. This craft beer cocktail can also be seen as a fortified version of a shandy.
Cheers, friends! Let's talk about cocktails made with craft beer – one of our passions.
My name is Milena and my husband Chris and I are a tiny bit obsessed with craft beer. We spend an indecent amount of our free time talking about beer, tasting various beer styles, visiting independent breweries and taprooms and even home brewing (well, I simply assist).
But our love for craft beer doesn't stop there. We use it as an ingredient for our recipes and cook with it, we pair it with our favorite dishes and now and then we mix up cocktails with it.
It has become a lifestyle centered around craft beer.
We call it craft beering. And we publish a blog about it, by the same name. Today we are thrilled to share a craft beer cocktail with you on Leslie's kind invitation:) Thank you, Leslie for hosting us!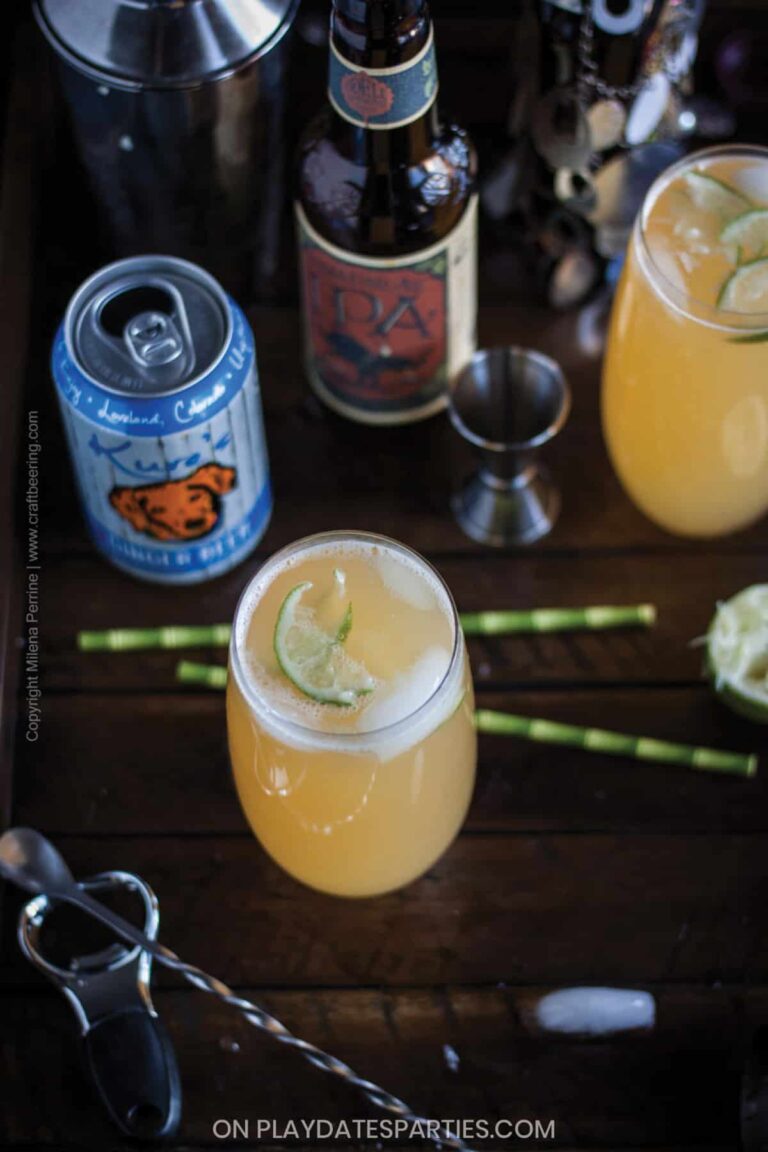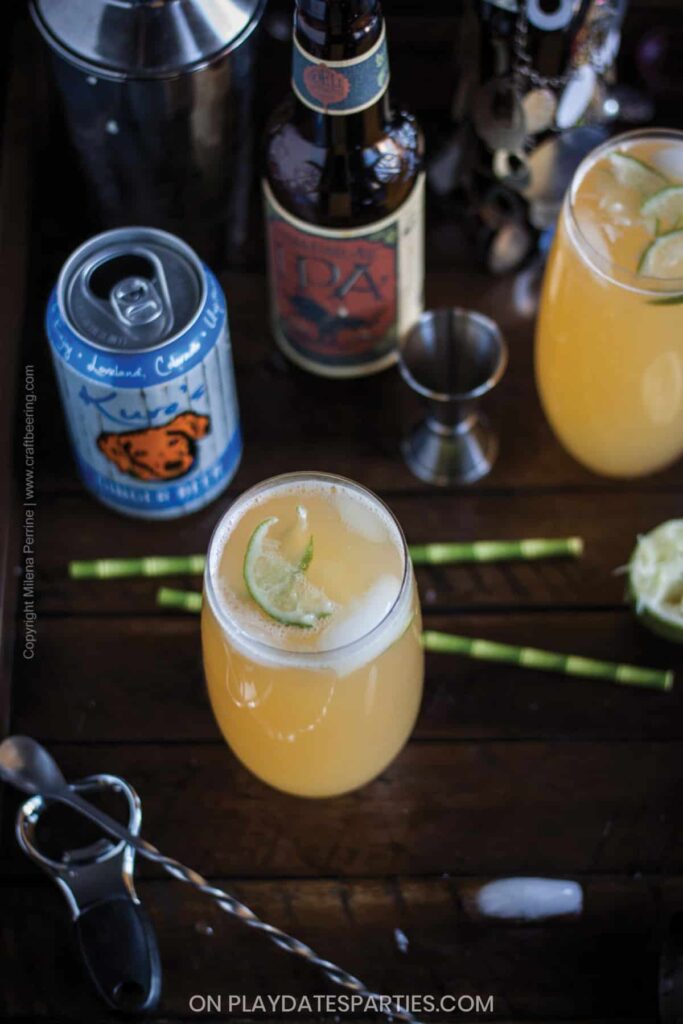 Back to the Stormy IPA Cocktail, a beverage that we would typically classify under 'imagination station craft beer cocktails'.
Meaning that it is not simply a twist on a classic cocktail and there aren't rules set in stone about how to mix it. We simply played around with flavors and concepts.
Perhaps you are well aware of the growing popularity of craft beer based cocktails, perhaps you find the notion odd and think 'Beer is beer, why try to make cocktails with it?"
We say 'Why not?'.
Craft beer is the most creative alcoholic beverage in human history, as well as one of the oldest fermented beverages. Craft beer is ever evolving and the flavors being introduced to brews by imaginative brewers from the world over are simply mind boggling and so very delicious.
Sweet, sour, super bitter, mysterious in result of aging in tequila, bourbon, rum or wine barrels, spicy or fruit flavored… There are no limits to craft beer.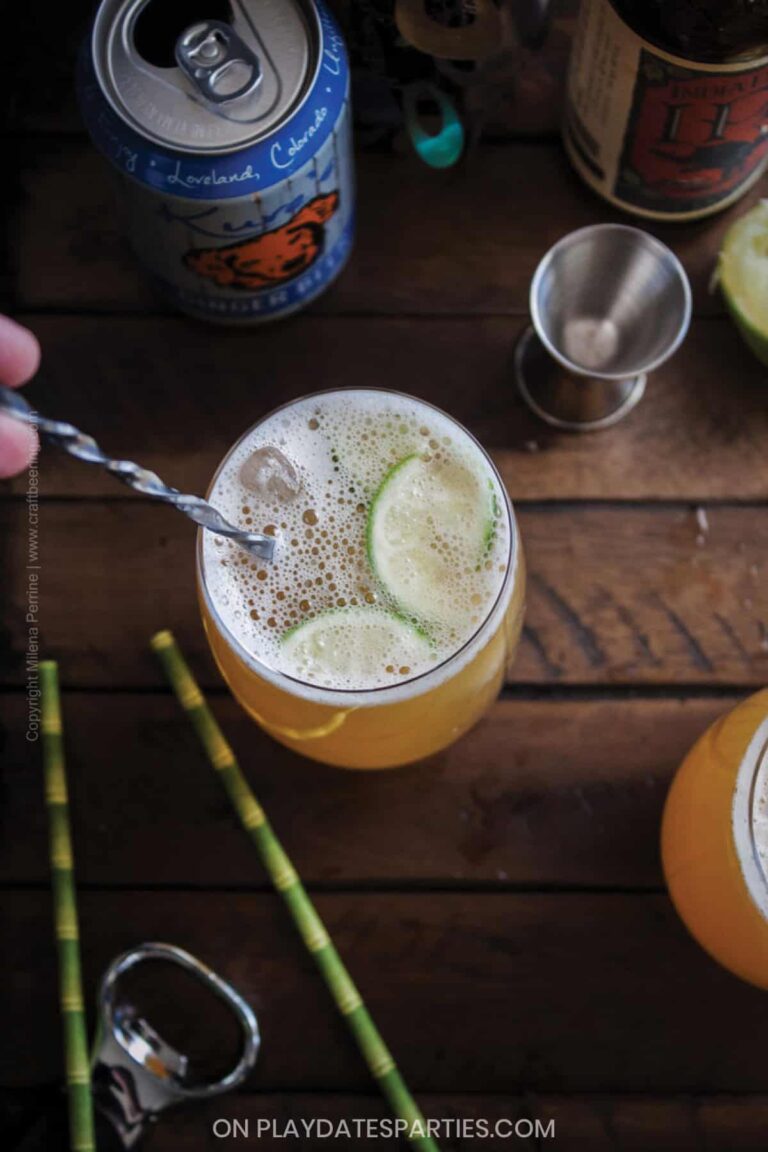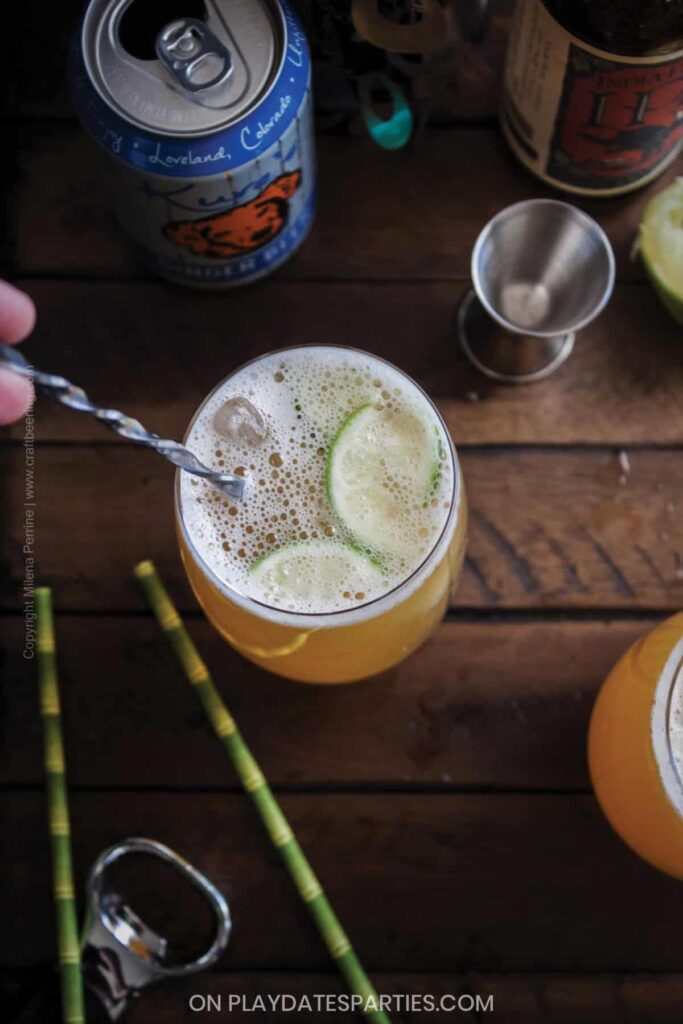 Building the Stormy IPA Cocktail
A classic Dark 'n Stormy (actually a trade mark protected name of Gosling Brothers Ltd) is simply a mix of their world famous Black Seal rum (the 'dark'), ginger beer (the 'stormy') and either lime juice or a lime slice or both.
This Stormy IPA maintains the stormy element, but uses a rather generous amount of it:), blended with an equally generous pour of IPA and is then spiked with dark rum and lime juice that have been shaken over ice.
We also reduce the ice to a minimum because
watered down beer is no fun to drink, and
both the IPA and the ginger beer should be already chilled before mixed in the cocktail.
So if the Stormy IPA also reminds you of a Radler or a Shandy, you are on the right track:)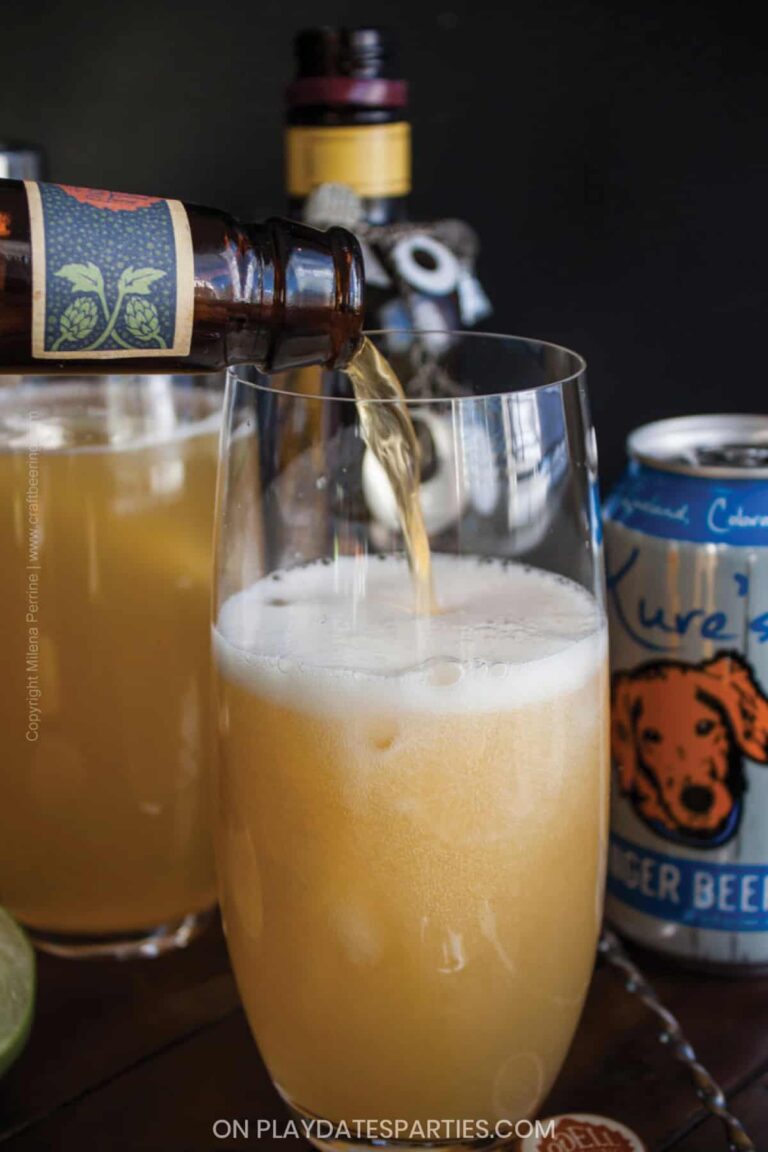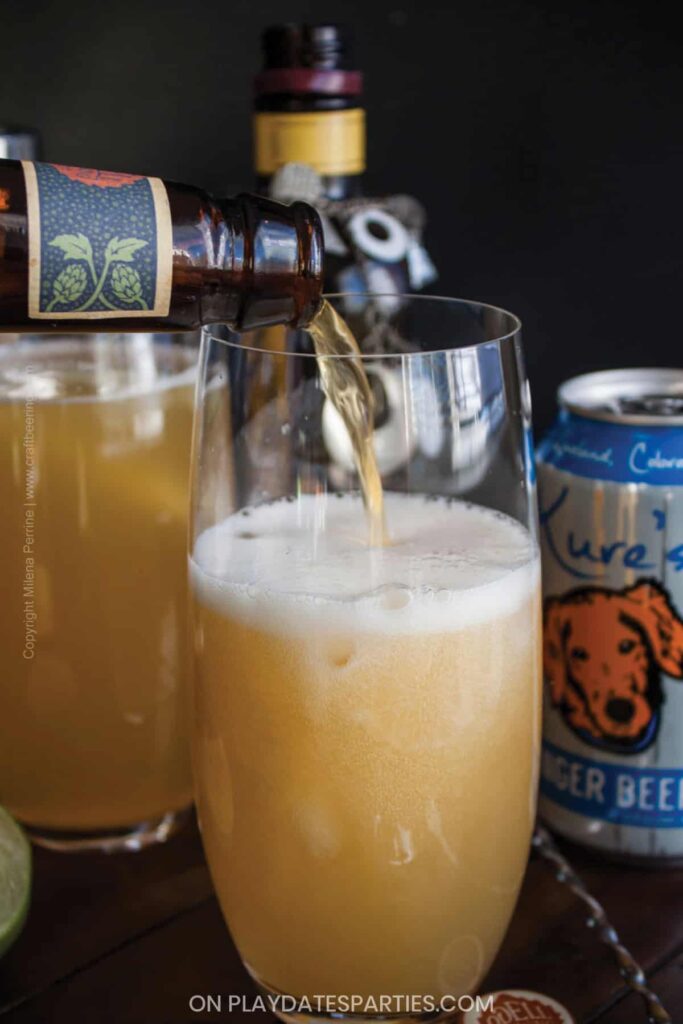 What IPA should you choose for the Stormy IPA Cocktail?
While there are numerous IPA styles the choice of IPA is actually up to you. Have fun with it.
You can go for a citrusy American hops IPA, or a very bitter double IPA. Or even an aromatic, dry-hopped session IPA. We did classify the cocktail as an 'imagination station' one for a good reason:)
We used a middle-of-the-road American style IPA by our hometown Odell Brewing Co. and a locally brewed unfiltered ginger beer by Kure's Craft Beverage Co. Both from within a ten mile radius from our house.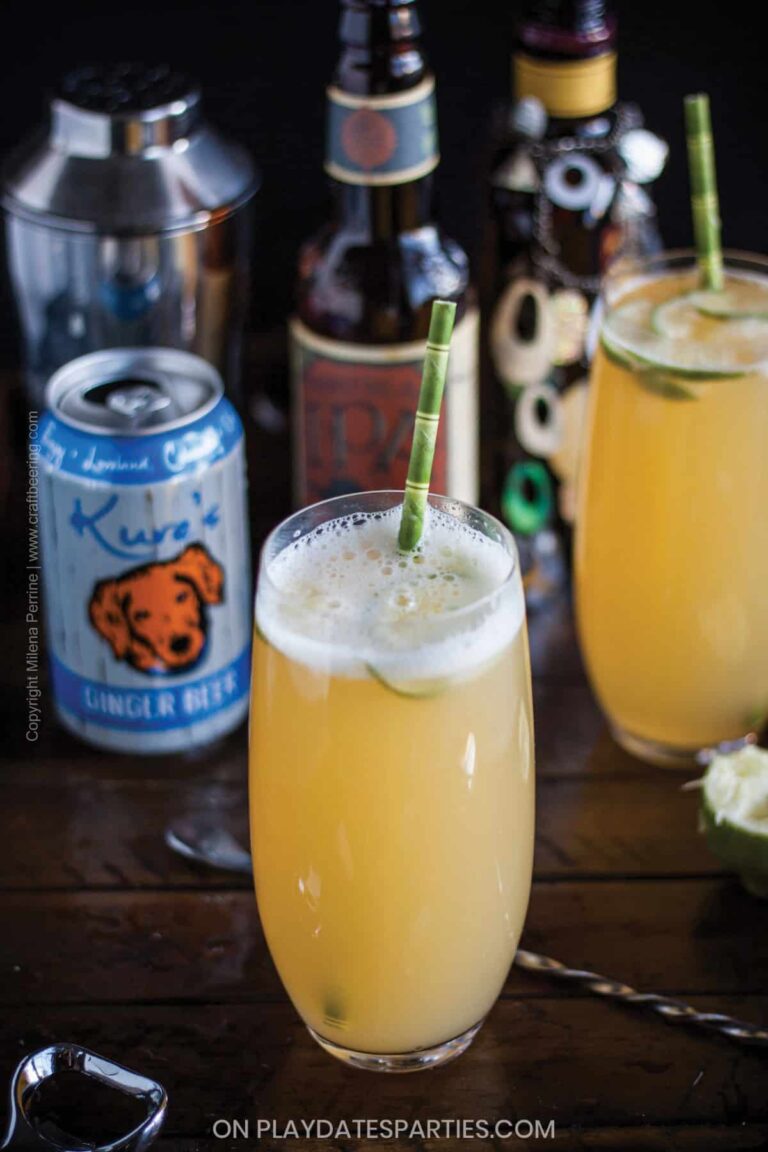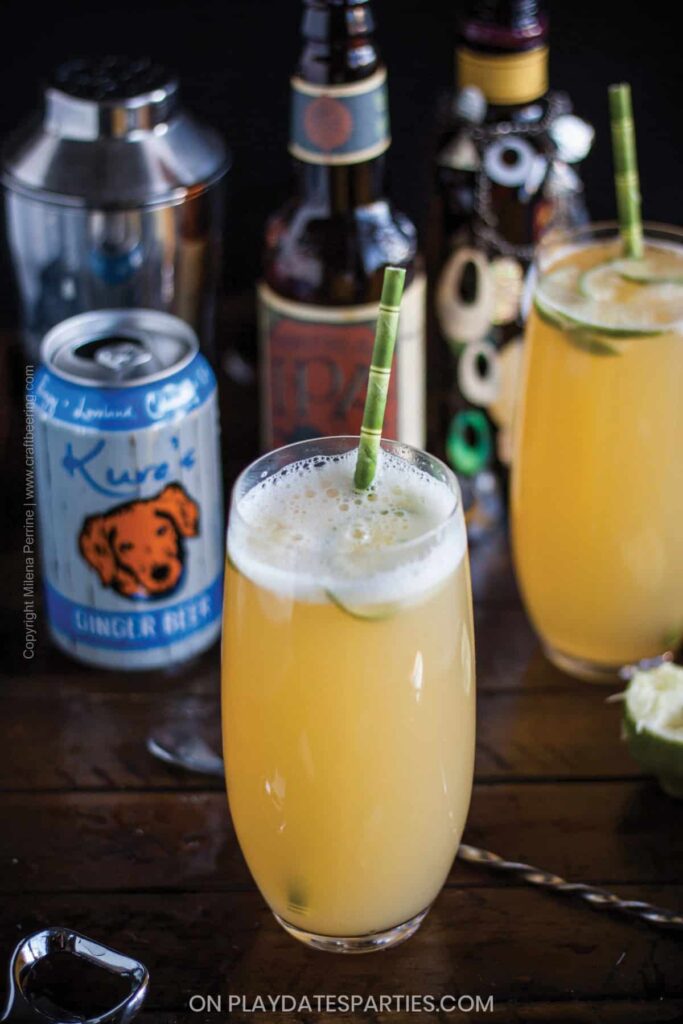 We love to support the local craft brewers, it is part of craft beering. We used Myers's Dark Rum, but pretty much any dark rum will be just fine at this level of dilution.
In lieu of good-bye I want to say – be cautious 🙂
This cocktail will taste deceivingly refreshing, sweet and spicy, with hints of fragrant bitterness and fresh lime tartness and tempt you to chug it down quickly. But it is much more potent than you'd expect. So take care:)
More Cocktail Recipes to Love
Yield: 2 cocktails
Stormy IPA Cocktail Recipe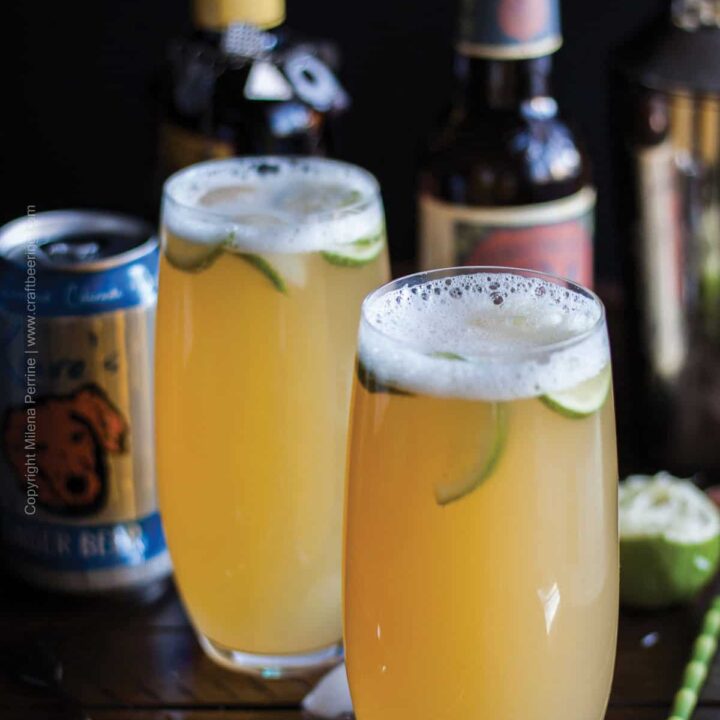 Meet the Stormy IPA Cocktail. Inspired by a classic dark rum cocktail and America's favorite beer style - the India Pale Ale, this craft beer cocktail can also be seen as a fortified version of a shandy.
Ingredients
12 oz ginger beer, very cold
12 oz IPA, very cold
3 oz dark rum
juice of half a lime
lime slices for garnish
ice cubes
Instructions
Set up two high ball glasses and place 3-4 ice cubes in each.
Pour the ginger beer, dividing it equally between the two glasses.
Pour the IPA, dividing it equally between the two glasses.
In a cocktail shaker filled with ice pour 1.5 oz of the rum and half of the lime juice and shake 4-5 times to chill.
Strain/pour over one of the glasses and stir well. Garnish with lime.
Repeat the last step for the second cocktail.
Nutrition Information:
Yield:
2
Serving Size:
1 grams
Amount Per Serving:
Calories:

367
Total Fat:

0g
Saturated Fat:

0g
Trans Fat:

0g
Unsaturated Fat:

0g
Cholesterol:

0mg
Sodium:

95mg
Carbohydrates:

48g
Fiber:

2g
Sugar:

39g
Protein:

1g
__________________________________ The nutrition information provided above is estimated using an automated calculation system. Actual nutrition will vary depending on brand and measurements used in your recipe. To obtain the most accurate representation of the nutrition information for any given recipe, you should calculate the nutritional information using the actual ingredients you used in your recipe.
Enjoy responsibly.
Want more craft beer recipes? Head on over to Craft Beering, and check out recipes like Coconut Porter Pancakes and Blood Orange Gose & Raspberry Saison Beermosas. You can also connect with Milena and Chris at Pinterest, Facebook, & Instagram.
---