Bring a smile to their faces all school year with over 170 printable lunch box notes for kids: notes for kindergarteners, encouragement, or just a little joke.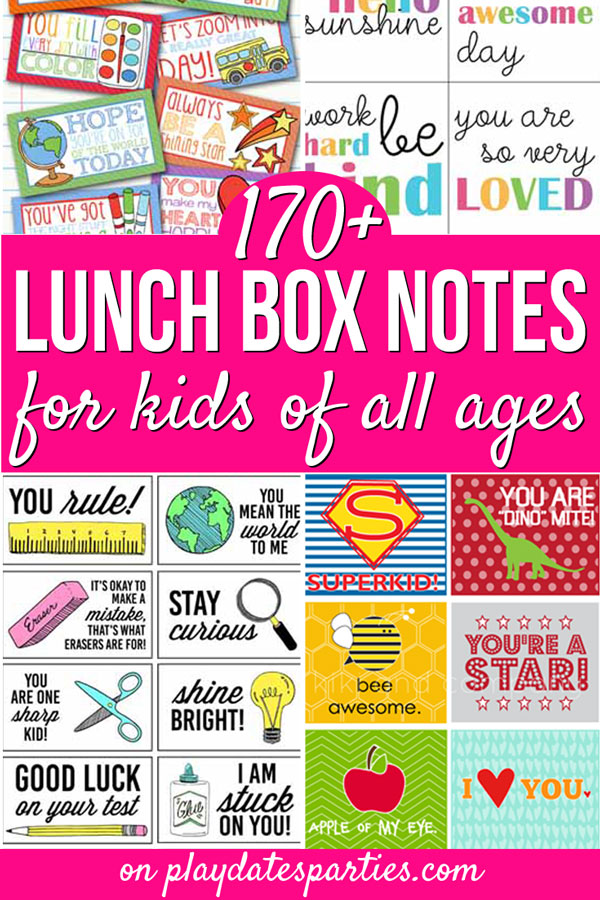 For the first time in weeks, my oldest greeted me after school with a huge smile on her face and a giant hug.
She never told me exactly what made school so difficult for those few weeks, but I knew exactly what was different that day.
I sent a little surprise love note in her lunch box.
It wasn't much either, just a little post it with a couple sentences telling her how loved she is.
Who knew that something so small could have such a big impact? The difference in her demeanor was immediate and obvious. And it was wonderful to see her smiling face again.
From that moment on, I kept a stash of printable lunch box notes in our kitchen to send on a regular basis.
With the new school year starting soon, it's time to pull out our first day of school printables and refresh our stash of lunch box notes. And now that my middle child is starting pre-school, it's important to have a variety of lunch box notes that work for non-readers, too.
Plus, having them printed and cut out now means that you're far less likely to forget them.
Free Printable Lunch Box Notes Perfect for the new School Year
What You Need to Prepare Your Lunch Box Notes for Kids
If you printed one of each of these sheets, that would total 174 lunchbox notes in all…which is totally awesome. That said, you'll want to be prepared when getting them ready so it takes the least amount of time possible.
Get these supplies ready so you're all set to have them done in no time flat:
Want to start the new year off right? Check out all my school printables right here!
Holiday themed Lunch Box Jokes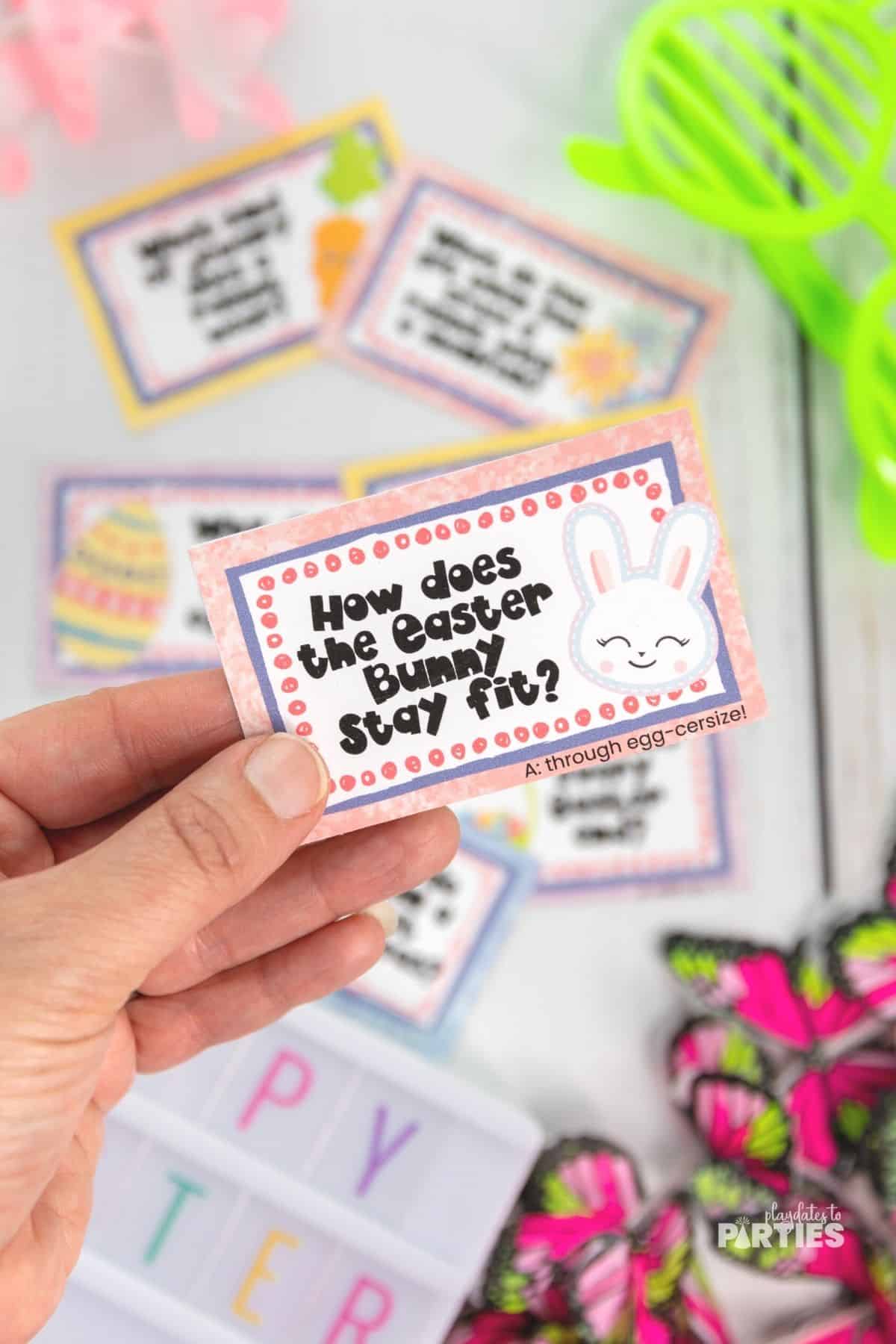 Add some Easter egg-citement to the day with these free printable Easter Lunch Box Jokes for kids. Perfect for busy moms with young kids, this set of 32 silly cards is a sweet addition to your child's school lunchbox, as a non-candy Easter gift in their baskets, or even as a fun family activity around the dinner table. Simply download, print, cut them out, and slip them into your little one's lunch box for a fun surprise they'll remember for years to come.
Lunch Box Notes for Kindergarten and Pre-School
Our Whimsical Days made pre and Early Reader Notes just for the littlest ones in the family.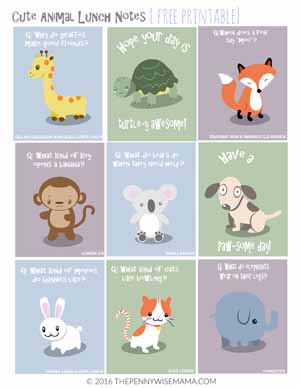 Even though these cute Animal printable notes from the PennyWise Mama do have some writing, preschoolers and kindergarteners will still enjoy getting an adorable little lunch pet.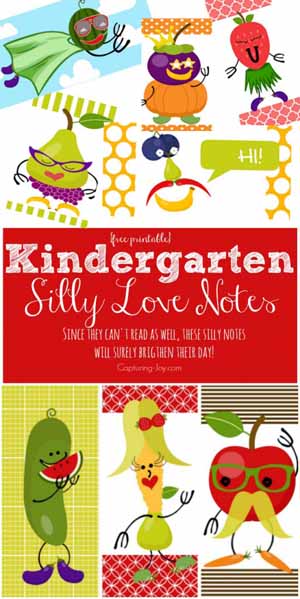 What little kid wouldn't get a kick out of seeing these silly Kindergarten Love Notes from Capturing Joy with Kristen Duke? I think my favorite has to be the flying watermelon.
Lunch Box Notes for Encouragement
This set of Encouraging Lunch Notes from Lil Luna is the perfect balance of simple and cute.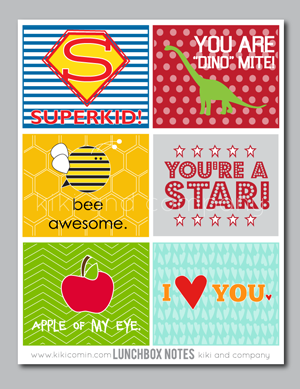 Today's Creative Life shared Printable Lunch Notes that are great for boys and girls!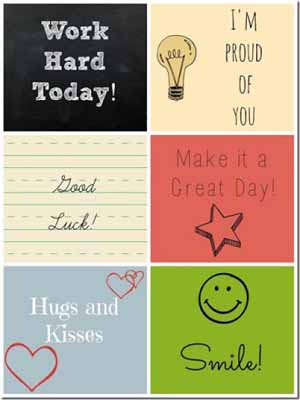 These Lunch Printable Lunch Notes from Life with Megan are just the sweetest!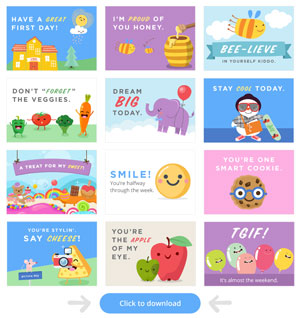 Varage Sale has Back-to-School Lunch Notes with encouraging words for any day.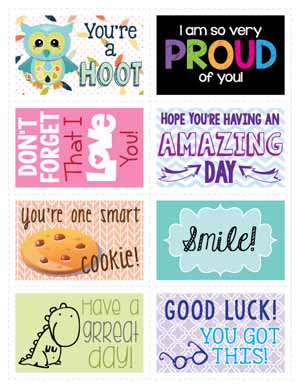 Older kids will love these Big Kid Lunch Printables from It's Me Deb CB, with reminders of how much they are loved, and even a note for big test days.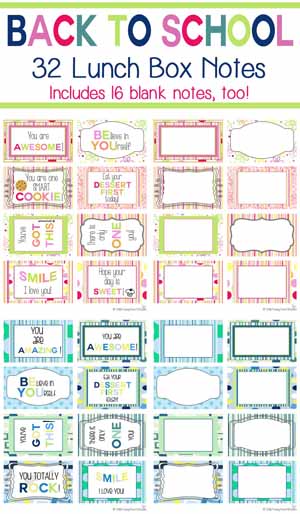 This huge set of Back-to-School Lunch Notes from Finding Time to Fly has 32 different designs, and even includes blank notes so you can write in a more personal message.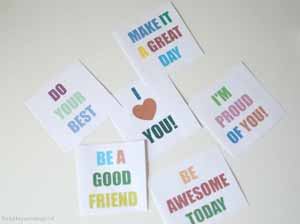 Honestly, I love how simple Craftaholics Anonymous' DIY Lunch Bags with Free Lunch Box Notes are.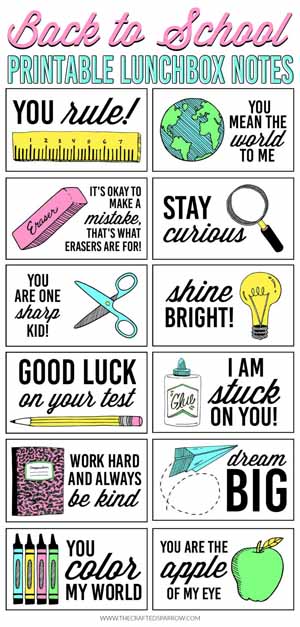 School Themed Lunch Box Notes from The Crafted Sparrow are so bright have a fun vintage vibe to them.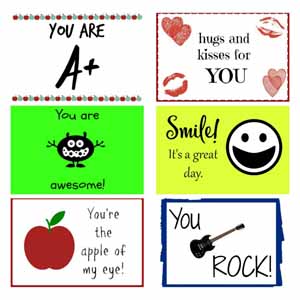 Change things up with this set of six Back-to-School Lunch Notes from Olives n Okra.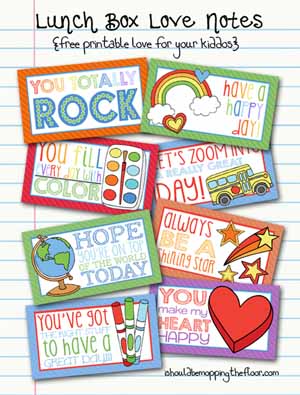 This set of 8 Lunch Box Love Notes by I Should Be Mopping the Floor would make any kid happy!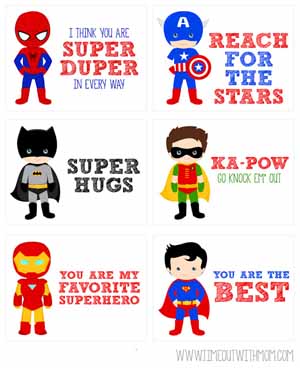 Superhero Lunch Notes from Timeout with Mom are perfect for the boys!

Even I would love these Colorful Lunch Notes from By Dawn Nicole.
Lunch Box Notes Jokes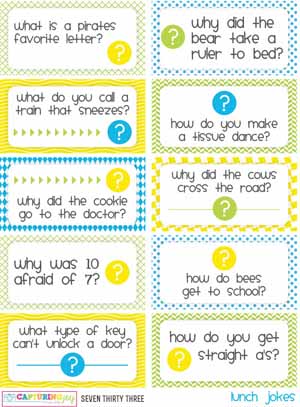 Older kids will love sharing riddles with their friends with Capturing Joy with Kristen Duke's Printable Lunch Box Jokes.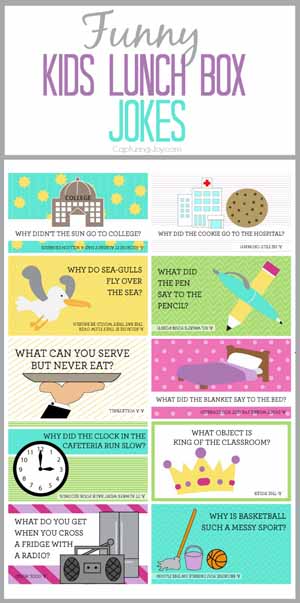 Capturing Joy with Kristen Duke also has this set of Funny Lunch Box Notes to send in, too!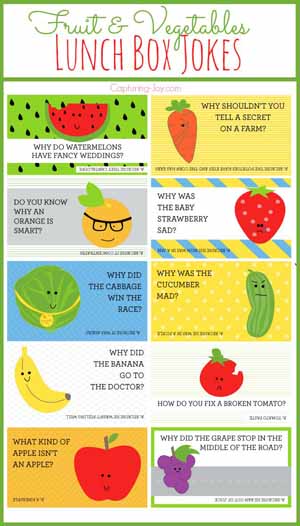 And she does it again with these Fruit & Veggie Lunch Box Jokes. If only that would help my kids eat more vegetables too
Blank Lunch Box Notes to Write In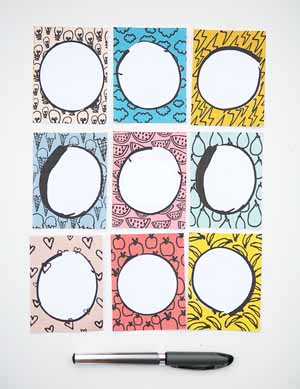 The patterns on these Blank Lunch Box Notes from 100 Layer Cake are great for older kids.
And younger kids will enjoy the cute fun icons in these Fill-in Lunch Box Notes from Buggy and Buddy.
Now It's Your Turn
Don't be like me and wait for tough times at school to send lunch box notes to your kids. Bring a big smile to your kids' faces with one of these need to wait for tough times at school
Do you send lunch box notes with your kids?
How do you encourage your kids to keep smiling through a tough period?
---