It's one of life's conundrums: How to get motivated to clean when overwhelmed by mess. Here are 17 of the best tips from organizing gurus to get you started.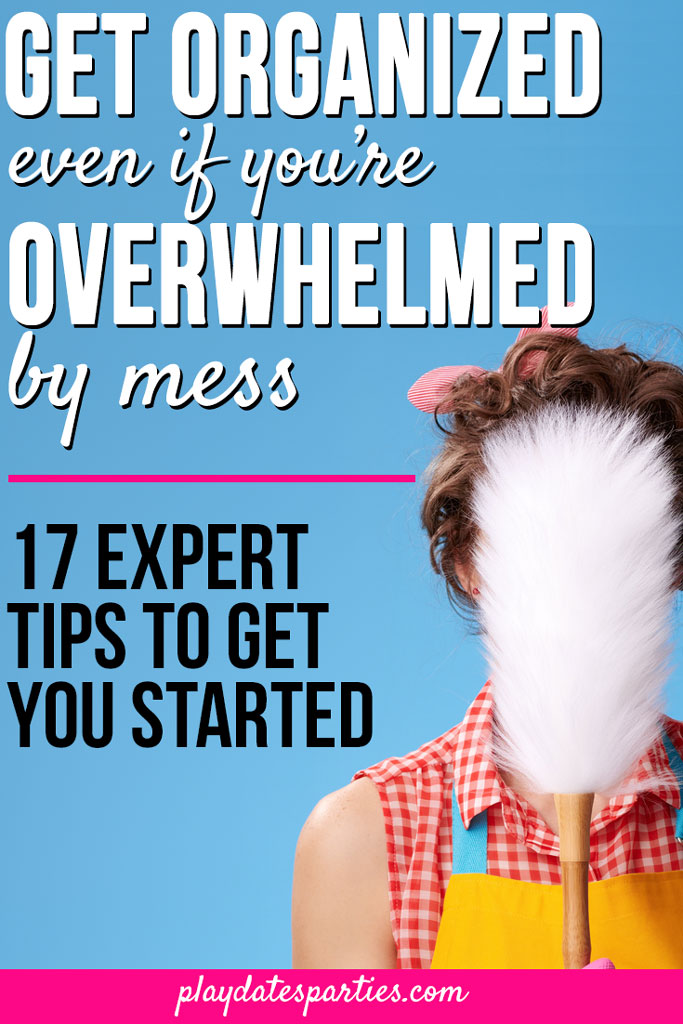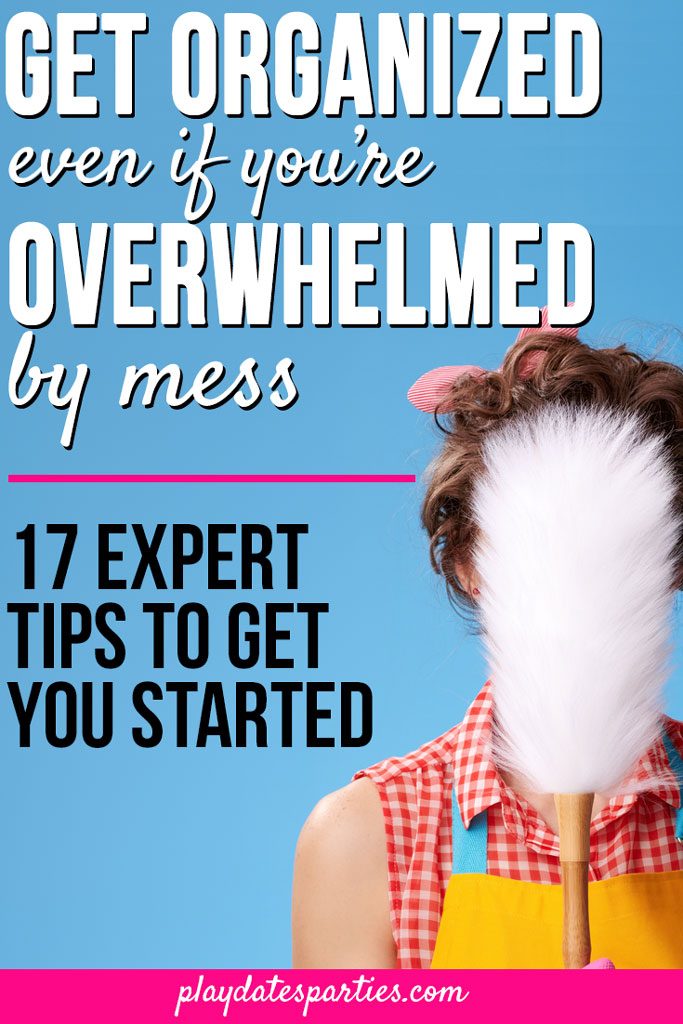 Happy New Year everyone! Can you believe it's already 2019?
Just like every January, I'm feeling motivated to do all the things! But, the truth is that it's important to step back and be realistic.
For those that don't know, I was diagnosed with breast cancer last January. And as a result of months of chemotherapy, recovery from a mastectomy, and now daily radiation, our house feels is getting disorganized…no it's downright messy! Which is why I totally understood when a reader emailed me with the following question:
"Hi Leslie, I hope you can help me. I need help with organizing. I have been so busy & have let everything in my house go including cleaning. I am so overwhelmed every time I start to do something that I end up giving up. Do you have a plan of action that would help me?"
Yep, I totally understand how she feels. Frankly, I often wonder how to get motivated to clean when overwhelmed by mess. And my previous solution has been pretty extreme – I used the One Room Challenge to really focus in and get an organization system in place. (Those rooms are still pretty awesome, by the way)
Unfortunately, with post-mastectomy weight-lifting restrictions, I won't be able to participate in that level of cleaning out anytime soon. And there are plenty of cluttered messes still around in our house. So, I did the next best thing…I asked the experts for advice!
I've got 14 bloggers with 17 fantastic tips for finally getting organized when you're totally overwhelmed with a mess. And, if you want to know how I'm able to keep the rooms I've redesigned organized, I've got my own tips at the bottom.
How to Get Motivated to Clean When Overwhelmed by Mess | 17 Expert Tips
Jennifer from The Housewife Modern says:
Want to learn more about Jennifer's System? Check out her Life Organized Binder here.
Maria from Leisurely Does It says:
"Pick one visible area in your home that bothers you most and tidy that up. Then work on keeping it tidy and organized.
Or, if bad habits are contributing to the disorganization of your home, pick one habit and work on changing that. Once you've done that one thing, then you can move on."
Get more tips from Maria on Overcoming a Messy House here.
Gemma from The Goal Chaser says:
"Definitely start small! Section your house up and declutter/organize each space in full before moving onto the next. It will build momentum (and confidence) and gradually you will get there!"
Click here to try her Declutter Challenge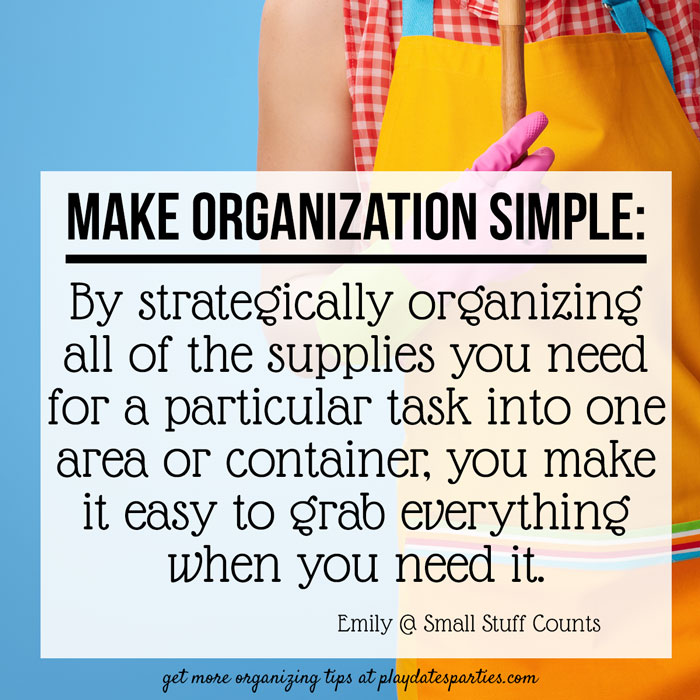 Related >>>> 5 Ways to Save Time at Home
Amy of Organization Boutique
"The first step to getting organized is to make sure you've really fully decluttered first. You'll always feel overwhelmed if you try to organize clutter. Start in an area that will have the biggest impact in your home. Then, narrow it down to a small section of that area and get started."
Click here to read Amy's No Fail Strategies to Clear the Clutter
Julie from Frugally Blonde says:
"I recommend starting with a small win. Don't let yourself get overwhelmed; and choose a small area that you see everyday."
Want to get started? Try this 7-Day Decluttering Challenge!
Chrissy from Organise My House says:
"Start with a plan of where you want to be-then you can make decisions based on that and know when you get there."
Sharon from How to Get Organized at Home says:
"One step at a time, there is no rushing as you will end up in even more mess!"
Read more about How to Get Organized at Home!
Brianna of Living Kairos says:
"The first step is organizing your thoughts, then going from there to every other aspect of your life."
Click here to read more of Brianna's tips.
Liz from The Stay Sane Mom says:
"Establish routines that make organization more intuitive and habitual, rather than a constant struggle."
Get more tips and grab Liz's downloadable workbook here.
Julie from Filling in the Jars
"Remember this didn't happen overnight and you don't have to solve it in a week. But you CAN solve it by consistent effort and learning to have ONE focus on your priority goal. "
Learn Julie's Step-by-Step Action Plan to Declutter right here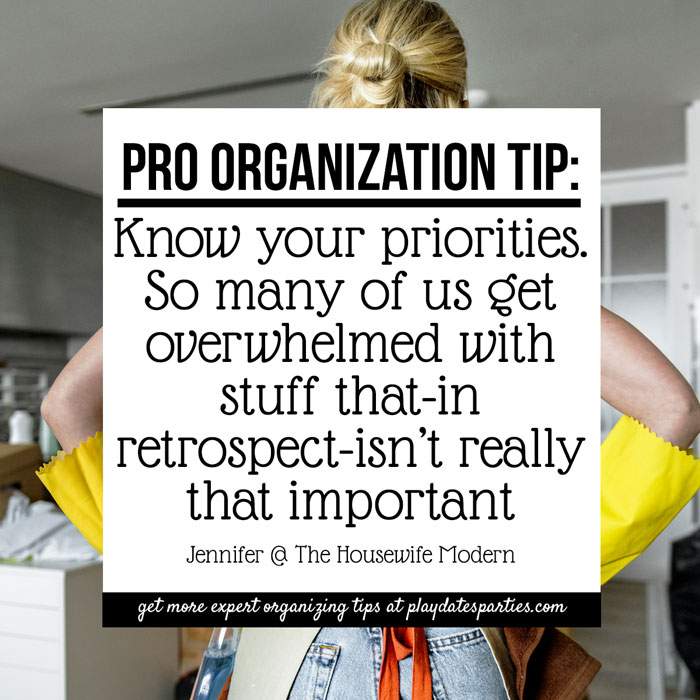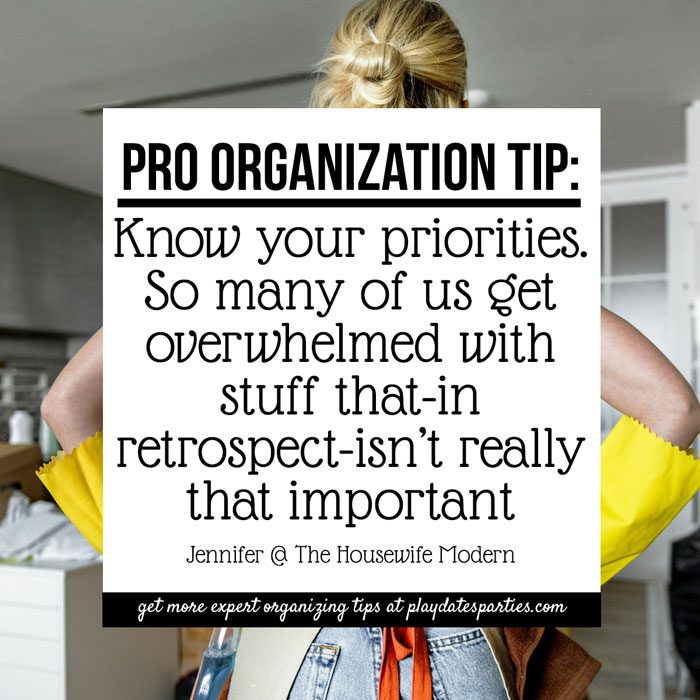 Related >>>> 7 Simple Steps to an Organized Linen Closet
Kristal from It's My Favorite Day says:
"I often suggest taking photos before you start decluttering. Before photos are a great way to see all the progress you've made."
Read more of Kristal's tips right here.
Brooke of Happy Simple Mom says:
"I have three core principles to an organized home. Start with you, move on to the quick wins to build momentum, and stop the inflow."
Find out more about Brooke's core principles.
Emily from Small Stuff Counts says:
"Create stations or kits for things you regularly use. By strategically organizing all of the supplies you need for a particular task into one area or container, you make it easy to grab everything when you need it.
The types of stations and kits you can set up in your house are endless, but a few examples include a lunch packing station, coffee station, mail/paper station, homework station, cleaning caddy, dishwashing station and car cleaning kit. Think about things you use frequently and try to organize them together so they are easy to access."
Get all of Emily's organizing tips over at Small Stuff Counts
Amy from Simple Everyday Home says:
"Spend the bulk of your time doing things that can be seen instead of pouring all your energy into spaces that are rarely used."
Get her Free Conquer the Chaos Mini E-Course here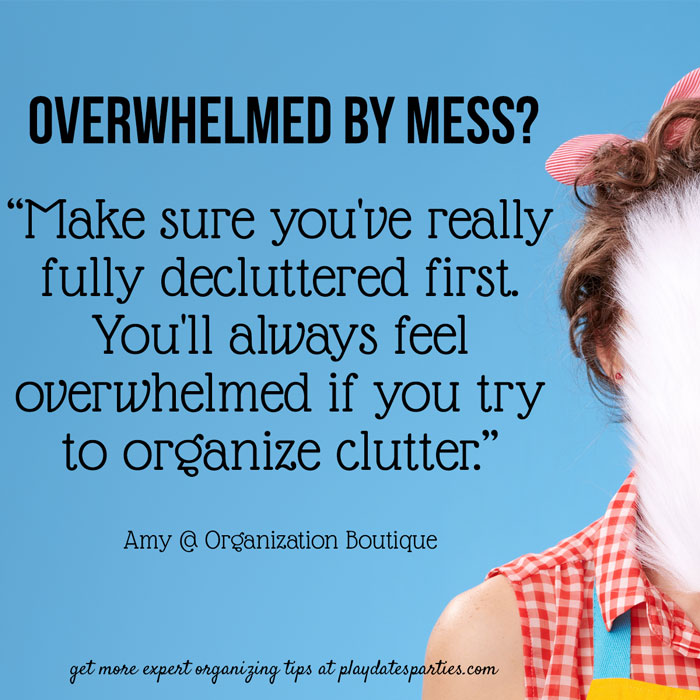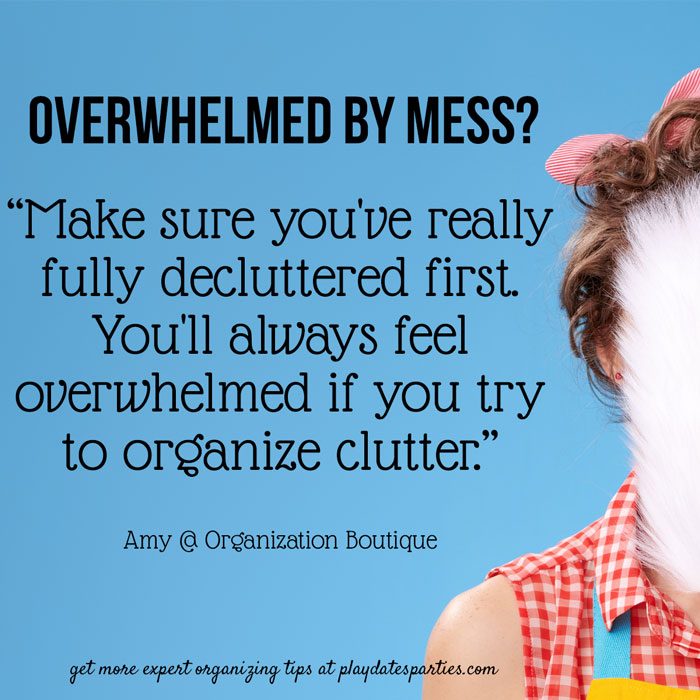 My Biggest Tips on How to Get Motivated to Clean when Overwhelmed by Mess
Like I said earlier, I've used the One Room Challenge to help clear the clutter out of several rooms in our house. And whenever I really take the time to do it right, those spaces stay pretty darn organized. Want to know what I do? Take a look:
1. Focus on One Space at a Time.
If there's one thing I've learned about how to get motivated to clean when overwhelmed by mess, it's that trying to organize everything at once is a recipe for disaster. Pick one space, and clean that area out first. Don't do anything else until that room is done. Also, if you have a room that tends to be a catch-all, save that one for last.
2. Consider Everyone's Habits in the Family
My husband and I have very different opinions of what 'organized' means, and that can be a huge source of frustration. The systems that work best are the ones that work with both of our habits instead of against them.
Here's an easy rule of thumb: Keep the organizational system ridiculously simple to maintain. And then enforce it.
Seriously, any time I've tried to organize things just for my style without considering the way my husband and kids work, we're back at square one within a few weeks.
3. Deadlines are Your Friend
Want a surefire tip for how to get motivated to clean when overwhelmed by mess? Schedule a party! External factors, like hosting a party, or sharing your progress in a public forum (like a facebook group), are so helpful. Sometimes they might even encourage other family members to pitch in!
4. Don't be Afraid to Outsource
Some people don't believe in it, but we hire a cleaning service to come every two weeks. No, they don't organize, but that bi-weekly deadline motivates the rest of the family to pitch in. If that's not an option for you financially, you might want to ask a good friend to exchange cleaning tasks. It's unconventional, but might be an option if you are truly desperate.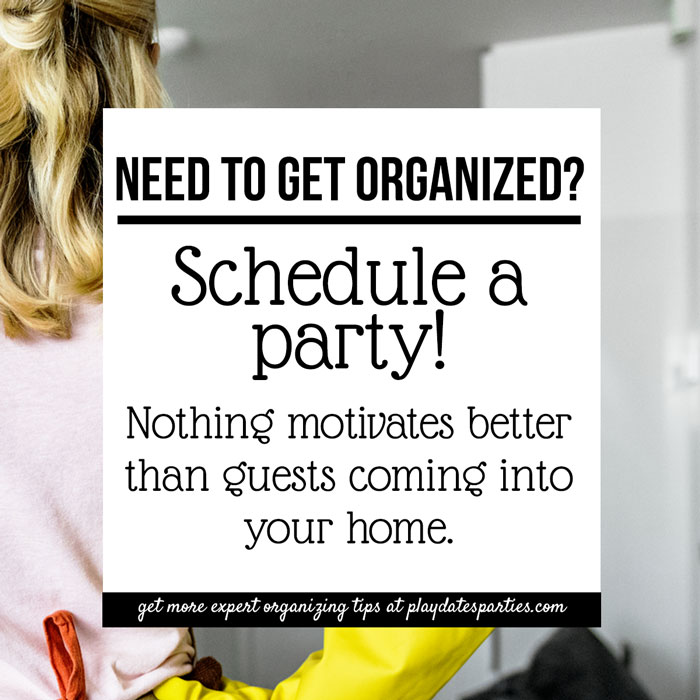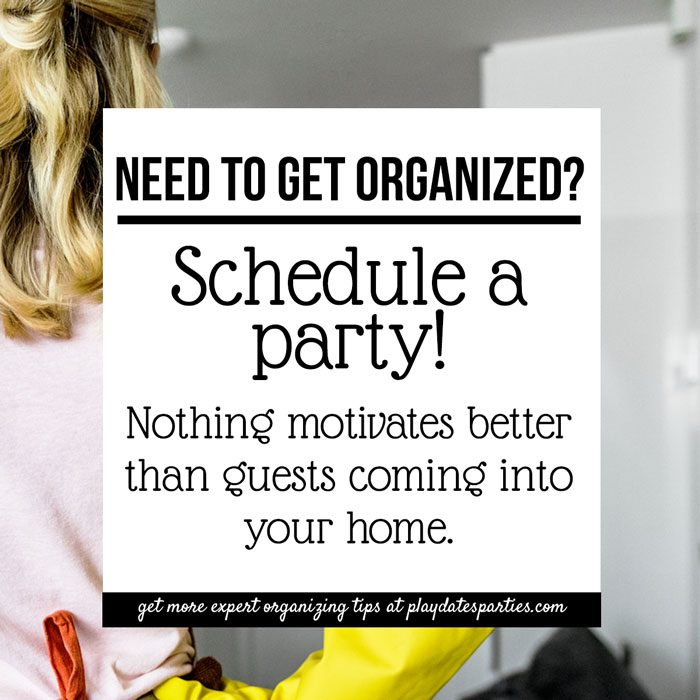 Related >>>> 8 Cleaning Tips to Help Your Home Get Party Ready
Now, It's Your Turn
Phew! That's a lot, isn't it? But when you look at it, there are common themes on how to get motivated to clean when overwhelmed by mess:
Start small
Declutter, declutter, declutter (your stuff AND your mind), and
Give yourself some grace.
Obviously those are just the first steps. I know I can't wait to try out some of the resources these amazing women have pulled together. It really makes me feel like 2019 can truly be a year that our home gets organized now…regardless of illness! (and if you're looking for more organizing tips, you can get all my tips and tricks right here!)
What's your biggest organization frustration?
Who's tip is your favorite?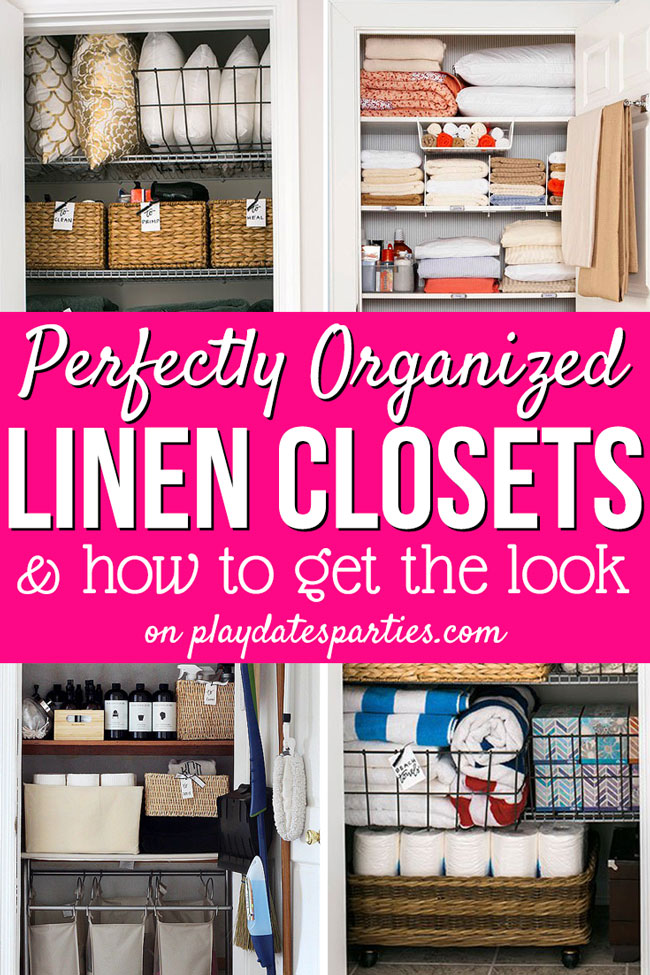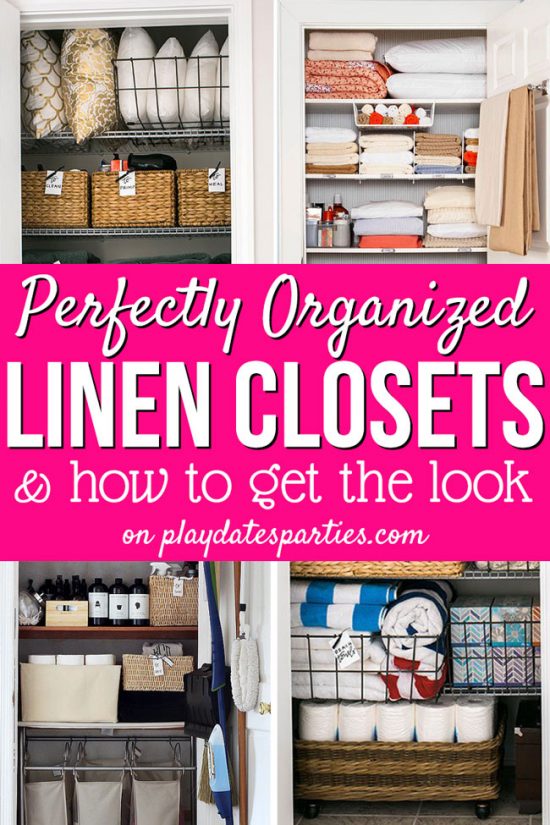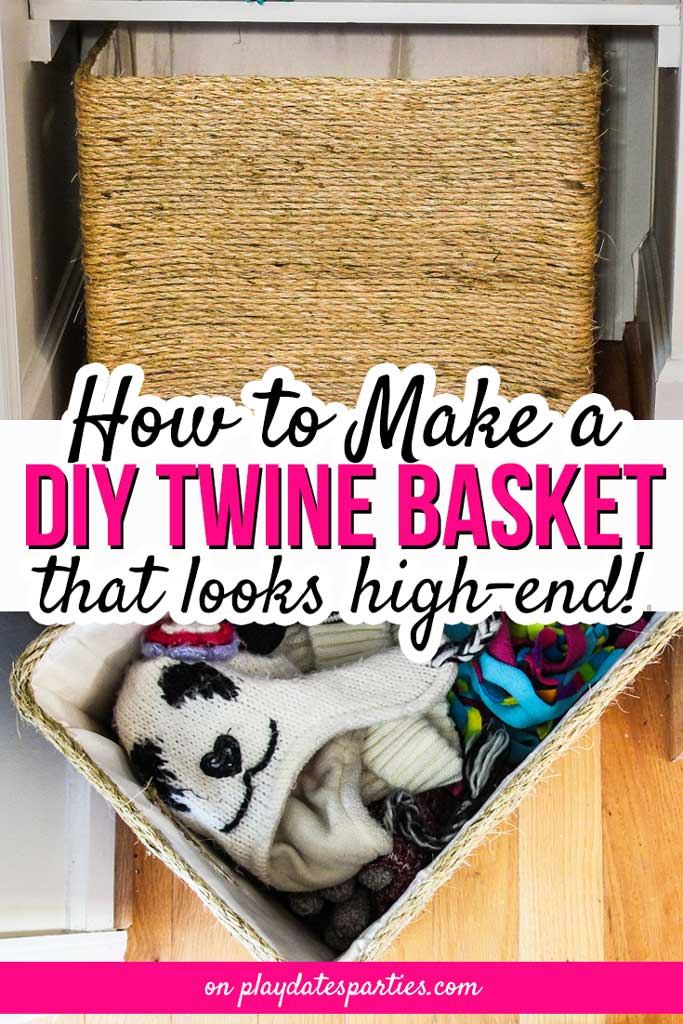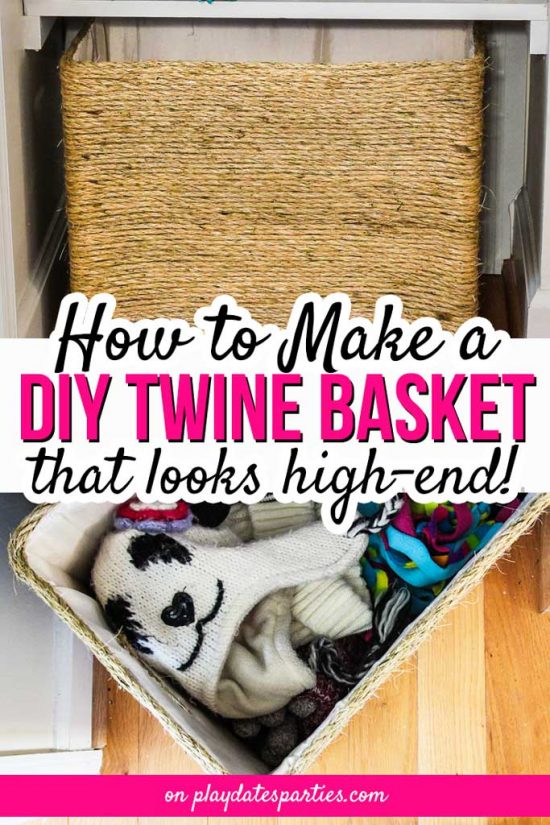 Don't forget to subscribe via
Bloglovin, Facebook, and Twitter,
to get more updates!