Follow these 8 easy cleaning tips to make your house party-ready (with a free pre-party cleaning checklist) & you'll be ready to host the best party of the year!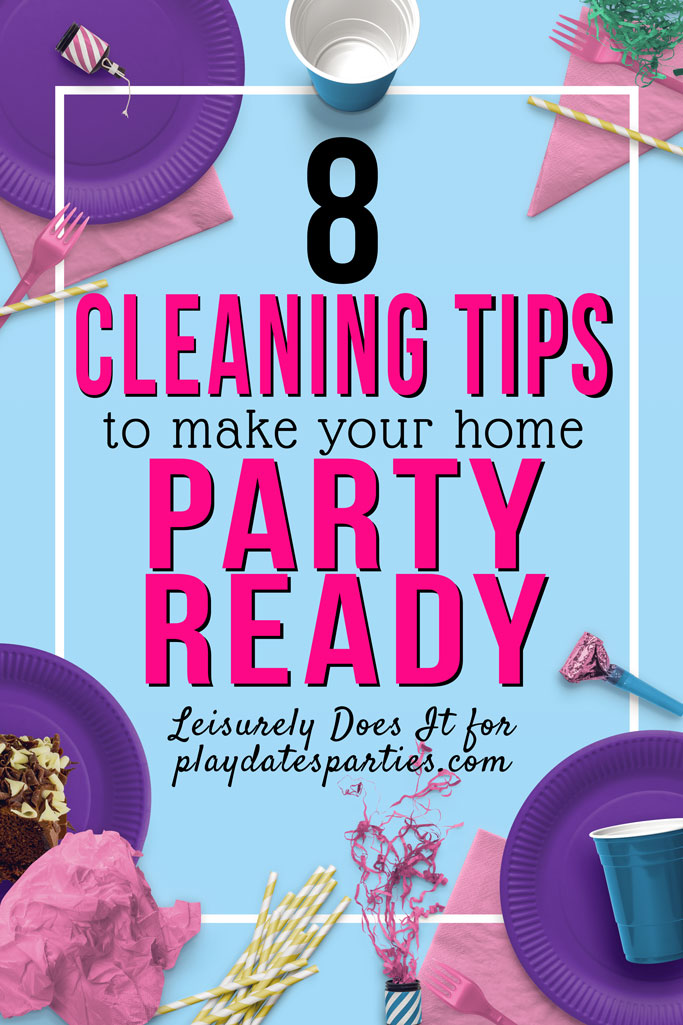 Good morning friends! Today I'm excited to introduce you to my friend Maria from the blog Leisurely Does It. She is the queen of all things cleaning and organization!
Over the years, several of you have specifically requested cleaning tips to make your house party-ready. I'm the first to admit, cleaning and organization are not my strong suits. ☺️ So, I thought it would be helpful to have Maria over to share her tips with you.
And as a special bonus, she's created an easy checklist for you to grab at the end of the post. Take it away Maria!
~~~~~~~~~~~~~~~~~~~~~~~~~~~~~~~~~~~~~~
I bet you love a good party. Who doesn't?
If you've decided to throw a party at your house, then you've probably thought about how you're going to tackle cleaning up afterwards.
But, what about a plan for cleaning before the party happens?
You want to make a good impression on your guests. The last thing you want is for your friends to remember how dirty your house was instead of what an awesome time they had.
So, here are some cleaning tips to make your house party-ready. There's a free printable checklist with all the steps included so be sure to grab that after you read this post!
8 Cleaning Tips to Make Your House Party-Ready
Curb Appeal
Guests will see the front of your home first so before you even think about making the inside of your house sparkle and shine, go outside.
Look at your house with a critical eye. It's easy for those cobwebs to go unnoticed since you walk past them every day but visitors will see them. Clean the front porch and power wash your driveway.
Tidy up the garden and front lawn. Mow the grass, trim the hedges and pull those weeds up.
Wash the windows close to the front door too. You'd be surprised how much dirt sits on them and just how much light will come in once they've been wiped clean.
Move exterior trash cans away from areas where guests will pass. No-one wants to be greeted by stinky garbage at the front of your house.
Get rid of clutter
Okay, now that you're done with the outside, go indoors. Get rid of clutter in areas your guests will see. Focus on clutter hotspots like the entry, guest bathroom, kitchen and living areas that will serve as the party venue.
Even if you're having an outdoor party, it's still important to complete this step. Guests will inevitably have to use the bathroom or may somehow find themselves in the kitchen.
Create Space for Coats
If it's cold out, you'll need a place to store your guests' winter gear when they arrive. Make room in your coat closet for all the extra coats and place a basket in there for any gloves and scarves as well.
A rolling clothing rack can be a good alternative if you don't have space in your closet or make a room close to the entrance the temporary coat room.
Prepare An Emergency Cleaning Kit
Spills are bound to happen once the party is swinging. "Swinging"… did I just age myself?
Anyway, create an emergency cleaning kit by putting cleaning essentials into a basket or caddy. That way, you'll be ready for anything.
Add the following:
Sponge or microfiber cloth
OxiClean
All-purpose cleaning product
A dust pan and hand broom
[clickToTweet tweet="Will you be ready when your #party guest spills wine on your carpet? Follow this list and you will! #partytips ? via @PlayDatesParty" quote="Will you be ready when your #party guest spills wine on your carpet? Follow this list and you will! #partytips ?"]
Clean the Bathroom
When the party gets good and drinks are flowing, there will be a line outside the bathroom door. Make sure your guest bathroom is in good shape and ready for all the extra traffic. This is the one room where party-goers won't be too distracted to notice clutter and dirt.
Do the following:
Clear the counters of clutter
Fill up the liquid soap dispenser
Scrub the toilet, sink and shower
Wipe off the mirrors
Change the towels. Ensure there are clean hand towels or a fresh roll of paper towels
Stack a few toilet paper rolls in a basket on top of the toilet tank or somewhere close-by so guests don't have to rummage through your cupboards to find some if it runs out
Put down clean bath mats
Spray the room with air freshener and maybe leave that in plain sight too, in case anyone wants to use it
Clean the Kitchen
Guests love to congregate in the kitchen. Maybe it's because that's where the food comes from. Whatever the reason, you'll want your kitchen to be spotless.
Clear the countertops and wipe them down. Use warm soapy water or a cleaning product suitable for the material your counters are made of. Avoid abrasive kitchen cleaners and pads. Seal the counters to prevent stains.
Wipe off the stovetop, clear the sink and dishwasher. You'll need room for the dirty dishes after the party is over.
Next, make room in your refrigerator. Your home won't be party-ready if there's no space for the food you're serving, drinks and leftovers. Throw out expired products and wipe down the interior and exterior of the fridge. The refrigerator handle and door can get pretty grimy.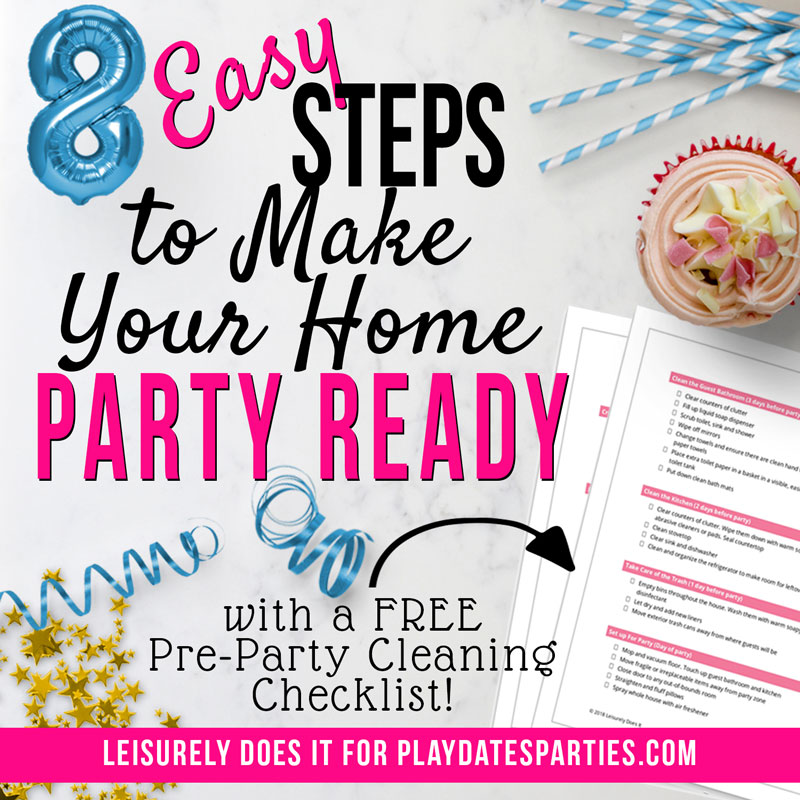 Empty the Trash
Go through the house and empty the garbage bins especially the one in the kitchen.
Wash the bins with warm soapy water and a little disinfectant to get rid of odours. After they dry, add new liners and put them back.
Final Steps
Finally, mop and vacuum the floors in areas guests will see. Yes, you will have to do it again later but they'll look good when people first arrive.
Set up the area where the actual party will be. Move fragile or irreplaceable items into a room away from the party zone to prevent unfortunate accidents.
Close the doors to any rooms you want to keep out-of-bounds. This will signal to visitors to stay away.
Straighten and fluff throw pillows. Spray the house with air freshener.
It may take a little extra work to make sure your home is party-ready but it just requires some planning. Break the tasks down into little chunks so you can easily complete them throughout the week.
Once you've finished, you can be proud to open your door to guests knowing that all they'll talk about after they leave is how great the party was.
About the Author:
Maria Arthur shows women how to organize the chaos into calm via her blog, Leisurely Does It. Download her free Pre-Party Cleaning Checklist printable and get your home prepared for any celebration.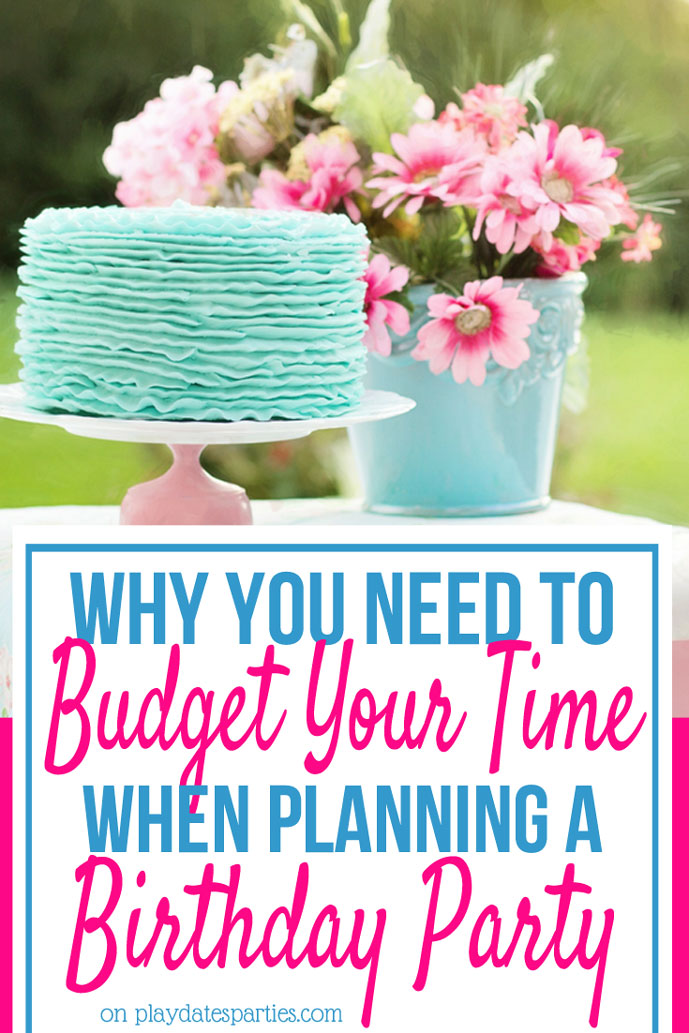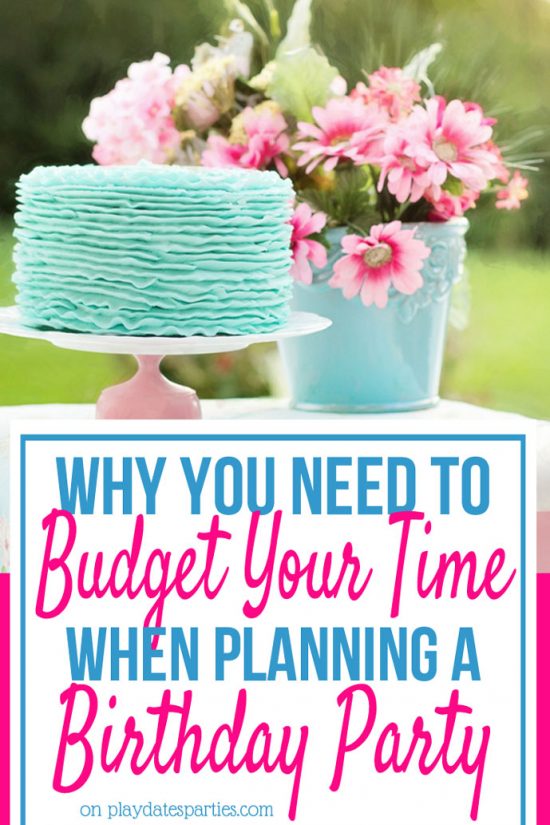 SaveSave