When planning a flower party, there's so much inspiration out there, it's easy to go big.
But then again, sometimes it's even better to keep it small and simple, so you can truly knock it out of the park. Just like this flower themed party craft stop.
Either way, this party theme is a great way to show off your creativity!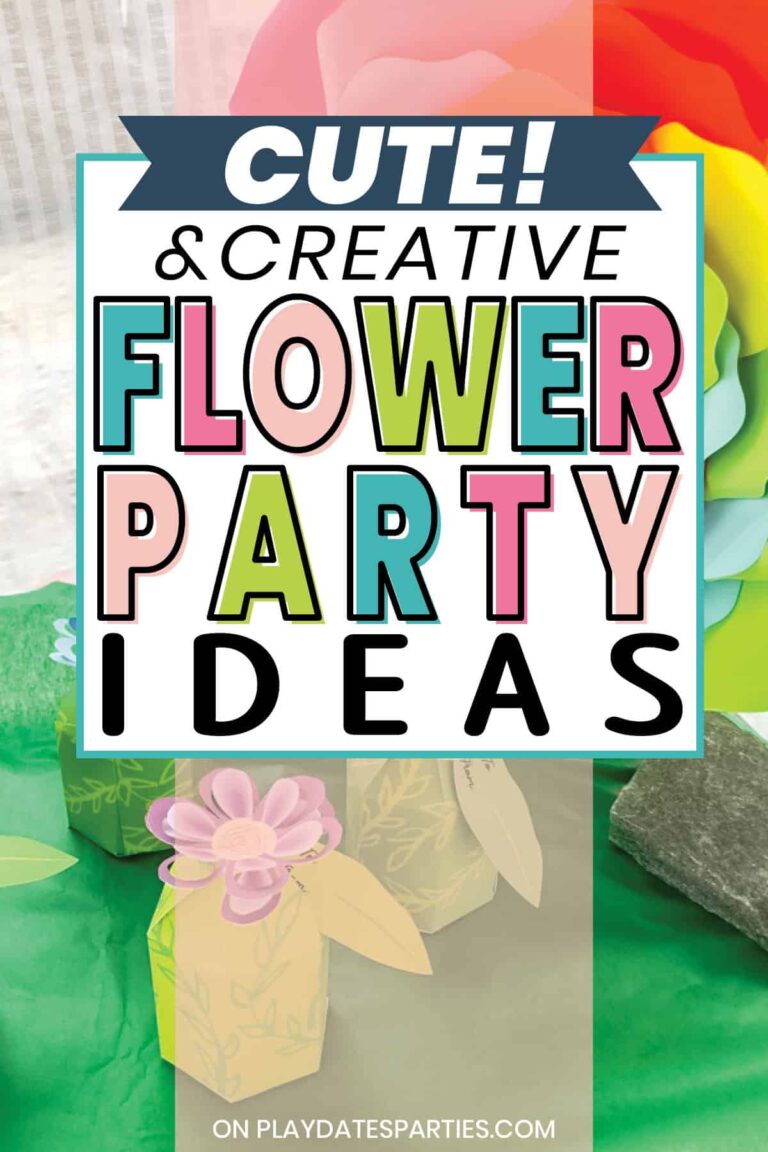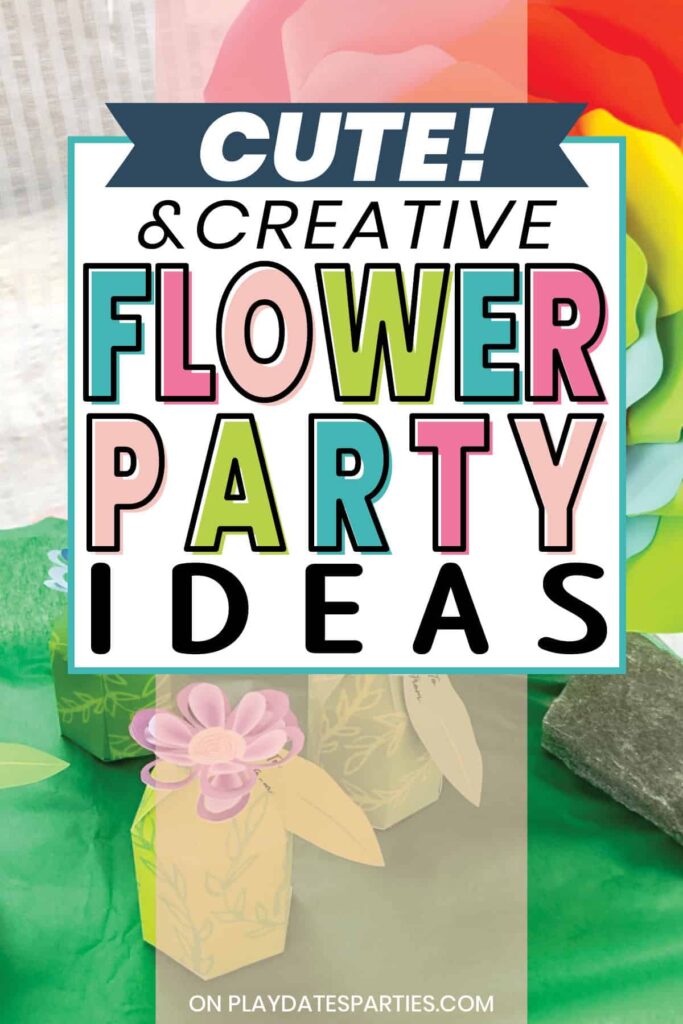 When everything is shut down, and we're supposed to keep our distance from one another…how do you celebrate your kids birthdays?
All 3 of our kids birthdays are between late June and mid-August. When added to regular off-school mayhem, that means I spend most of the summer running around like a crazy person.
In June, it all starts with my middle child's birthday. She is the most social of our kids. Even though we love to have our birthday traditions that don't require a party, not seeing her friends just isn't an option.
We considered the zoom parties and birthday parades that are so common during social distancing. But, honestly, there's no way that would be enough for her.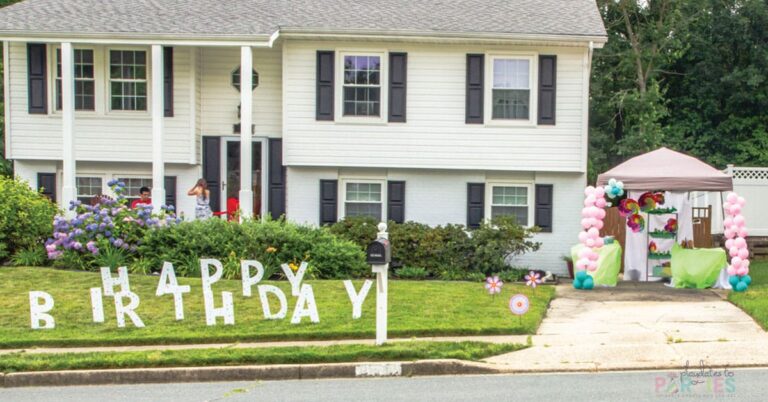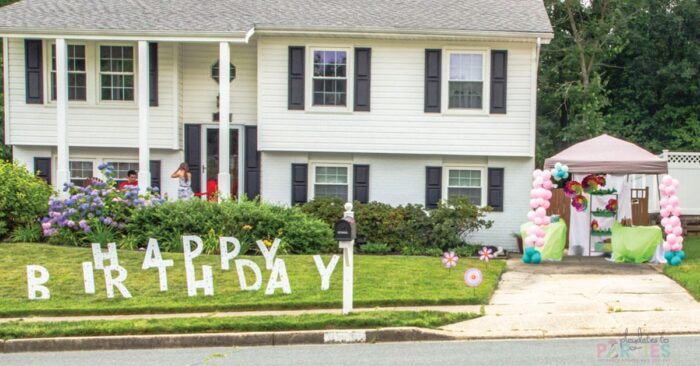 So we came up with a plan.
Instead of a parade or zoom party, we decided to do a birthday craft stop.
Kids would make a quick 5-minute craft at socially distanced tables on our driveway. This way they could have a little bit of social interaction while doing our best to stay safe.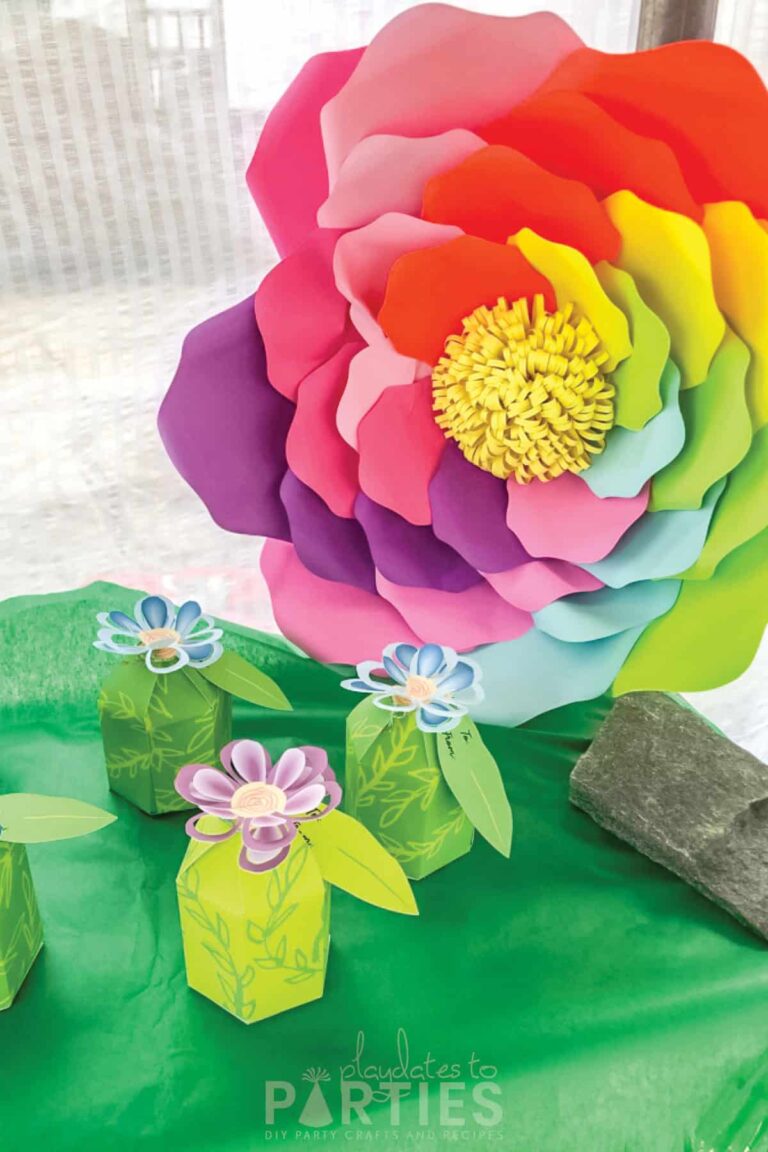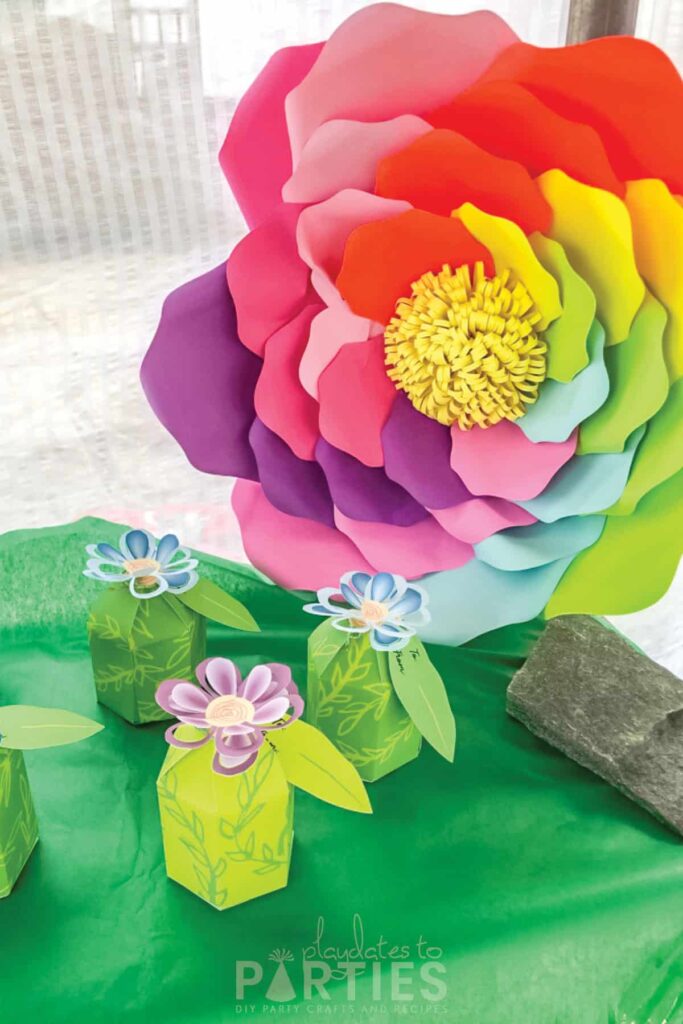 Paper Flowers:
The birthday girl wanted a flower theme for her birthday, so I purchased a unicorn rose flower template, and used it to create about 10 giant paper flowers.
Full disclosure: I love the way the flowers turned out, but it was a lot of work creating so many rainbow roses.
Between managing all the different colors of cardstock and figuring out how to do the spiral pattern, it took several hours just to make the flowers you see here.
Instead, I would recommend you:
Make one or two unicorn (rainbow) roses and fill in with other flowers (like tissue paper flowers), or
Stick to one or two colors for all the flowers, or
Create a rainbow effect with each rose being a different solid color.
Don't get me wrong, the flower template is amazing. But 10 of them is a lot of work for one person.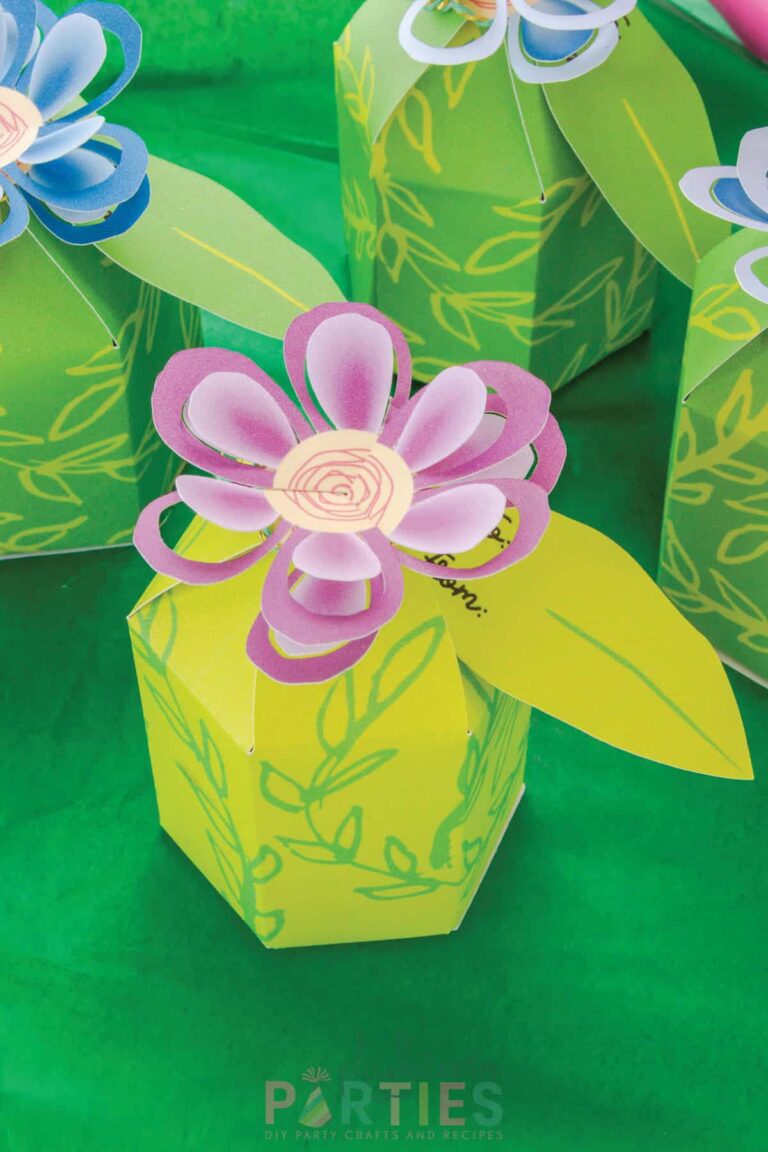 Flower Party Favor Boxes
You can't have a birthday without cake. But since we were trying to limit the spread of the virus, we ditched singing Happy Birthday with a communal cake and sent everyone home with cupcakes inside these flower favor boxes.
Do you love them as much as I do? I custom designed the boxes for the party. It was so much fun to create something 3 dimensional. I definitely think you'll be seeing more of these favor boxes in the future.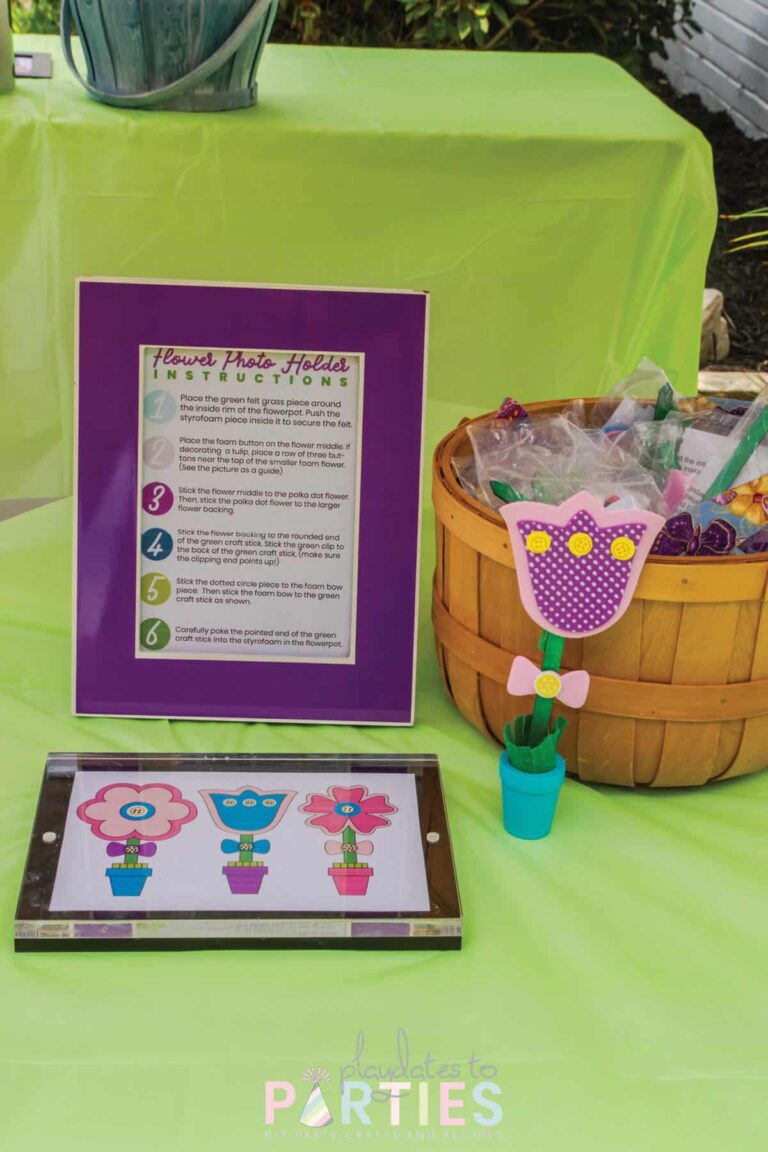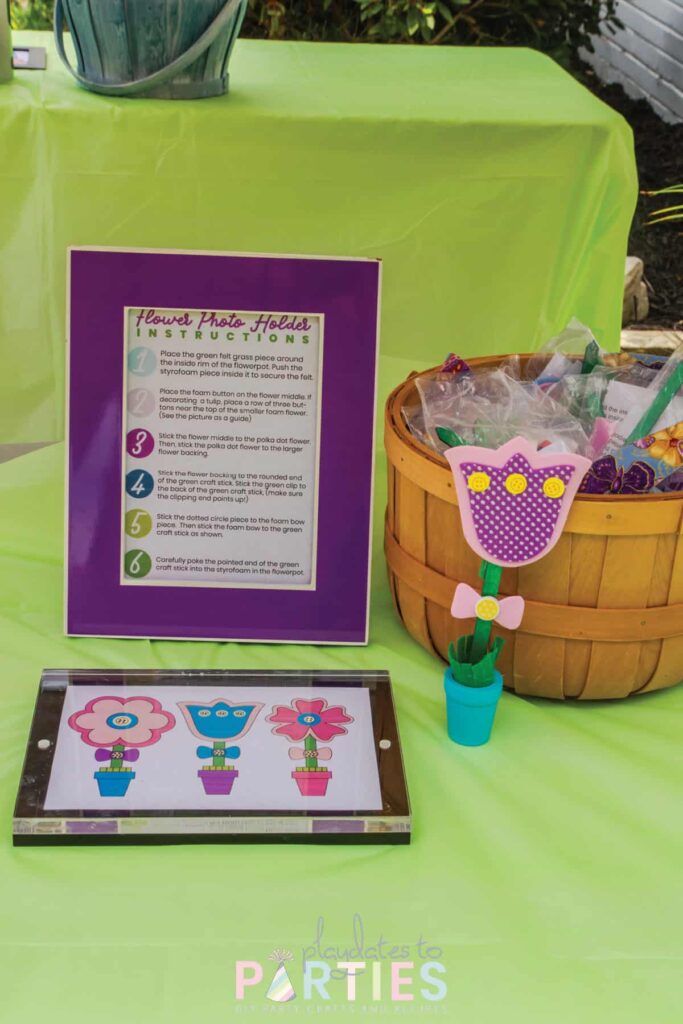 Flower Craft:
It was important to us that we find individually packaged crafts for the party. That way the kids wouldn't cross-contaminate by sharing supplies.
​These flower crafts from Oriental Trading were perfect.
Tip: Do a test run of your craft before party day. That way you:
Have a sample of the finished craft to display,
Can test out how good (or bad) the instructions are, and
Will be able to help the kids out if they run into difficulty.
We also went the extra mile and created a nicer graphic of the instructions. This way the kids could easily refer to the instructions in the frame instead of trying to keep track of a tiny slip of paper.
So, how did it all turn out?
You could tell that the kids all missed being together. They were so happy just to spend some time with each other.
However, they were so starved for time with each other that they stayed longer than needed to to the 5-minute craft. And, since they're still young, they didn't do a good job with social distancing or mask wearing.
(Thankfully we were able to spend the entire time outside, and no one got sick.)
More Party Ideas for Girls:
>>>Or see all party themes here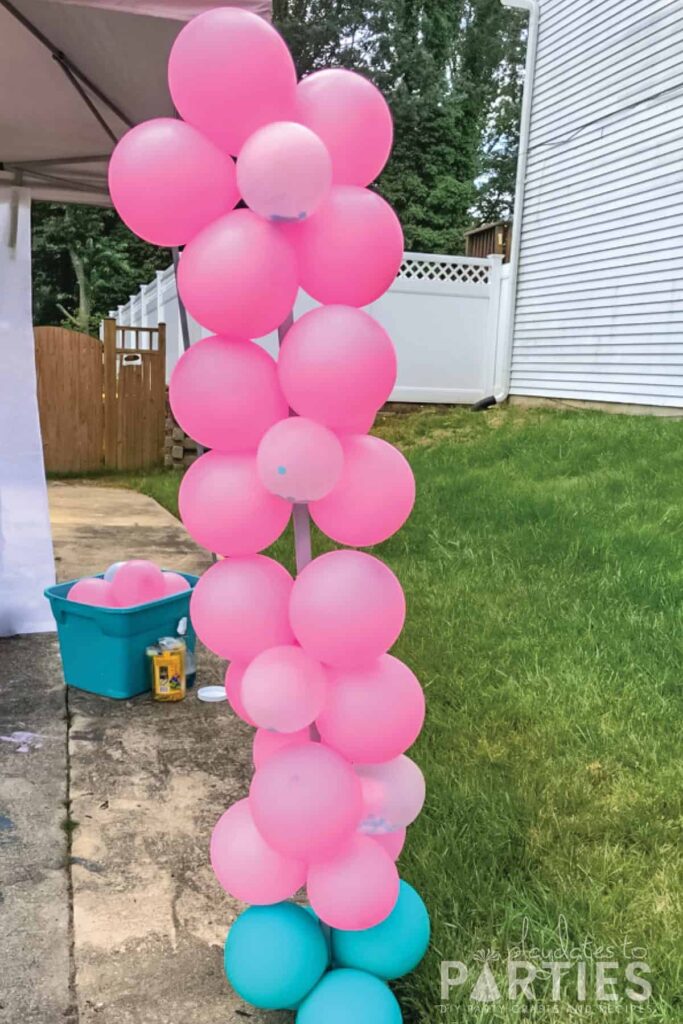 Would I do it again?
This is such a tough question! Any time we tried Zoom with my daughter's age group, it was a total disaster. And a parade just didn't give her the social interaction she needs.
So, yes, I would still have this mini-party again.
That said, I would probably plan 3-4 more activities that we know can be done at a safe social distance. That way they would have more time together, but in a well controlled environment.
---
​