You're going to love these gender reveal cake ideas – from simple desserts you can easily make to inspiring, over-the-top drool-worthy confections.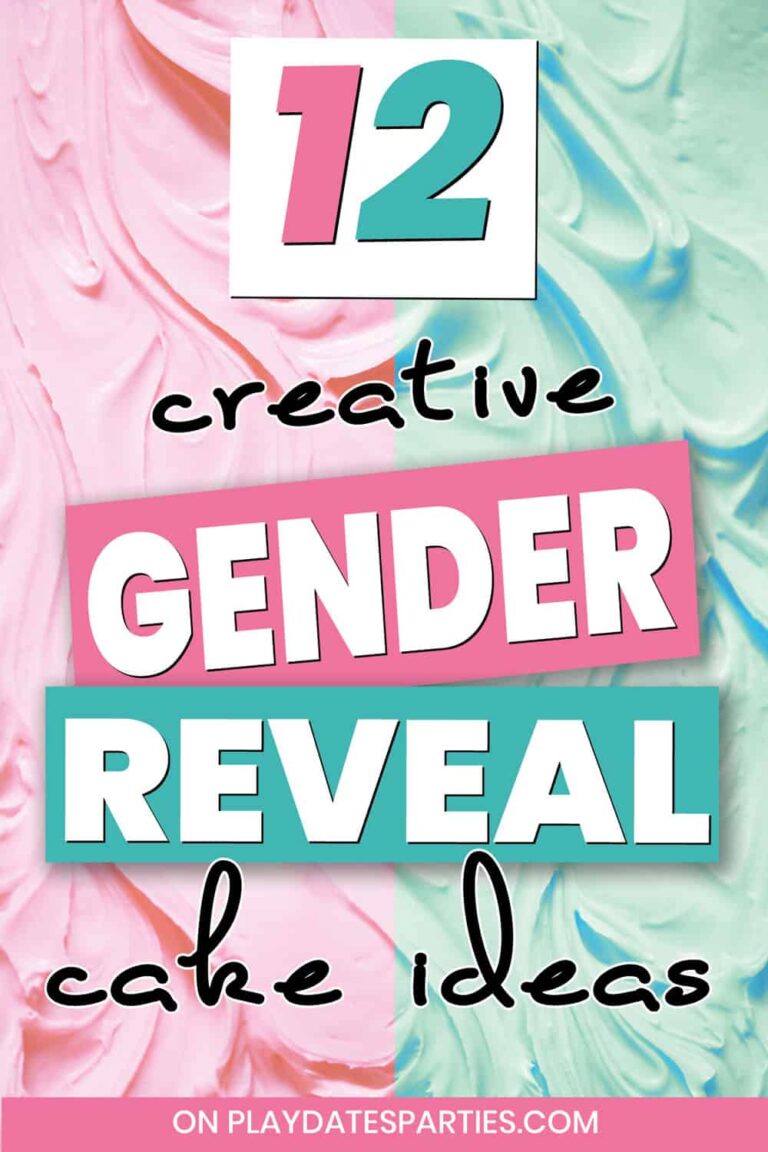 I hate to admit it…but I'm kinda jealous of you moms to be these days!
When I was pregnant with my first child, the thought of hosting a gender reveal party would probably sound absurd. Even by the time my third baby came along, the trend wasn't what it is now.
Oh man, would I have loved to make one of these gender reveal cakes back then.
But at least I can enjoy seeing everyone else's creations these days. It's just so much fun to celebrate a new little one coming into this world.
Gender Reveal Cake Ideas
What is a Gender Reveal Cake?
Put simply, a gender reveal cake is a way to share whether or not parents-to-be are having a baby boy or a baby girl. Often the sex of the baby is put into an envelope by the doctor, given to a baker (or close friend), and a cake is made to be fairly gender neutral on the outside, with a pink or blue surprise on the inside.
Side note: this is also probably one of the reasons I couldn't handle a gender reveal party. I'm too impatient and want to know the sex of the baby as early as possible! (If you're the same way, you'll love this list of gender prediction myths)
Ways to Reveal the Gender with a Cake
Bakers have gotten so creative with their gender reveal cake ideas, but there are a few common ways to reveal the gender of your baby with a cake
Bake up one or more layers of a cake in either pink or blue (gel food colors are the most vibrant)
Bake a few layers of white cake and then use pink or blue frosting between the layers
Make a piñata cake by cutting out the center of a few layers of cake which are then filled with either pink or blue candy.
Adorable Cake Topper Ideas
Many of these cakes go all out with loads to piping and toppings. But sometimes we just need quick, easy and cute, right?
If you want something truly unique, you can easily design a topper with a Cricut cutting machine. I just love my Cricut and can't get enough of making fun projects with it!)
Then again, sometimes we all just need something super duper easy. Amazon has so many options to choose from. Here are a couple of my favorites:
More Can't Miss Gender Reveal Inspiration:
Cakes Anyone Can Make
This marble cake from Cook Craft Love looks incredible, but the fact that there's no need to worry about perfectly piped frosting means there's pretty much NO pressure.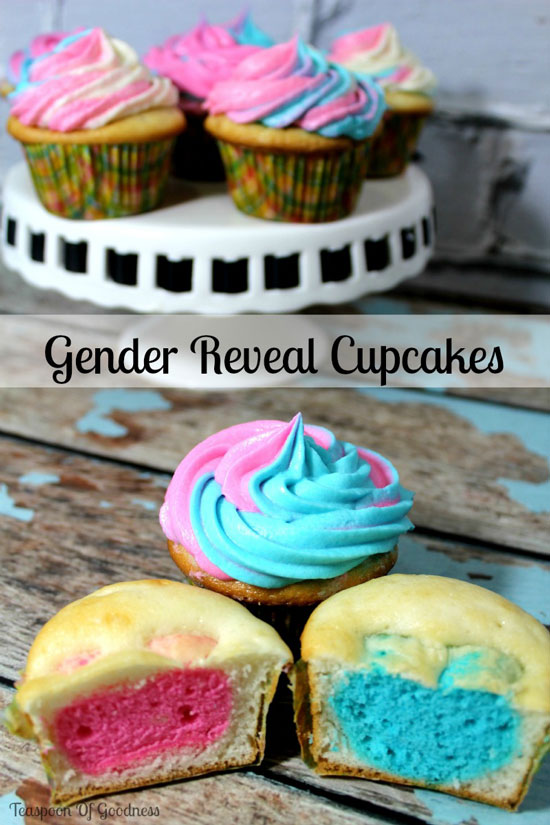 So these are technically cupcakes, but they simply can't be left out. Teaspoon of Goodness not only shares how to make these cute gender reveal cupcakes, but gives TONS of tips and tricks to make sure they're perfect. Which makes them another easy peasy treat.
It's so easy I even made a similar gender reveal cupcake with my daughter a few years ago.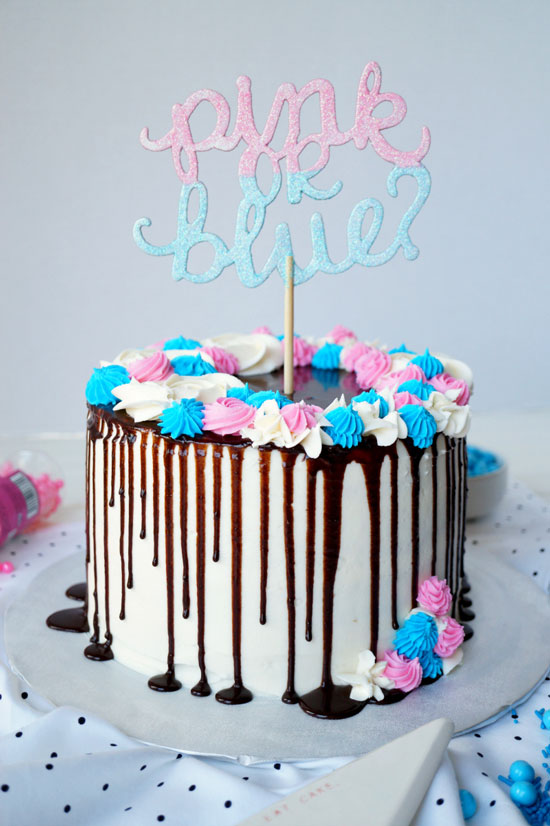 Okay, okay. This cake doesn't look easy to make
But if you give yourself some grace about how even your layers are, it's easier than it looks. Plus, it's filled with candy…which is always fun. Learn how to make this gender reveal piñata cake over at The Baking Fairy.
If you're not up for all that piping, then you can make a similar cake and throw a bunch of sprinkles at it like Sweet and Savory by Shinee did.
I've never seen a gender reveal bundt cake anywhere else, and think it's an awesome idea! You'll definitely want to check out how Mom Dot made hers.
It doesn't get much simpler than this layer cake by Lows to Luxe, but I think it's just as sweet as any of these other cakes.
Gender Reveal Cake Ideas to Drool Over
Now, if you've got mad cake-baking skills, then you'll definitely want to check out these cakes. (And if you recreate any of them, can you teach me some of your tricks, please?)
From the incredible pink stripes to the perfectly placed sprinkles and candy, this gender reveal cake is just gorgeous!
How fun is that upside down ice cream cone on top of the cake?! And did you see the note on cookie dough filling? OMG, yum.
Talk about stunning. I love the way the pink and blue are airbrushed on this cake, and those fondant decorations are just incredible.
Where do I even start here? First, the theme of Beauty or the Beast? Yessssss. And then all those macarons on top. Simply perfect.
Now, this I might actually be able to recreate. My layers would probably be uneven…but I can cut stars out of fondant. And with a Cricut, making the topper should be simple!
Just look at those adorable smiling faces on the stars. *Sigh* That's definitely not happening with my handwriting, but it's gorgeous, nonetheless.
Now It's Your Turn
Well, I may not have gotten to enjoy a gender reveal cake of my own, but it's so much fun looking at all these ideas. There are truly some stunning cakes out there. But you don't have to be a master cake artist to make your own gender reveal cake.
Which of these gender reveal cake ideas is your favorite?
Which cake do you think you could make best?
---