The Big Game is just around the corner, and football fans everywhere are gearing up for an unforgettable night of celebration! Whether you're rooting for your favorite team or just looking to have a good time with friends, we have something that will make it even more special—free printable Super Bowl bottle labels!
With 12 pages of eye-catching designs, you can show off your spirit and get ready to cheer on the biggest event in sports. Grab your copy at the end of this post and use the tips here to make sure yours look great with hardly any effort.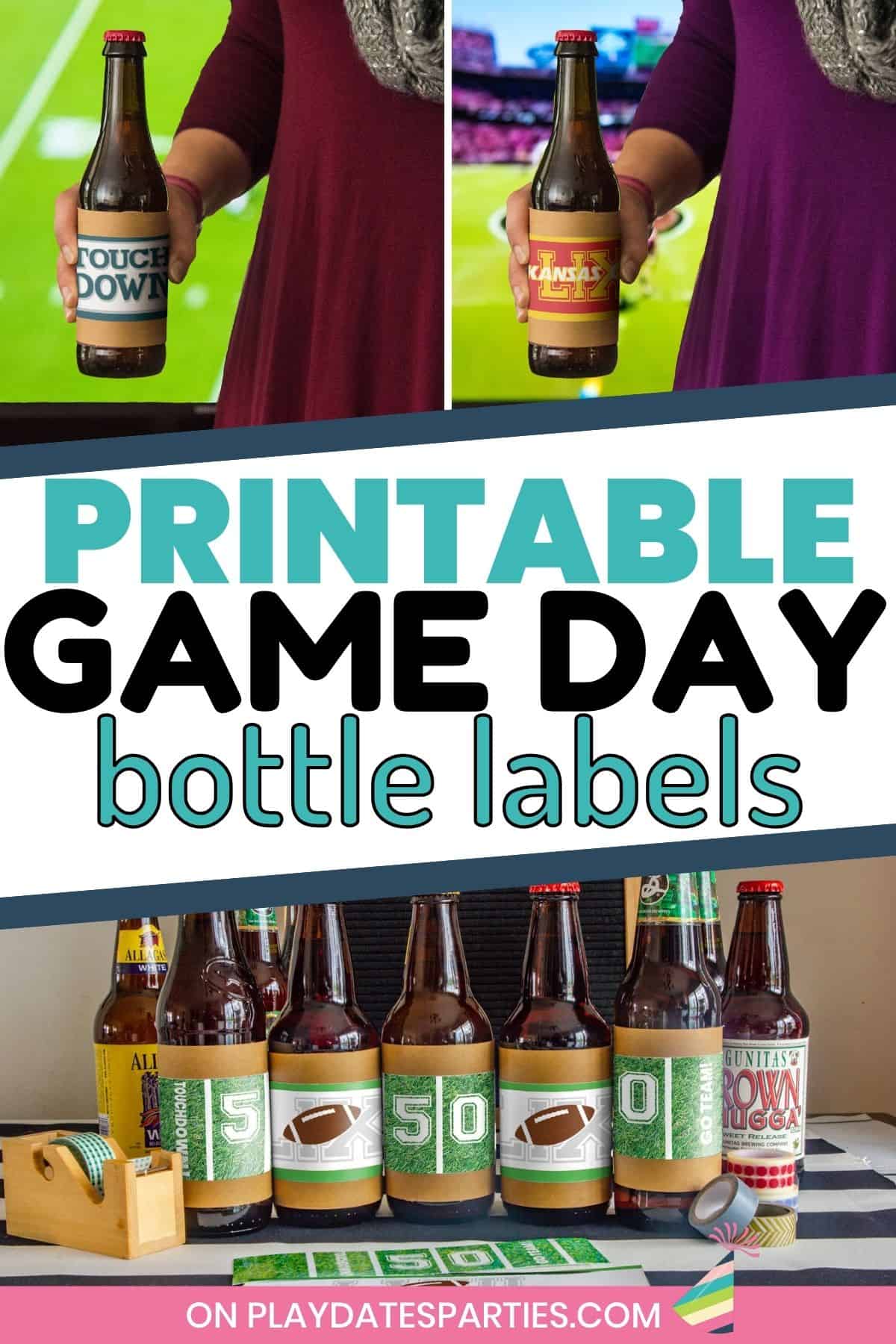 The Big Game is the pinnacle of football season, and for many sports fans, this annual event is a time for celebration. Whether you're hosting a watch party or just getting together with friends to cheer on your favorite team, adding some festive decorations makes it even more special. And what better way to show off your team spirit than with these custom-made bottle labels?
These free printables are the perfect way to add a personal touch to your football celebrations. With 12 eye-catching designs, you can find something that matches your team colors, or simply keep it neutral with generic labels.
They're also great for tailgating—just grab some bottles and attach the labels for an easy way to show off your enthusiasm. And best of all, these Super Bowl bottle labels are totally free—all you have to do is download, print them at home, and cut them along the edges!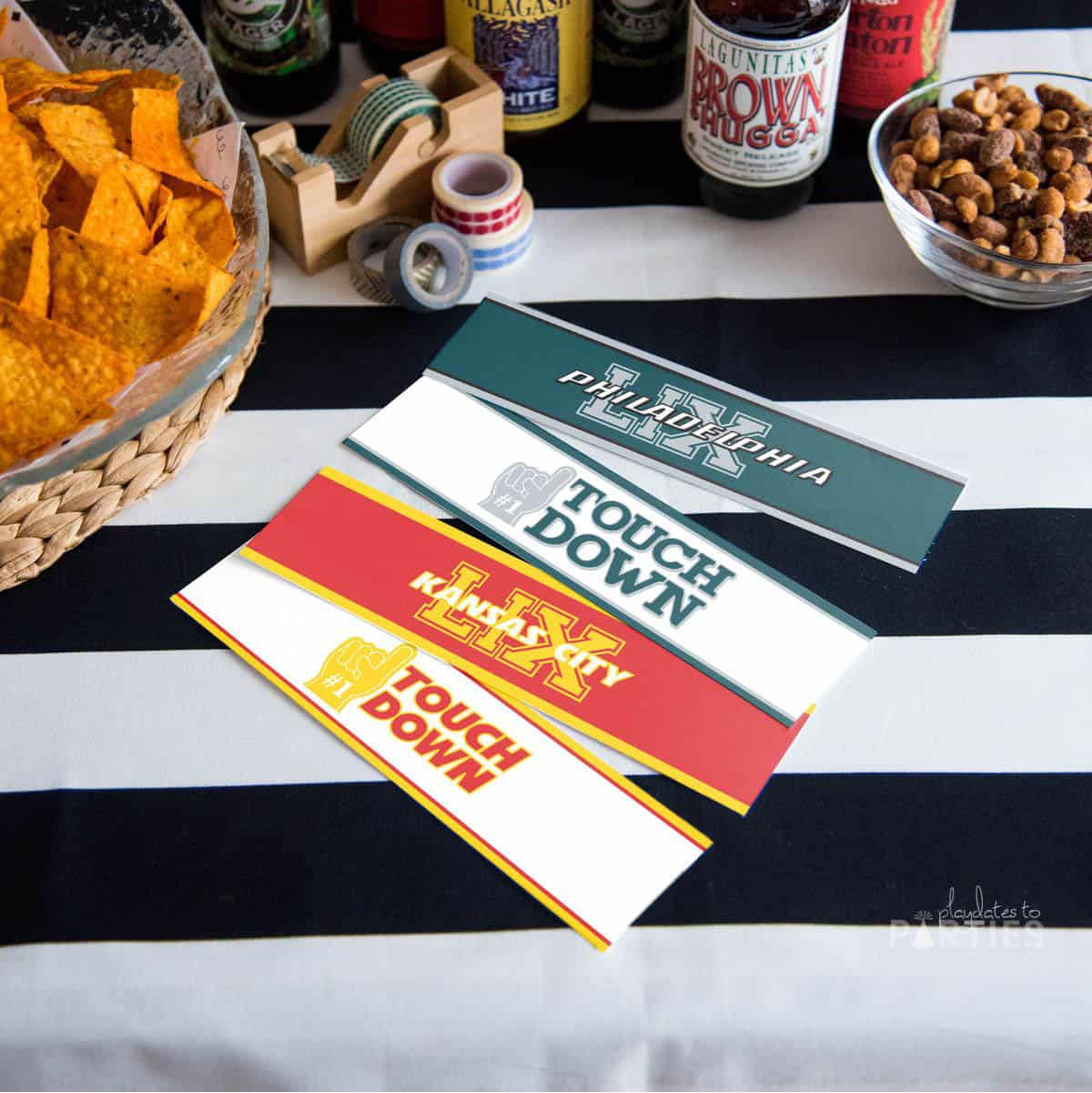 Photography by Robin Shotola photography
But that doesn't mean we've lost the desire to enjoy and celebrate the Super Bowl!
The Husband usually cooks some delicious football food, and I like to put my own little touches on things. Like with a tasty game day dessert and few quick and easy printables.
Super Bowl Party Printables – 2 Ways!
I'm so excited to share with you the updated designs for 2023!
First off, you know I like to have options, so there's more than 1 style of super bowl printables here for you!
First up is a set of generic super bowl labels designed to resemble the football field. This is perfect for those of us whose teams didn't make the game…or the playoffs (I'm looking at you Commanders – don't even get me started on that name)
Photography by Robin Shotola photography
If you're on the fence, or not really sure who your favorite is, pair these turf-inspired printables with a more complete Super Bowl party pack for the easiest party decor ever. (Don't forget to save your printables for next year's kickoff party and game-day tailgating)
But if you want something a bit more specific, and fun for the day, you can use the printable designs updated just for this year's Super Bowl, with bold team colors.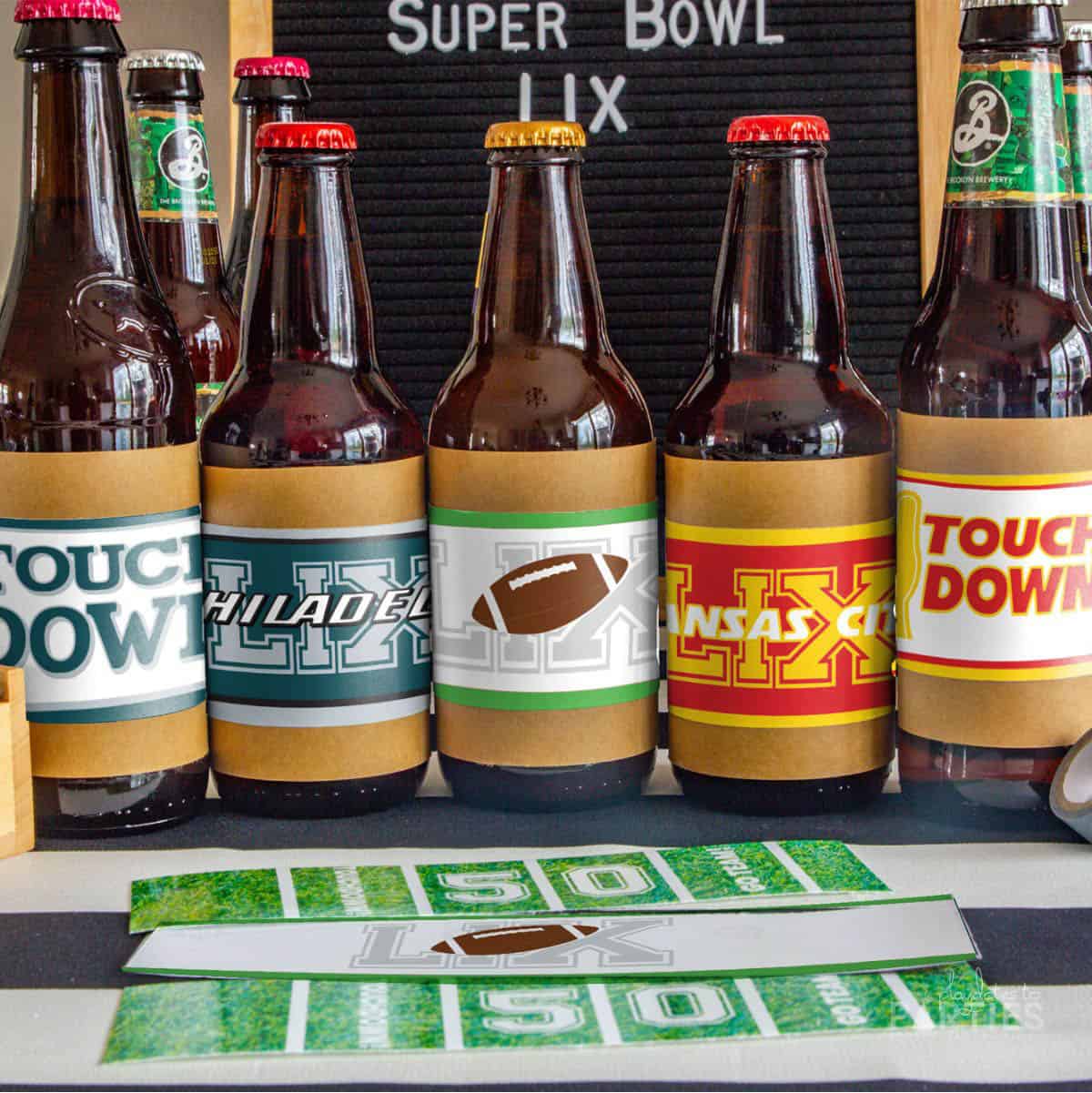 Tips to Make Your Printables Look Their Best
First off, make life easier on yourself, put the labels out on the bar with some washi tape, and a washi tape dispenser. Then, let your guests choose their favorite team and add the label themselves.
But before the game even starts, make sure these Super Bowl printables look the best they can:
The set of 12 pages of free printable Super Bowl bottle labels includes designs to fit everyone's tastes. From classic football logos to bold and graphic typography, there are options for every fan.
Whether you're rooting for the Eagles or the Chiefs, these labels can help you show off your team spirit!
Photography by Robin Shotola photography
More Game Day Ideas to Make You the MVP
How to Download Your Free Super Bowl Printables
Subscribers can grab a copy of these Super Bowl inspired bottle labels for free! Just add your name and email address to the box at the bottom of this post to get them sent straight to your inbox.
Don't want to subscribe? Feel free to check out the bottle labels in my shop!
---