With 6 different masculine designs to choose from, these printable Father's Day gift tags are perfect for all the Dads in your life!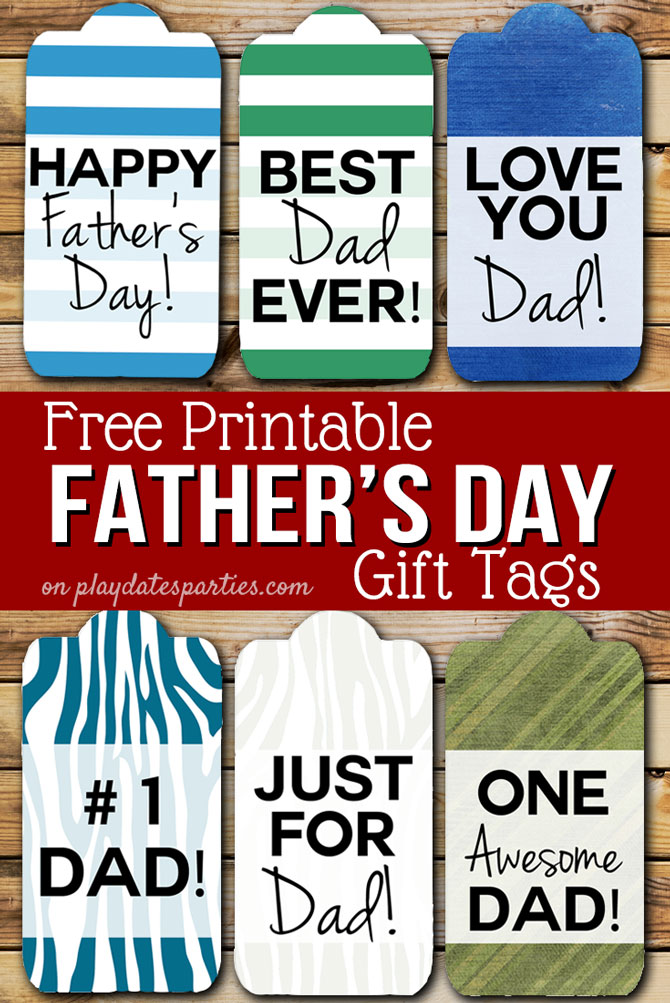 RELATED >>>> 11 Perfect Gifts for Craft Beer Enthusiasts
Is it just me, or is it difficult to find gifts for most men?
It's not that I don't have ideas, there are some great gifts for men out there.
But both my husband and father are the kind of men that will go ahead and buy whatever it is they want. Or, if they don't buy it themselves, there's a good reason for it.
I hate to admit it, but sometimes I just throw in the towel and find a way to celebrate Father's day without actual gifts. (Eeven then, there's usually something like a six-pack of beer in the mix.)
But even if we don't end up buying a big Father's Day surprise for my husband, there's always a place where printable Father's Day gift tags can help make the day special.
Printable Father's Day Gift Tags
So I thought it would be fun to update my Mother's Day gift tags to show all the Dads out there just how much we love them, too.
Instead of the sweet pink and pastel colors we love for moms, these gift tags are all about masculine blues, greens, and grays.
There are six gift tag designs for you to share with Dad this year, each with six different messages. That's a total of 36 different printable Father's Day gift tags, one of which is bound to be perfect for you.
You can choose clean, bold stripes or the vintage-inspired blue and green paper backgrounds. Got a woodsy guy in your life? How about blue or gray Faux bois?
Here's How to Get the Gift Tags!
All thirty-six printable Father's Day gift tags are available in the resources library, which is a newsletter subscriber exclusive. Just add your name and email to the sign-up box on this page to become a subscriber now!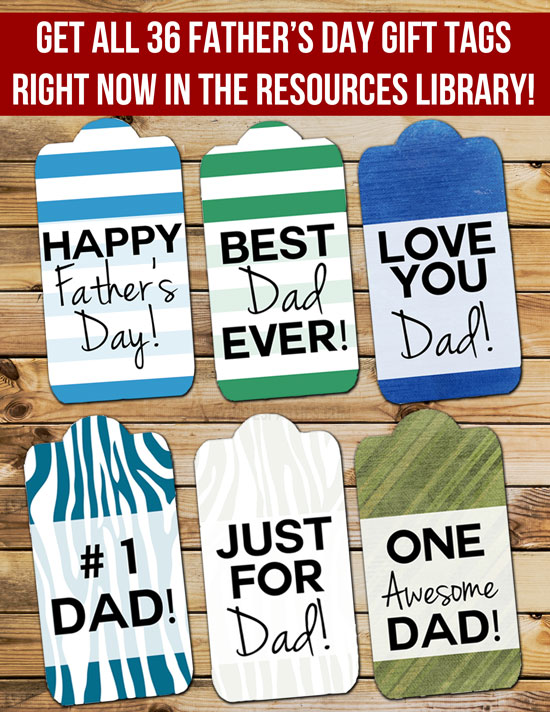 Don't tell the Husband, but I'm thinking these tags would be the perfect addition to a growler of his favorite beer. Now I just need to think of something for my father!
Do you find it difficult to shop for the men in your life?
What gifts are you planning for this Father's Day?
Subscribe via
Bloglovin, Facebook, and Twitter
to get more updates!
SaveSave