Yes, it is possible to find fun and unique gifts for men who have everything!
Here we'll look at a simple system to come up with gift ideas that are truly thoughtful, as well as 9 different gift ideas to get you started. Don't forget to also grab your free printable gift tracker & budget planner at the end of the post.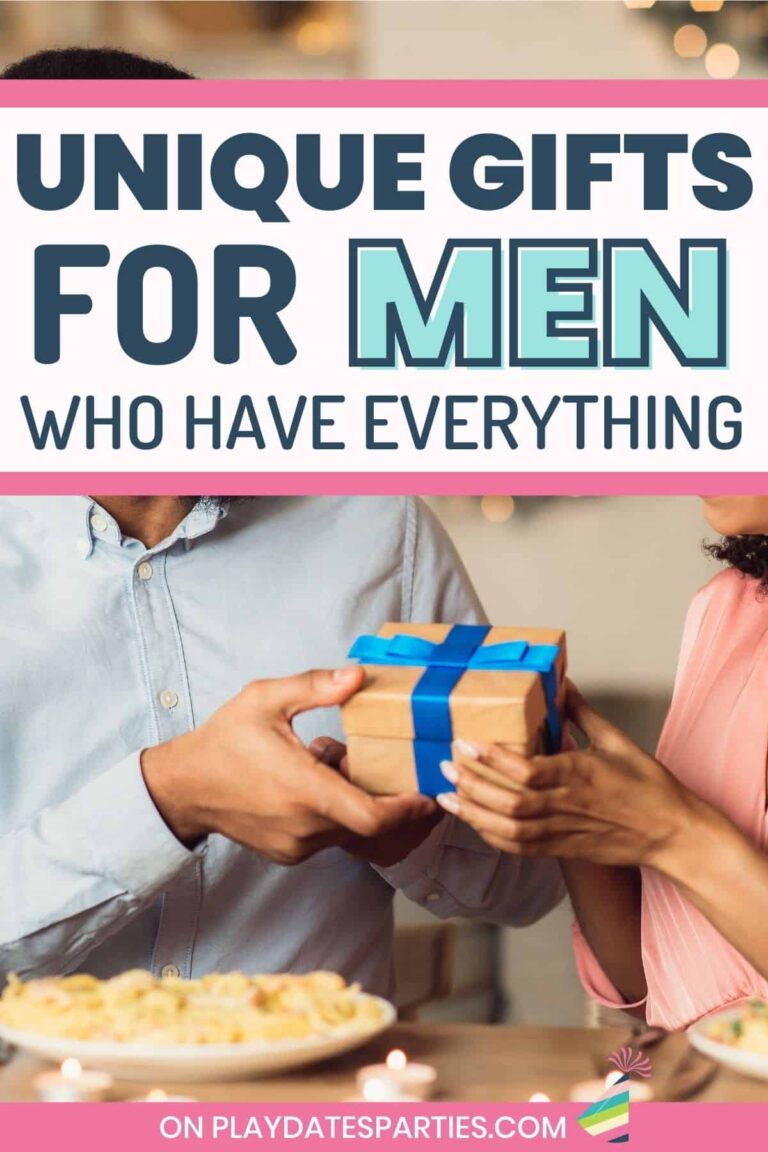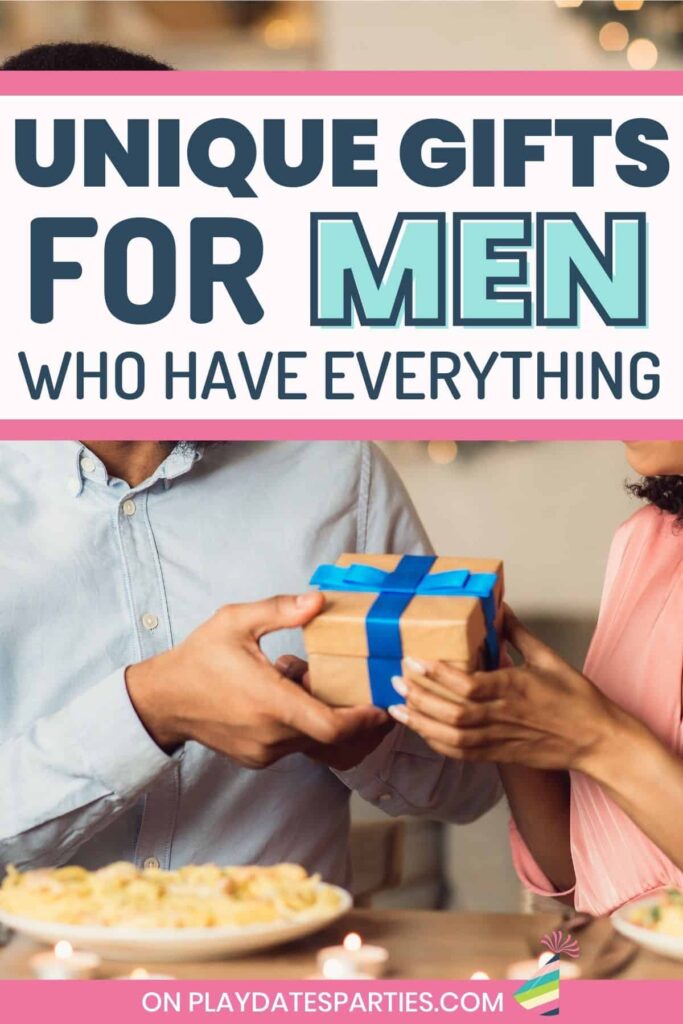 When you go looking to buy unique gifts for men who have everything, most websites immediately start putting them into a few broad categories:
Is he a tech geek?
Is he a sports fanatic?
Is he the grill master?
Is he a health nut?
Well, what about the men that are none of those? Or what about the men who do fit into one of those categories, but the recommendations are way off base?
For example, my stepfather loves drinking good wine, but he has all the wine bottle openers, decanters, and wine glasses he needs. Not to mention a cellar that's already pretty full of good stuff. Talk about frustrating
Like most most of the men in my life he's impossible to buy for.
But I'm not one to be deterred. My sister actually once said that I "buy the best gifts." Well, that's only because I insist on finding truly unique gifts. And it's all based on these three questions:
What does he like?
What does he value? and
What does he need? (What will he use?)
If you can find something that ticks all those boxes, then you've found a winner. And if you're still struggling, here are some ideas that have been big hits with guys in my life…as well as a couple I can't wait to give to someone I love!
Unique Gifts for Men Who Have Everything
Photo Credit: www.etsy.com
Most of the men I know have a favorite beverage. And it's fun to get unique items that go with those drinks. But forget wine decanters and bottle openers.
Think of things that are useful, but not necessarily something that they would buy for themselves. A great example is one of these custom trays made with wine crates. The rustic design is perfect for men, and gives them a way to bring out LOTS of bottles at once! (and what man doesn't value the ability to show off his collection?)
Men seem to have a thing for their timepieces.
Whether it's the latest Apple watch, a fancy sports watch, or even one of a gorgeous wood watch like the one above, you just can't go wrong with an amazing watch.
Now, I know this can get expensive. My husband is a huge Washington Football Team fan, and throwback jerseys can get costly.
But there are plenty of options that are in different ranges. Plus, there's something so special about getting your guy a jersey that you know he'll love. Take a look and you might be surprised.
Most of men I know that are difficult to buy for are also heavy travelers. A necktie travel case is a great budget option for them, because it solves a problem that I know can be frustrating to them.
I never realized how much stuff men have in their pockets until I married my husband. And without a place to keep and organize it all, it ends up strewn all over the house.
That's why I love the wood charging station valet  we got years ago. His is pretty basic, but I do love the modern designs that are available these days like the one above.
Now, if he doesn't use that charging valet, he may spend more time than he wants looking for his keys everyday. Sound familiar?
This 'anything finder' is a great gift for those situations! I'm even thinking about finding a way to attach it to our remotes so we can find them after the kids lose them!
We have so many cookbooks that we had to start giving them away. But Steven Raichlen's How to Grill is hands down the most used cookbook we have.
In fact, we've used it so often that the pages are starting to fall out. (I think it's time to buy the Kindle edition). It covers everything from basic grilling techniques to incredible side dishes like whole cabbage and melted onions. Yum!
If he enjoys a good glass of wine or something special, then you can never go wrong getting him a bottle of his favorite drink. BUT, it's good to put a little extra thought into your gift.
For example, my dad loves scotch, but I won't buy just any bottle. I'll research unique aging combinations like limited edition and long-aged scotch.
On the other hand, my husband loves wine that can be cellared, so I'll buy him a bottle that's from a good vintage. Then I'll buy two…one for now and one for later.
OR, if he's got plenty of the good stuff, but needs more everyday options, you can buy him a gift box like the coffee bean box shown above. Even better, coordinate with a few family members and splurge on a monthly gift subscription.
Need More Ideas? I Can Help!
Now, I know that the ideas above may or may not work for the guy in your life. And that's why I've got a printable gift planner & budget tracker, which also includes a worksheet to help you brainstorm ideas for gifts for the man who has everything – or anyone else in your life that is difficult to buy for.
This is the system I've used to buy affordable and unique gifts for men who have everything…like my stepfather. He can afford to buy whatever he wants whenever he wants it…and he usually does.
The gift guide is available in my shop for a small price. But for a limited time, I'm also offering it free for subscribers. Simply add your name and email to the form below and I'll send it straight to your inbox.
Now It's Your Turn
So, now you know 9 unique gifts for men who have everything and a simple system to make sure that whatever you buy is truly the perfect gift.
If you liked this post, you'll love these Gifts for Beer Lovers, free Father's Day gift tags, 20 heartwarming Father's Day gifts from toddlers, and 10 tried and true gifts for bakers.
But now I want to know…
Do you have a similar system for picking out gifts?
What's the best gift you ever gave one of the men in your life?
---