Never get stuck with dry pasta again! Try these six tips to stretch jarred pasta sauce so that it can cover a full pound of pasta…and taste just like it was homemade.
RELATED >>>> Healthy Homemade Pasta Sauce Everyone Will Love
Have you ever looked at how many servings are in a jar of pasta sauce and compared it to the number of servings in a pound of pasta?
They're not remotely the same.
Jarred sauce usually has 5 to 6 servings per container. Pasta is usually sold by the pound, which serves 8.
If you do the math, it will take 8 jars of pasta sauce and 5 pounds of pasta to get equal serving sizes.
What family needs to make that much pasta for a regular family meal? Ours doesn't, that's for sure.
Then, there's the fact that our family loves LOTS of sauce on our noodles. For us, it's all about the sauce, and more is pretty much always better.
Now, our favorite is always our homemade, veggie-filled sauce, but as school and extracurricular schedules get busier, it gets more and more difficult to find time to make sauce from scratch. And I'm not ashamed to say that I keep a jar of sauce on hand for emergencies.
But with 5 hungry mouths to feed, I need to find a way to stretch that 5-serving jar to cover a full pound of pasta.
Thankfully, I've found a few tricks that I like to use to not only stretch that jar of sauce but to make it taste infinitely better than it does straight out of the jar!
Next time you make pasta for your family, try one or more of these tricks and see how much better your sauce really is (and don't worry whether or not you've got enough sauce to cover that pound of pasta)
6 Ways to Stretch Jarred Pasta Sauce
Use up vegetables that are about to go bad
Don't throw away vegetables anymore!
While the water is starting to boil, chop up any aging veggies and sauté them in the sauce pot with a little oil before adding the pasta sauce. They should be just soft enough to poke them with a fork. Then let the sauce do the rest.
Good candidates for this are:
carrots,
onions,
bell peppers,
eggplant, and
just about any squash.
Throw in ground beef or mild Italian sausage.
This is pretty self-explanatory, right?
I like to cook ground beef with some onion and garlic before adding the sauce right on top. If we're using Italian sausage, I'll squeeze it out of its casing before cooking to get a nice crumbly texture.
(I've even been known to throw in leftover beef, though it doesn't work as well as traditional ground beef or Italian sausage)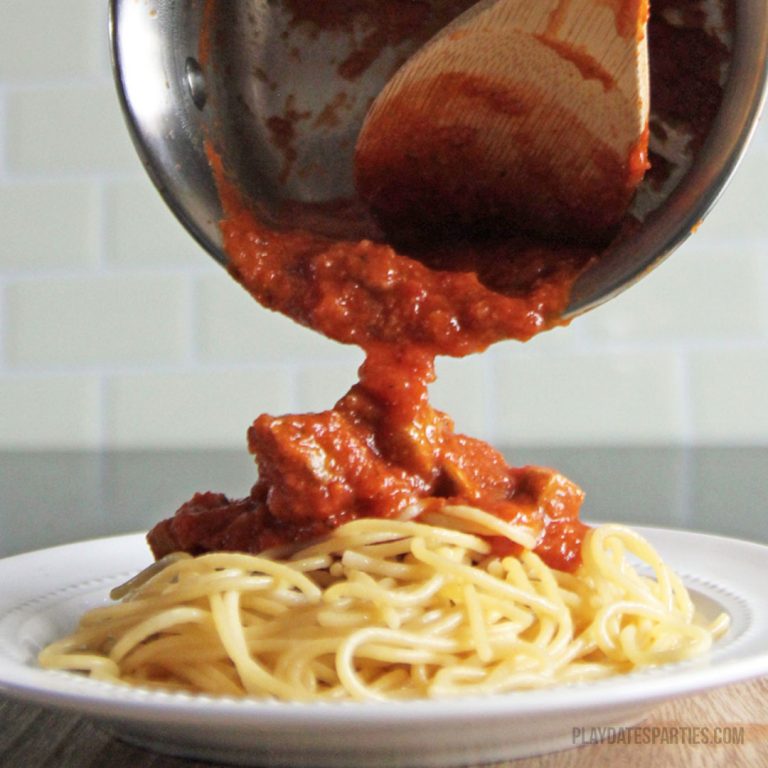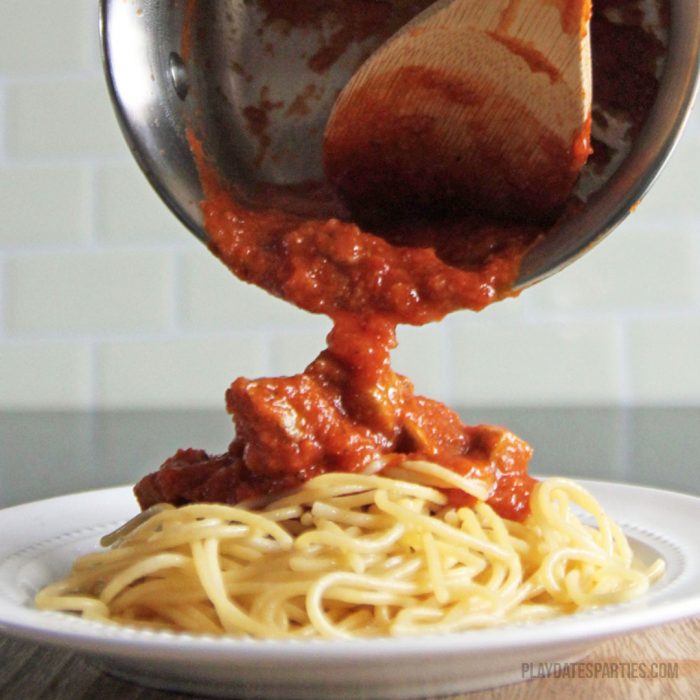 RELATED >>>> Meal Prep for Beginners | 5 Steps to Making Meal Prep Easier
Add a little pasta water
Many will tell you that you should always add a little pasta water to your sauce to help the sauce bind better to your noodles.
I tried it first about a year ago, and have been a convert every since. Serious Eats did a fantastic article testing the theory.
But if you really want to get the most out of your jar, try this:
While your noodles are boiling, start heating your sauce in another pot. Set the jar aside, but don't throw it out.
When the noodles are finished, use a metal or glass measuring cup to pull about a cup of water out of the pasta pot. Set the water aside for a couple minutes to cool.
When the water is warm, but not steaming hot, pour it into the pasta jar.
Replace the lid and gently shake the jar to loosen any sauce stuck to the sides of the jar. Pour the mixture into your sauce and stir to combine.
Add canned tomatoes.
Long before ever starting this blog, I had to make dinner for a banquet of over 100 hungry men. And, since this was a charity event, we were on a strict budget!
The solution: spaghetti.
BUT, buying lots of pre-made jarred pasta sauce can get pricey fast. And my trusty homemade pasta sauce recipe wouldn't make enough for this large crowd.
After some thinking, I decided to stretch jarred pasta sauce with a few cans of plain tomato sauce.
After the event, the Husband came home and told me that the pasta was met with rave reviews and several requests for the recipe.
You don't have to use just plain old tomato sauce for this one. Try using stewed, whole, crushed, diced, or even flavored tomato sauces. They all work well (you just might need to blend them all together before serving)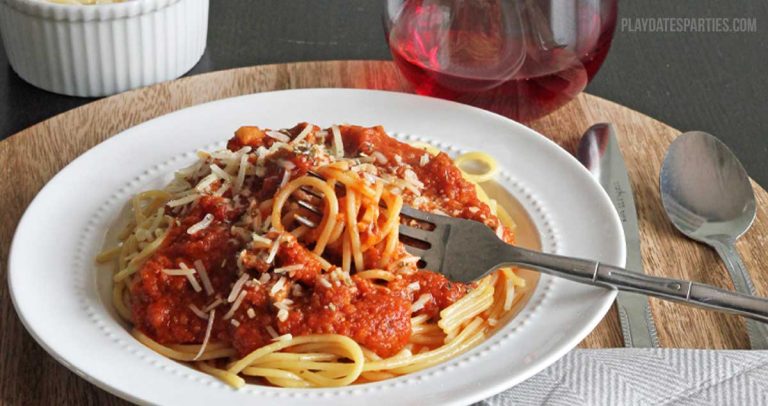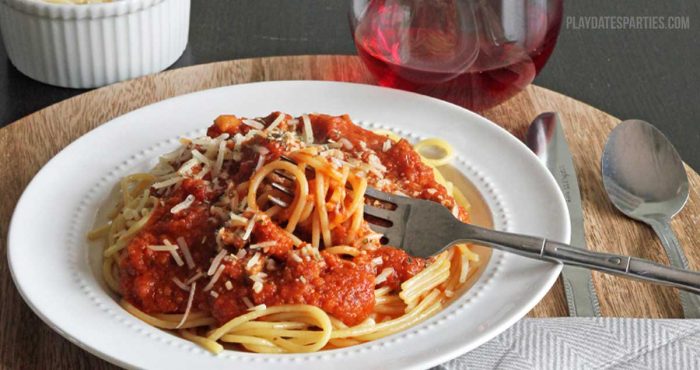 RELATED >>>> 10 Tips for Quick and Easy Meal Planning
Open a bottle of wine.
More specifically, red wine.
Red wine is fantastic for adding depth and dimension to pasta sauce.
I prefer stronger wines for our sauces, such as bold Merlots, Zinfandel, or Cabernet Sauvignons. These will add more flavor than lighter wines like Pinot Noir and Shiraz.
But if you really want to get the best flavor, combine this with a little bit of meat or Italian sausage and the flavor will be out of this world.
Add leftover cooked vegetables.
My favorite time of year to stretch jarred pasta sauce is in the summer.
I know, I know, that's supposed to be the time that we're eating lighter foods. But just about every summer weekend, my husband smokes a full tray of vegetables on our charcoal grill. (Sometimes he also fire-roasts some red peppers too…OMG, heaven)
And, if you haven't tried smoked vegetables blended into your pasta sauce, you are really missing out. Our favorites are:
Corn,
Bell peppers,
Sweet onions,
Carrots,
Zucchini, and
Tomatoes,
That doesn't mean I stop using leftover vegetables in the winter. I've been known to add cooked green beans, kale and spinach to our sauce. Usually, everything turns out very well. Just remember to blend everything together.
A Few More Notes on Stretching Jarred Pasta Sauce:
If you have picky eaters, an immersion blender is your best friend. Go ahead and add your veggies to the sauce, but blend them up so the kids have no idea that they're getting a few extra nutrients with their favorite dinner.
Dark greens like spinach and kale will drastically alter the color of the sauce. No amount of blending can cover it up, but it should still taste good!
Make sure to taste your sauce as it's cooking. Adding raw vegetables, water, or plain canned tomatoes may thin the sauce, and make it too bland. If this happens, feel free to add in spices such as powdered garlic, powdered onion, Italian seasoning, basil, oregano, and sometimes a little bit of salt too.
Now, It's Your Turn
No more worries about getting the right servings of pasta sauce to pasta, just grab your free cheat sheet and stretch jarred pasta sauce in one of these 6 ways:
Use vegetables that are about to go bad,
Throw in some ground beef or mild Italian sausage,
Add a little pasta water (don't forget to use the liquid to get the rest of the sauce out of the jar),
Pour in some bold red wine,
Blend in some leftover cooked vegetables.
Best of all, your pasta will come out more flavorful, and your wallet will be lighter. It's a win every way around!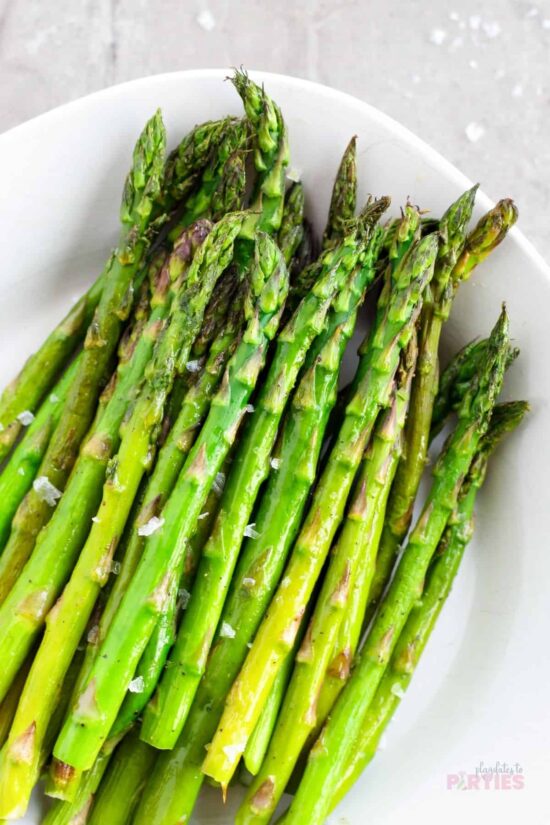 Subscribe via
Bloglovin, Facebook, and Twitter
to get more updates!