When planning my nieces Vintage Barnyard Party the other week, I ended up with a scary dilemma. My sister-in-law saw the barnyard cake pops from Bakerella's Cake Pops cookbook and requested that I make several for the party.
The problem is, however, that I've only ever tried to make cake pops once before. And it was an
unmitigated disaster
. How was I supposed to make such adorable little cake pops when I clearly lack the talent for creating those popular buggers?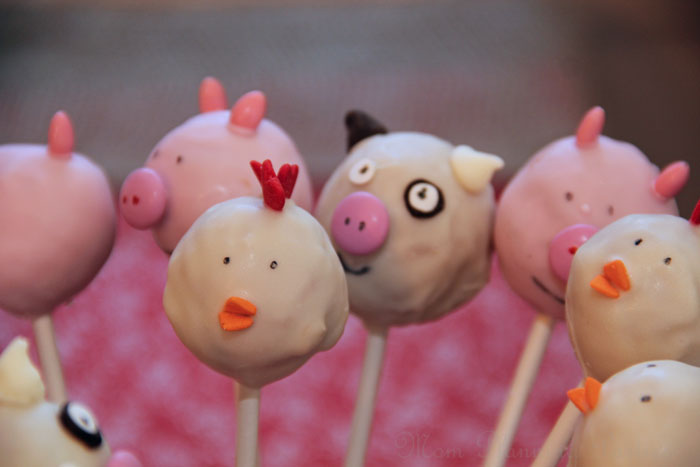 I suppose I could have tried to make cake pops a few more times, but I'm still not over that incident last summer. And what if they all melted and fell apart on the trip between Maryland and Petersburg? I just couldn't take that risk. The one day, it hit me…what if I used donut holes instead?
Using donut holes would eliminate concerns about falling apart during the dipping process, but I wouldn't say it was without a bit of a learning curve. After a very informative test run, and more than three dozen fake cake pops bites made for the party, I figured out a few tips to help make these donut bites pretty tasty and easy to make.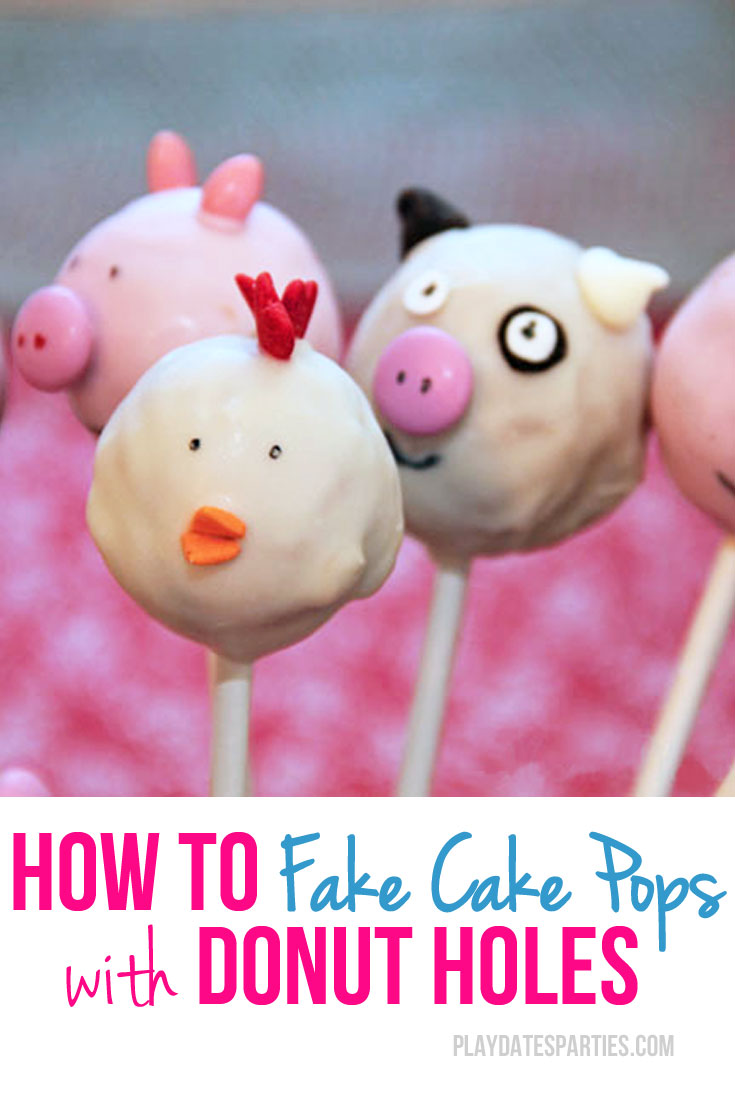 How to Fake Cake Pops with Donut Holes
Freeze your donut holes first. Put the donut holes in a bowl and let them sit in the freezer for at least 15 minutes.  Pull them out one-by-one, stick a wooden skewer in one end and then get dipping.  You have to work quickly using this technique, because the really frozen donuts stay best on the skewers, but also cause the chocolate coating to solidify very quickly.
Use plain cake donut holes.  I love sweets, but the few glazed or sugared donut holes I tried were way too sweet, even for me! You might have to call your local donut shop in advance to make a special request for donut holes without any toppings, but it's worth it.
Get your candy coat as thin as possible.  Donuts are pretty sweet and tasty already, and the candy coating can quickly get overwhelming.  I found that the bites with the thinnest coats tasted best.  Bonus:  Thin coats & frozen donut holes meant hardly any drips when drying!
Melt more chocolate than you need.  I think one of my problems last time was that the chocolate was too shallow.  You really need a deep candy bath for the holes to dip into so the donuts don't spend too much time hitting the sides of the bowl.
I would absolutely recommend using donut holes to make fake cake pops. It was so much easier, and took a lot less time than trying to bake a cake, mix it up, and make all those individual cake pop ball. The kids loved them, too! And I think those little barnyard donut bites were the perfect little farm friends to bring to my niece's Vintage Barnyard party. I gues I'm glad my sister-in-law requested those cake bites after all.
(Directions for decorating the donuts to look like barnyard animals can be found in Bakerella's Cake Pops Cookbook, available here.)
Have you ever had any cake pops?
Don't forget to subscribe via
Bloglovin, Facebook, and Twitter,
to get more updates!