Are you sick of going crazy over your kids' birthday parties? There is a better way to plan a birthday party, and it only takes 10 simple steps.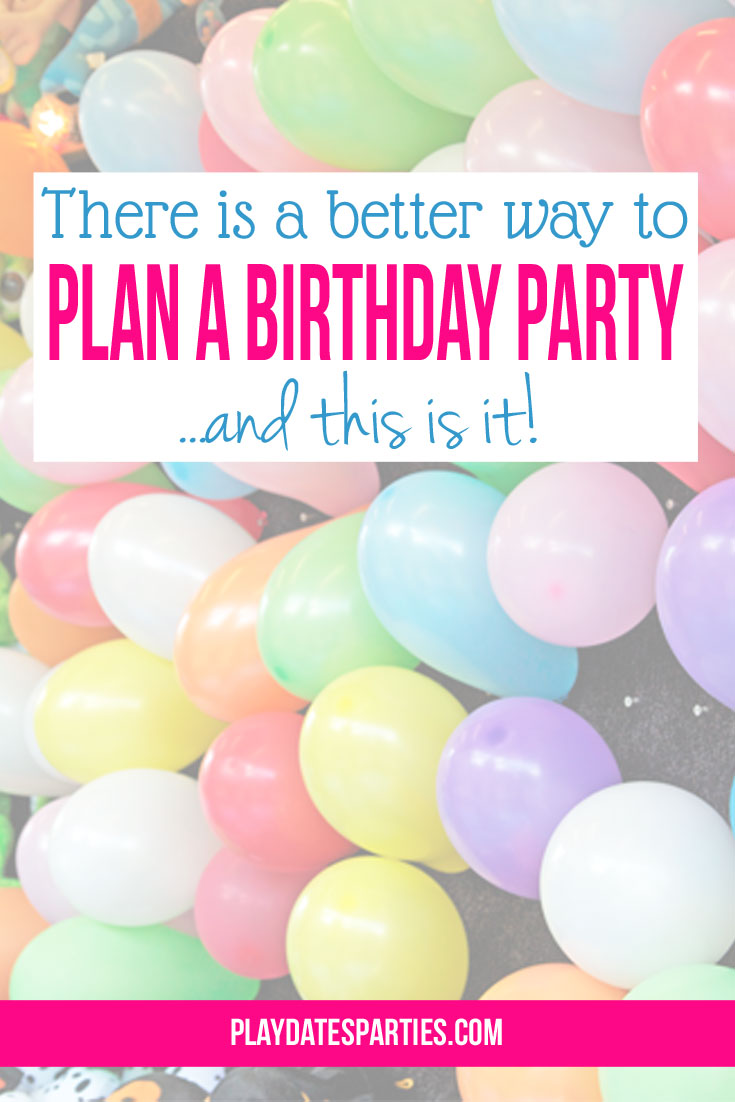 Most parents I know plan a birthday party for their kids one of two ways:
They start months in advance, with lots of homemade decorations and projects, or
They don't do anything until the last minute.
What if I told you both of these strategies is wrong?
If you're one of these parents, you're not alone. Over-the-top parties are my thing. I love to see an awesome event pulled together. My oldest's first birthday party took six months to plan and prepare (these were the days before Pinterest, too!). And her fifth birthday took more than a week to set up. Parents rave about these parties, and it's an incredible feeling to so much hard work turn into a reality.
Then again, I've done the last-minute party, too. Last year, I was eight months pregnant when my oldest turned 6, so there was no energy to spare for a lot of extra projects. And the venue we were at only allowed two hours from the start of set-up to the time we had to be out the door. Another cute party, but also incredibly exhausting.
You don't have to operate at these extremes to plan a birthday party for your kids that they love and cherish. There is a middle ground. Plan a party the smart way so you're not racing to finish decorating as guests arrive on your front step.
10 Steps to Plan a Birthday Party without Going Crazy
Don't start too early.
Aim to start planning your event about six to eight weeks in advance. Generally, invitations should be sent to out of town guests at least four weeks in advance; six weeks is best. Starting to plan a party more than six to eight weeks in advance, however, can lead to the rut of wanting to do too much.
Have a brainstorming session (or two).
Sit down once to come up with your budget, party theme/colors, time of day, number of guests, menu planning, decor, and set-up. Before finalizing any decor or food plans, go shopping to get an idea of what's available and what inspires you, but don't buy anything yet. Add whatever ideas you came up with to your brainstorming notes.
Make a checklist of projects.
Go through your brainstorming notes and pick your favorites, making a checklist of all the projects that need to be done. Estimate how much time and money each project will take to complete. If you're hosting the party at your house, don't forget to include checklist items for cleaning.
Prioritize your party plan.
Choose just one area to spend your time and energy on. Again, choose just one area to DIY. Do you want to make awesome decor, or do you want to create delicious food? Unless you have a large group of people helping to put it all together, don't try to do both.
Eliminate the projects that aren't in line with what you chose to prioritize.
Replace those projects with something store-bought or simplified. Remember, you can have the most incredible idea ever, but if you don't have the time to execute that in addition to everything else, it's likely to be more stressful than impressive. Find a place to keep notes of your ideas, and modify it for another occasion.
Sick and Tired of Planning Crazy #Birthday Parties? Try this instead. #kids #partyideas
Click To Tweet
Make use of what works for you.
Aim to fill at least 50% to 75% of your checklist with your tried-and-true recipes/projects. If you've made something before, you'll know how much time, effort, and cost will be needed to get it done. Chris, from Celebrations at Home shared how she keeps track of these with her party journal. It's a great way to keep track of not just what works and what doesn't, but also to keep track of special memories.
Be flexible, if it means simplifying your plan.
When you're out shopping, take a look at what stores have that might be a good replacement for something you had planned. For example, I was out at Target the other day and happened to find a snack that will fit in perfectly with L's party theme, and will take little-to-no time to prepare. I snatched up a couple bags and merrily replaced a homemade snack option with what I purchased.
Get started early on projects that can be made in advance.
Have a craft that you want to make and use for the party? Aim to have all crafts done 10 days in advance of the party. That way the rest of the time can be spent on cleaning and food preparation.
Have a backup plan.
All my kids were born in the summer, which means I try to plan almost all of their parties outside. But sometimes they get rained out, and that's just fine. I've always got a plan in mind for how to set up our party if it has to get moved indoors. Outdoor activities are easily replaced with indoor party games, board games, or even free play with your kids' toys.
Don't sweat the small stuff.
The most important thing is that you and your guests have a wonderful time. Don't try to overwhelm yourself with too much. People won't always remember what the decorations looked like or what food was served, but they will remember if you're too stressed to spend time with them.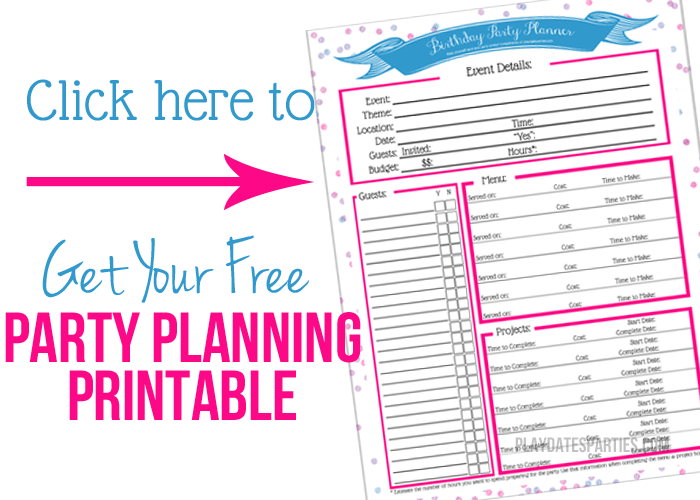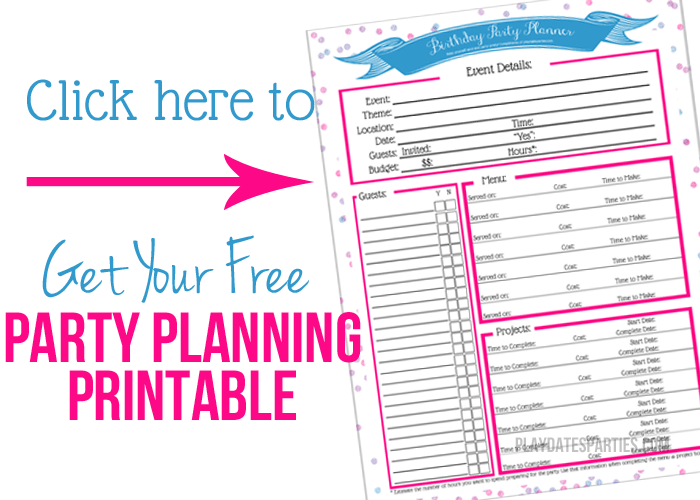 Now it's Your Turn…
Don't fall into the trap of planning too much too early. And don't leave everything to the last minute either! Grab your free birthday party planner by filling out the subscription box below. Then, follow these 10 simple steps to plan a birthday party without losing your mind, and host the best party your kids ever had!
What is your party planning style?
Do you have any extra tips to help plan a birthday party?
Don't forget to subscribe via
Bloglovin, Facebook, and Twitter,
to get more updates!