Get back to loving your kids parties again! Here you'll learn how to plan a birthday party you love without getting overwhelmed by the details.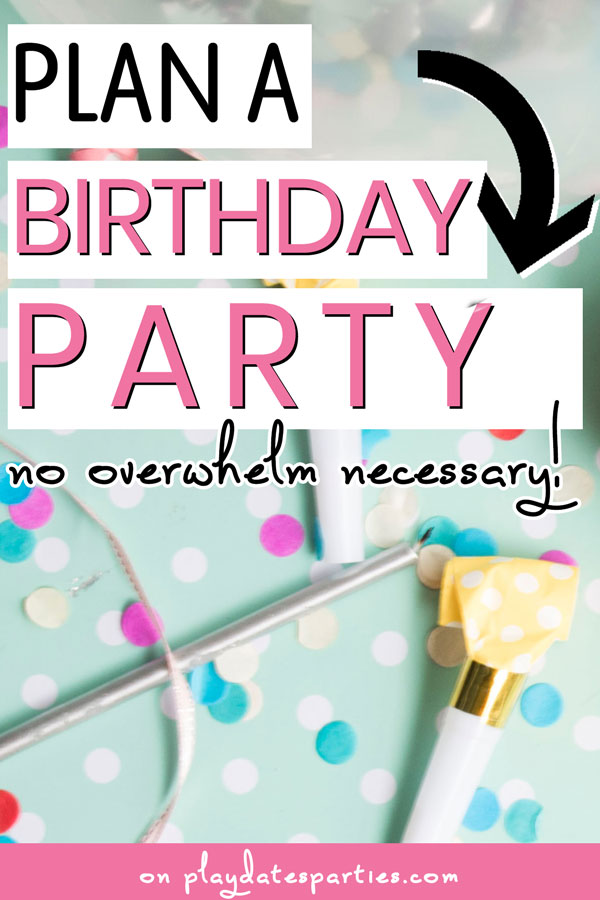 Most parents I know plan a birthday party for their kids one of two ways:
They start months in advance, with lots of homemade decorations and projects, or
They don't do anything until the last minute.
What if I told you both of these strategies is wrong?
If you're one of these parents, you're not alone. Over-the-top parties are my thing. Seriously, I love to see awesome events pulled together.
I spent six months planning my oldest's first birthday party (these were the days before Pinterest, too!). And her fifth birthday took more than a week to set up. It's an incredible feeling to see your hard work turn into a reality.
Then again, I've done last-minute parties, too.
There was the time I was eight months pregnant when my oldest turned 6. So I had zero energy to spare for a lot of extra projects. Plus, the venue we were at only allowed two hours from the start of set-up to the time we had to be out the door.
It was still cute, but also incredibly exhausting.
The good news is that you don't have to operate at these extremes to plan an amazing birthday party for your kids. There is a middle ground.
Plan a party the smart way so you're not racing to finish decorating as guests arrive on your front step.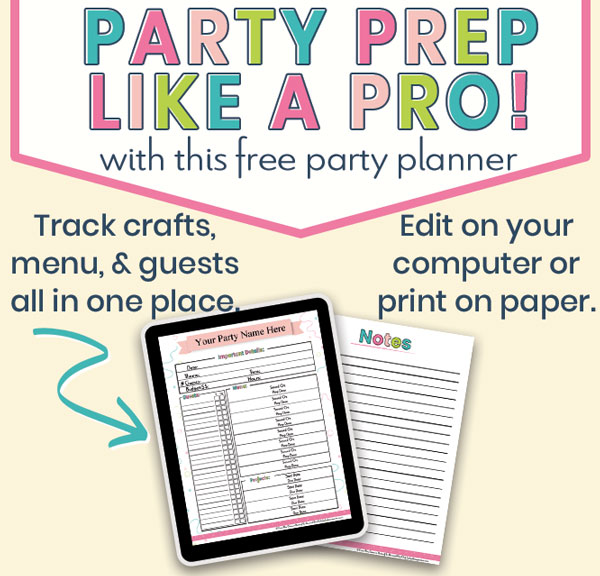 Make Life Easier
Start planning your parties like a pro with these FREE party planner sheets. Click the button below to get your planner sheets delivered straight to your inbox.
How to Plan a Birthday Party without Getting Overwhelmed
1. set limits
Don't just budget your money, budget your time as well.
Figure out how much time you're willing to spend on preparing for the party and let that guide you in deciding how many projects you will cook, craft, and create for your kid's party.
This is the most important thing you can do. I really can't stress it enough.
RELATED>>>>The #1 Thing You Need to Know to Plan a Birthday Party on a Budget
2. Brainstorm ideas before going online
I know, I know, this sounds like sacrilege. I should want you to come to my site first for all your party planning needs, right?
Well, yes, I want you to come get inspired…but more than that I want you to have a party you love.
So just imagine how unique your kids' party will be if you come up with even one or two ideas on your own. You just might be surprised to find out how many ideas you can come up with!
3. Set a Strict Time Limit when Browsing the Internet.
If you're not satisfied with your brainstorming session and still feel the need to consult the internet for party ideas, set boundaries for yourself.
Set a timer for 30 or 45 minutes and scroll away. You can create a Pinterest board, but don't go hog wild.
In that 30 minutes, pin anything that catches your eyes while you're scrolling quickly. BUT, don't click through to the website just yet, you might get distracted by something else and get off track.
4. Pare Back
Give yourself a day or two after your online searching session, and go back to your Pinterest board. DO NOT…I repeat…DO NOT perform another search for ideas!
This is the time you go through and actually click on each and every one of the pins you saved to double check:
Does the picture lead to a page that tells you how to make what you liked?
Are the instructions clear and easy to follow?
Is the project easy enough to finish in a manageable timeframe?
If the answer to any of the questions above is no, move on to the next one on your list.
Then, take a look at your list of saved projects and compare them to the amount of time you decided you want to spend working on this party. If any one project is too time consuming, remove it.
Your goal is to limit yourself to 10 or 15 of your favorite projects at this point.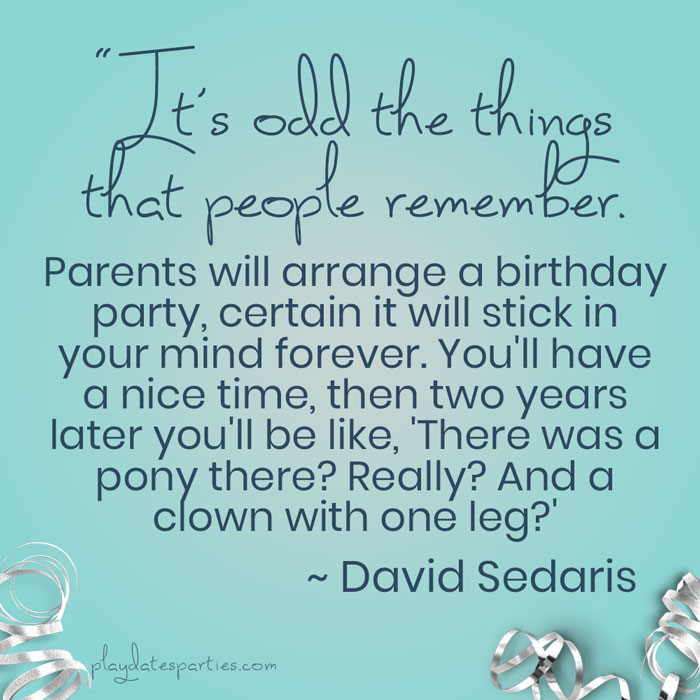 5. Prioritize
This is possibly the hardest part of all. You must choose only one or two projects you like the MOST. Look for the projects that you know you can do that also pack the biggest punch. Then focus on completing them first.
For the rest, you'll have to estimate how long each will take to make, and if it's really within the time budget you set for yourself above.
6. Make use of what works for you.
Once you've picked your favorite projects, fill in the rest of the 70-80% of your plan with tried-and-true recipes and projects.
If you've made something before, you'll know how much time, effort, and cost will be needed to get it done. Chris, from Celebrations at Home shared how she keeps track of these with her party journal. It's a great way to keep track of not just what works and what doesn't, but also to keep track of special memories.
7. Use a Written Plan to Keep Track of Your Projects
So many people make the mistake of sitting down with a party planning sheet and do nothing but figure out the food and the guest list.
But that's, all backward!
Taking the time to do all these other steps first will make writing down your party plan so much easier. You'll have a clear idea of exactly what you want to do and how it will all come together.
And that, my friend, is where the real time and sanity savings happens.
I've even got a worksheet to help make it easier for you. It's specifically designed to keep track of your time as well as your budget and your guest list.
8. Be flexible, if it means simplifying your plan.
When you're out shopping, take a look at what stores have that might be a good replacement for something you had planned.
For example, before my middle child's Frozen Themed birthday party, I happened upon blue cheeseballs that worked perfectly with the theme. They weren't a part of the original plan, but I still snatched up a couple bags and merrily replaced a homemade snack option with what I purchased.
9. Have a backup plan.
All my kids were born in the summer, which means I try to plan their parties outside.
But sometimes they get rained out, and that's just fine.
It's important to have a plan in mind for how to set up if your party has to be moved indoors. Outdoor activities are easily replaced with indoor party games, board games, or even free play with your kids' toys.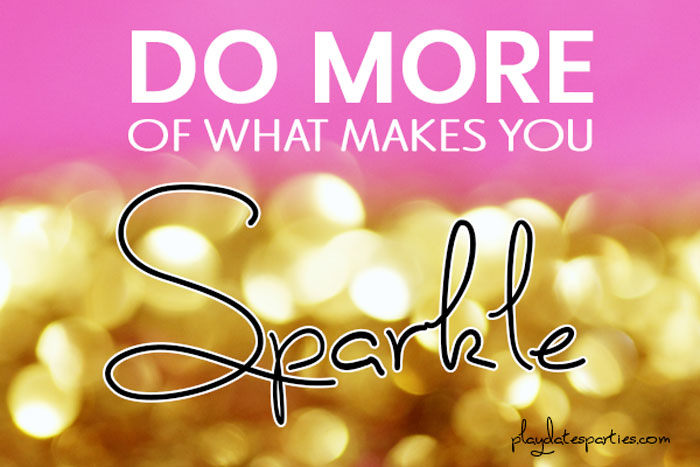 10. Don't sweat the small stuff.
The most important thing is that you and your guests have a wonderful time. Kids don't really care about much more than having fun with their friends and eating cake.
Make your party awesome because you find it fun. Once it's too stressful, it's not worth it.
Guests won't always remember what the decorations looked like or what food was served, but they will remember if you're too stressed to spend time with them.
Now it's Your Turn…
Don't fall into the trap of planning too much too early. And don't leave everything to the last minute either!
Grab your party planning sheet here, then follow these 10 steps to plan a birthday party without being overwhelmed. You just might host the best party your kids ever had!
What is your party planning style?
Do you have any extra tips to help plan a birthday party?

Don't forget to subscribe via
Bloglovin, Facebook, and Twitter,
to get more updates!