Looking for a fun and creative way to celebrate Easter with your kids? These printable Easter egg coloring pages provide a fun, cheap, and easy way to get into the Easter spirit.
Best of all, we've got five free Easter egg coloring pages that you can download and print out at home. So you can get started in just minutes!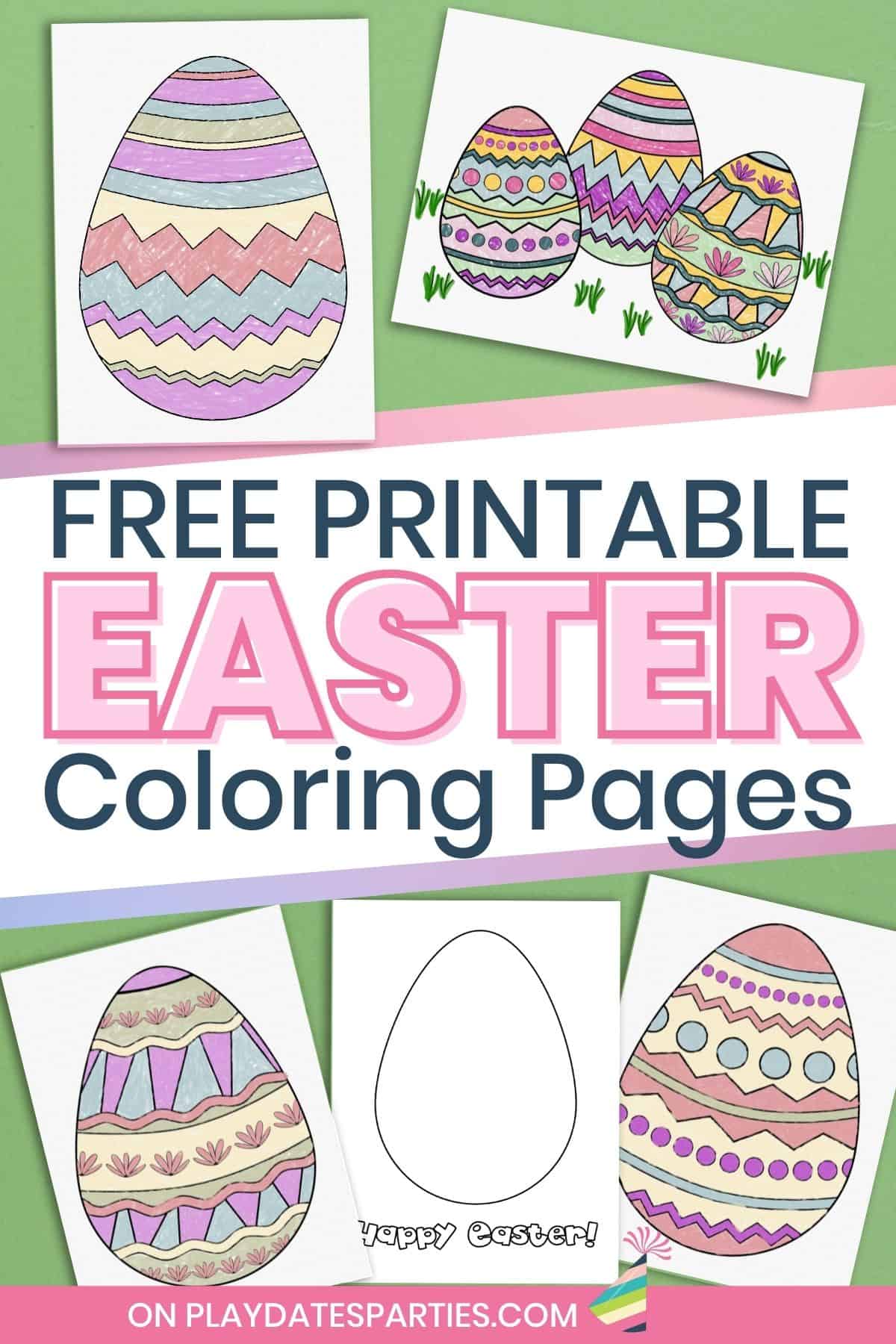 So why are Easter egg coloring pages so popular? For one, they're a great way to get kids excited about the holiday. They're also an easy way for moms to help little kids develop creativity, focus, motor skills, and color recognition.
(You might even get a few quiet minutes for yourself, too!)
These Fun Easter Egg Coloring Pages are Perfect for:
Dinner out with the family,
Sunday school,
Simple homemade Easter decorations, and
A fun family afternoon activity.
Large Patterned Easter Egg Coloring Sheets
First up, we have three printable Easter egg coloring pages that feature large designs that are perfect for everyone.
Striped Easter Egg Coloring Sheet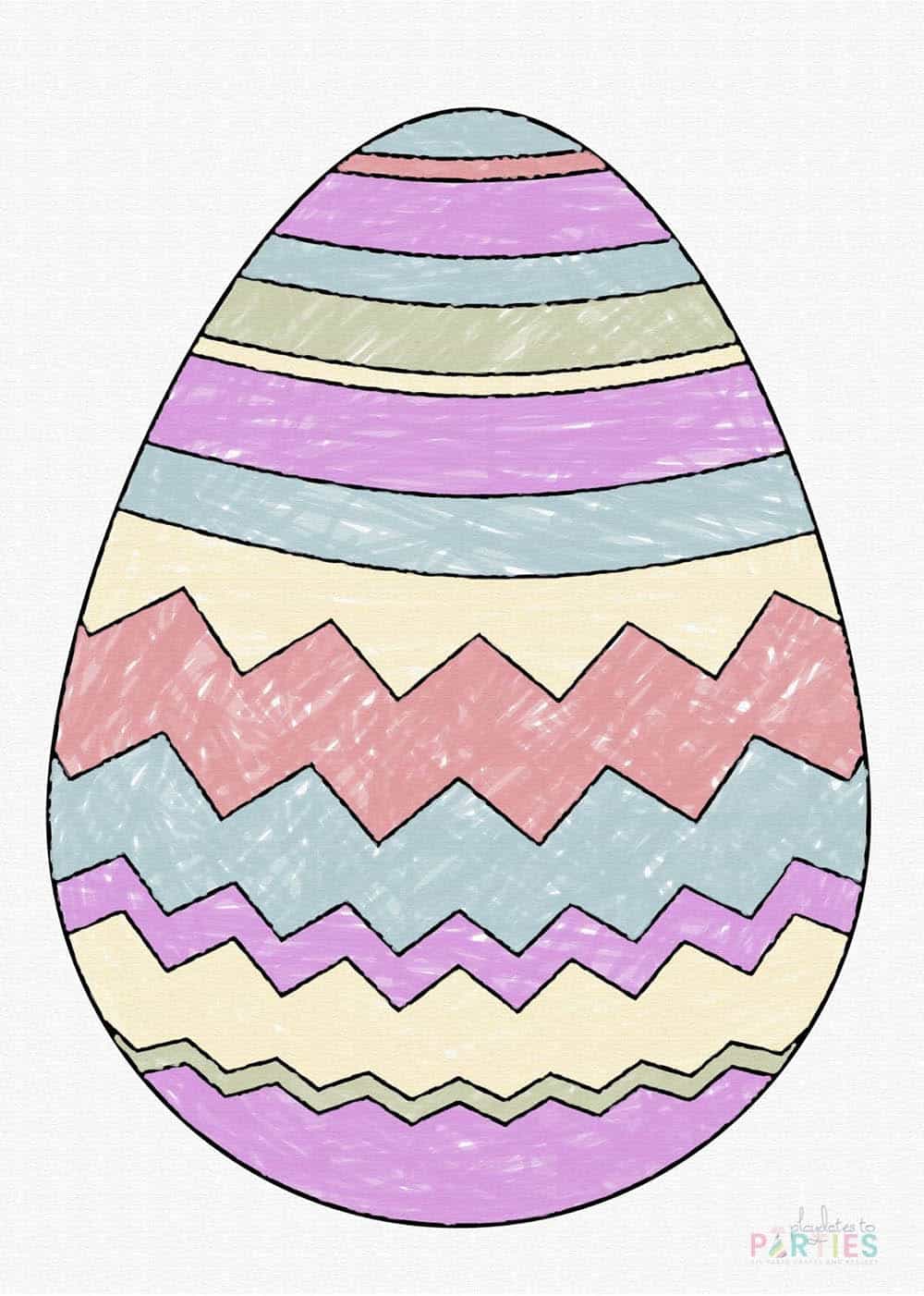 Little kids will love coloring in the stripes and zig zags on this full size Easter egg coloring page. Whether they choose bold colors, or soft pastels, the large size is the perfect choice for crayons or markers.
Plus, the fun and playful pattern is perfect for younger kids who are tired of easy coloring pages, but aren't quite ready for more intricate designs.
Mixed Stripes and Polka Dots Easter Egg Coloring sheet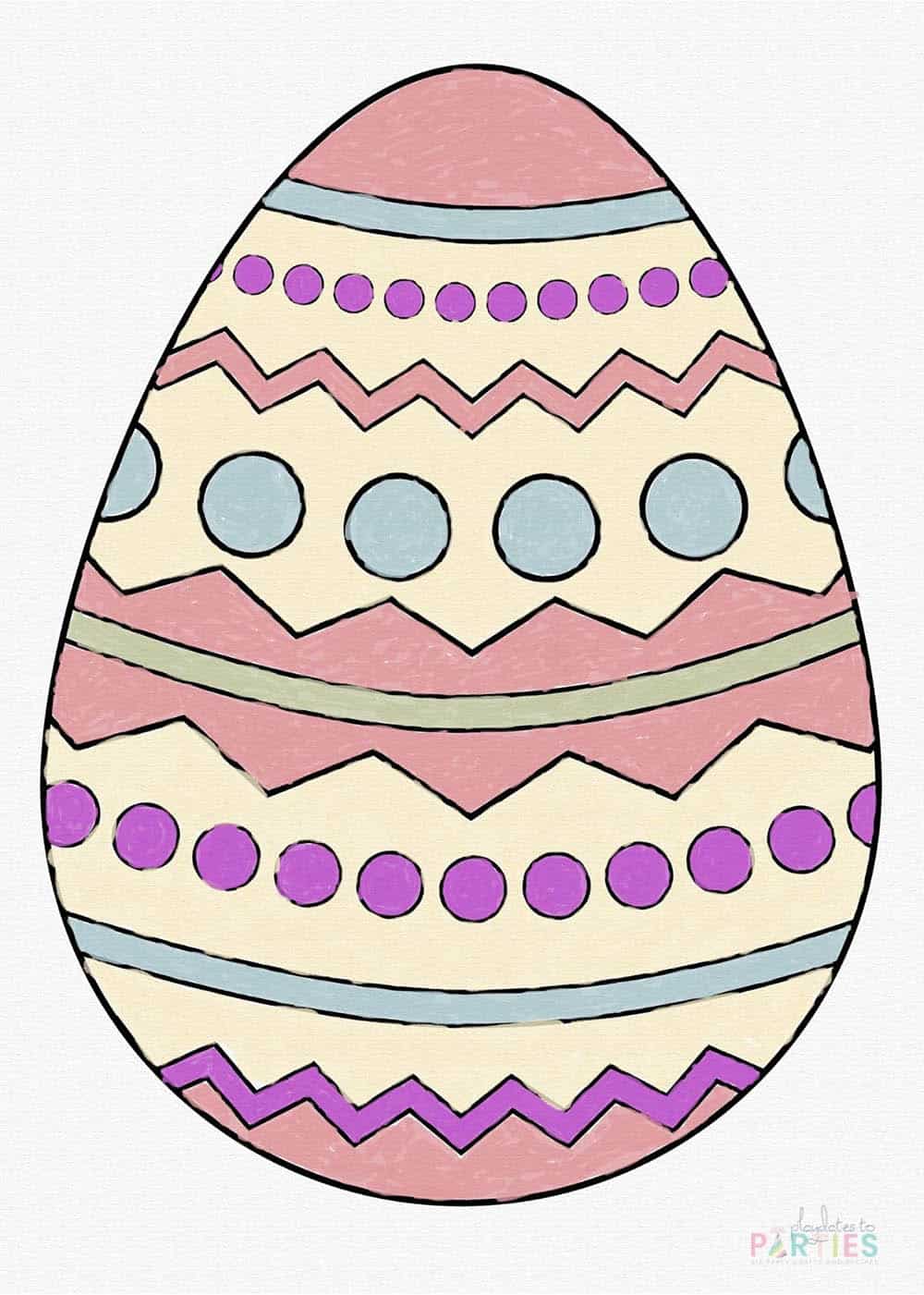 This Easter egg coloring sheet is perfect for both younger kids and adults. The cheerful pattern features a combinations of stripes, zig zags and polka dots which come together to create a beautiful and colorful Easter egg.
Just like the first coloring sheet, this one is perfect for markers or crayons, since the larger spaces are easy to color in. But the mini polka dots and smaller areas are great for colored pencils too.
Flowered Easter Egg Coloring sheet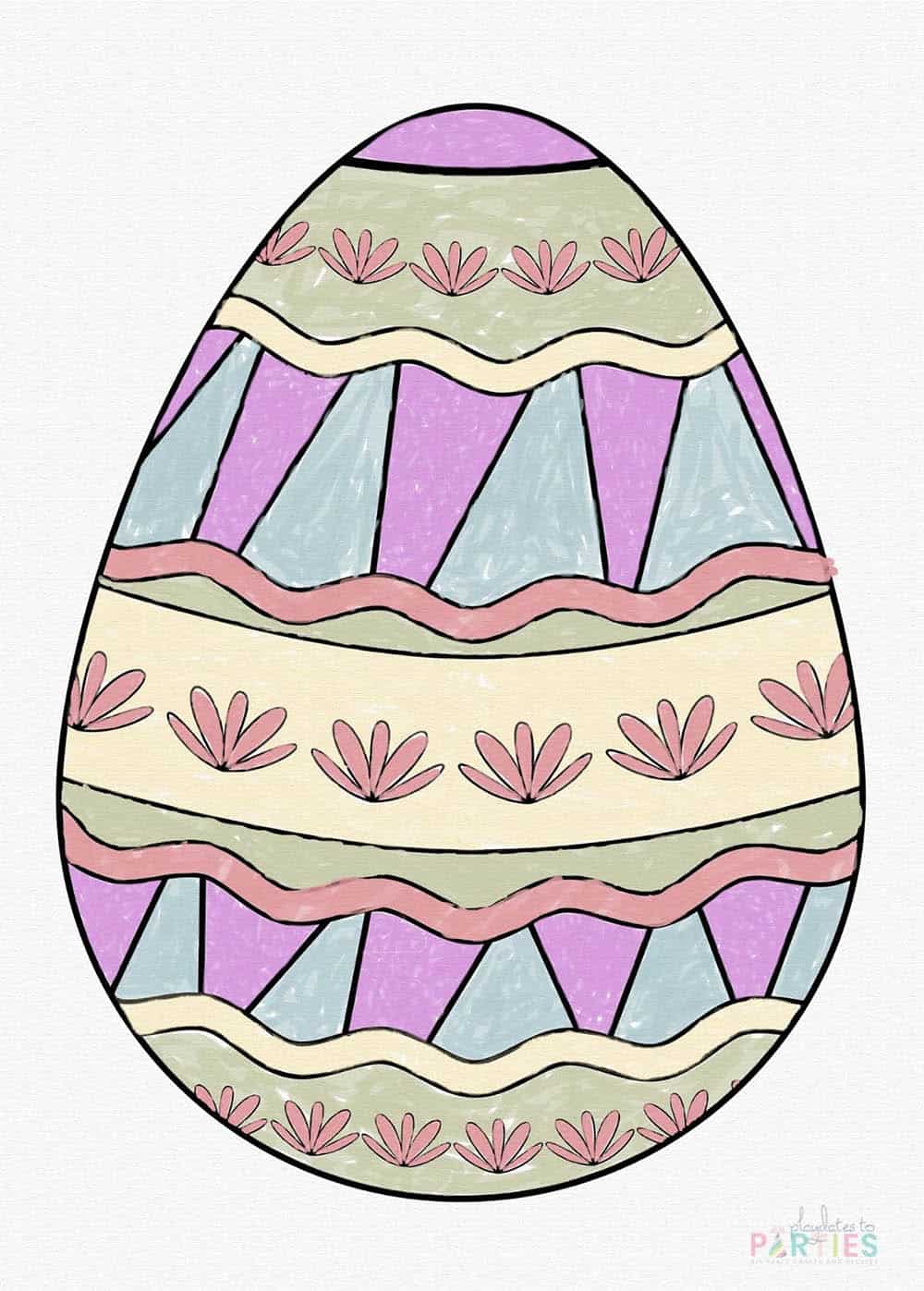 This intricately designed Easter egg coloring sheet is perfect for older kids and adults. The sweet little flowers and angular stripes that cover the egg offer a perfect opportunity for some creative coloring.
Since the design is so intricate, I recommend using colored pencils or fine point markers.
Small Patterned Easter Egg Coloring Sheets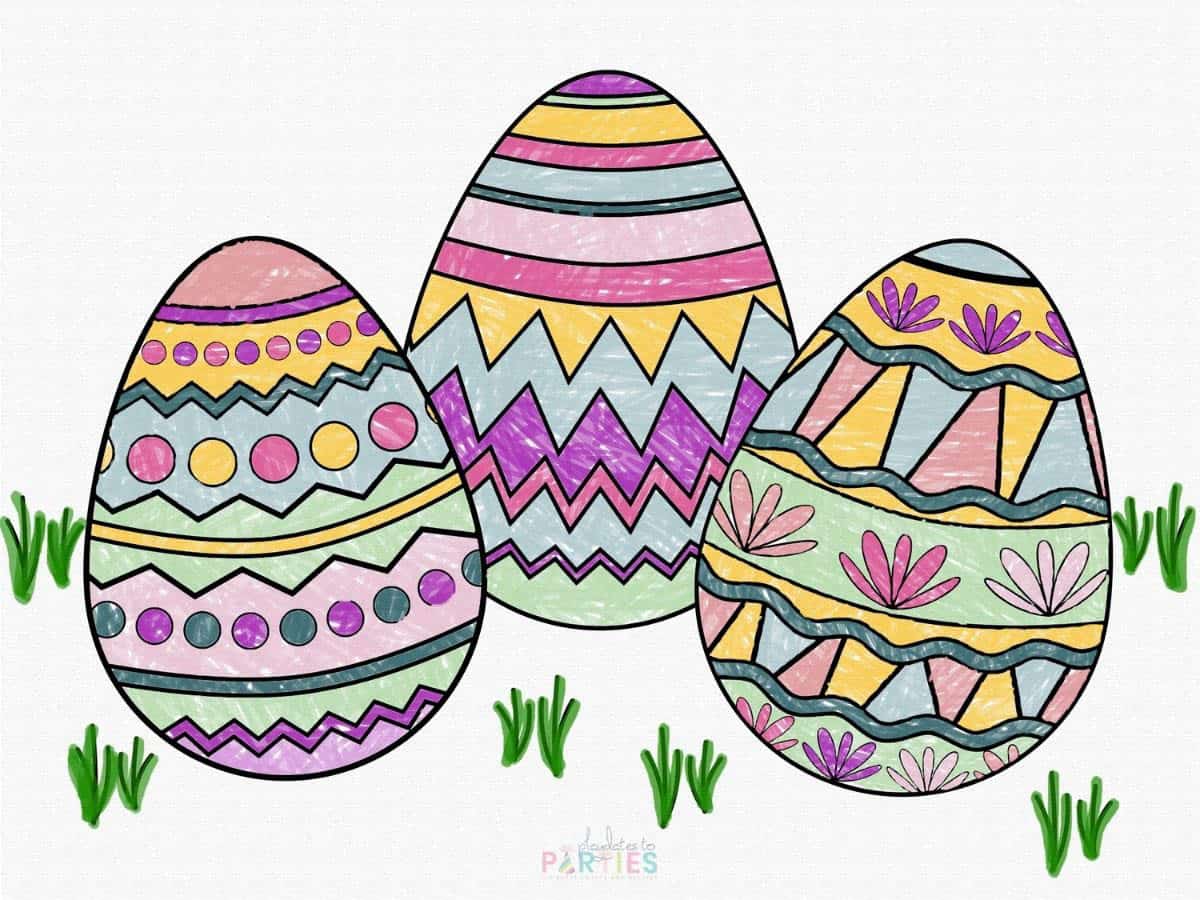 Inspired by our annual Easter egg hunt, this free printable coloring page reminds me of eggs sitting in the grass.
The smaller eggs mean the patterns are more complex, making them best for kids and adults who want a more challenging coloring page.
Happy Easter Blank Easter Egg Coloring Page
Kids will love being creative and coming up with their own Easter egg designs on this blank Easter egg coloring page.
The best part of this blank Easter egg page is that the sky is the limit! Kids can create their own patterns, colors, and designs to make their egg stand out from the rest. It's a great way for them to show off their artistic skills!
And with the "Happy Easter" at the bottom, it's a sweet little present that kids can also give to grandparents and other family members.
Easter Bunny Approved!
Get your Easter hopping along with a sweet selection of printable goodies – including printable games, tags and bag toppers, party decorations, and art prints all designed to to make this Easter more colorful than ever. Check it all out right here.
Recommended Supplies
Even though all you need to get started with Easter egg coloring pages are the pages themselves and some crayons or markers, here are a few other supplies that can make the experience even better.
Let your kids stamp designs onto the coloring pages with bingo dotters, or a foam brush and ink pad.
Grab your crafting scraps! Little bits of ribbon and yarn make great Easter egg stripes. Sequins, stickers, and rhinestones can be glued onto the pages for even more pizzazz.
Colored pencils are perfect for coloring pages because they provide a wide range of colors and shades that can be blended together for intricate patterns and designs. They're also less likely to bleed through the paper than markers, so they're ideal for younger kids who might not be able to handle markers just yet.
Flair Markers are hands down my kids favorite markers. They love the bright vibrant colors, and that they're sized and shaped just like a standard pen.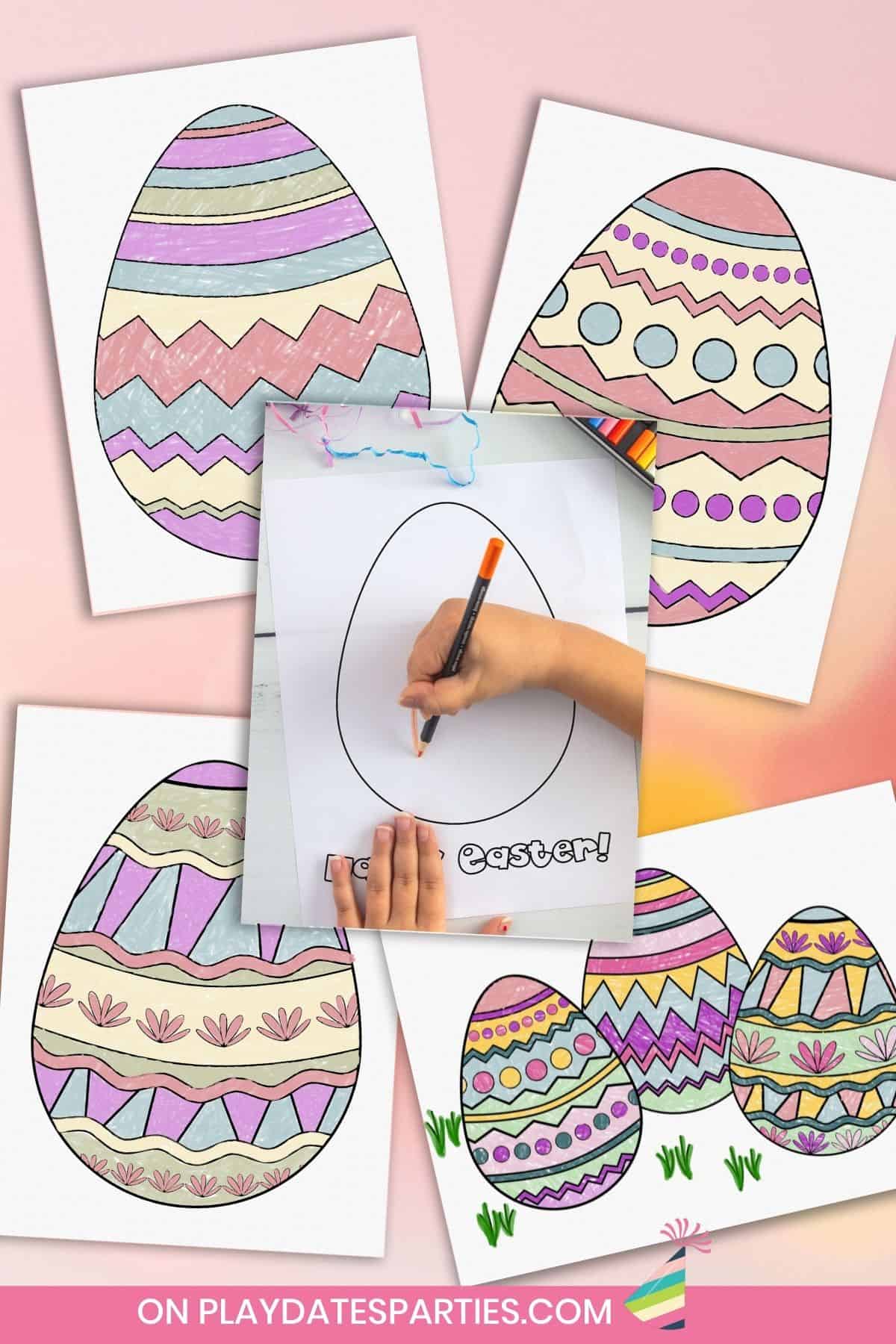 Don't forget to show off your kids creations!
If you're like me, you probably want to decorate for holidays, but never seem to find the time (or the budget) to make it happen.
So why not turn your kids artwork into your holiday decor? Here are a few easy ideas:
Pop the finished coloring pages into a clipboard or some spare frames and display them on a photo ledge.
Turn a blank wall into an Easter art gallery with a few bits of Blu Tack
Use command strips to string up some ribbon and clip the finished pages to it with clothespins
Cut out the finished Easter eggs and turn them into a colorful garland.
More Easter Ideas You'll Love:
If you're love these free printable Easter coloring pages, and are looking for even more Easter crafts, decorations, and printables, you're going to love these:
Boho Bunny Easter Banner – This adorable bunny and flowers design is simple enough to be versatile, but stylish enough to add a touch of boho Easter decor to any room.
Last Minute Easter Tablescape (with shop your home tips) – Get ideas for creating easy DIY Easter tablescapes and last minute Easter decor with things you have or that you can easily find at dollar stores. It's perfect for those of us who are strapped for time and cash.
50+ Creative Ideas for Easter Gifts – No Candy Required! This is the BEST list of ideas for candy free Easter gifts that are easy to pull together.
Free Watercolor Easter Banner – This sweet pastel watercolor Easter banner is easy to download and print.
13 Adorable Easter Crafts to Make with your kids – Busy kids are happy kids, and this list of Easter crafts are sure to keep your kids engaged for hours.
Download your Free Printable Easter Egg Coloring Pages Here
Ready to get coloring? These printables are free for newsletter subscribers. All you need to do is add your name and email to the opt-in box below to get the pdf file sent directly to your inbox.
Don't want to subscribe? No problem. You can also grab the full set of Easter coloring pages in my shop – which comes with three additional coloring pages too.
---