Too frazzled to pull together a formal Easter tablescape for the family? Today we're looking at the best shop your home tips to help you pull together a last minute Easter tablescape that's fun for both adults and kids.
Don't forget to grab some Easter printables while you're at it to make decorating even easier than making an Easter Peeps cake.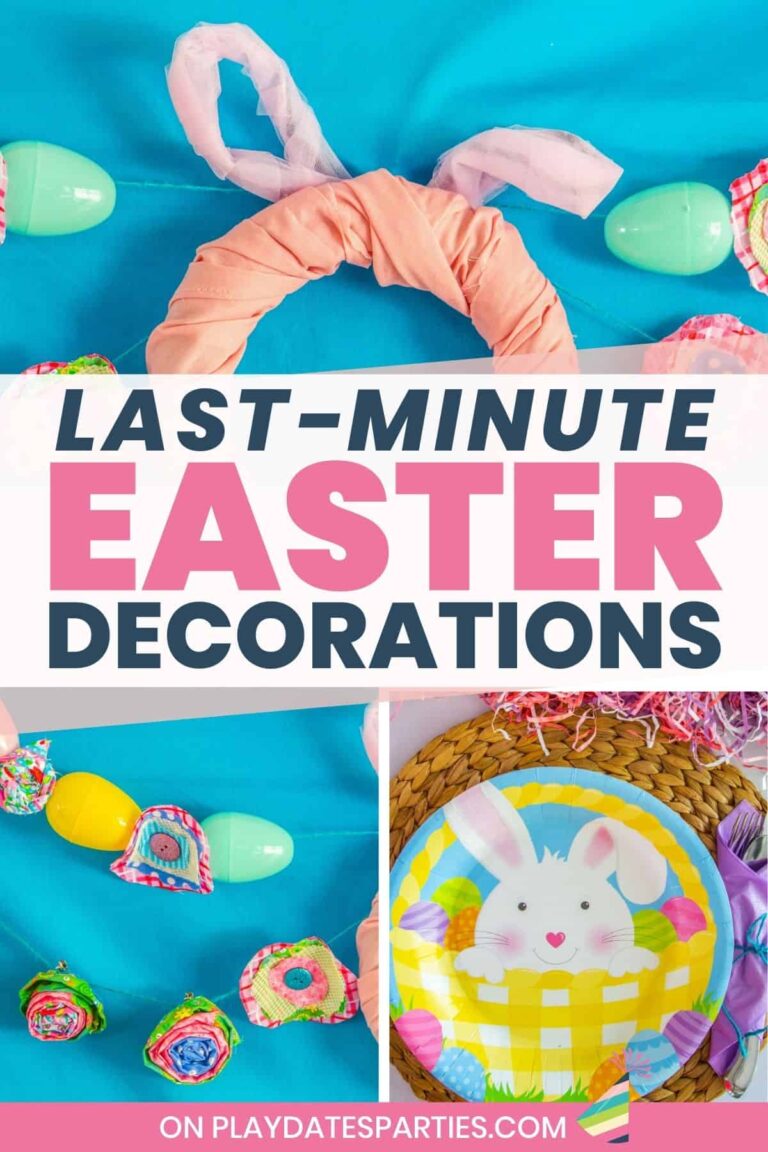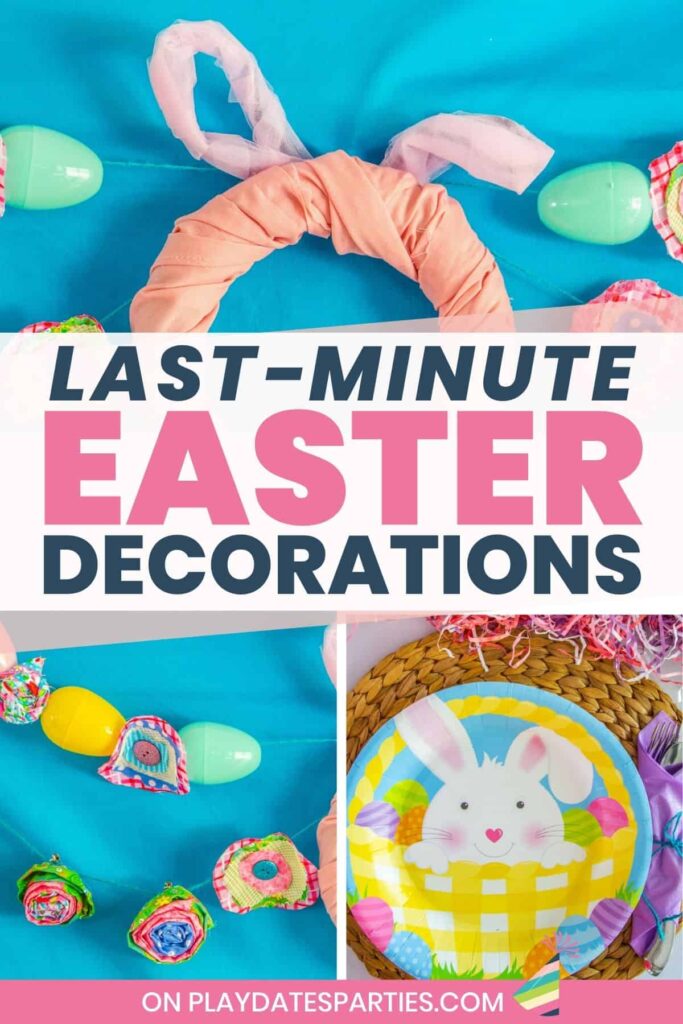 What do you do when you want to make something fun and cute for a holiday, but you have absolutely zero energy…and zero funds for that matter?
That was pretty much the case for us in 2019.
I had only finished my radiation treatments for cancer just a couple months earlier, and we had just found out that my father in law had pancreatic cancer.
To say I was fried is an understatement.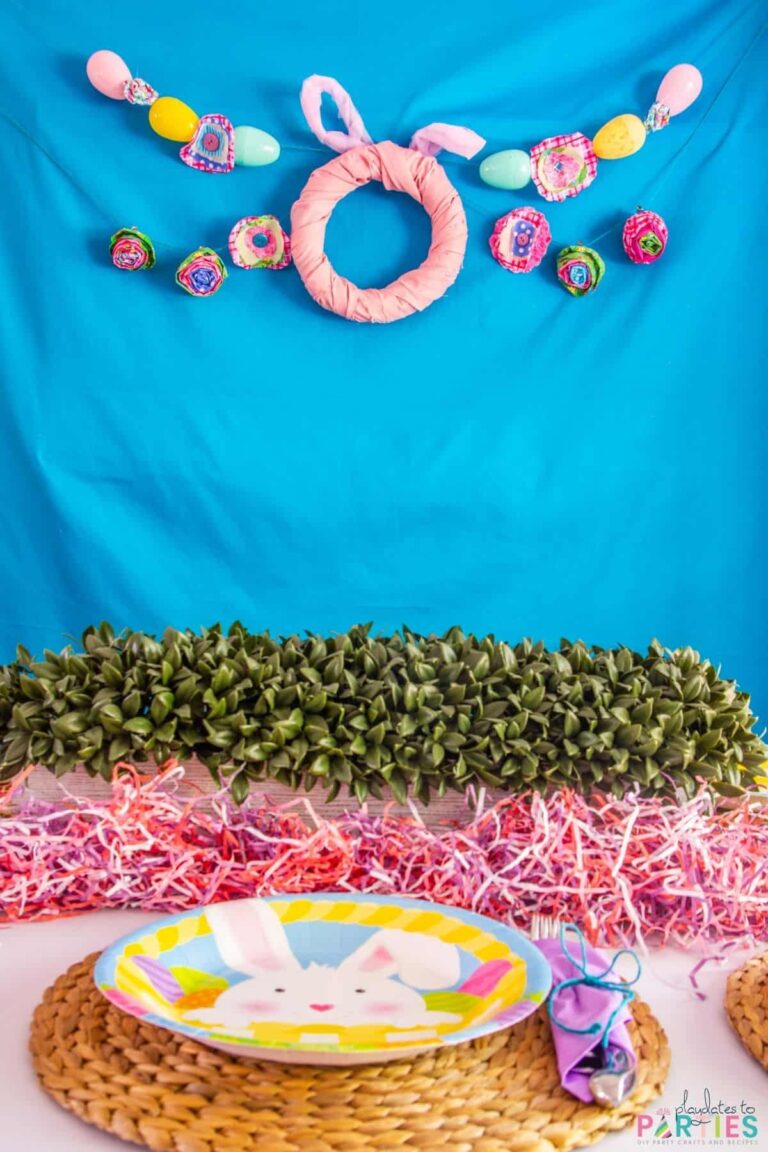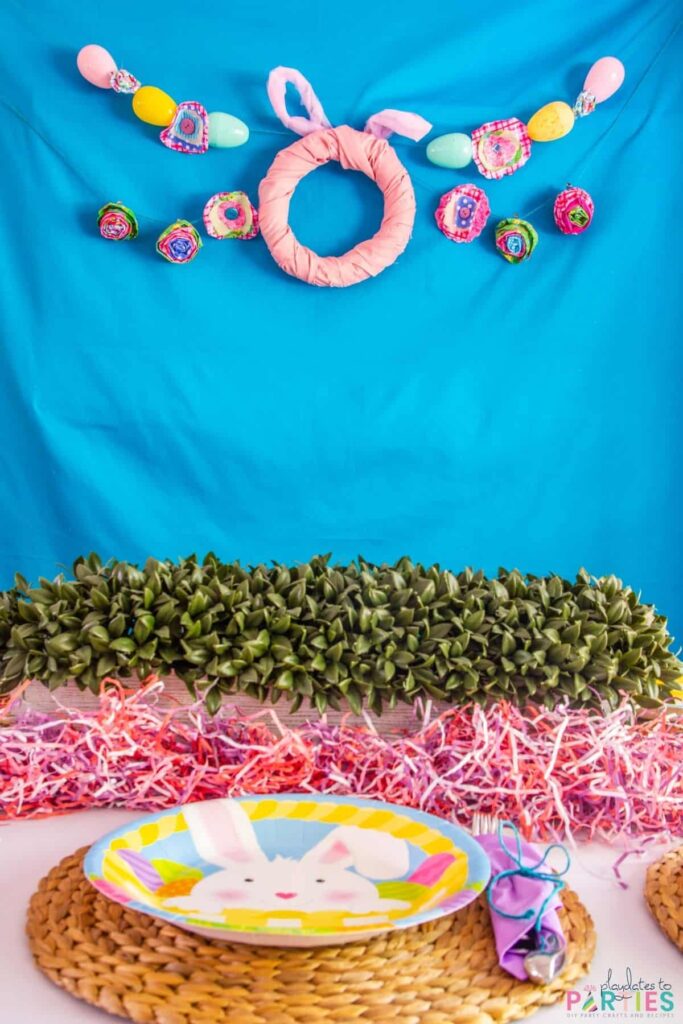 Last Minute Easter Tablescape
Which is why the kids and I shopped our home that year to create a quirky, but fun last minute Easter tablescape.
And you can do the same thing too! Here's how:
Figure out your base Layer:
A good tablescape starts with the base layer – your tabletop.
Notice I didn't say that it starts with your tablecloth. That's because your table can just as easily be the base layer.
In fact, I've hosted Thanksgiving dinner without a tablecloth, and it was a very pretty setup.
But if your table needs a little extra something, then a covering is a great place to start. But don't feel like you need to go spend a fortune on a new tablecloth.
Some creative ideas for shop your home tablecloths:
Flat bedsheets
Throw blankets
Wide curtains
Extra fabric from other projects
Fabric shower curtains
Easter Bunny Approved!
Get your Easter hopping along with a sweet selection of printable goodies – including printable games, tags and bag toppers, party decorations, and art prints all designed to to make this Easter more colorful than ever. Check it all out right here.
Remember to be cautious with texture and pattern
The busier your base layer is, the simpler everything else needs to be.
I once made the mistake of using a very textured fabric for our base layer. And even though it was a solid color, the texture made the rest of my decor look far too busy.
Personally, I prefer tablecloths that are solid or are very simple in color and tone.
Gather a few options before making a final decision
You may find that the cute pastel throw blanket doesn't work so well with your placemats and centerpiece, but that spare bit of burlap might be just right.
Of course, you can always fall back on a queen sized white bedsheet – which is exactly what we did here.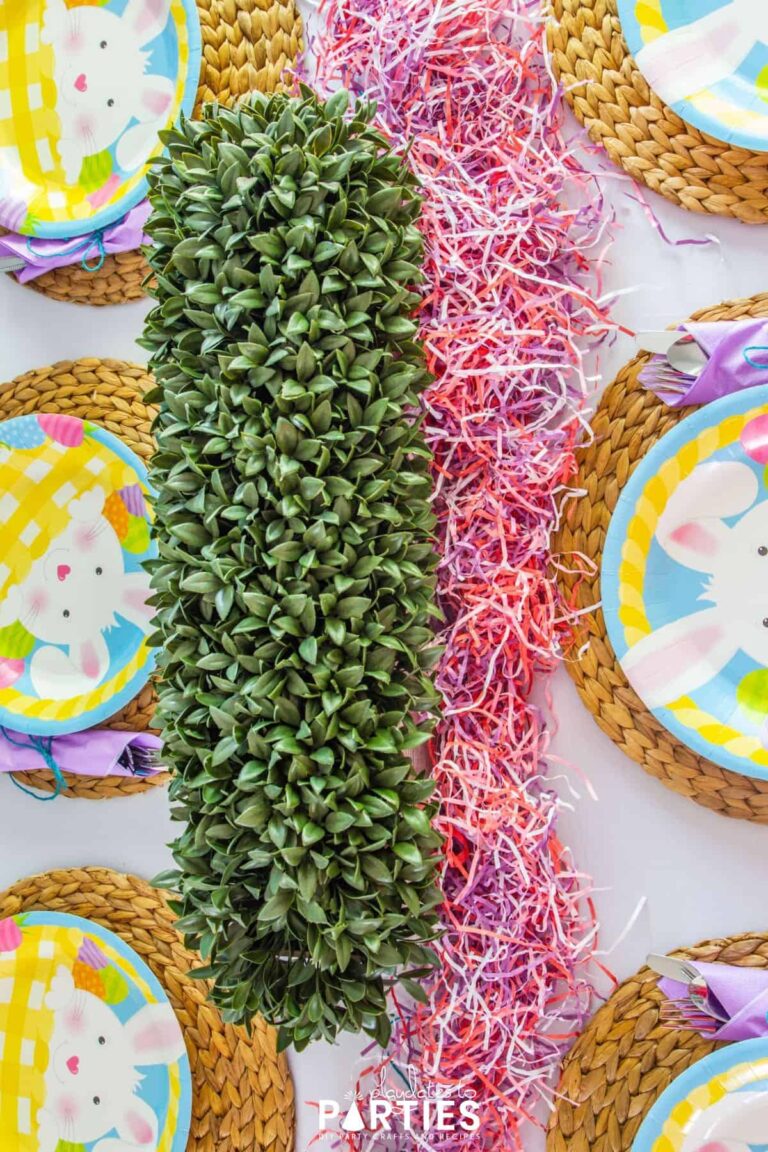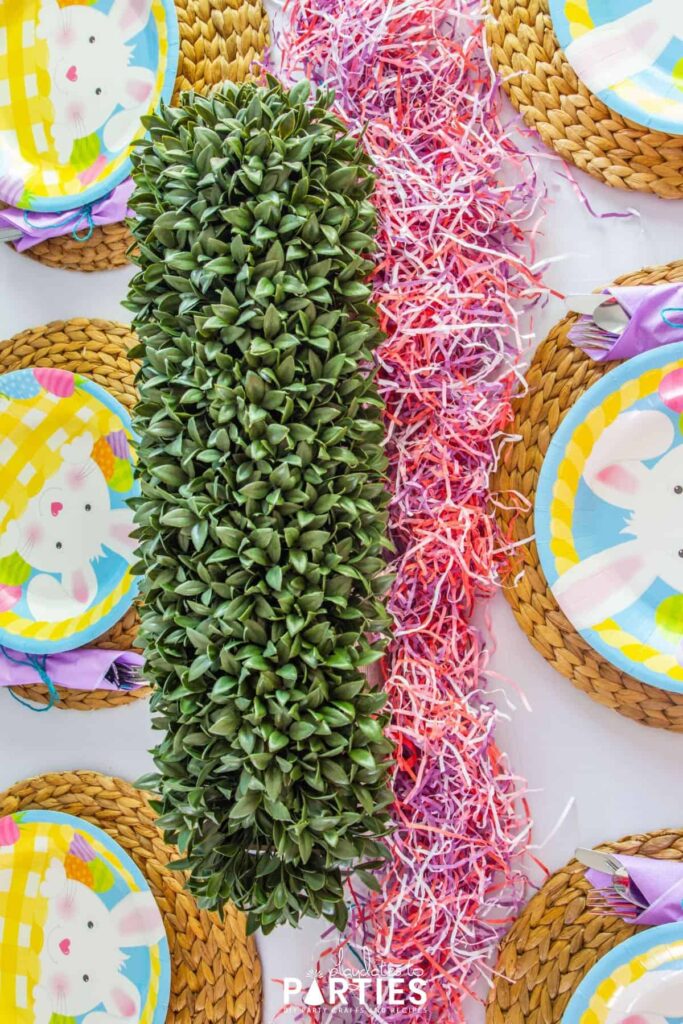 Find a centerpiece
While a bouquet or two of fresh flowers makes a beautiful centerpiece, the key to pulling together a last minute Easter tablescape is to find things you already have around your house.
Here are a few ideas:
Those pretty candlesticks your cousin gave you at your wedding
Fill all those flower vases you've collected from Mother's Day flower deliveries with Easter grass, decorative shells, or even colored rice,
Faux greenery from another room in your house
A pretty heirloom collection (ceramic birds and flowers, or even a pretty tea set)
Your kids collection off stuffed bunnies (you know they have a ton)
Don't be afraid to think outside the box on this one. Our centerpiece was only two things: a faux boxwood plant from our master bedroom, and extra paper Easter grass.
It couldn't be easier.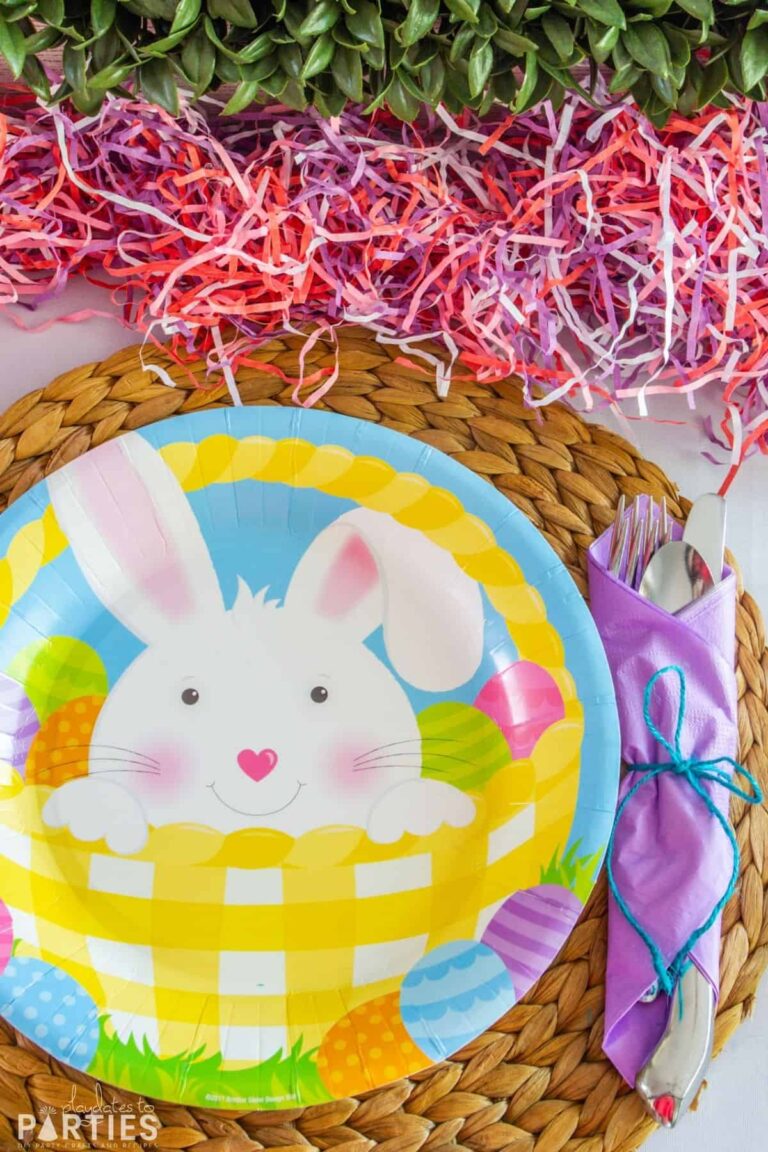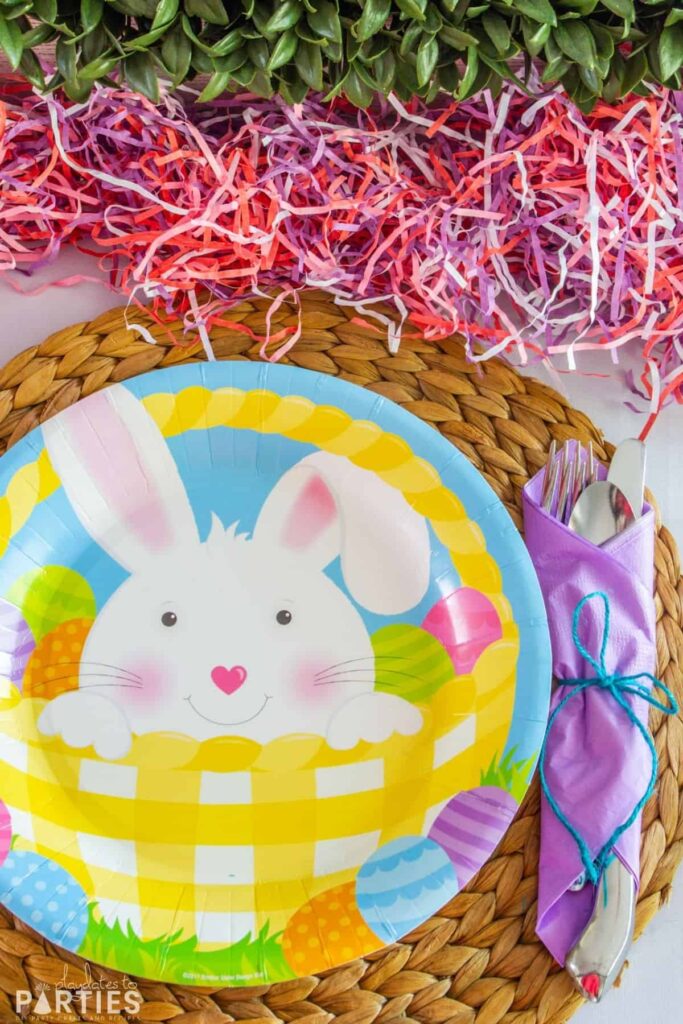 Create Your Place Settings
Now it's time to think about things like placemats and dishware.
If you have china, then by all means use it. Or you can use a set of clean white plates – which look good in almost any table setting.
Clearly we opted for a far more casual look. 🙂
I let the kids pick out some Easter themed paper plates from the grocery store and simply layered them on my woven hyacinth placemats. (I love those placemats and use them frequently!)
If you have young kids like us, you could also use a printable Easter placemat at their seats to give them some activities to do as well.
We also wrapped our everyday silver in a colorful paper napkin, and tied it together with blue baker's twine. It's simple, but still adorable.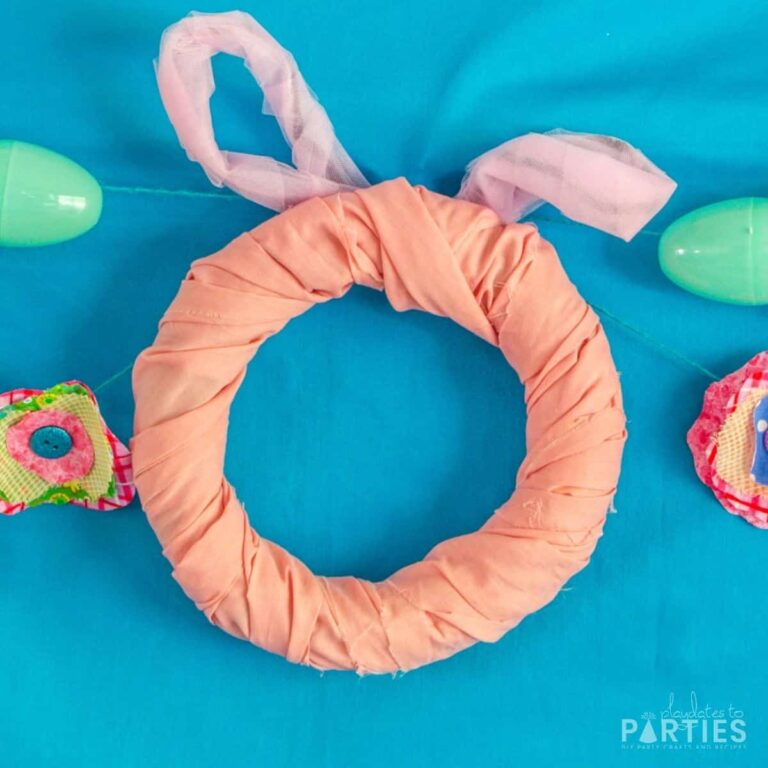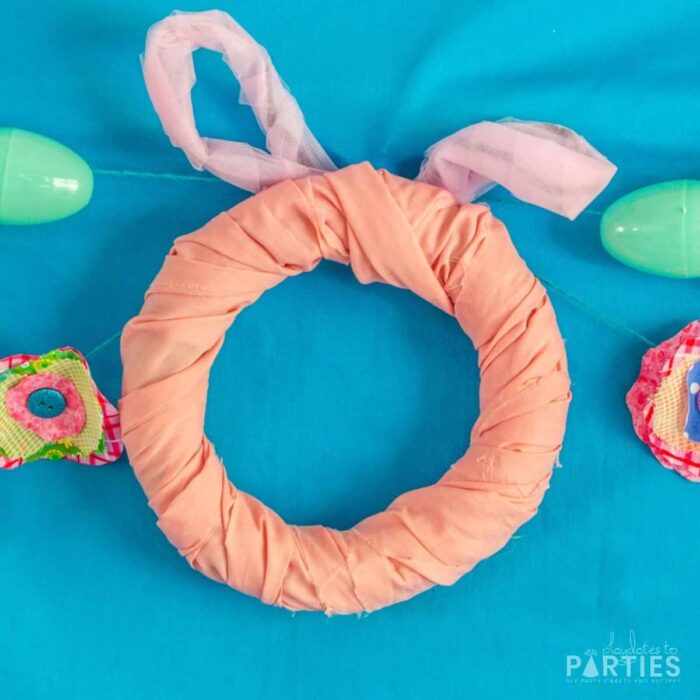 Shop Your Home Easter Backdrop
I won't pretend that this backdrop was a masterpiece, but it was definitely fun to pull together!
The bright blue fabric was leftover from my daughter's mermaid themed party, and was a convenient way to cover up some dark wall ledges that I was tired of decorating.
Once we had that figured out, the next question was: what to put in front of the fabric?
Wreath Bunny
When I found a 7-inch foam wreath form, some leftover pink fabric, and some pink tulle, I knew exactly what I wanted to do.
I started by wrapping the wreath form with the fabric, using straight pins to keep everything in place.
Next, I used a wire hanger to create the bunny ears shape, and loosely wrapped the pink tulle around it. A few more pins held the ears to the back of the wreath form, and then I folded one ear down for that adorable floppy bunny ear look.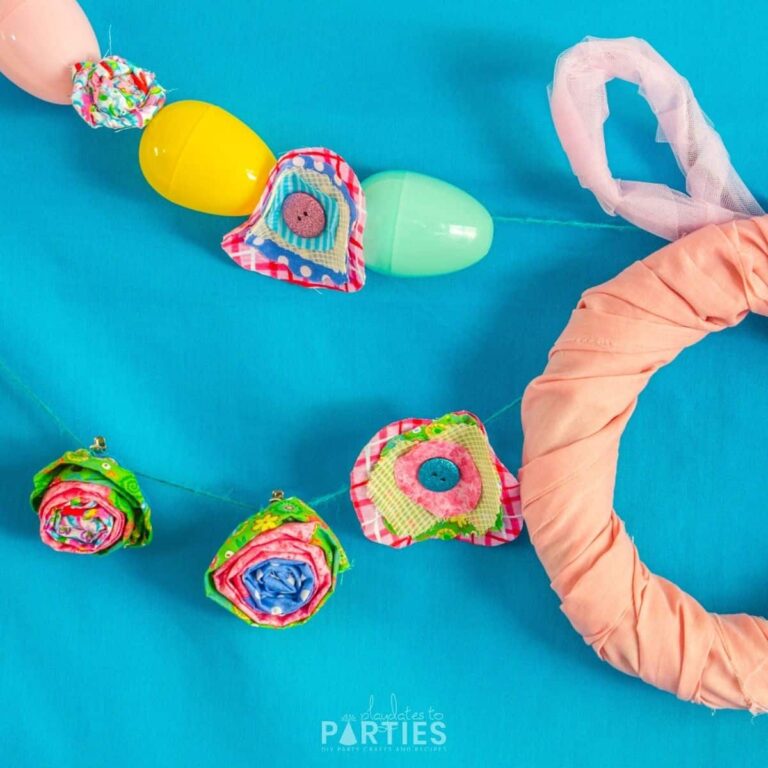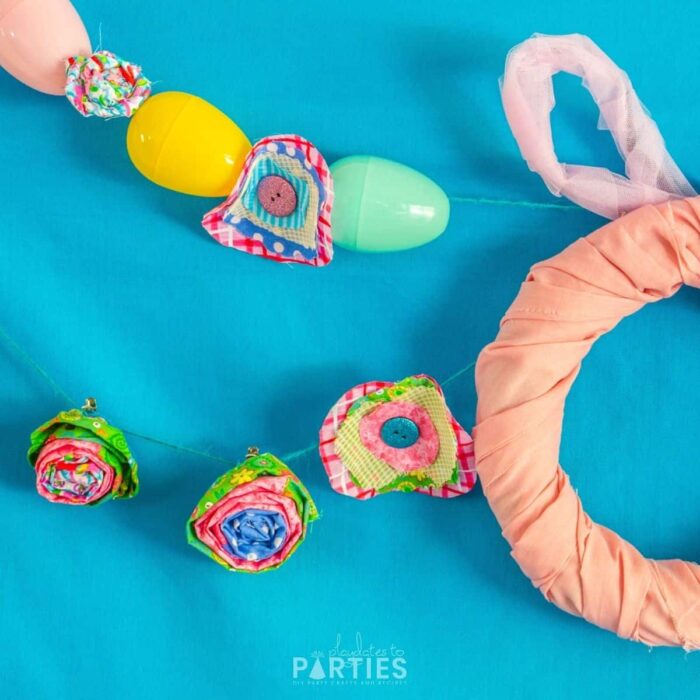 Fabric Flower Garland
A few years ago, I made tons of fabric flower clips for my daughter's baking themed birthday party. And when I found several of them still in my craft stash, I knew that they would make a cute garland.
So I used some baking twine to string up a few plastic Easter eggs, and simply clipped the fabric flowers right to the garland.
Seriously, it was the simplest thing ever, and we all loved how bright and colorful the combination was.
Now It's Your Turn
So what do you think, friend?
This is definitely not your typical Easter tablescape. But, personally, I kind of like it.
Sometimes the best things about family holidays aren't the decorations or the food, but the stories and memories we have of spending time together and pulling the event together.
Before you go…don't forget to grab your FREE Easter banner. It's a no-brainer way to make last minute decorating even simpler.
What items from your home would you use to create a last minute Easter tablescape?
Would you change anything that we did?
---