Everyone's a little Irish on St. Patrick's Day. Why not show it off with this free Luck of the Irish St. Patrick's Day sign and art print.
With 4 sizes included, it's great for quick and easy holiday decor, homemade cards, or last minute party decor.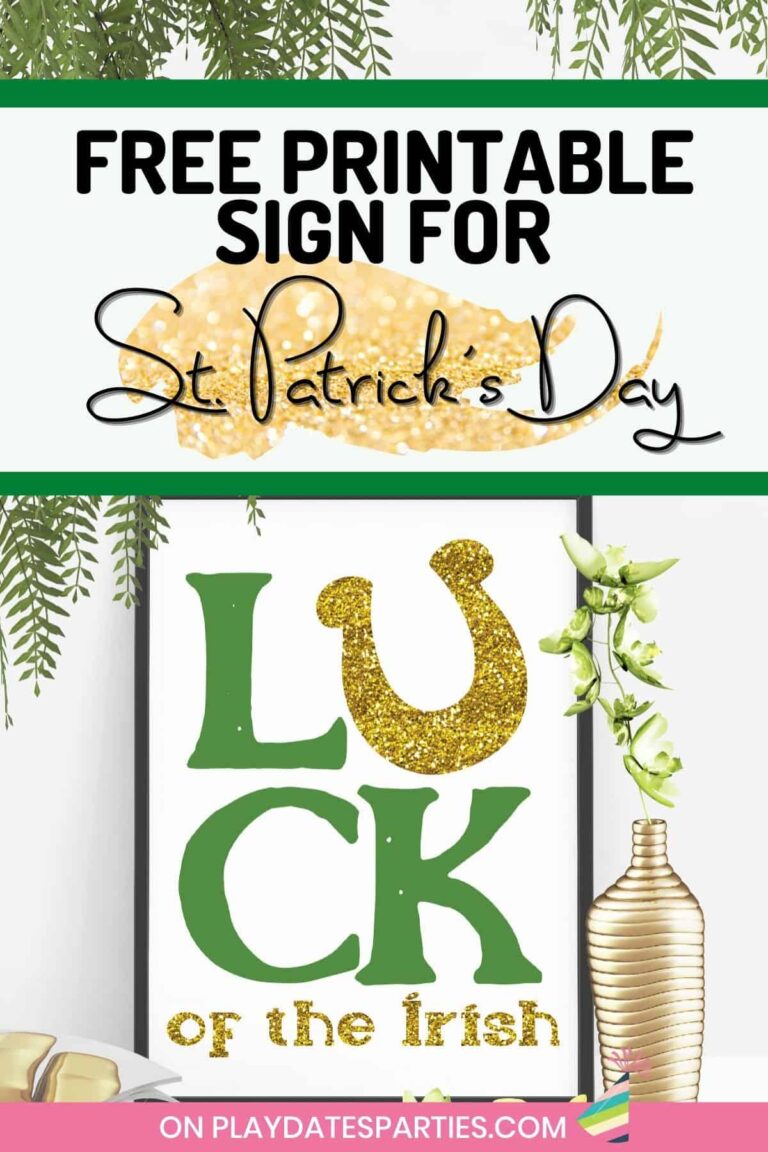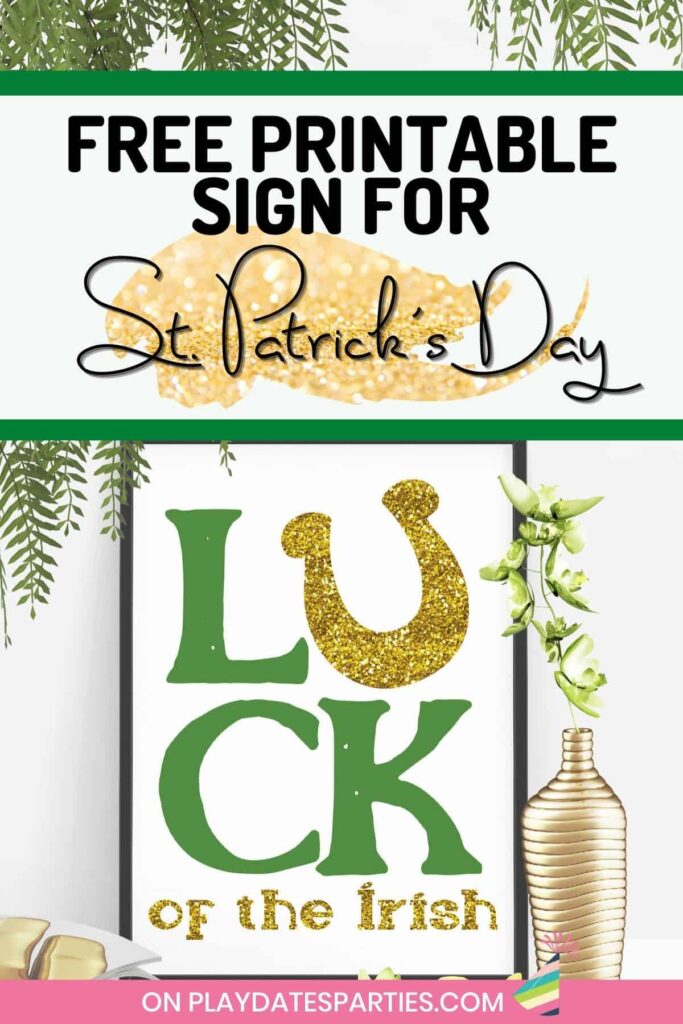 No matter how much I try to purge our house always seems to be crammed with stuff.
We're overflowing with toys for 3 kids, craft supplies I just can't seem to let go, random purchases at the Target Dollar Spot, and heirloom pieces that I have no place to store.
This little 1,800 square foot house is stuffed to the gills.
Even still, I somehow always feel just a bit jealous of those people who have the storage space to keep decorations and trinkets for each and every holiday.
I know more than a few people who alway seem to have just enough decorations to make their home feel festive all year long.
But the reality is that our 1960s home just doesn't have storage space for that. I guess builders in the 1960s didn't believe people needed attics or functioning garages.
Or maybe it was just our builder.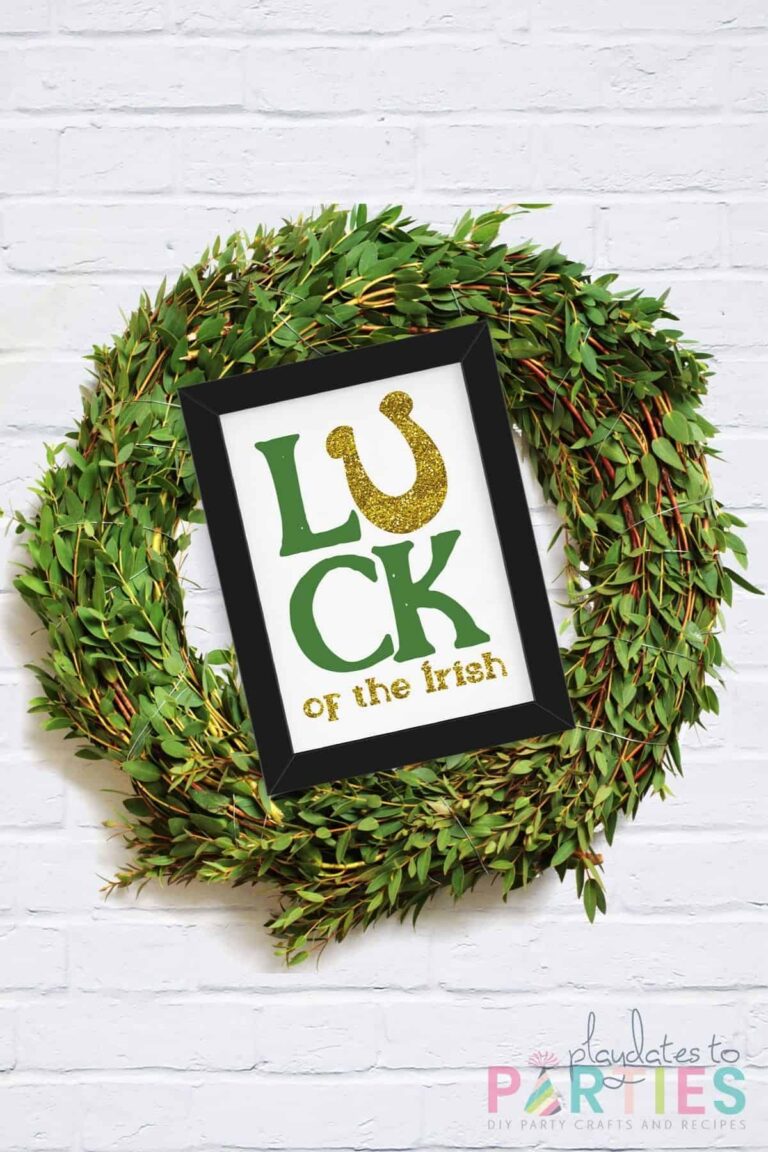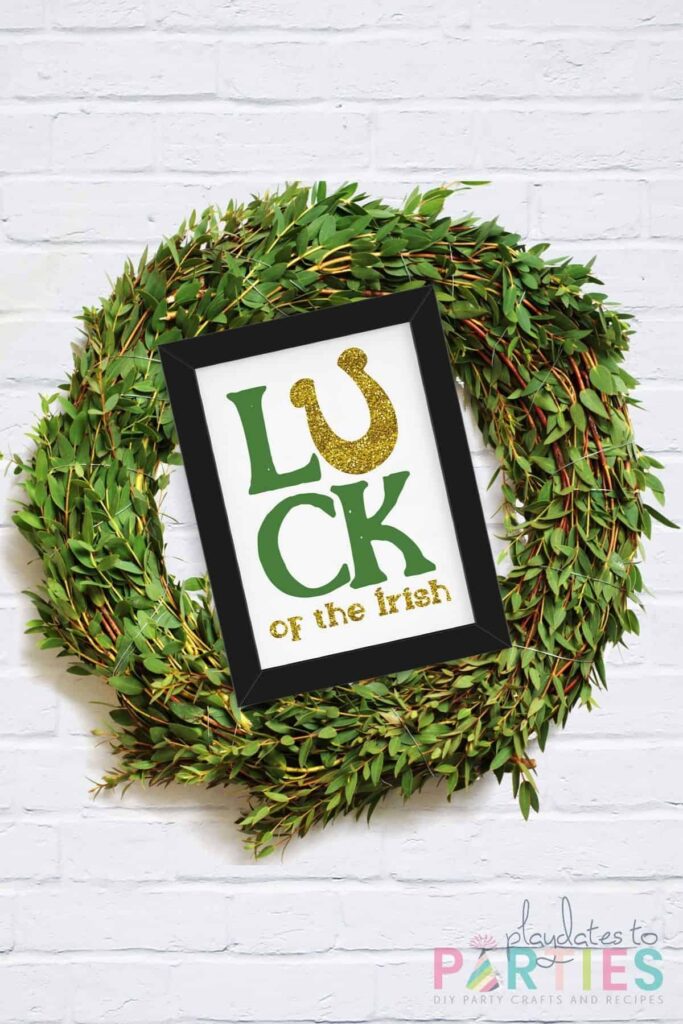 Which is why I love using printables for seasonal decorations. Just print, hang, and you're ready to go.
Decorations done in 30 minutes or less…I call that a win.
Which is why I thought it would be fun to create some cute St. Patrick's Day artwork for the season. I'll be adding many more prints and signs to the shop here soon. But for now I thought it would be fun to share this Luck of the Irish St. Patrick's Day sign completely for free.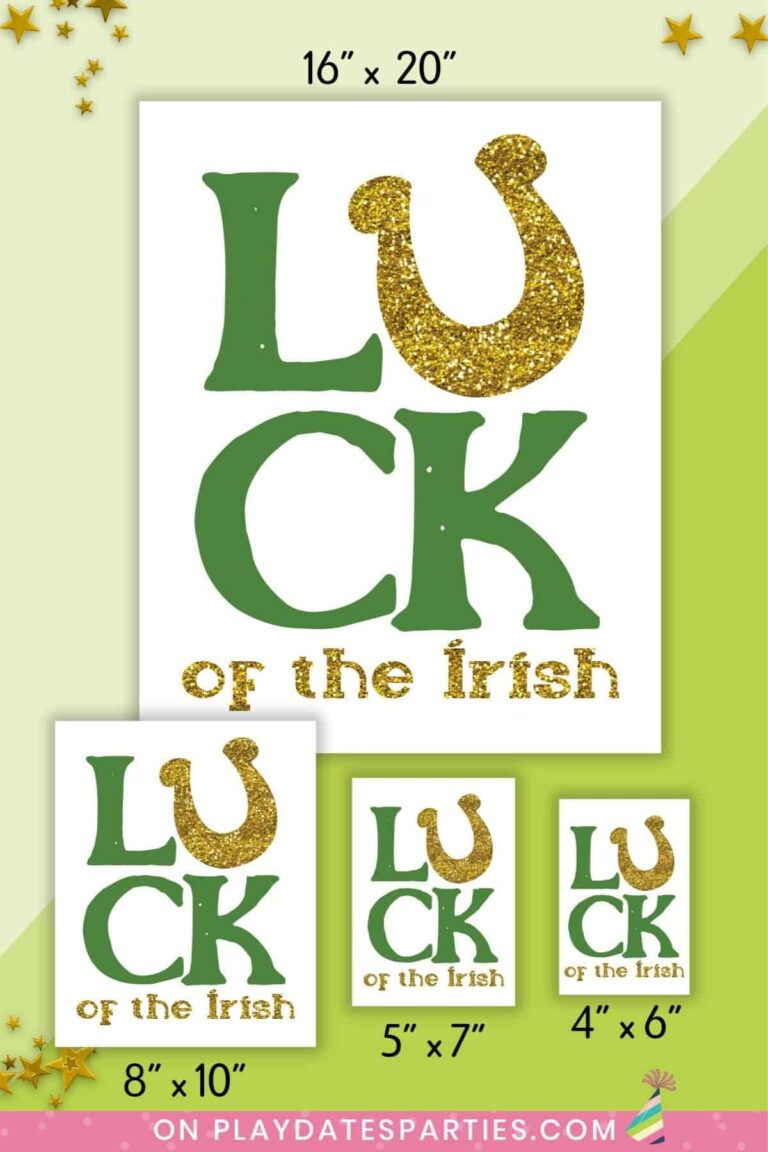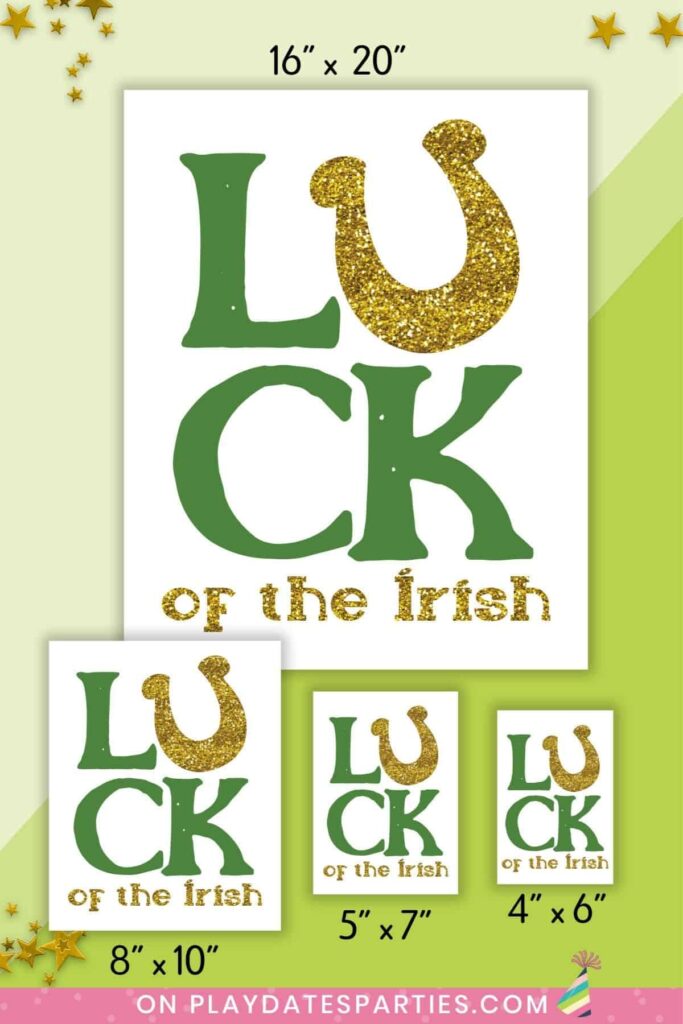 Tips for Printing Your Sign
The 8"x10" and smaller sizes are simple to print out at home. Just make sure you have plenty of ink ready, and be sure to use the right kind of paper.
For the larger 16"x20" art prints, I like to have them printed at Walgreens or Staples as poster prints.
You could even send the designs off to get printed on canvas through a site like Shutterfly for pretty gifts.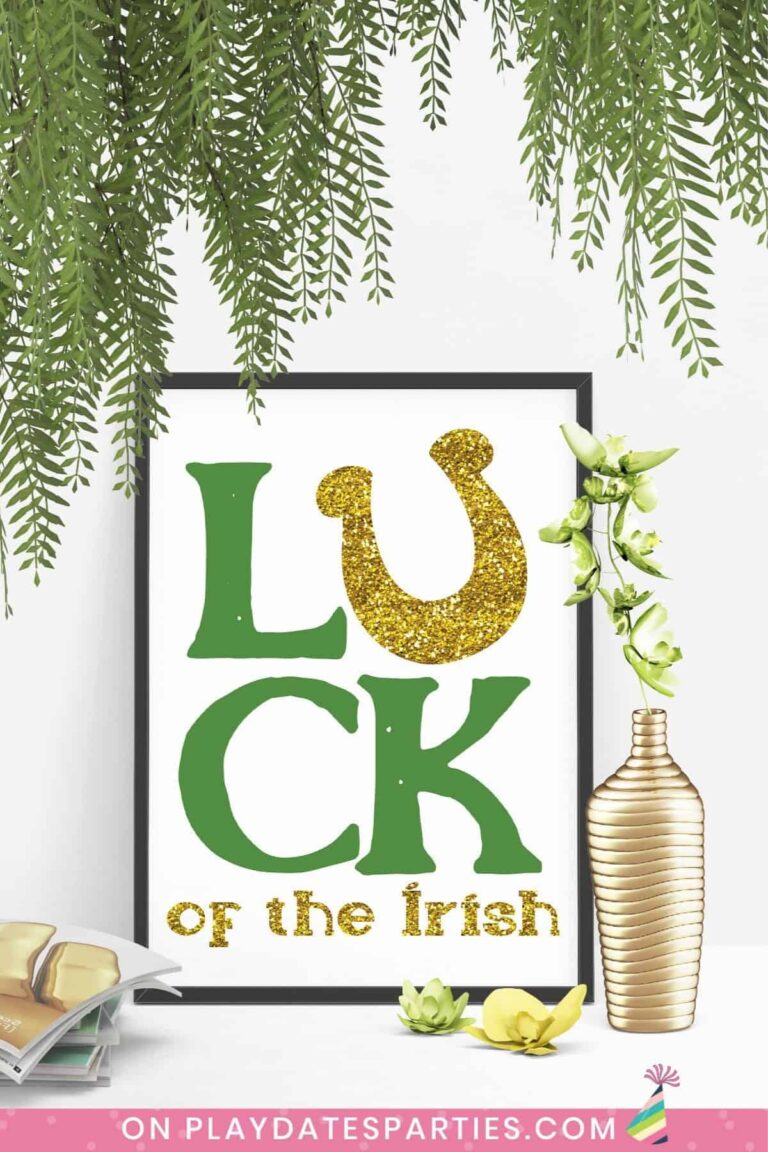 To Make DIY Cards
Here's a fun tip: Use the 4"x6" or 5"x7" designs to make your own Valentine's Day cards.
Make a one-sided card by printing the design onto cardstock or matte photo paper, then add a handwritten message on the back.
To Make a folded card:
You have a few different options:
The easiest is to print the 4"x6" design on the left side of a sheet cardstock (when viewed horizontally). Then fold the sheet along the long edge of the design and trim the excess.
You can also convert the design to a png file, and then upload it to design software like Canva or Photoshop. Just make sure to watch how everything is printed. (This is definitely a more advanced method, so let me know in the comments section if you'd like to see a tutorial.)
Finally, you can also simply cut the design out and glue it to the front of a homemade card. Then add whatever extras you might like.
Lucky You!
Make St. Patrick's Day magically delightful with a treasure trove of printable goodies – including printable games, tags and bag toppers, party decorations, and art prints to make everyone in your home pinch proof. Check it all out right here.
More St. Patrick's Day Ideas to Love:
Grab the Free Printables
Ready to get decorating? This printable St. Patrick's Day sign is free for newsletter subscribers. All you need to do is add your name and email to the opt-in box below to get the file sent directly to your inbox.
Don't want to subscribe? No problem. You can also find these and all my St. Patrick's Day printables here in my shop for a small price.
---