See that cupcake? After our ultrasound, T helped me bake Funfetti cupcakes with surprise inside. I let her put some food dye in a small amount of the batter and mix it in; then we dropped a dollop in the center. And the final result is….
.
.
.
.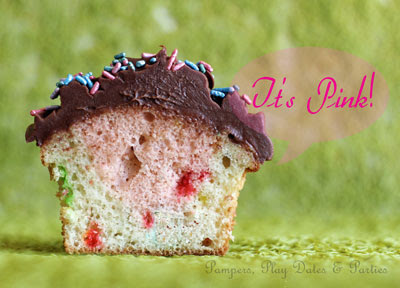 Yep, we're having another little girl. Honestly, when we found out we were having a girl nearly 3 years ago, I was excited and the husband was in complete shock. This time, our roles were completely reversed. I practically had the nursery repainted in baby blue, but there it was…definite girl parts. Thankfully, I can't think of any better father for two girls than my husband.
So there you have it…our big news on the pregnancy front. I hope everyone has a great weekend…we've got to get T's big girl room ready to make room for her little sister!