In search of the perfect drinks to go with your baby shower snacks and finger foods? From frothy party punch to fruity cocktails, we've pulled together some some delicious and refreshing drinks that are perfect for everyone on your guest list.
Whether you choose to pair your food with your drinks or plan your food first and drinks later there's sure to be some tasty new drinks to incorporate into your party planning.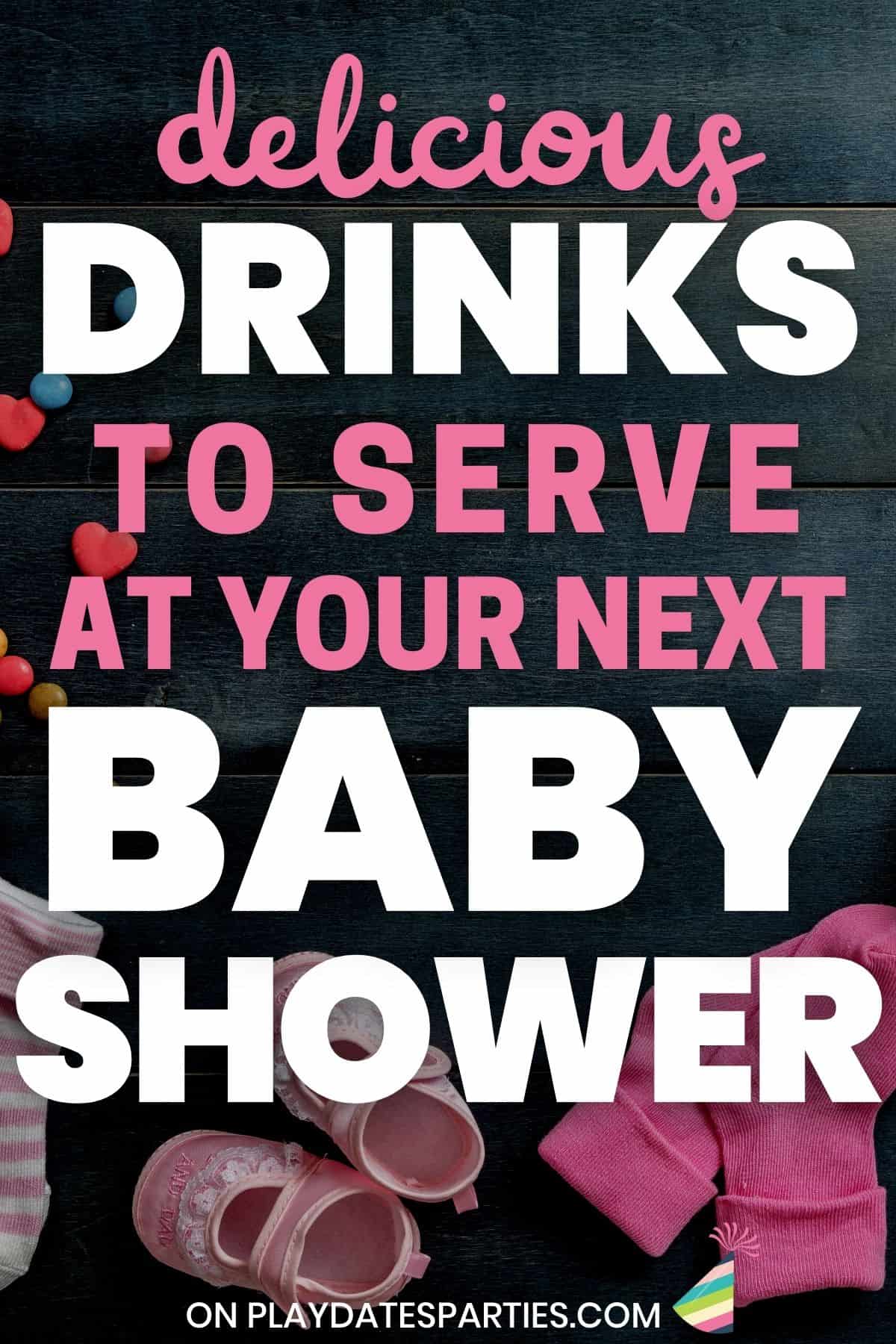 When most people think about the party menu, the first thing they think about is the food. And while I love food just as much as anyone else, it's also important to remember to serve party drinks that are just as fun and colorful.
Serving a fun and festive drink at your baby shower isn't just refreshing. It adds color and cheer to your party, and can provide an excellent conversation starter to get everyone mingling and having a good time.
Choose traditional pink or blue punch recipes, or go wild with something completely different…either way, the best thing you can do is make it fun.
To help you do that, we're going to go through a few quick tips for prepping the perfect DIY baby shower bar, and then we'll share 15 fruity and fun baby shower drinks that are sure to be a hit with everyone.
Planning the Perfect Baby Shower Bar
Should you serve alcohol at a baby shower?
The short answer is…it's 100% up to you and the mom-to-be.
More traditional baby showers don't typically serve alcohol. However, if you're looking to throw a more modern bash, then feel free to include some fun cocktails on your menu. Just be sure to make sure that mom-to-be is okay with it, and have plenty of non-alcoholic options available, too.
How to Create a Make Your Own Cocktail Bar
I'm a big fan of having a DIY cocktail (or mocktail) bar for your parties. That way guests can make drinks the way they like them, and you can enjoy spending time mingling.
Make a pretty sign showing a few different recipes that can be made with the ingredients you put out. You can either use an editable blank sign like these or a set up a letter board for simple recipes.
Keep an ice bucket nearby so your guests can make sure their drinks stay cold. (Don't forget an ice scoop to keep everything sanitary)
Include a variety of garnishes for guests to enjoy, like sliced fruit, fresh herbs, and citrus peel.
Prepare any special syrups or flavorings in advance and line them up in matching bottles with a pour spout.
Don't forget to have plenty of cups or glasses, napkins, and swizzle sticks nearby
Don't forget, you can read my detailed guide showing how much food for a party is just right, or you can download my cheat sheet at the bottom of this post. It helps you calculate exactly how much you need of each type of food based on the number of guests you have – including drinks and ice.
15+ Fruity and Fun Baby Shower Drinks
Now it's time for the fun part...planning the drinks you're actually going to serve! Remember, these are just a few suggestions. You can feel free but feel free to mix and match recipes or come up with something new ones based on what you like. The sky's the limit!
See? Baby shower drinks don't have to be boring. With a little creativity, you can serve up some delicious and refreshing drinks that will be perfect for your upcoming baby shower.
Hopefully, the tips shared above and this list of drink recipes have given you plenty of inspiration to provide a delicious and festive variety of beverages at your next baby shower.
Grab Your Free printable Cheat Sheet Here
Don't forget to download our free cheat sheet to find out how much ice and how many drinks you need to make for your guests. With this guide, you'll be able to plan and prepare everything ahead of time, so you can relax and enjoy the party too!
Simply fill out the form below, and I'll send it right over to you.
---