Leave the stovetop off and learn how to make slow cooker applesauce instead. It's easy enough even the kids can make it!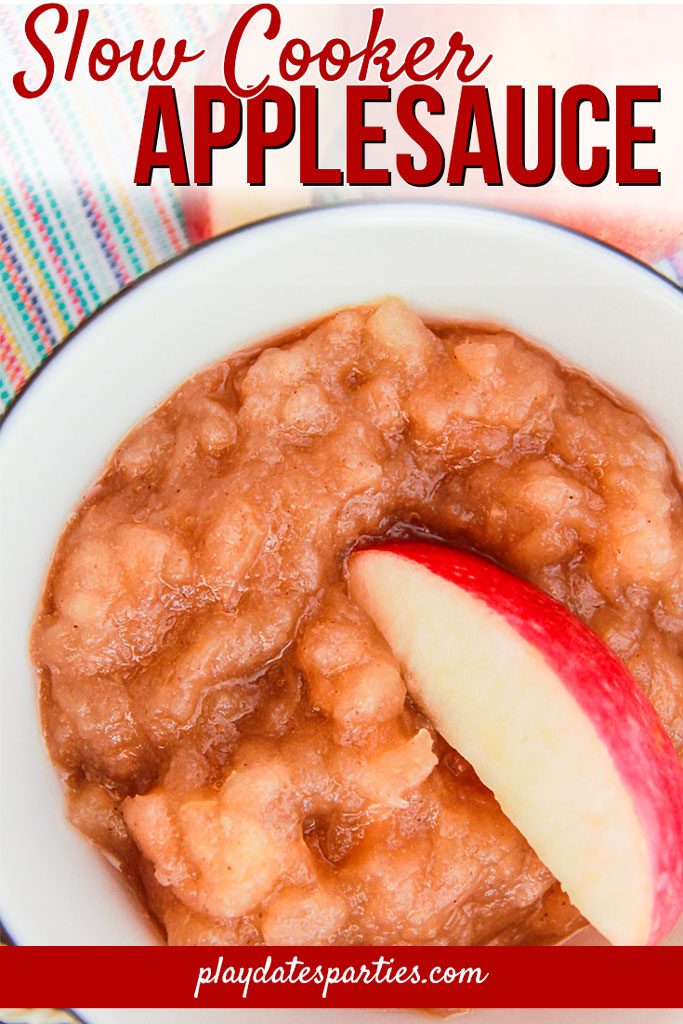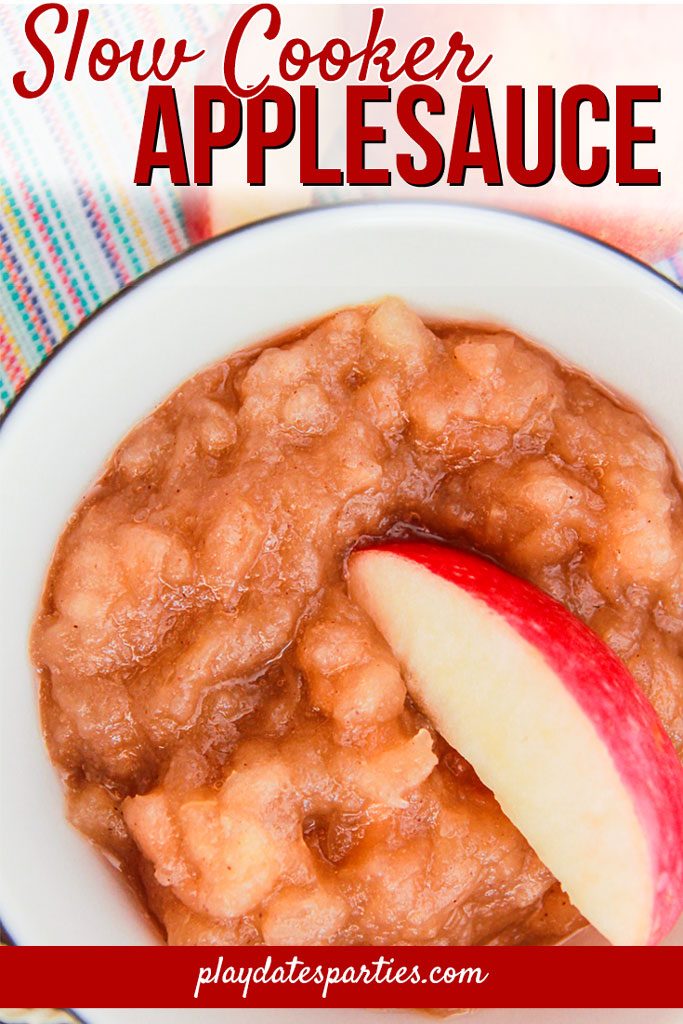 As I set the applesauce on the Thanksgiving table, I could feel the pride swelling deep within me.
I was only about 12 years old, but that little bowl of pureed apples was mine. My own contribution to the family table.
So, it's no surprise that when my oldest decided she wanted to have an at-home kids' cooking camp last year, I knew that applesauce would be one of the first recipes to try.
But, at only 5-years-old, she wasn't quite ready for stirring over a hot stovetop.
Or maybe I wasn't ready.
Either way, the stovetop wasn't happening.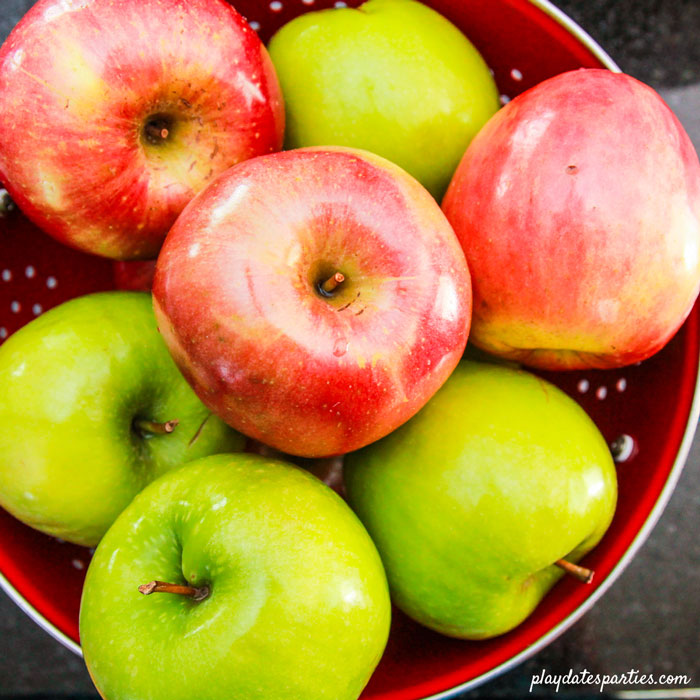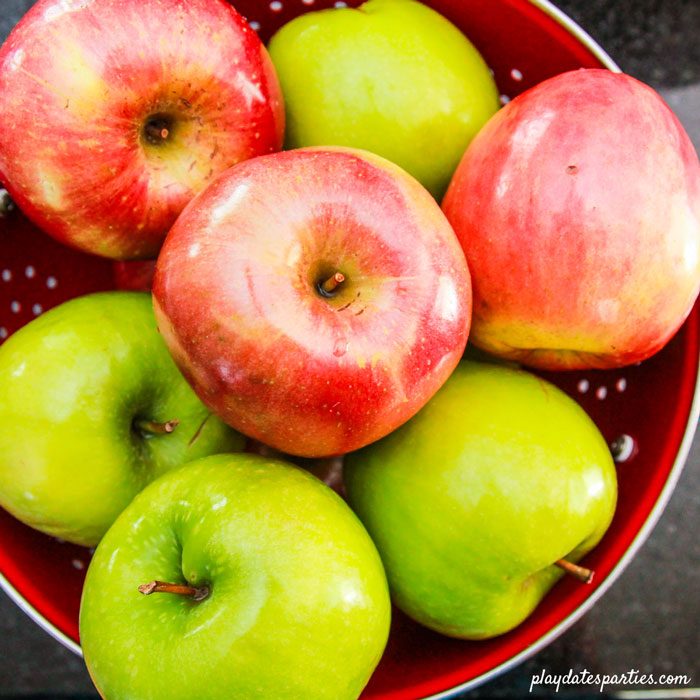 The slow cooker, however, was the perfect option. With no burner to worry about, and the added benefit of a long slow steep to let the flavors come together, slow cooker applesauce became our very first cooking camp recipe.
First, Cut and Peel your Apples
We have an all-in-one apple peeler/corer/slicer, which makes this task extra fun for the kids.
Honestly, it cuts the slices thin enough that you don't necessarily need to cut them any further, but I let our 5-year-old make a couple extra cuts with a paring knife just for the practice.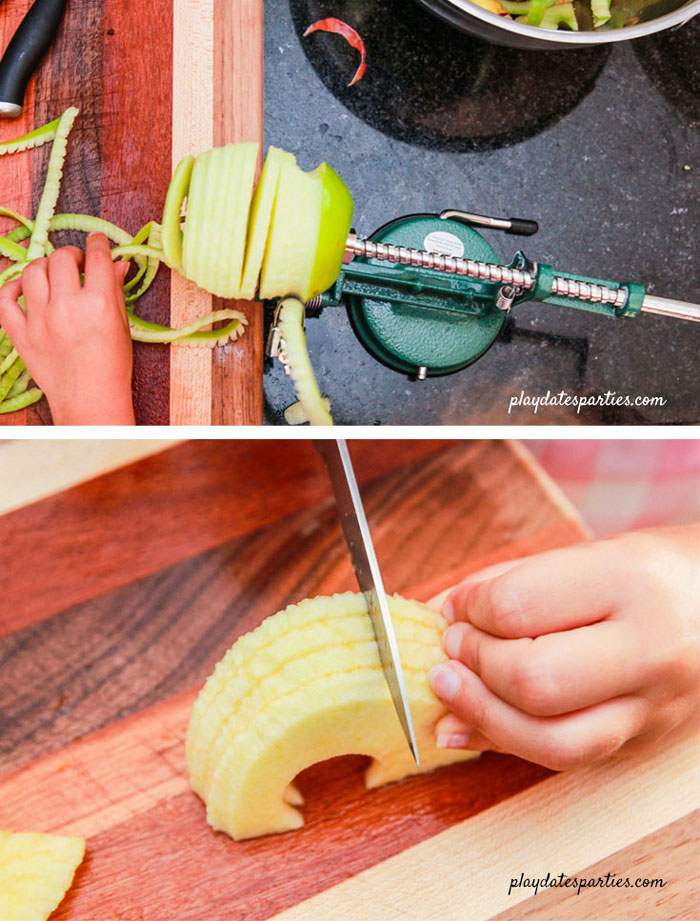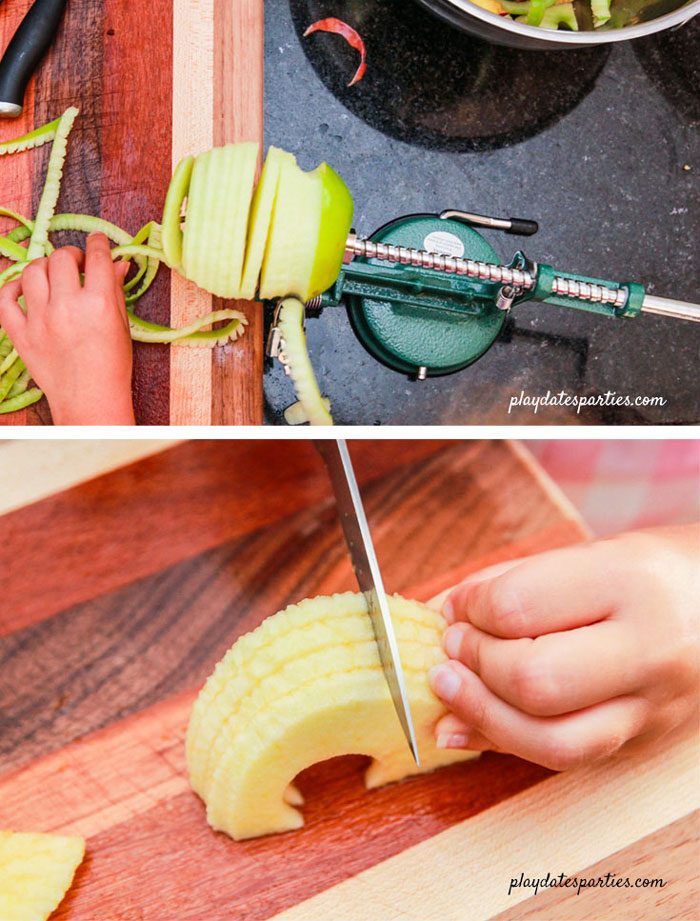 Next, Add the Ingredients to the Slow Cooker and Give it a Good Stir
All it takes is a little bit of water to get these apples going! We also added a bit of cinnamon and sugar to make it special, but those are totally optional.
Finally, let it Cook
It's time to let the slow cooker do its magic for several hours. You'll want to mash up the apples after about three hours to get them to really break down. And then you'll mash them (or puree them with an immersion blender) one more time once the cooking is done.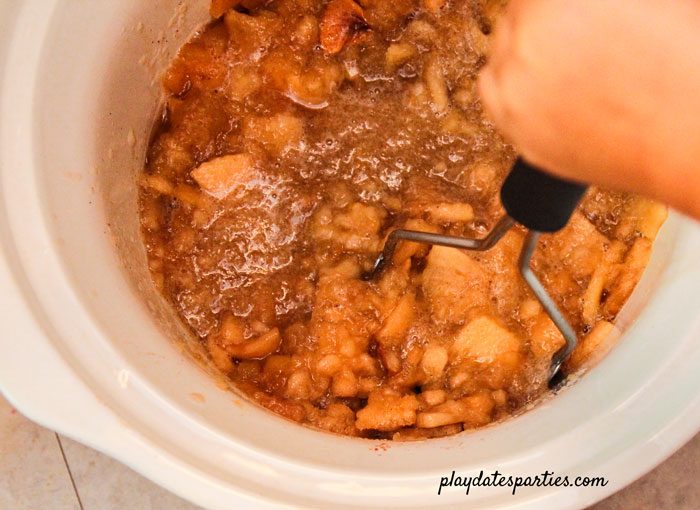 You get to choose how smooth or chunky you want your applesauce to be. Awesome, right?
The end result is an applesauce that the whole family can enjoy, and you (or your kids) can have the pride in knowing that you made it yourself.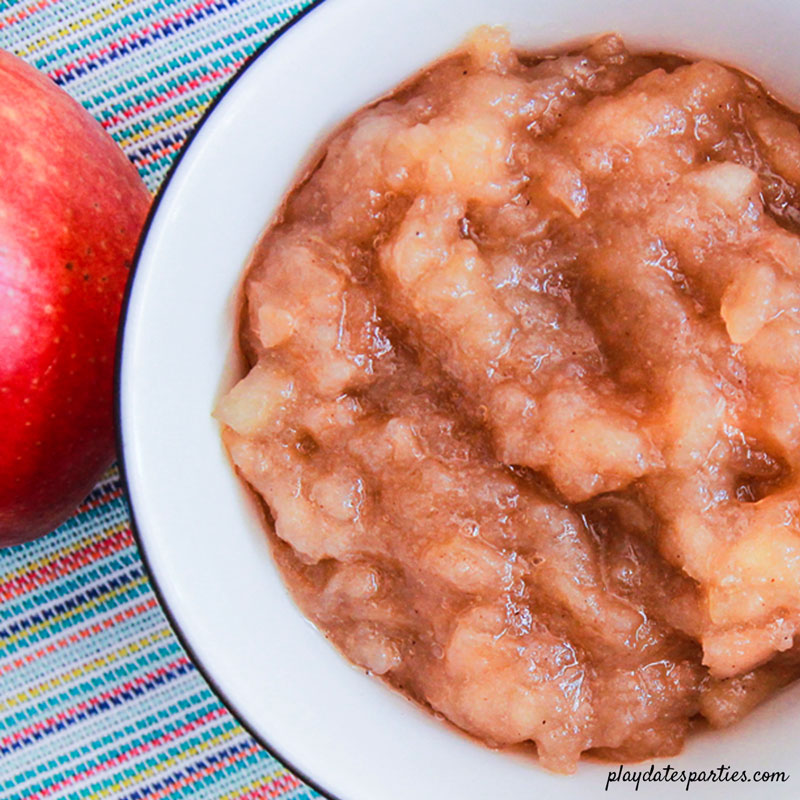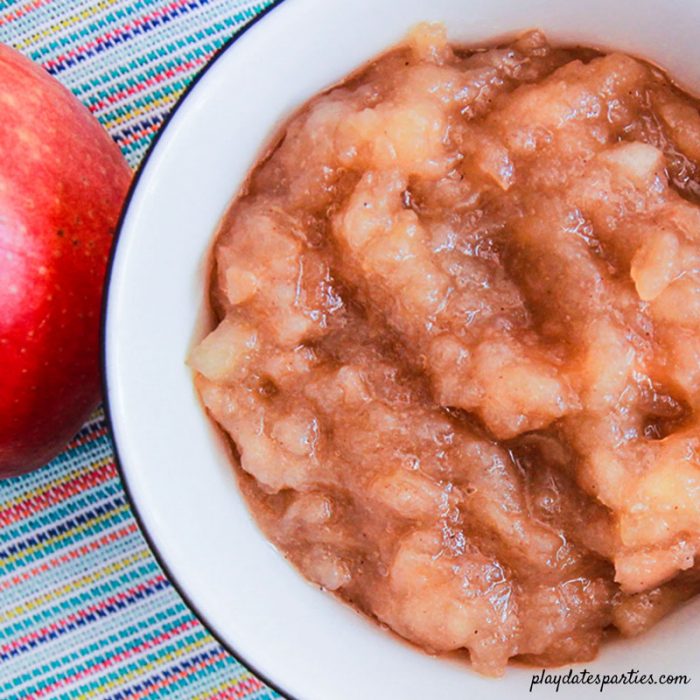 Slow Cooker Applesauce
Yield: 8
Slow Cooker Applesauce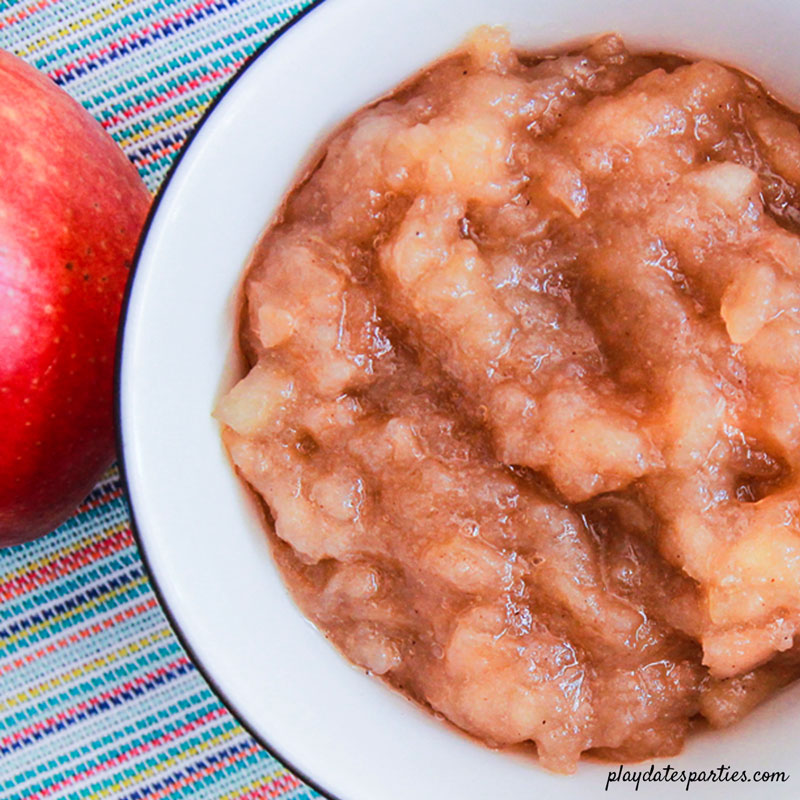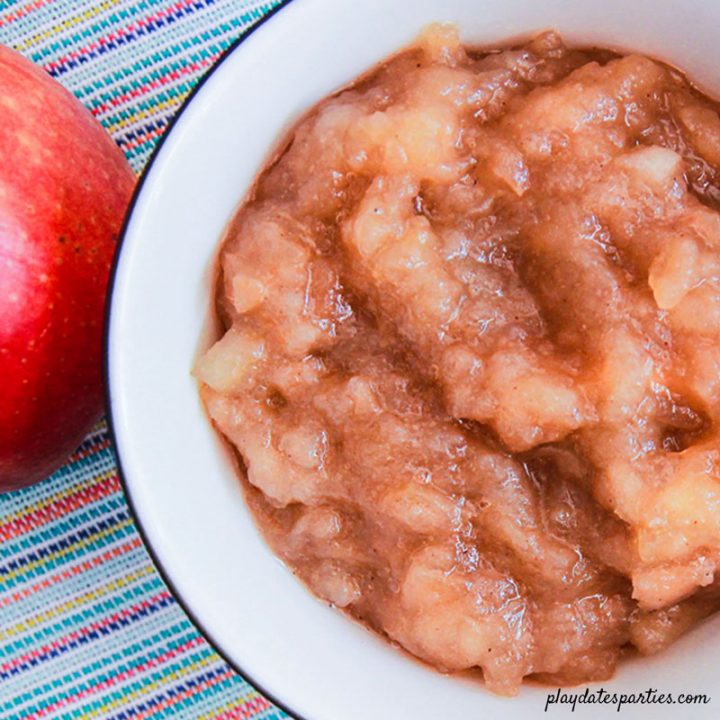 Leave the stovetop off and learn how to make slow cooker applesauce instead. It's easy enough even the kids can make it!
Ingredients
5 Honeycrisp Apples
5 Golden Delicious Apples
1 Cup Water
1/4 Cup sugar, (optional)
Cinnamon to taste, (optional)
Instructions
Wash all apples before using.
Peel, core, and slice apples. If you're doing this by hand, make sure they are no more than about 1/2 inch wide.
Add the water and sugar, and stir to combine
Sprinkle with cinnamon.
Cook in a slow cooker on high heat for 3 hours. Using a potato masher, crush up the apples as much as possible. For a smoother consistency, use an immersion blender to blend up the apples.
Continue cooking on low for 2 hours or until all the apples are soft. Mash or blend up the apples until desired consistency.
Enjoy served warm or let cool and refrigerate for cold applesauce.
Nutrition Information:
Yield:
8
Serving Size:
1 grams
Amount Per Serving:
Unsaturated Fat:

0g
Now It's Your Turn
You don't have to wait for Thanksgiving dinner to make this easy slow cooker applesauce recipe. Grab one of your kids and get started today. You'll have great memories together and a delicious snack to go with it.
Have you ever made slow cooker applesauce?
What's your favorite recipe to make with your kids?
Don't forget to subscribe via
Bloglovin, Facebook, and Twitter,
to get more updates!
More on Kids Cooking Camp:
[pt_view id="4c6c957391″]
SaveSave
SaveSave
SaveSave
SaveSave