When I was asking people what cookies they wanted me to make for my cookie platter this year, I got a lot of classics (chocolate chip, oatmeal raisin, sugar) and even a couple more complex (Samoas).  Well, those were all requests from co-workers.  The Husband had to go and get cute on me.
"Why don't you create a cookie inspired by Death by Chocolate?"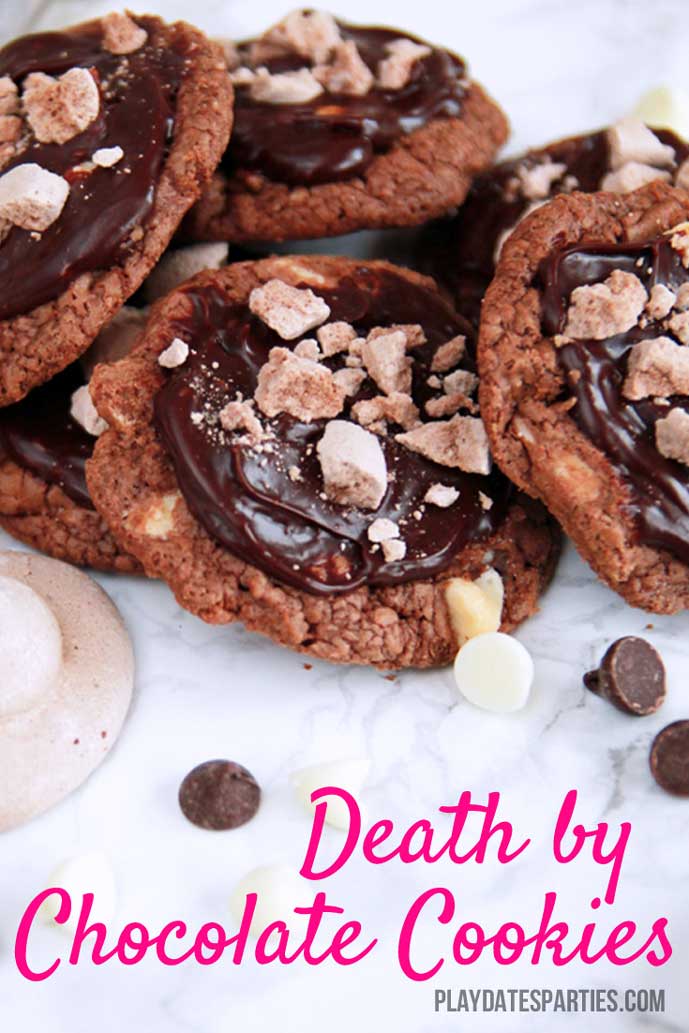 For those who aren't familiar, Death by Chocolate is a seven layer cake that takes three full days to make.
I actually made it once, and it was delicious.  To sum up the insanity of this cake, the layers go something like this: Brownie layer, ganache, meringue layer, mocha mousse layer, repeat all three layers…and then serve it all with a mocha rum sauce.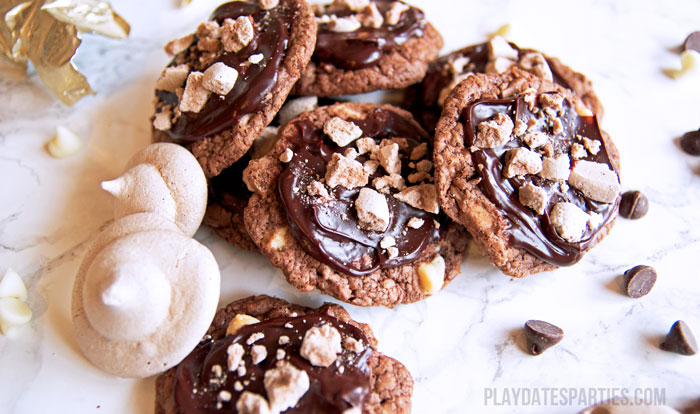 How do you turn all of that into a cookie?  First off, mousse just isn't stable enough to include in a cookie; so that was out.  And there's no way I'm making a sauce to go on the side with a cookie.  Not for a platter cookie, at least.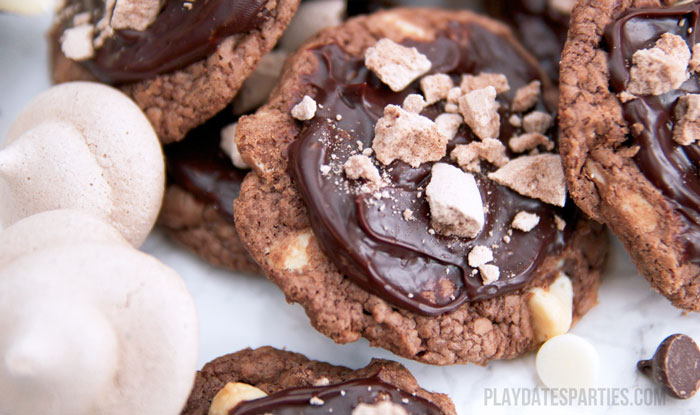 What I came up with in the end was this: a three-layer brownie, ganache and meringue cookie.  More specifically, it's a brownie cookie smothered with a layer of dark chocolate ganache and crumbled bits of chocolate meringue on top.  The brownie cookie is so rich and soft, it's good enough on its own.  But the addition of the dark chocolate ganache helps to tone down the richness of the cookie; and the meringue bits add just a teeny bit of crunch to the cookie.
It sounds like a lot of work, but there are a few cheats available to make this a pretty simple cookie that is sure to impress.
[clickToTweet tweet="A brownie #cookie with dark ? ganache & crumbled chocolate meringue…#nomnom #sweet via @PlayDatesParty" quote="A brownie #cookie with dark ? ganache & crumbled chocolate meringue…#nomnom #sweet"]
Death by Chocolate Cookies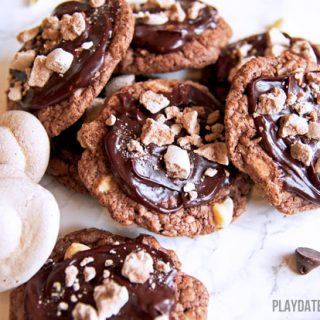 Ingredients
Cookie Layer:
1 box brownie mix, I used Ghiradelli
4 oz. Cream Cheese
1/2 C Butter
1 egg
1 4- oz bar white chocolate, chopped
Dark Chocolate Ganache:
1/3 C. heavy cream
1 tsp instant coffee
1/2 T unsalted butter
1 4- oz bar bittersweet chocolate, chopped
Meringue
4 egg whites
1/8 teaspoon cream of tartar
1/8 teaspoon salt
1 1/4 cups granulated sugar, separated
2 tablespoons unsweetened cocoa, sifted
1 tablespoon cornstarch
Instructions
Cookie Layer:
Preheat oven to 350F.
In a stand mixer, fitted with the paddle attachment, cream together the cream cheese and butter.
Add in the egg and mix until well combined.
Add brownie mix a little bit at a time and continue mixing on low until combined. The dough will be sticky.
Mix in white chocolate and drop onto a parchment-lined baking sheet. Bake for 10-12 minutes until just set. Cool on the baking sheet.
Dark Chocolate Ganache:
Place chocolate chunks in a heat-safe metal bowl.
Combine cream, coffee and butter in a saucepan. Heat just until boiling and coffee is dissolved.
Pour cream mixture over top of chocolate and let sit for 5 minutes.
Stir with fork or whisk until smooth
Meringue
Preheat oven to 225F.
In a stand mixer fitted with the balloon whisk, combine egg whites, cream of tartar and salt. Whip on high until soft peaks form (45 to 60 seconds)
Slowly add 1 cup of the white sugar while still on high. Continue to whip until the peaks are stiff, about another 1 1/2 minutes.
Using a spatula, gently fold in the remaining sugar, cocoa powder and cornstarch.
Place the mixture in a piping bag (or gallon sized ziploc bag with the corner cut off) and pipe small rounds onto a parchment lined baking sheet
Bake for 15 minutes. Turn heat down to 200F and bake an additional 2 hours 30 minutes.
Once the meringue has cooled and while the ganache is still soft, break up the meringues into pieces and sprinkle on top of the cookies.
Notes
Cheat:  Use pre-made meringue cookies found at your local grocery store.
Nutrition Information:
Serving Size:
1 grams
Amount Per Serving:
Unsaturated Fat:

0g
(from Cookies and Cups)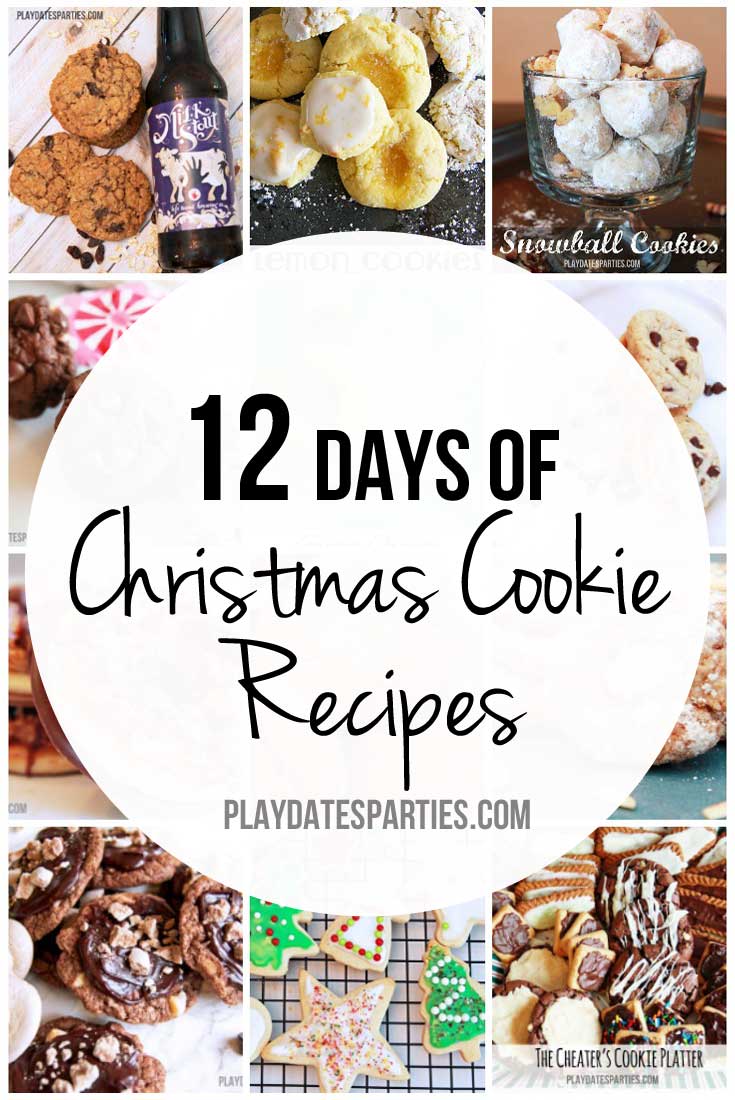 Subscribe via
Bloglovin, Facebook, and Twitter
to get more updates!
SaveSave