Want to take your Easter crafts and decorations to the next level? Learn how to make a jelly bean ribbon trim and your decor will go from wimpy to wow!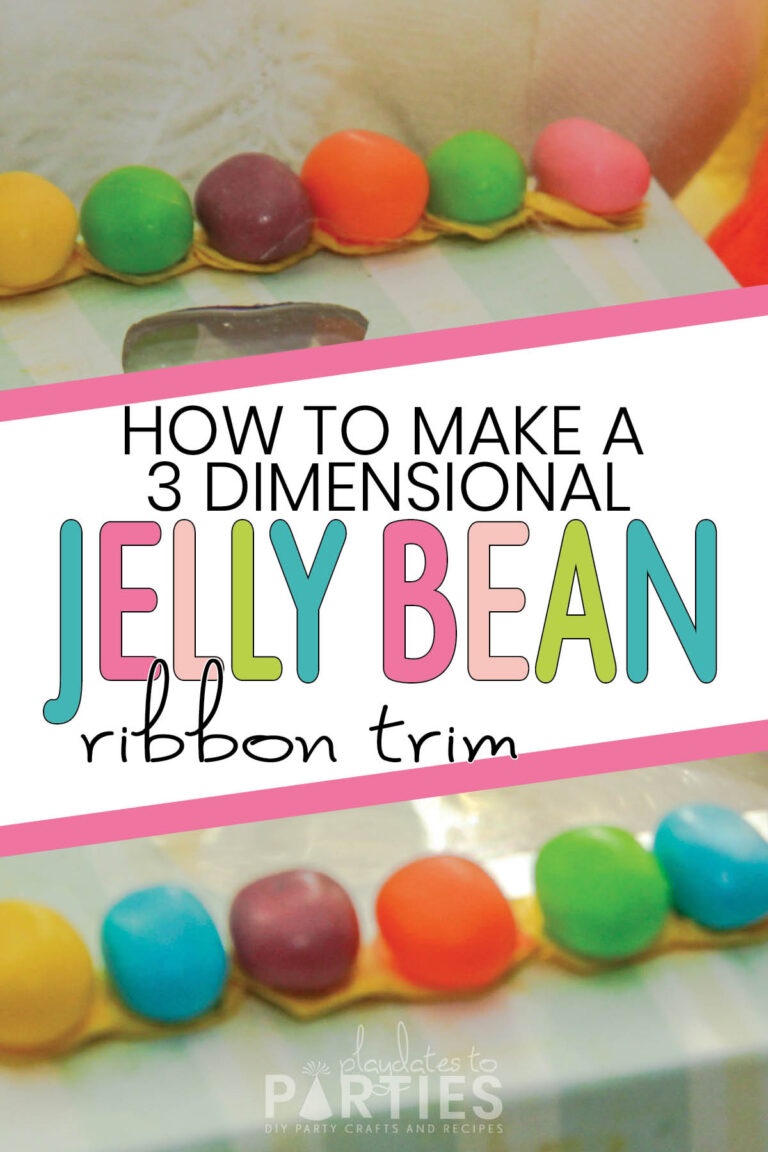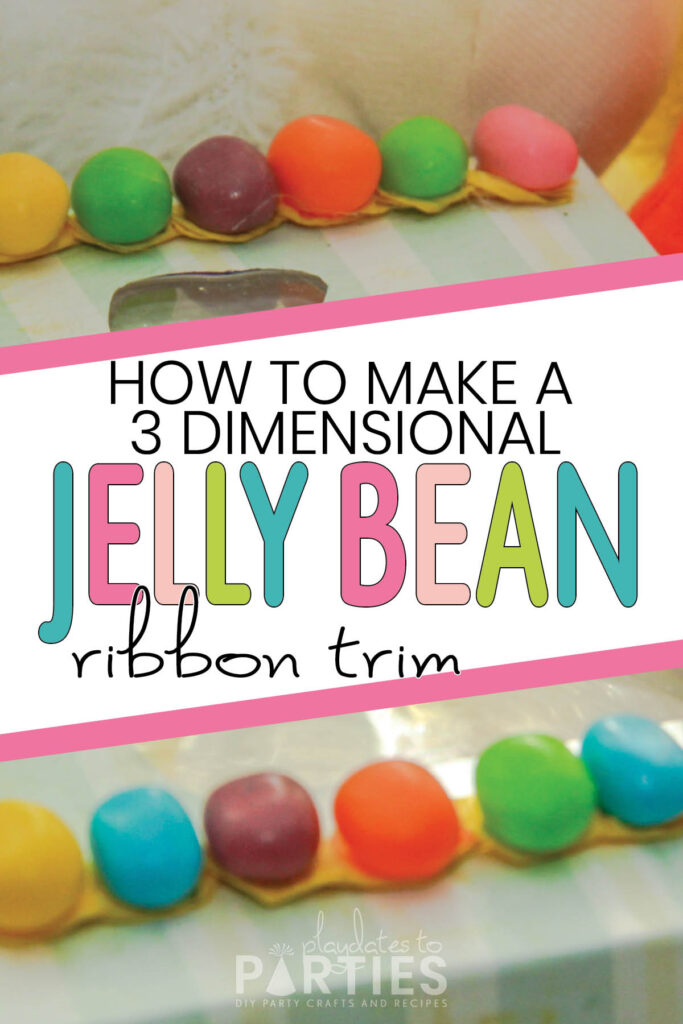 Yes, jelly beans are awesome.
The bright colors, the adorable little egg shapes, the fun flavors – jelly beans are just about the perfect candy to decorate with.
Of course, you can always use a Cricut to make some paper decorations that look like jelly beans, but a 3-dimensional jelly bean ribbon trim is just so much more fun.
Seriously. Just take a look at these: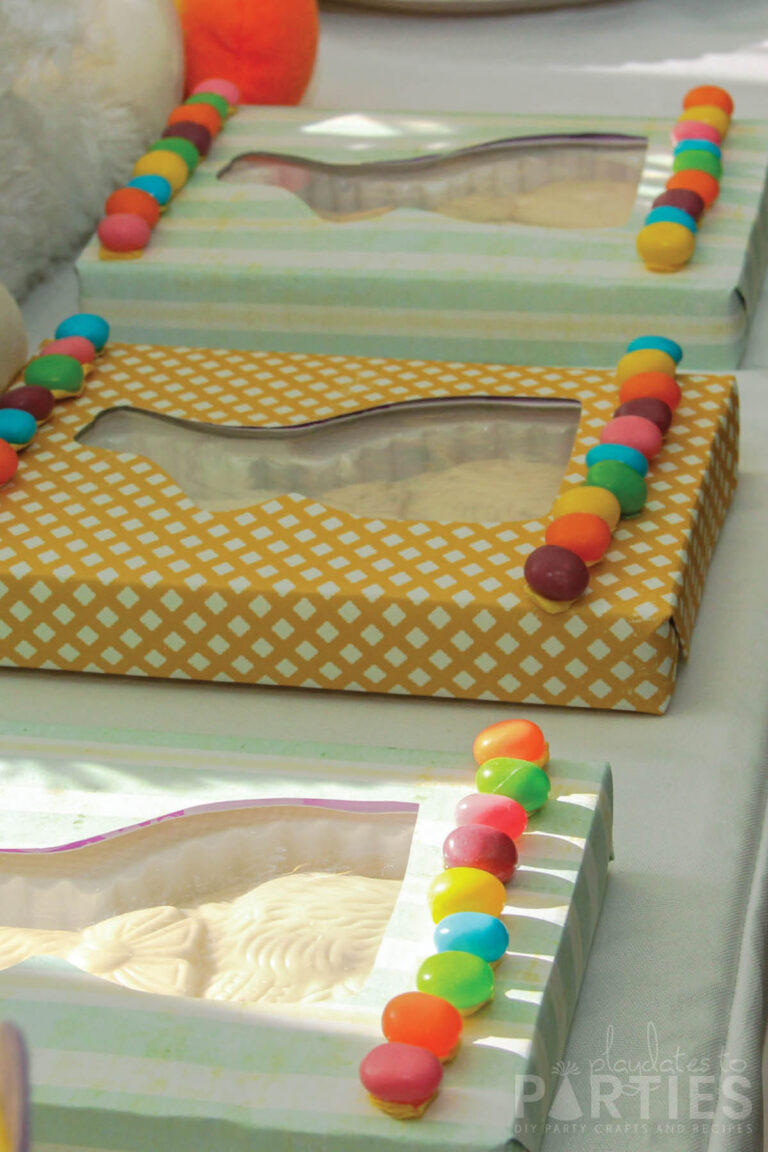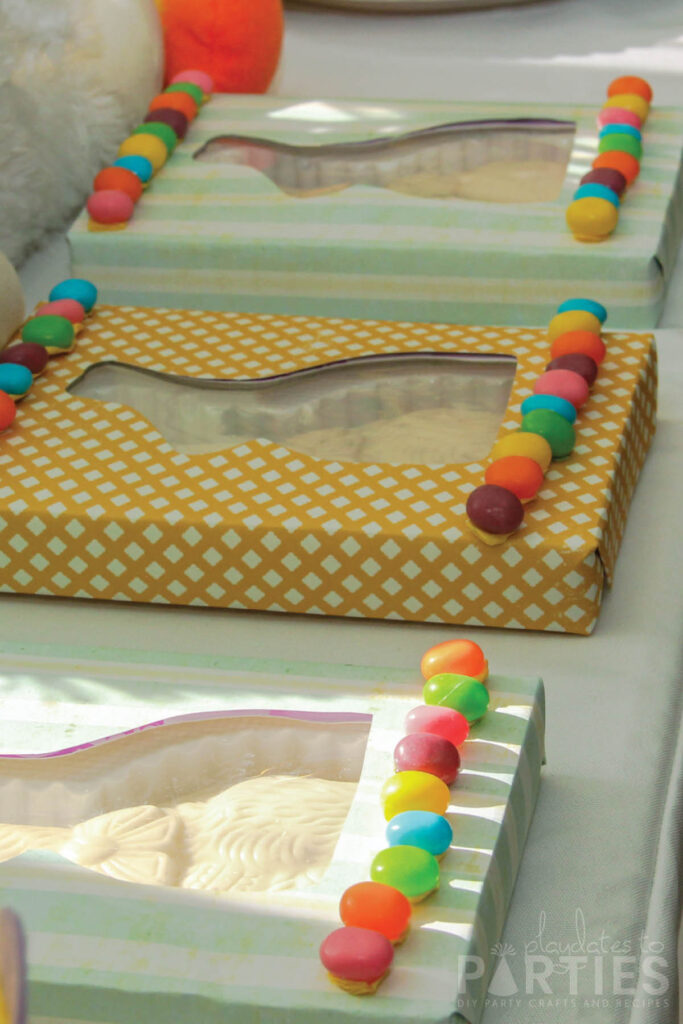 See? No special equipment or machines required….and so stinkin' adorable.
How Long Does It Take?
Obviously, the longer you make your ribbon, the longer it's going to take to make. Generally speaking, you'll want to allow yourself at least 45 minutes for your first 2-foot length.
Use a cool glue gun and it might take even less time.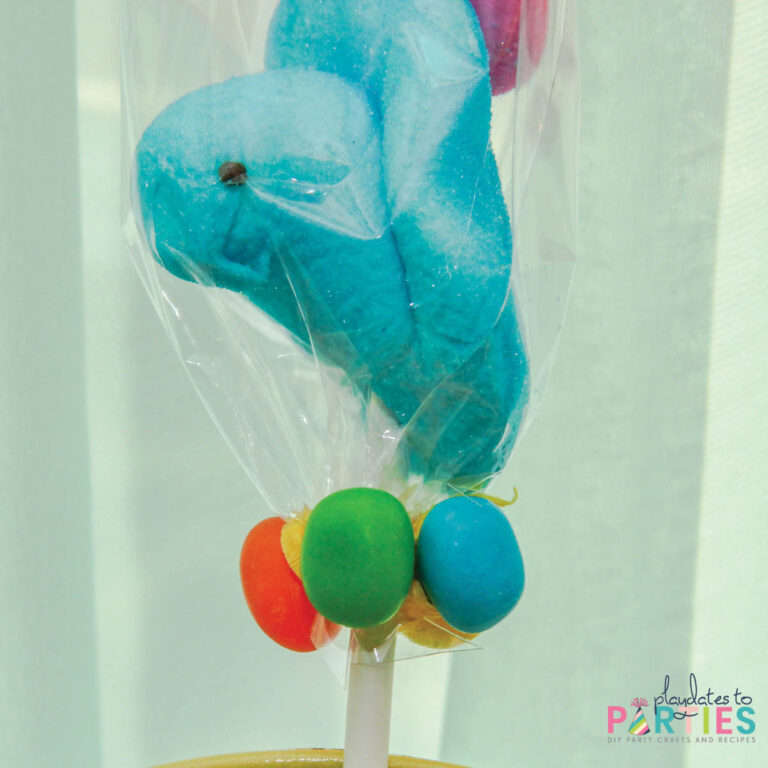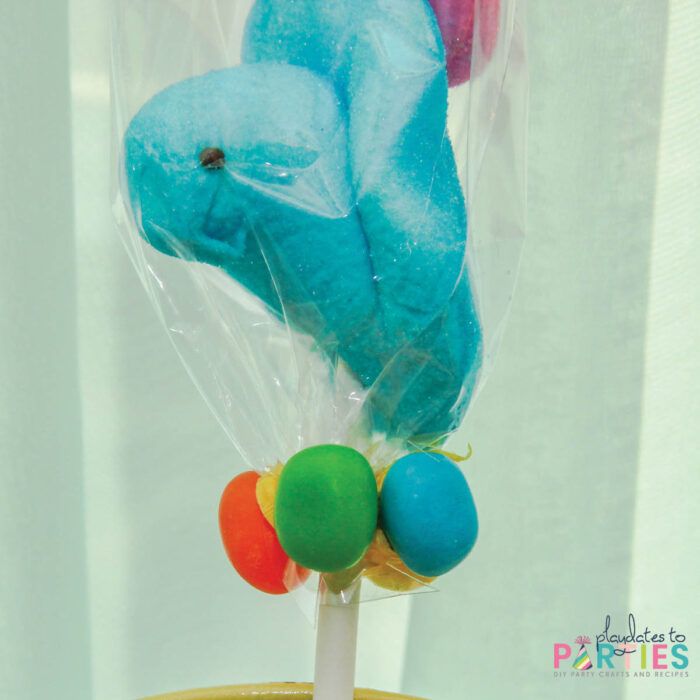 Get Creative! More Ways to Use This Idea:
Add trim to the ends of wood spoons and forks for adorable party utensils
Glue your ribbon trim to wood berry boxes to display candy eggs
Wind jelly bean ribbon around a wreath with colorful paper flowers
Connect several strands to make a party garland for your backdrop
And you're not limited to jelly beans either:
Gummy bears would be adorable for a woodland first birthday party,
You could use skittles for an 80s party
Pillow Mints would be adorable for a baptism or first communion
Easter Bunny Approved!
Get your Easter hopping along with a sweet selection of printable goodies – including printable games, tags and bag toppers, party decorations, and art prints all designed to to make this Easter more colorful than ever. Check it all out right here.
Notes, Tips & Tricks:
Start with a length of crepe paper streamer about 25% longer than your final length. The twisting process will make it shorter
Don't try to make the ribbon too long, or the crepe paper is likely to get tangled on itself (I recommend about 2 feet long)
The final jelly bean ribbon trim is easy to cut to size, so feel free to make a full 2 foot length at a time.
Don't skip double folding the streamers. The extra layers add stability to the final ribbon.
More Easter Awesomeness
What You'll Need:
50-60 jelly beans (more if you use small jelly beans)
Crepe Paper streamers
Ruler
Scissors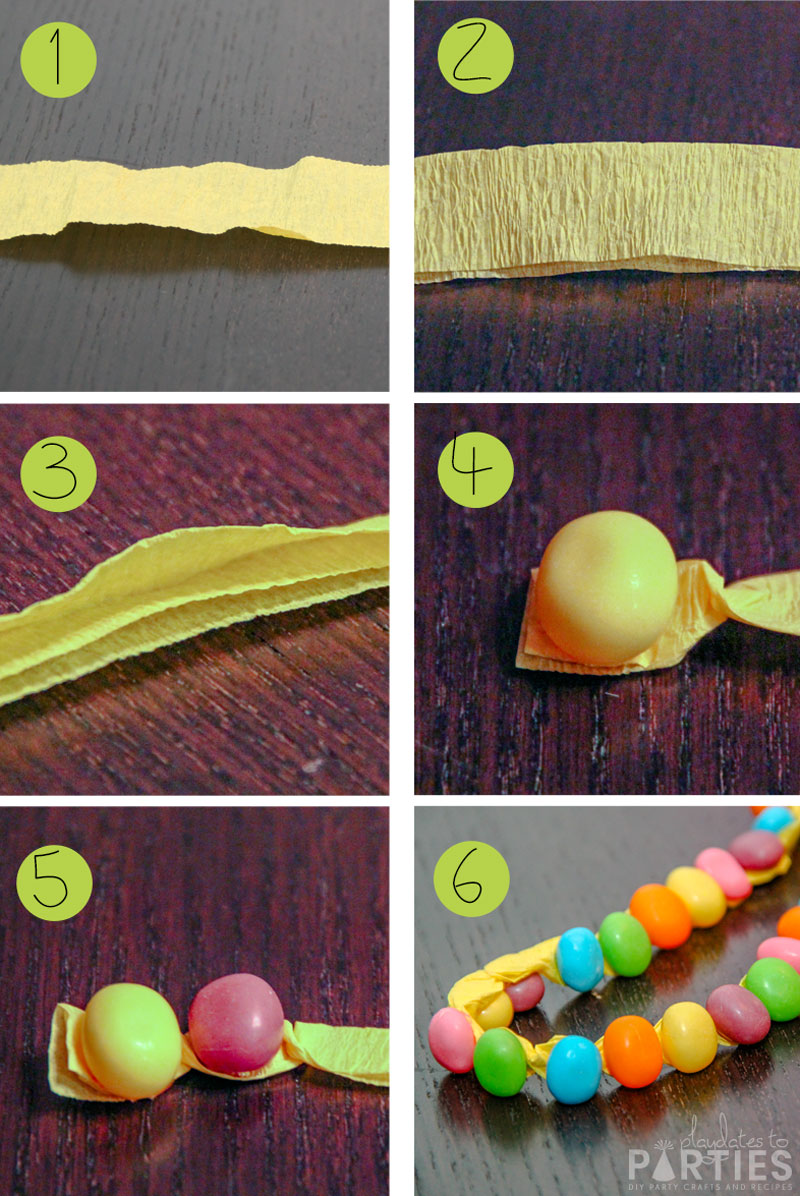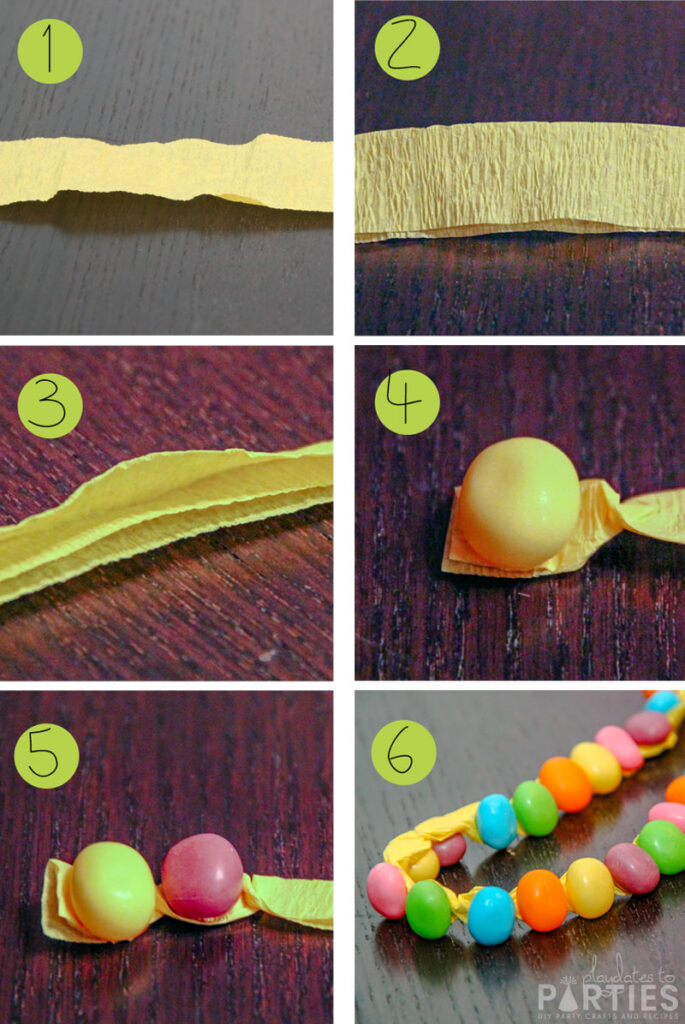 Directions:
Cut a strip of crepe paper streamers that is about 25% longer than your final desired length. (recommended no longer than 2 feet at a time)
Fold the streamer in half lengthwise. Then fold it in half again. You should now have a long, thin strip of crepe paper streamers.
Add a dab of hot glue to one end of the folded streamer. Place a jelly bean on the glue and let dry.
Carefully twist the crepe paper so the back side of the folded streamer now faces up.
Add another dab of hot glue and place your next jelly bean on the ribbon.
Repeat steps 3-5 until you've reached the end of the streamer.
It shouldn't have to be said, but once the jelly beans are glued, they are no longer edible and should be used only for decoration. Please don't let children eat hot glued candy!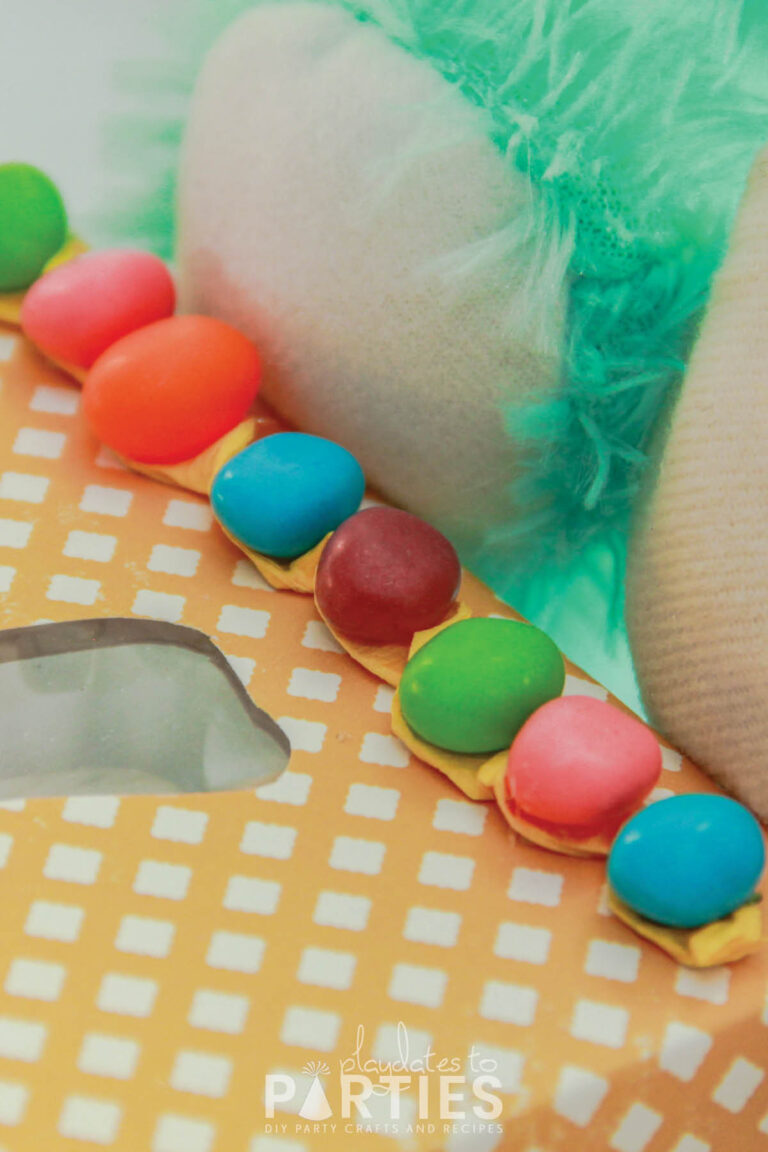 Now It's Your Turn
You know that Cricut crafts and paper projects are so fun and cute, but sometimes you want something with more oomph. When that's the case, go ahead and grab your glue gun and a bag of candies for this adorable jelly bean ribbon trim.
What will you put your ribbon on?
---