Peeps marshmallows are such an easy way to make an amazing cake for Easter, and these are the best Peeps cake ideas to get you started!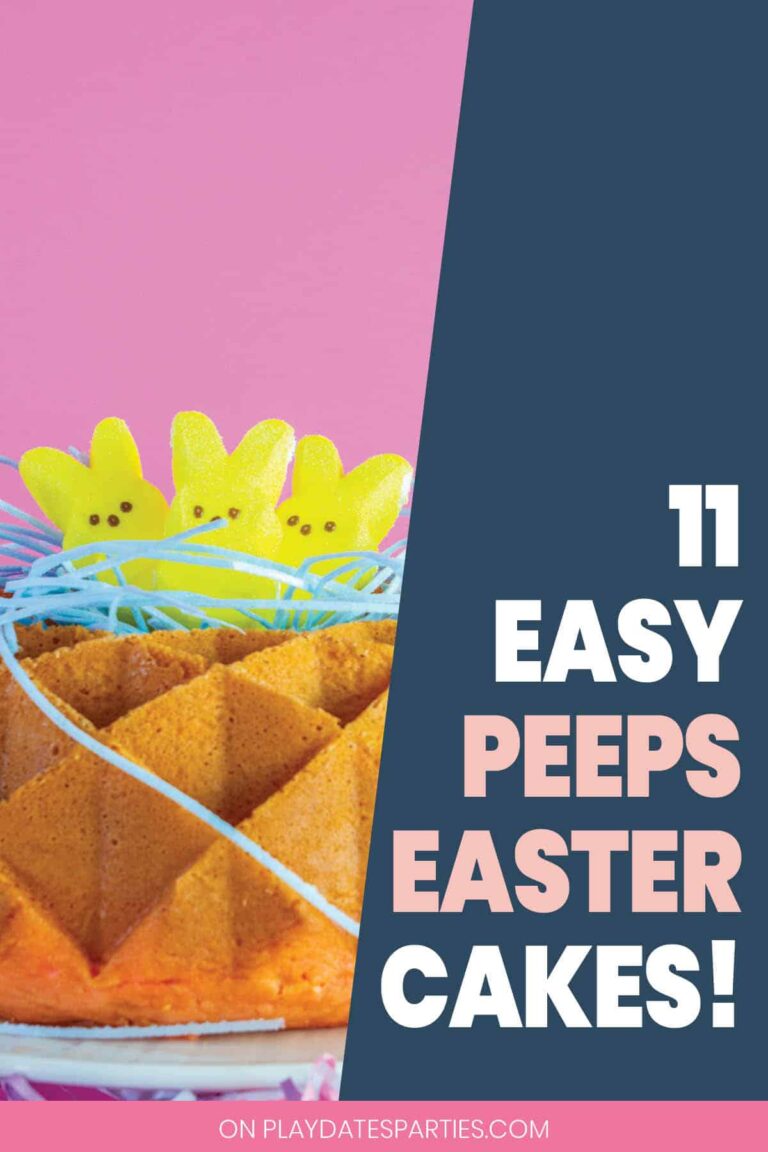 Whether you love them or hate them, nobody can deny that everybody's favorite marshmallow treat is simply adorable.
Yes, I'm talking about Easter peeps. Brightly colored, shimmering with plenty of sugar and probably the sweetest thing on the planet, you can't help but smile when you see them.
11 Super Cute Easter Peeps Cakes
But you know what's better than eating Peeps? Getting to both decorate and eat them! Yes, the crafts are cute, but I know that my kids would be much happier if I use these iconic marshmallows as a garnish for something edible.
And that's fine by me! Making a plain cake look stunning couldn't be easier with these fun treats on hand.
Don't Forget These Essentials:
We all want our cakes to make everyone "oooh" and "ahhh." So, you'll want to make sure you have the right tools to make and display your cake perfectly:
parchment paper to keep your cake from sticking to the pan
offset spatulas to spread your frosting
piping tips if you really want to get fancy
a cake stand to display your show stopper,
your pie server and a good knife, and
plenty of colorful Peeps, of course!
Time to get started with the good stuff… let's bring on the Peeps cakes!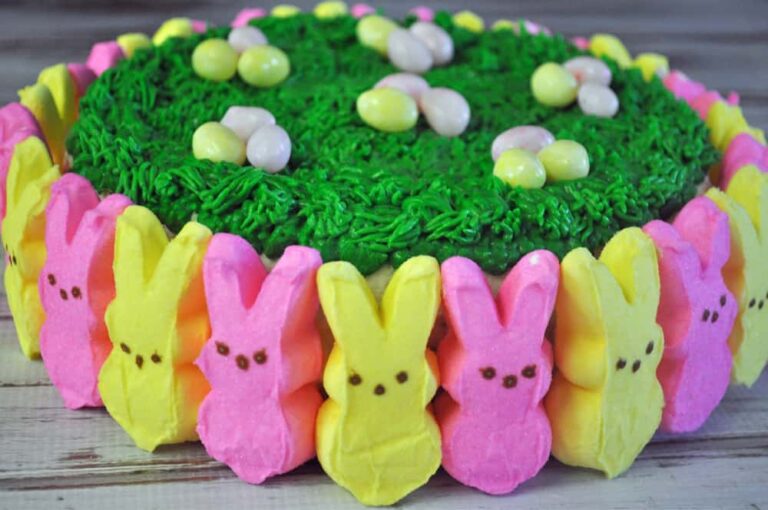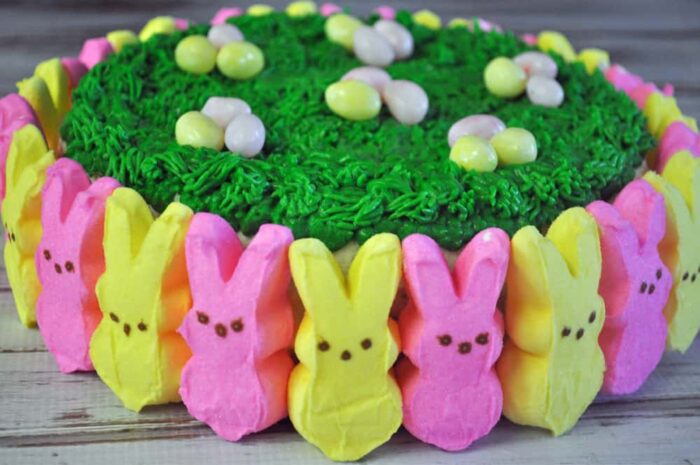 There's just something so sweet about seeing the colorful treats lined up around the edge of a cake, isn't there? Mommy's Fabulous Finds shares her recipe for this easy cake, including options if you're not interested in piping out all that grass.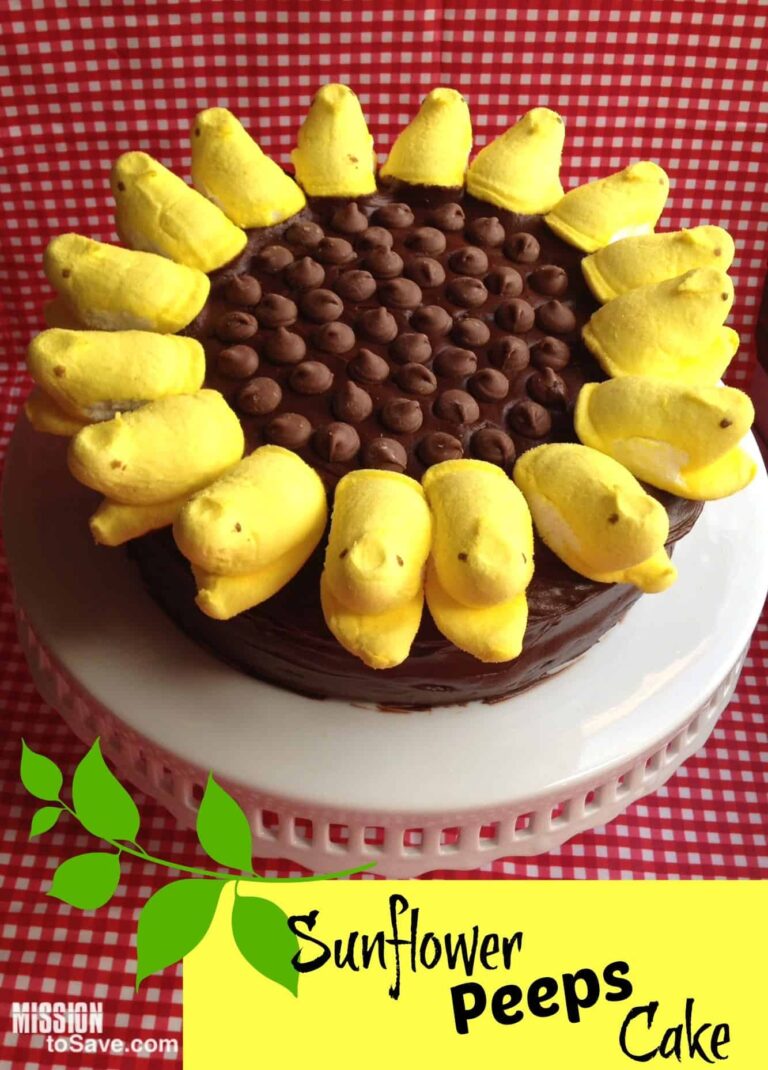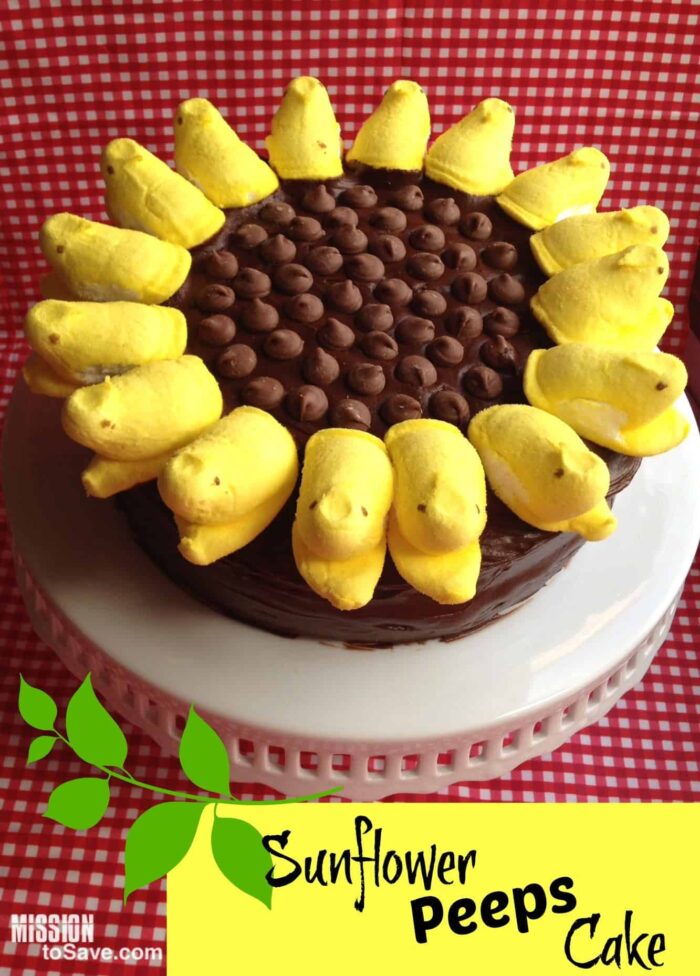 It's not all about the bunnies, you know. Mission to Save showed exactly how to make this Sunflower Peeps Cake, including some tips to make sure it looks AND tastes its best.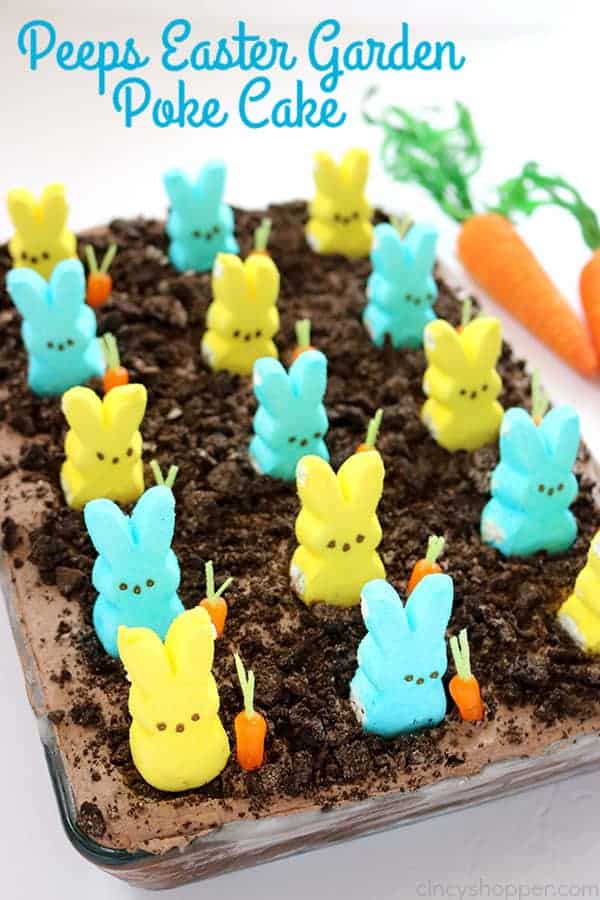 I'm totally in love with how this Easter Peeps poke cake from Cincy Shopper is both super duper simple, and so darn cute! And who doesn't love a good poke cake, too?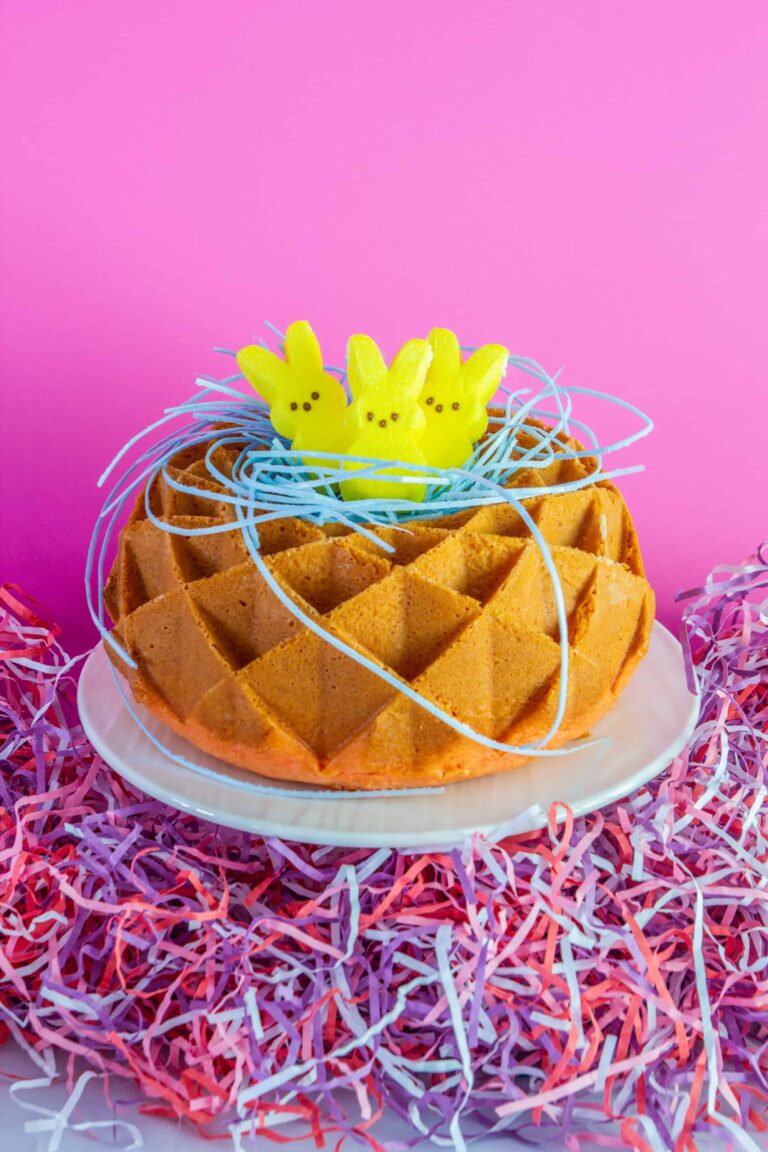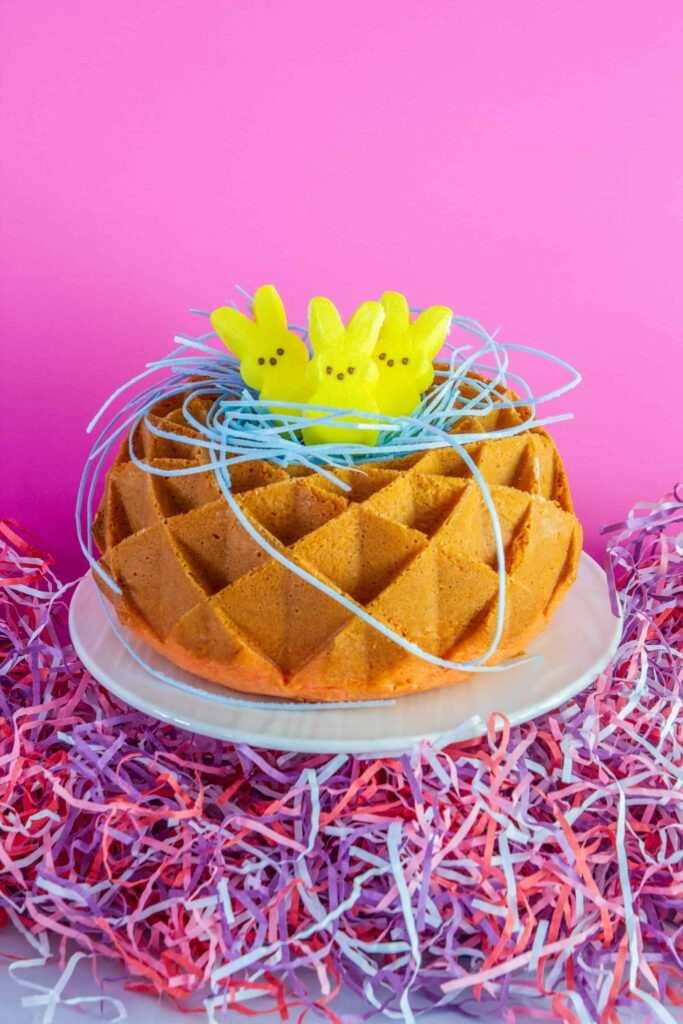 We made this cake for our own Easter, and it was pretty much the easiest cake ever. 5 minutes and you're done!
Use a pretty bundt pan like this one and there's no need for frosting. Just add a drizzle of glaze, and then top the opening with edible easter grass and a few marshmallow Peeps.
How about a mini peeps cake? One of these would be perfect if you're just planning on having a small family celebration.
Wow! This stunner from Cake Central shows just how decorating with the marshmallow goodies can turn into completely different creations. I'm seriously in love with that flower!
RELATED >>>> 15 YUMMY DINNER RECIPES TO MAKE THIS EASTER
Love From the Oven is always full of fun ideas. And while this cake was made to celebrate the company's 60th anniversary, it's awesome inspiration for making your own version. Add your favorite colored peeps to the top of the cake and switch out the happy anniversary banner for a simple cake bunting.
I had to do some digging to get to the original source for this cake, but it was totally worth it. Don't you just love seeing all the different ways that candy can come together to create gorgeous designs?
This cake from Bitz n Giggles is all about easy. But it's just as adorable as it is easy! Get all the details right here.
Whoa, this Easter basket cake at My Recipes takes things to a whole new level. We've all seen the cakes with Kit Kat bars around the edges, but I'm definitely swooning over the look of these cookies instead.
Now that's a lot of Peeps!!! But A Subtle Revelry has something with this one. You don't even have to break all the bunnies apart to get your cake decorated. Genius if your pressed for time!
More Easter Ideas to Love
Now It's Your Turn
Don't you just love how easy it is to use adorable Peeps marshmallows to turn a plain cake into something amazing? Between. Easter baskets, gorgeous flower arrangements and the cutest little bunny garden, we've seen the best Peeps cake ideas around. But I want to know…
Which of these Peeps cake ideas is your favorite?
Did I miss an idea? Let me know in the comments section!
---