Looking for real-life Star Wars party ideas? Look no further! See how an everyday mom pulled together the perfect Star Wars party for her son. The result is out of this world!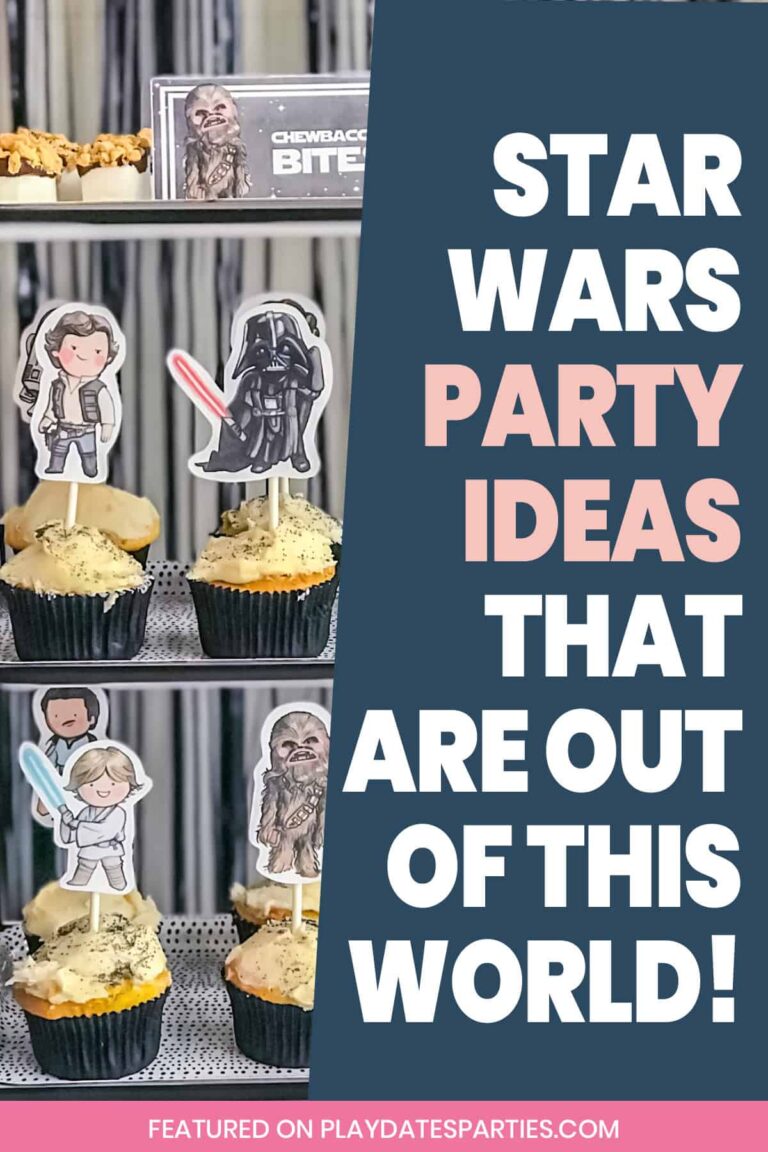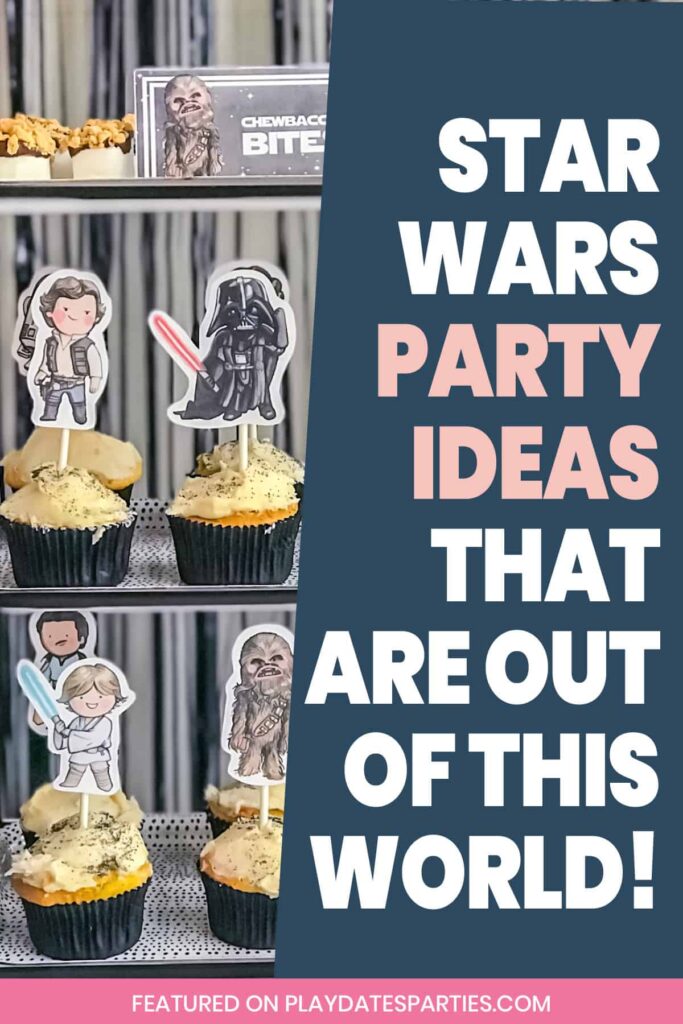 Do a quick Google search for Star Wars party ideas, and you'll get 194,000,000 results.
Clearly there's no shortage of Star Wars party inspiration out there. In fact, it can be downright overwhelming.
Which is why I'm thrilled to share this reader submission today. This party was submitted by Kimberly, and it's not just full of DIY goodness. It's also a great example of how simplifying things can actually make your party even more awesome.
(Pssst…want to get one of your parties featured? Submit your party here!)
Let's take a look, shall we?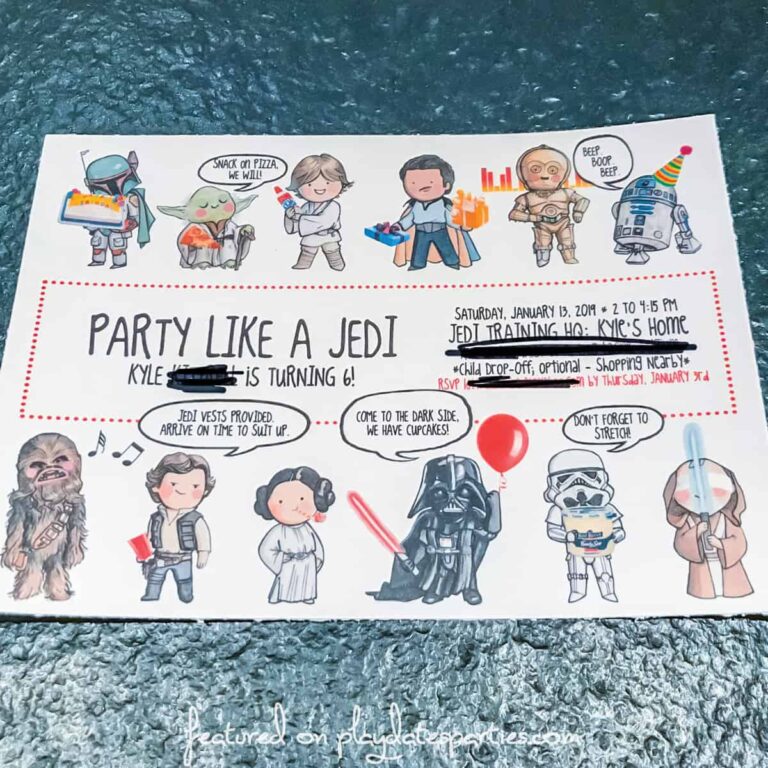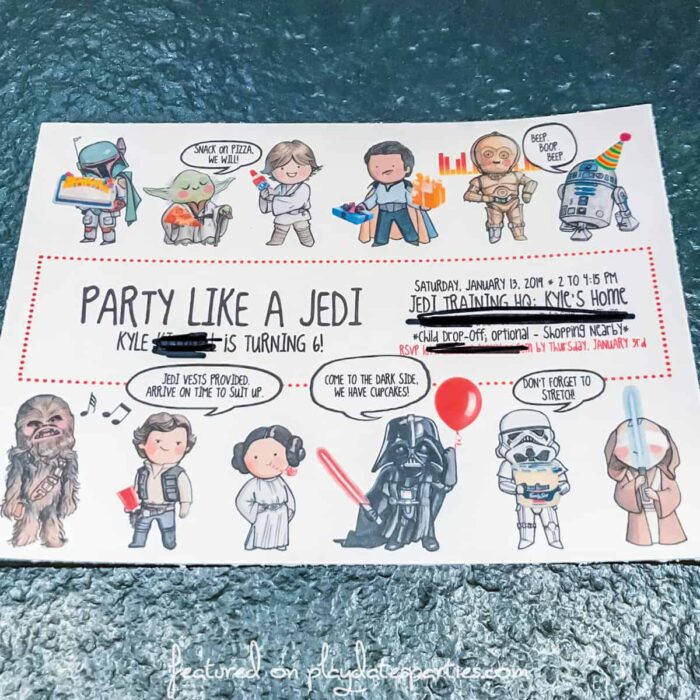 About the Party:
What Was the Occasion? 6th Birthday party
How Many Guests Did You Have? 15 kids + 5 adults
Where Was the Party Held? At Home
Decorations
Kimberly followed one of my favorite tricks for her Star Wars party decorations: She followed a simple color palette.
By using black and white for everything the whole party felt cohesive. Some of the black and white decorations included:
water bottle labels
tablecloths,
balloons,
streamer curtains, and
table confetti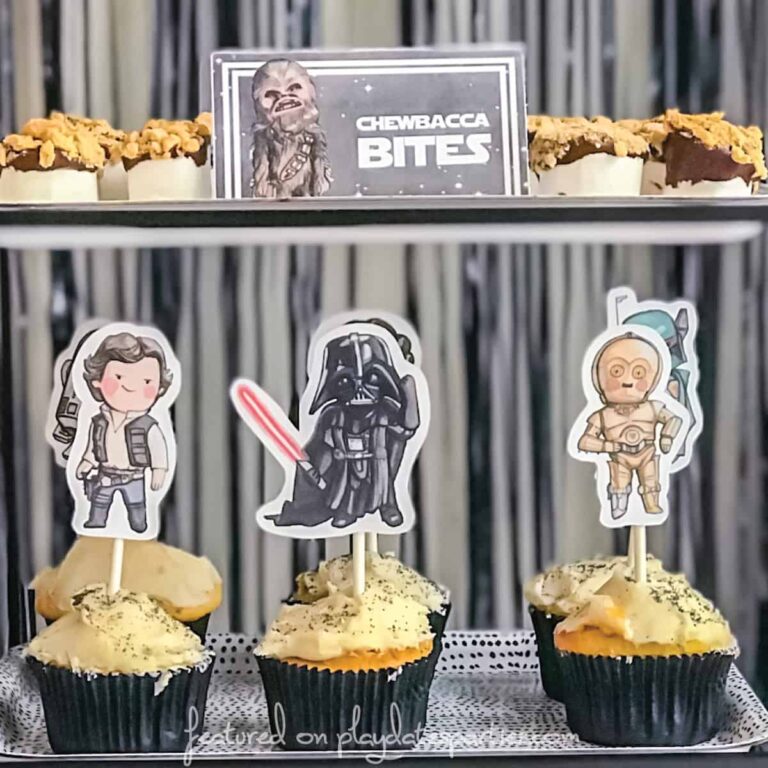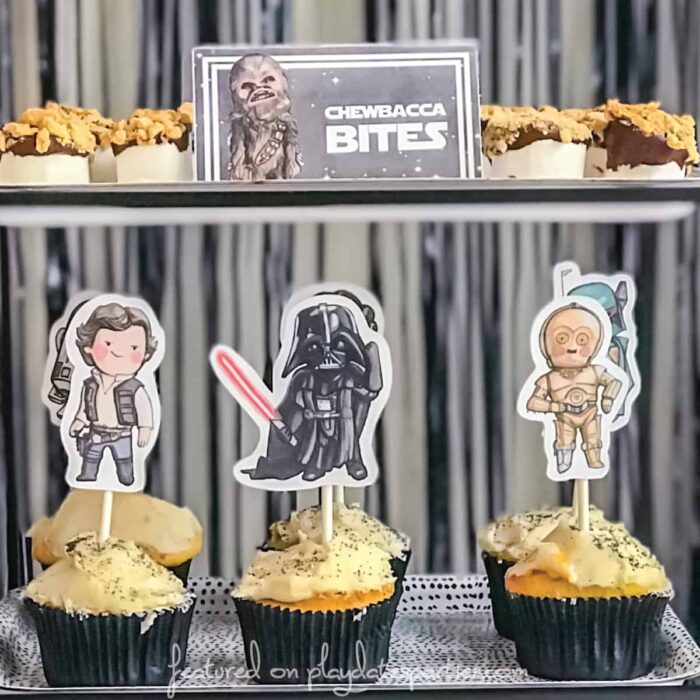 RELATED>>>>How to make sure your water bottles are water proof
These are all simple ways to show your party theme without having to stress too much. Of course, black and white decorations are also available year round. So there's no worry about being able to find a specific shade for your decorations.
Kimberly also found cartoonish clipart that looks like cute versions of Star Wars characters. With those she was able to make her own custom invitations and cupcake toppers. And adding in these party printables for water bottle and food labels rounds things out perfectly.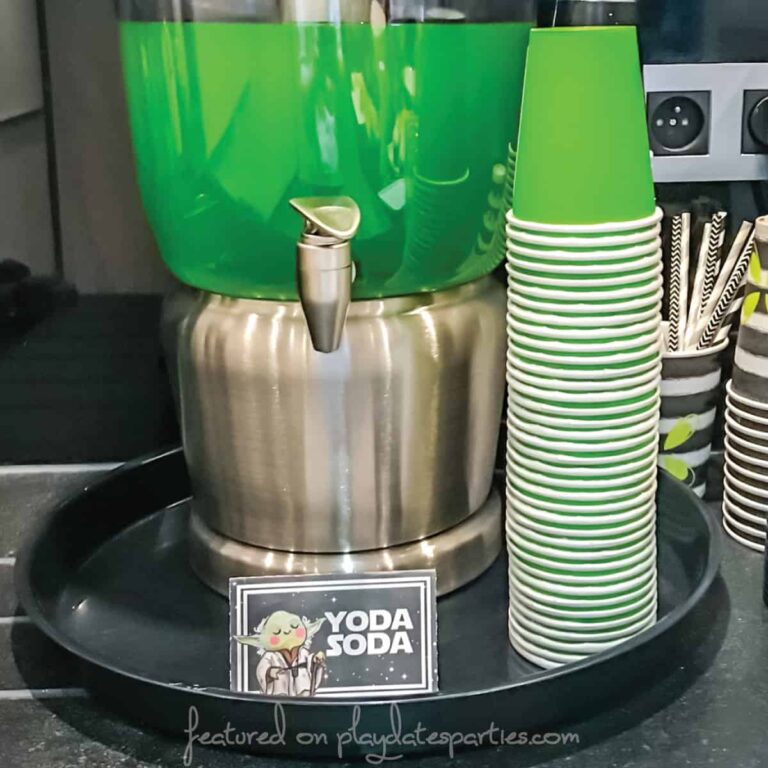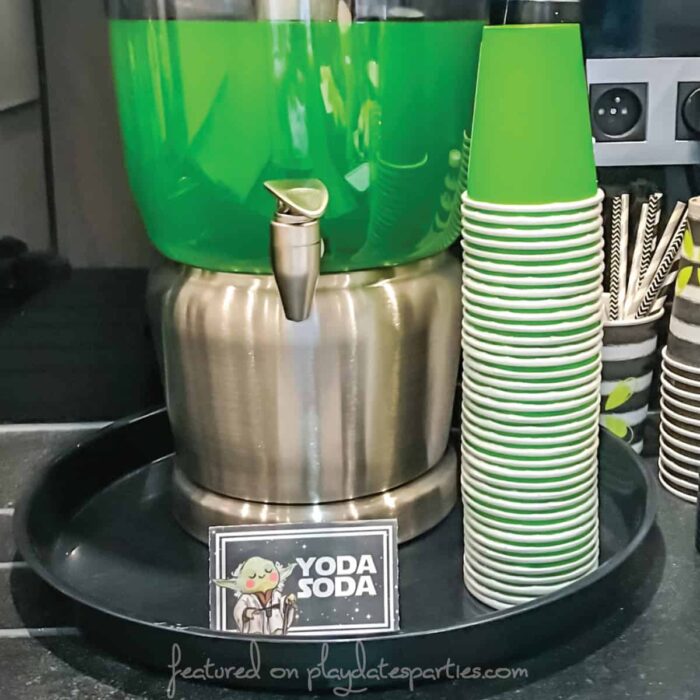 Jedi Party Food
We all know that Jedis in training need to eat! For this party, the kids munched on these awesome Star Wars party foods:
Imperial Pizza,
Padawan Popcorn
Yoda Soda, (Any green punch or soda will do)
Luke Skywater
Bow-Ba Fett Beer/Wine,
Calrissian's Buffalo Chicken Dip,
Vader Veggies,
May the Fruit Be with You (Grapes, carrot sticks, cucumbers),
Admiral Ackbar's Snack Bar,
Princess Leia Buns (Pinwheels),
Chewbacca Bites (chocolate/crushed graham cracker dipped marshmallows),
Stormtrooper Pops (marshmallows)
Plus some tasty boxed cupcakes and homemade frosting,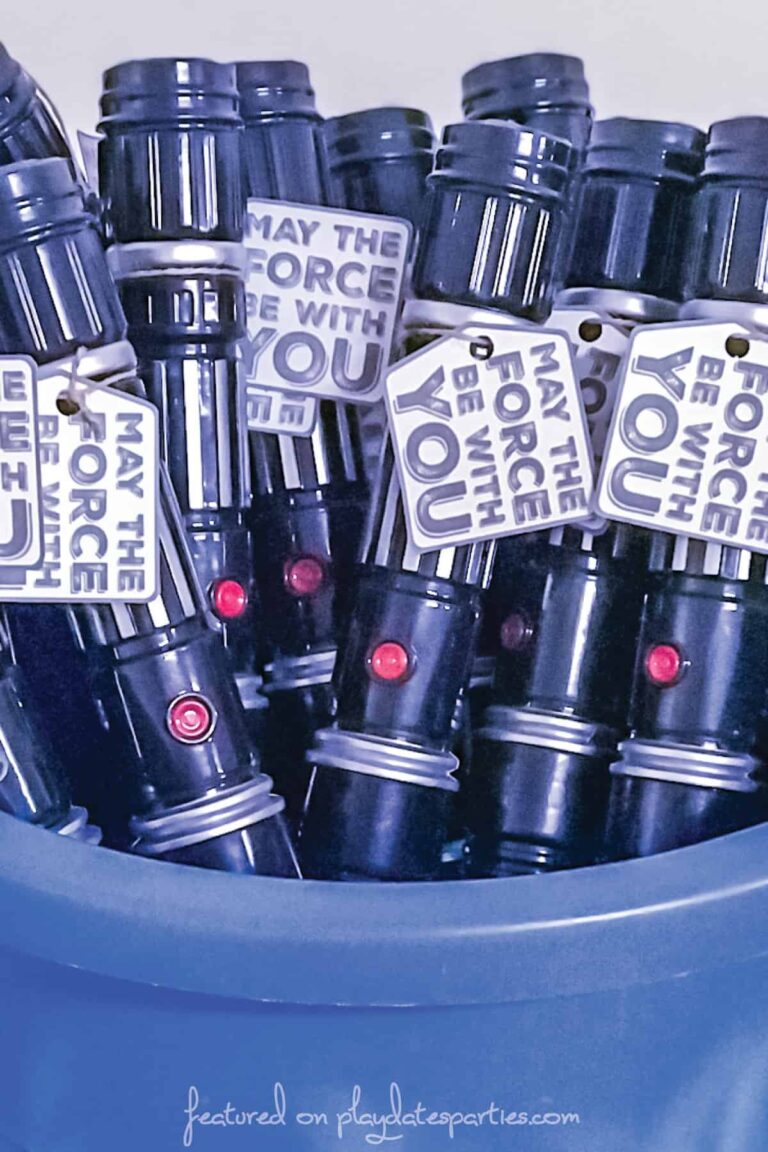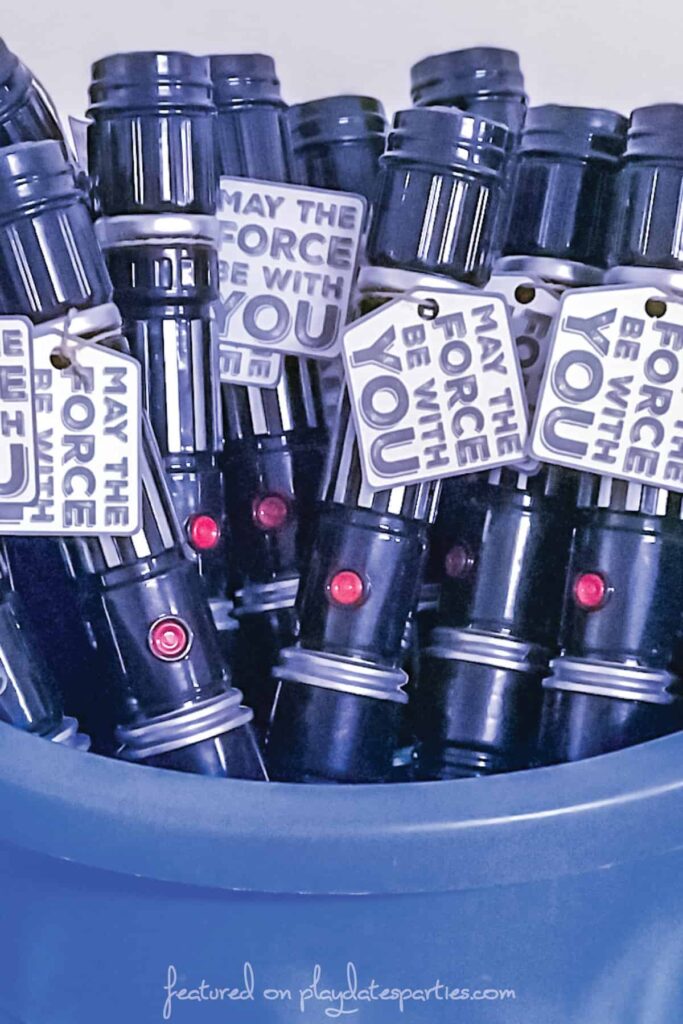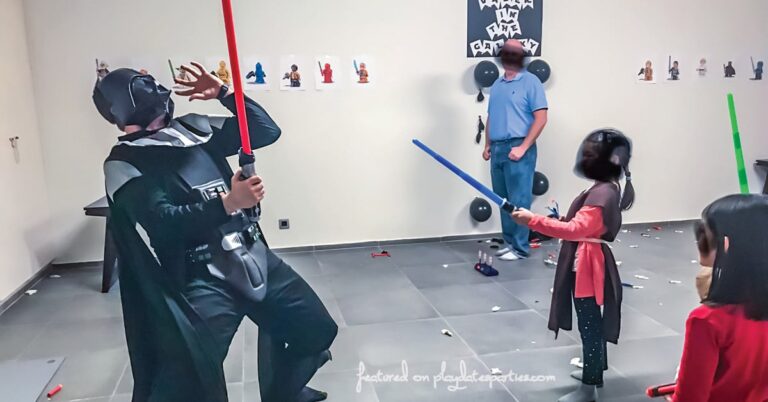 Party Games and Activities
The kids at this party were definitely not bored! They got to play fun games like:
Vader in the Galaxy – a balloon pop on the wall for prizes
Create your own droid – gluing together cut images
Lightsaber fight with vader (Kimberley's husband gets the Dad of the year award for dressing as Vader for this)
Balloon pop, where kids sit on balloons to pop them and get candy, and
Star Wars Character coloring sheets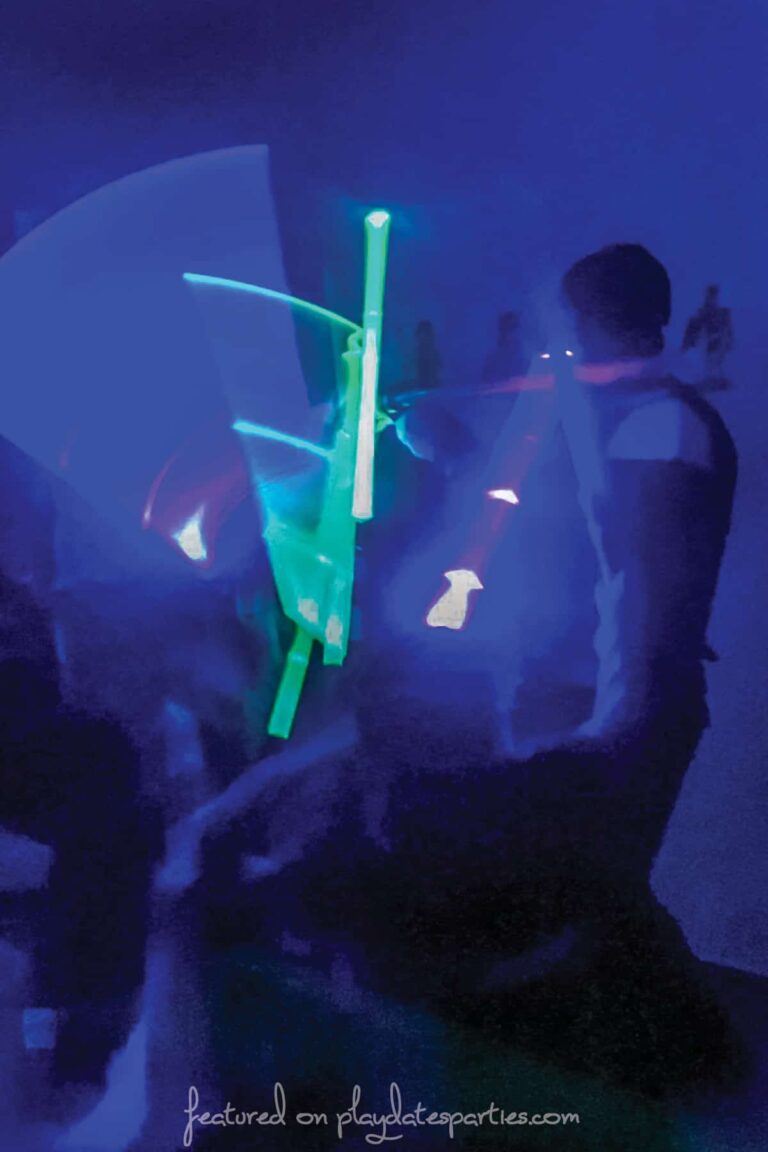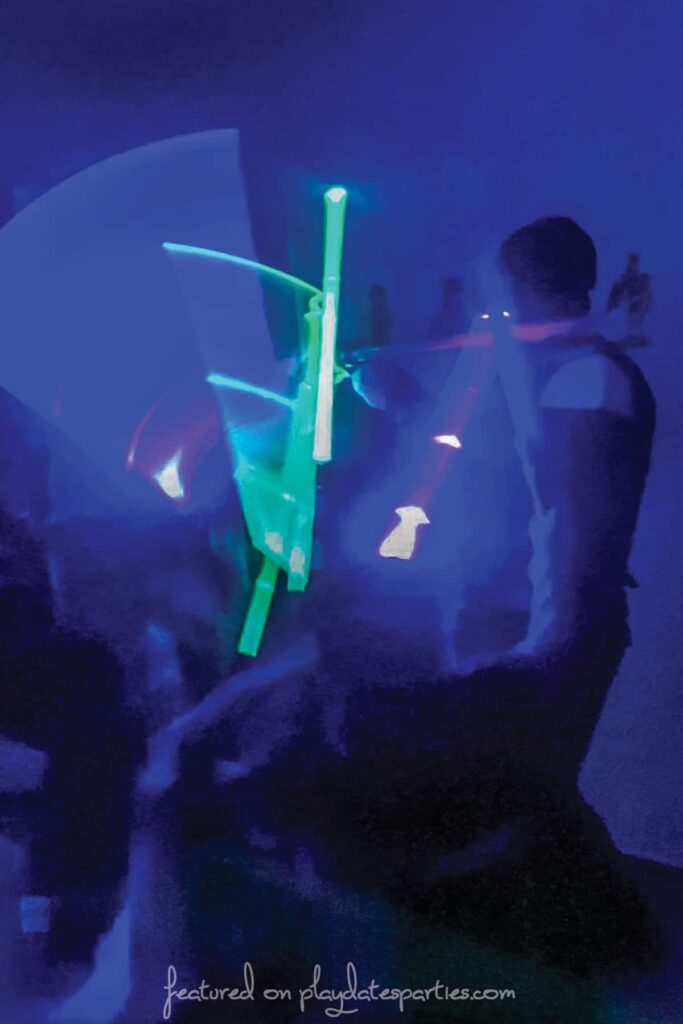 My Favorite Part of This Party Set Up
Okay, so the printables are stinkin' adorable. But what really takes the cake is this cute setup of Jedi robes for all the kids: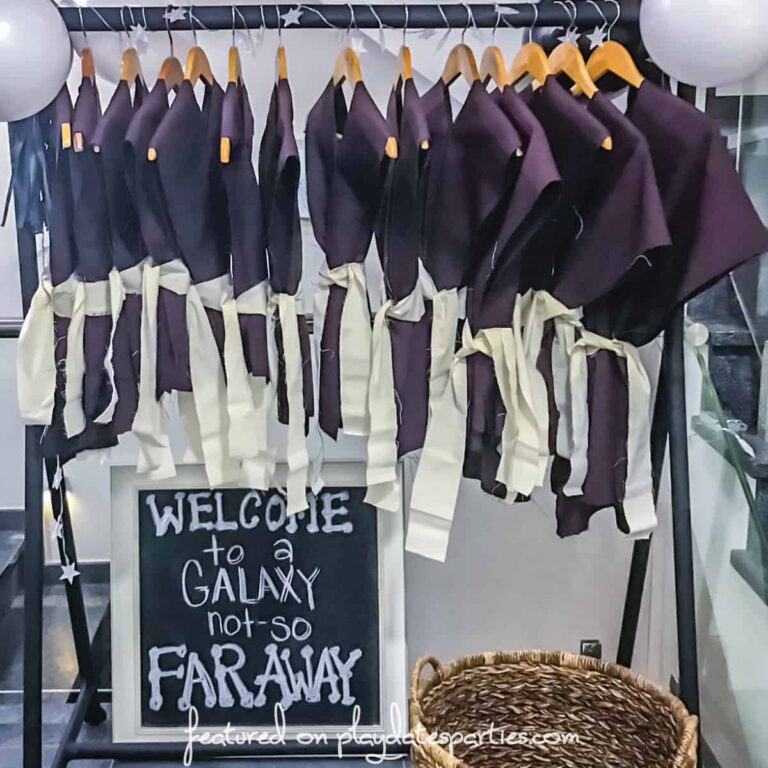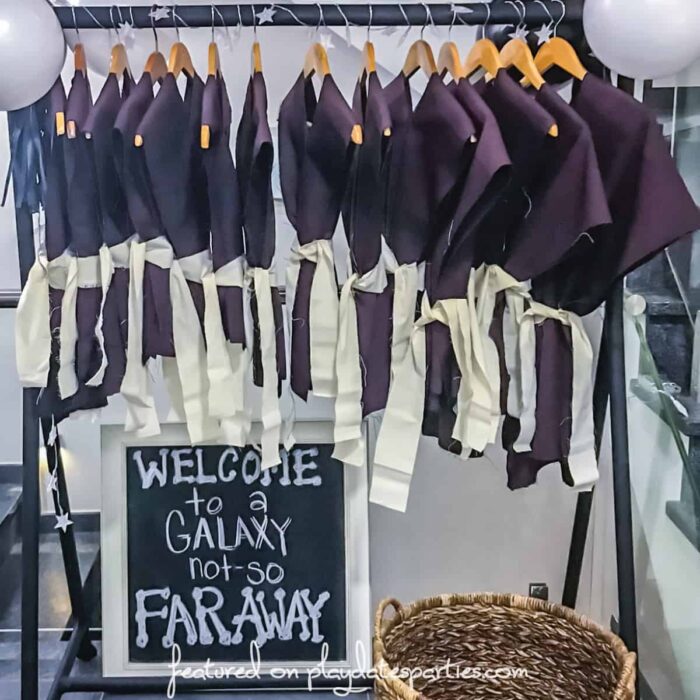 Now, to create 15 full Jedi costumes would take a ridiculous amount of time. But if you take a closer look, you can see that they're actually a very simple design.
Even still, this is definitely an above-and-beyond moment. And if you don't have time to DIY robes for 15 kids, don't feel like you have to.
More Party Ideas for Boys: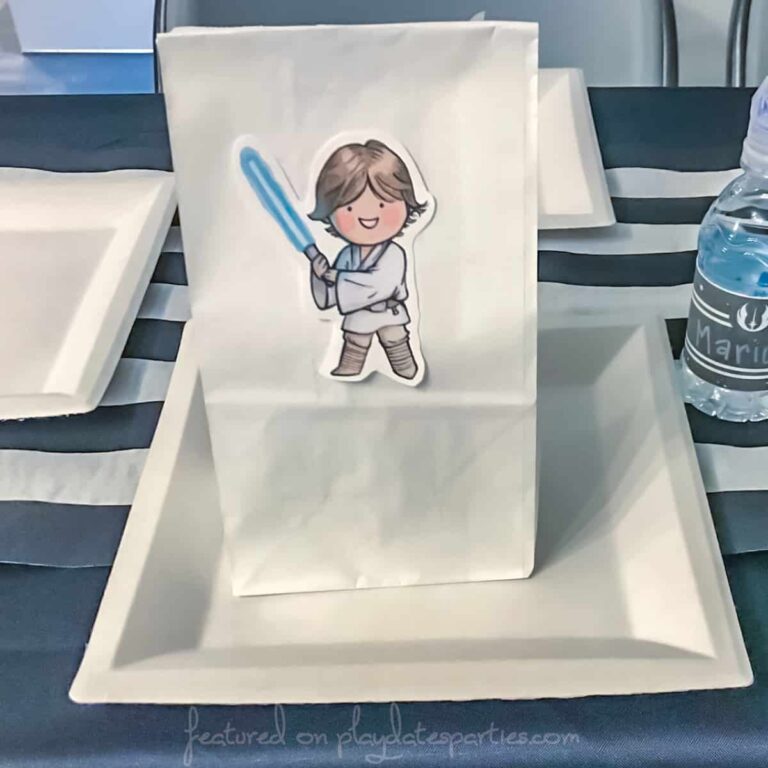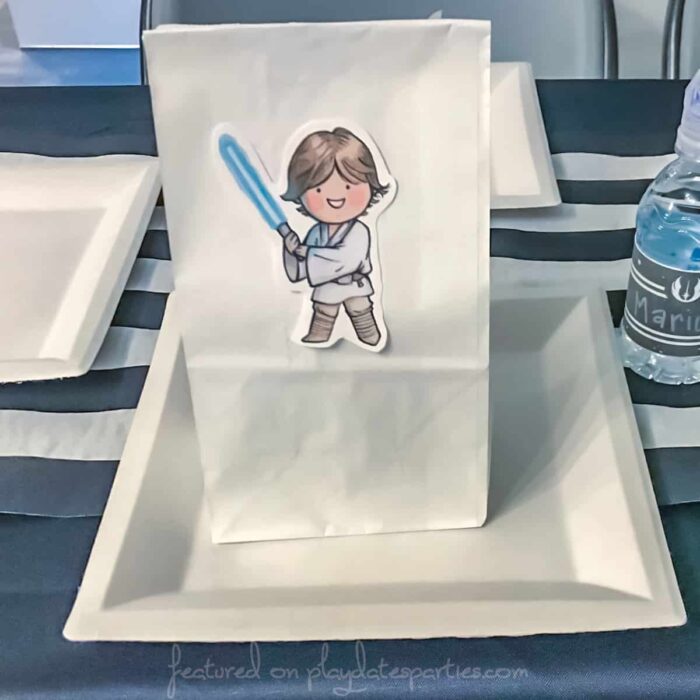 Now It's Your Turn
See, you don't need millions of ideas to create a fun and memorable Star Wars party for your kids! Kimberly did a fantastic job with everything.
By keeping a simple color palette, Kimberly cut through all the overwhelming party inspiration. And in the end, she made a truly memorable birthday for her son.
Do you want to inspire other DIY party planning moms? Submit your party to get featured, right here.
---