Are you kids in love with floss dancing and Fortnite? You'll definitely want to check out this Fortnite party with ideas for decorations, cakes, treats, and more!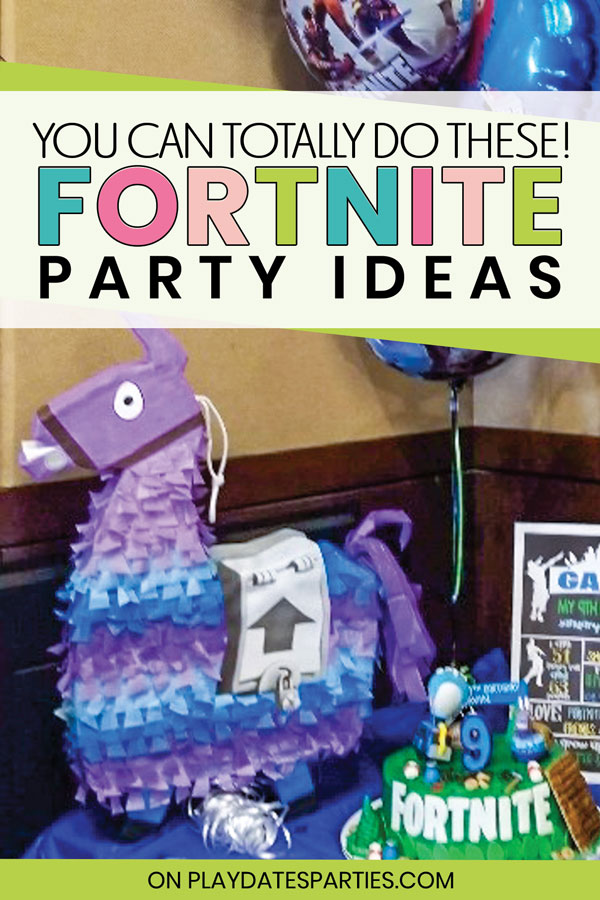 Hooray for reader requests!
Fortnite party ideas have been requested so many times, but since my son is still only 4 years old, it's not really a theme that I have much experience with.
Which is why I am so excited to share this party with you today. I met Brandi, of Sprinkled with Style, recently when asking some Facebook friends about Fortnite party ideas.
As it turns out, she hosted an epic Fortnite party for her son's 9th birthday and she is gracious enough to share some details and photos with us today.
About the Party:
What Was the Occasion? My son's 9th birthday
How Many Guests Did You Have? Between 20 and 25 guests (10 children)
Where Was the Party Held? We rented a venue with a private room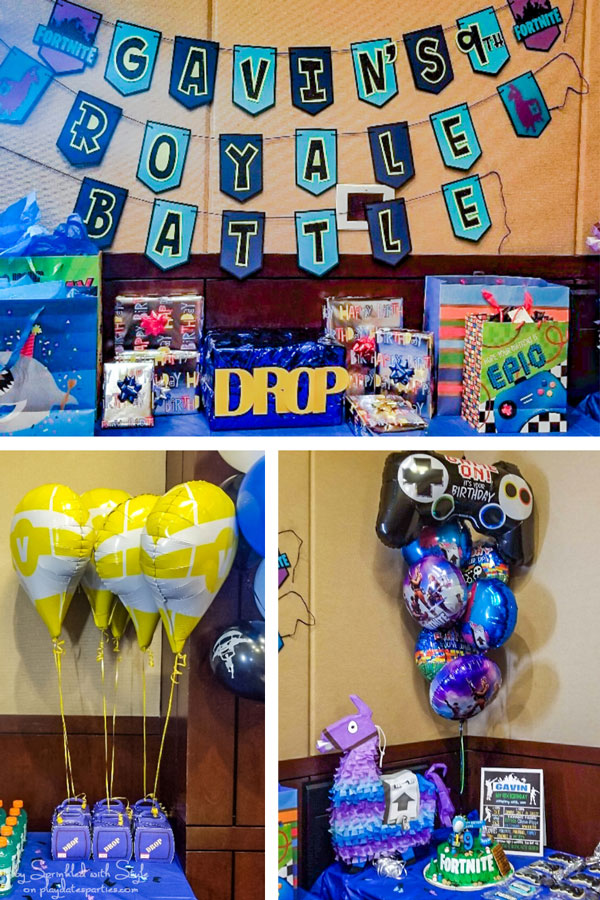 Fortnite Party Decorations
The Challenge:
With the exception of the paper plates, cups, and other tableware, this party included ZERO licensed products. Due to copyrighting, the "Fortnite" trademark was not commercially released, meaning we needed to get creative in order to put together a custom — yet official-looking — birthday theme.
Custom Balloons:
Balloons, balloons, and more BALLOONS. We actually found a vendor that made custom, professionally-printed products for a "battle royale" (hint: Fortnite) theme, and the combination of the drop boxes and drop balloons really put the party favors over-the-top.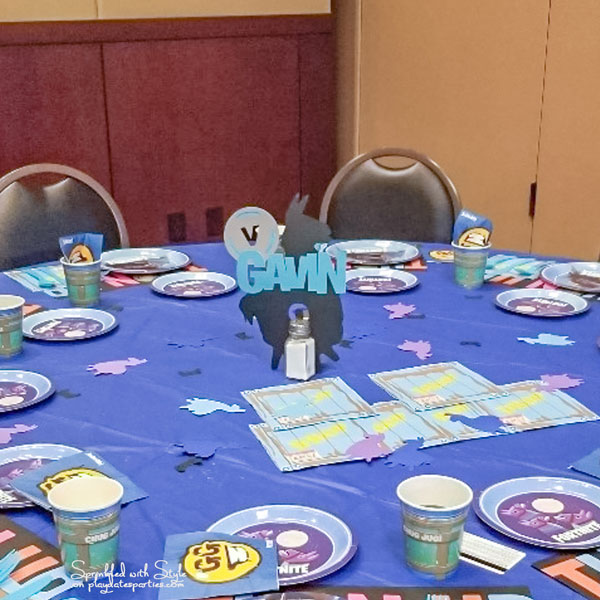 Centerpieces:
Our centerpieces were easy, using fluid items that would also be key components during the party: the custom cake & the handmade Loot Llama pinata!
Gift Table:
The banner was another custom piece made by one of our favorite vendors! It perfectly anchored the space for the gifts table.
In keeping with both design and functionality, we added another homemade 'DIY' product to the table center — a literal "DROP" BOX for birthday cards.
Other Decorations: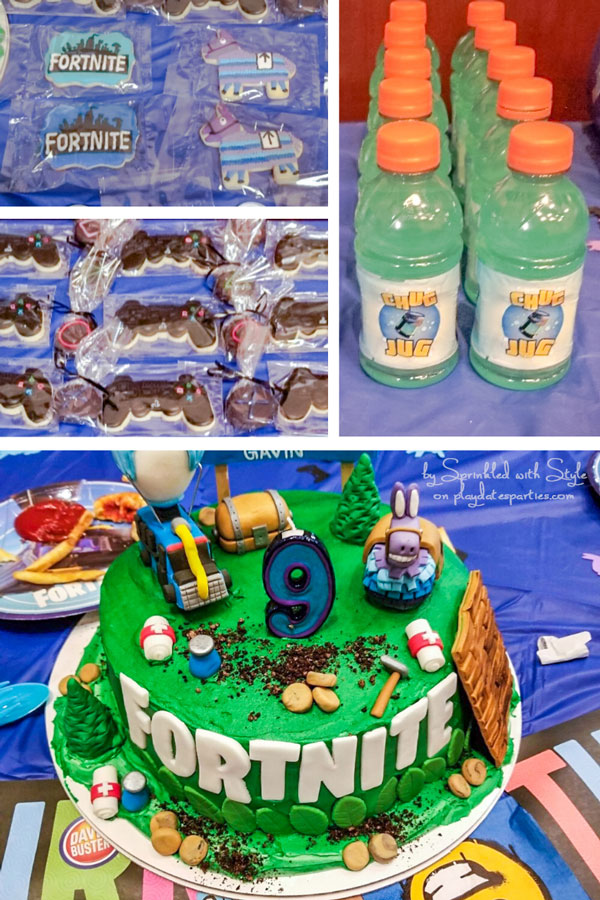 Fortnite Party Food
Cake:
This "Fortnite"-themed cake was also a custom creation — by an out-of-state baker — as we encountered many businesses that were unable to sell items that resembled this theme, again due to copyright and licensing.
A home-based baking business saved the day, creating the sugar sculptures and fondant decor pieces for us that we simply embellished on our otherwise already made-for-us cake.
Drinks:
We thought these whimsical "Jug Chugs" would be great add-on favors for the kids. A bit of 'DIY' went into these, but, they turned out amazingly well with a professional touch, thanks to the talented merchant we found that could supply the materials.
Cookies:
Themed cookies stay on our radar as "must-haves" for any event. We ensure we have partnered with only the highest-quality (and highly-skilled) bakers to make our visions comes to life in edible art form!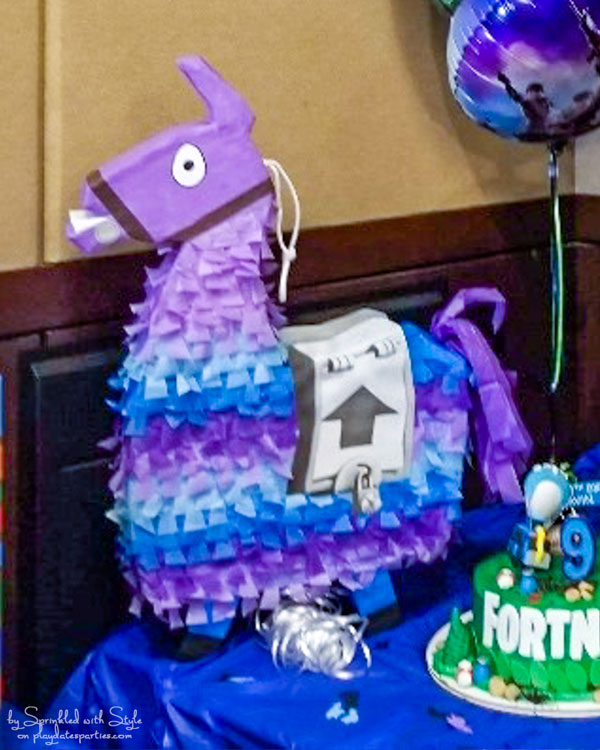 Fortnite Party Activities and Games
Because we were at an outside facility, the only "games" we did ourselves in-room were the pinata pull and a Fortnite dance-off, but those were clearly highlights as the kids enjoyed them very much (and adults as well, as spectators)
What is the one part of the party setup that you loved the most, and why?
What I personally love most about my party set ups is getting to see my vision come to life.
Since almost all of my party items always come from different vendors and merchants, it's always exciting to see the final décor look come together and add that sense of joy and festiveness for the day of the event that one would expect for a party, and knowing it was custom-curated by myself.
It gives me an immense sense of pride!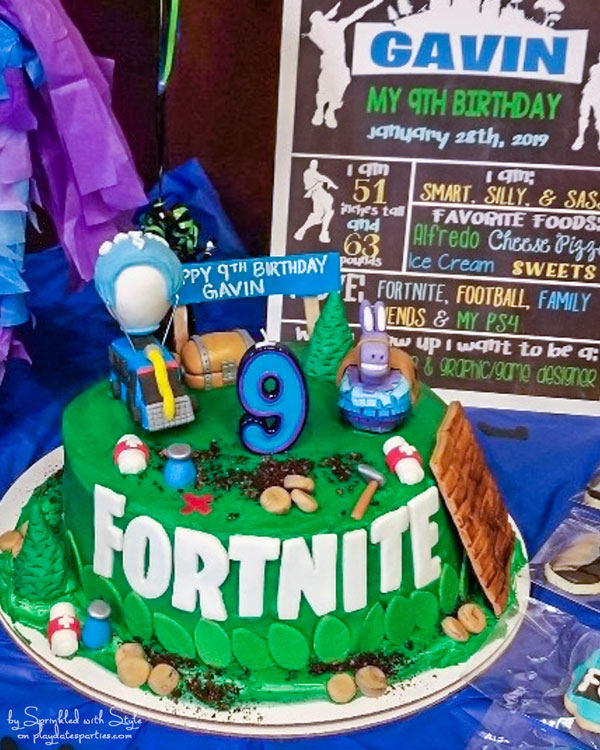 Where can I find the same Fortnite party supplies you used?
* Unfortunately, many of the vendors have closed shop or no longer sell the items, but here is a list of the decorations used, and links to vendors wherever possible:
Sugar-sculpture "Fortnite" figures made for custom cake;
Custom-painted birthday candle;
V-bucks chocolates;
"Chug Jug" bottles;
"Fortnite"/"Battle Royale"-style "DROP" box party favors;
Tell Us a Little More about your business:
Brandi is the owner and primary stylist at Sprinkled with Style events.
Brandi is a virtual celebration and style consultant at Sprinkled with Style. Her specialization is event styling and vendor outsourcing and organization.
Check out Sprinkled with Style's Facebook page. for other awesome party themes (like Star Wars, TMNT, and Packers vs. Patriots)
More Party Themes for Boys
---