Loaded with shredded chicken, two kinds of pesto, and lots of mozzarella cheese, then baked until warm, chicken pesto sliders are heaven in a bun. Make them as a delicious game day appetizer. Or make them with leftovers for a fun family dinner!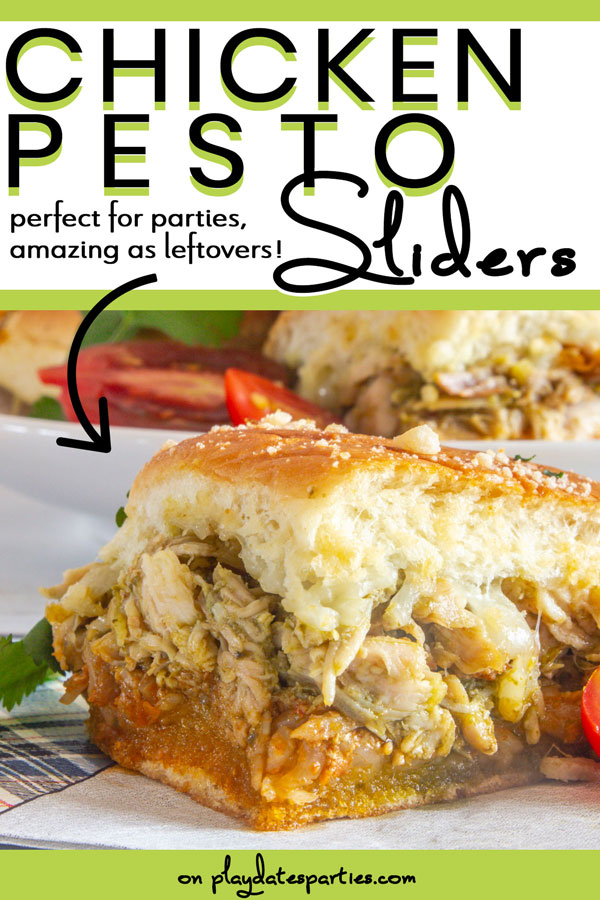 "Delicious!"
Both my 10-year-old and my husband agree, these chicken pesto sliders with mozzarella are just too tasty to pass up.
Not too bad considering they were inspired by the leftovers from an ornament shaped cheese ball for Christmas. Basically, I ended up with a bunch of leftover basil and sun dried tomato pesto, and thought it would be fun to find a way to make them work for the Super Bowl.
From the very first time we made them they've been a hit.
Ingredients:
12 dinner rolls (the kind that connect)
2-3 cups Shredded chicken
Basil pesto
Sun dried tomato pesto
Butter
Grated parmesan
2 cups mozzarella cheese
Fresh Italian parsley for garnish
Add your name and email address below and I'll send this cheat sheet- showing exactly how much food to make for your parties – straight to your inbox!
Note: When you click the button, you agree to this site's privacy policy. You'll also receive exclusive marketing content from Playdates to Parties. You may unsubscribe at any time.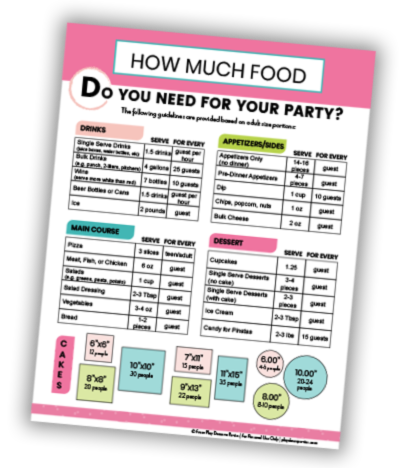 What kind of shredded chicken to use
We've made these with both chicken thigh and chicken breast meat. Both are yummy.
When photographing these sliders I cooked 4 boneless, skinless chicken thighs in Italian dressing. You could just as easily use a rotisserie chicken or whatever leftover meat you may have on hand.
Just make sure it comes out to between 2 and 3 cups of shredded chicken meat.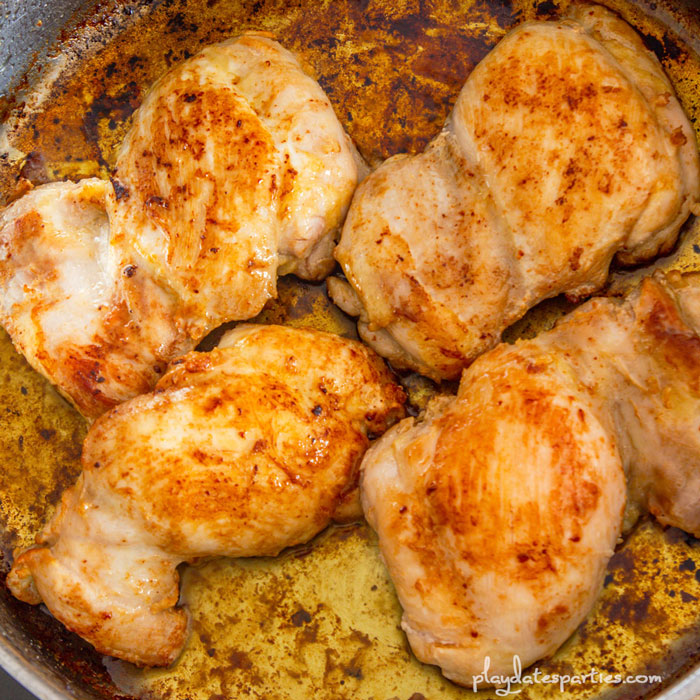 Which Dinner Rolls Should You Use?
The biggest thing to remember with the dinner rolls is that you want them to be the kind that are connected together. It makes the sliders so much easier to prepare.
We've used this recipe with both sweet Hawaiian rolls and plain dinner rolls. I tend to like the combination of sweet and savory, but both versions got a vote of 'delicious' from my family.
How to Shred the Chicken:
I'm a pretty simple gal, and usually stick to the double fork method:
Place your chicken on a sturdy surface, like a cutting board.
Using two forks, start by pulling the chicken apart along the grain of the meat.
Then, get a finer shred by pulling your fork down along the grain.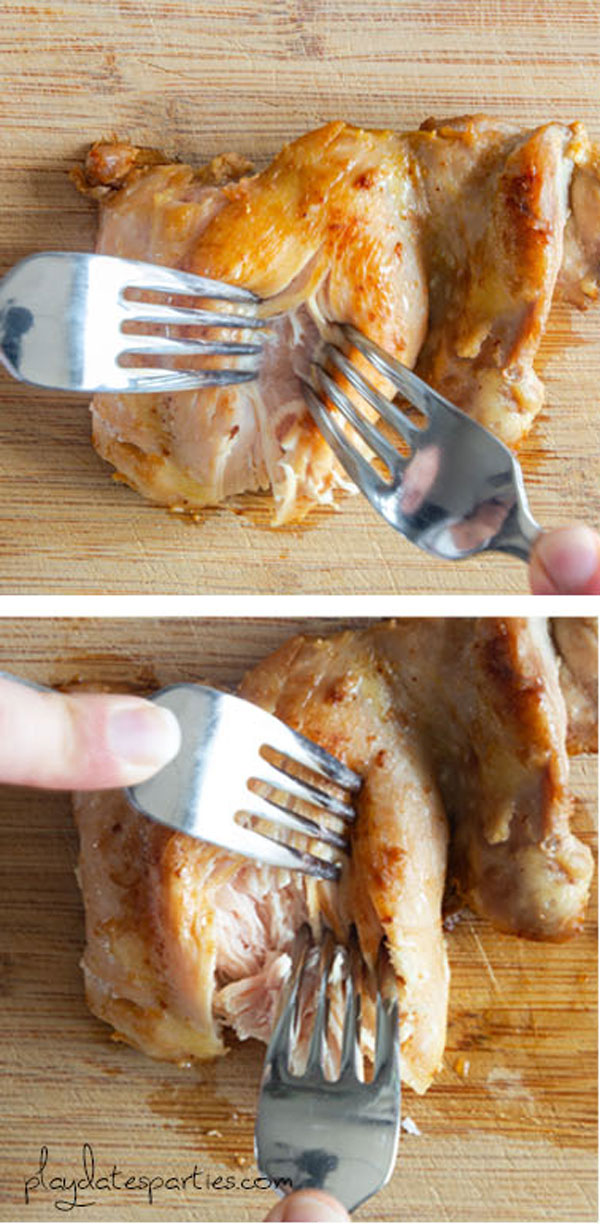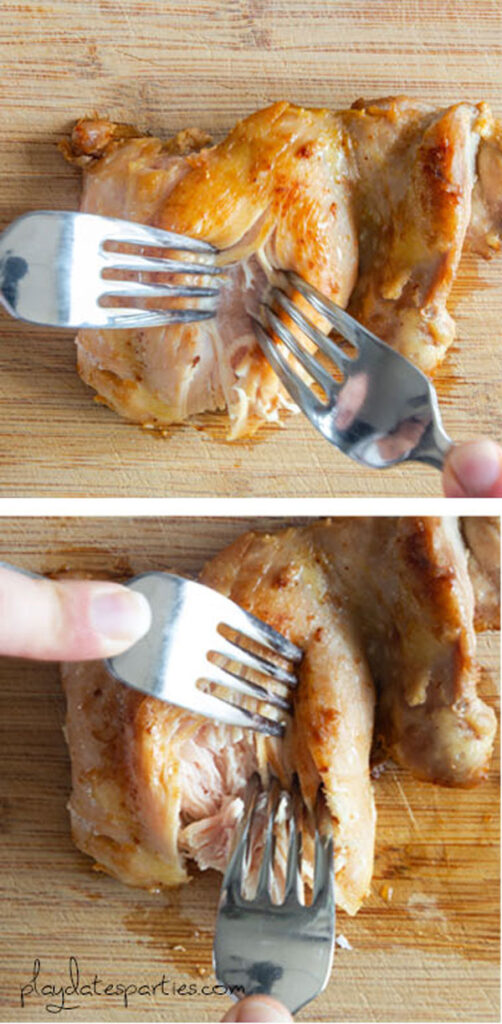 However, if you're making a double or triple batch of chicken pesto sliders, then you may want to consider these other options:
Using a food processor. I've never done it, but if I ever do, I'll update you with the results!
Shredding claws. These gadgets look kind of silly, but I could see them coming in handy when you've got a large piece of meat to shred, like a pork shoulder.
Put it in a stand mixer. Some people swear by it, but this method has never quite worked out for me, so try it at your own risk.
Rip it with your hands. If all of the above seem too fussy, you can always shred with your hands.
Whatever method you use is totally up to you, as long as it fits the time you have.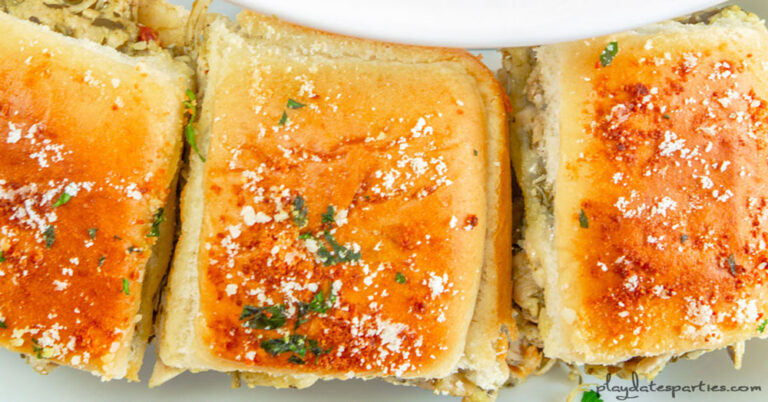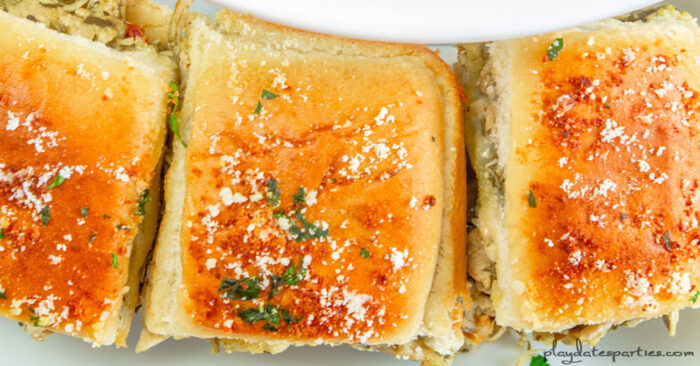 Can You Make The Sliders Ahead?
Yes! We've made these sliders as dinner for our family and then had them again as leftovers, and the leftovers were just as tasty as the same day they were made.
That said, here are a few tips for making and reheating your sliders:
Make the sliders no more than 1-2 days in advance. The longer they sit, the more the pesto is likely to get into the buns
Don't skip baking the sliders when prepared in advance. Cover with foil and heat the sliders long enough to melt the mozzarella cheese. The melted cheese reduces how much oil gets into the bread from the pesto.
Wait to add the melted butter, parmesan cheese, and parsley on top of the sliders. You don't want those to burn by being heated twice
Reheat your sliders in the oven for 10-15 minutes at 350 degrees F, covered with foil. Then remove the foil, add the butter, parmesan, and parsley, and heat for another 5 minutes.
How to Make Chicken Pesto Sliders:
Once you've shredded your chicken (which can be done a couple days in advance), this recipe is easy to pull together.
The full details are in the instructions below, but here's a quick visual step-by-step of the process: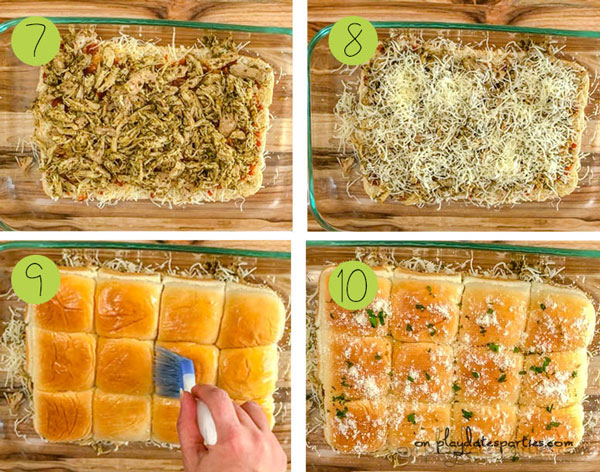 Supplies You'll Need:
9×13 pan (either a baking sheet or a casserole dish)
Wide spatula (we use this one all the time)
Large mixing bowl
Small microwave-safe bowl
Mixing spoons
Measuring cups and spoons
Serrated bread knife
Cutting board
Chopping knife
More Appetizer Recipes You'll Love
Yield: 12 sliders
Chicken Pesto Sliders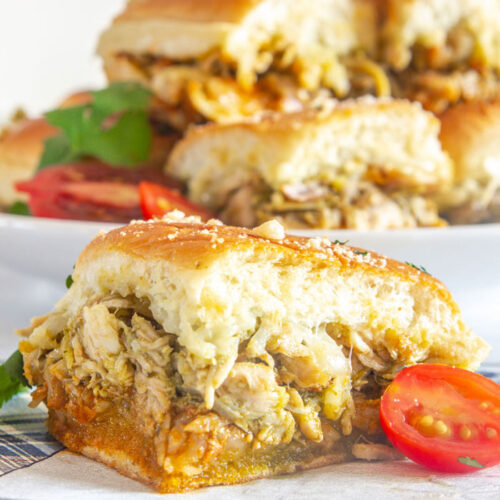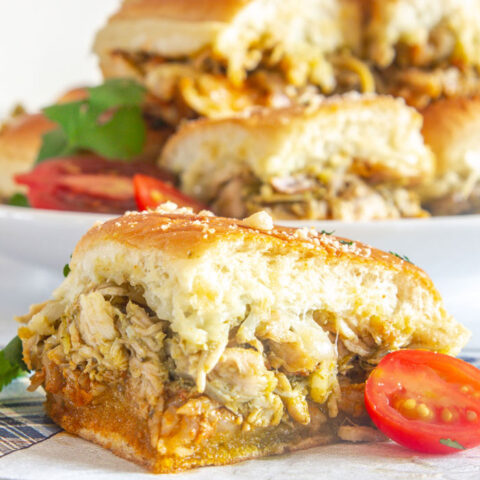 Chicken pesto sliders are a delicious finger food to make as a game day appetizer or as a fun family dinner! Loaded with shredded chicken, two kinds of pesto, and lots of mozzarella cheese, these sandwiches are heaven in a bun
Ingredients
2 tbsp butter
12 ounces dinner rolls
3 cups shredded chicken (see above)
5 tbsp basil pesto
2 cups shredded mozzarella cheese
9 tsp sun dried tomato pesto
2 tsp grated parmesan cheese
2 tbsp chopped parsley
Instructions
Preheat oven to 350 degrees F. Brush a about ½ tablespoon of melted butter onto the bottom of a 9x13 inch baking pan.
In a large bowl, mix together shredded chicken and 5 tablespoons basil pesto. Set aside.
Place a full tray of 12 dinner rolls on a cutting board and carefully cut off the top half of the rolls without pulling the rolls apart. Using a wide spatula, place the rolls in the prepared baking pan and set the top half of the rolls aside.
Brush 1 tbsp melted butter on the inside of the rolls.
Sprinkle 1 cup shredded mozzarella onto the rolls.
Dot 9 teaspoons of sun dried tomato pesto on top of the mozzarella cheese. Use the back of a spoon to spread the pesto out as evenly as possible.
Spread the shredded chicken and basil pesto blend evenly over the cheese layer.
Scatter remaining 1 cup mozzarella cheese on top of the chicken and place top half of slider buns onto the sandwiches.
Brush remaining ½ tbsp melted butter on the top of the buns.
Sprinkle with 1 tsp grated parmesan cheese and chopped parsley.
Bake, uncovered, for 15-20 minutes, until the tops of the buns are golden brown.
After baking, allow to cool for 5 minutes before carefully removing the sliders from the pan. Use a sharp serrated knife to cut the sliders apart before plating.
Notes
You can use either dark or white meat chicken for this recipe. Both are delicious!
Using rolls that are baked together instead of separately makes assembling the sliders much easier
See notes in the post above for making the sliders in advance.
Nutrition Information:
Yield:
12
Serving Size:
1
Amount Per Serving:
Calories:

247
Total Fat:

14g
Saturated Fat:

5g
Trans Fat:

0g
Unsaturated Fat:

8g
Cholesterol:

42mg
Sodium:

345mg
Carbohydrates:

16g
Fiber:

1g
Sugar:

1g
Protein:

16g
__________________________________ The nutrition information provided above is estimated using an automated calculation system. Actual nutrition will vary depending on brand and measurements used in your recipe. To obtain the most accurate representation of the nutrition information for any given recipe, you should calculate the nutritional information using the actual ingredients you used in your recipe.
Have you tried chicken pesto sliders? Let me know what you think in the comments section below!
---