Perfect for Paw Patrol and Puppy Dog Pals fans, make planning the birthday party menu easy with these cute and creative puppy themed party food ideas.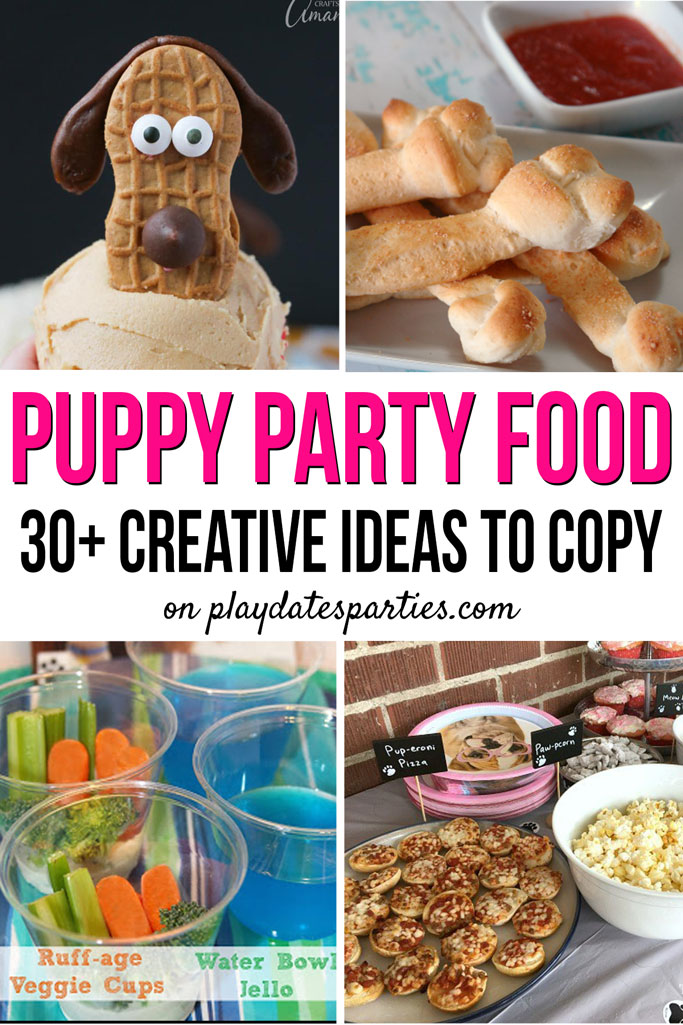 RELATED>>>>THE BEST PUPPY THEMED BIRTHDAY PARTY IDEAS
"Are those Snausages for dogs?" (chewing hard)

"Uh, yeah, grandpa."

"Huh" (still chewing)
True story. My grandpa ate a dog treat. I'll never forget it. And the best part is that he didn't seem phased at all. I guess after fighting in World War II and beating cancer, eating a dog treat didn't seem like the end of the world.
But if you're dealing with a puppy-crazed kid like my 3-year-old son, you may be wondering what on earth to serve at the puppy themed party that they dream of.
Puppy Themed Party Food Ideas
Well, you don't have to resort to serving actual dog treats. But there are a ton of ideas out there that are just beggin' to be used at your party!
Now, before we get started, I'm going to be honest and tell you that this list fits best with buffet style parties. That also happens to be my favorite way of serving food to guests. If you choose the right foods, it's easier on you and everyone has plenty to eat.
I find it's easiest to rename favorite party foods with cute and clever nicknames. But but a few of my blogging friends agreed to let me share some of their paw-some homemade treats too!
(Somebody stop me before I get too punny, or is it already too late?)
Fun ways to display your puppy themed party food:
Before we get started with naming everything, let's talk about presentation. Because presentation is everything. Thankfully, there are plenty of options with this theme.
Build-your-own bars are a fantastic way to feed a crowd. And I love that this menu card offers ideas themed for a Paw Patrol Party. You could also adapt this to use different breeds of dogs for each type of condiment combination too!
We all know what dogs and puppies like to do with fire hydrants, which makes a fire hydrant cupcake stand a fun way to break up the monotony of all the puppy pictures and colors. (This is also an awesome idea for little ones who really love Marshall from Paw Patrol)
Appetizers and Side Dishes
It's always good to include a few finger-friendly side dishes on your buffet. At a minimum, I like to include some kind of fruit and vegetable – even if it's only the adults eating them. But the options are practically endless. Here are a few great ideas to get you started: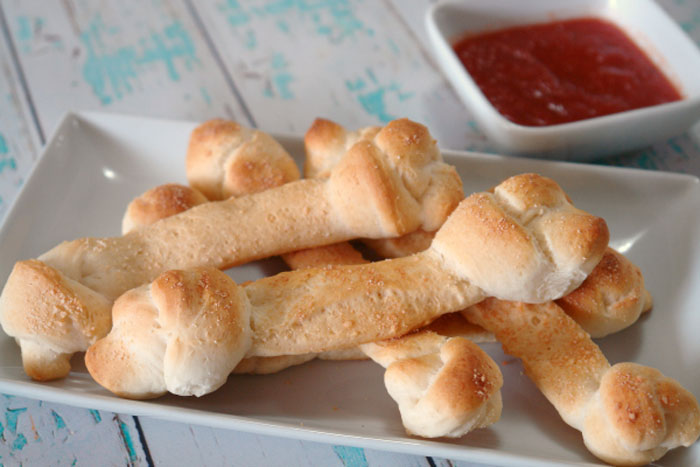 If you've got time, you can make breadstick bones like Retro Housewife Goes Green. There really is nothing quite like homemade bread, and your guests will think you're amazing!
Or, if you're looking for a little bit less work, give this bone-shaped cheese tray a try! (via Kelly Gene)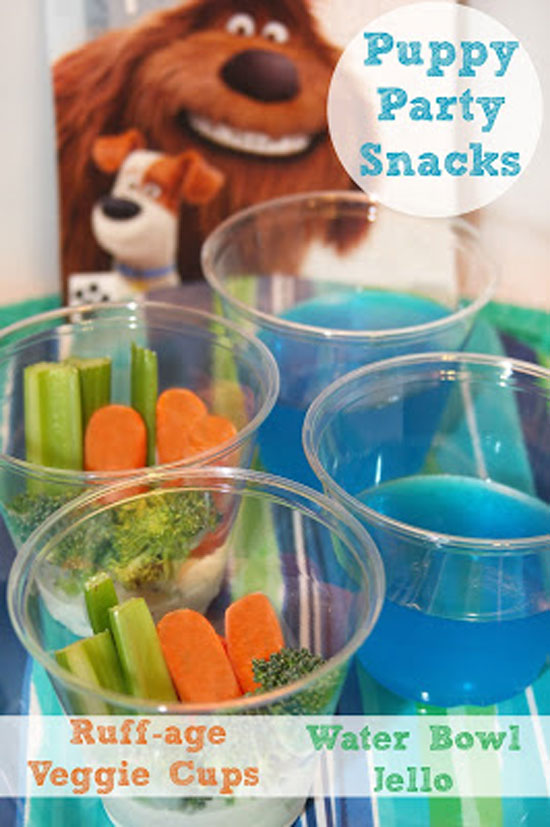 Some other fun labels to add to your appetizers:
"Ruff-age" for veggie cups or a vegetable tray (like the one above from The Love of Food)
"Fruit Kibble" instead of fruit salad
Bacon on a stick can be renamed "Beggin' Strips"
People have "Chew Sticks" too! They're called Slim Jims. (your Keto friends might love you for those)
Main Course Puppy Themed Party Food Ideas:
Now, if you're hosting the party at snack time, you don't necessarily need to worry about main course ideas, or heavy foods. But if the party will run into lunch or dinnertime, then it would be a good idea to include some of these ideas.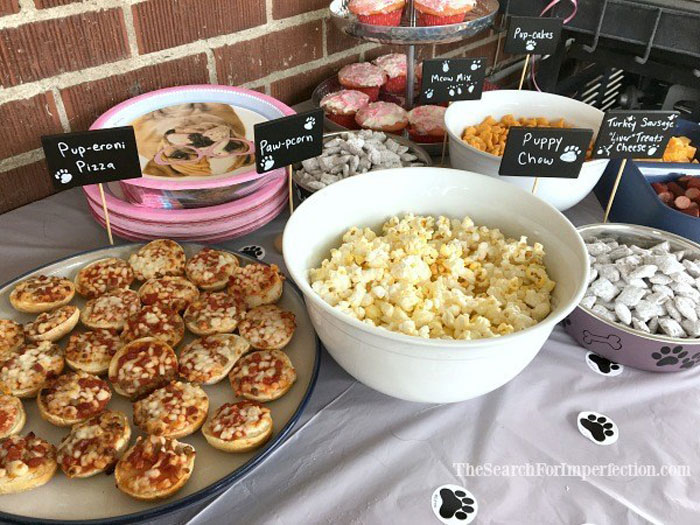 The Search for Imperfection actually turned her kids' party into an animal shelter donation party (such a sweet idea!), but I'm still giggling over the idea of serving "Pup-eroni Pizza"
Some other ideas for heavier fare:
"Paw-sta Salad" (Use bone-shaped pasta to make it especially paw-fect!)
All you need is a cookie cutter and you can make some simple "Bone-witches"
Make human friendly "Snausages", also known as pigs in a blanket. Some families also rename them "Pups in a Blanket" for their puppy parties
If your party is early in the day you can serve up some "Woofles" (waffles), "Snausages" (sausages), and "Beggin strips" (bacon)
Snacks and Desserts:
Why is it so much easier to come up with fun names for snacks and desserts? Maybe it's because they're also so much fun to eat! Take a look at this cute list of puppy themed party food dessert ideas: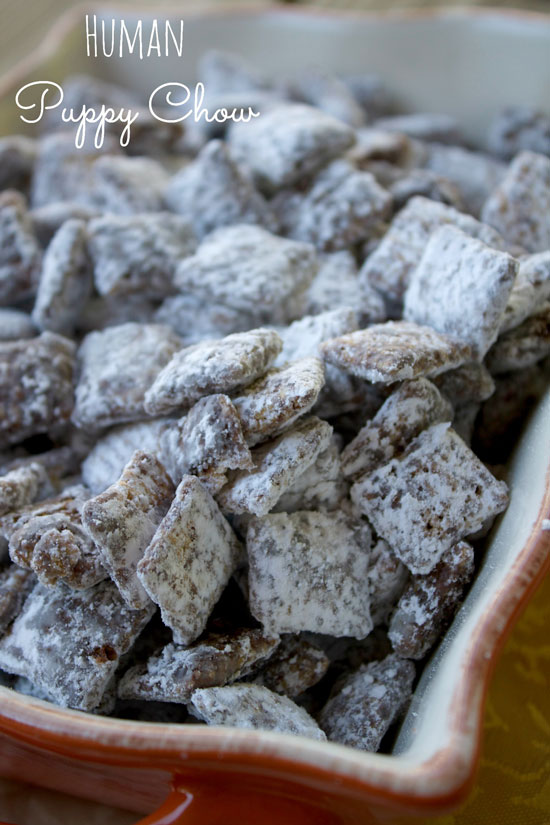 Perhaps the easiest is to make Puppy Chow! You don't even need to change the name. There are literally hundreds of different recipes out there, but Mom Luck shares a classic version that's super easy for a kids party.
Turn popcorn into "Pupcorn" or "Paw-pcorn"
Cheese puffs have so many options! Try "Cheese Paws", "Puppy Tails", or my favorite: "Cheese Ruffs"
Instead of potato chips, make "Paw-tato Chips"
Pretzel sticks, or anything else that's stick shaped are "Go Fetch Sticks," "Fetch Stick" or "Bones"
Chex mix or cereal mix (I love Kix and Cocoa Puffs for this theme) turns into "Kibbles and Bits"
Use a cookie cutter to make bone-shaped Rice Krispy Treats
Twizzlers can also be called Chew Sticks.
A bowl of Hershey's Kisses will have everybody loving their "Puppy Dog Kisses"
Make your favorite candy "Bark" recipe and put it out for everyone to enjoy.
Turn mini cups of blue jello into "Water Bowls"
If it's summertime, pull out the "Pupsicles"
Puppy Themed Party Drinks
There aren't a lot of ideas out there for puppy themed food names at the beverage station. And mostly it's because "paw," "ruff," and "bone" just don't work as well with drinks. But that doesn't have to stop you.
Don't forget, there are over 300 dog breeds out there! That's a lot to work with – and Wikipedia has a great list that's easy to scroll through if you're looking for inspiration. Here are a few ideas that I came up with in only a few minutes:
Lemonade can become Labrador Lemonade or Lhasa Lemonade
Pick your favorite punch recipe and rename it Pekingese punch or Pomeranian punch
Or you can keep it really simple and serve Jack Russell Juice Boxes
Maybe kids will actually drink their water if it's renamed Toilet Water, Wimereiner Water, or Whippet Water
Hosting a party in winter? Make some "Hound" Hot Chocolate
Summer parties are perfect for Maltese Milkshakes
If you already have a puppy, or your little one has a favorite breed, go ahead and incorporate that somehow. For example, my son named his favorite lovey Soft Doggie, so based on that, I would include something like "Soft Doggie Smoothies."
Cute Cupcakes:
Every kid will tell you that the best food at a party is the dessert. And there are so many ideas out there that I could write a whole separate post on puppy themed party cakes and cupcakes. (And if you'd like that, let me know in the comments section!) But I just couldn't pass up sharing these pup-cake ideas!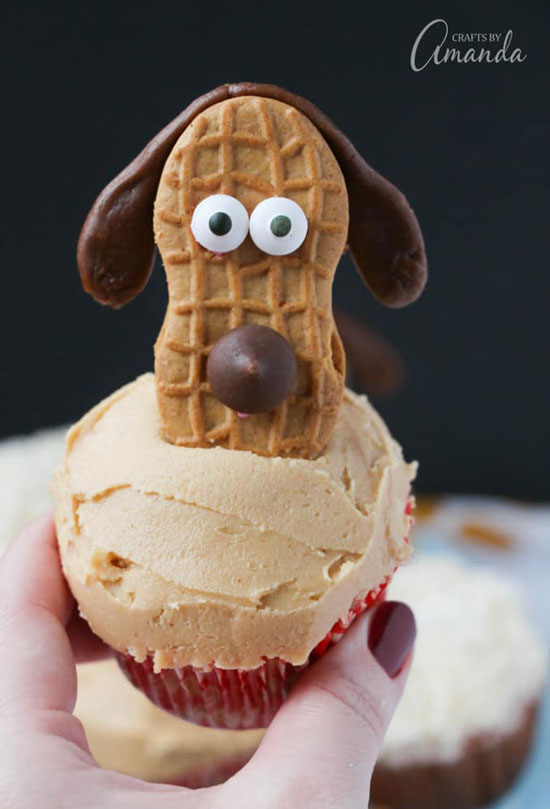 So. Stinkin. Cute. That's exactly what I thought when I saw these puppy dog cupcakes from Crafts by Amanda. They look pretty darn easy to make…which is always a bonus when you're rushing to get a party pulled together. (Also, you have to pop over to see the puppy-themed chandelier she made…I'm definitely going to find a way to use that idea!)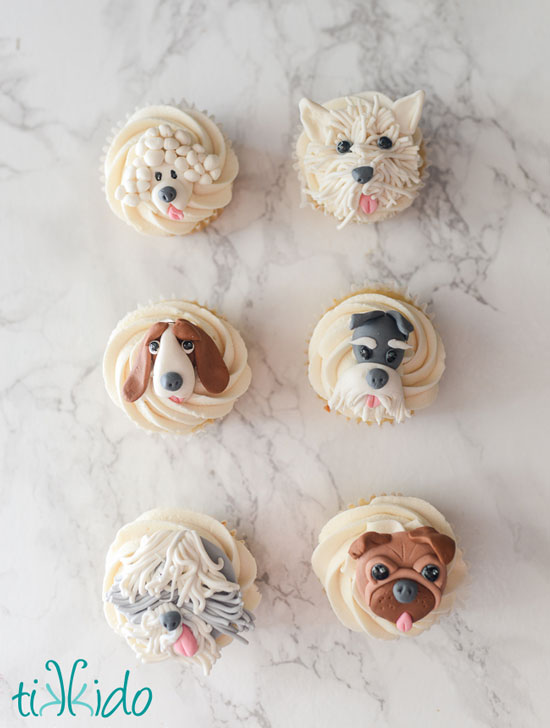 Nikki over at Tikkido has some serious crafting and baking skills. And if you're up for the challenge, I think all your guests would go gaga over these amazing puppy cupcake toppers.
More Party Ideas You'll Love
Now It's Your Turn
See? There are so many fun puppy themed party food ideas. With a little clever renaming, you can have everything from appetizers, to desserts, and even drinks fit the puppy party of your little one's dreams.
Pick your kids' favorite foods, and then find something from the list above that matches. And don't be afraid to change it up! That said, I want to know…
Which of these puppy themed party foods would you serve?
Is your kid a bigger fan of Paw Patrol or Puppy Dog Pals?
---