Want a football party treat that's easy to make, and cheap too? Penalty pops are the perfect treat to add a little flair to your table without spending a fortune.
With just a few dollar store items and in the time it takes to watch an episode of your favorite show, you can have a whole party's worth of penalty pops ready to go.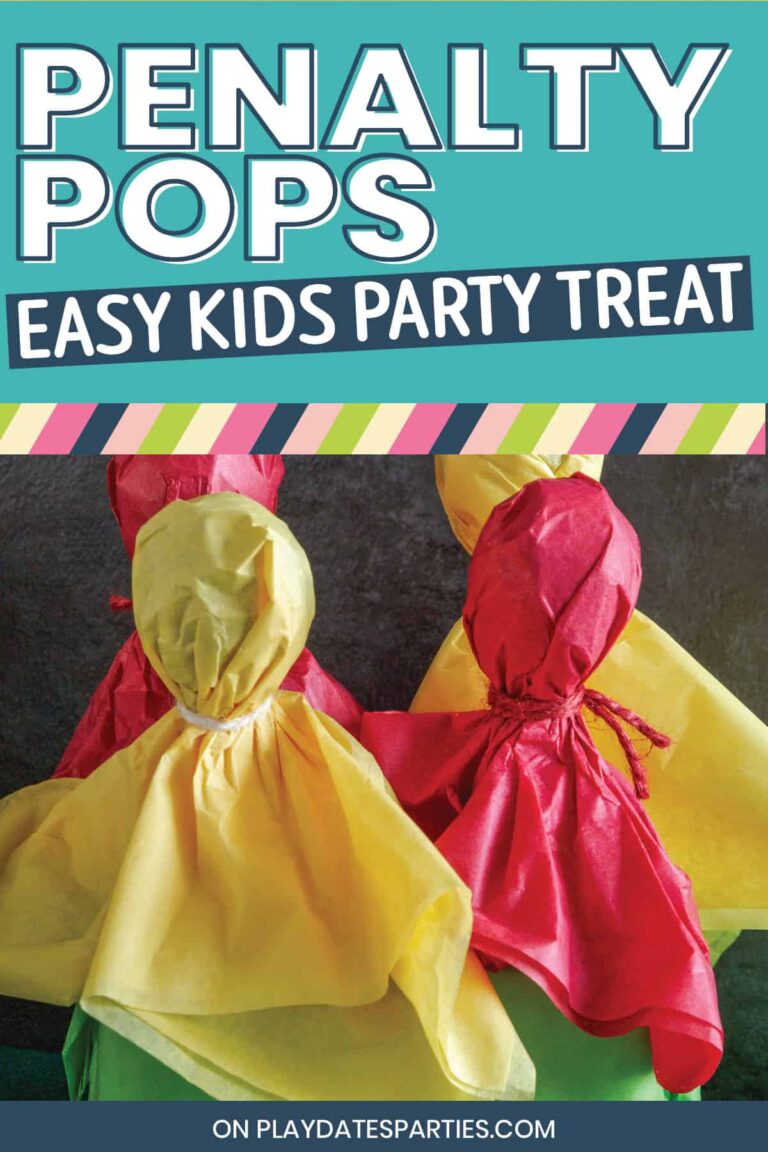 For years, we had these toy penalty and challenge flags that we would throw around during a football game. The kids especially loved to toss them – even though they had no clue what they meant.
So, when we invited a neighborhood family over to watch the Super Bowl, I had the idea to change the lollipop ghosts we all know and love into a cute, kid-friendly football party treat.
And so before someone feels the need to correct me…I do know that the red flags are technically challenge flags, but Penalty and Challenge Pops doesn't quite have the same ring to it as Penalty Pops.
What You'll Need:
1 sheet yellow and/or red tissue paper
Ruler
Pencil
Scissors
Baker's twine or string
Tootsie roll pops or other round candy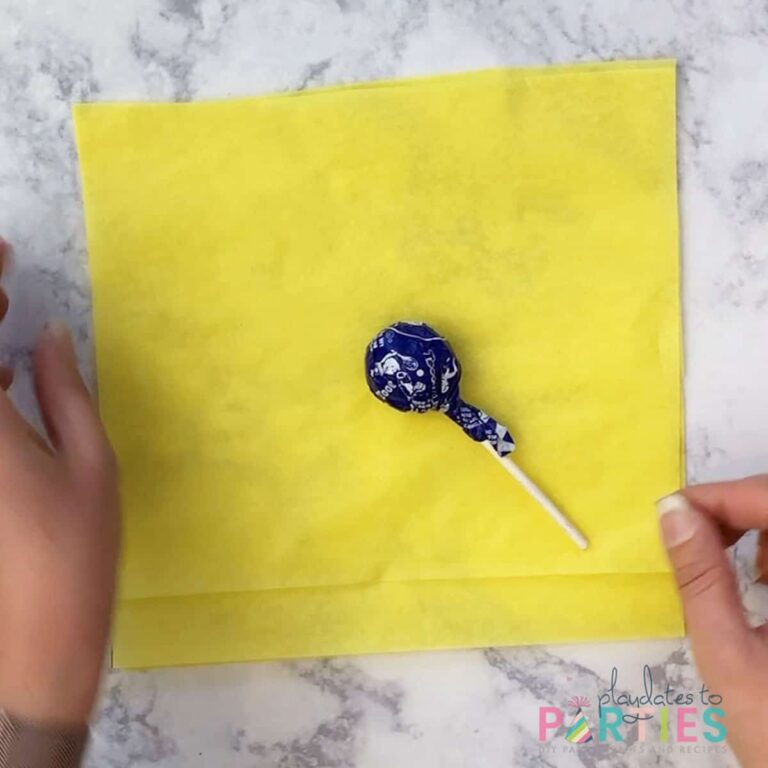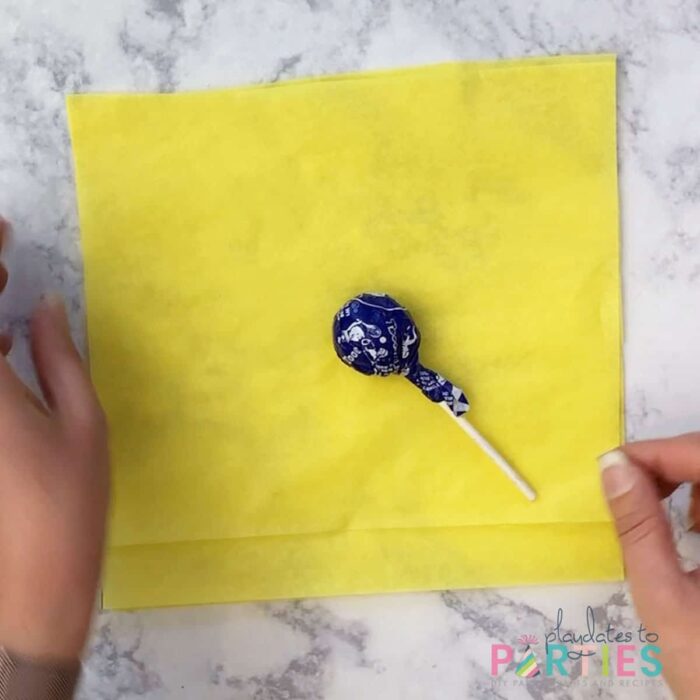 What kinds of candy can you use to make Penalty pops?
I used Tootsie Roll pops to make our penalty pops. The large size made it easier to wrap them and tie them off.
That said, you could use other lollipops or individually wrapped round candies. For example:
Dum Dums
Blow Pops
Jawbreakers
Atomic Fireballs
Gumballs
Chocolate Truffles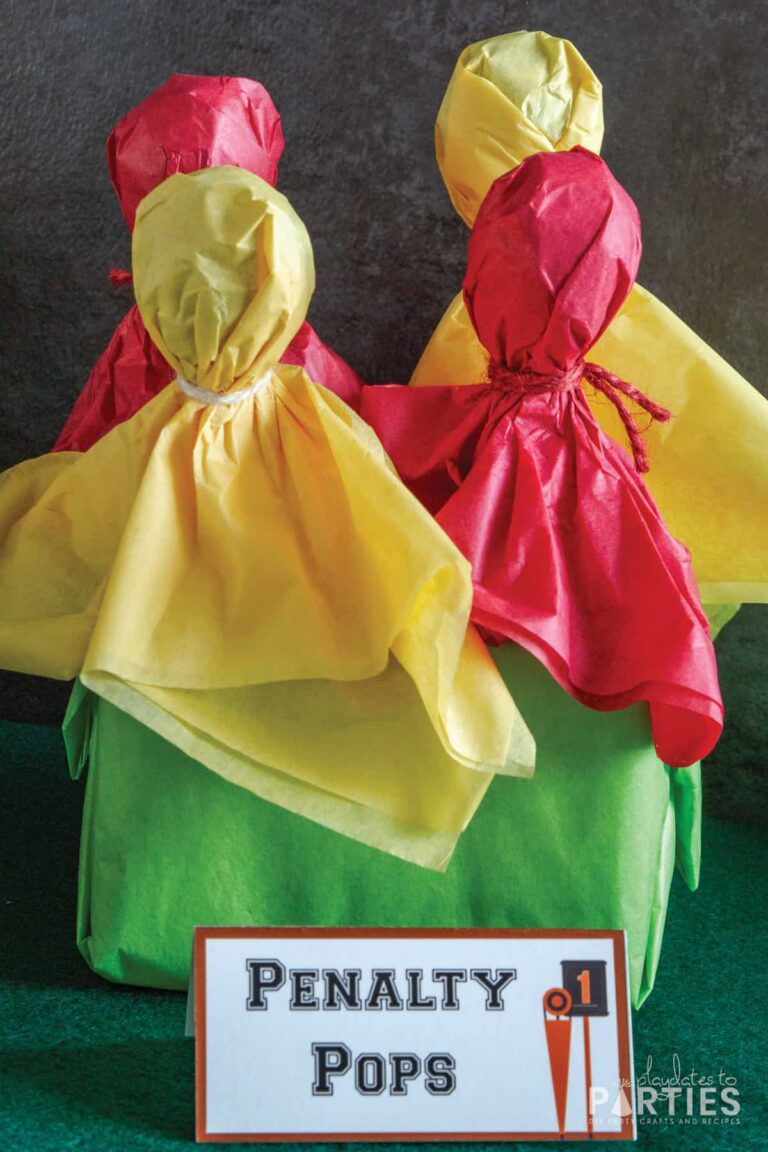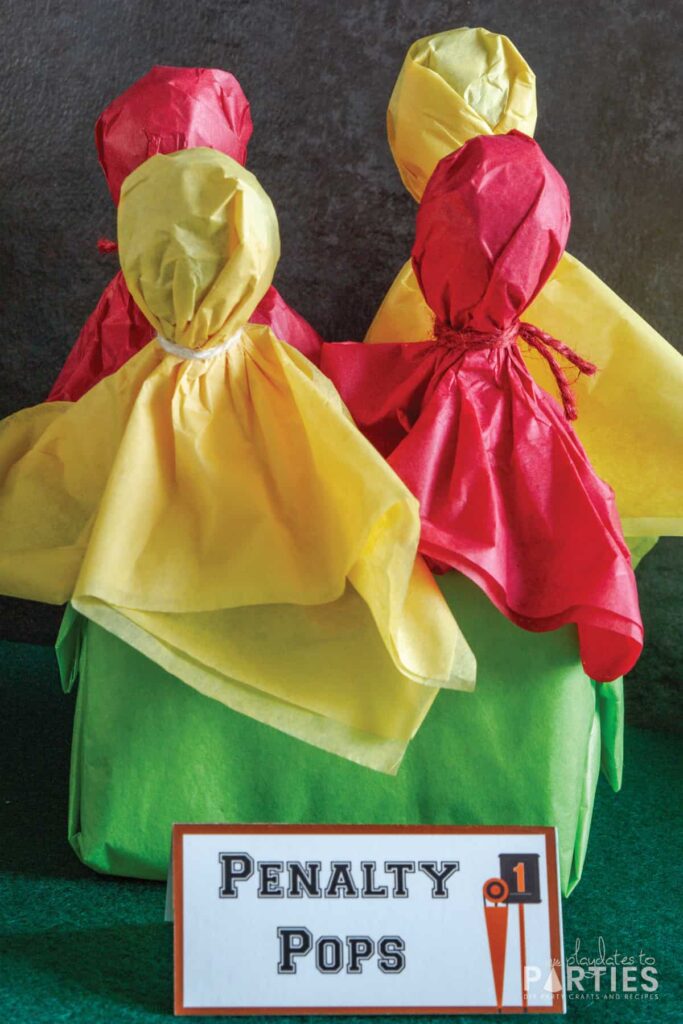 Like the buffet labels? You can grab them as part of the giant football bundle right here
How to Display Penalty Pops
I wrapped a square piece of styrofoam in tissue paper and used that hold the penalty pops up on our buffet table.
You could also just as easily have them lying on a platter or in a basket. Whatever works for your situation.
Tips:
Use at least two layers of tissue for each candy.
The only issue with using tissue paper is that it's so thin the candy wrapper can easily show through. Doubling up on the layers of tissue covers even the darker wrappers.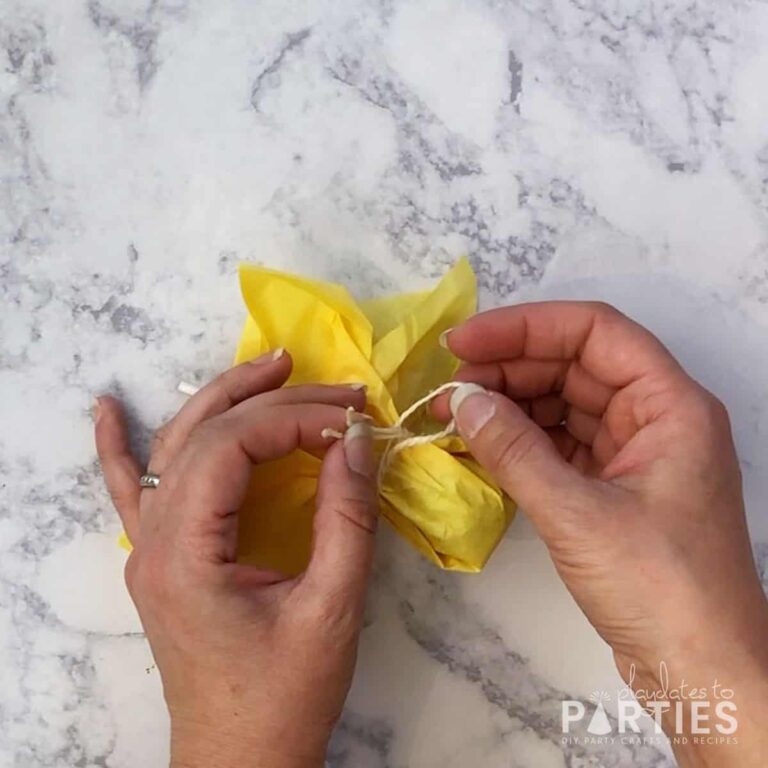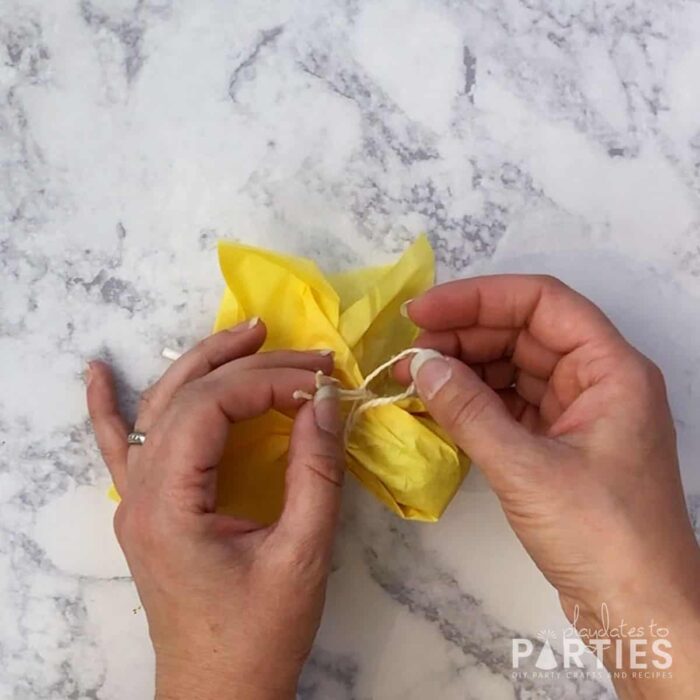 Coordinating the twine colors makes them look more authentic
Real penalty and challenge flags don't have contrasting string, so using something that contrasts would look strange.
Basically, the twine is simply used to get the shape of penalty flags. So I used natural twine for the yellow penalty flags and red twine for the red flags.
Don't worry about making the prettiest knot.
Technically I didn't even knot these. All I did was fold the string in half, wrap it around the base of the candy, thread the ends through the loop, and pull tight.
Even without a traditional knot, they lasted for a few days. 🙌
(Just make sure you don't trim the ends too short, or they may slip out)
More Football Ideas You'll Love
Yield: 2 penalty pops
How to Make Penalty Pops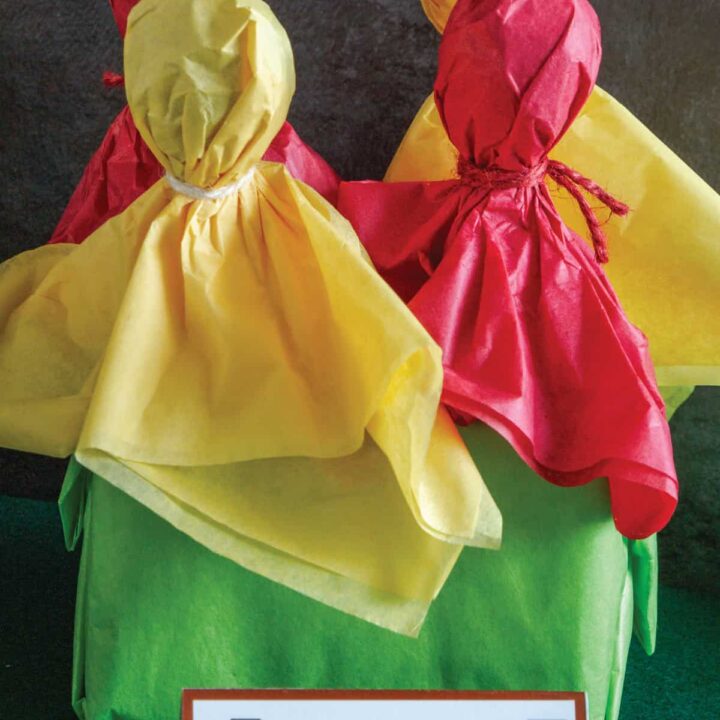 Looking for a cute and affordable football party treat? Penalty pops are quick and easy, and kids will love seeing them on your party table.
Materials
1 sheet yellow or red tissue paper
Tootsie roll pops or other round candy
Baker's twine
Instructions
Prepare Your Tissue:
Fold a sheet of tissue paper in half lengthwise, and then fold it in half again along the short side. You should end up with a square of tissue paper.
Use a ruler to measure 8.5 inches down from the open corner of the tissue paper. Mark lightly with a pencil.
Measure again 8.5 inches horizontally from the first mark.
Repeat and mark again at the top of the tissue paper
Cut the tissue paper along the marks you just made. This should cut off all the folded edges, so you end up with four separate sheets of tissue paper that are each roughly 8.5 inches square.
Wrap the Lollipop:
Wrap 2 squares of tissue over the head of your lollipop, and pinch just beneath the candy.
Cut a piece of twine or string about 8 to 10 inches long. Fold the string in half to create a loop on one end.
Wrap the twine around the base of the lollipop head. Push the cut ends through the looped end, and pull tight.
Trim any excess twine, and fluff the tissue paper out underneath the twine and set aside.
Repeat with the remaining two squares of tissue paper.
Notes
Twine that coordinates with your tissue paper will look better in the end.
Easy display option: wrap a block of styrofoam in tissue paper, then press the lollipop sticks into the foam to make them stand upright.
---