Find out how to make a bouquet garni to get all the delicious flavor of fresh herbs without the unpleasant texture of limp and waterlogged leaves.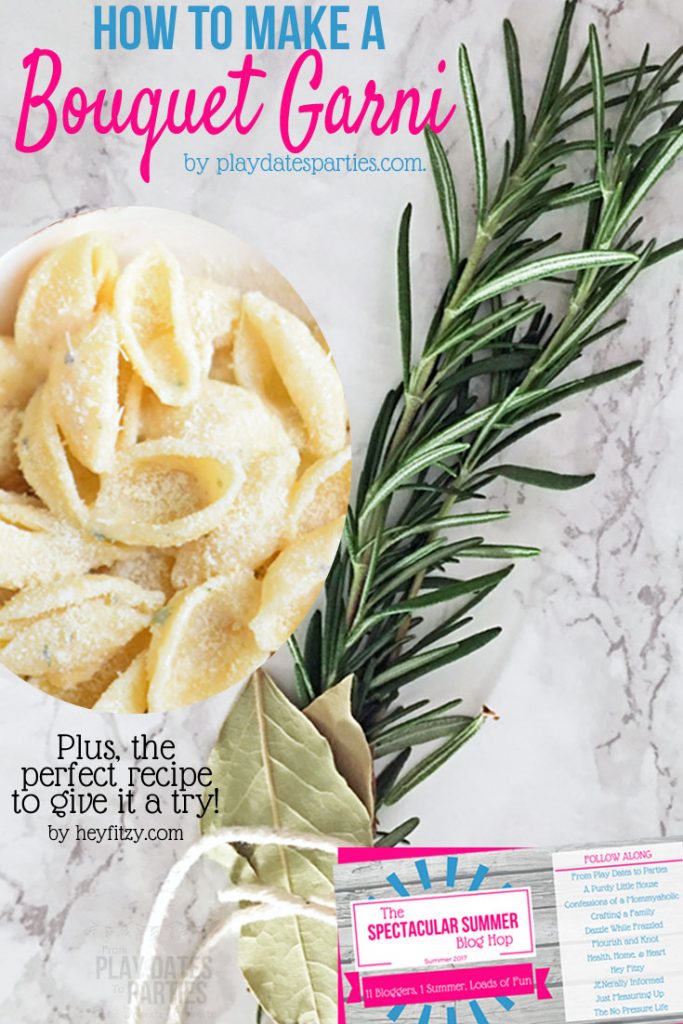 How many times have you forgotten to fish out that bay leaf from your pot of soup or your sauce? Or maybe you passed by that recipe that tells you to add fresh herbs to the pot only to pull them out later?
There is a way to get the flavor of fresh herbs without the hassle of finding them after the fact. It's called a bouquet garni…which is just a fancy way of saying 'garnished bouquet'.
Traditionally, bouquet garni are made with thyme, bay leaf, and parsley. But you can use this method for any recipe that calls for herbs that need to be removed before serving. In today's pictures, you'll see the combination of herbs used to make Hey Fitzy's Aglio e Olio Parmigiano-Reggiano Conchiglioni (also known as Pasta Shells with Garlic and Oil)!
How to Make a Bouquet Garni – The two main methods
How to Make a Bouquet Garni (and the perfect recipe to try it out!) #recipes #food
Click To Tweet
Option One – Tie the herbs directly together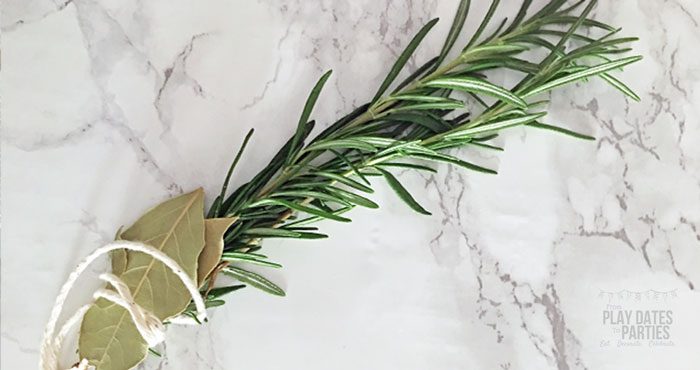 Just grab your herbs in a nice neat bunch and wrap them up with a piece of twine long enough to hang over the edge of your pot as your liquid boils. This method is perfect for fresh herbs with sturdy stems, such as rosemary thyme oregano and parsley.
Option Two – Wrapped in a cheesecloth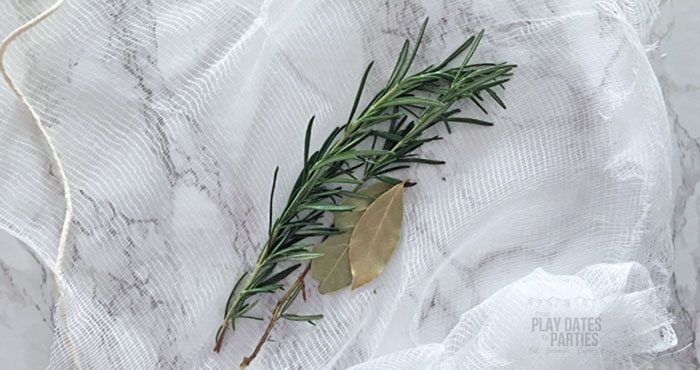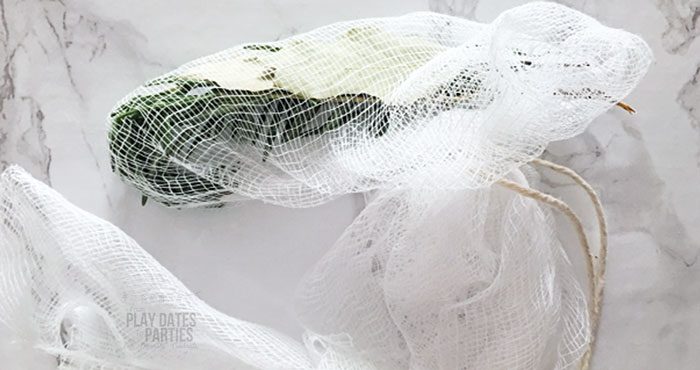 Cut a large piece of cheesecloth big enough to wrap around all your herbs. Gather the corners of the cheesecloth together and tie it up with twine, making sure the twine is long enough to hang over the edge of your pot. This method is best for herbs that cannot be tied together well with their stems. Examples of such herbs could include dried bay or basil leaves.
But what if you don't have cheesecloth and you can't tie everything together?
Try putting the herbs into an empty tea bag, coffee filter, or a reusable tea infuser. A word of caution: If you use a tea infuser or other reusable item with holes, make sure that any inedible herbs (like bay leaf) are not so small that they can get into your final dish.
Why would you use Bouquet garni?
Bouquet garni are perfect for smooth sauces or soups where you want the flavor of herbs but the leaves could be unpleasant in the finished recipe. Bouquet garni are also fantastic for infusing the flavor in other unusual ways, such as in boiling pasta water.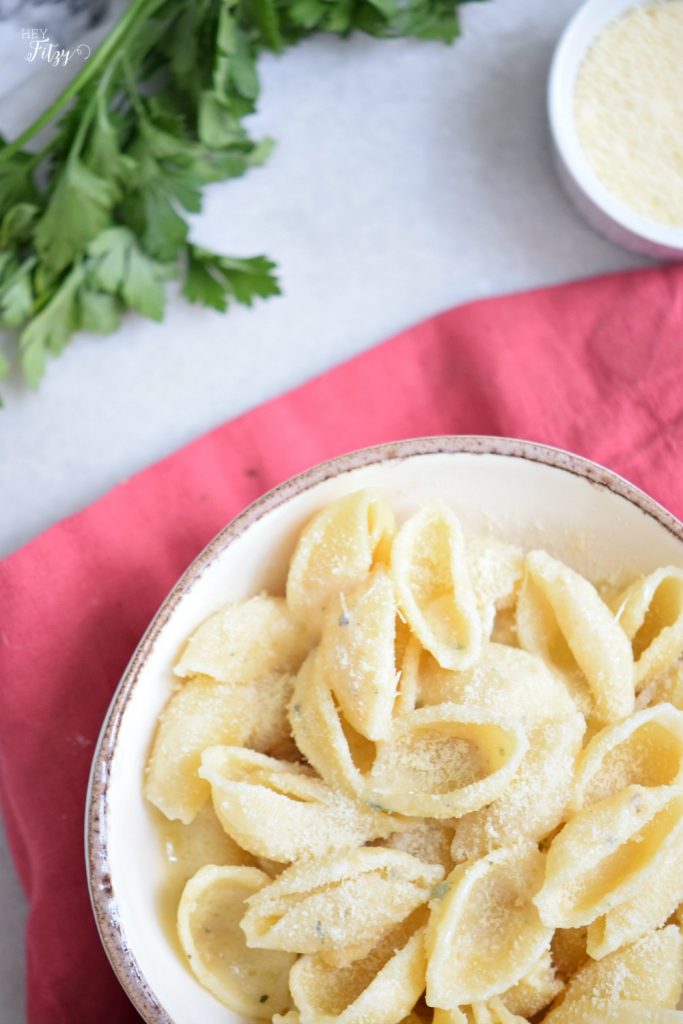 Now it's Your Turn
Today, my awesome Spectacular Summer Co-Host, Tammy, from Hey Fitzy is sharing her recipe for Aglio e Olio Parmigiano-Reggiano Conchiglioni (also known as Pasta Shells with Garlic and Oil). I made Tammy's recipe twice now for my kids, and they just love it! Best of all, it was the perfect trial recipe for a bouquet garni, which meant speedy cooking and speedy cleanup. Win-win!
In which recipe would you use a bouquet garni?
Do you have a favorite cooking technique that sounds fancy, but is really easy?
Here's a little bit more about Tammy
What's your favorite holiday?
I have to say Christmas. I love the festivities, decorating, getting everyone together, and the childlike magic of it all. Could do without the gift part but love everything else about it.
At which store would you like to max-out your credit card?
Gosh…I would have to say Nordstroms.
Each of my Spectacular Summer co-hosts is sharing a little bit more about Tammy on their blogs, too. So don't forget to hop around and see what else she has to say.
Subscribe via
Bloglovin, Facebook, and Twitter
to get more updates!
Don't forget to check out these awesome posts: