Welcome the new year with open arms and sparkly fun, by printing out this glittery Happy New Year banner printable for 2021 and matching wine bottle label.
Whether you choose from all-glitter letters, or sleek black and white with just hint of gold glitter around the edges, you'll be celebrating in style.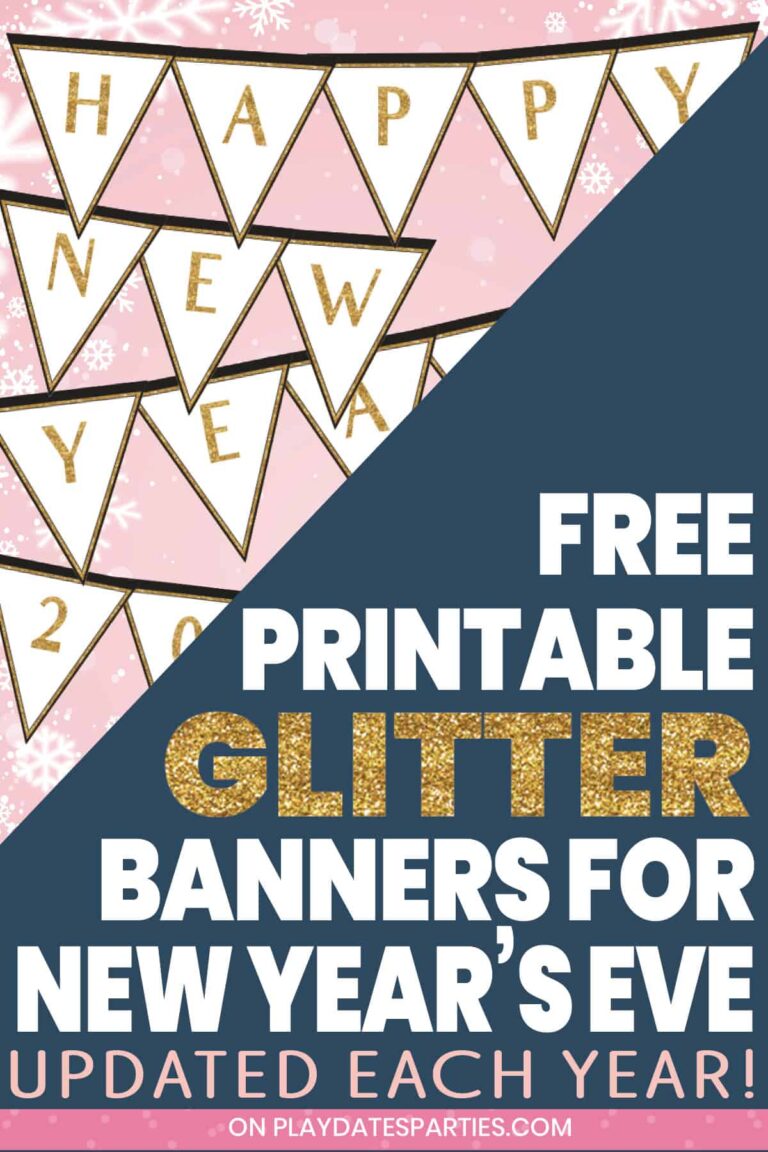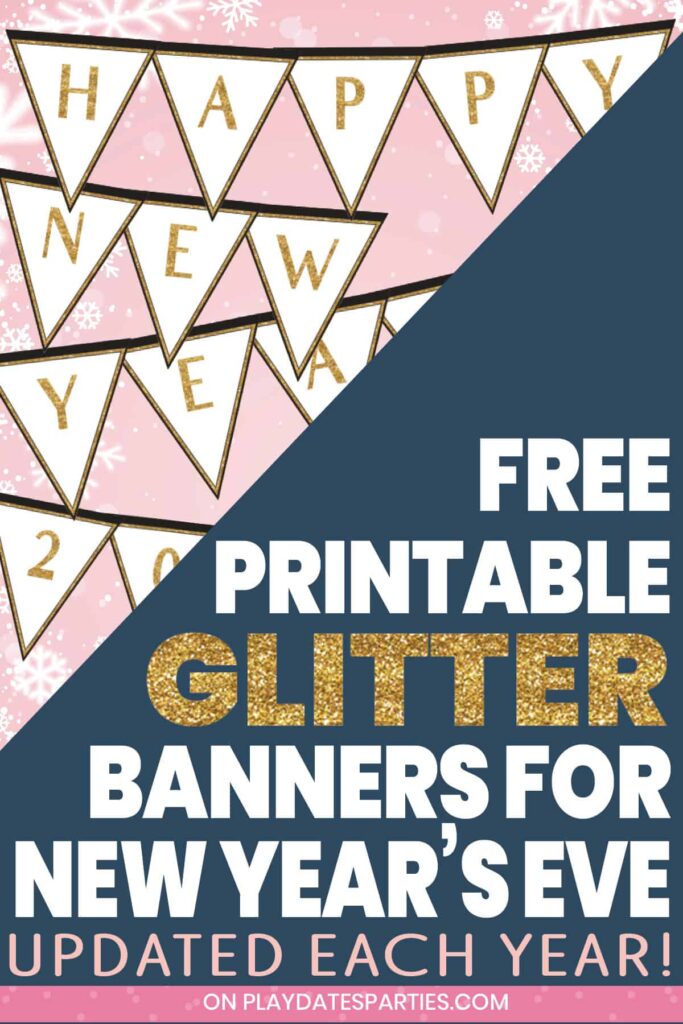 What a year.
There's probably not much point asking where you plan to celebrate your New Year's Eve, is there?
There was a time when the Husband and I would purchase tickets to an event at a downtown bar, consume too much low-quality wine (or liquor), and then make our way back to one of our apartments to sleep well into the first day of the New Year.
But then, we grew up, got married, moved to the suburbs, and started a family. And now life is much simpler.
If we're lucky, one or two kids are typically in bed a little bit before midnight. Then the husband opens a bottle of good champagne, and midnight comes and goes simply enjoying each other's company.
So, staying home for New Year's Eve has kinda been our normal for a while now.
Adding a Fun Happy New Year Banner Printable
BUT, our oldest is coming dangerously close to being a teenager. And our middle child is also old enough to stay up late with us.
So we're planning to go all out this New Year's Eve and ring in 2021 with as much glitz and fun as possible. Anything to start the year off right.
Anyway, nothing quite sets the tone for a party like a fun banner. And even if it's just a party with our little family, why not make it sparkle as much as our evening will?
Which is why I designed this kid-friendly glittery Happy New Year banner printable.
Sparkles are built right into the design…which means you don't need to worry about glitter getting everywhere. Yay!
Of course, you can feel free to add a little bit of real glitter…I know my kids would love that.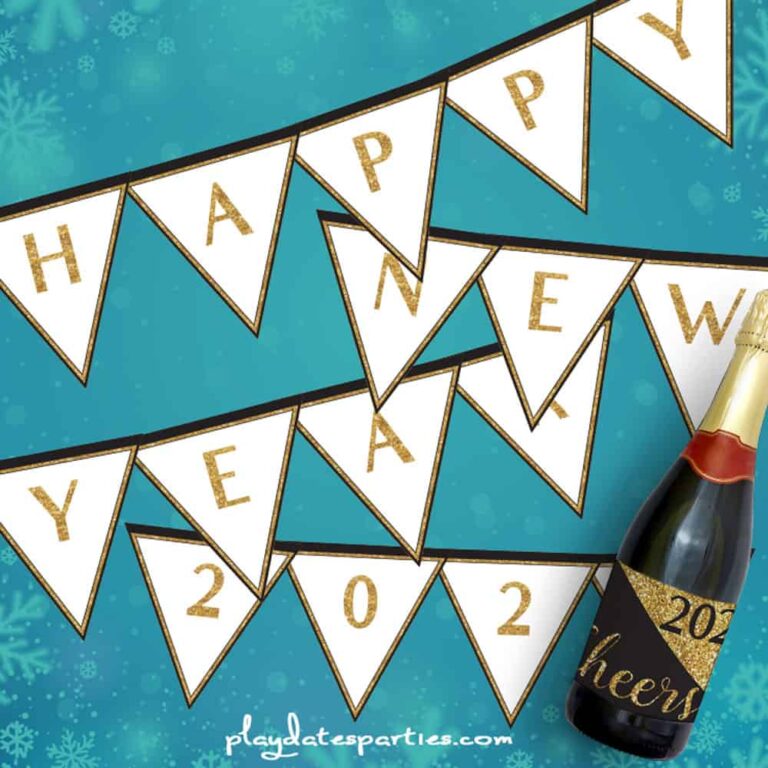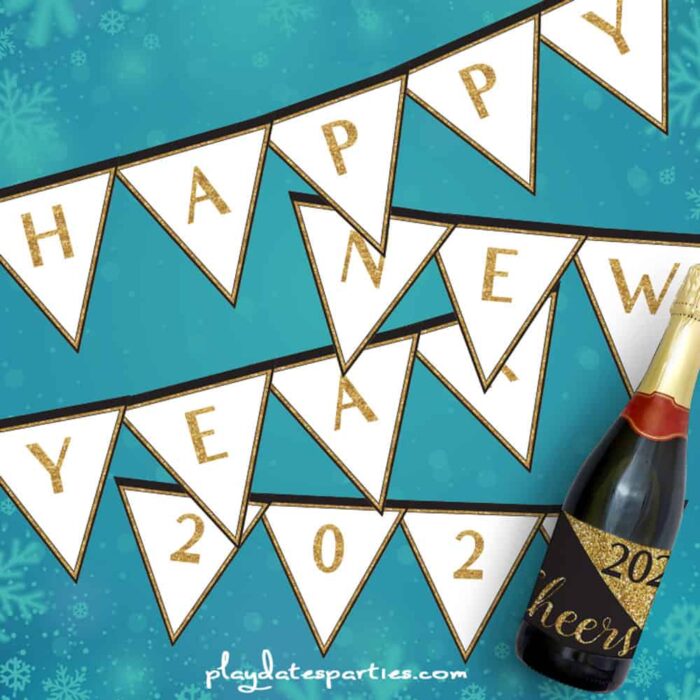 Two Versions to Choose From
I love the original design with its crisp black and gold glitter border ,and the gold glitter lettering inside. Plenty of sparkly fun.
BUT I love to spruce things up too. So, last year I added a version with black lettering as well. This is your crisp and classic option.
Not too girly, not too masculine. Just right.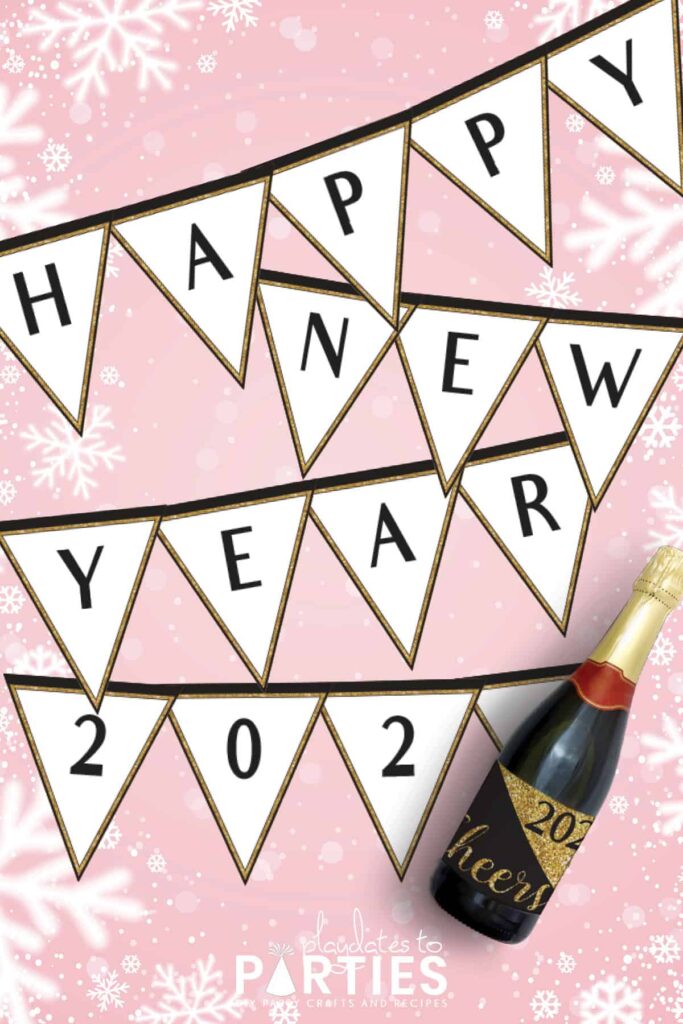 Plus Matching Wine Bottle Labels
Of course, I couldn't forget our traditional bottle of champagne.
No matter whether we serve ourselves a rare vintage, or something less expensive, it feels extra special with a matching label.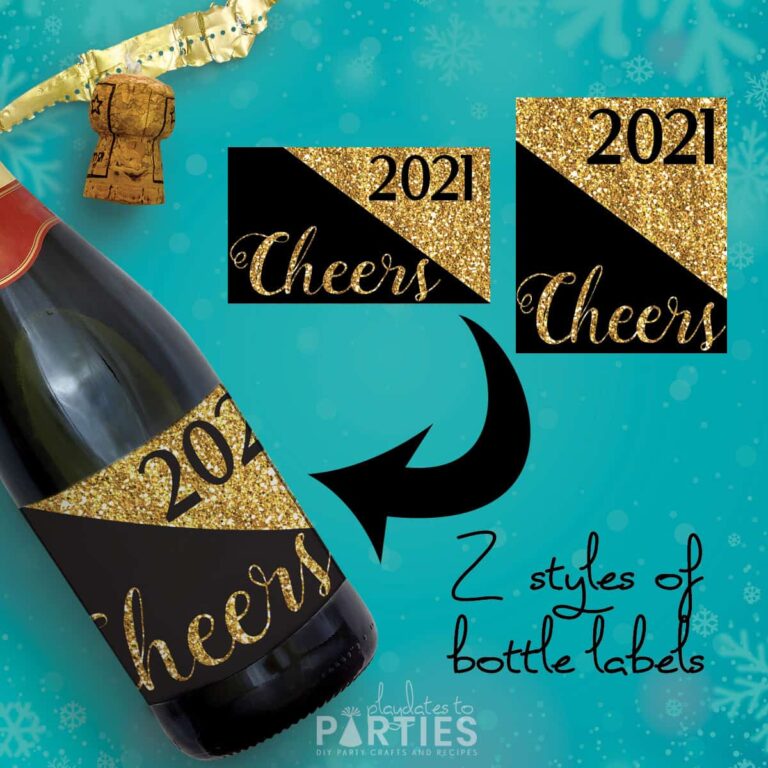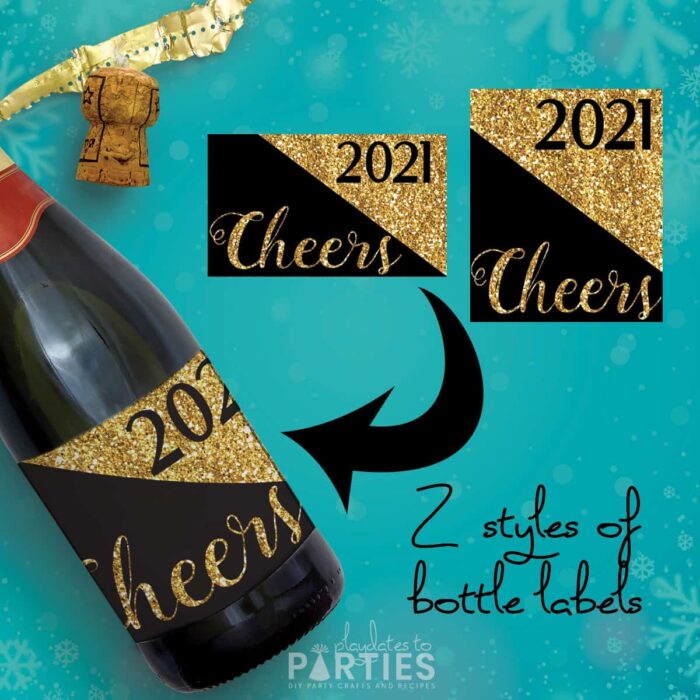 Tips for Making the Most of Your Printables
Make sure to print out your designs on

high

quality

card

stock

or

photo

paper. (Photo paper will work best with the glitter effect)
Allow the ink to dry completely (I like to let photo paper dry overnight) before cutting out your designs with a straight edge paper cutter or a Cricut cutting machine.
If your kids are old enough, get them involved in cutting out the printables! They'll love it.
Hang your bunting triangles on pretty ribbon or

sturdy

baker's

twine

.
I love using clear

Command

Hooks for hanging buntings. You can easily slip a loop of twine around them, and they'll hold!
If you need a little extra support,

Blu-Tac

is

the

best

. (seriously, I keep this stuff available constantly)
More New Year's Eve Fun
Now It's Your Turn
I know most of us are staying in with family this year, but that doesn't mean we can't make our homes feel as special as possible.
Grab your copy of this mess-free glitter banner, and let's all start 2021 off right.
Newsletter subscribers can get a copy of the banners and labels completely free! Just add your name and email address to the form below to grab your copy.
Don't want to subscribe? This set is also available here in my shop for a small price.
How do you celebrate New Year's Eve?
Do you have any fun New Year family traditions?
---
*This article was originally posted in December 2017 and has been updated with new designs for 2021.*