As Father's Day approaches, you may be searching for a fun way to surprise Dad and make the day extra special. If so, why not organize a Father's Day scavenger hunt? This activity is perfect for families with young kids who are looking for an exciting way to show their dads some love and appreciation.
With our free printable Father's Day scavenger hunt cards, creating your own scavenger hunt can be simple and easy! Plus, we've also included different ways you can play this game, as well as prizes to make this experience even more enjoyable. Grab your free copy at the end of this post and get ready to plan an unforgettable Father's Day!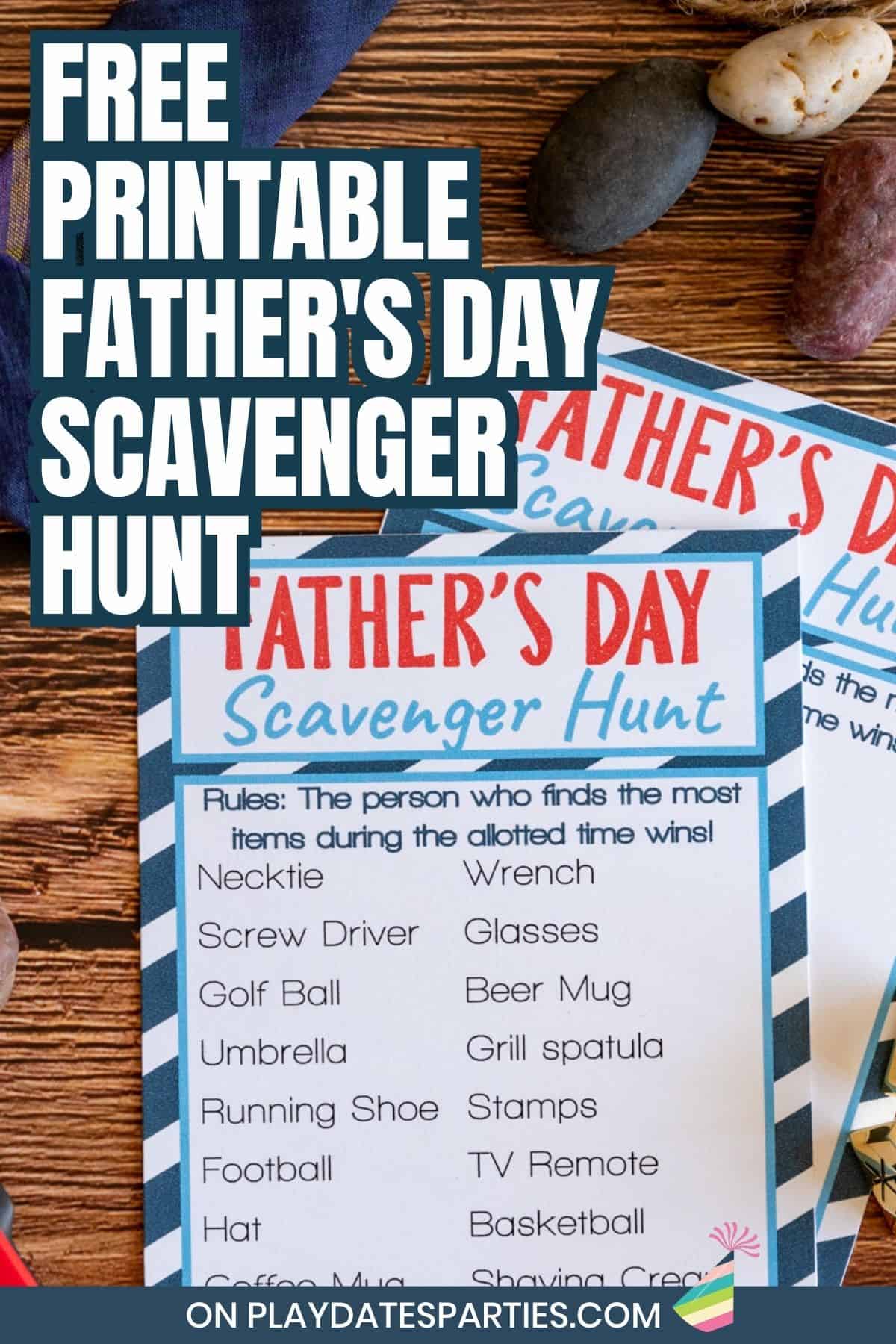 Why You'll Love This Game
A Father's Day scavenger hunt is a fantastic activity for families with young children for several reasons:
It provides an opportunity to show your dad how much you appreciate him in a unique and exciting way.
Family games provide many benefits for kids – including motor skills and problem solving.
Even through healthy competition, they provide a bonding experience that strengthens family relationships and create cherished memories.
It encourages physical activity. Have you ever seen kids frantically collect objects against a ticking clock? It's hilarious to see how quickly they move while having so much fun.
You can play them anywhere. Traveling for the holiday weekend? Many of these items can be found just as easily at grandpa's house as they can at your own home.
Looking for a Father's Day scavenger hunt with clues and riddles?
There seems to be a lot of confusion lately about scavenger hunts versus treasure hunts.
The printable provided below is a traditional scavenger hunt, which is simply a list of items to find. Treasure hunts on the other hand use clues and riddles to guide participants from one location to the next until they find a big treasure at the end.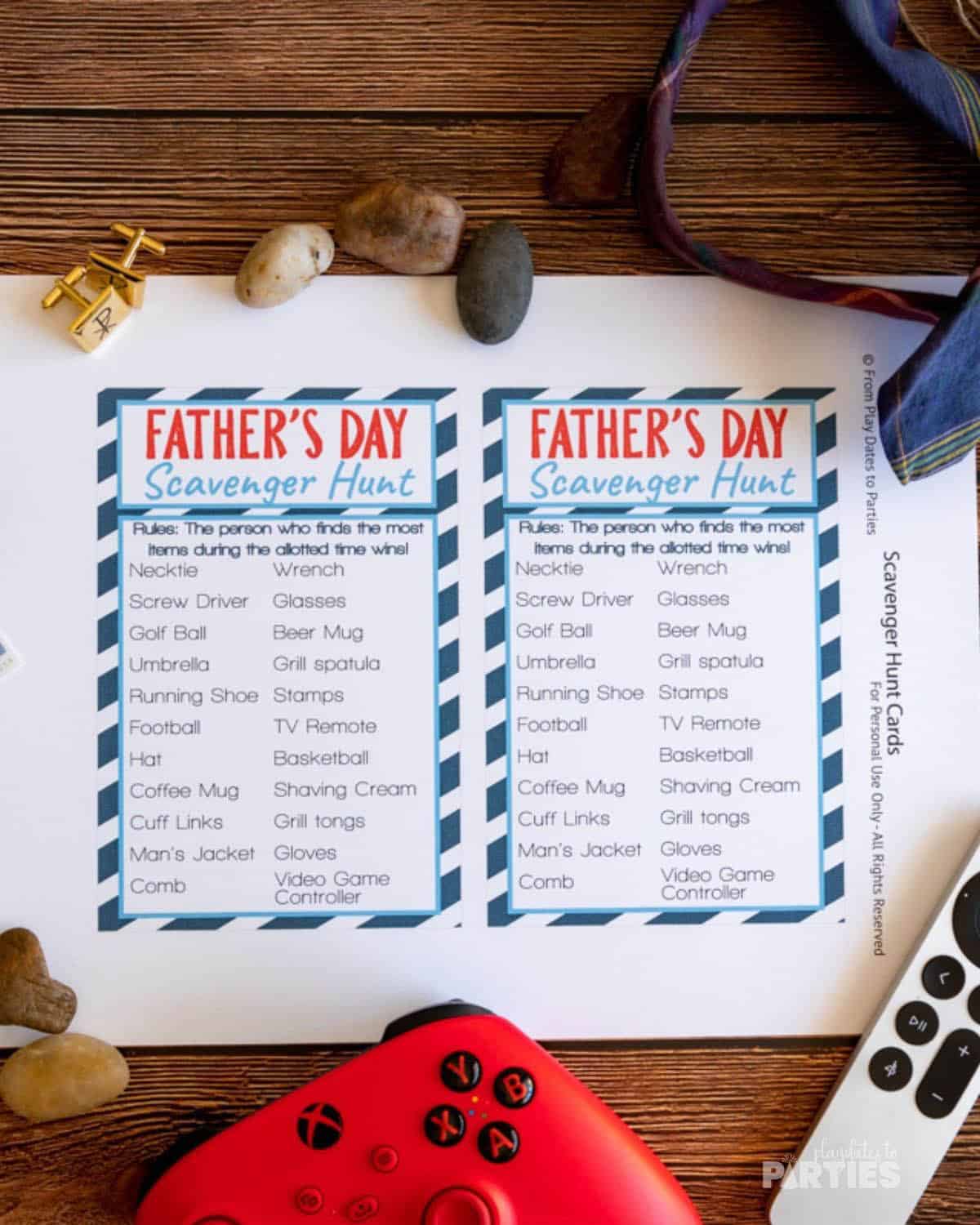 Father's Day Scavenger Hunt Instructions:
Preparing for Your Scavenger Hunt
Print out your scavenger hunt cards on your home printer on paper or white card stock.
Cut out the cards along the edges. (Or simply cut once down the center of the page to separate the cards, leaving the edges. I doubt Dad will care.)
Hide your items around the house and have fun searching!
Decide Your Search Area
Scavenger hunts can be played anywhere, which is what makes them so enjoyable. Make sure everyone in the family knows how far they can go to find the objects. You don't want little ones wandering over to the neighbors houses!
I typically let the kids use all the main areas of the house as well as the front and back yards. This gets everyone moving around as much as possible, which makes it even more fun.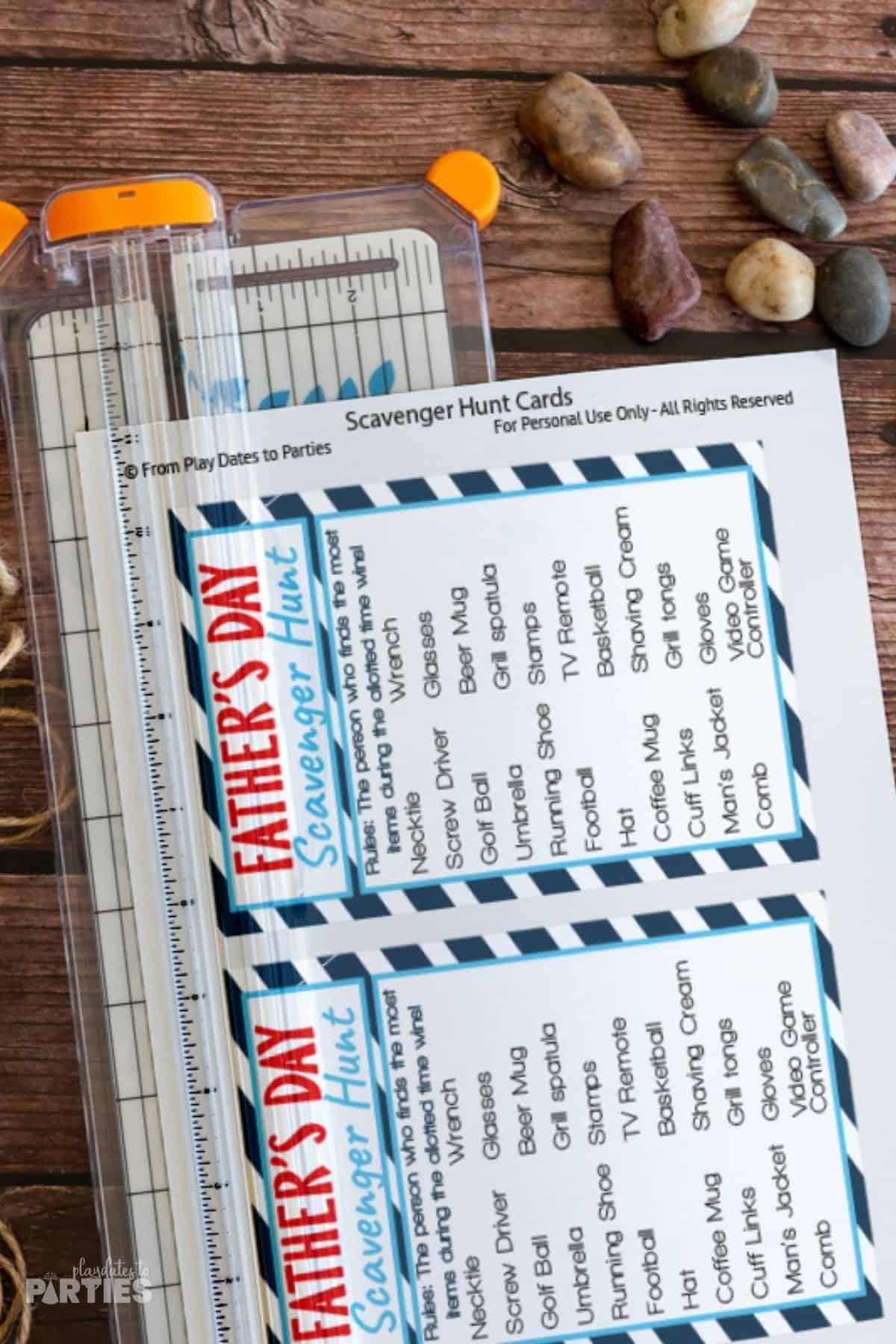 Two Ways to Play this Father's Day Scavenger Hunt
Everyone for themselves: Pass out your scavenger hunt cards and have everyone race against the clock. Set a timer for 5 or 10 minutes and see how many items players find before the timer goes off. This is especially helpful if there's only one or two of each item in the house.
Separate into Groups: If you have a large group, divide into teams of 2-4 players. Each group must work as a team to find the items on the list before time is up. The group that finds to most items wins. This is the best option if you have little kids that can't read.
When should you have a Father's Day Scavenger Hunt?
You can have the scavenger hunt whenever you want, though I have a few preferred times:
Early in the morning before giving dad his gifts
Before a meal or car ride, to get all that energy out and encourage good sitting skills
After dinner, to burn off the extra energy before bedtime
You can also include grandparents and uncles with a virtual Father's Day Scavenger hunt. Instead of printing off separate cards, name each item during a Zoom call and have everyone search their own homes for matching items.
Don't forget, you can also incorporate quiet activities throughout the day, like Father's Day coloring pages or a printable Father's day craft.
Father's Day Scavenger Hunt Rewards and Prizes
You don't have to offer prizes for a game like this, but they do make it more fun. Here are some simple ideas you might enjoy:
Prizes for Kids
Reward Coupons for an extra dessert, or a late bedtime.
Outdoor items like bubbles, sidewalk chalk, or
Squirt guns (that immediately get turned back on Dad!)
Prizes for Dad
Who says these games are just for kids? Get the adults involved…but make sure you've got a prize any Dad would love.
Give dad all his Father's Day gifts as a giant prize for winning the best family
A gift certificate to his favorite local restaurant
A pound of his favorite local coffee.
Regardless of whether or not you choose rewards, the important thing is to spend time together as a family all while making sure dad knows how much he's appreciated.
More Fun Father's Day Ideas
More Family Friendly Games to Enjoy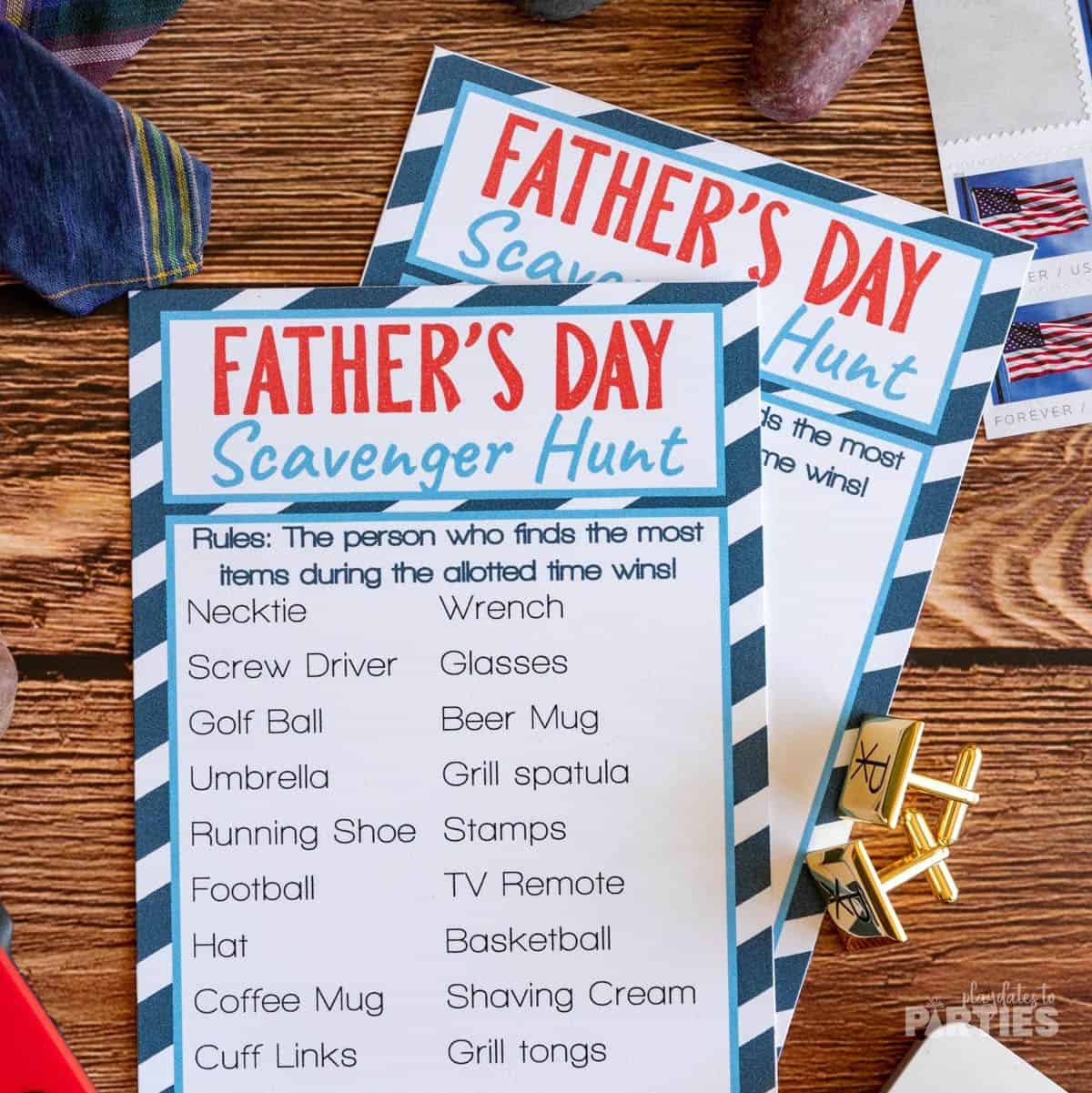 Download Your Free Father's Day Scavenger Hunt Here
Father's Day is the perfect opportunity to show your dad some extra love and appreciation, so why not make it even more special and memorable with a fun scavenger hunt? By creating an activity that gets everyone moving around, you can spend quality time together while having lots of laughs.
As a lucky treat, these Father's Day scavenger hunt cards are available free to newsletter subscribers. All you have to do is fill in the form below to get them sent right to you.
Don't want to subscribe? You can also purchase these scavenger hunt cards as part of a Father's Day Activity Pack, right here.
---