If you're looking for a festive and creative way to socialize with the other moms and entertain a gaggle of tiny tots entertained this holiday season, you've got to try hosting a Christmas Cookies and Milk party!
This low-stress DIY party theme is such a fun and adorable way to celebrate Christmas with your little ones. Best of all it's a great low-key alternative to going out with your kids during the holiday season.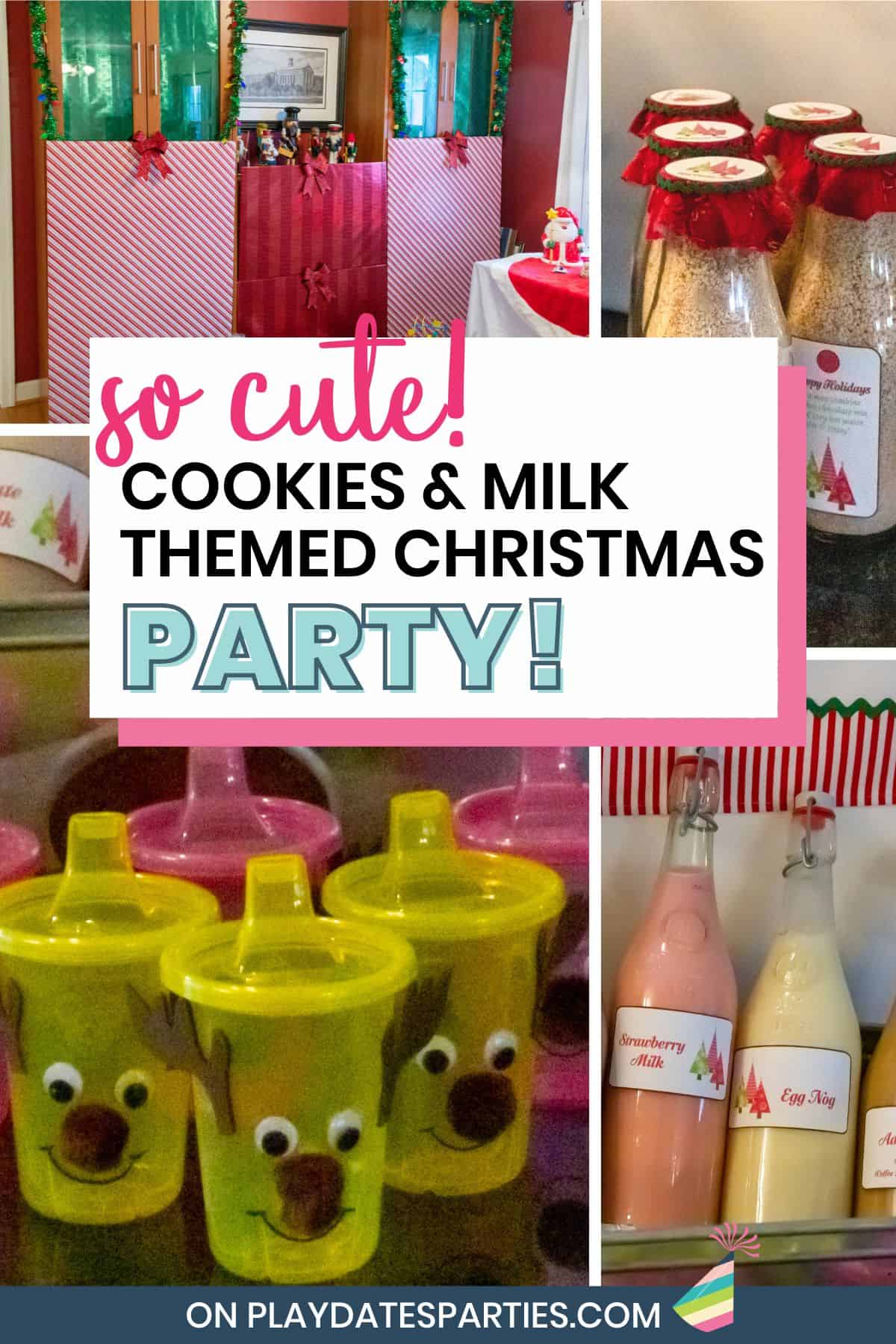 About the Party:
What Was the Occasion? Christmas party for daycare friends
How Many Guests Did You Have? 5 toddlers + 8 adults
Where Was the Party Held? Our Home
We hosted this party back when my oldest (now a teenager 😳) was just over a year old. It was such a nice way to spend some time with the other daycare parents without having to rush home and make dinner.
Since our main living level was almost entirely open concept at the time, we used each space to create three different 'zones':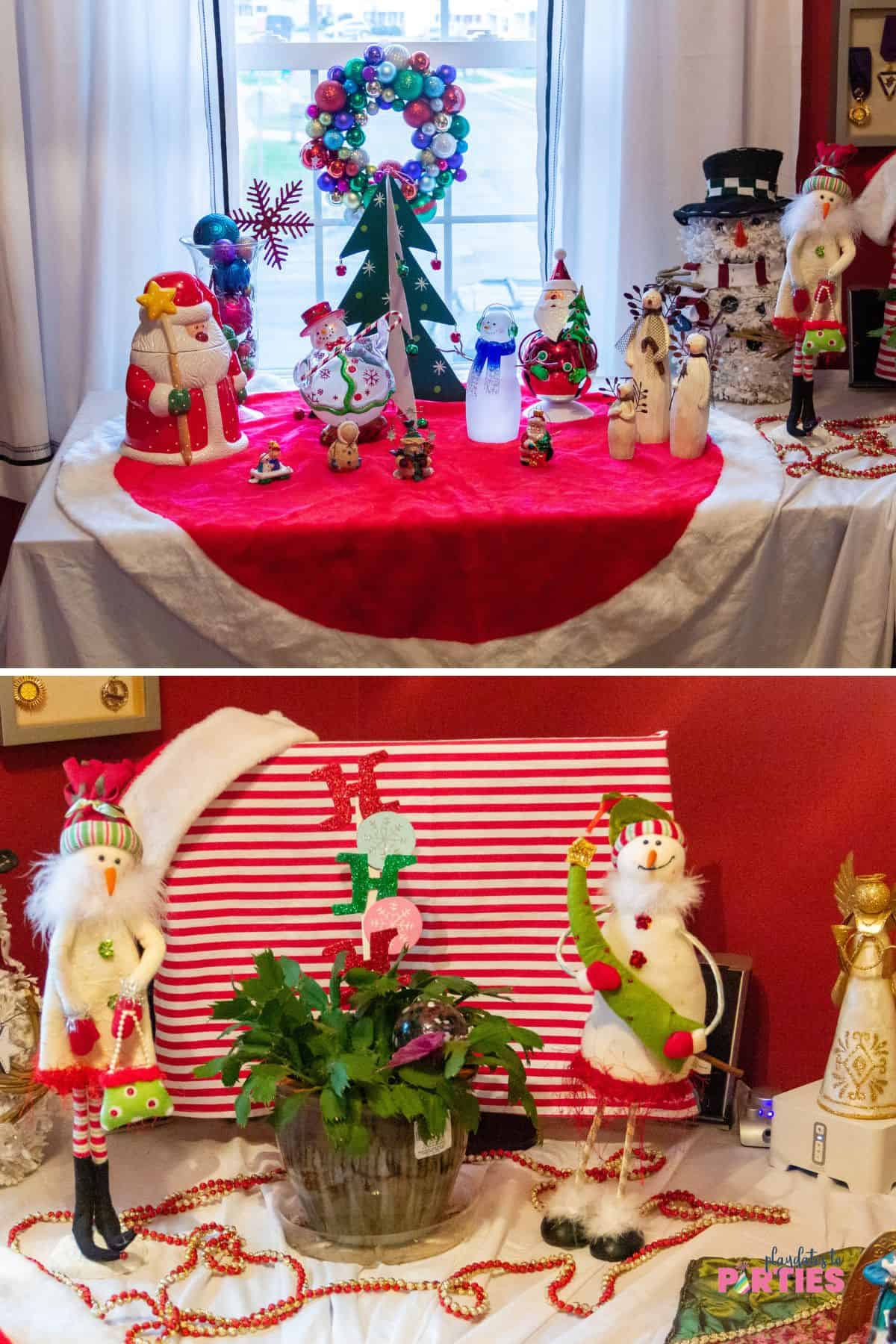 The Play Area:
We removed just about everything from the desks in my husbands office area, and covered them with white sheets for tablecloths and tree skirts as table toppers. Add a display of various Christmas knick knacks and decorations, and you've got a festive playroom ready for the kiddos.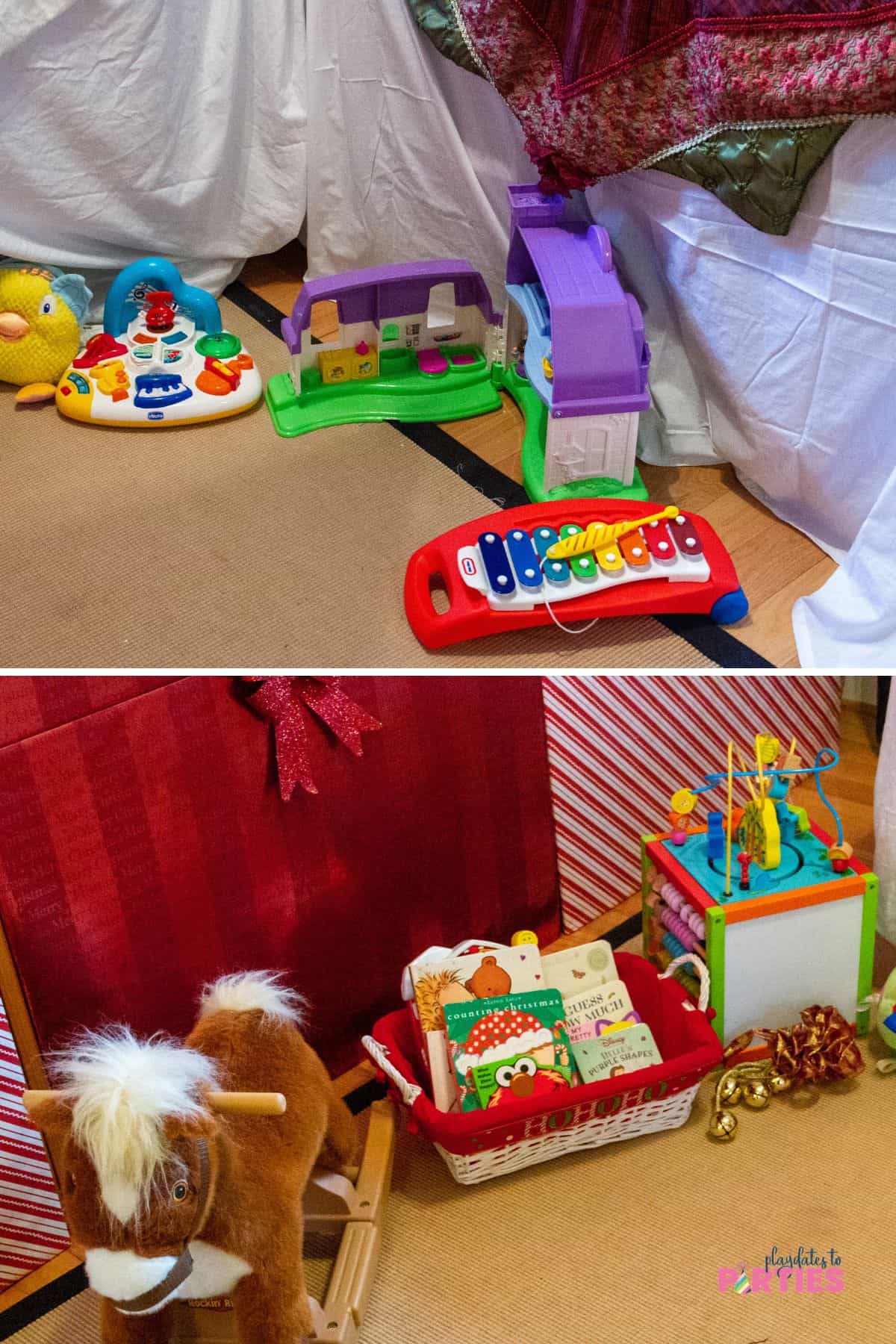 To keep the little ones entertained, we set up a bunch of my daughters toys and books for the kids to explore.
It's definitely a hodge podge of decor, and doesn't look anywhere near professionally decorated. But that's the great thing about kids…they don't care if things look perfect. As long as it's bright, fun, and festive!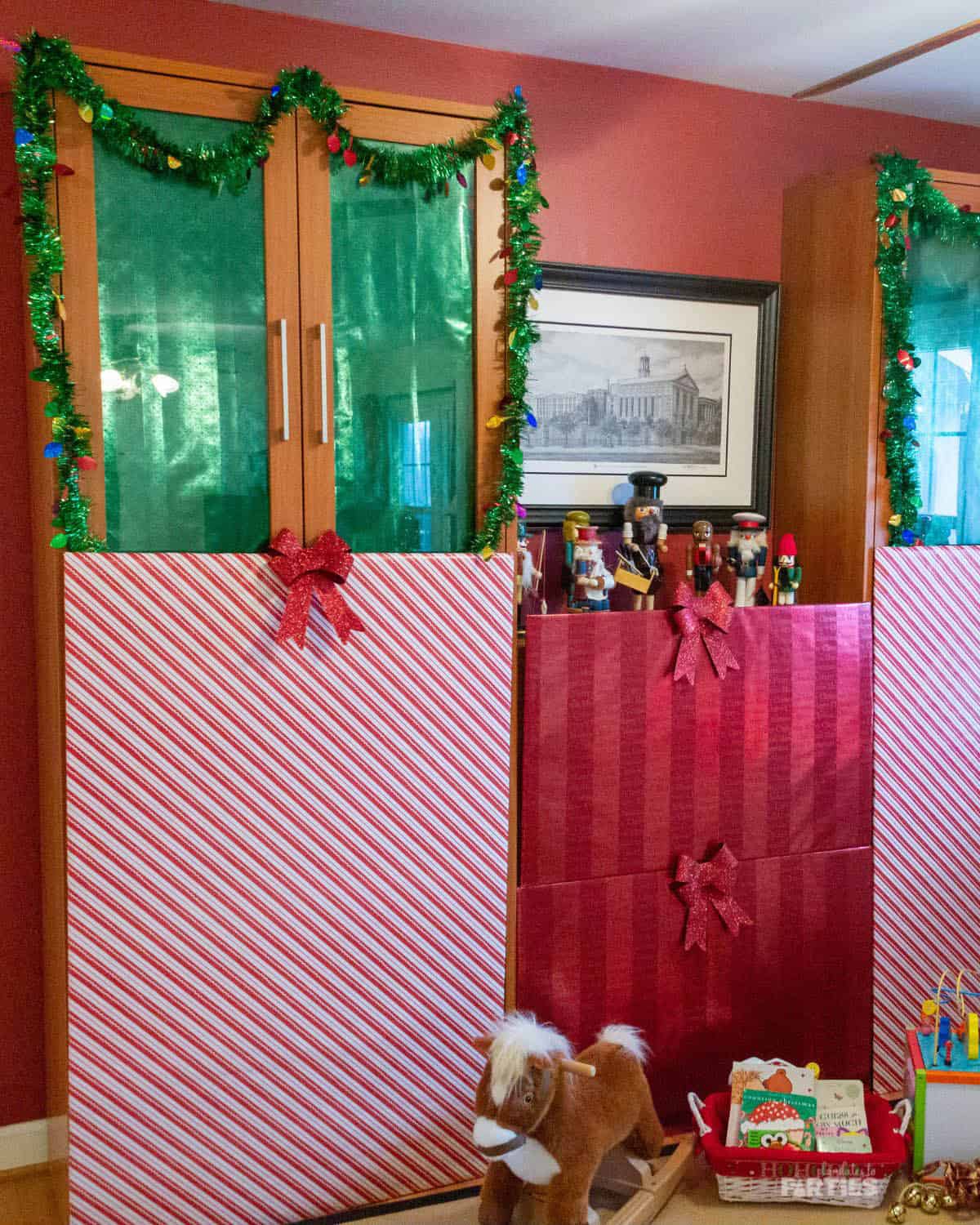 My favorite part is still the giant 'Christmas presents' we used to keep the kids out of the bookcases. They're simply the sides of a large shipping box covered with wrapping paper and a simple bow on top.
Some of the toys we had available for the kids included:
a basket full of board books
a dollhouse
a rocking horse,
stacking blocks
Toy cube with roller coaster on top, and
Plenty of stuffed animals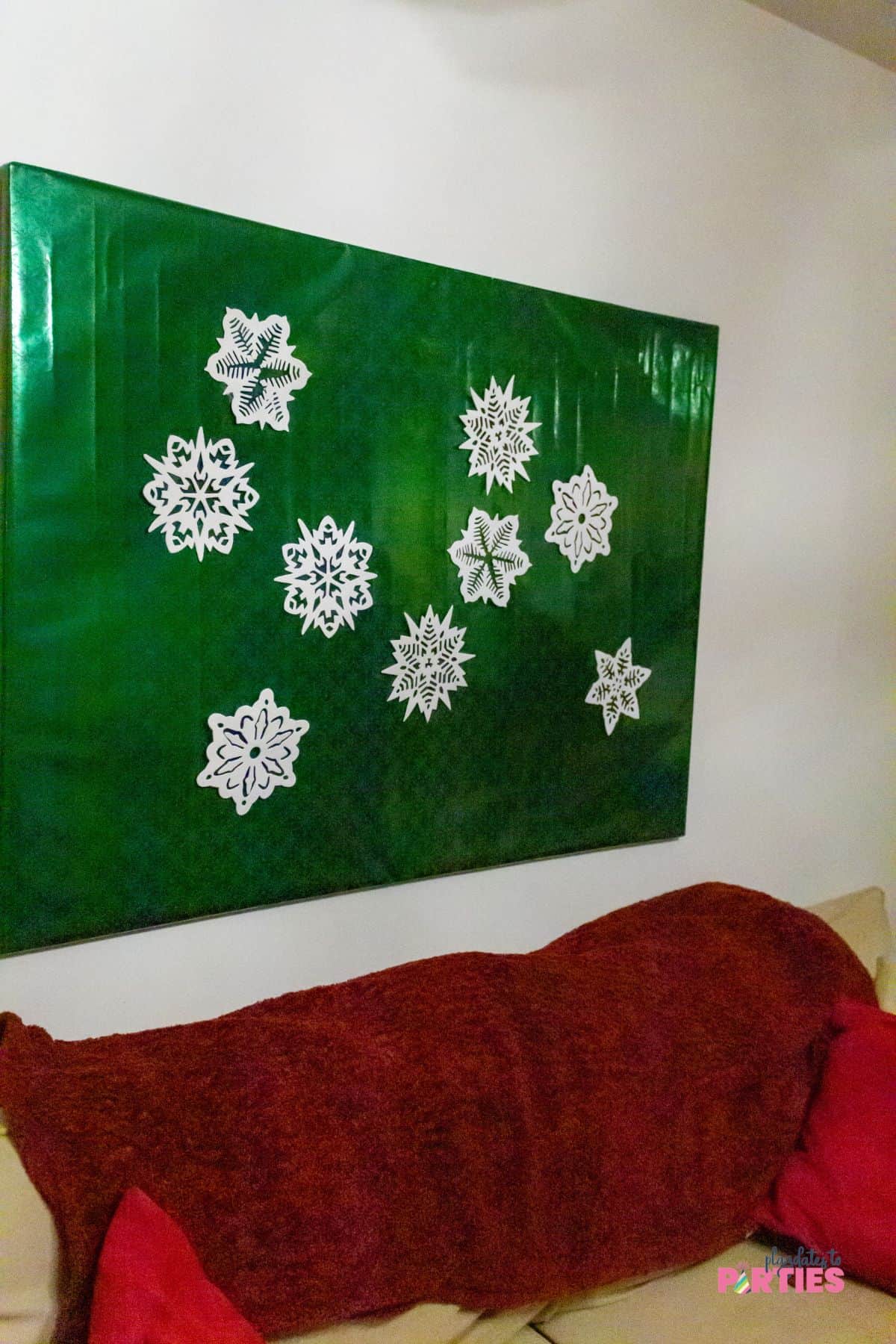 Adult Conversation Space
The living room was the 'adult' area. We could still see the kids in the play space, but got the opportunity to chit chat with each other. Unfortunately, there's not much to show in this space, since the main focus was making it clear for all the adults to have room to sit and chat.
I did add a little bit of festivity to the space with a couple simple DIY projects. Homemade dollar tree ornament wreaths hung in the windows with Command hooks. And I covered our everyday artwork with wrapping paper and foam snowflakes.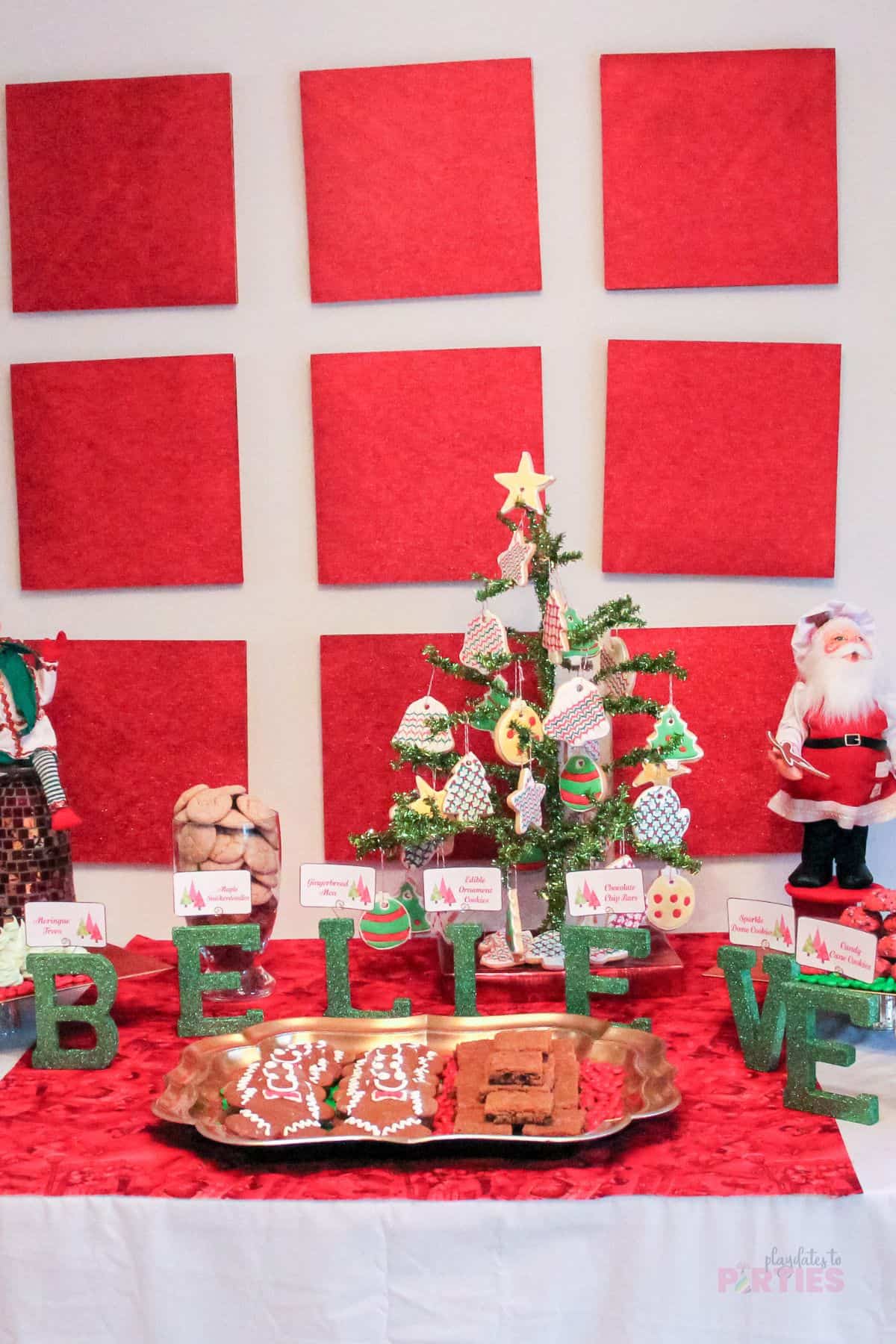 Santa's Cookie Buffet
You know I love to decorate dessert tables, and this was no different. I didn't do the massive backdrops that I do these days, but instead used a grid of glittery card stock on the wall. (Sometimes simple is best!)
A plush Santa, Mrs. Claus, and head baking elf added a festive touch, while green glittery letters spelled BELIEVE and held the food labels.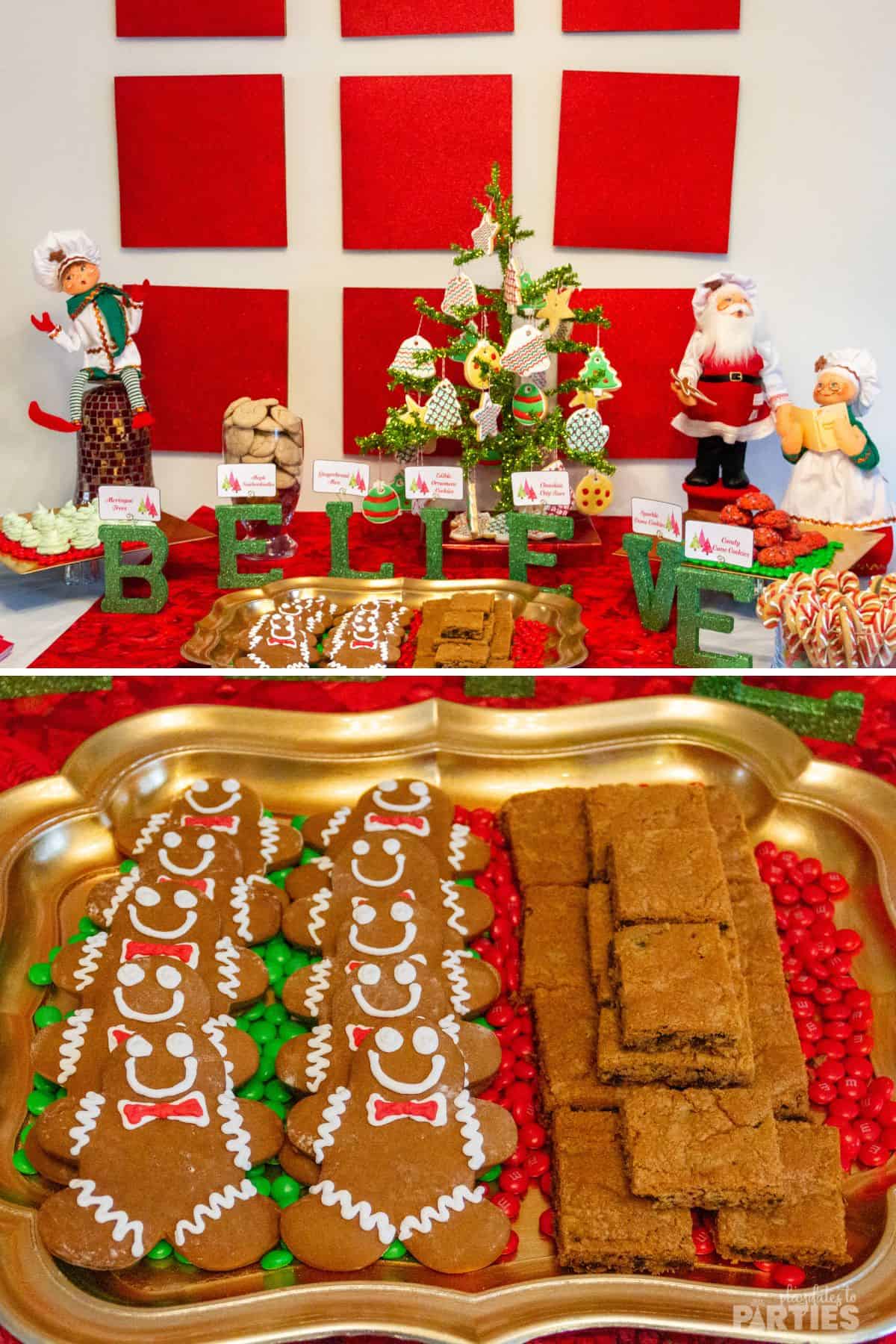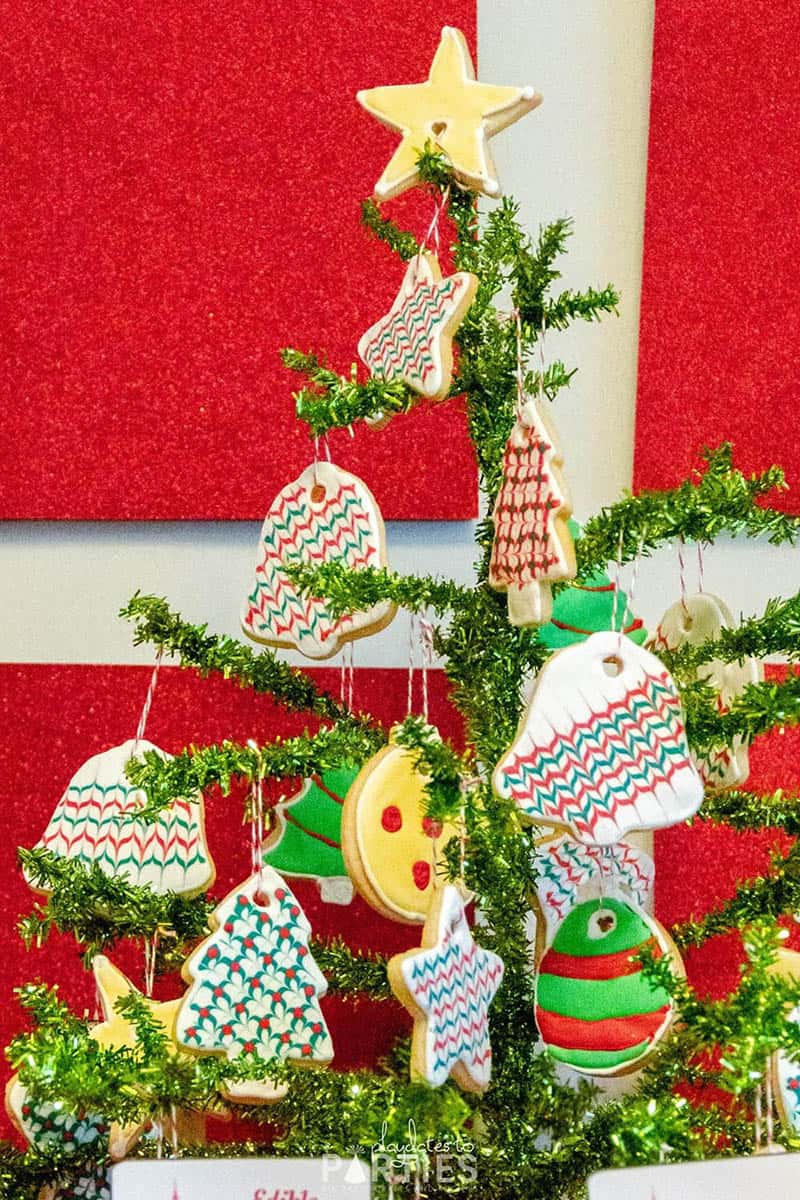 Here's what we served:
Edible sugar cookie ornaments hung from a mini Christmas tree,
Green meringue Christmas trees
Maple Snickerdoodles
Gingerbread men
Chocolate Chip Cookie bars
Sparkle Dome Cookies, and
Candy Cane Cookies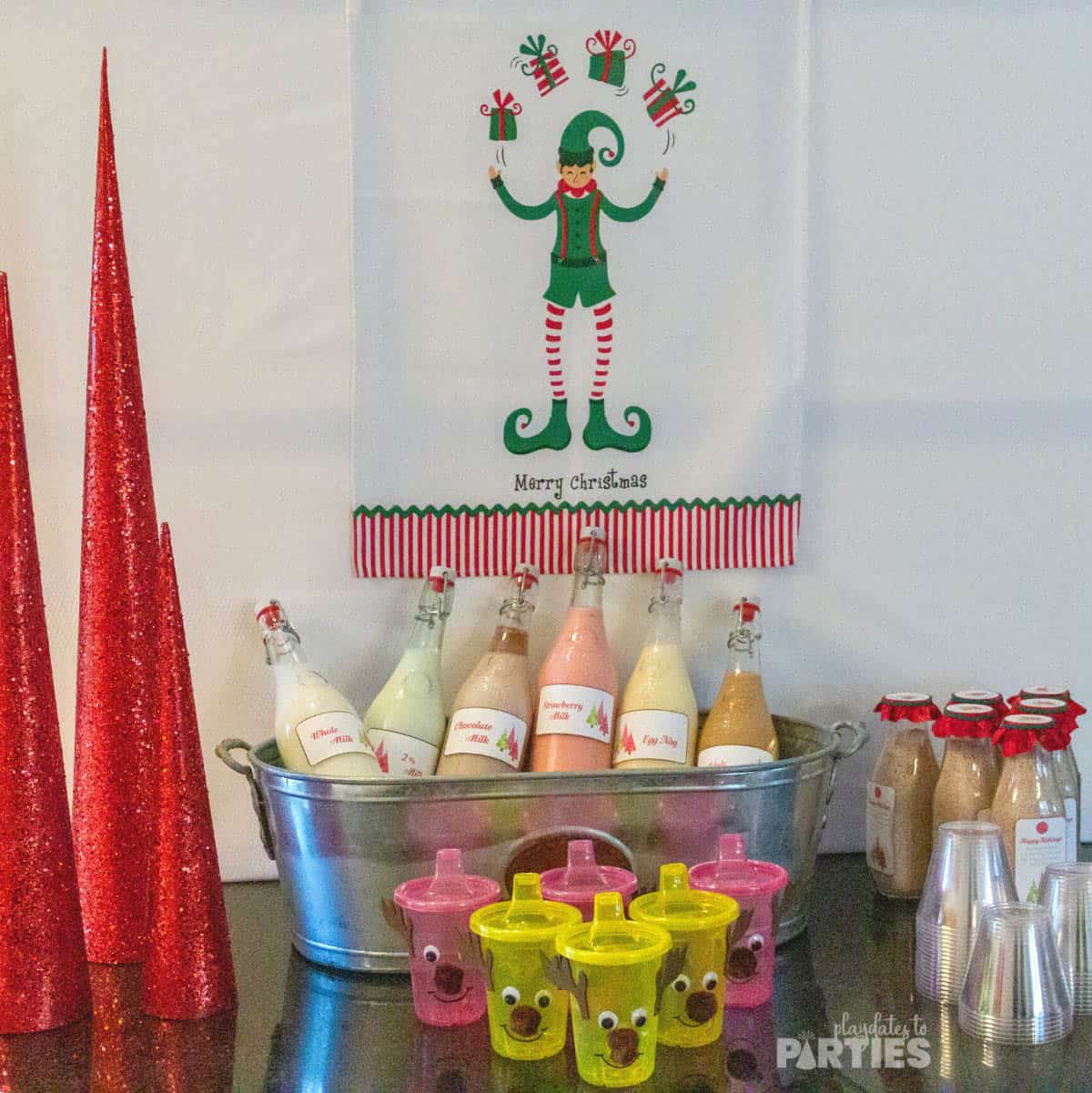 The Milk Buffet
Of course, with all those cookies, you need plenty of milk to wash it all down. So we turned our kitchen island into a milk buffet with 6 different beverages in vintage style glass bottles:
Whole milk
2% milk
Chocolate milk
Strawberry milk
Eggnog
"Adult milk" (Coffee Frappuccino)
To be honest, most of the kids drank the whole and 2% milk, so we were left with a ton of Chocolate and Strawberry milk.
So if you're hosting little kids and toddlers, you might want to stick with only one or two flavored options.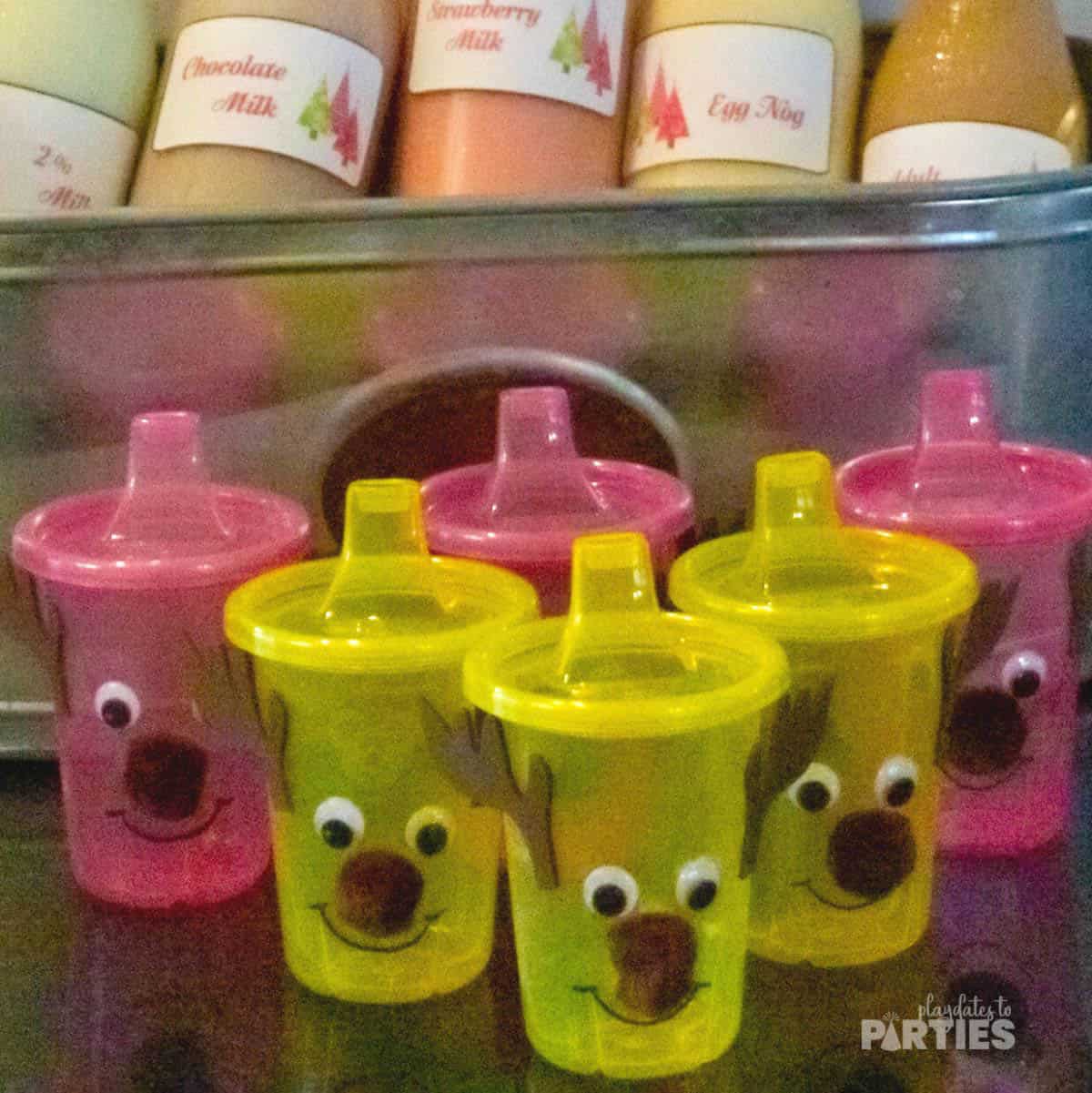 Reindeer Sippy Cups
You can't have a Christmas cookies and milk party for toddlers without having a cute way to drink all that milk! Even still, I wasn't about to let a bunch of toddlers loose in my house with open cups like I would with my kids now, so we decorated sippy cups to look like reindeer.
Here's what you need:
Then just hot glue the eyes, antlers, and pom poms in place, draw a smile underneath the nose, and you've got adorable reindeer sippy cups.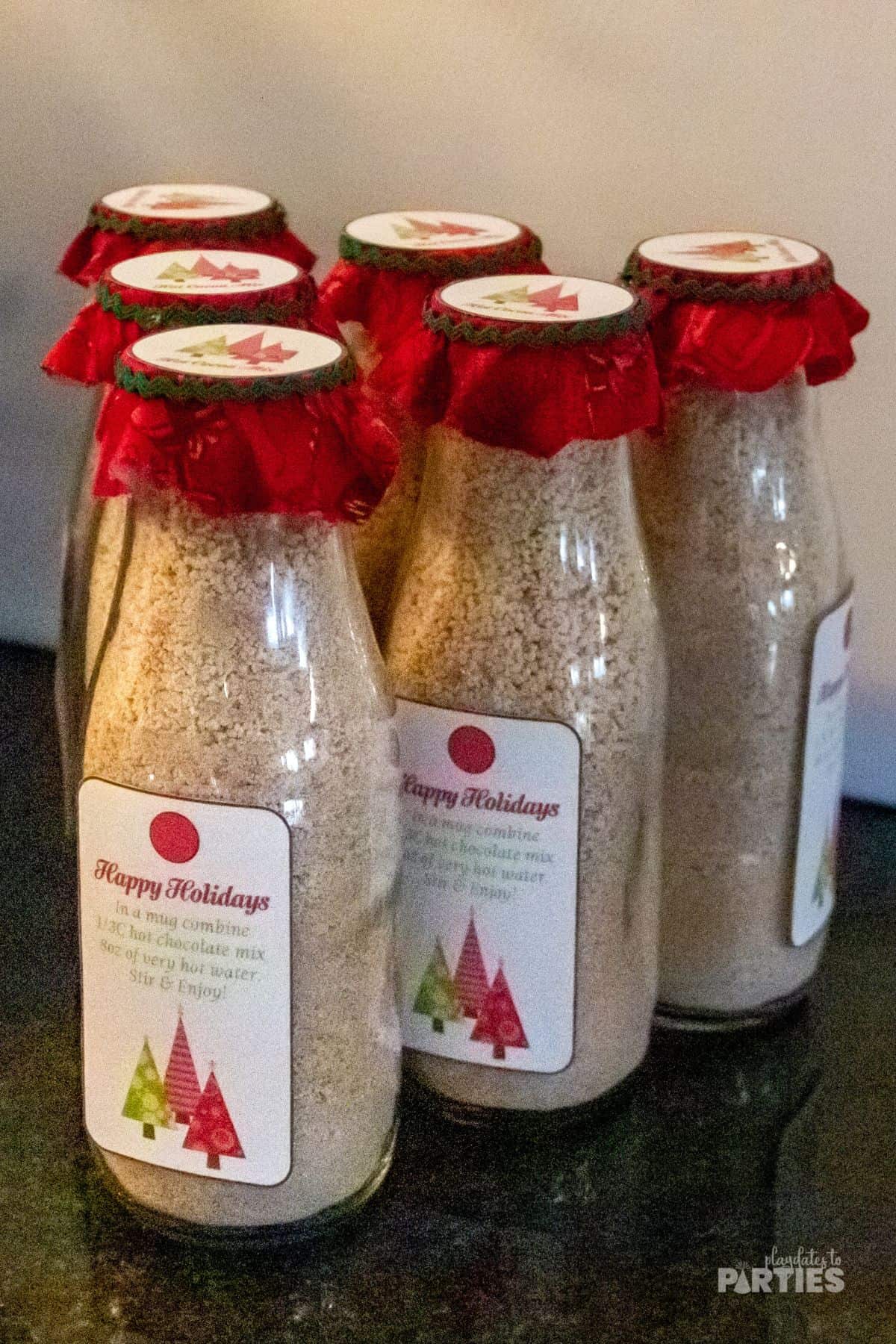 Christmas Hot Cocoa Favors
We used recycled Starbucks bottles and printable bottle labels to create cute favors for the kids. The labels originally came from Etsy, but it's unfortunately no longer available.
If you want to make something similar, you might like these easy hot cocoa party favors with cute printable tags.
Want More Christmas Party Ideas?
I've got TONS of recipes and crafts perfect for your next holiday party. Here are a few places to get started:
Or you can see all my Christmas ideas right here.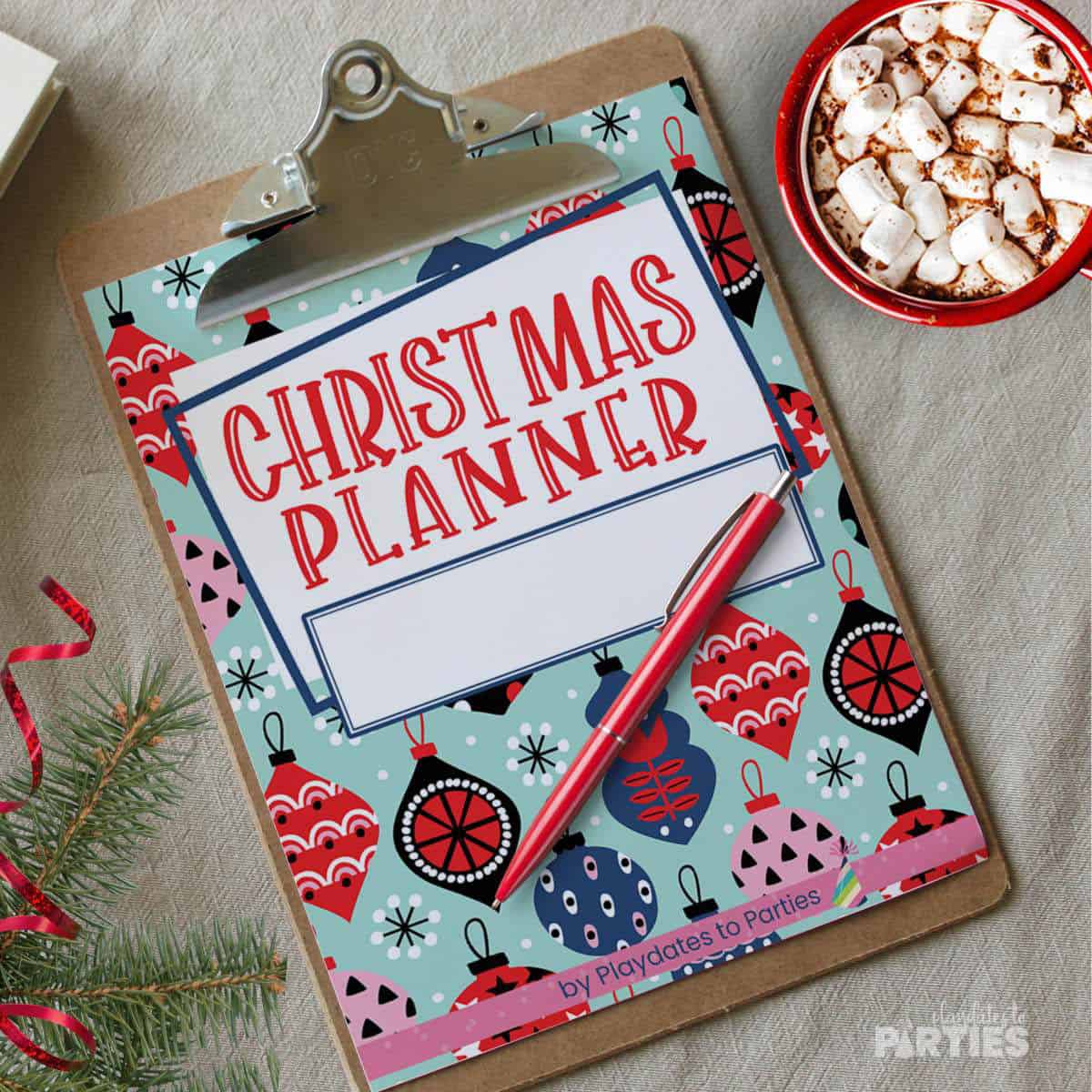 Now It's Your Turn
The most important thing to remember when planning a Christmas cookies and milk party for little kids is to keep it simple. Use the toys and games and decorations you already have, and don't worry about planning too many party games for toddlers.
Don't forget, the most important part of any party is spending time with your guests. Let the kids enjoy being together and have fun!
Ready to start planning? I've got just what you need to make your Christmas party perfect! Download my free mini Christmas planner and get 7 pages of holiday planning awesomeness. Or check out my full 30-page Christmas planner to organize your holiday season from start to finish.
---
This post was originally published on December 14, 2010. It has been updated with larger photos, and additional party information.