Best party ever! Take a look at these steal-worthy Christmas pajama party ideas for kids, including invitations, decorations, food, games, and more!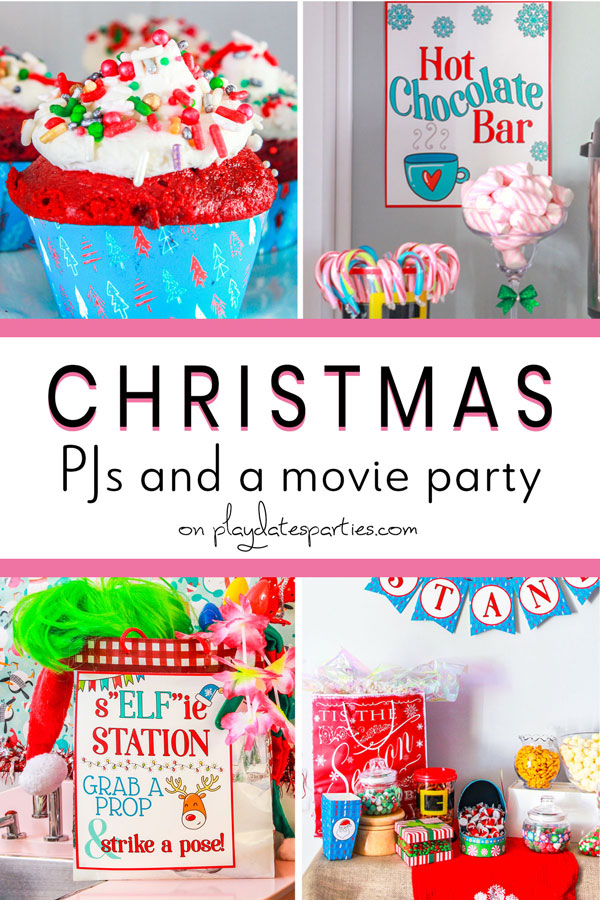 Who's crazy enough to invite 10 pre-teens over to her house on a Friday night? This lady, that's who.
After battling chemo and going through a mastectomy in the summer and fall of 2018, I needed a pick me up. So, I did what I always do when I need some cheer: I hosted a party.
Christmas Pajama Party Details:
Party Theme: Christmas PJs, Pizza, and a Movie
# of Guests: 12 girls between the ages of 6 and 10
Where: Our Home
Party Invitations:
I like to keep things super honest with you, including the fact that I've pretty much abandoned paper invitations at this point.
These days, I'm pretty much all-in with using Evite for my invitations. It's free, it's easy, and it's how I get a nearly 100 percent RSVP response rate for all my parties these days!
I also love how many options there are for holiday invitations. It was hard choosing just one. Here are a few that I considered for our party. They're all bright, festive, and perfect for a kids party: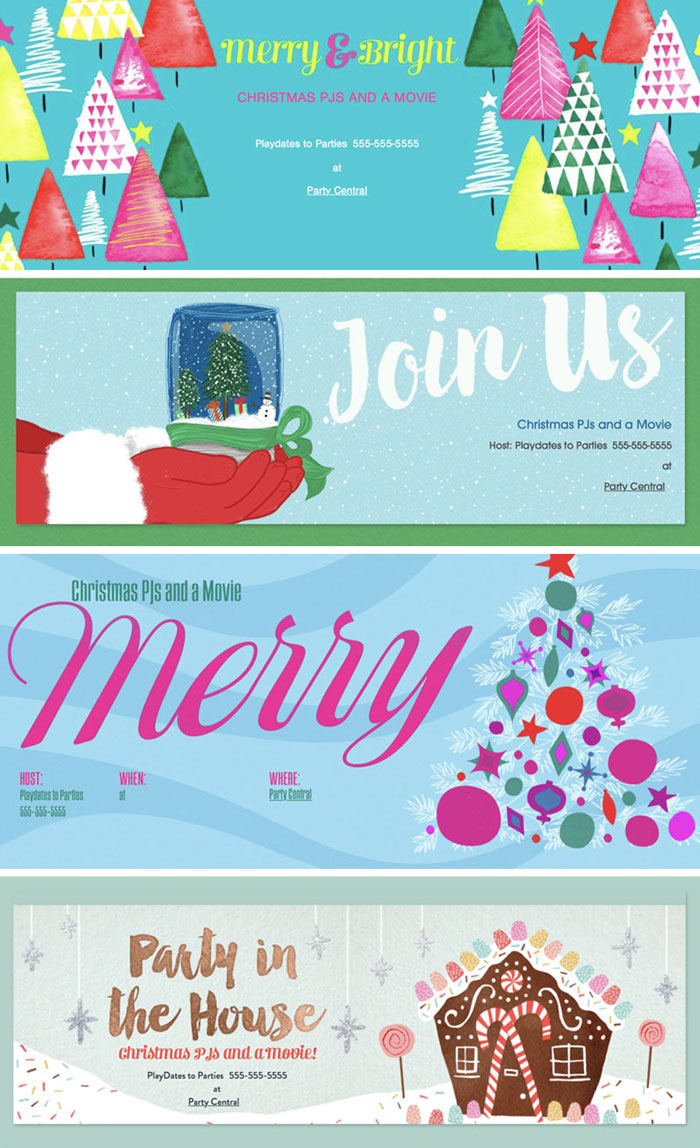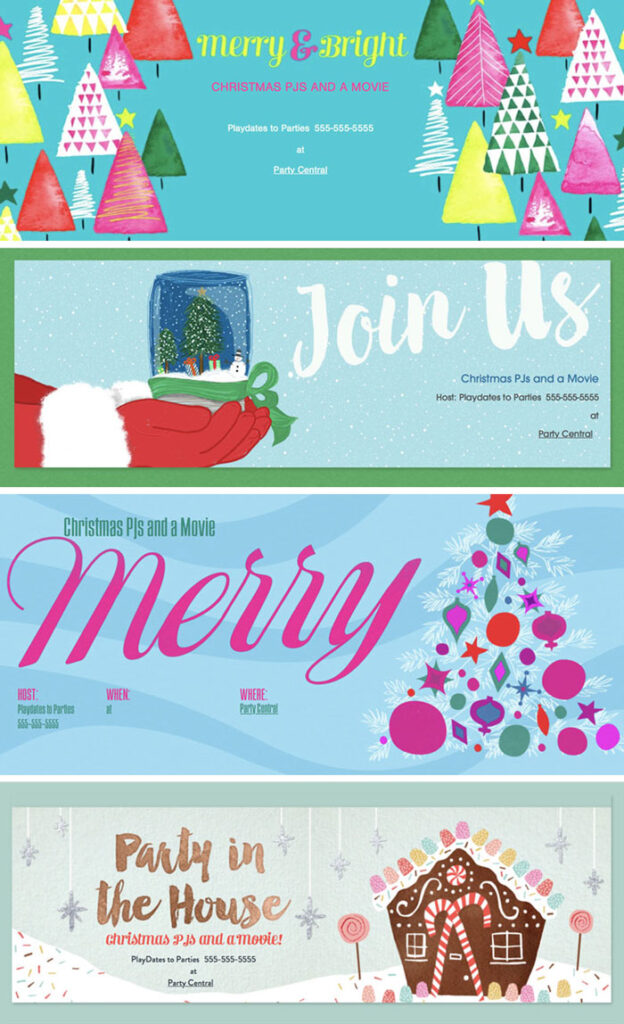 With so many choices, I let my kids decide which one to send, and this gingerbread invitation is the one they picked. It's no surprise, really. They love decorating gingerbread houses!
Invitation Wording:
Let the guests know that it's a Christmas pajama party right away, by adding that to the event title section in Evite. As you can see, we added "Christmas PJs and a movie" to ours.
Then, in the "Message from Host" Section, I added this:
"Please join us for a fun evening of Christmas games, movies, and pizza. Kids are invited to wear their favorite holiday pajamas; the more spirited the better! Activities will start around 6 and we'll settle in for a movie after playing some games and enjoying some pizza and hot chocolate."
That extra section really helps to make sure things are clear for your guests. It's so helpful!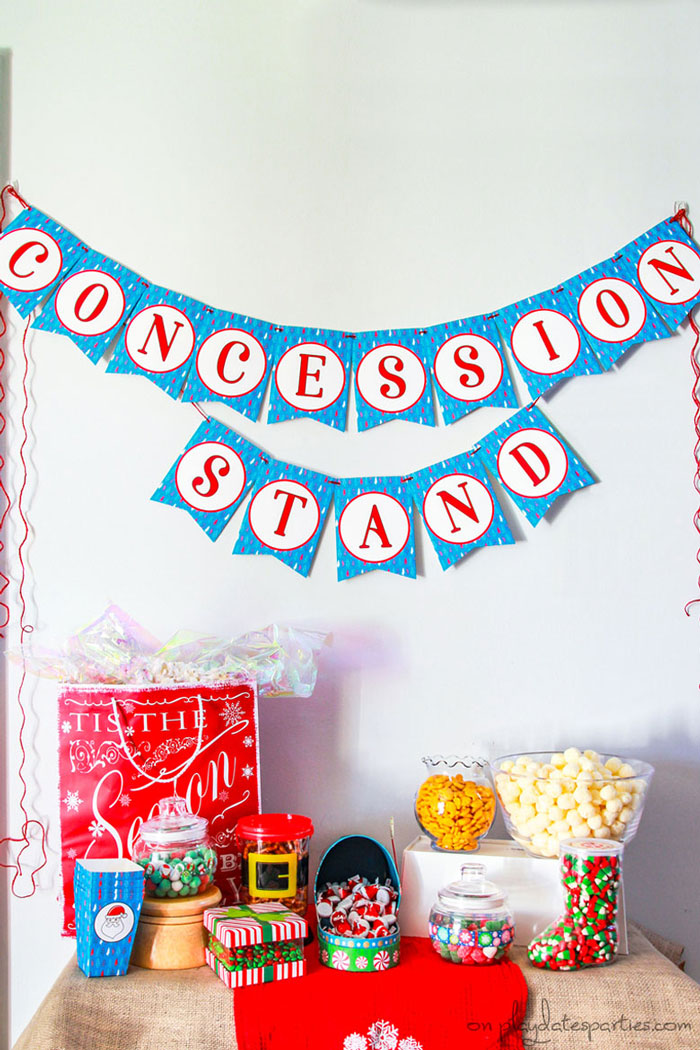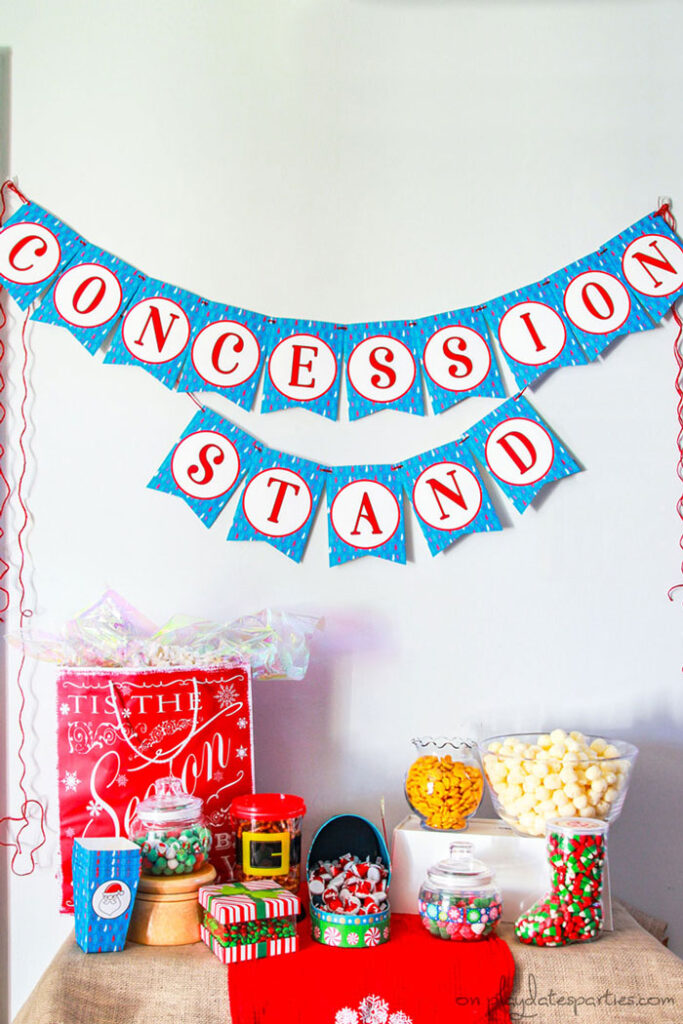 Party Decorations
On the day of the party, our lower level family room was turned into a 'movie theater' with a Christmas themed concessions stand, and a Selfie station for the stars to pose in their pajamas for the paparazzi.
Instead of decking out a huge table for the concessions stand, I simply covered a small console table with fabric and used that to hold all the goodies.
The table we used isn't in production anymore (it's about 15 years old), but you could also use a bar cart. I love our folding bar cart. It's fantastic for small homes like ours with little storage space.
Because the table is only about one foot deep by 2 feet wide, it's awesome for last minute decorating:
It fits in smaller spaces, like our walkway between two rooms,
You don't need as much stuff to make the table look full, which means there's a lot less junk than it seems
Needing fewer items on your table, means it takes a lot less time to put everything out too.
Seriously, I think I'm now on team small dessert table now.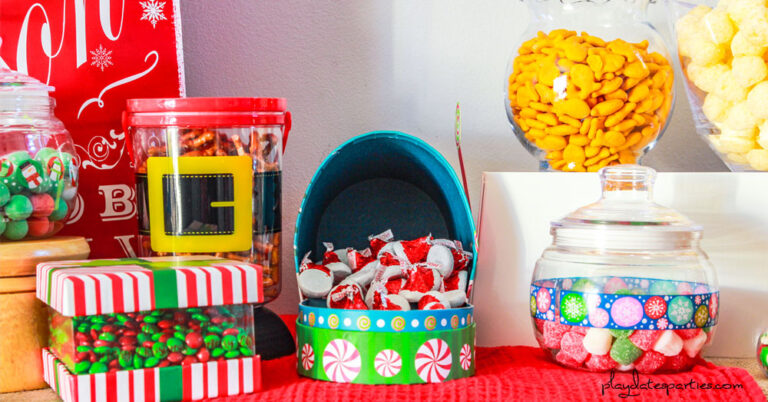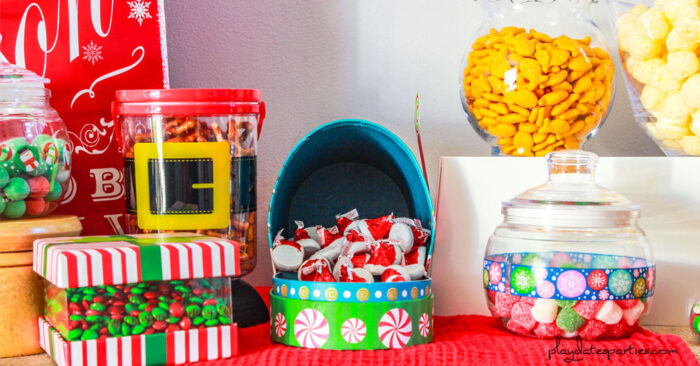 The lidded jars, present box, and Christmas mailbox are all from the Dollar Tree. Cute, budget friendly, and most-importantly, made with kid safe materials like paper and plastic.
To round everything out, I added a banner and popcorn box from this set of party printables.
I love that the banner letters in the set are completely customizable, so I could have added banners all over the house with different phrases.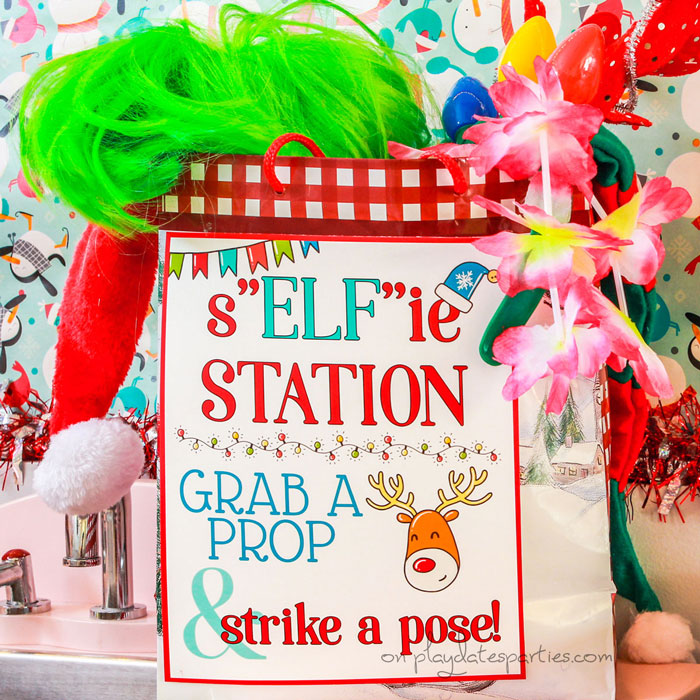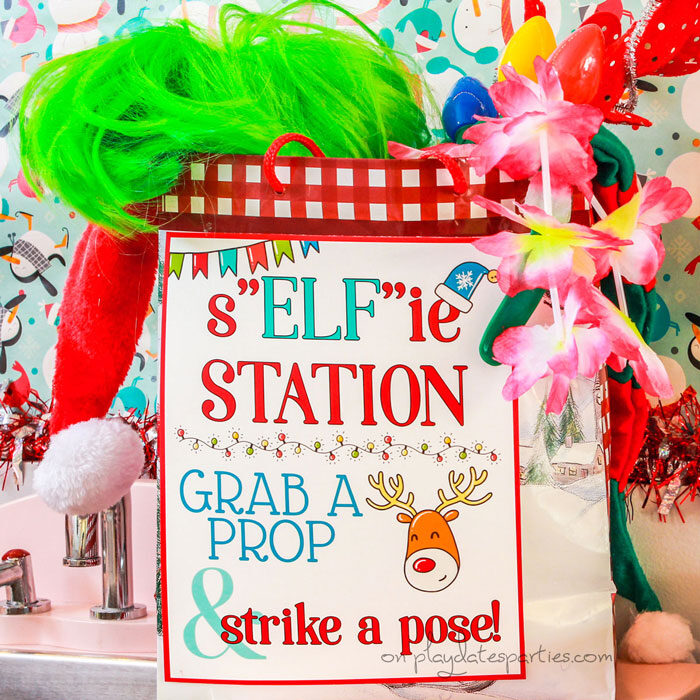 Christmas Pajama Party Games:
The s'elf'ie station was a huge hit, and super easy to pull together.
The backdrop is simply a 24" x 36" canvas (that we already had) covered with Christmas themed wrapping paper and a Dollar Tree garland wrapped around the edge.
Then I taped the selfie sign to the outside of a holiday gift bag. Finally, props were added to the bag for the kids to use.
I didn't even buy anything special for the props. I just used things we had around our house like:
Santa and elf hats collected over the years
A green wig that I bought earlier in the year as a joke while I was going bald from chemotherapy
Feather boas from the girls' dress up bins
Leftover Hawaiian leis from my daughter's party
We also planned to play some minute-to-win-it games, like Rudolph Race Off, and Freezer Bum, but the kids were having so much fun just hanging out that we let them go.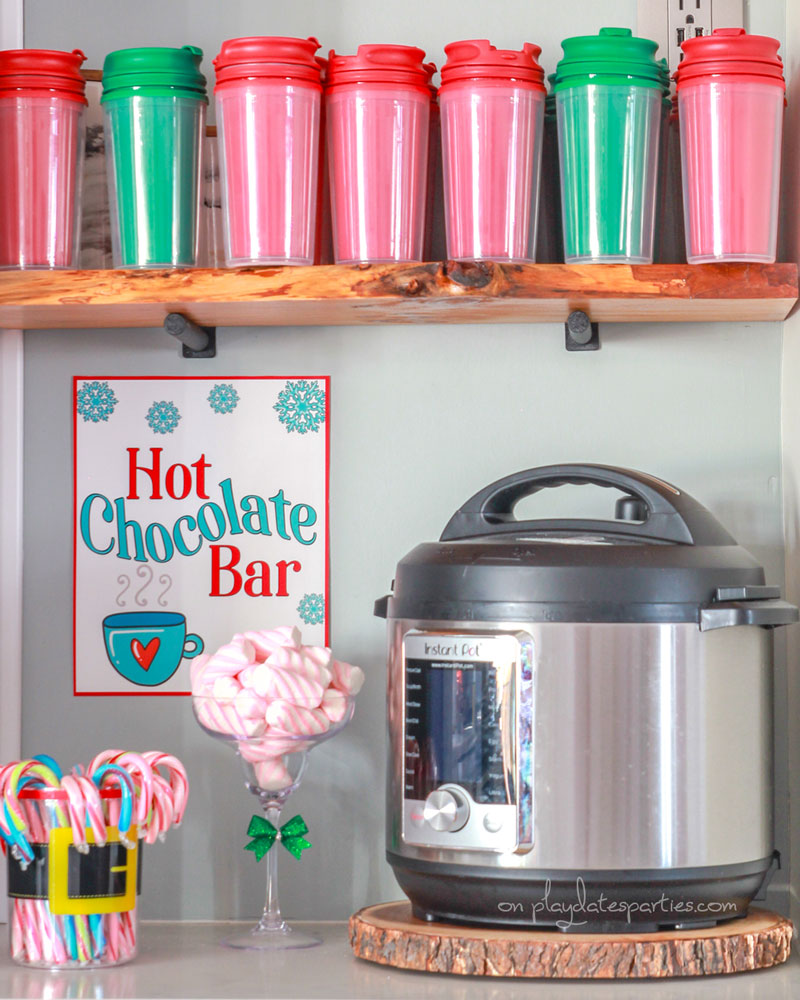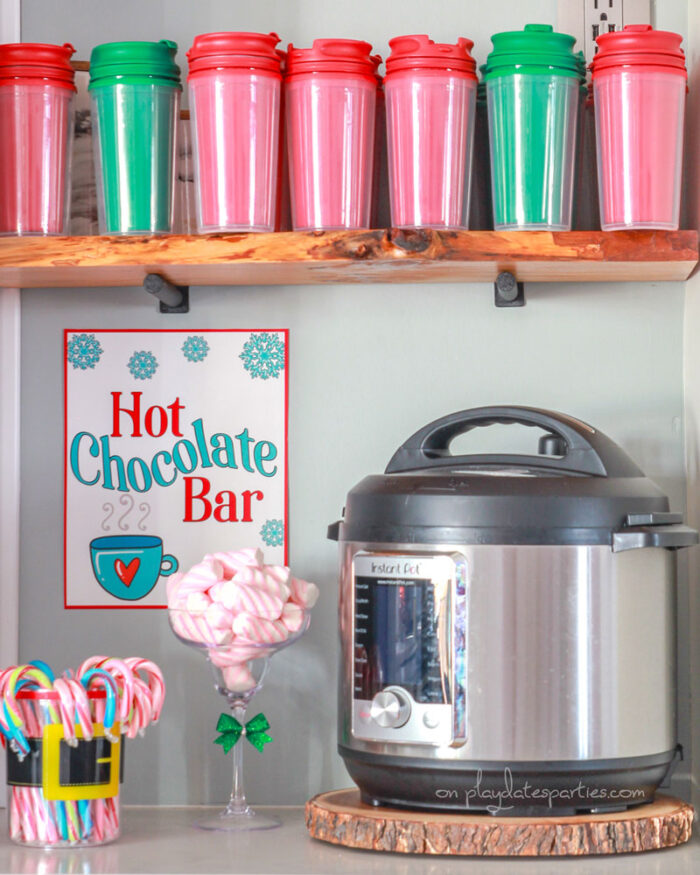 Christmas Party Food:
Food is my favorite, and I had so much fun making the food for the Christmas pajama party.
Hot Chocolate Bar
What's a Christmas party without hot chocolate, right? I set up a corner of our kitchen as a hot chocolate bar, with marshmallows and candy canes to go with it.
We kept the hot chocolate warm in our Instant Pot, and used Dollar Tree travel mugs that the kids could personalize and take home as favors.
Though, my favorite part is the sign. It's such a simple addition, but so cute, too!
In addition to the concessions stand and hot chocolate bar, we had other treats in our kitchen as well, like
Mini red velvet cupcakes
Christmas tree veggie platter, and
Christmas tree deviled eggs
Now It's Your Turn
You know, 2018 was tough, so I may have gone a little overboard with this Christmas pajama party. But it's so wonderful to see everyone having a good time, and totally worth all the effort.
You can totally copy this party too. Here's a quick list of the main decorations I used:
But I want to know…
What would you make for a Christmas Pajama Party?
---