Let's play zoo rescue! It's the perfect game for little kids and toddlers: simple, inexpensive, and played with items you probably have in your house already.
This game is a great way for your toddler to practice fine motor skills on a rainy day inside, and can even be adapted as a party game for toddlers, too. Keep reading to find out how to set up and play this fun and easy indoor activity that's perfect for days when you're stuck inside.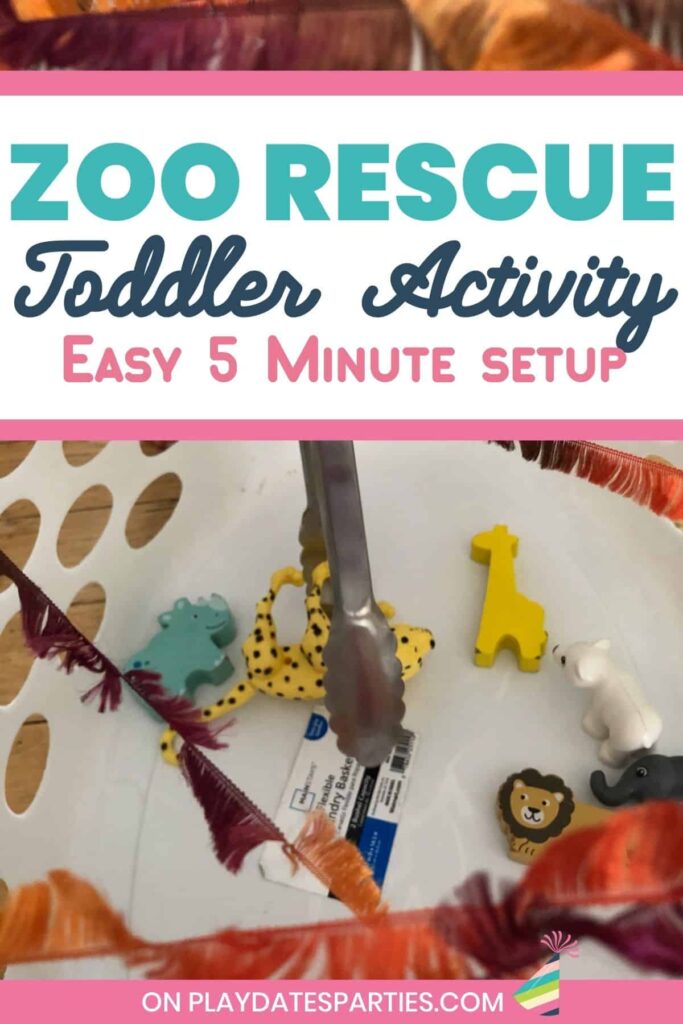 It's always a good day when you can get outside, but sometimes the weather doesn't cooperate.
And toddlers are probably the hardest to keep entertained. Their attention spans are short, they're full of energy, and they constantly want to be entertained.
I first learned this game when my son's preschool teacher recommended it. He usually doesn't stay focused on activities like this for very long, but he had so much fun playing zoo rescue that he even asked to play again later. Now that's a winner in my book.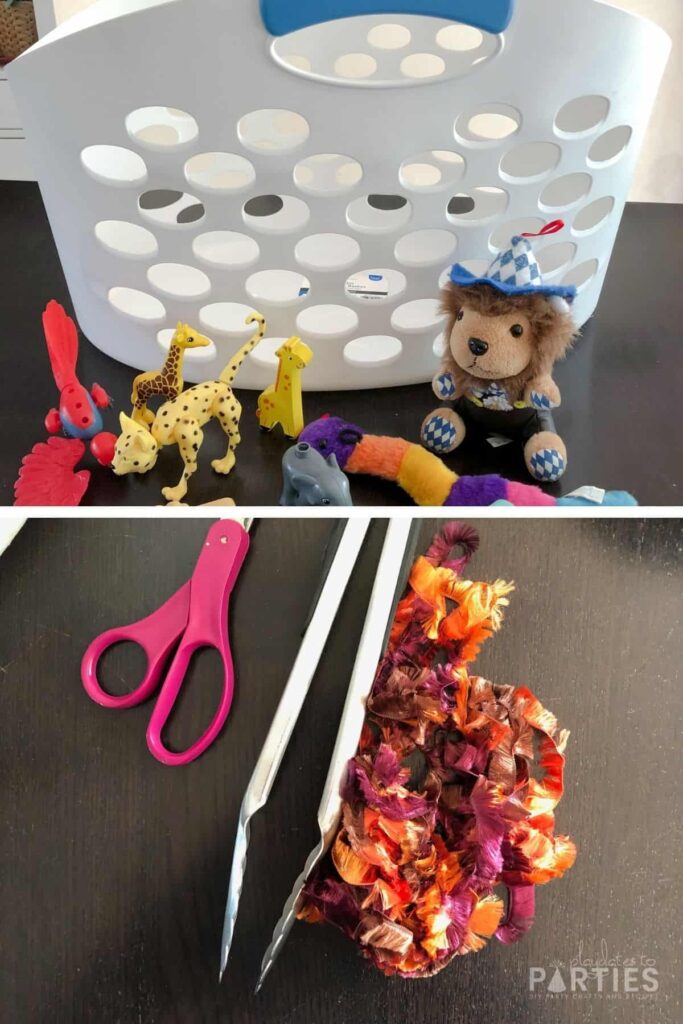 What You Need:
Laundry Basket
Yarn or Long Ribbon
Small animal toys in a variety of sizes
Kitchen tongs
Optional: Kitchen timer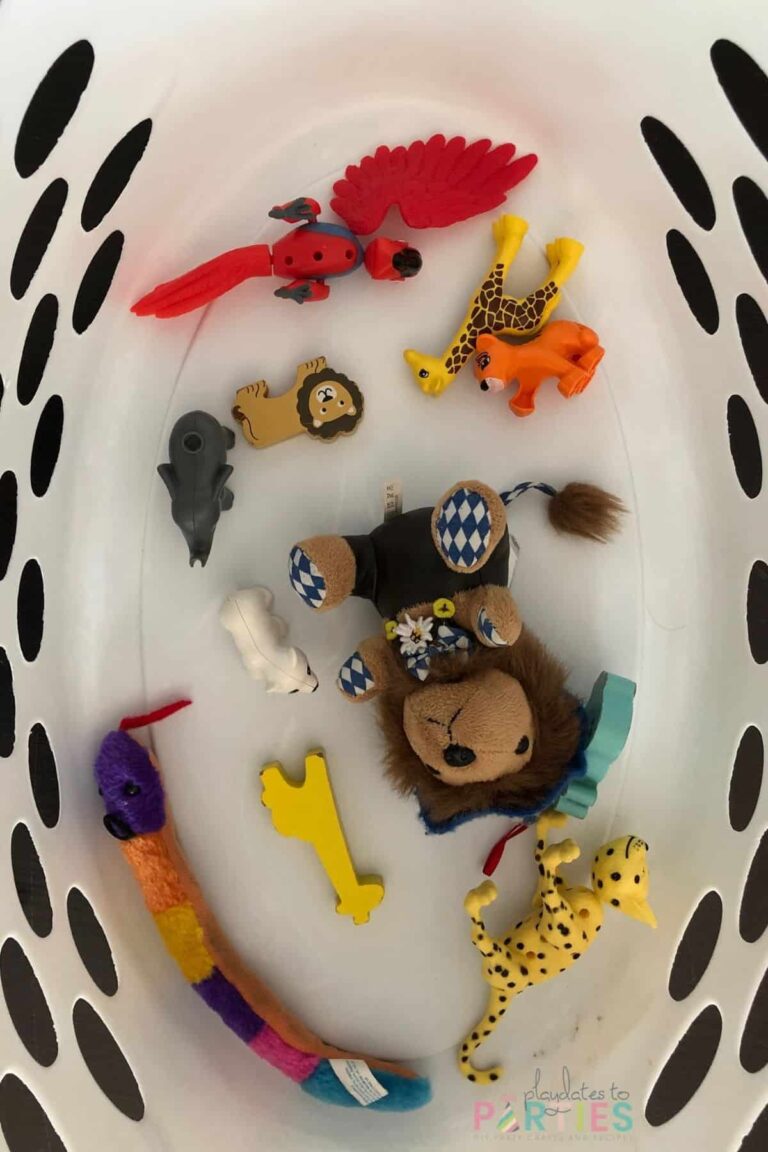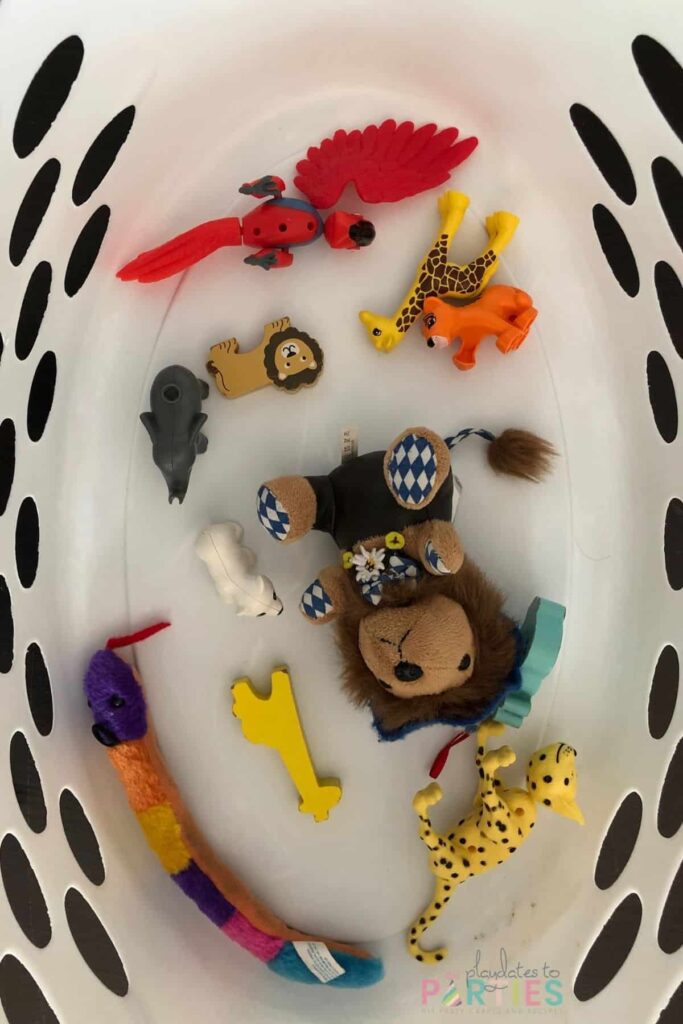 Set Up the Game:
Place small toy animals or stuffed animals inside the laundry basket.
We used animal toys in a variety of shapes, materials, and sizes, including:
small stuffed animals
Lego animals
Wooden animals from other toy sets, and
Zoomorphs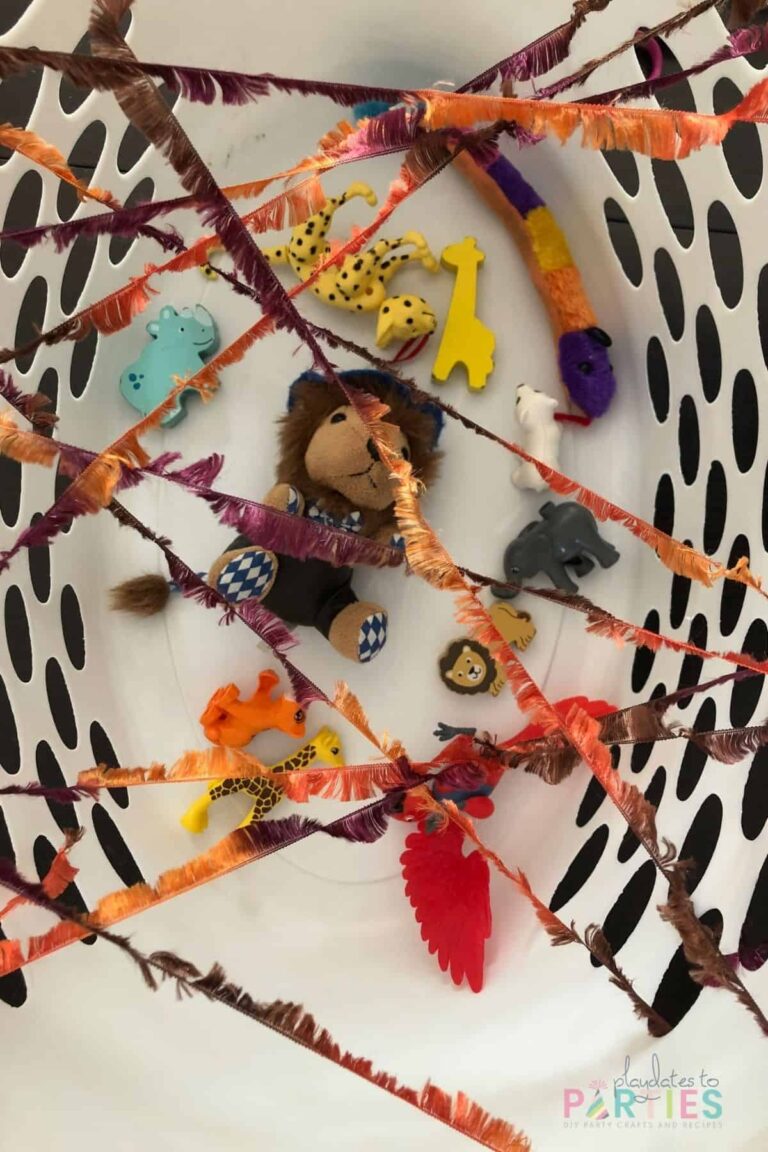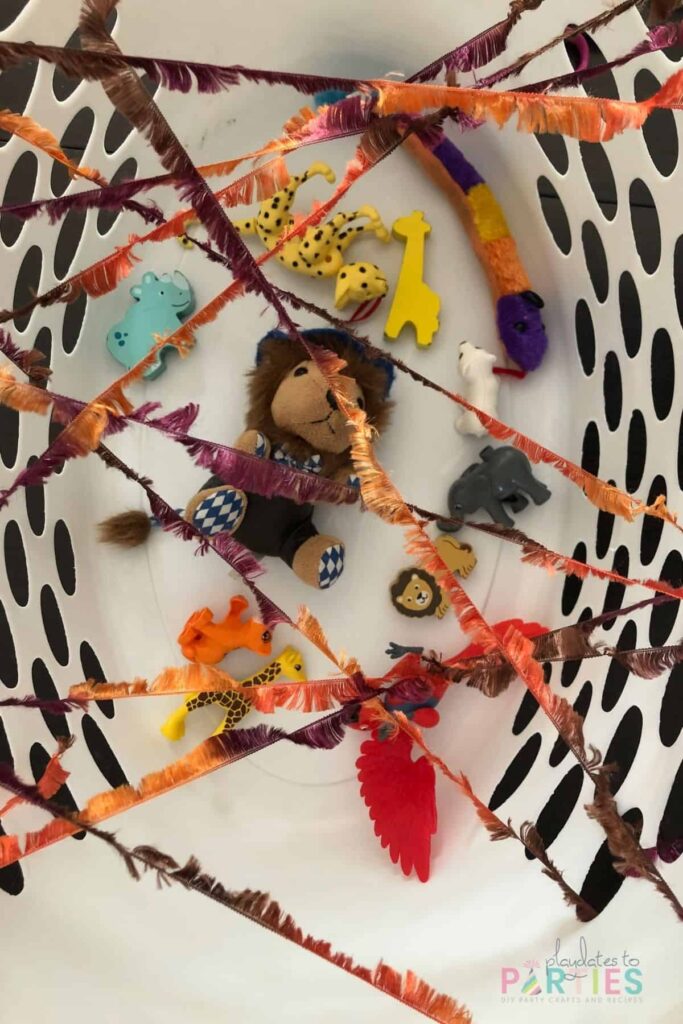 Weave the yarn through the holes at the top of the laundry basket, zig zagging it across the top to create an obstacle course. Cut and tie off the yarn when you're done.
How to Play:
You and Your Child:
Give your child the kitchen tongs to act as their 'game piece'. Then have him 'rescue' the animals one at a time by sticking the tongs between the yarn to pick each animal up.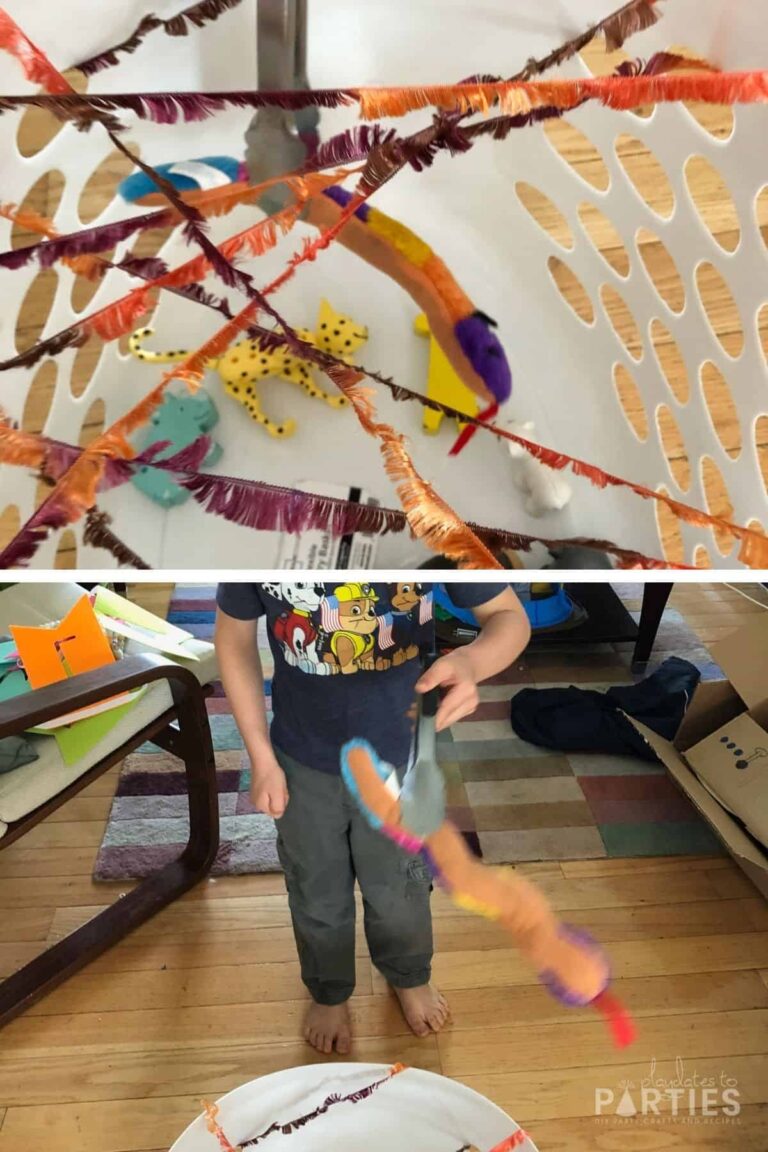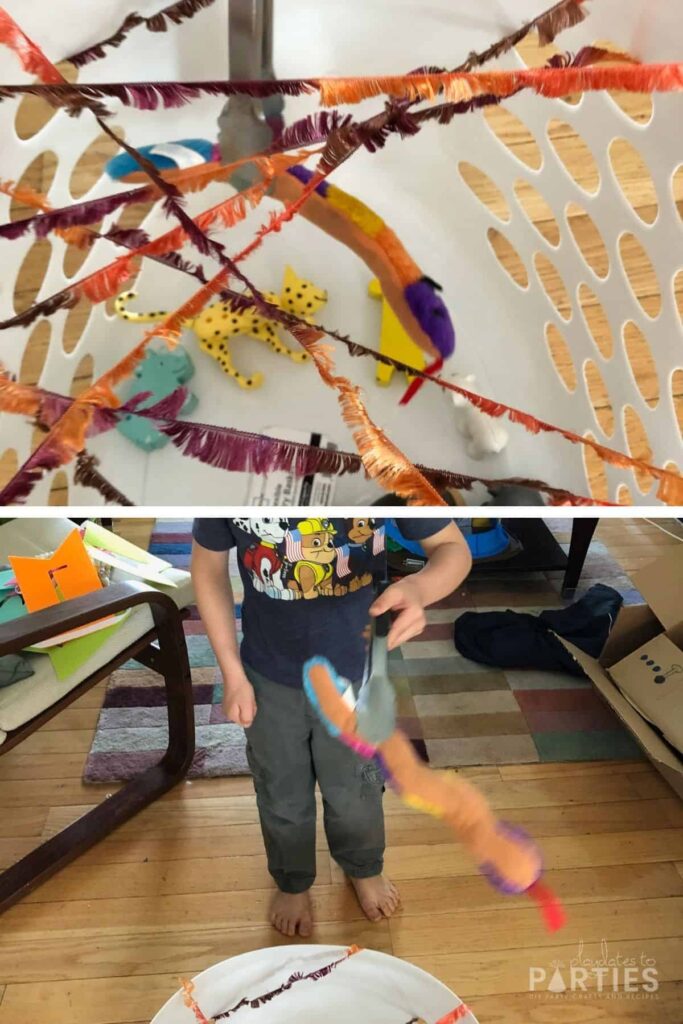 As a Party Game:
Set up several mini zoo rescues using small boxes or mini laundry baskets (we get ours at the dollar store) and 1-2 stuffed animals.
Give the kids one minute to rescue the animals from their cage. (You can use a timer, but some fast-paced kids party music would work really well for this too.)
Whichever child rescues all their animals first wins!
Why I don't recommend just having the kids take turns at a party: In my experience, little kids – especially kids under the age of 4 are too impatient to wait for everyone else. Keeping the atmosphere upbeat and exciting is your best way to avoid bored and inattentive kids.
Make it a Work Double Duty: Save yourself some time, and let the kids keep their basket and zoo rescue animals as their party favor. All you'll need is a cute little tag to add to the basket, and you'll be ready to go.
Adaptations:
Shorten the time allowed for 4-5 year olds, or remove the time constraints for 2-3 year olds
To make it more difficult for older kids: any time the tongs touch the yarn, the animal has to go back (like the classic game Operation)
Now it's Your Turn
Hopefully, the next time you need an indoor activity or party idea for little kids – you'll give zoo rescue a try – it might just save your sanity!
If you enjoyed this simple activity, you'll love our 100 summer activities for kids, with ideas for every day of the week…rain or shine. Check out all the ideas, and grab your free downloadable version right here.
---

Want more party inspiration? Join me over at
Facebook
, and
Twitter
, for regular updates and fabulous finds from around the web.