If you enjoy big, bold mixed drinks, you're going to love rosemary infused vodka.
Learn all the details for how to make rosemary infused vodka in your own kitchen, and grab a copy of the free printable labels that are perfect for gift-giving.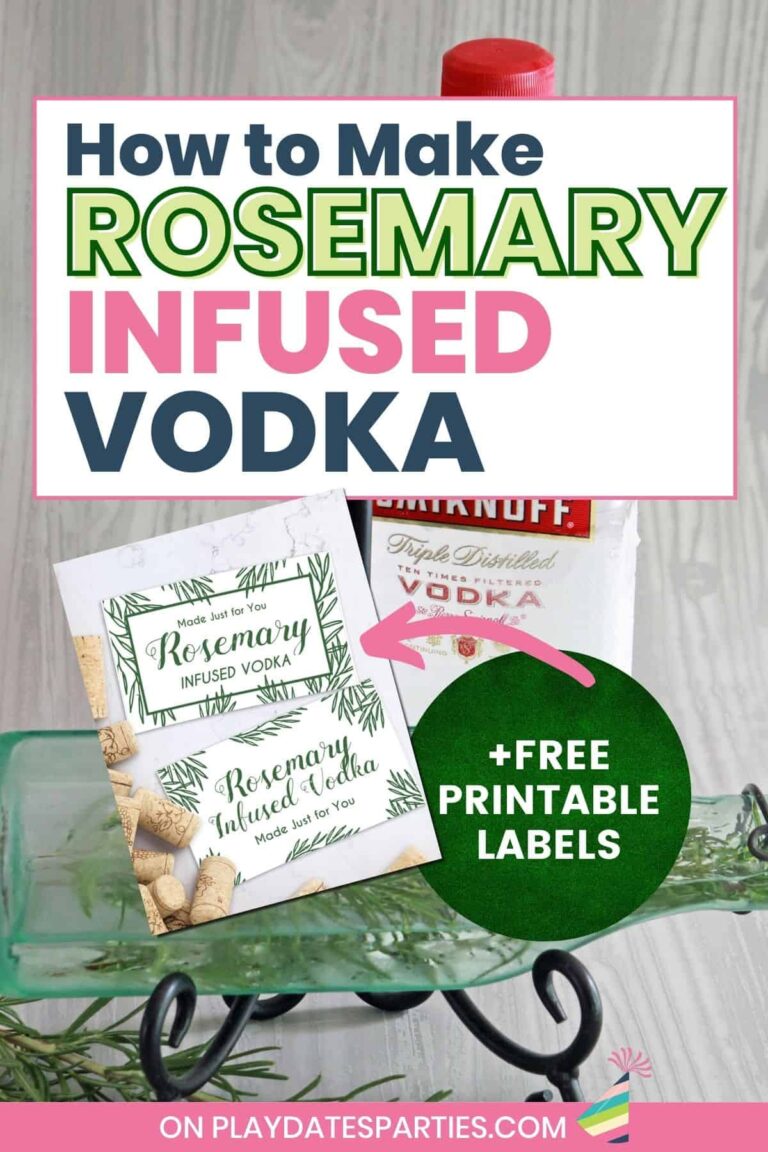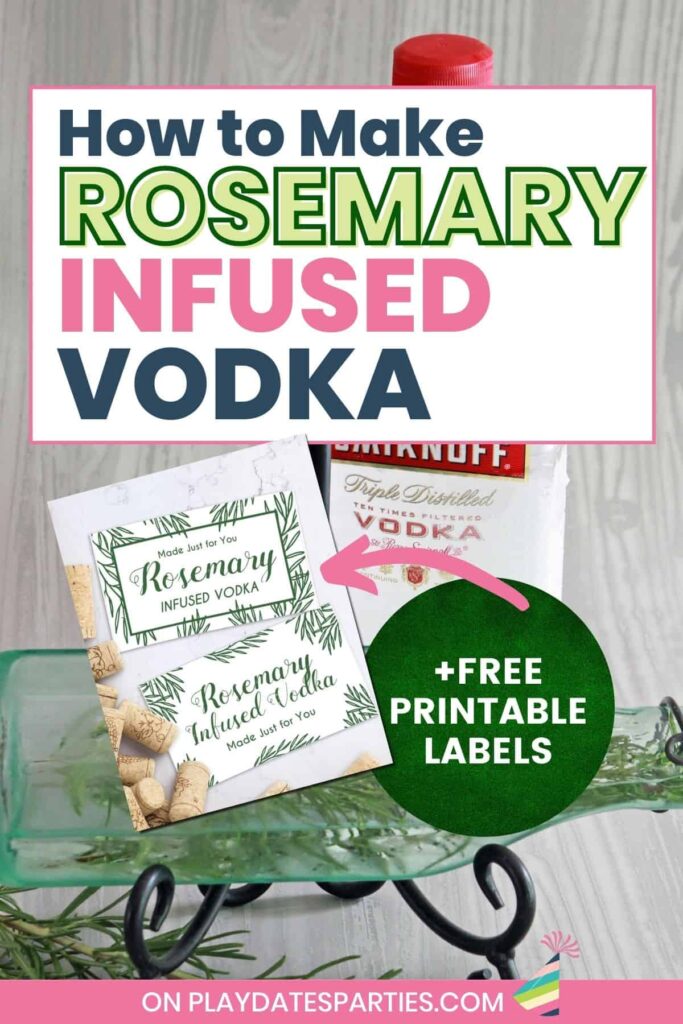 After having such success adding rosemary to the white wine holiday sangria, I got an itch to use it in bolder ways with our holiday cocktails.
Do you remember when it was cool to add skittles Zima? Supposedly, the Skittles would add a fruity flavor to what was already a pretty sugary drink. (Okay, so I may be dating myself with that one.)
But this rosemary infused vodka felt so much like typical early adult experiments with different alcoholic drinks. Unlike those experiments, however, it's not about masking the flavor of the alcohol. Instead, it's about adding to it.
And the result is fascinating.
Instead of adding sweetness, like most infused liquors, rosemary infused vodka is bursting with earthy flavors. And I'll be honest…there's nothing subtle about it.
If you know someone who loves to experiment with their cocktail recipes, consider giving them a bottle of rosemary-infused vodka. I bet they'll be surprised and excited to give it a try.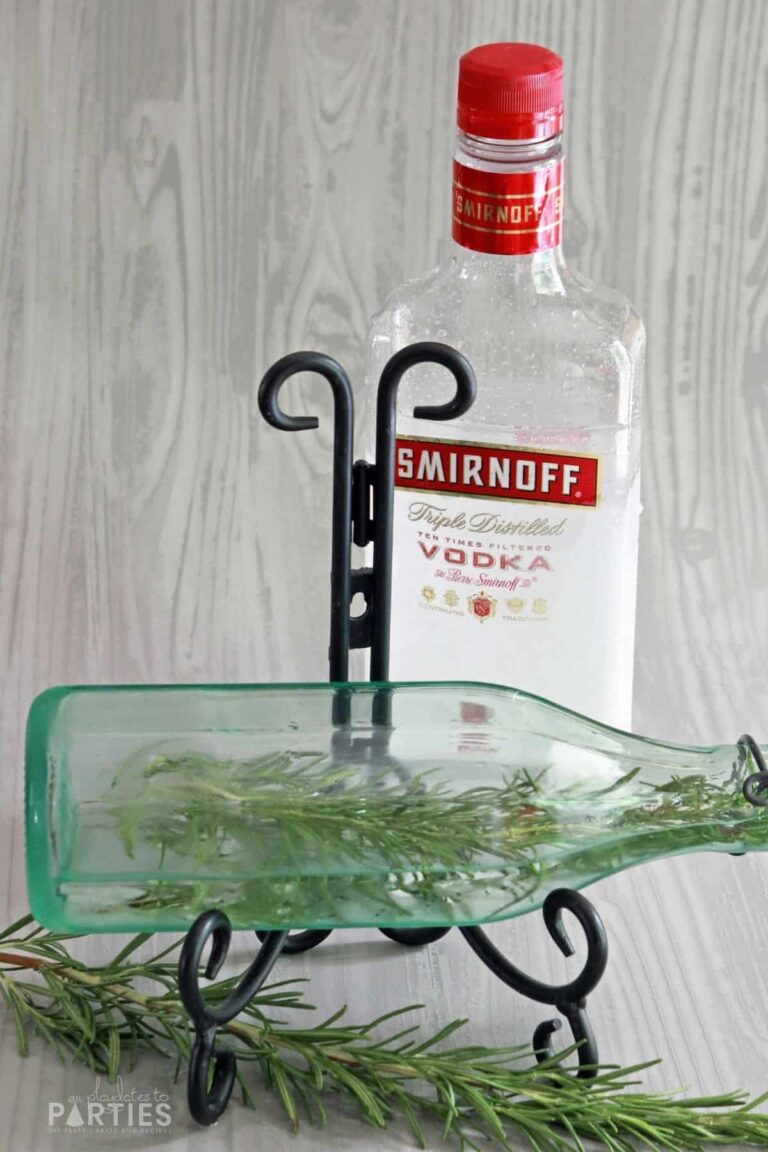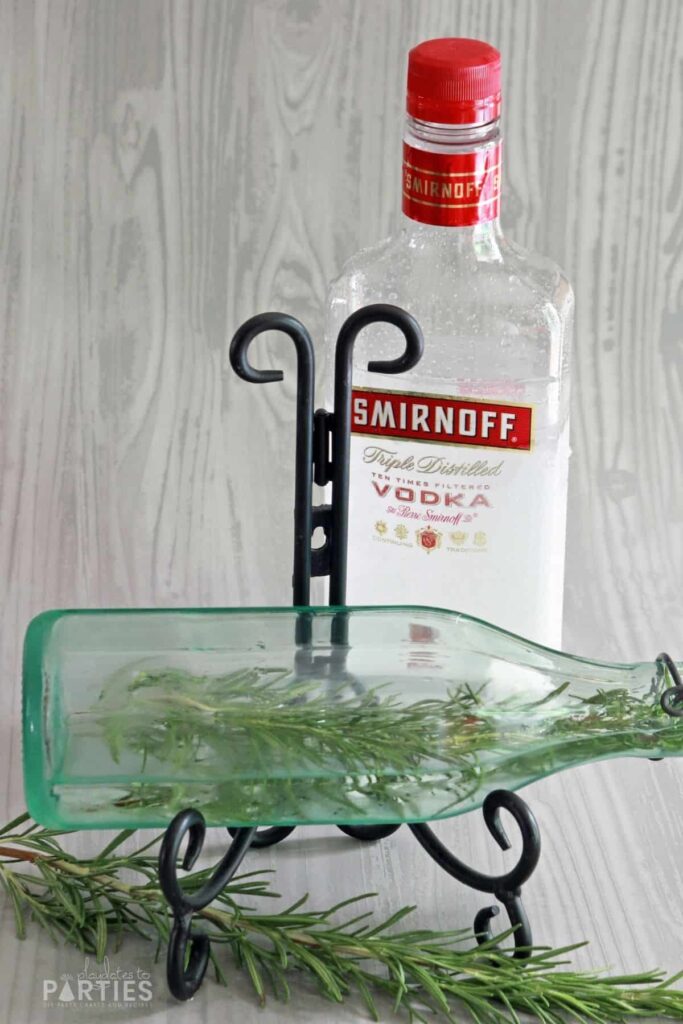 A Few Notes About Rosemary Infused Vodka
This vodka definitely has a strong flavor. Add it to your drinks sparingly until you figure out your preferred quantity.
Most infused vodka recipes recommend steeping for several days. Add a bunch of large sprigs and turn your bottle on its side to reduce steeping time to one day.
The rosemary inside the vodka is gorgeous at first, but quickly turns the vodka an amber brown. This is totally normal.
If you want to gift a bottle of the vodka, make sure you add the rosemary right before gifting it, and let the recipient know to remove the rosemary within a couple days.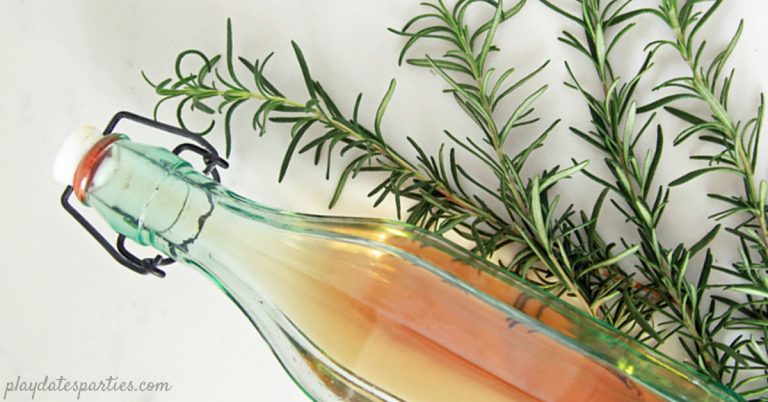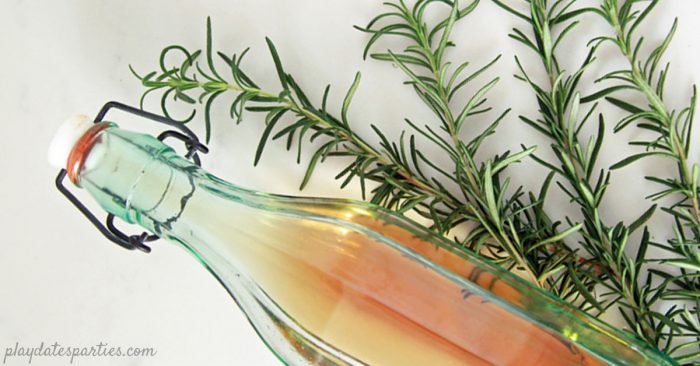 Try Rosemary Infused Vodka in these Awesome Recipes
Grab Your Free Bottle Labels Here
Turn bottles of your own rosemary infused vodka into creative holiday gifts with these labels inspired by rosemary branches.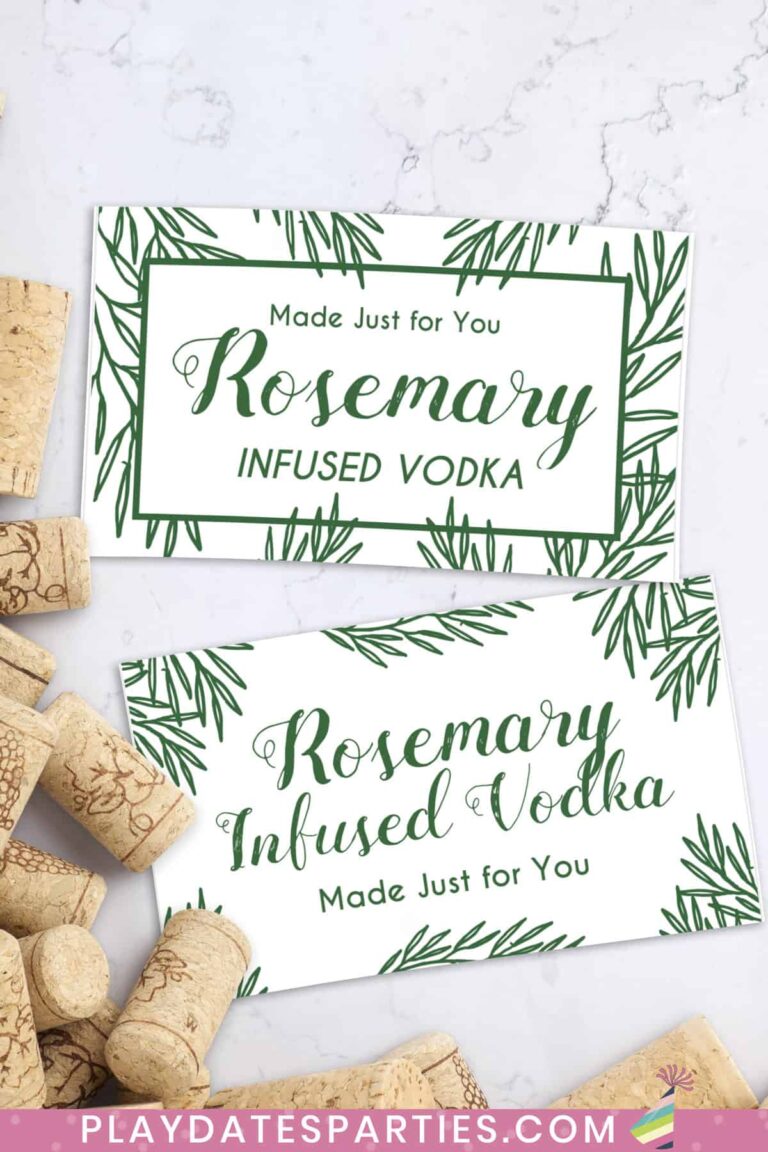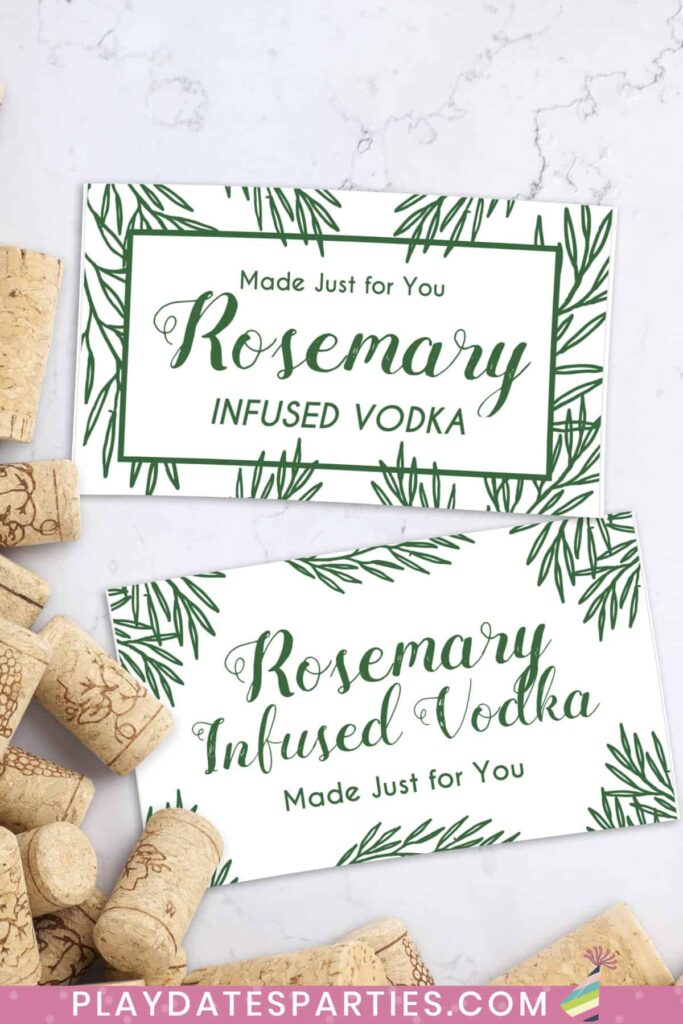 Better yet, the text on the labels is editable in Adobe Acrobat. And since they're designed with a fairly neutral style, they'll go well with just about any holiday gift.
Newsletter subscribers can download a copy of these labels FREE of charge. All you have to do is add your name and email to the form below and I'll send the files straight to your inbox.
Don't want to subscribe? No problem! You can also purchase these labels for a small price in my shop.
How to Make Rosemary Infused Vodka
Yield: 1 bottle
How to Make Rosemary Infused Vodka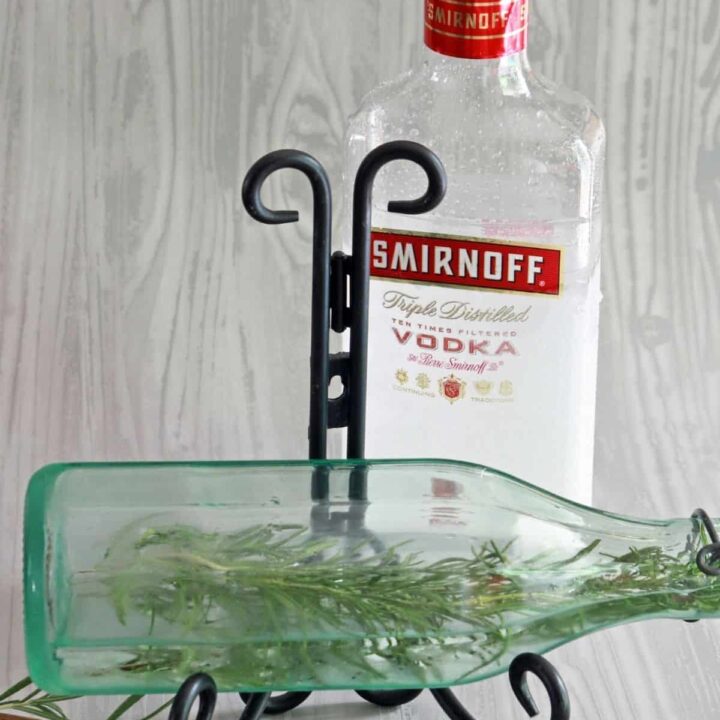 Get all the details on how to make rosemary infused vodka for big, bold mixed drinks. Don't forget to download your free printable labels too!
Total Time
1 day
5 minutes
Ingredients
3 large sprigs of fresh rosemary per 8 ounces vodka
Good quality vodka
Instructions
Fill a resealable glass bottle with vodka, leaving at least the top two inches clear.
Add the rosemary sprigs to the bottle and close the seal.
Allow the bottle to steep for at least one day in a cool, dark location until golden amber in color.
Notes
You can make a smaller quantity of rosemary-infused vodka by setting the bottle on it's side to steep, allowing the vodka to have maximum surface area with the rosemary. Remove rosemary sprigs within 24-48 hours to avoid turning the vodka bitter.
Nutrition Information:
Serving Size:
1 grams
Amount Per Serving:
Unsaturated Fat:

0g
---