This year was L's first birthday party with other kids from school. It seems like all of her classmates were born between May and July, because it has been non-stop birthday parties for the last couple months! With all of the character parties we were going to, I wanted to keep things a bit simpler. Plus, I couldn't think of any single thing that she's loved with consistency. Until it hit me: sprinkles. No matter what, that child loves sprinkles. All over her cupcakes, ice cream, yogurt, even on cereal (only for very special occasions). If it has sprinkles on it, she's likely to try it.
Just like we've done for T over the last two years (check out her Splish Splash and Octonauts parties), I was planning on putting out the inflatable pools and having everything in the back yard this time. Outside parties just feel so much simpler. And the kids have a ton of fun with the pools. Mother Nature, it seems, had different ideas. All week, the forecast called for storms on the day of her party. This meant that I got to spend less time making food and decorations for her party and a lot more time cleaning. Too much time cleaning.

Come Saturday the rain came pouring down I was running around preparing foods (since sprinkles dissolve if wet overnight), and reconfiguring our party layout as quickly as I possibly could. Including moving the four DIY braided plastic tablecloth party backdrops I made from their original locations to all new spaces inside.
I'm not exaggerating when I say that I was placing our rug in the entryway right as the first guest was coming in. Unfortunately this meant that the pictures I did get to take were not satisfactory at all. *Insert sad trombone*.

I can say that everything…and I mean everything was covered in or decorated with sprinkles. The best part is that there are so many treats available with sprinkles these days, that I was able to find a bunch of food that was pretty much perfect out of the container. My favorite were the chocolate donut holes covered in rainbow sprinkles. You couldn't ask for something more perfect.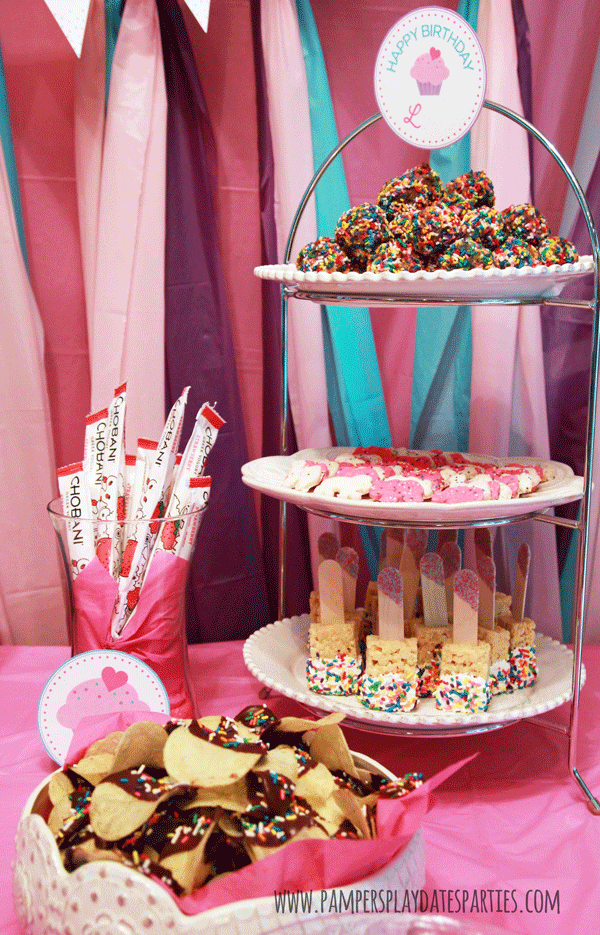 And ever since L adamantly changed her mind that everything good is pink, I couldn't help but include the pink and white sprinkle covered animal cookies that T also loved when she was three. These mini sandwich cookies were also said to have sprinkles in them, but a bed of sprinkles underneath created a perfect (and easy) little platter.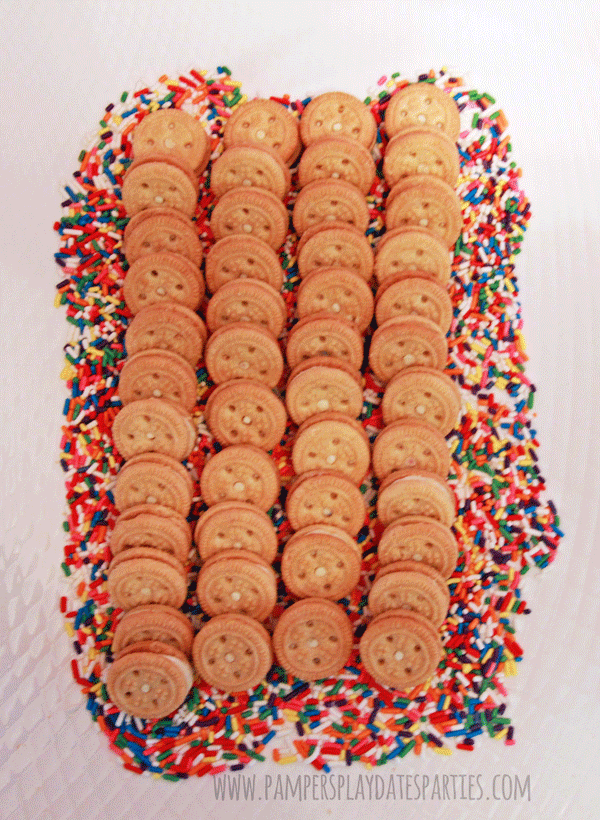 My favorite crafty moments were in creating 'sprinkle covered' popsicle sticks and utensils for everybody to eat. The popsicle sticks looked so adorable with the sprinkle covered rice krispy treats!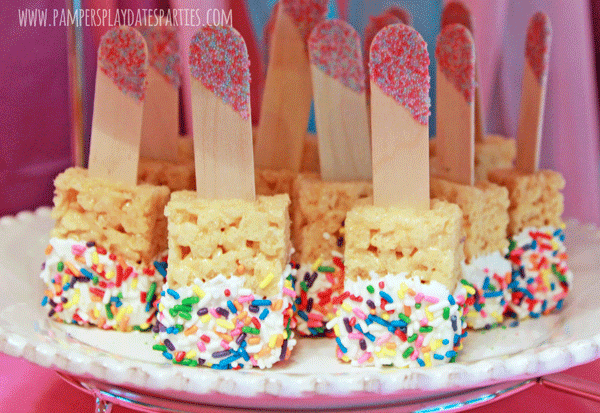 This next shot depresses me so much. I'm really disappointed in the photo quality, but I just HAD to share. I always try to include at least one or two healthy items on a party menu. This time I had greek yogurt tubes (a staple snack in our house) and fruit salad. Since the party was originally supposed to be outside, I came up with the idea of putting the fruit salad in disposable domed cups (like those used in stores for yogurt parfaits). An easy little sprinkle swirl in the top kept up the theme, but also kept most of the sprinkles out of the fruit. This picture really doesn't do them justice at all.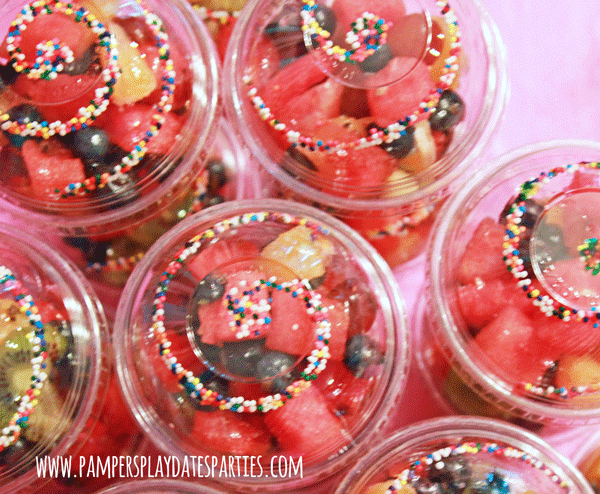 Each guest got to leave the party with homemade cookies covered in sprinkles (made using this fantastic sugar cookie recipe) and a swirl lollipop. The cookies and lollipops were inside glassine bags with a custom printed label and sealed with a bit of washi tape. Again…easy peasy and so cute!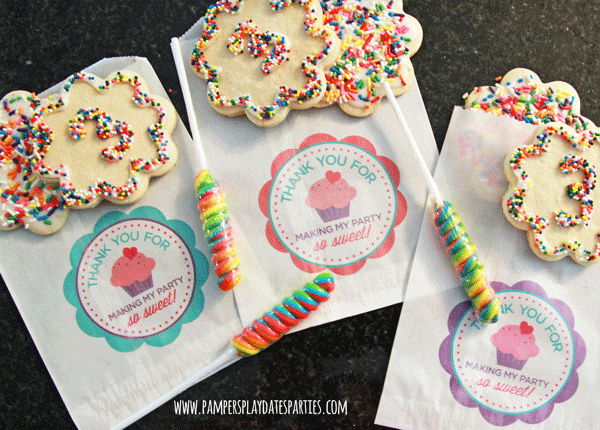 I took full advantage of pregnancy and didn't plan a single structured activity. Remember, the kids were supposed to be splashing around in our big pool. Instead, we just opened up the whole house with our bazillion toys and said "let the kids play and have fun!" Afterward, the Husband commented that he hasn't any other birthday party where the parents interacted with each other so much. It was really wonderful.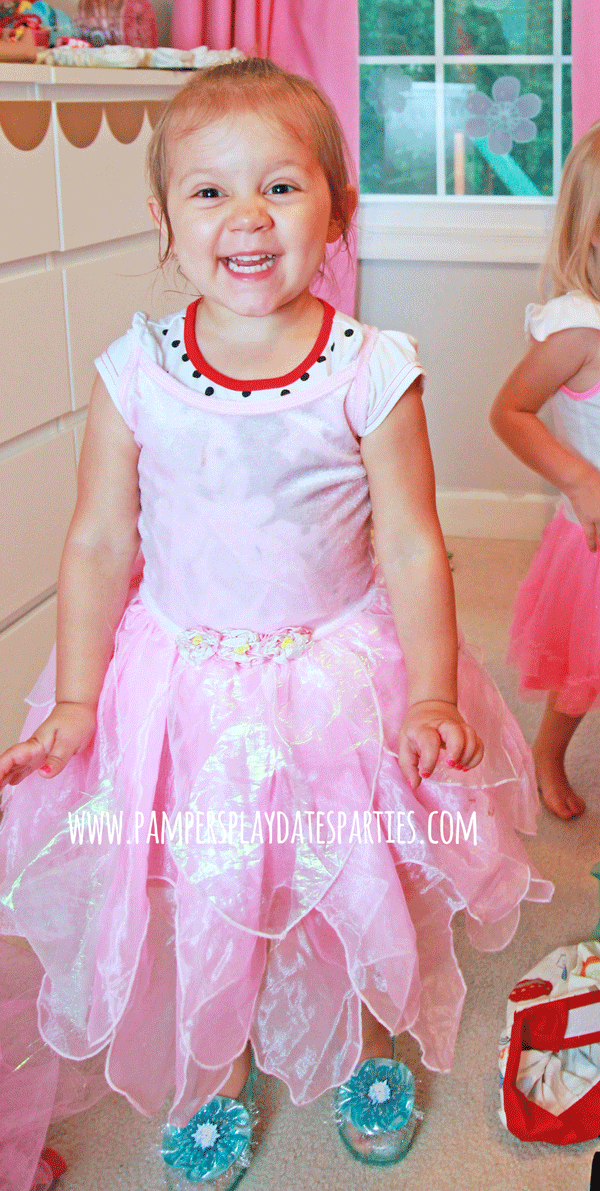 I think it's clear that the birthday girl had fun. In the end we may not have had the best weather, and my pictures may be horrible this time (so sad!), but it was a good time. I'm also glad it's over. I needed a nap for the next two days! But there's no rest for the weary, T is in full swing planning her 6th birthday party. Can you believe it?


Subscribe via Bloglovin, Facebook, and Twitter to get more updates!