Looking for a refreshing summer cocktail? Look no further than raspberry vodka lemonade! This easy recipe only requires a few simple ingredients, and is perfect for sipping at a BBQ or poolside.
If you're looking for something a little more special, check out our adaptations below and mix up this vodka lemonade cocktail for your Valentine's Day date, bridal shower, or simply a date night at home. Pretty much any time you have it, raspberry vodka lemonade is sure to quench your thirst!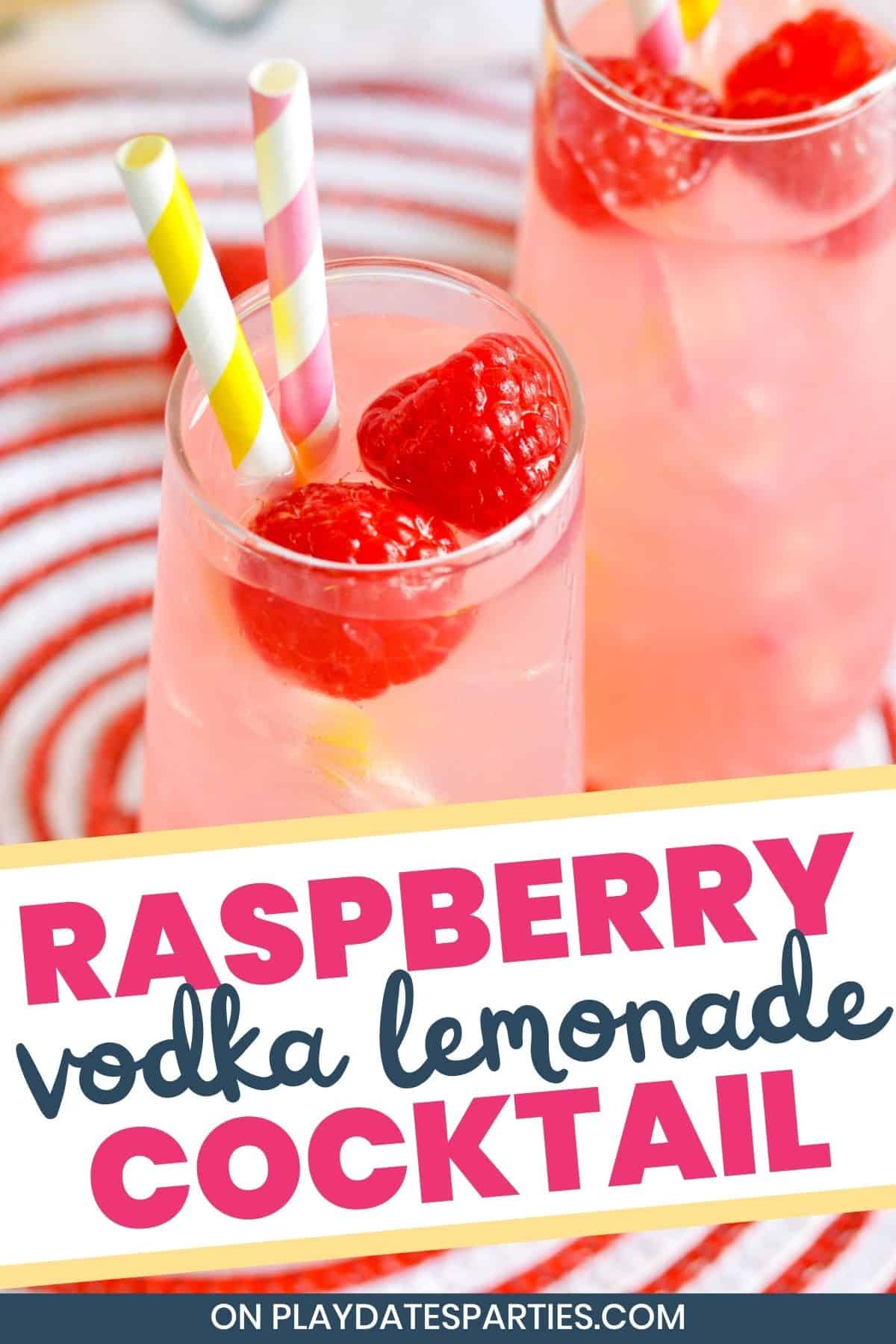 What Makes Raspberry Vodka Lemonade So Fun:
It takes only a few simple ingredients and is so easy you can make it in only a minute or two.
Change up the ingredients of this base recipe to suit your personal preferences or or mood.
With just the right amount of sweetness, it's a refreshing drink that's perfect for hot summer days.
This lemonade recipe is simple enough to make in single servings for an afternoon happy hour, or to prep ahead and make a pitcher for a crowd.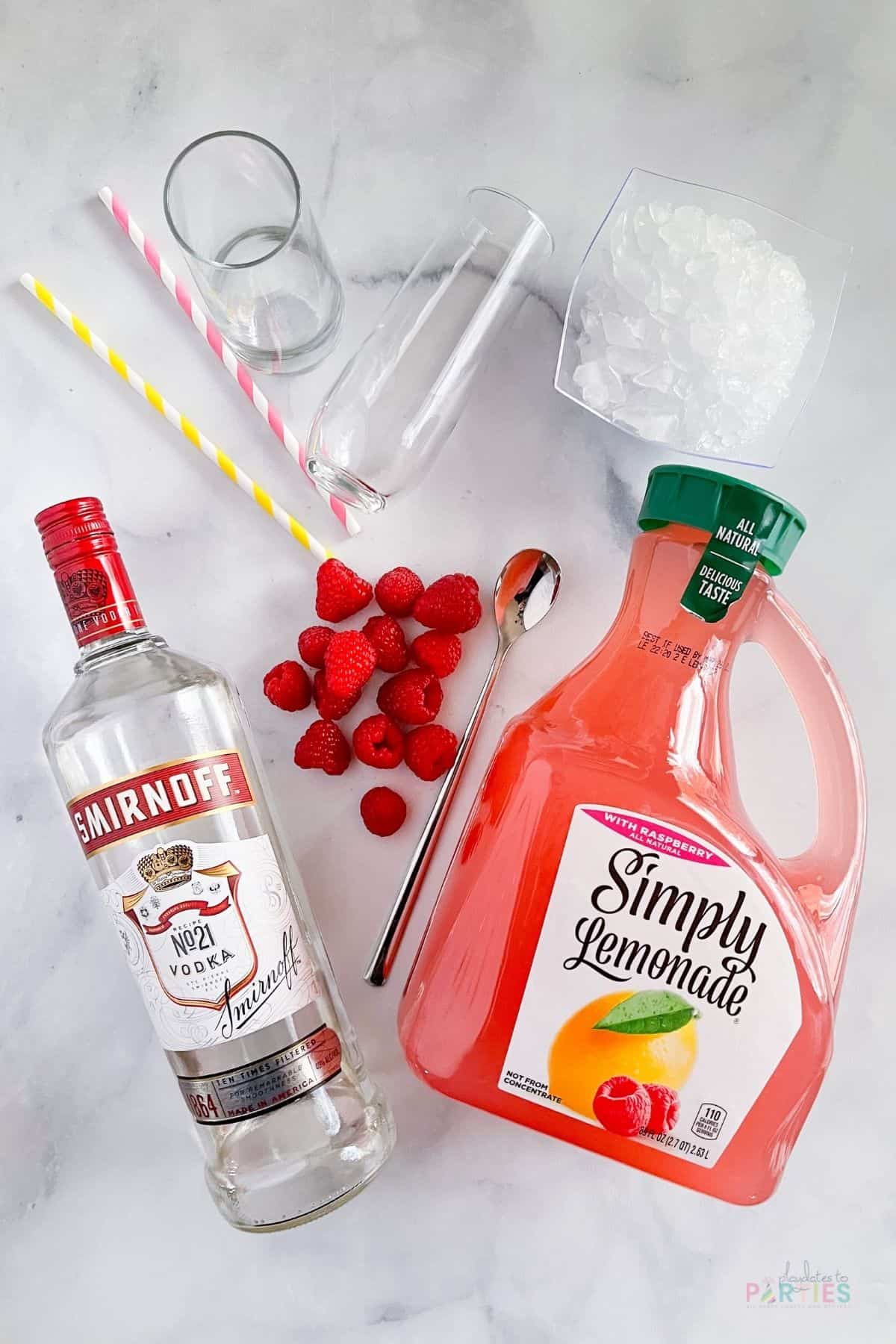 What You Need to Make Raspberry Vodka Lemonade
Raspberry Vodka Lemonade Ingredients:
Equipment:
How to Make Raspberry Vodka Lemonade (Step-by-Step Directions):
To make things even easier for you, I created a simple photo guide below. For all measurements and a more detailed guide, check out the recipe card at the bottom of this page.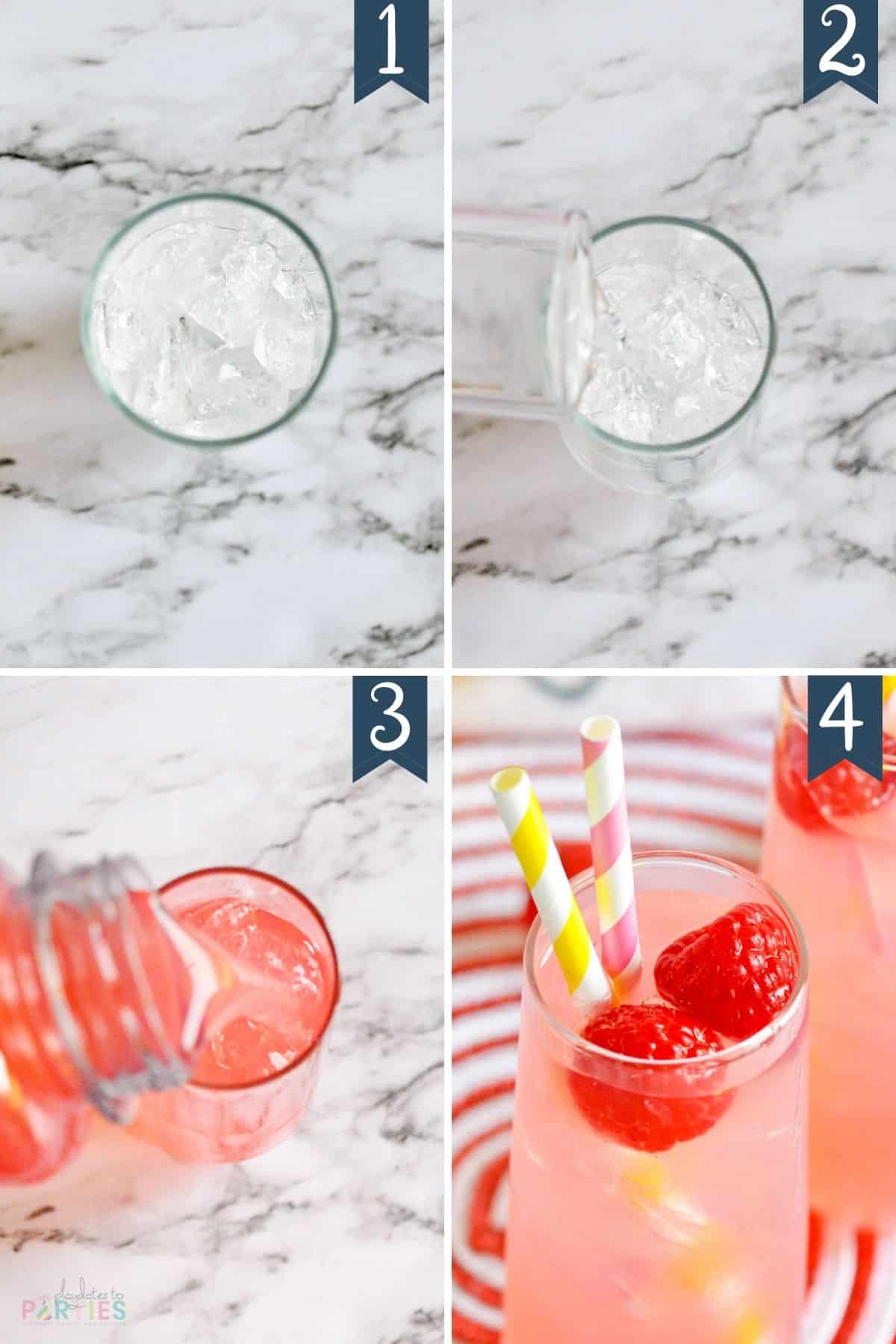 Step 1 – Add crushed ice to your glass.
Step 2 – Pour vodka onto the ice
Step 3 – Fill the rest of the glass with raspberry lemonade. Stir to combine.
Step 4 – Add fresh raspberries and/or a lemon wedge for garnish.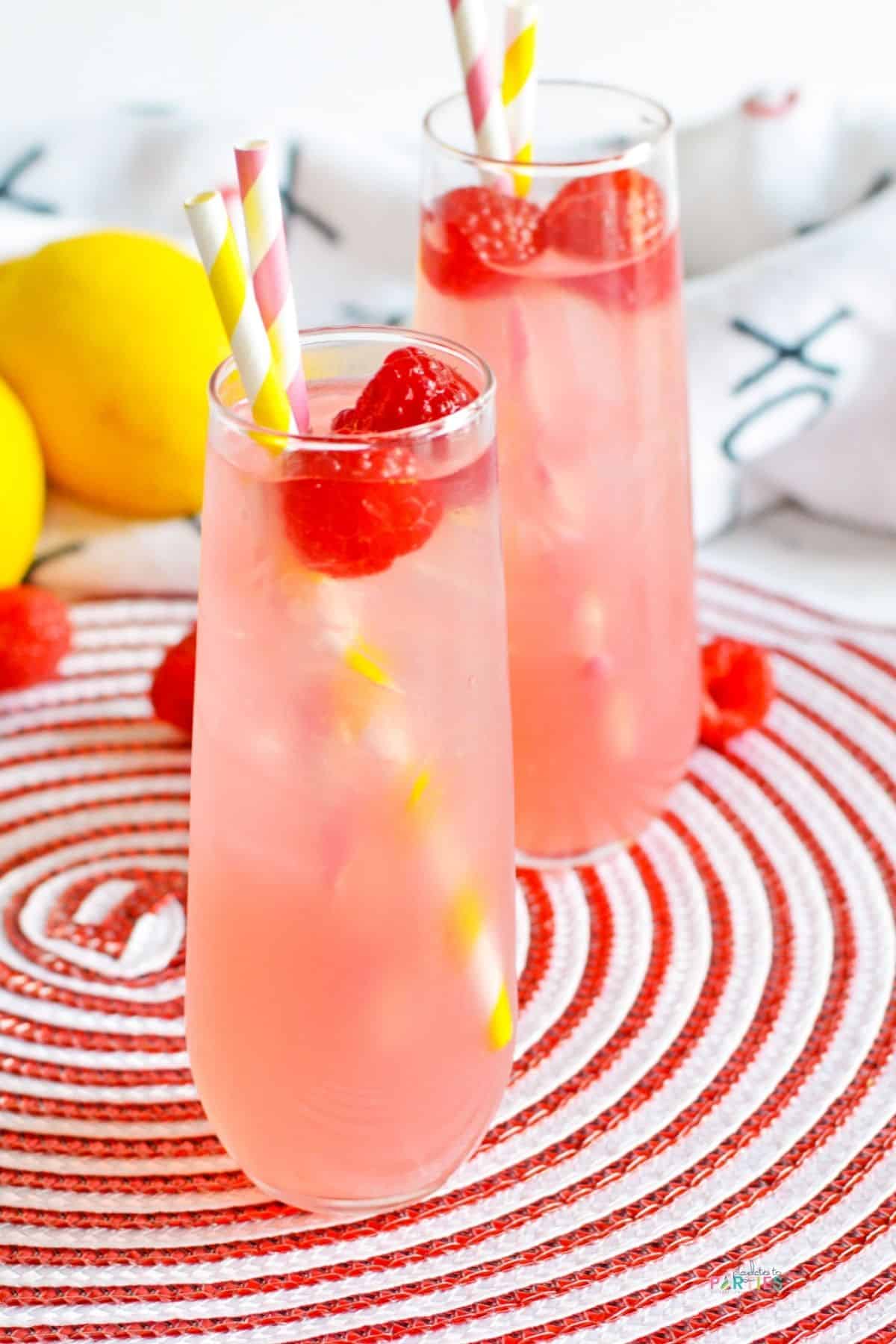 Essential Tips:
Don't skip these tips – read them before mixing for the best results.
Use decent quality, chilled vodka
No one wants a vodka cocktail that reminds them of cough syrup from your childhood – so use a decent quality vodka. It doesn't need to be expensive, either. We like your standard Smirnoff or Titos.
And keeping your vodka chilled in the freezer before mixing will ensure that your drink is cool and refreshing.
Serve your spiked lemonade with a straw
You can use a paper (or reusable) straw to stir up the drink, and then leave it in so the drinker can stir while they sip.
Substitutions and Adaptations:
Lower Sugar Lemonade Options
If you're watching your sugar intake, you might want to consider one of these:
Simply Light Lemonade with Raspberry
Crystal Light Raspberry Lemonade Mix
Turn it into a Raspberry Lemonade Vodka Spritzer
Make your cocktail even more fun and festive by making it bubbly! All you need to do is finish the recipe off with a splash of club soda, seltzer water, or sparkling wine.
Add a Bit of Mint
Muddle some mint leaves at the bottom of the glass, or simply garnish with a couple fresh mint leaves to give your drink a bit more depth and variety.
Change Up the Your Vodka Lemonade Punch Flavors
You can change up the fruit and lemonade blends to create a vodka lemonade punch in any number of flavors:
Strawberry Vodka Lemonade – Use Strawberry Lemonade and fresh strawberries
Blueberry Vodka Lemonade Spritzer – Blueberry lemonade seltzer with fresh blueberries floating on top.
Watermelon Vodka Limeade – The ultimate summer combo. Swap out the ingredients with watermelon lemonade, a slice of fresh watermelon, and a twist of lime.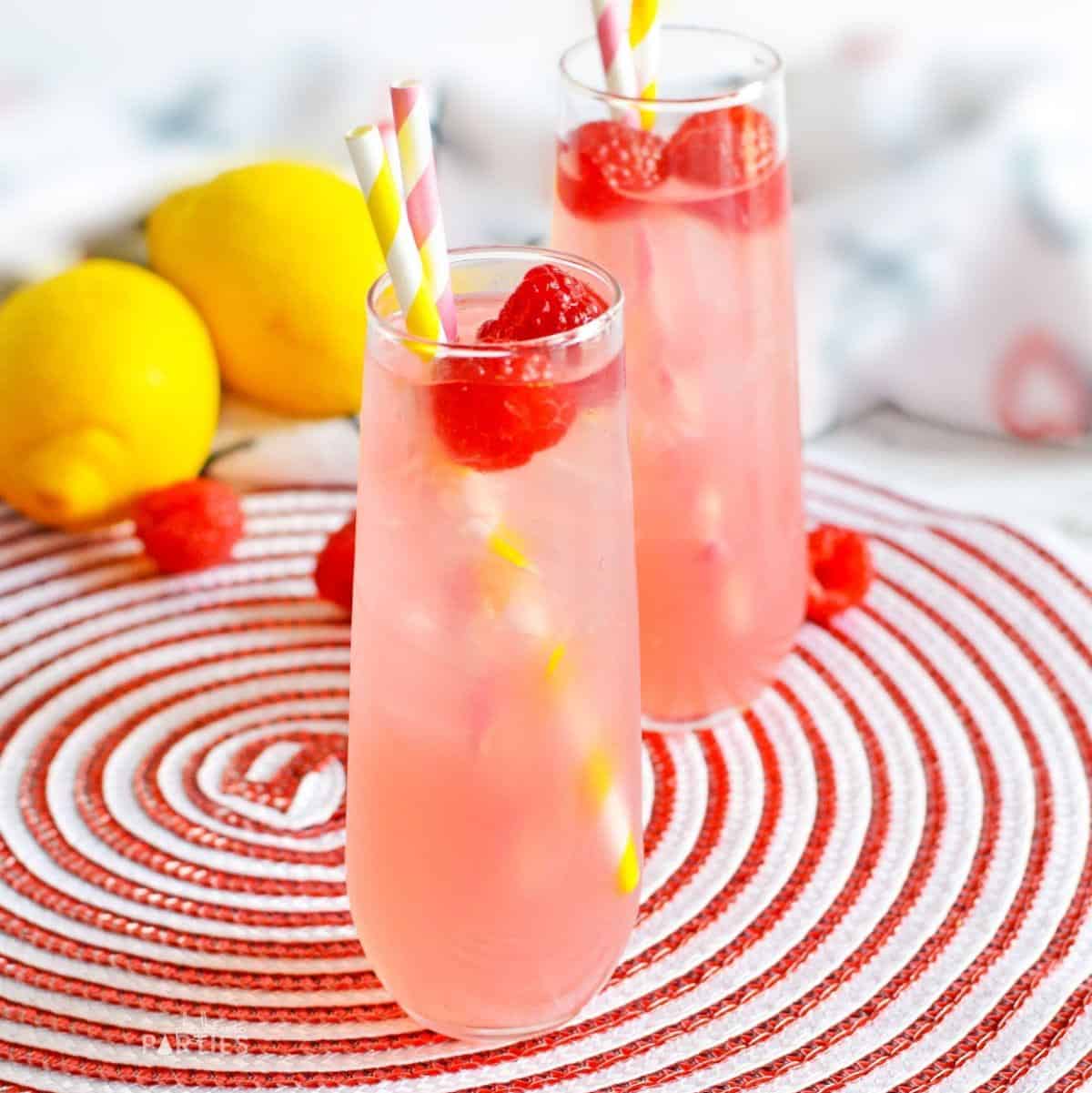 FAQs:
I'd like to serve this for a party. Can I turn it into a raspberry vodka lemonade pitcher?
Absolutely! Simply lemonade comes in 52 ounce and 89 ounce jugs, which makes it so easy to make a large batch for a crowd. Here are the measurements:
To Make Two Quarts, you'll need:
52 ounce bottle raspberry lemonade
2 cups vodka
6 ounces fresh raspberries
1 lemon, thinly sliced
To Make 3.5 Quarts, you'll need:
89 ounce bottle raspberry lemonade
3.25 cups vodka
12 ounces fresh raspberries
2 lemons, thinly sliced
A Few Extra Tips when Serving this for a party:
Mix up your vodka and lemonade in a big pitcher without ice or garnish.
Set your pitcher on a buffet next to a big ice bucket.
Have smaller bowls nearby filled with a variety of fresh fruits, berries, herbs, and paper straws so guests can mix up their own blends.
Will kids be at the party? Grab an extra jug (or two) of lemonade for the little ones and let them know that the pitcher is for adults only.
Don't forget to grab an editable sign and add the recipe to it so guests can know how to make their own raspberry vodka lemonade.
Can I use homemade lemonade?
Absolutely! That will also give you the opportunity to control how much sugar you have in your cocktail too. I don't have my own homemade raspberry lemonade recipe yet, but this recipe gets pretty good reviews.
How Much Will I Need for a Regular Sized Cup?
The recipe below is sized for stemless champagne flutes…but we also tested this recipe in mason jar glasses. For a larger cup (like the mason jar glasses), you'll need:
1 cup cubed ice
2 oz. vodka
6 oz Simply Lemonade with Raspberry
3-4 fresh raspberries
What to Serve with Spiked Lemonade
Strawberry Fruit Dip with Cream Cheese is always a big hit at parties.
Adapt our Cranberry Brie Bites with raspberry preserves or lemon curd for a tasty summer appetizer.
Lemon cake mix cookies are a delicious and easy summer dessert.
Dairy free strawberry ice cream is a delicious way to help you cool off even more.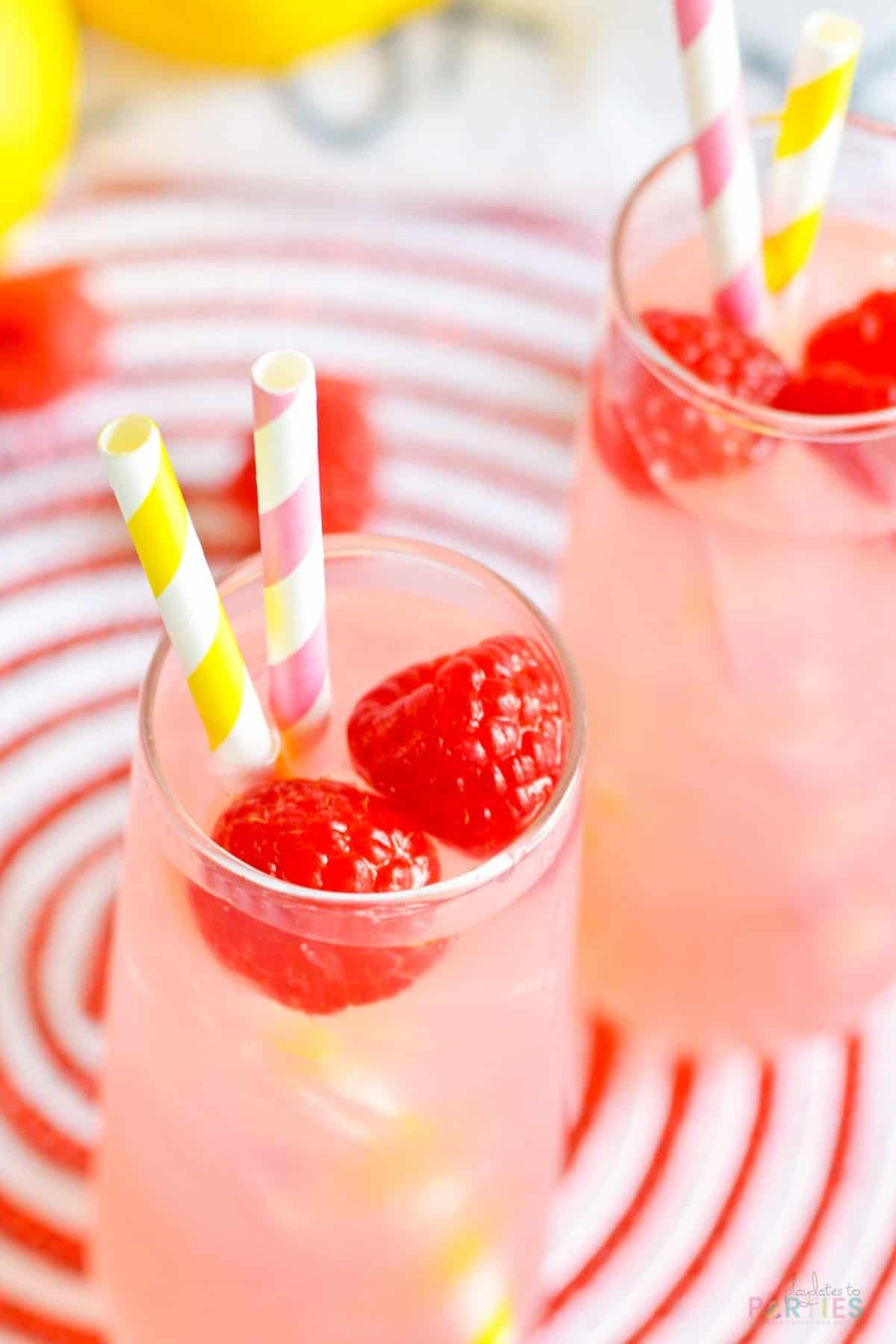 If you liked this raspberry vodka lemonade cocktail recipe, you're going to love my blueberry wine slushie with plums. With only three ingredients, it's the perfect wine slushie after a hot day at the beach.
Or you can check out my other drink recipes and cocktails here.
Yield: 1 cocktail
Raspberry Vodka Lemonade Cocktail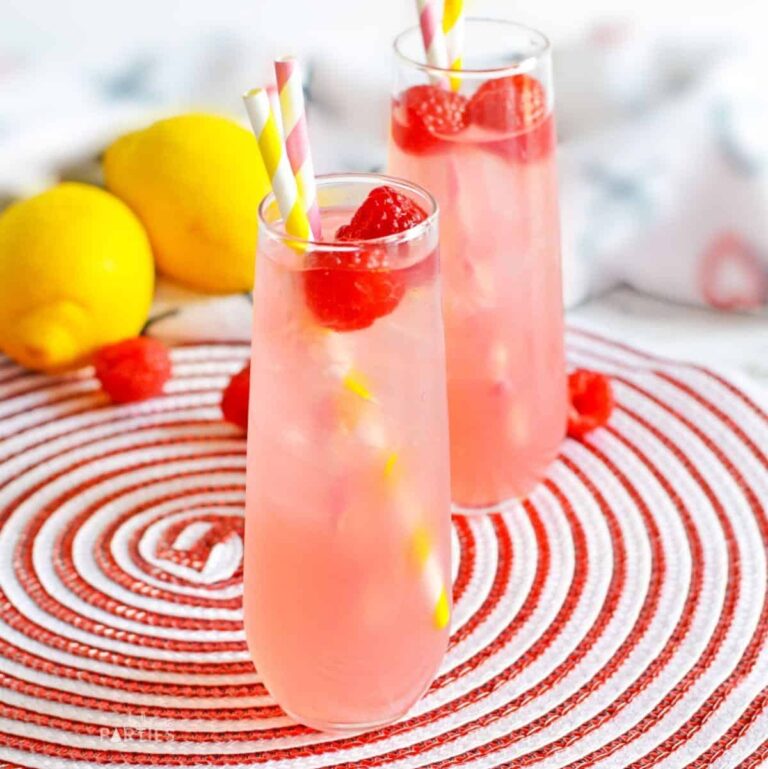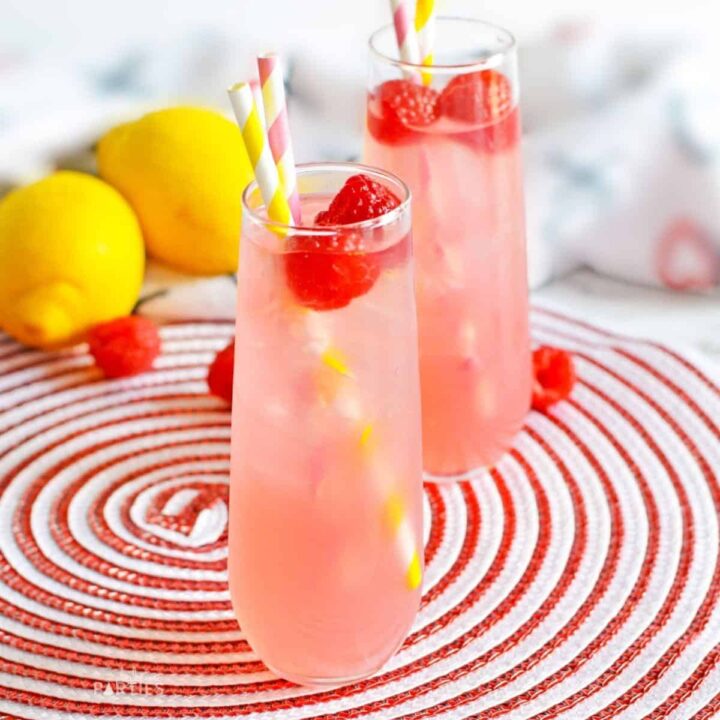 Cool off with a light, refreshing, and fruity raspberry vodka lemonade cocktail this summer. It's the perfect easy drink recipe for a hot summer day.
Ingredients
1.5 ounces vodka
Scant 1/2 cup crushed ice
4 oz Raspberry Lemonade
2-3 fresh raspberries
Lemon wedge, for garnish
Instructions
Add a scant 1/2 cup crushed ice to your champagne flute or glass.
Pour 1.5 ounces vodka over top of the ice.
Fill the remainder of the champagne flute with 4 ounces raspberry lemonade Stir to combine.
Add fresh raspberries and/or a lemon wedge for garnish.
Notes
Remember, the step-by-step photos and FAQ in the recipe post are there to help you if you feel stuck at any point.
Reminder: This post and the included recipe is intended for those of legal drinking age. please remember to drink responsibly and never drink and drive.
Recommended Products
As an Amazon Associate and member of other affiliate programs, I earn from qualifying purchases.
---