School is almost out for summer, and what better way to kick it off than with a fun family last day of school party.
But this isn't your typical overdone, big shindig. This summer party is different from most because we spend no money at all on decorations or food. Keep reading to find out how you can create your own stress-free summer kickoff celebration.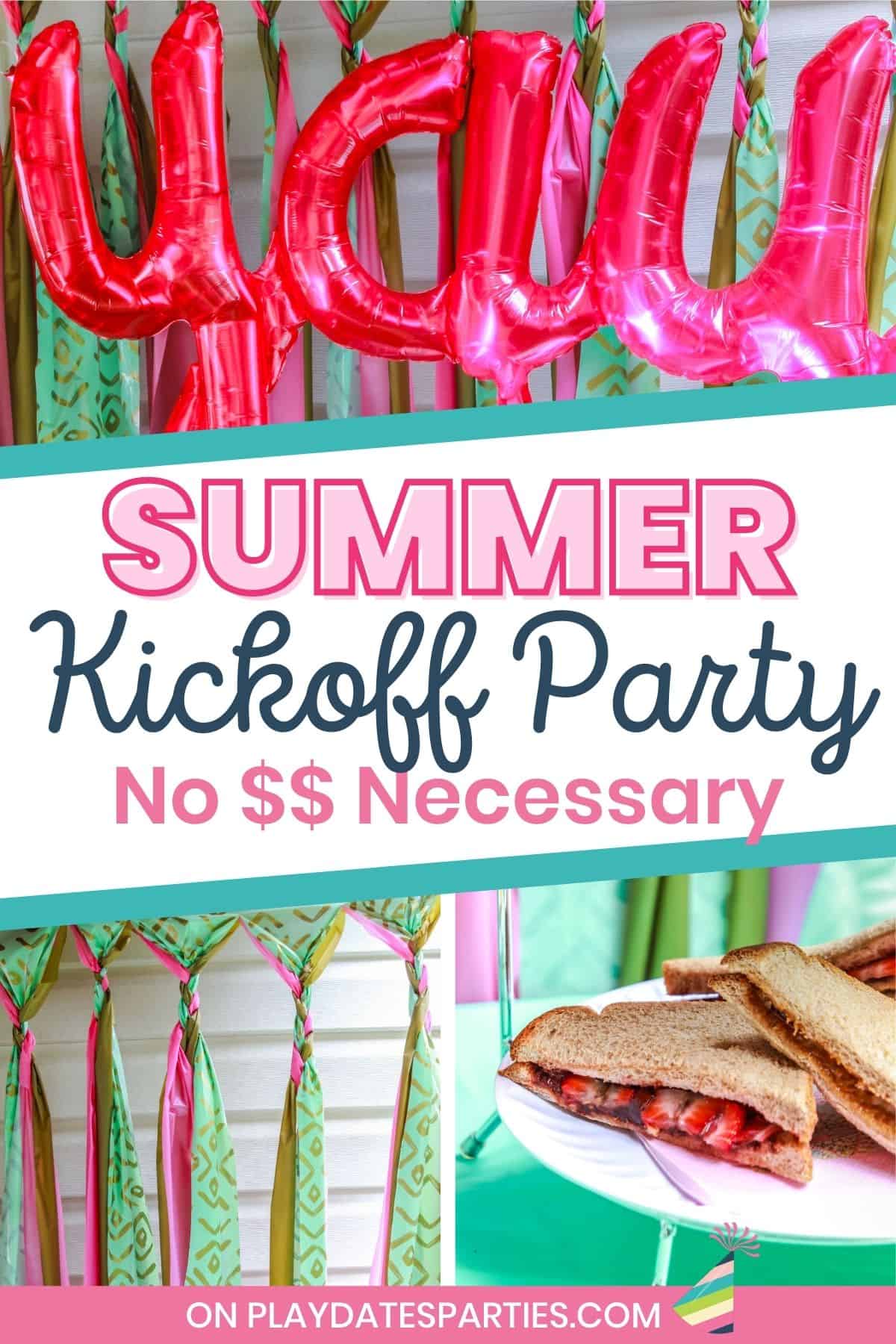 They were the remnants of a time when I would buy too much for a party, thinking "Well, I'll use it some other time."
But the truth is, 'some other time' never happened. Instead, my pile of leftover party decorations just sat in the craft room gathering dust for years. Even worse…the pile was growing.
Which is why, one June day 5 years ago, I decided to take action.
It was my daughter's last day of first grade, and I knew this was the perfect way to make the first day of summer extra special. So I gathered up as many of our 'someday' party decorations as I could find, and in less than an hour, I had a cute little end of school party ready to surprise my kids.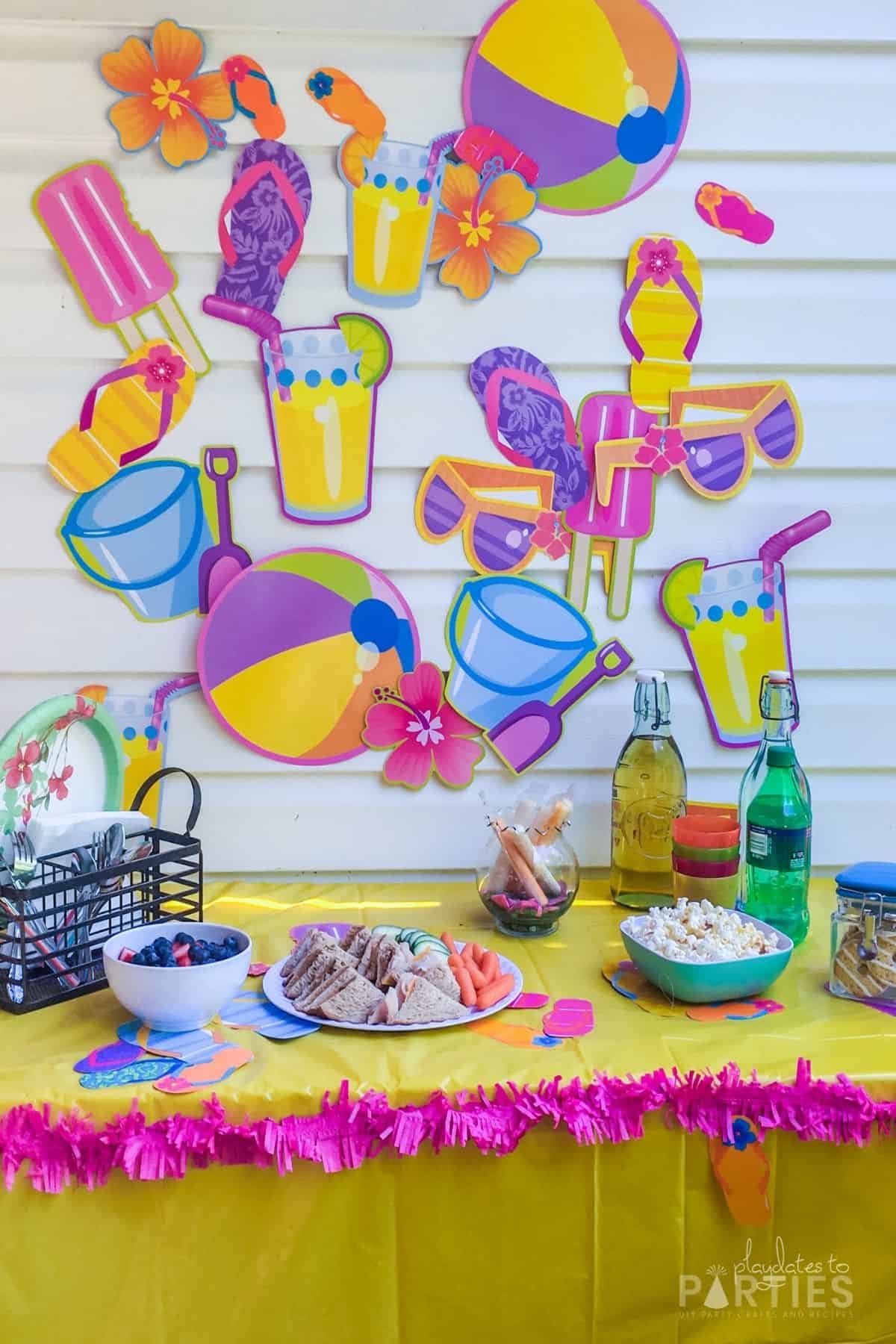 My girls were thrilled. They had no clue this was coming, and you could feel their excitement for our little party and for the start of a new summer. It was so wonderful that I decided to do it again the next year…and every year since.
And, honestly, I would recommend every family have a start of summer tradition like this.
How to Create Your Own First Day of Summer Party
Summer is supposed to be a time of relaxation and fun. The last thing I would recommend is to plan a party that stresses you out. Which is why it's important to keep things simple.
Keep the Space Small
When you decorate only a small space, you'll be less tempted to make impulse buys or to stress over making too many decorations.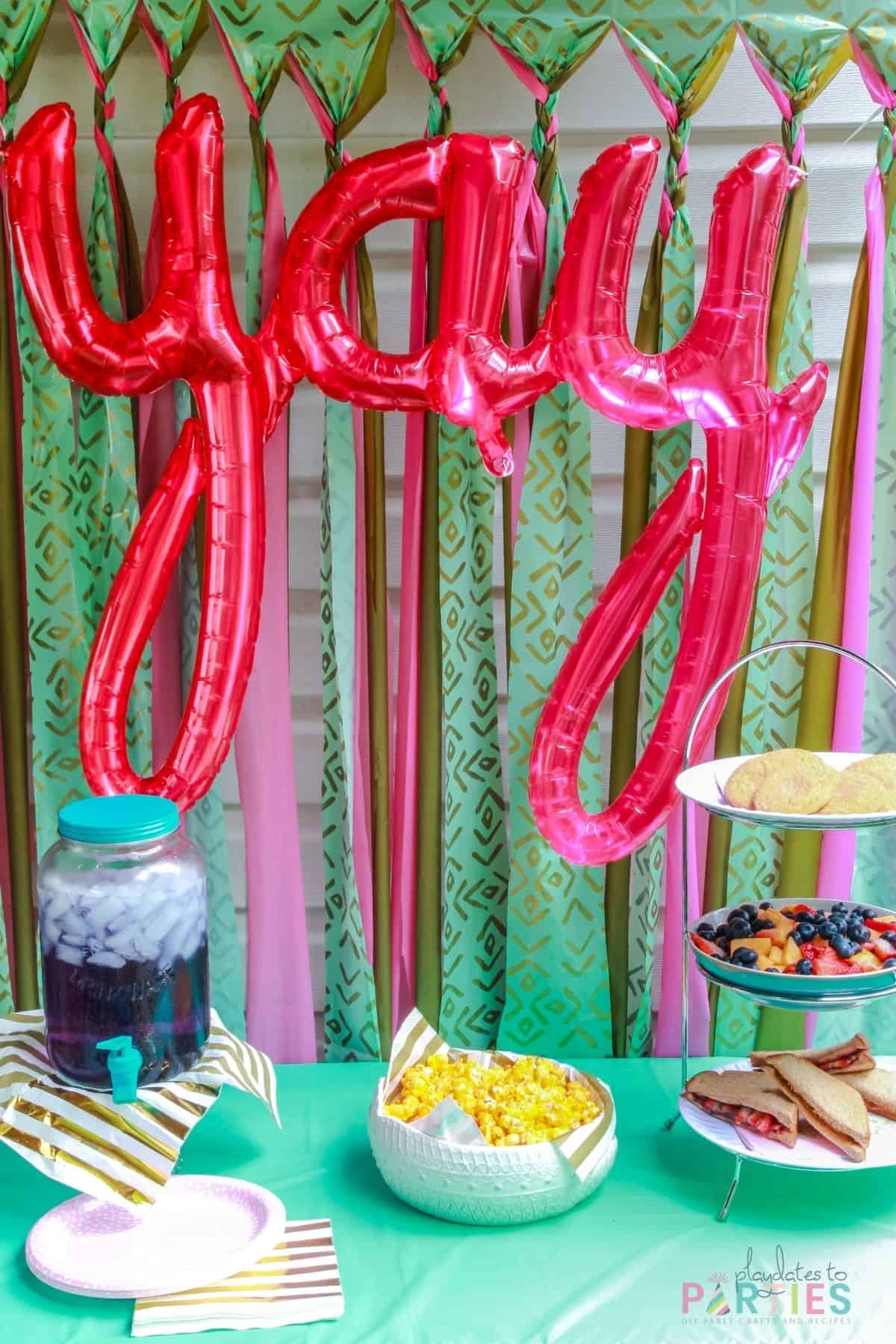 Use Decorations You Already Have
Balloons, streamers, banners, tablecloths, reusable buntings, stickers, ribbon, leftover party napkins – pull out anything you already have from previous parties and holidays.
We like to reuse party decor to decorate our playroom and the kids rooms. (Paper flowers and tissue paper pom poms are perfect for this). Don't be afraid to 'borrow' those decorations back for an afternoon.
Other ways you can shop your home for party decor include:
Using bedsheets and blankets for your party backdrops or tablecloths
Dried food from the pantry as vase filler
Leaves, branches, or flowers from the yard
Kids toys and stuffed animals as centerpieces
Disposable cups turned into flowers, banners, and festive string lights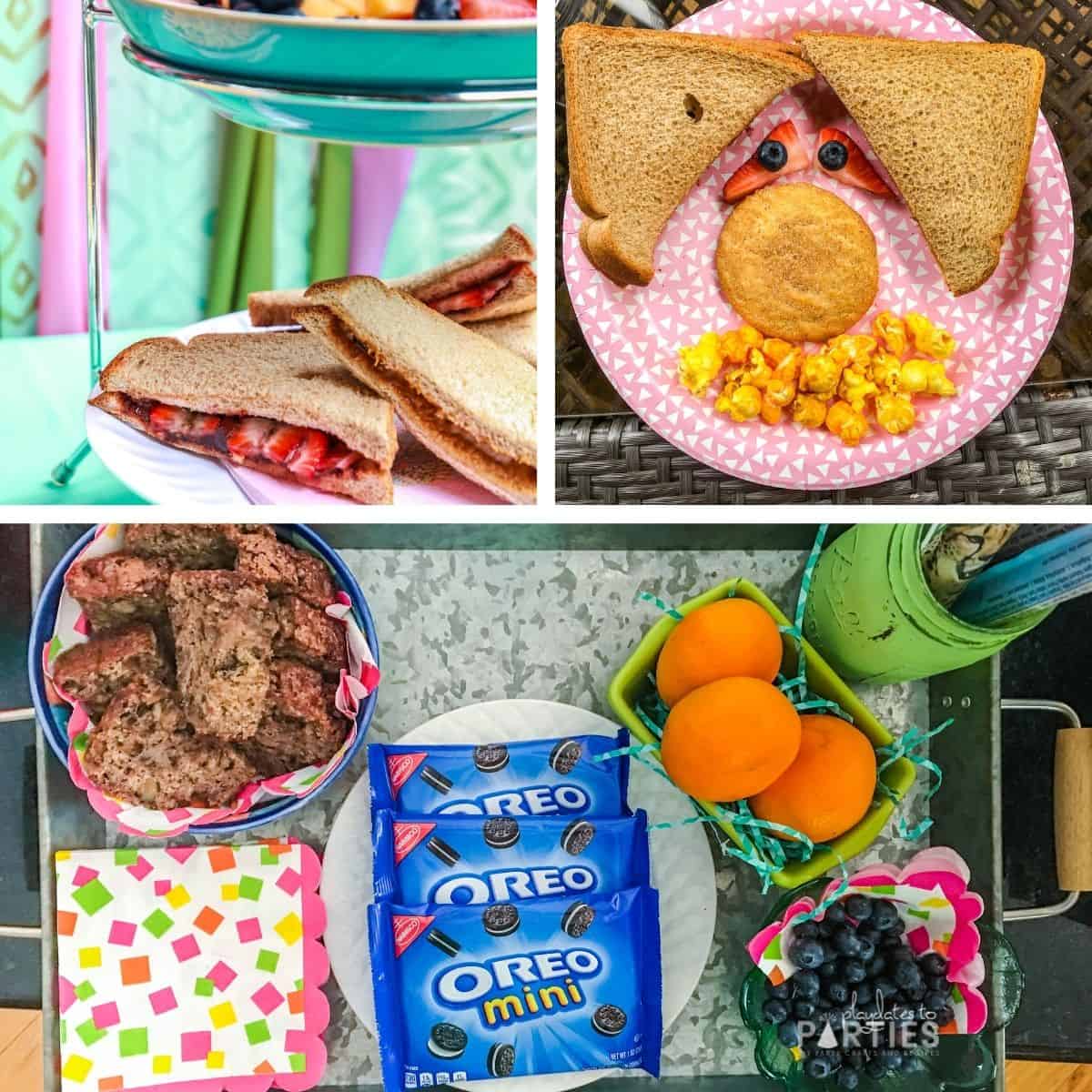 Raid Your Kitchen for Food
This is not the time to make complicated make-ahead party meals (or even easy party recipes for that matter). For our annual party, we make simple sandwiches with all of our leftovers – hot dogs, mixed nuts, chips…whatever is in your fridge or pantry!
Over the years, our menus have included
Ham & cheese sandwiches
Peanut butter and jelly sandwiches
Nutella and strawberry sandwiches
Cookies
Fruit salad
Fresh vegetables with hummus,
Yogurt Tubes,
Popcorn,
Cheese sticks, and even
Leftover banana bread
See? It's so easy and I know my kids will love what's there.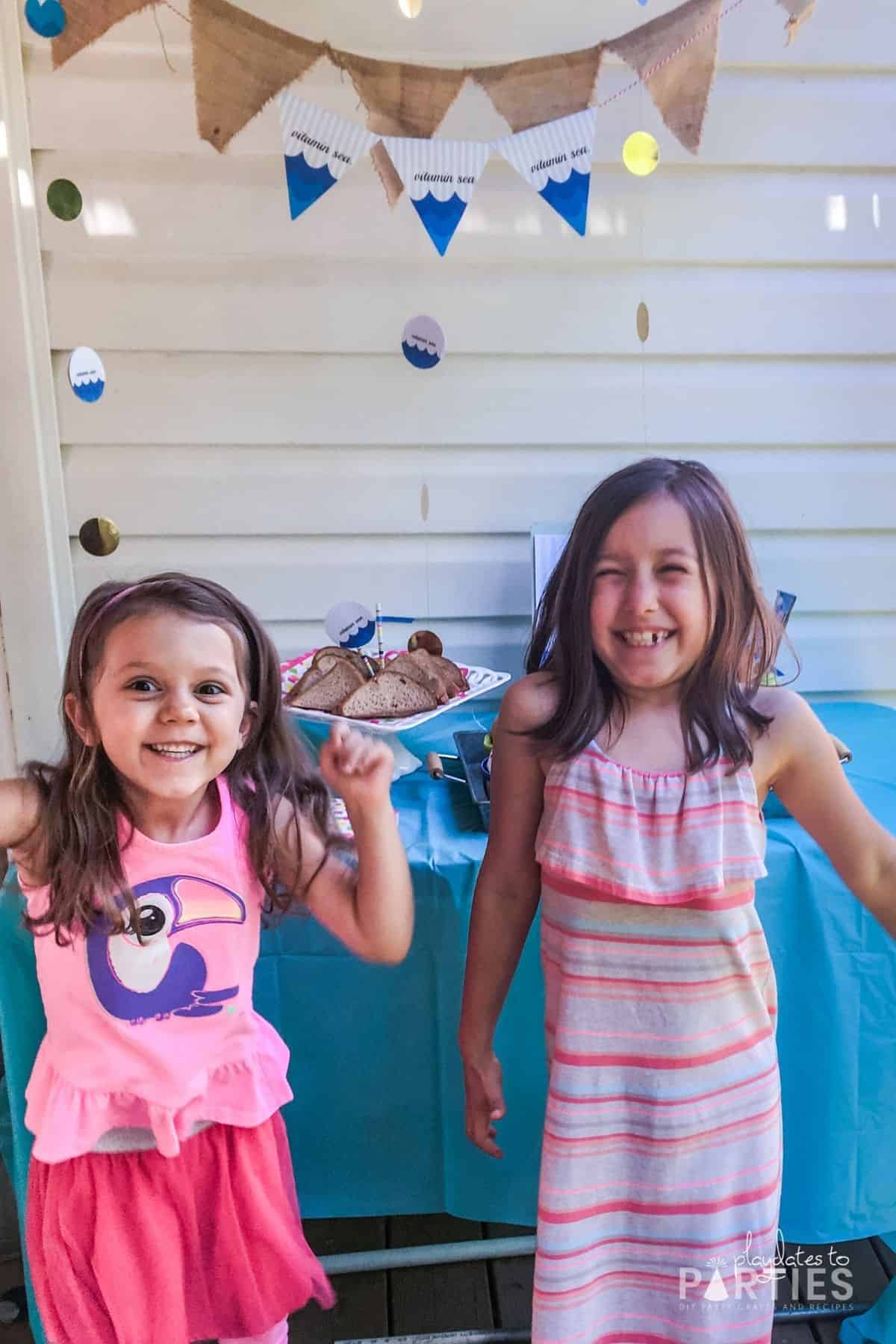 Simple Summer Games
Y'all know I'm a fan of easy water activities for our parties.
Nearly every party we have includes an inflatable pool, waterslide, or some kind of wet activity to beat the summer heat.
But for our first day of school party, we keep things even simpler than that. Running around in the backyard, playing tag, swinging on the play set, chasing bugs. We do all the classic summer activities that you probably did as a kid too.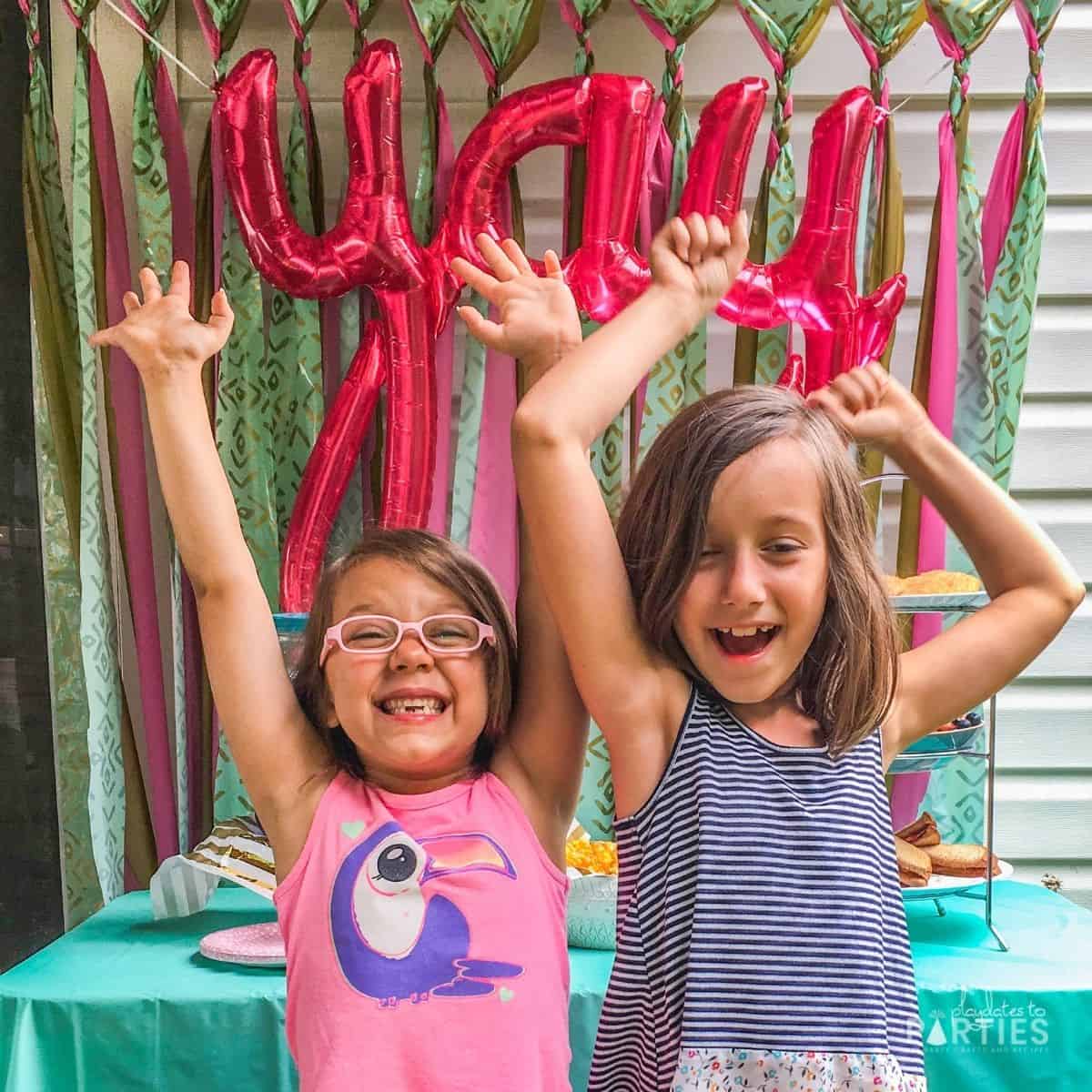 In the end, we have a fun, family-only, celebration that marks the joy and excitement of a new summer, without breaking the bank.
It's so much fun that we make sure to have a last day of school party every year as a family tradition – and I hope you're inspired to join in on the fun.
Do you have anything planned to celebrate the start of summer? Let us know in the comments section below!
---