A July 4th brownie pizza is the perfect dessert for your Independence Day celebrations. This festive recipe starts with a layer of chewy brownie, topped with cream cheese frosting, and is then decorated with your favorite patriotic candies.
A fun and delicious treat, it's perfect for every patriotic gathering, whether it's a July 4th block party or a Memorial Day backyard barbecue.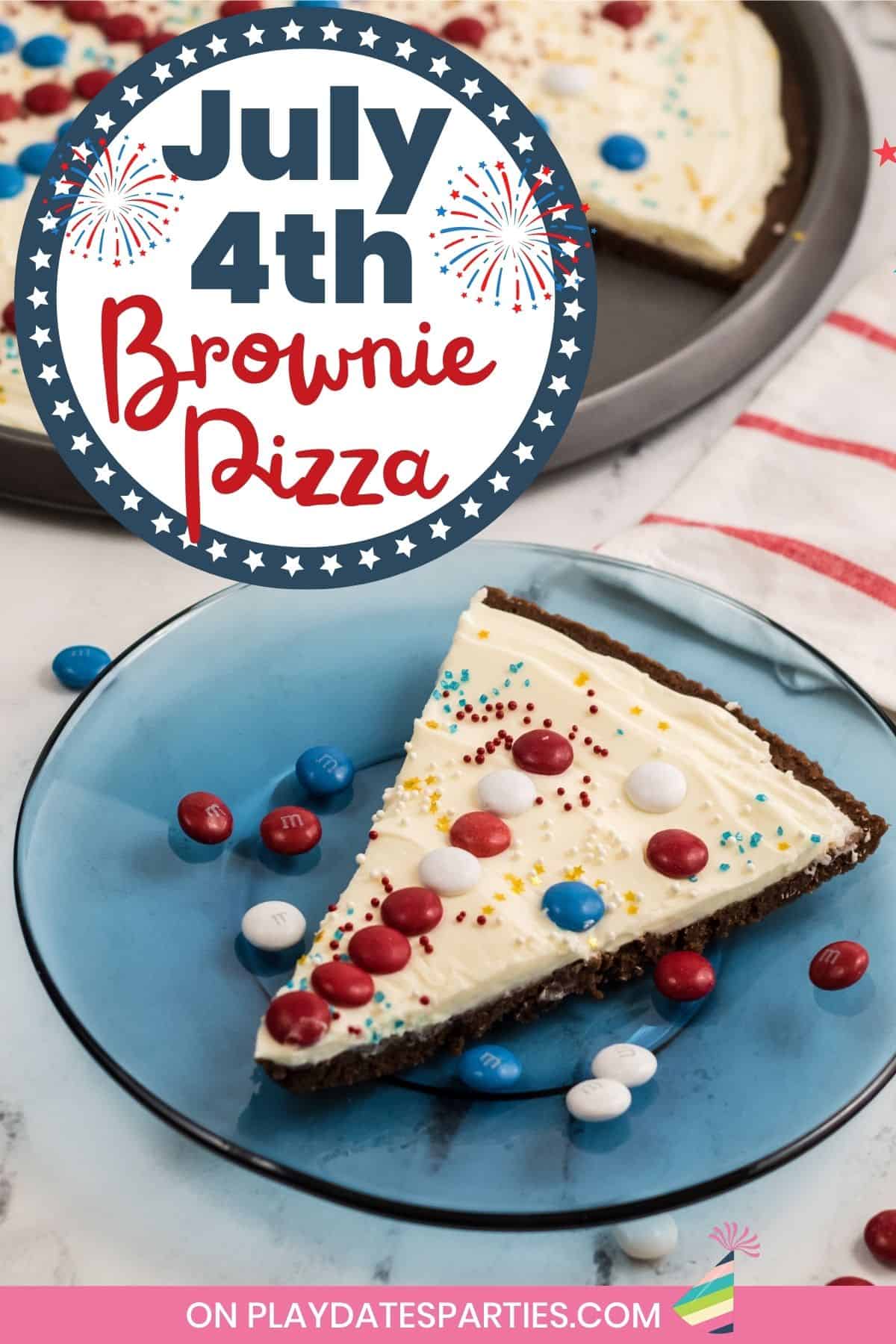 There are a lot of really cute 4th of July dessert recipes out there. But, let's face it, many of them take a lot of time to pull together. That's why I love this July 4th brownie pizza. It's perfect for last-minute get-togethers:
The 'from scratch' recipe is provided, but you can easily make it with store bought ingredients,
If you don't want the hassle of creating a fireworks-style design, let the kids add the candy toppings. It's pretty much guaranteed to be cute that way.
Or you can skip the candy and stick with patriotic sprinkles.
It can also be easily adapted for any other holiday, which makes it perfect for your recipe bank.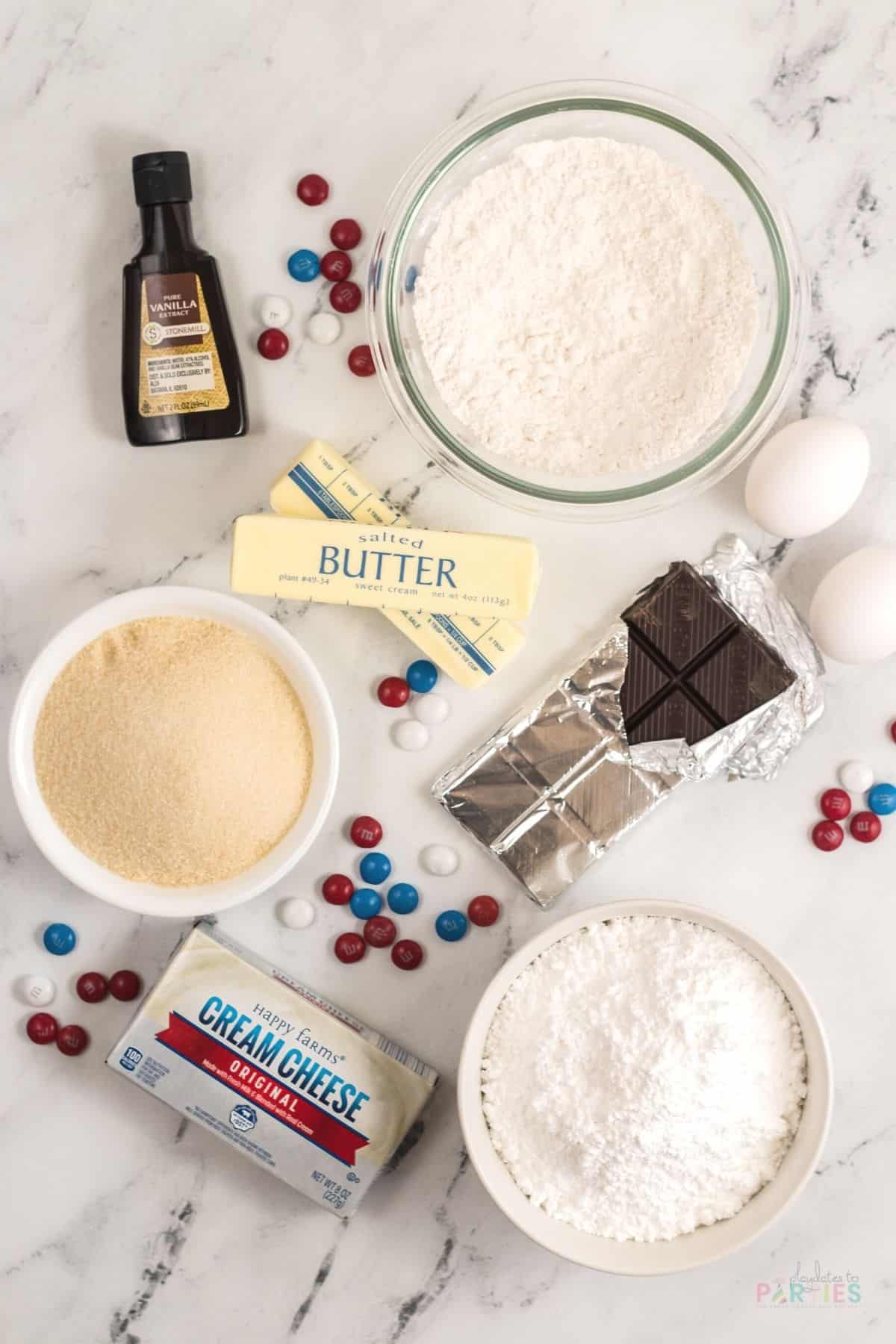 What You'll Need:
Ingredients:
Butter, softened
Unsweetened Baking Chocolate
Sugar
All Purpose Flour
Eggs
Vanilla extract
¼ tsp Salt
Cream Cheese
Powdered Sugar
Salt
Red White & Blue M&M's
Red & Blue Sprinkles
Non stick cooking spray or parchment paper
Supplies:
Measuring cups & measuring spoons
6 quart sauce pan
Mixer (hand mixer or stand mixer)
Large mixing bowls
Mixing spoons
Spatula
Wire rack
A few notes about the supplies & ingredients:
Sugar – I used raw sugar here, but you could substitute with granulated if that's what you have
Butter should be softened to room temperature, but not so warm that pools of fat begin to form. This generally takes about 30-45 minutes.
The pizza pan must have raised sides. A pizza stone will not work for this recipe.
Step By Step Directions:
To make things easy for you, I've got a photo tutorial right here to show the entire process. For a detailed step-by-step process with all the measurements you need, you'll want to check out the recipe card at the bottom of this page.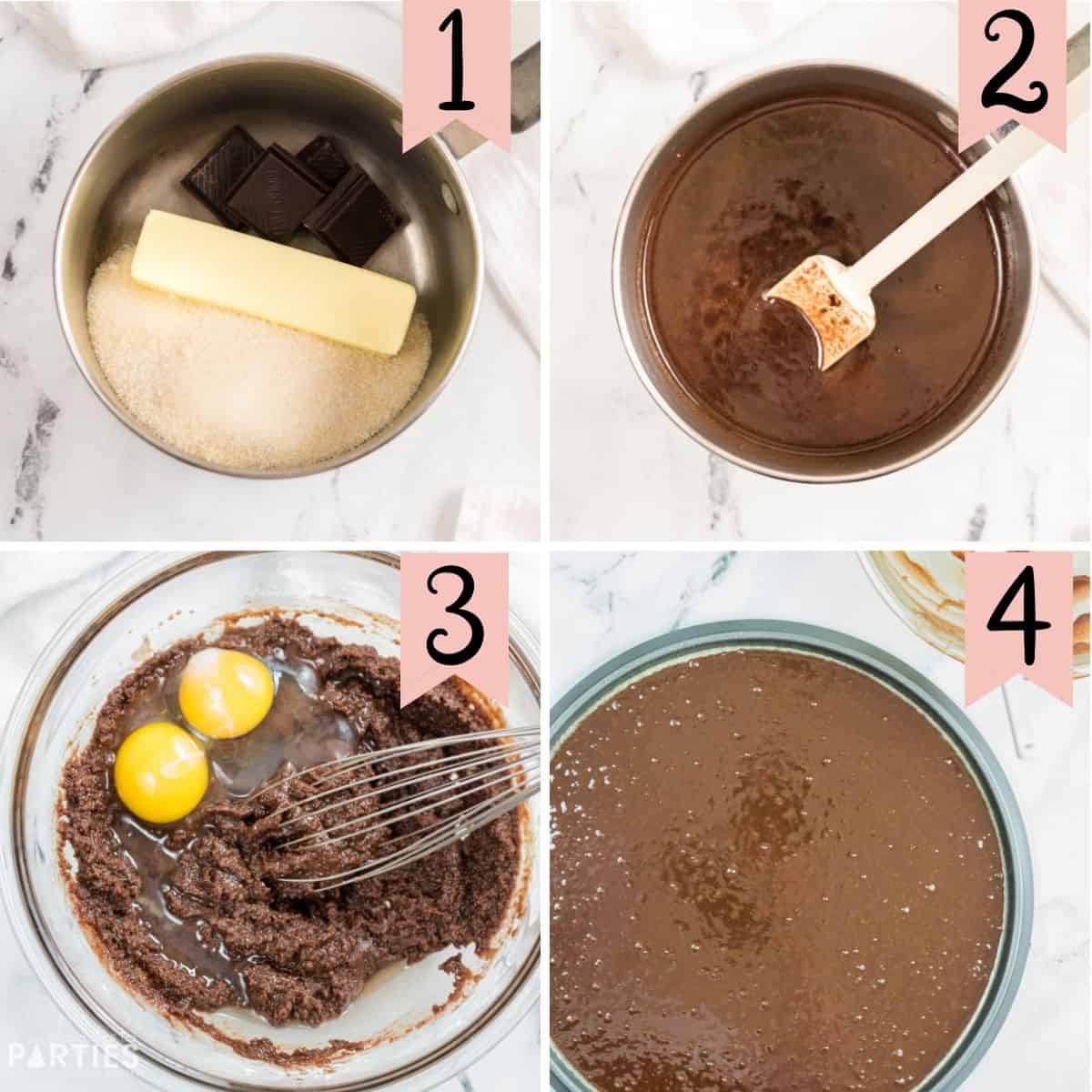 Step 1 – Combine sugar, butter, and unsweetened chocolate in a sauce pan
Step 2 – Heat on low until melted and smooth. Add vanilla extract.
Step 3 – Combine the chocolate sauce with the flour and salt. Add eggs and mix until well incorporated.
Step 4 – Pour batter into pan and bake until a toothpick comes out clean.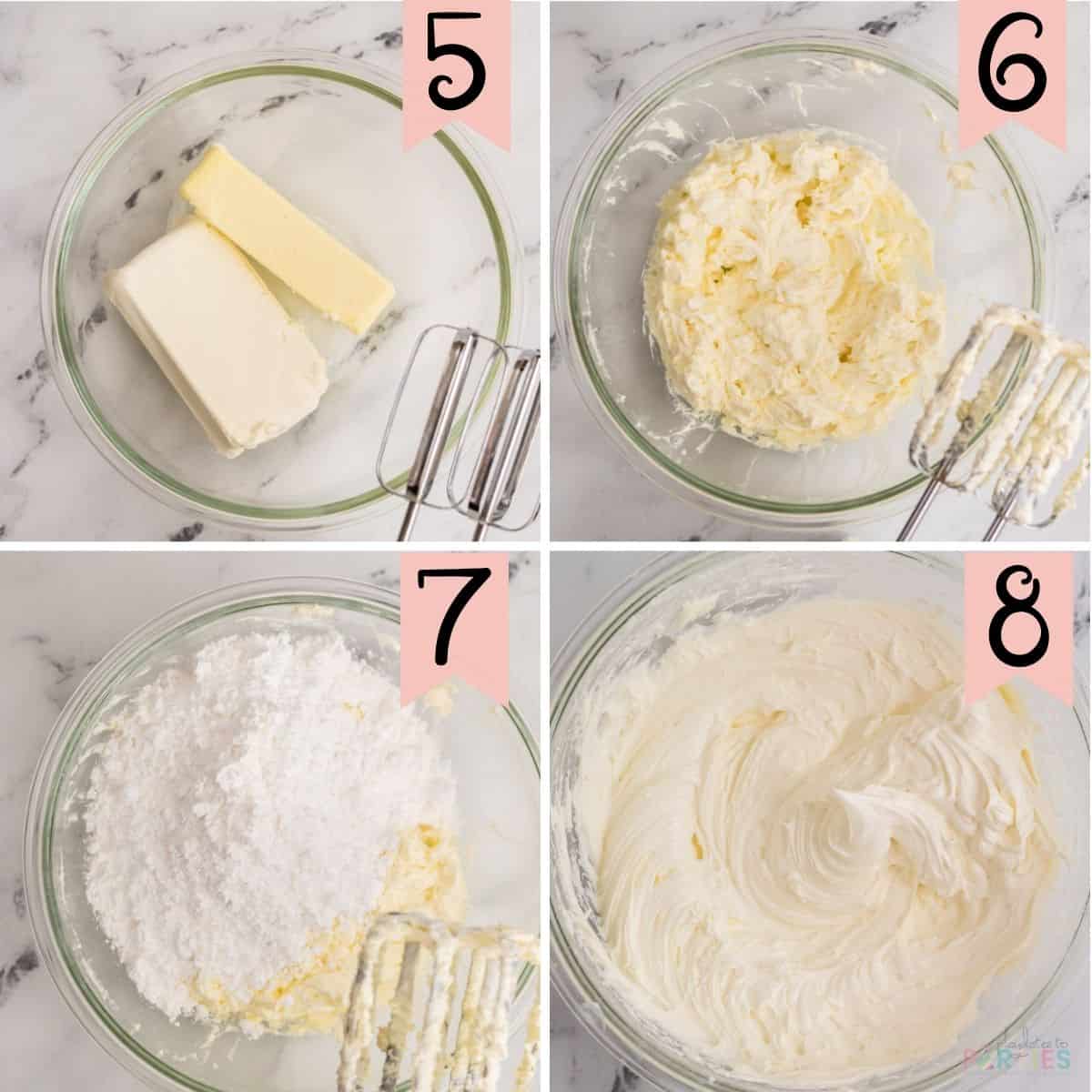 Step 5 – Place softened butter and cream cheese in a large mixing bowl. Cream together until smooth
Step 6 – Add vanilla extract and salt, and mix.
Step 7 – Slowly add powdered sugar, beating well after each addition.
Step 8 – Continue beating until the frosting is light and fluffy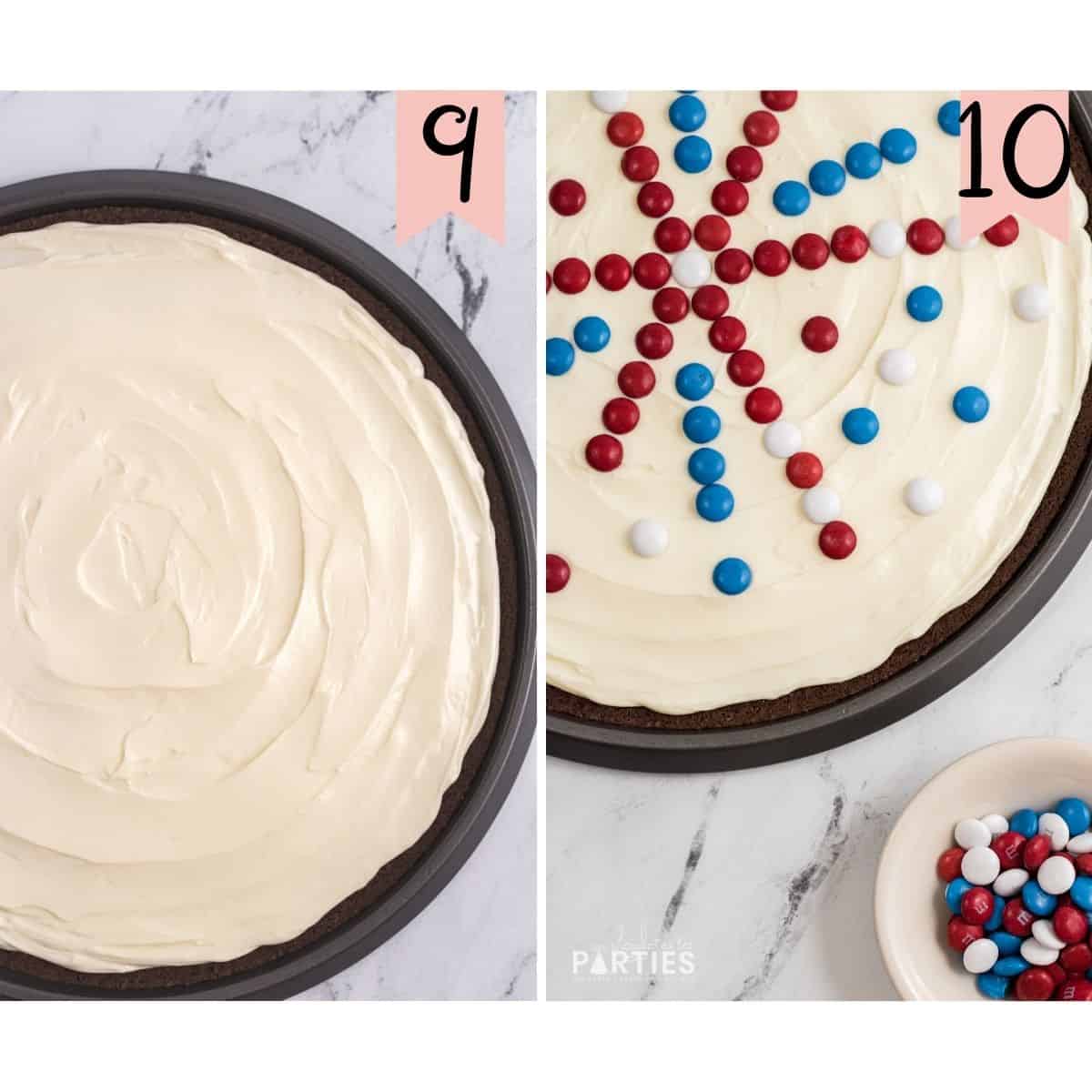 Step 9 – When the brownie pizza is completely cooled, smooth frosting on top
Step 10 – Decorate with red, white, and blue candies.
Important Tips:
Don't skip these tips – read them before you start baking to avoid any potential mistakes.
Check the brownies as they bake.
This is a very thin brownie layer, so it will cook quickly. If you overbake it, the batter can end up quite hard.
It's best to check your July 4th brownie pizza first with a toothpick at 10 minutes and then again at the recommended 15 minutes.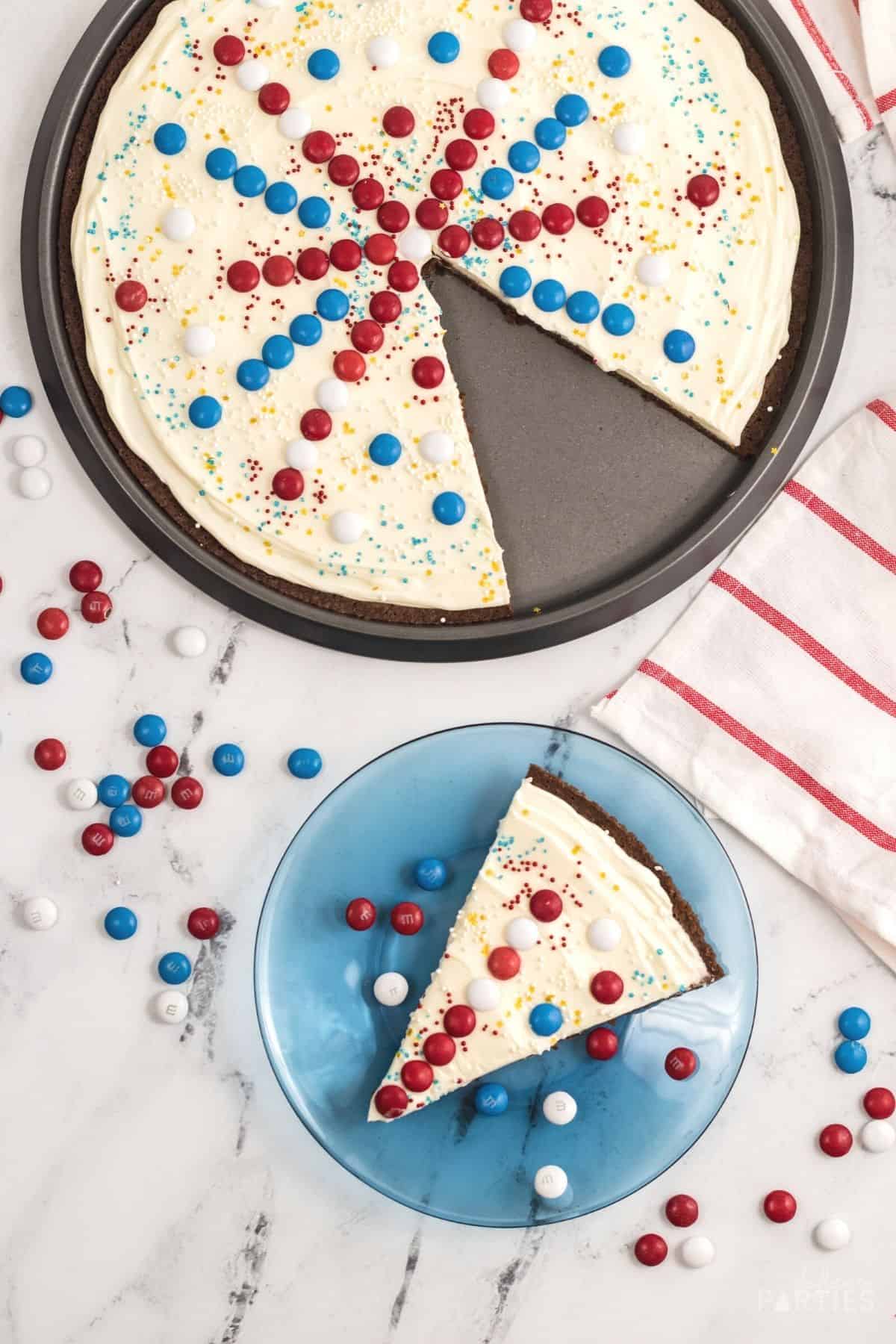 Use full fat cream cheese
The brick style cream cheese that comes in a box is your best choice.
Make sure not to get low fat or spreadable cream cheese (the kind in the tub). You need the fat in the cream cheese to help create that nice fluffy frosting.
Soften your cream cheese and butter first
If they're not fully softened, you'll end up with lumpy frosting…and no one wants that.
To soften your butter and cream cheese faster, cut them into cubes and place them in a large bowl. If you're in a hurry, you can also soften your cream cheese in the microwave, though I don't recommend doing that with the butter.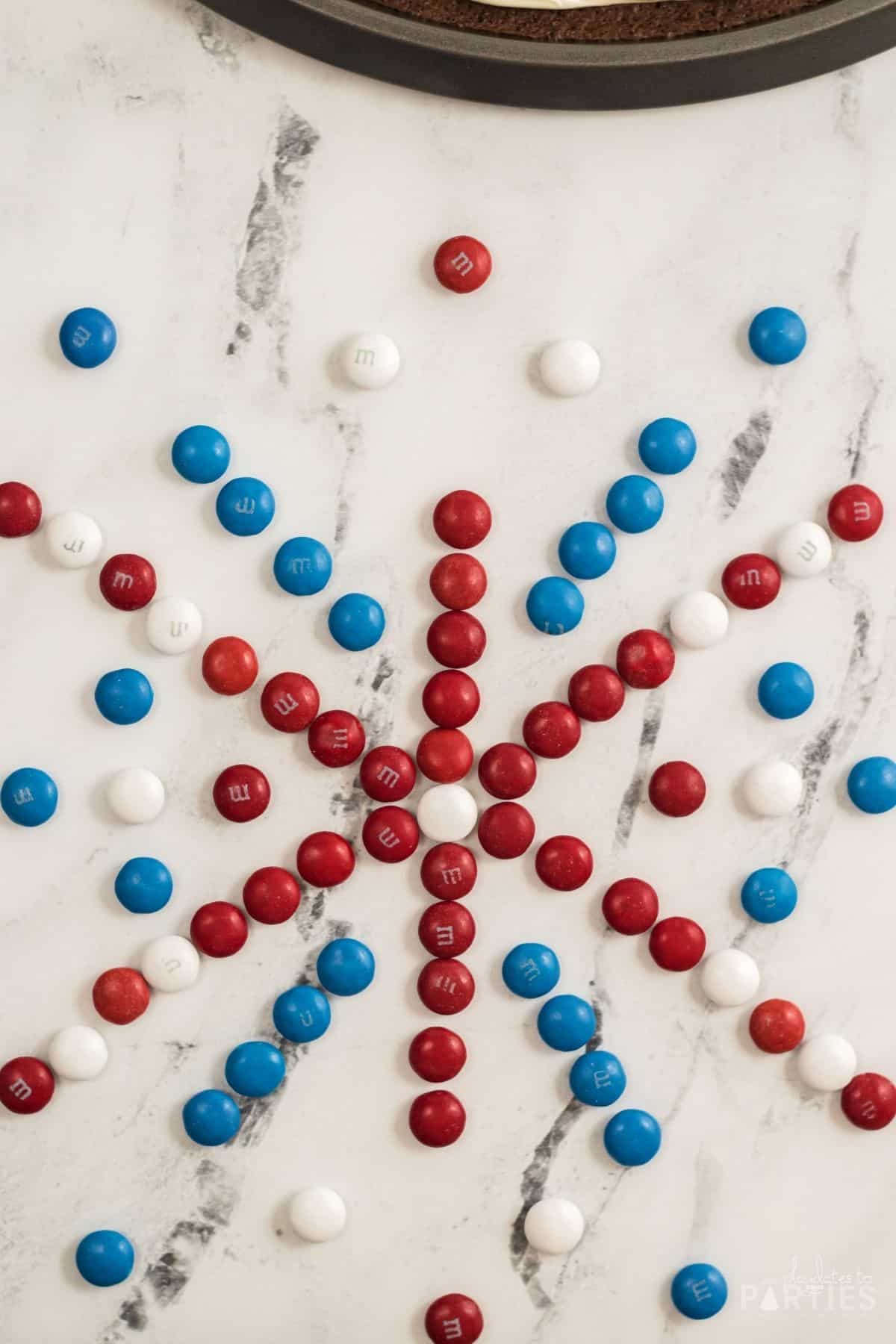 Play with your patterns on the counter before decorating.
If you want to make a pattern or design with your candies, lay them out on the counter to check your spacing. This way you won't have to rearrange icing covered M&M's!
FAQs:
Can I substitute with a boxed brownie mix?
Yes you can! However, make sure you use a regular 16 ounce box instead of a family size (18 ounce) box.
Either way, the box mix create slightly more brownie batter, so you may need to cook your July 4th brownie pizza slightly longer than the instructions below.
Where can I find gold star sprinkles?
If your local store doesn't have them for July 4th, you can order gold star sprinkles right here on Amazon.
Does the brownie pizza have to be refrigerated?
Yes. Because of the cream cheese frosting, this brownie pizza should not be at room temperature for more than a couple hours at a time.
If you liked this July 4th brownie pizza, you'll love these Patriotic Paper Lanterns. They're a quick and easy way to add a bit of magic to your July 4th celebrations.
Or you can check out all my other patriotic and July 4th ideas right here.
Yield: 1 brownie pizza
July 4th Brownie Pizza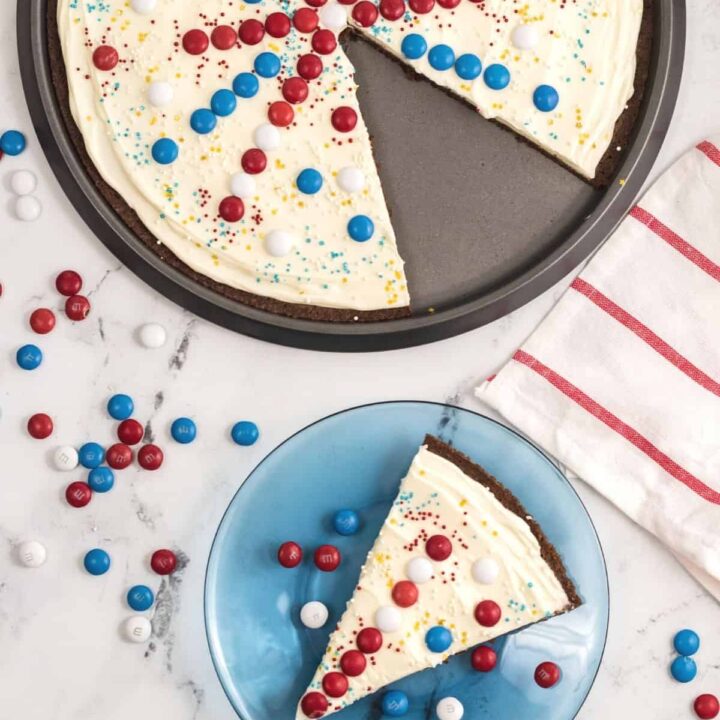 With a chewy brownie base, tangy cream cheese frosting, and colorful candy fireworks, this July 4th brownie pizza is an easy and tasty way to celebrate your Independence Day.
Total Time
1 hour
10 minutes
Ingredients
Brownie Crust:
½ Cup Butter (softened)
2 oz. Unsweetened Baking Chocolate
1 Cup Sugar
¾ Cup Flour
2 Eggs
½ tsp Vanilla
¼ tsp Salt
Cream Cheese Icing:
4 oz. Cream Cheese, softened
¼ Cup (half stick) Butter, softened
2 Cups Powdered Sugar
¼ tsp Vanilla
Pinch of salt
Toppings
Red, white, and blue M&Ms
Red and blue sprinkles
Gold star sprinkles
Instructions
Make the brownie batter
Preheat your oven to 350˚F for a regular pan, or 325˚ for a non-stick pan.
Spray a 12 inch pizza pan with non-stick spray or cut out a piece of round parchment paper to add to the bottom of the pan. *see notes
In a medium sauce pan (6 quarts), melt 1/2 cup softened butter, 1 cup sugar, and 2 ounces unsweetened baking chocolate over low heat. Stir frequently until all the ingredients are melted and smooth.
Stir in 1/2 tsp vanilla extract.
Combine flour and salt in a large mixing bowl. Whisk together remove any lumps.
Pour chocolate sauce into the bowl with the flour and whisk to combine.
Add 2 eggs and mix until well incorporated. Do not over mix.
Pour the brownie batter into a prepared pan and spread evenly.
Bake for 15 minutes, or until a toothpick inserted into the middle comes out clean. (see notes)
Remove from oven and place on a wire rack to cool completely, about 20 -30 minutes.
To make the icing
Using an electric mixer, cream together 1/4 cup softened butter and 4 ounces softened cream cheese.
Add in 1/4 tsp vanilla extract and a pinch of salt. mix thoroughly.
Slowly add in powdered sugar, beating well after each addition, until all the sugar is mixed in and the icing is light and fluffy.
Pull it all together:
When the brownie is completely cooled, spread the icing evenly across the top.
Decorate your July 4th brownie pizza with red, white, and blue M&M's and sprinkles.
To serve- slice into 8 or 16 equal pieces and enjoy!
Notes
Don't forget! The step-by-step photos and the FAQs in the recipe post are there to help you if you feel stuck at any point.
The pizza pan must have raised sides. A pizza stone will not work for this recipe.
Be cautious not to overcook the brownie layer. Start checking it with a toothpick after about 10 minutes.
If you use a boxed mix or a nonstick pan, baking time may take longer.
Cover with foil or plastic wrap, and store in the refrigerator for up to 7 days.  
Recommended Products
As an Amazon Associate and member of other affiliate programs, I earn from qualifying purchases.
Nutrition Information:
Yield:
16
Serving Size:
1 slice
Amount Per Serving:
Calories:

249
Total Fat:

11g
Saturated Fat:

7g
Trans Fat:

0g
Unsaturated Fat:

4g
Cholesterol:

46mg
Sodium:

125mg
Carbohydrates:

35g
Fiber:

1g
Sugar:

28g
Protein:

3g
__________________________________ The nutrition information provided above is estimated using an automated calculation system. Actual nutrition will vary depending on brand and measurements used in your recipe. To obtain the most accurate representation of the nutrition information for any given recipe, you should calculate the nutritional information using the actual ingredients you used in your recipe.